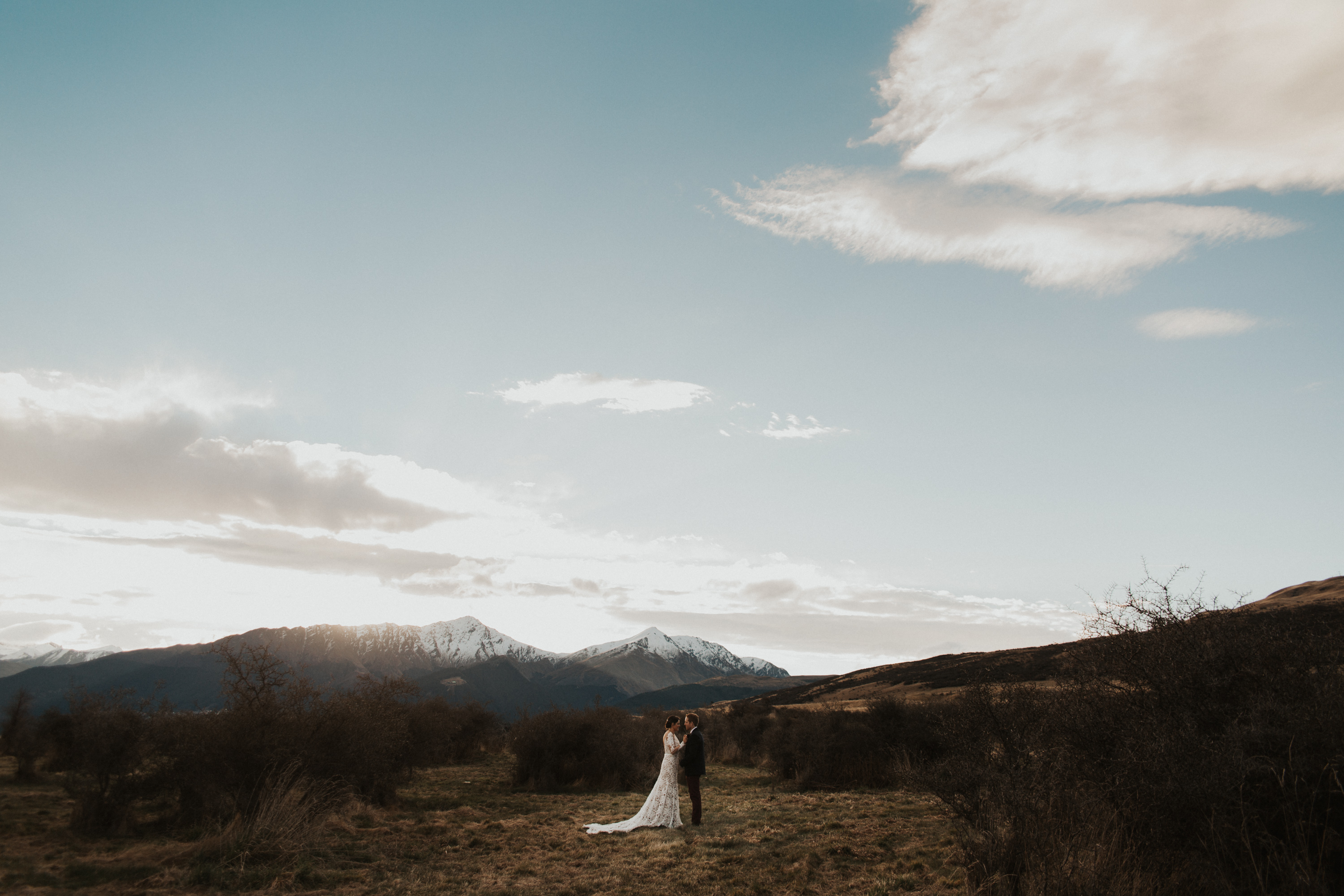 Tell us a little about yourselves, what you do, what you love, what is unique about you and your relationship…
We met while we were both working in Melbourne, and fell in love over of love of the outdoors, camping and cooking. We became best friends really quickly and within a year had traveled overseas, moved states, built a house and got engaged. It was hard to imagine life without each other.
Tell us about your special day, was there a specific theme or style? Tell us a little about the setting, the styling and some of your favourite details…
We always wanted to have Tipis in our Weddig after seeing them on a glamping blog, they are so rustic and when lit up at night they are just beautiful. We also wanted to be in the elements, having the Remarkables as a backdrop was just incredible. Something important to us was to have our Bridal party staying with us, so we held the ceremony and the reception at an amazing 10 bedroom residence right underneath the Mountains and we all stayed there for the 3 nights.
Tell us about your main outfits:
My Dress was incredible, Made with Love really know how to design a gown. It had a Tan underlay and sheer detailing on the bust, covered with Lace, it was one of those Dresses that the moment I Put it on I didn't need to see anything else. I had sleeves custom made as we were married in the middle of winter.
Reece really wanted to stay true to himself and opted for a woven Sports Blazer and chinos rather than a suit. The Boys all looked so unique and It was a perfect choice for the mood of the day.
What were some of the most memorable/unique moments of the day?
My mother walked me down the Isle, It was so special to me to have her holding my arm as we pretty much chatted our way towards Reece.
Our Celebrant was definitely memorable. Michelle Shannon flew all the way from Byron Bay – Australia to Marry Us. She has previously been the Celebrant for Both My Sisters Nicky and Rebel, having her there to be apart of oyr day was something I will never forget- She really is part of the Family.
The moment that really topped it all off was sharing a secret with each other mid-ceremony. Reece and I whispered a little something to each other before our Vows. His made my Cry and mine made him laugh.
Ceremony & Reception location: (Private Residence) Jacks Point, Queenstown, NZ, Gather and Gold Tipis  | Photographer: Kate Roberge Photography | Celebrant: Michelle Shannon  | Entertainment: LA Social Club | Styling & Flora: One Fine Day  | Food/beverages/catering: Artisan Catering | Cake: Vudu Larder  | Main outfit/s: Bride – Made with Love Bridal Sasha Gown (with custom made sleeves) & Channi veil  | Groom- Zara Man Blazer  & Ben Sherman Pants | Ring/s: Stones Jewellers Brisbane | Makeup: Emma for Beauty | Hair: Claire at Beautiful bridal hair  | Groomsmen: Zara Man & Ben Sherman | Bridesmaids: One fell Swoop & bec and Bridge