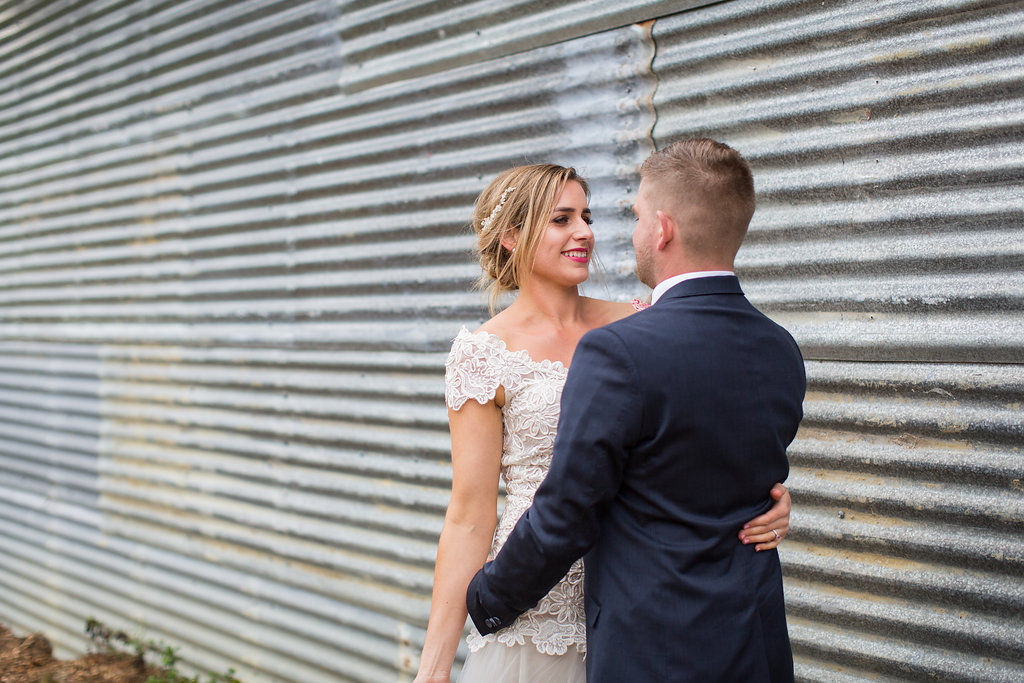 Tell us a little about yourselves, what you do, what you love, what is unique about you and your relationship…
Jamie runs a tyre business and I am a hair and makeup artist in the wedding industry. Jamie always knew I would want to go all out with our wedding because its part of my job! We are pretty laid back people and our family and friends are very important to us.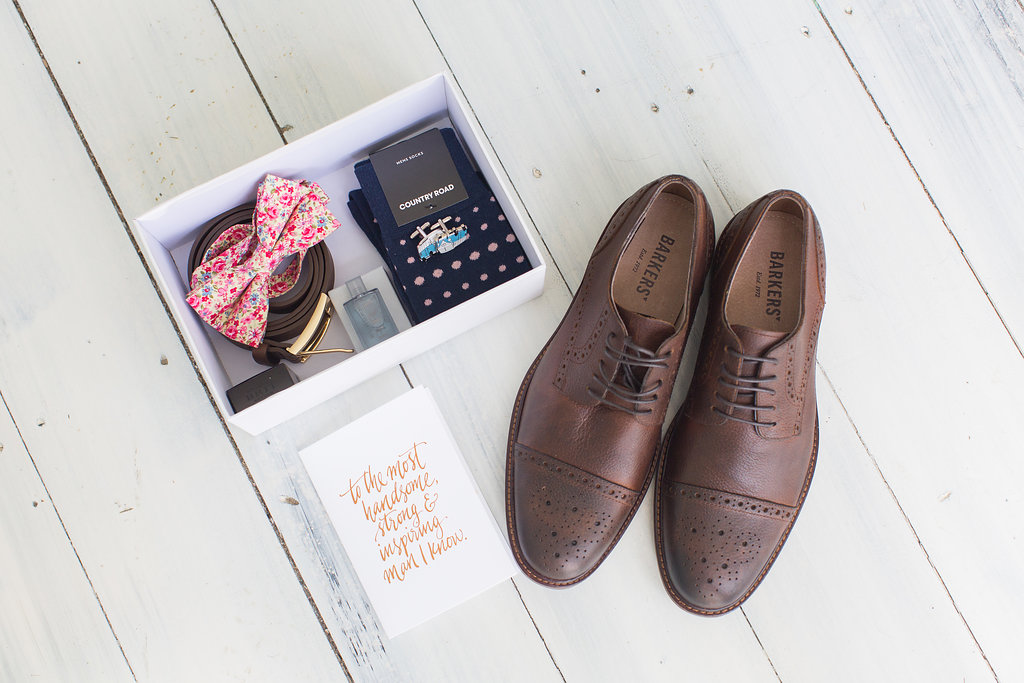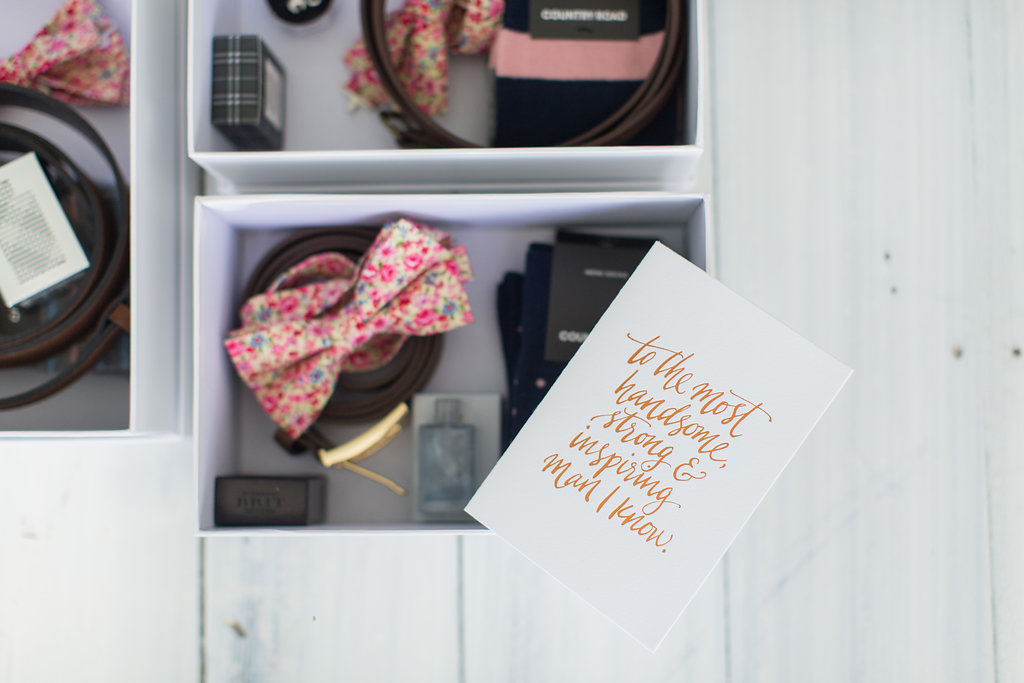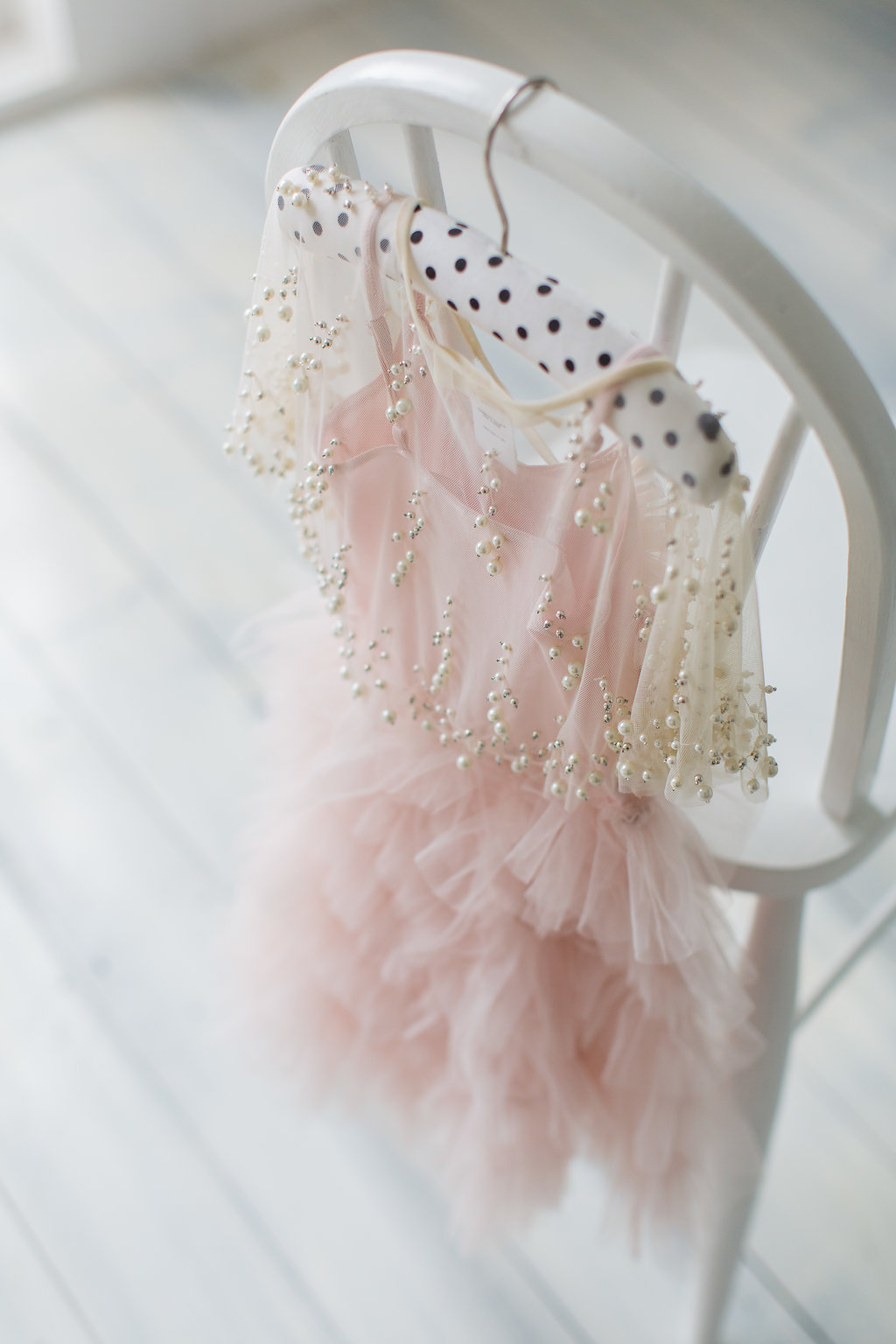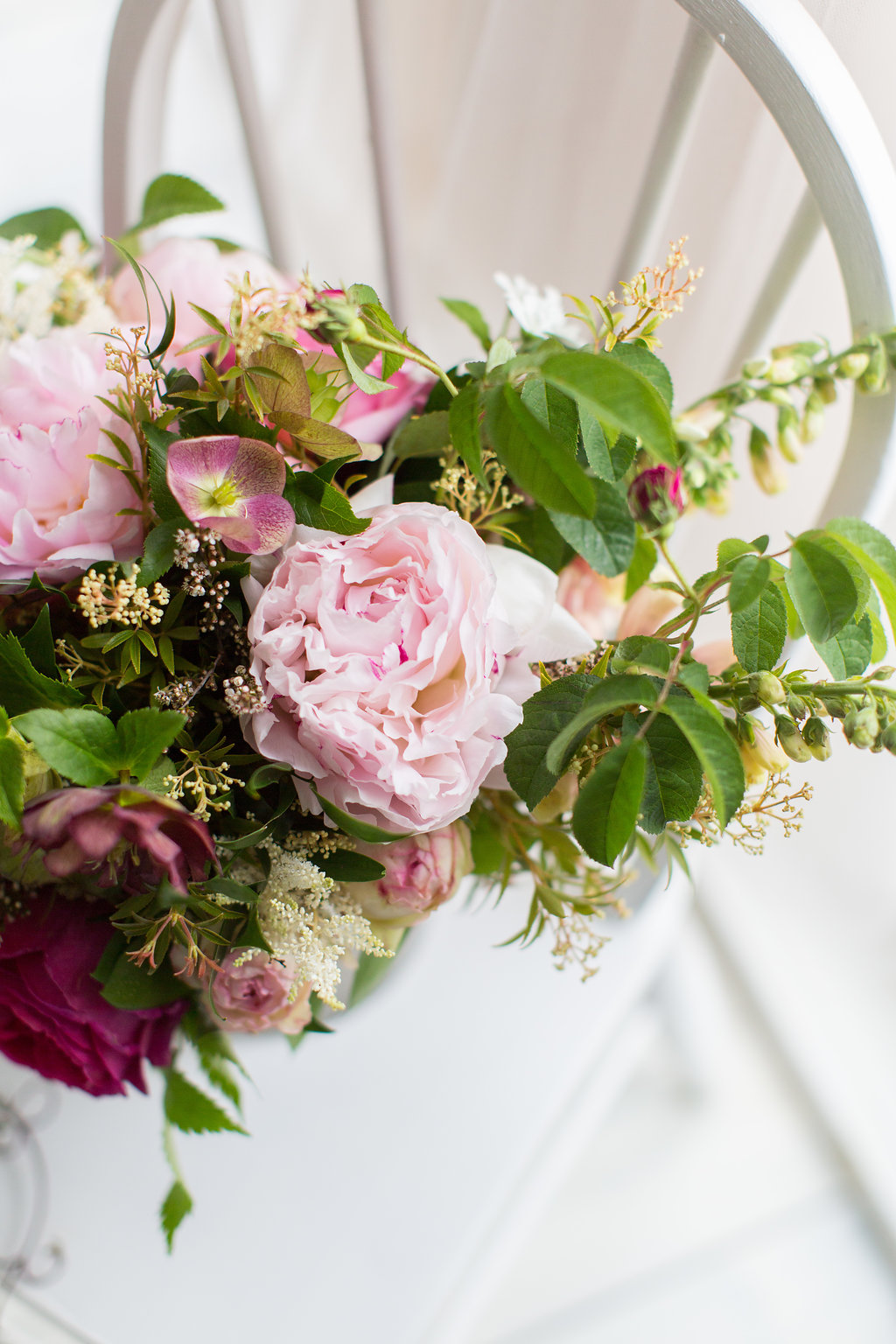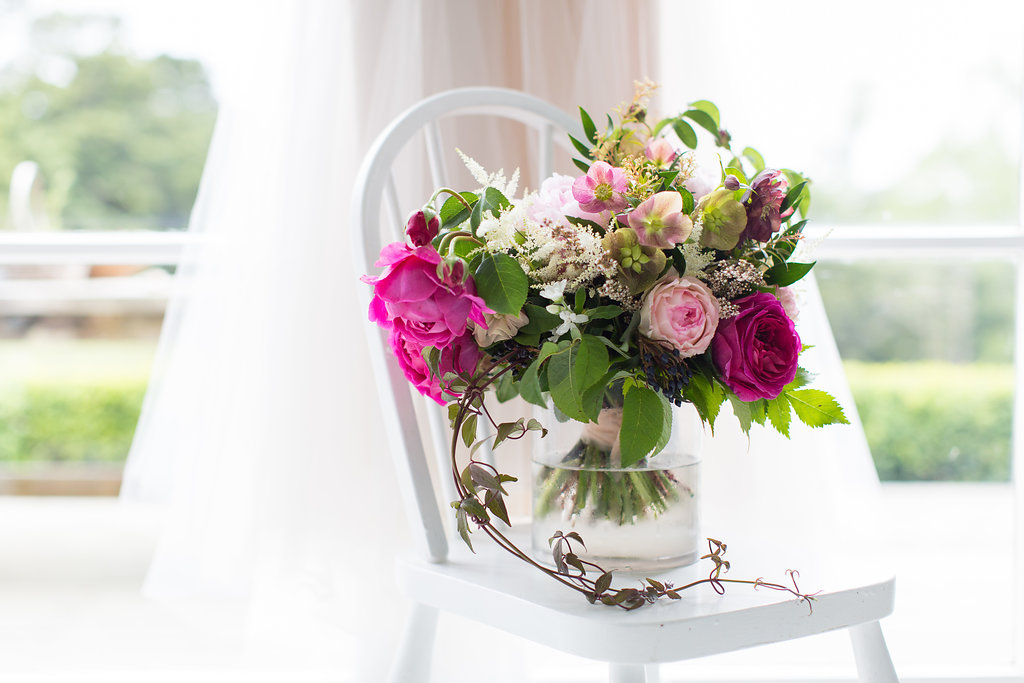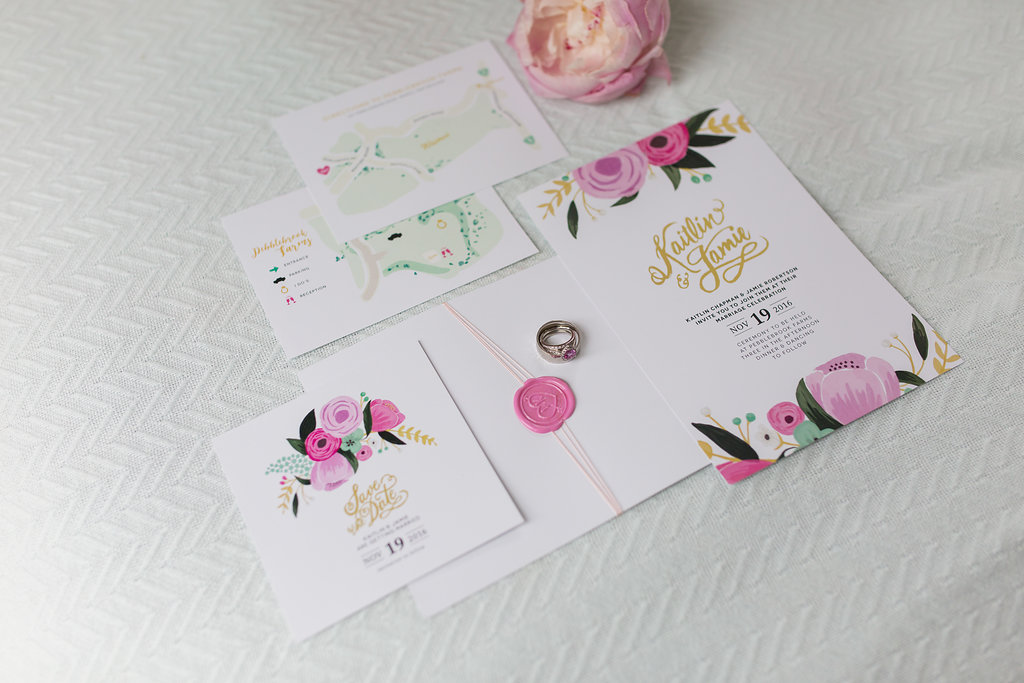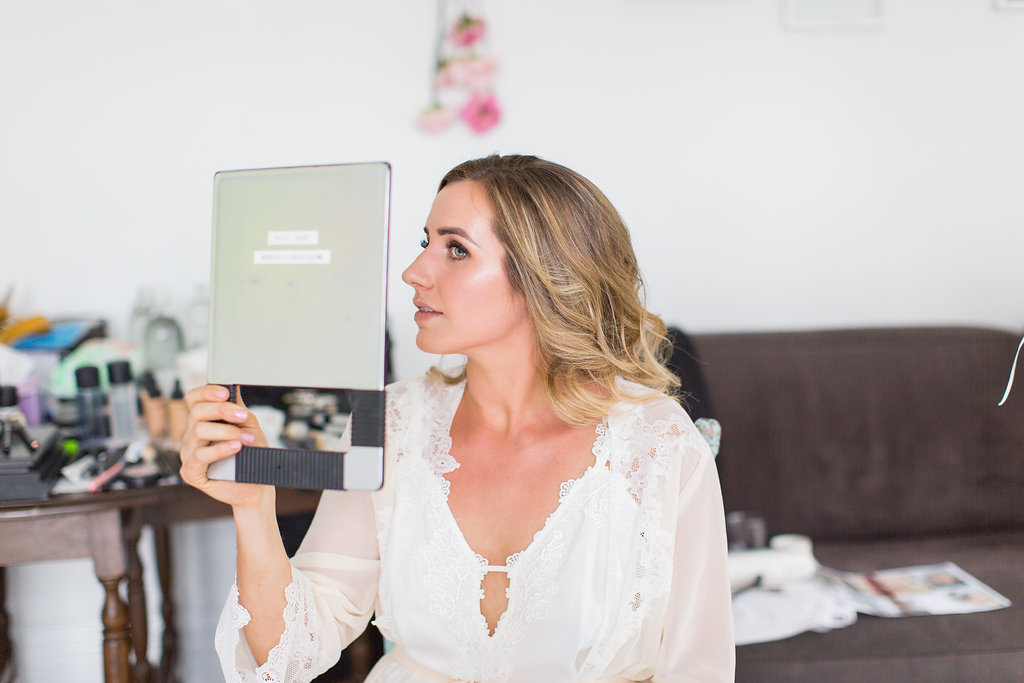 Tell us about your special day, was there a specific theme or style? Tell us a little about the setting, the styling and some of your favourite details…
I always knew I wanted to get married on the farm after growing up here. Family and home has always been very important to me. When we decided to get married here a year out from the wedding date the barn we used for our reception was simply a few poles in the ground at that stage. So you could say we had a fair bit more work on our hands.
With my dad being a man of all trades, every weekend spent working on it and a few working bees with friends and family the barn was built and transformed into the perfect space for an event.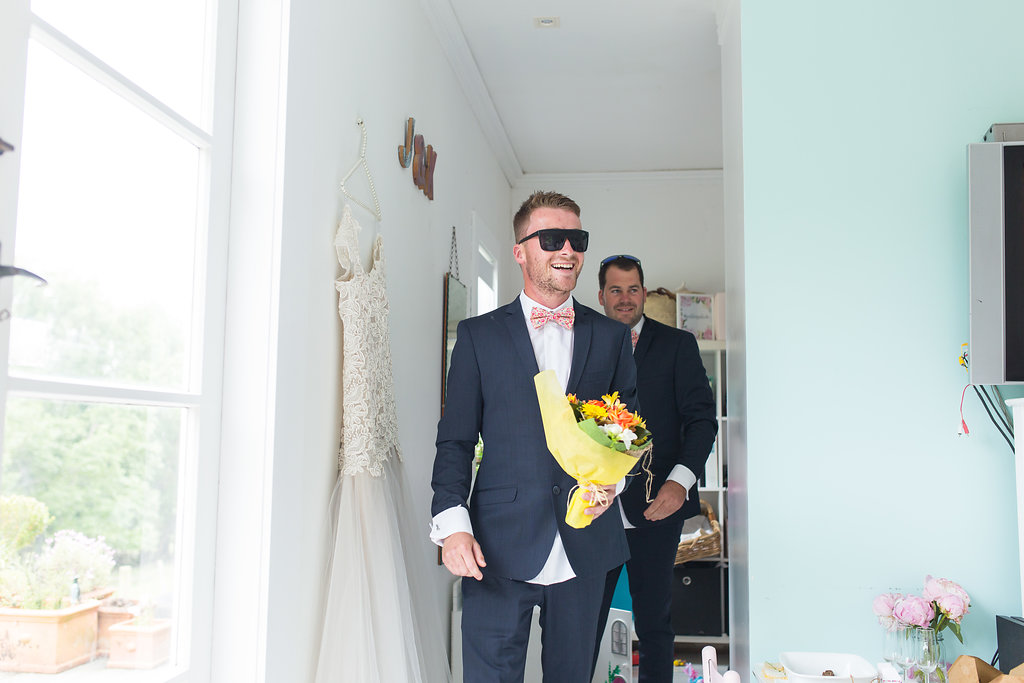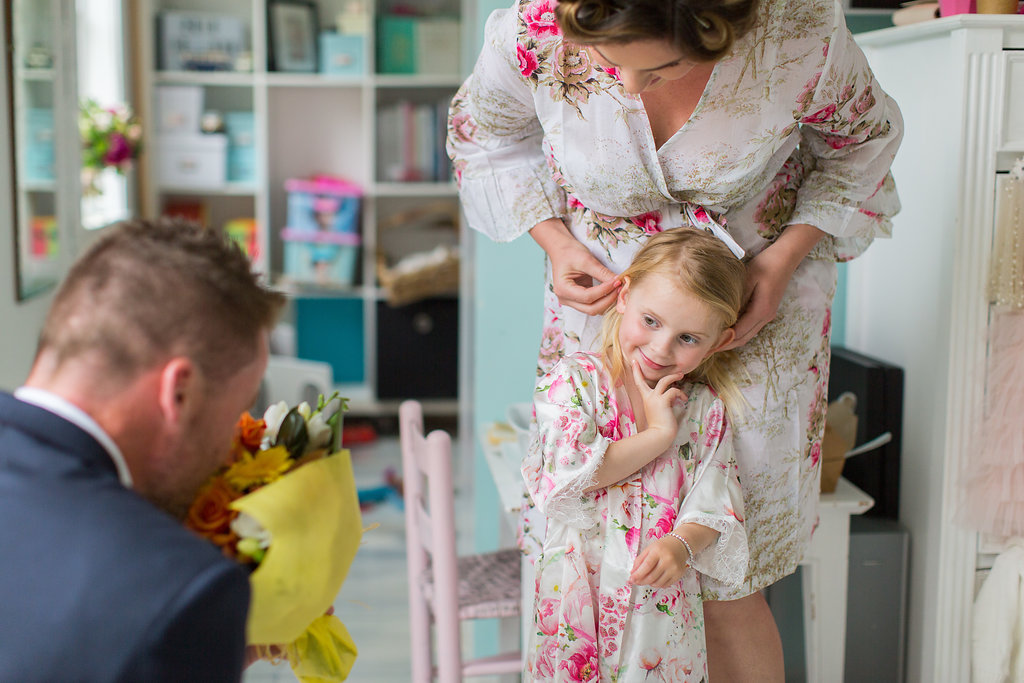 The styling for the reception was pretty simple, we had leaf and honey create cascading flower boxes for each table in every shade of pink, I collected and painted many vintage chairs so we had a mix of seating. The table settings were simple but beautiful with ceramic plates, linen and gold accents from the cutlery, candles and place cards. Mum and I chose to create an extra large weave for our ceremony backdrop, Other than that our ceremony was simply on a mowed square patch in the middle of a paddock. We incorporated off cuts from my dress, my mothers and grandmothers wedding dress into the weave which was really special, the weave now hangs as a piece of artwork at the barn.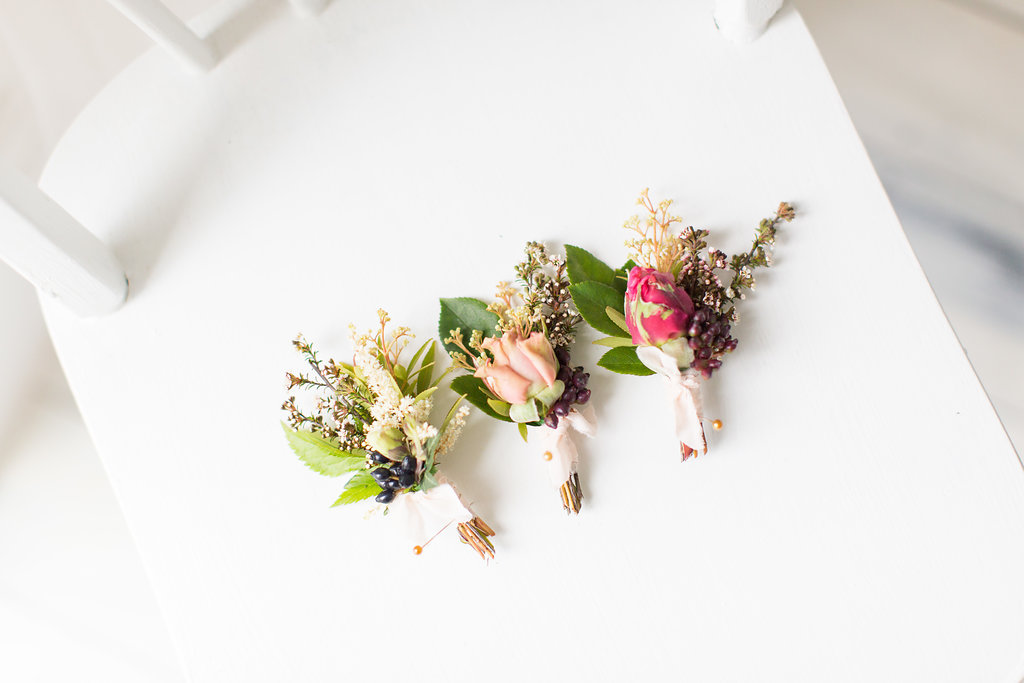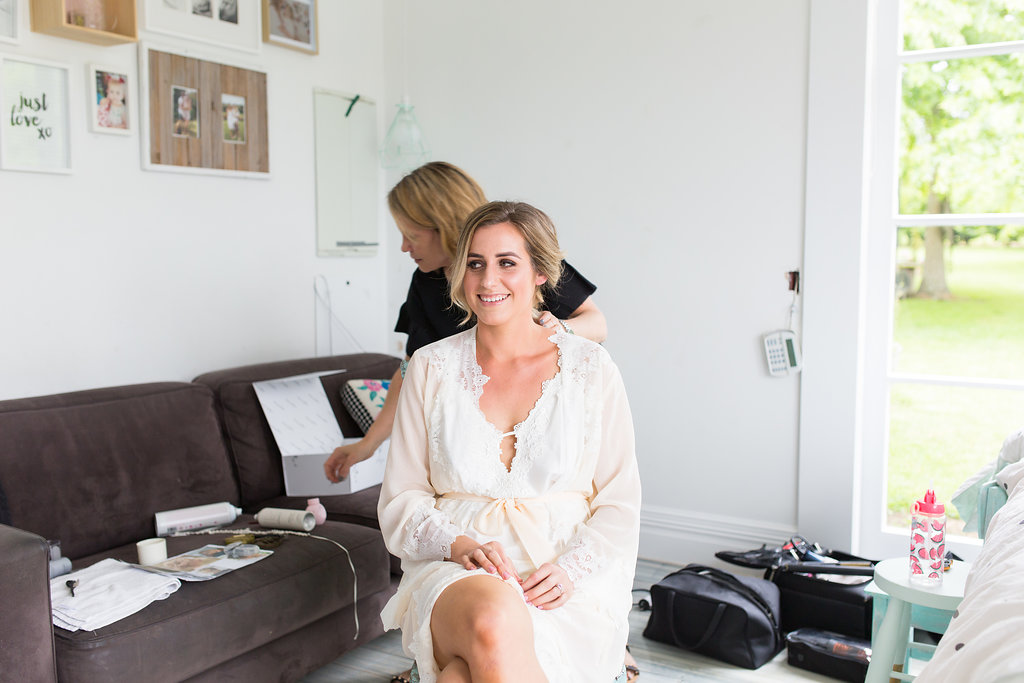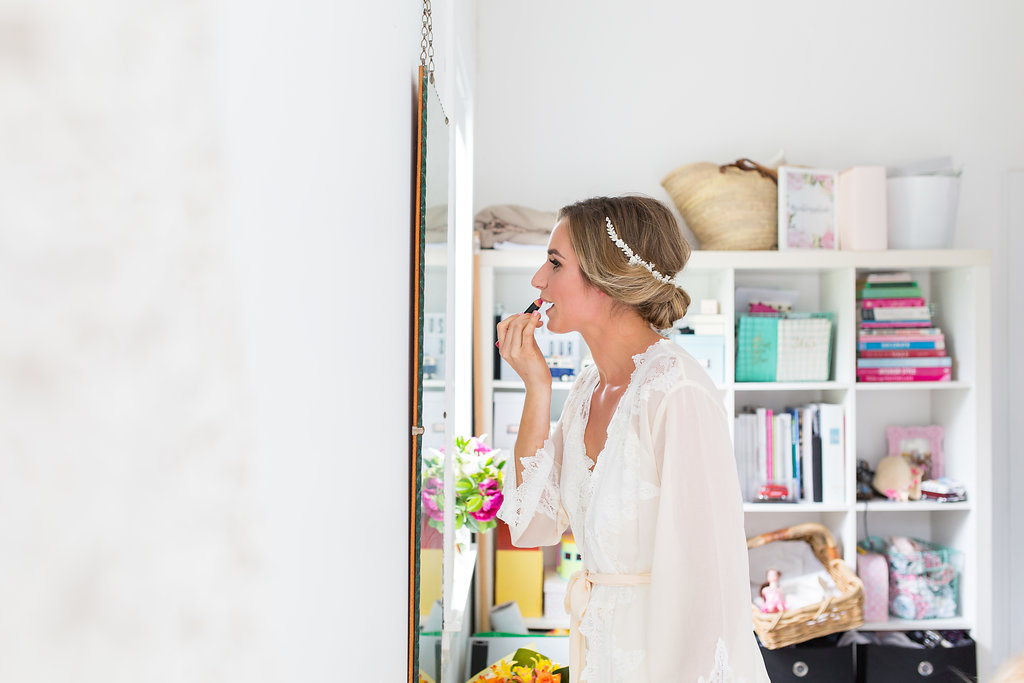 The morning of the wedding I spent with my girls. Mum, my sisters, my daughter and niece. It went extremely fast, as everyone tells you it does and it was pretty nonstop busy. Im not very good at delegating so I found myself down at the reception venue first thing that morning arranging flowers, styling, and reorganising.
Our ceremony was short and sweet, the rain set in just as Jamie and I left the isle so we managed to just fit the ceremony in before that. Our guests enjoyed an amazing grazing table and live music while we went off for photos on the farm.
Great food was really important to us. Having no cooking facilities at the barn everything was cooked or prepped off site. We kept it simple with an insane grazing table to nibble on all evening. We chose four different salads and two types of meat for our main and it was a huge hit with guests.  Our main goal for the day was to bring everyone together to celebrate us. Have good food, booze, music, lots of laughter and generally an awesome time. Besides from some rain thrown at us and some last minute changes due to that, the day was perfect.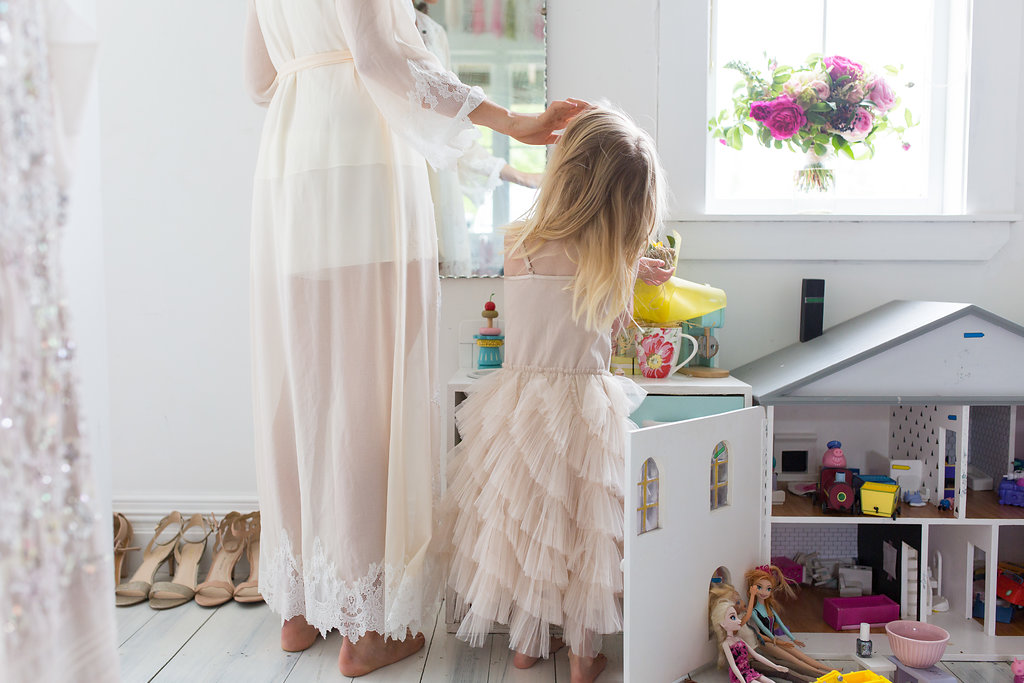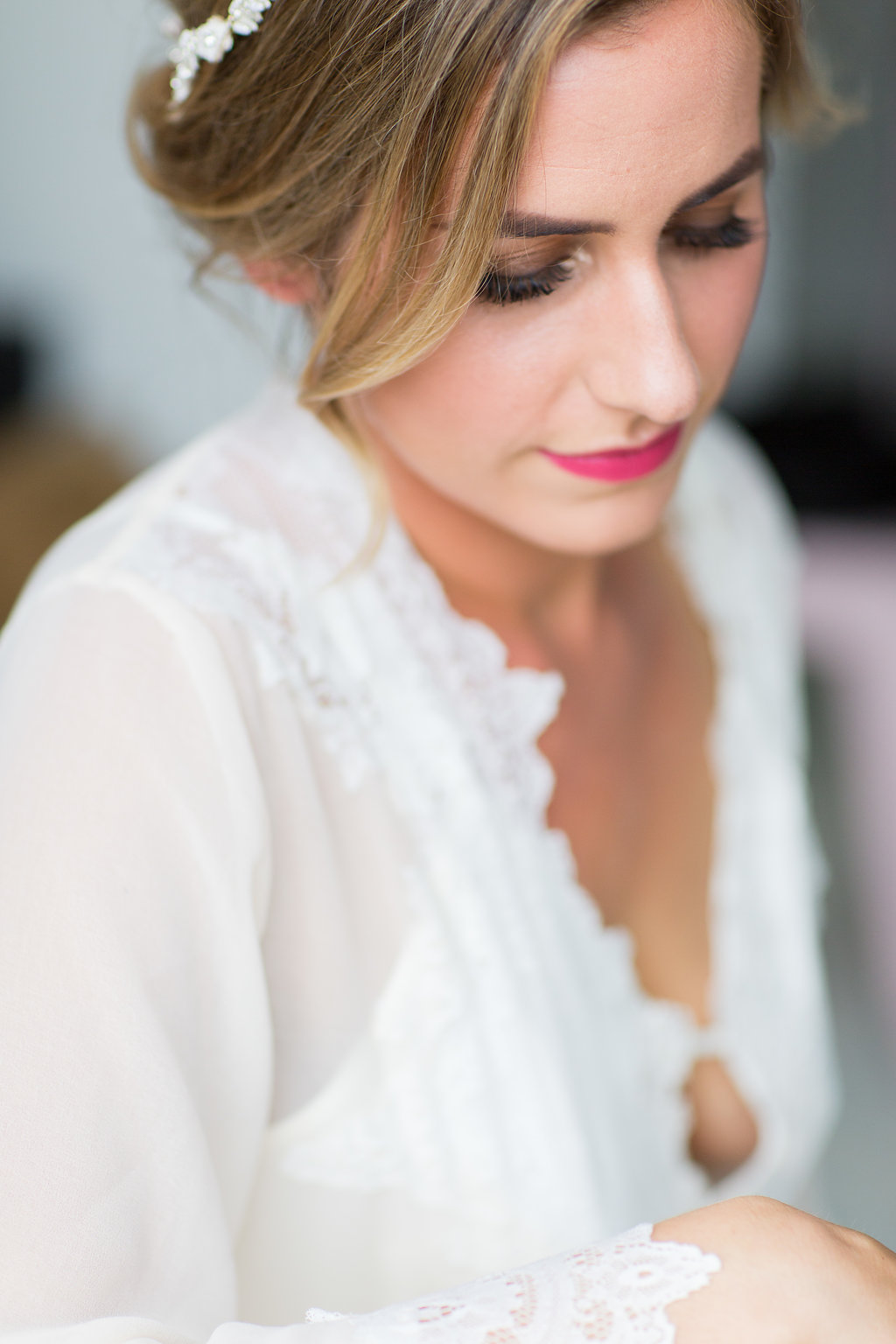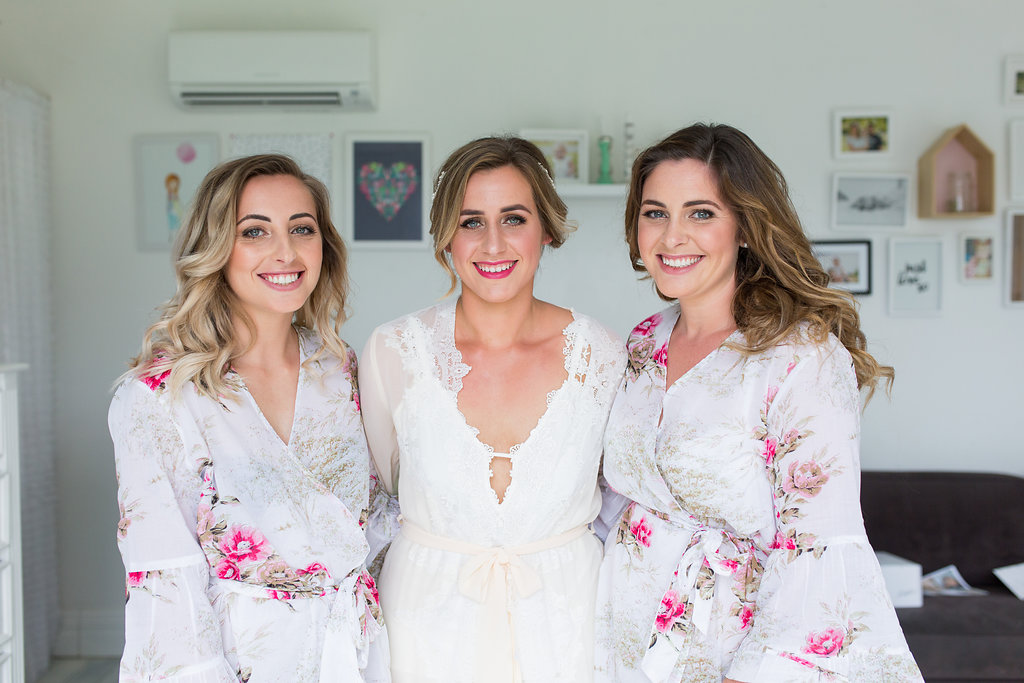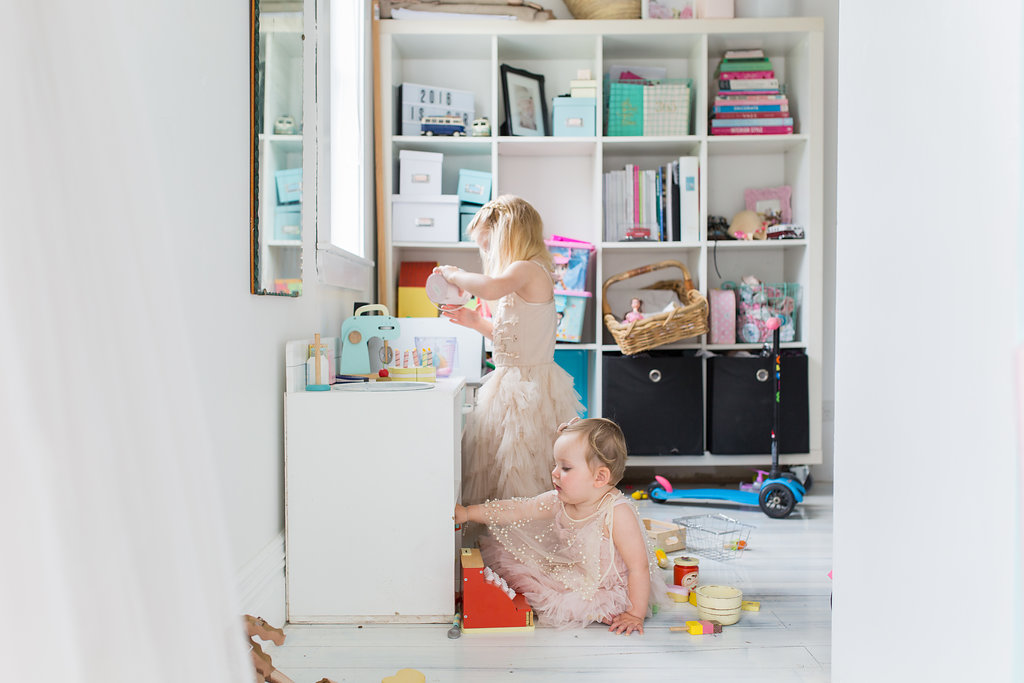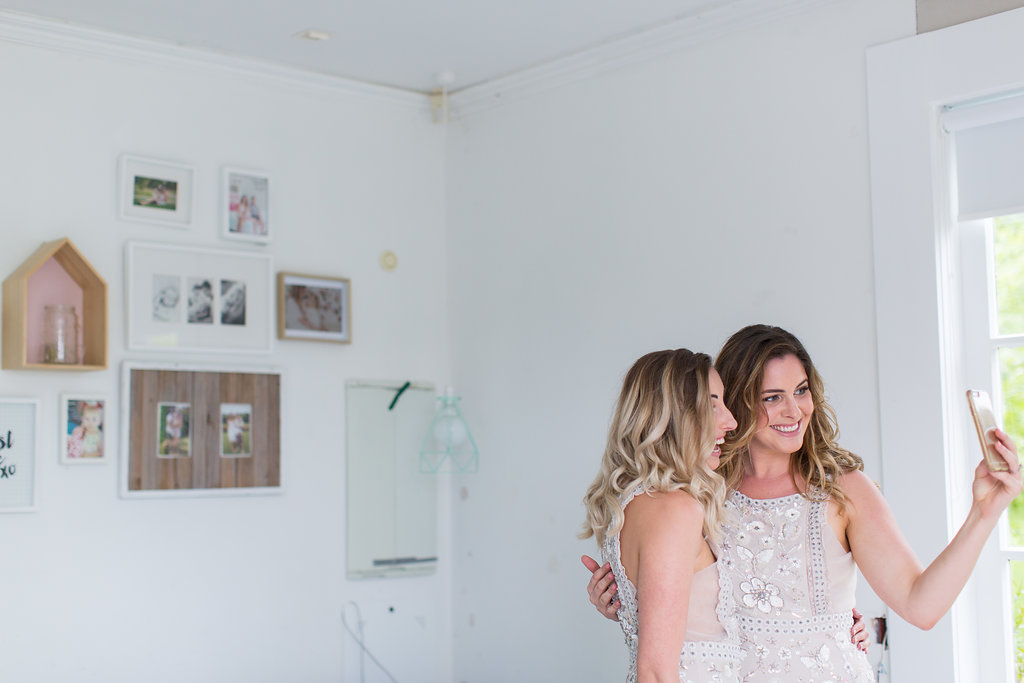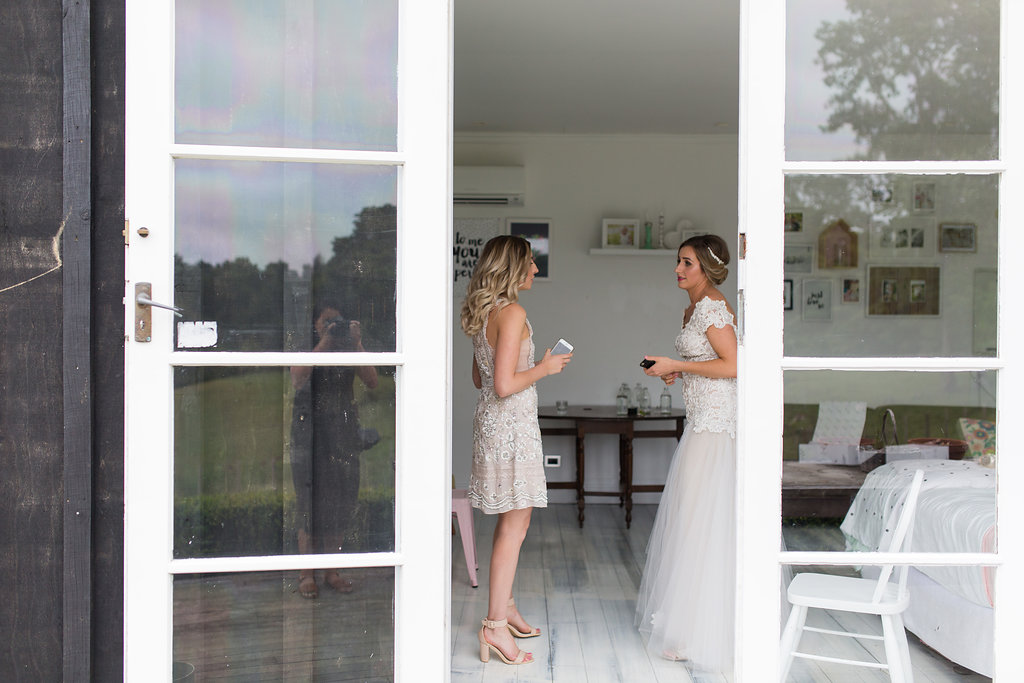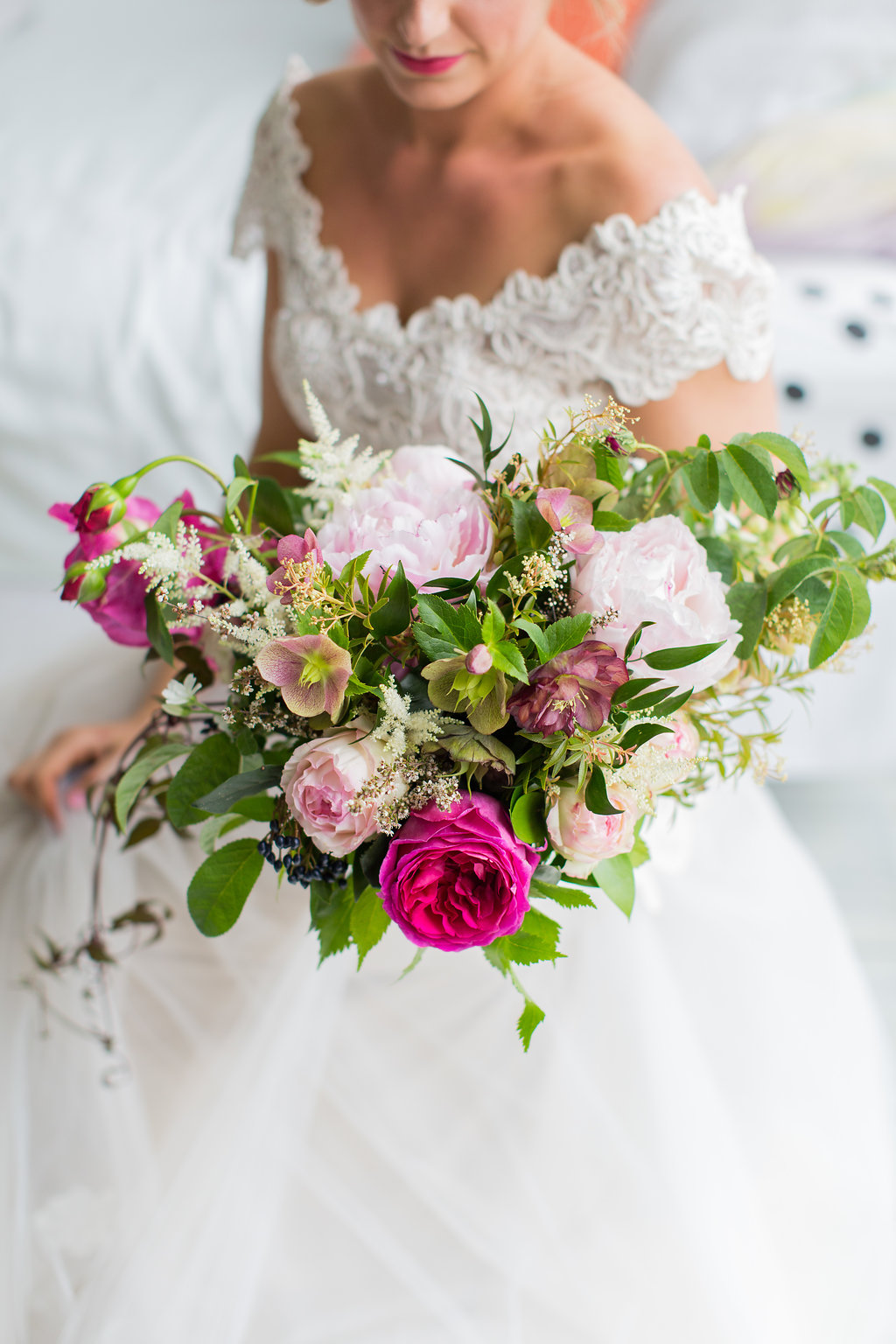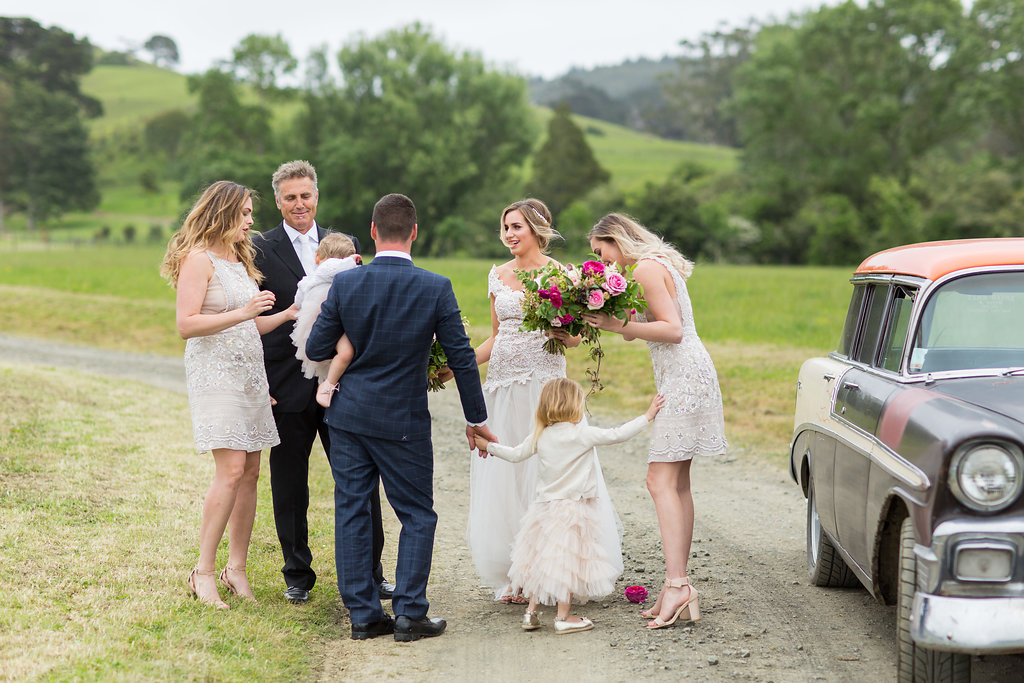 Tell us about your main outfits:
My Dress was made by Pam armor, a family friend and dress maker in her 80s! My mum and Pam found the fabric while out shopping one day well before I had decided on the design of the dress. A beautiful heavy beaded lace with scalloped edge. I made the trip into town the next day to purchase it. Being in the industry I had seen hundreds of dresses so I really struggled to find 'the one'. Pam and I spent quite a few appointments getting it right. I wanted to make the most of the scalloped edging of the lace so made this a feature around the neckline and lower back detail. I didn't want the dress to appear white, the lace had a beautiful pearly tone to it, so we chose to layer tulle after tulle in different shades of champagne, cream, and ivory ( 12 layers of it) for the skirt to get the perfect colour showing through.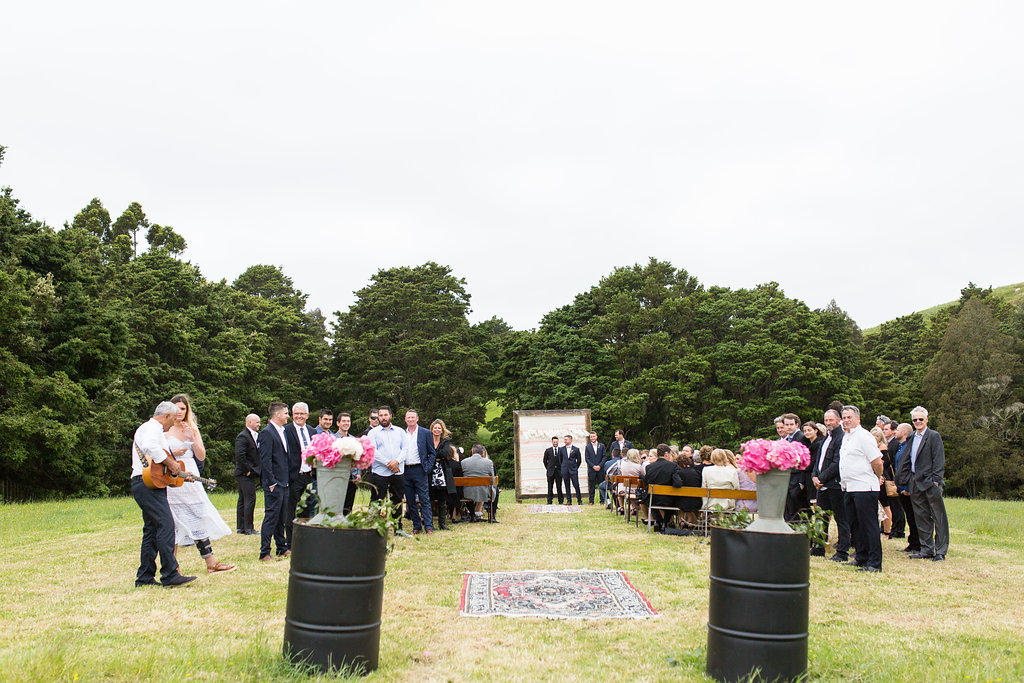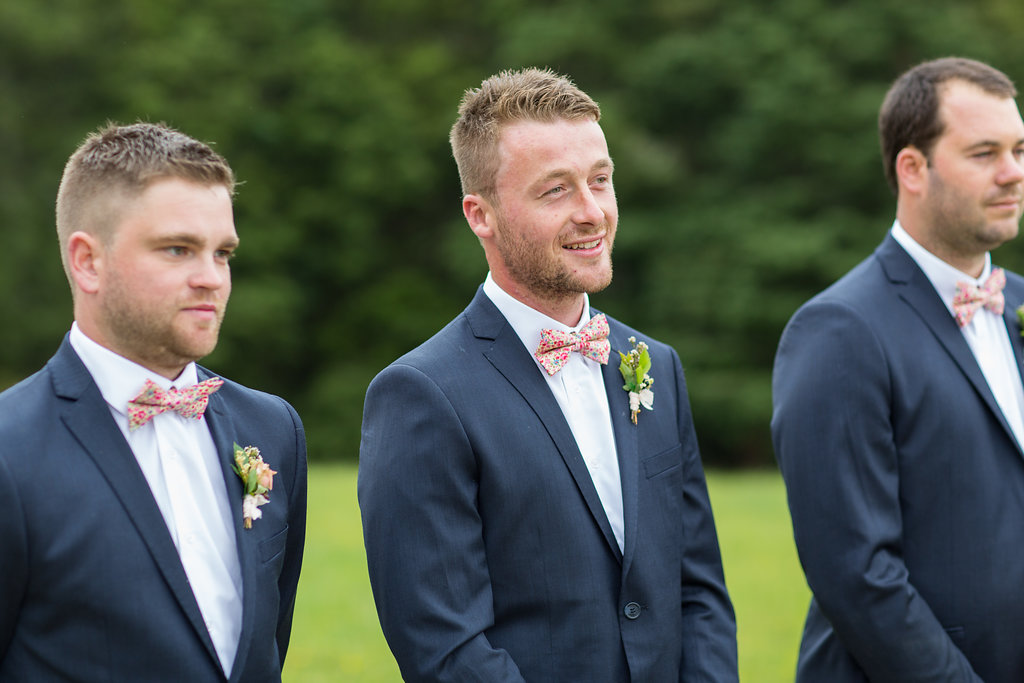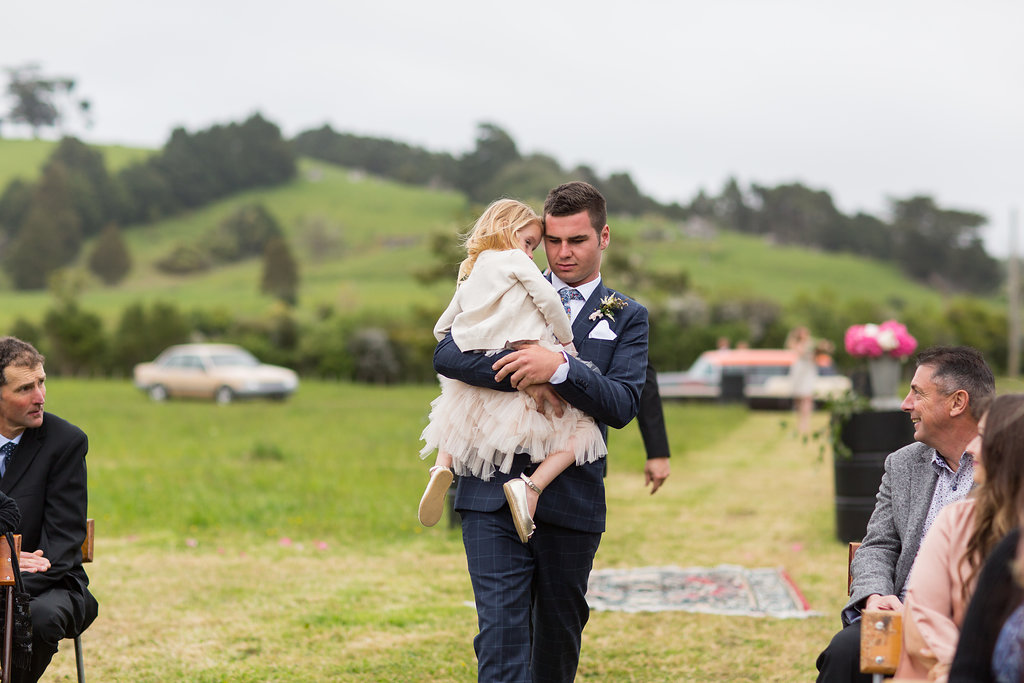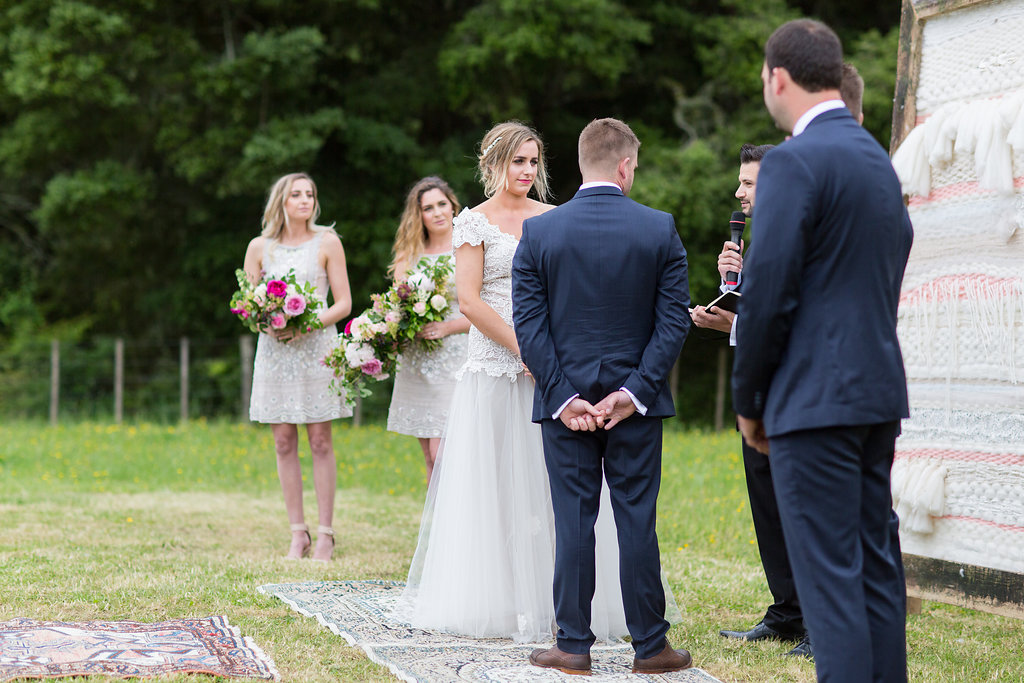 My Hair and Makeup were very important to me, I had to get it perfect. After making up so many other brides on their special day it was finally my turn to experience it myself. It was really eye opening to get to experience that, I defiantly can relate more now to my clients on their big day!
Jamie wore a Deep Navy suit, Crisp white shirt, brown leather shoes, a funky bowtie and Kombi cufflinks to match his personality and hobbies. The Groomsmen in matching.
My Bridesmaids wore Full beaded gowns from Needles & Threads which we found in Melbourne, again before my dress had been designed and decided on. The colour and cut was very unique so this helped set the colour palette for my dress also. My Daughter and Niece wore stunning Tutu Du Monde dresses. My Daughters was a champagne colour and pearl beading detail to tie in with mine.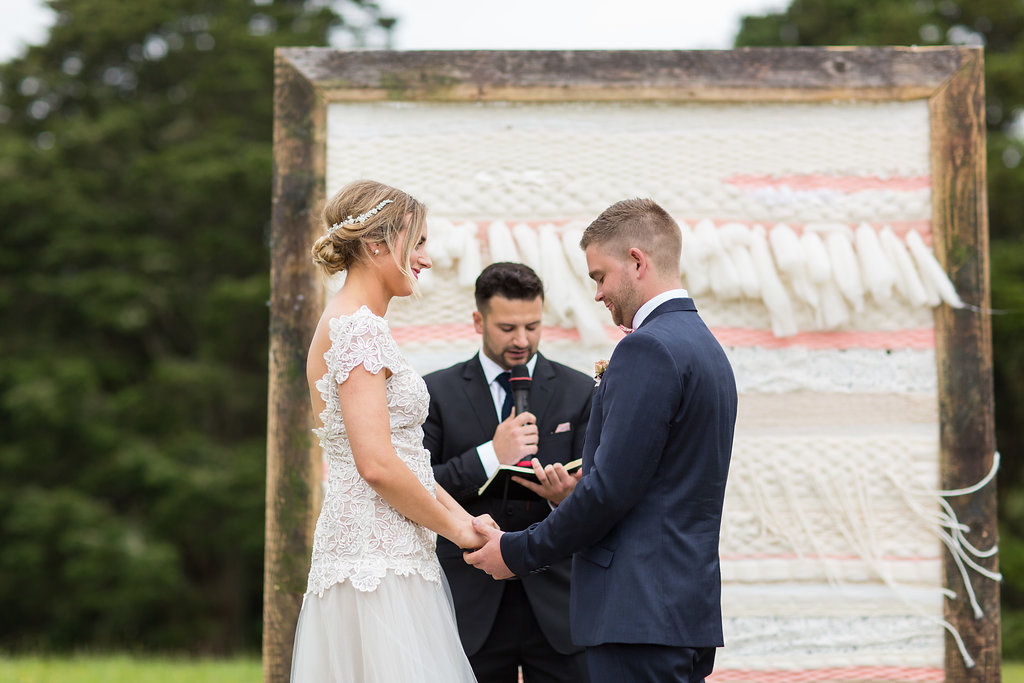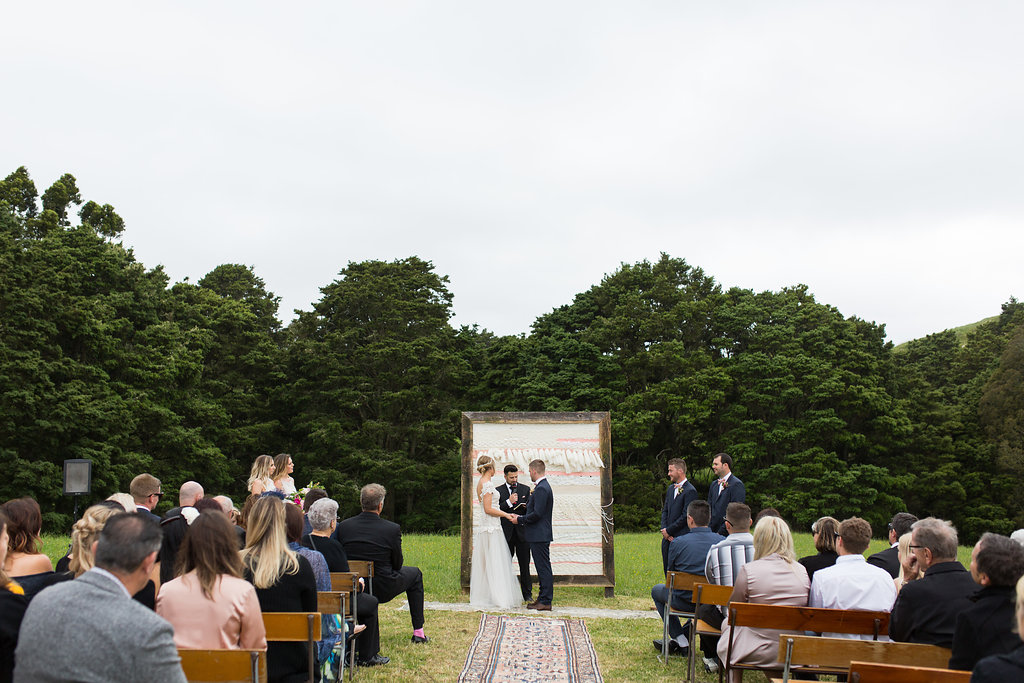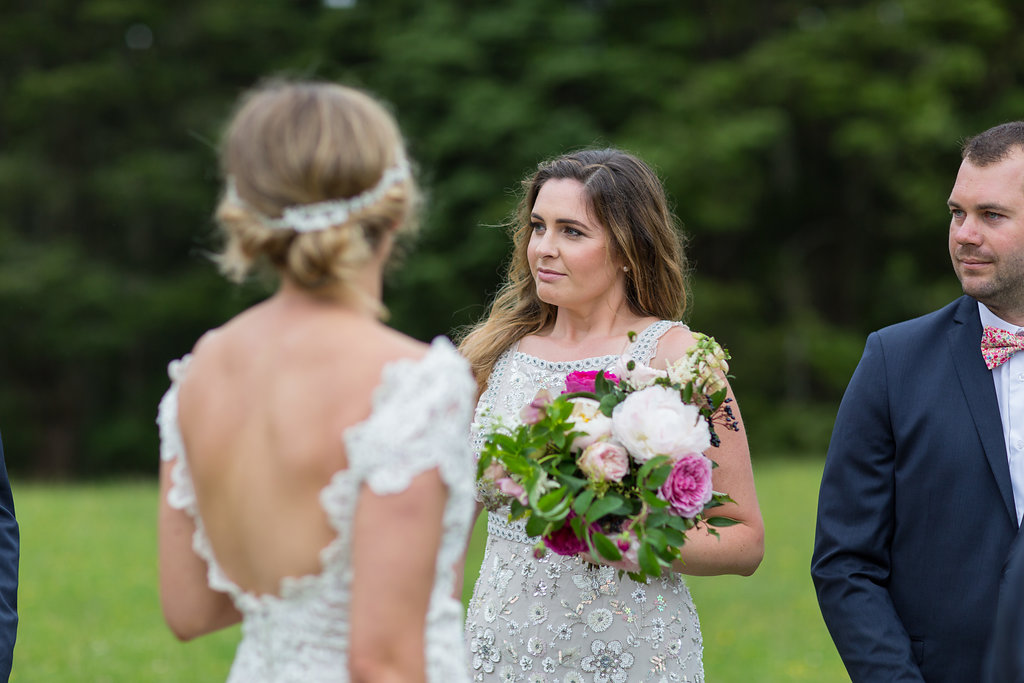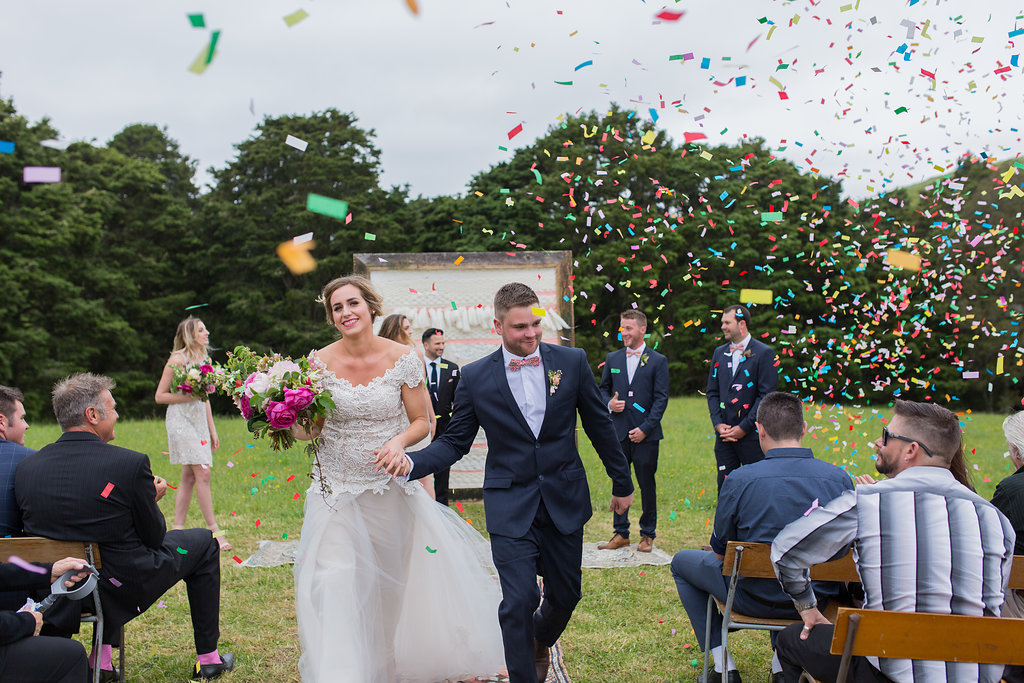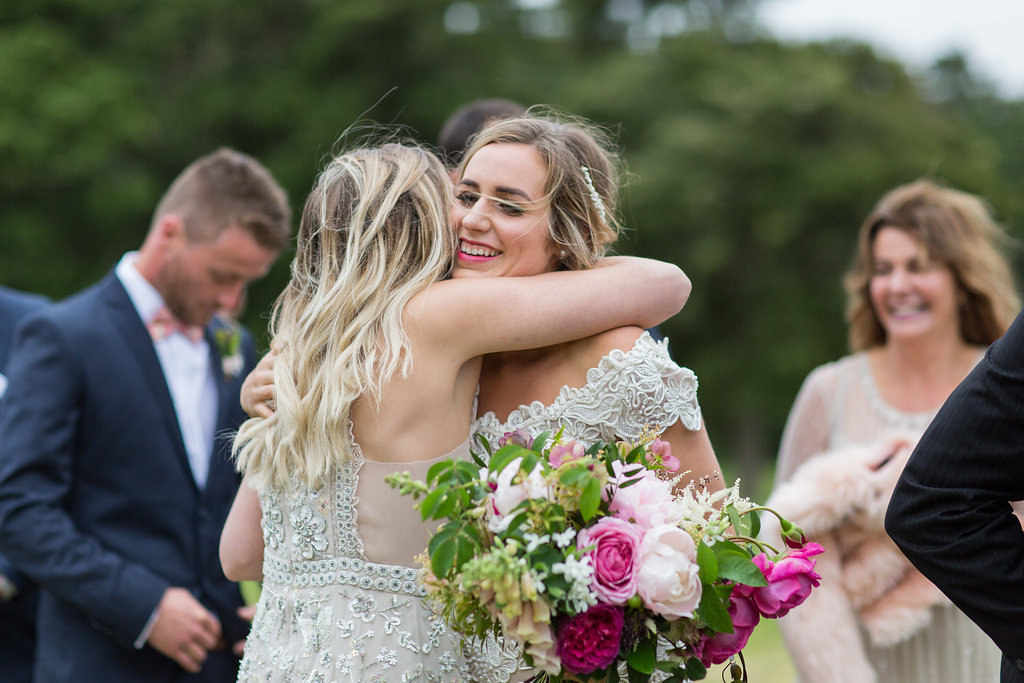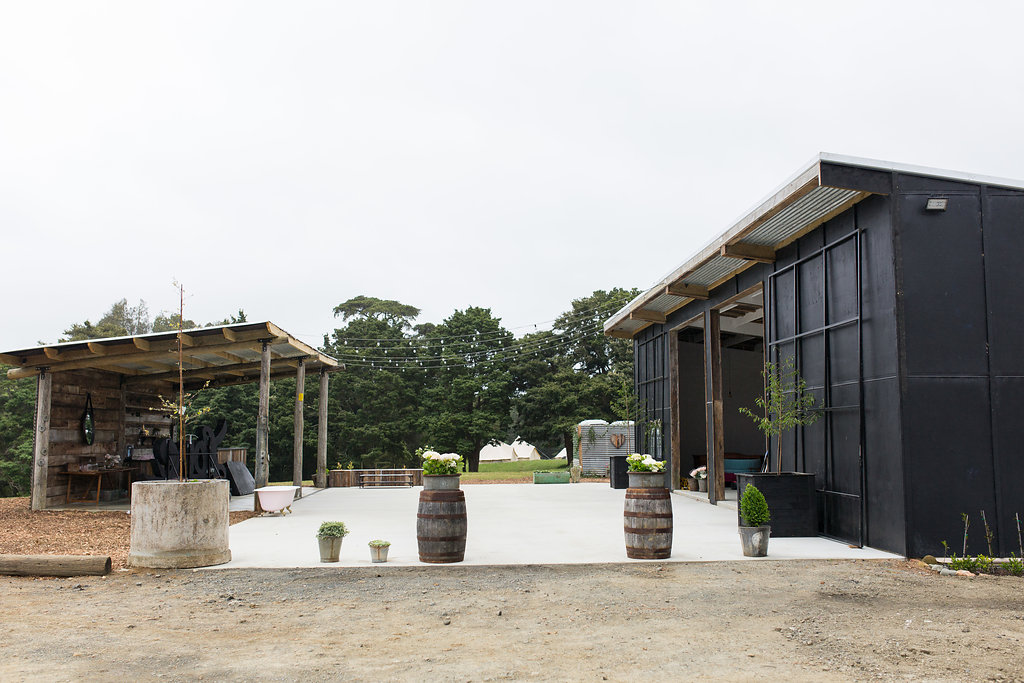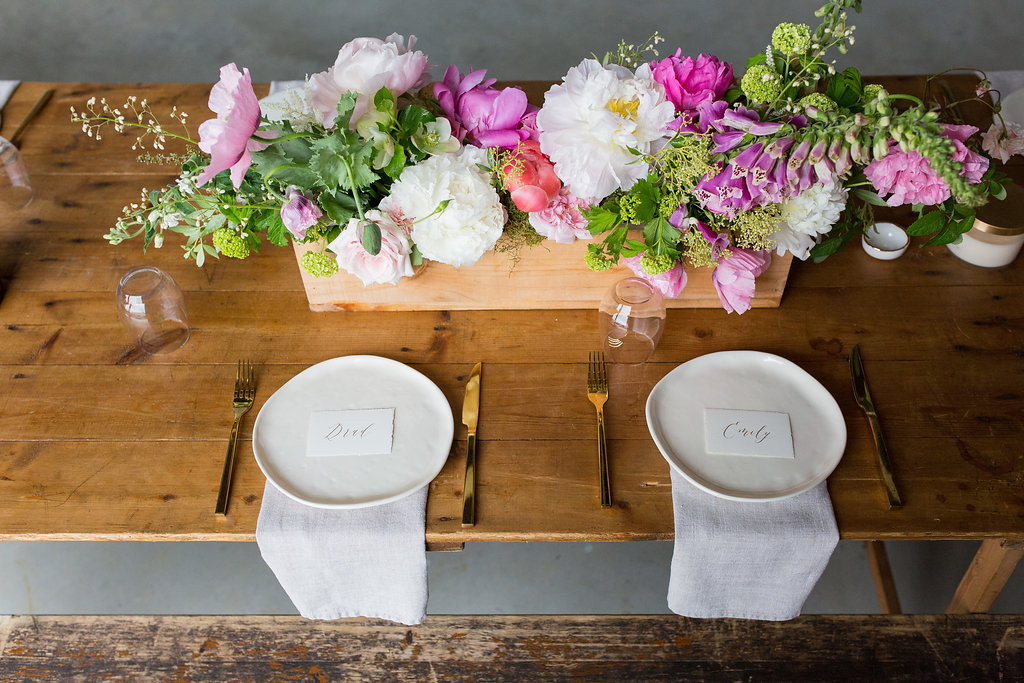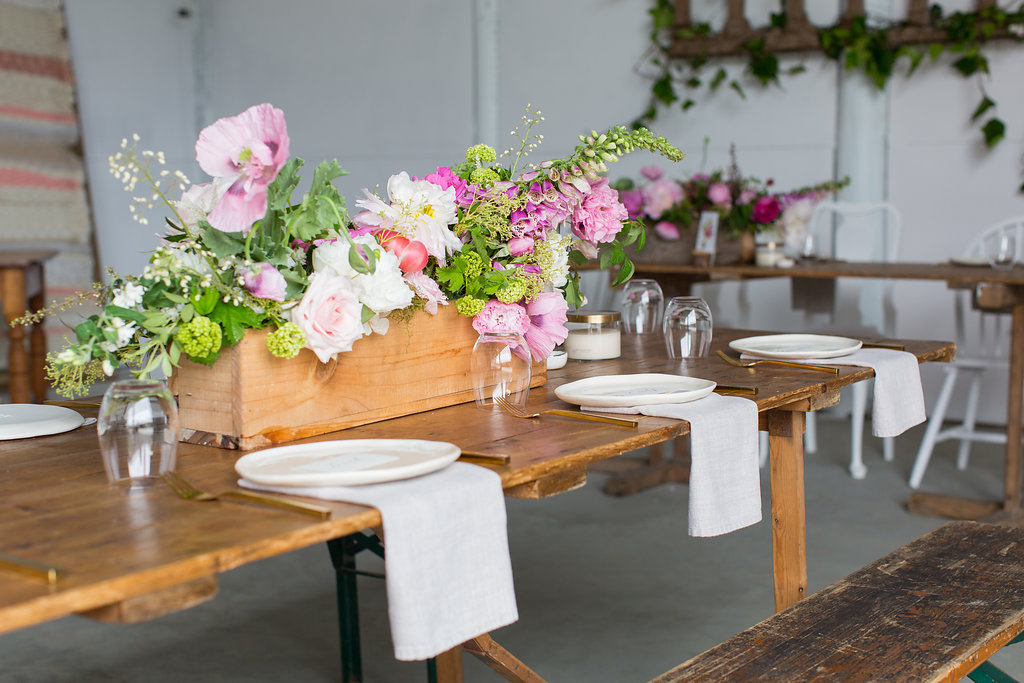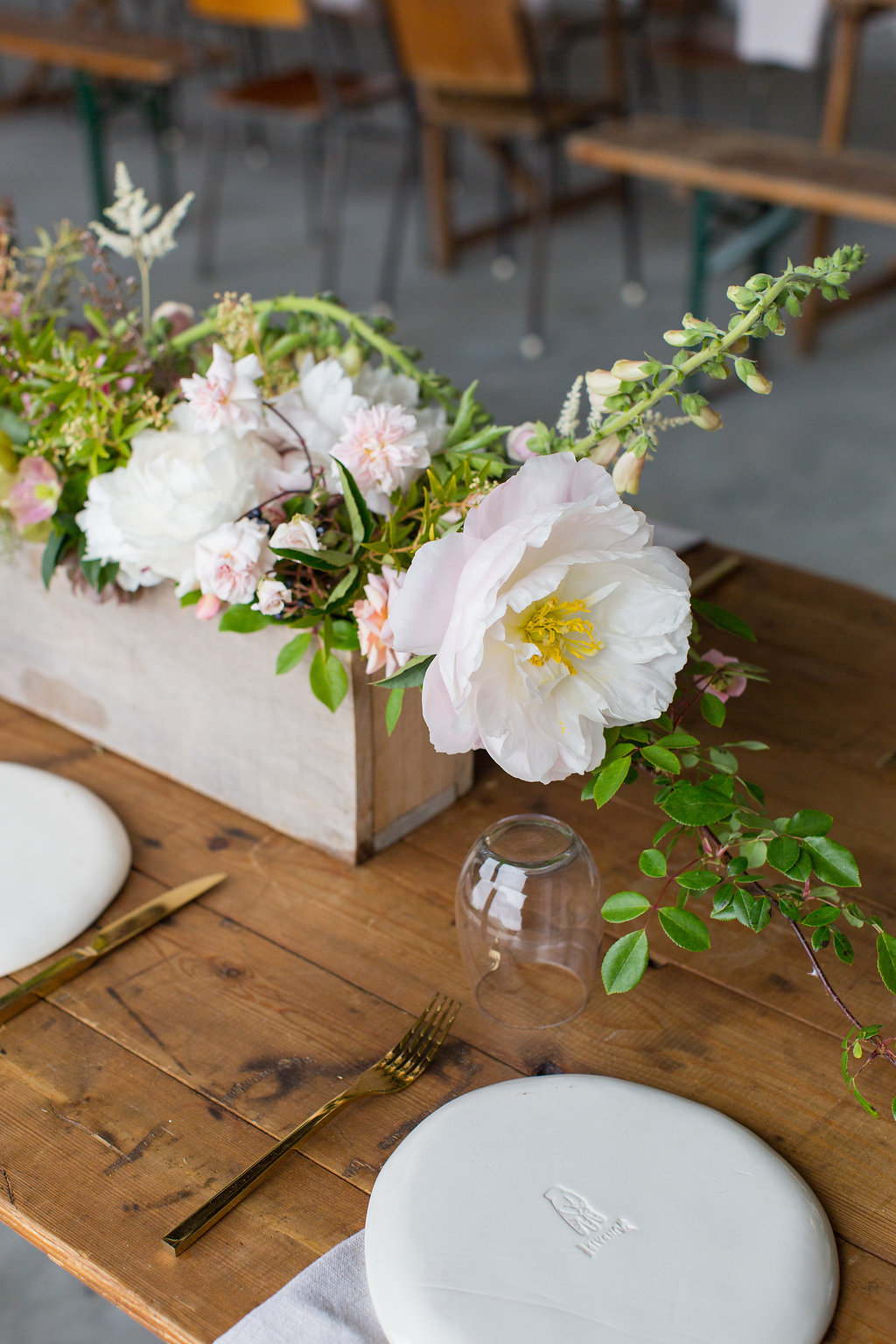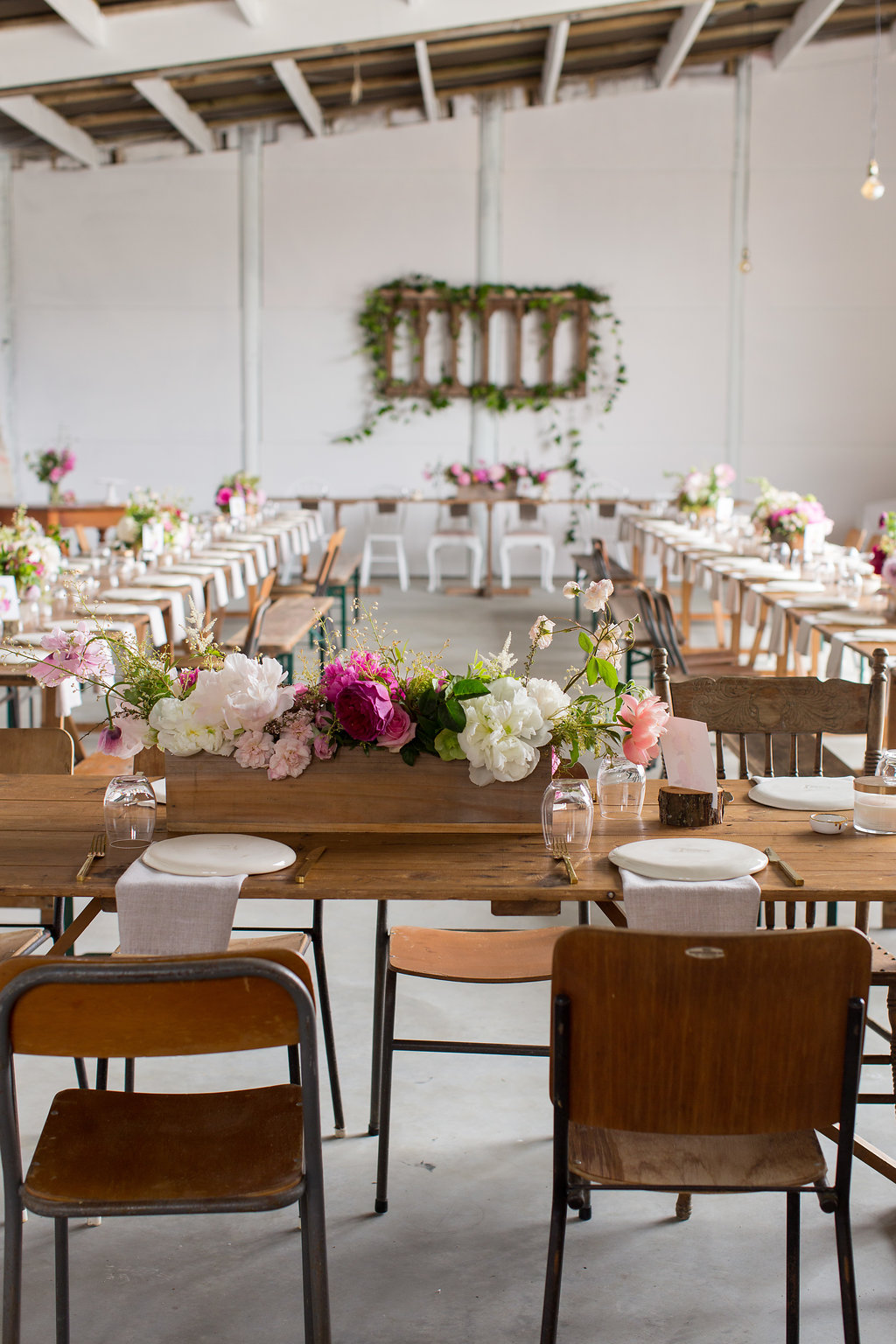 What were some of the most memorable/unique moments from the day?
Getting ready in the morning with my family was really special, just the girls, a tonne of makeup and laughter is always a good way to start the day. The moment we arrived to our ceremony was one I wont forget, theres a gorgeous picture of myself, my sisters, brother and dad sharing a excited/nervous laugh together as we gathered ourselves for what was to come. Our celebrant who has known our family for many years kept some of his reading a secret from the two of us so it was really nice to have that bit of surprise at the ceremony.
Later that evening my daughter joined us on the dance floor for a dance, watching her surrounded by all my friends and family with the biggest smile ear to ear was very special, I hope she remembers that one day!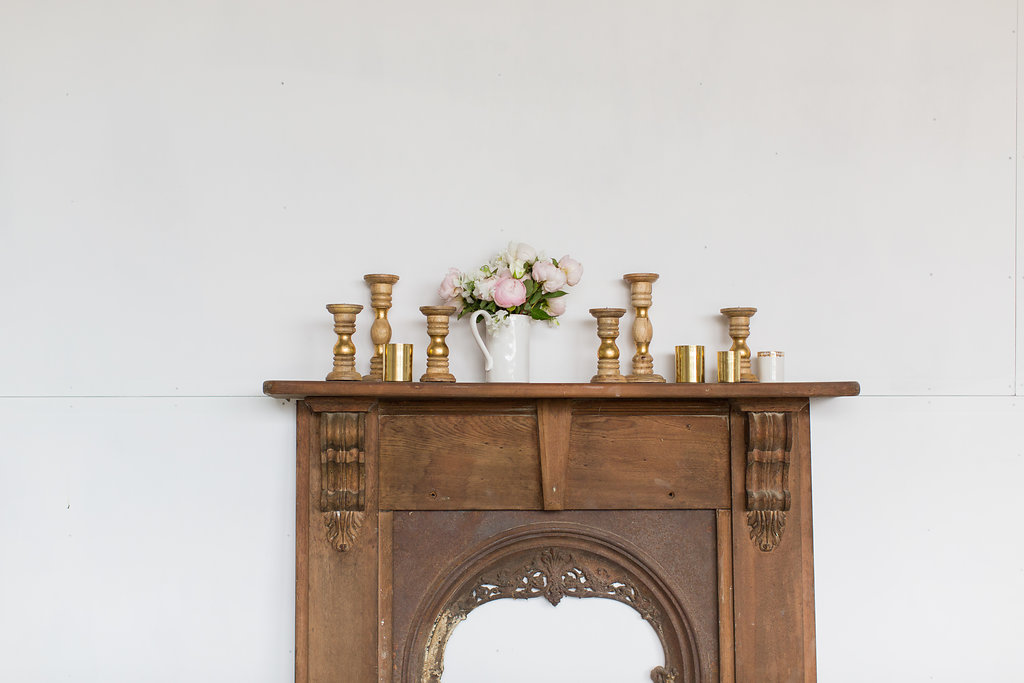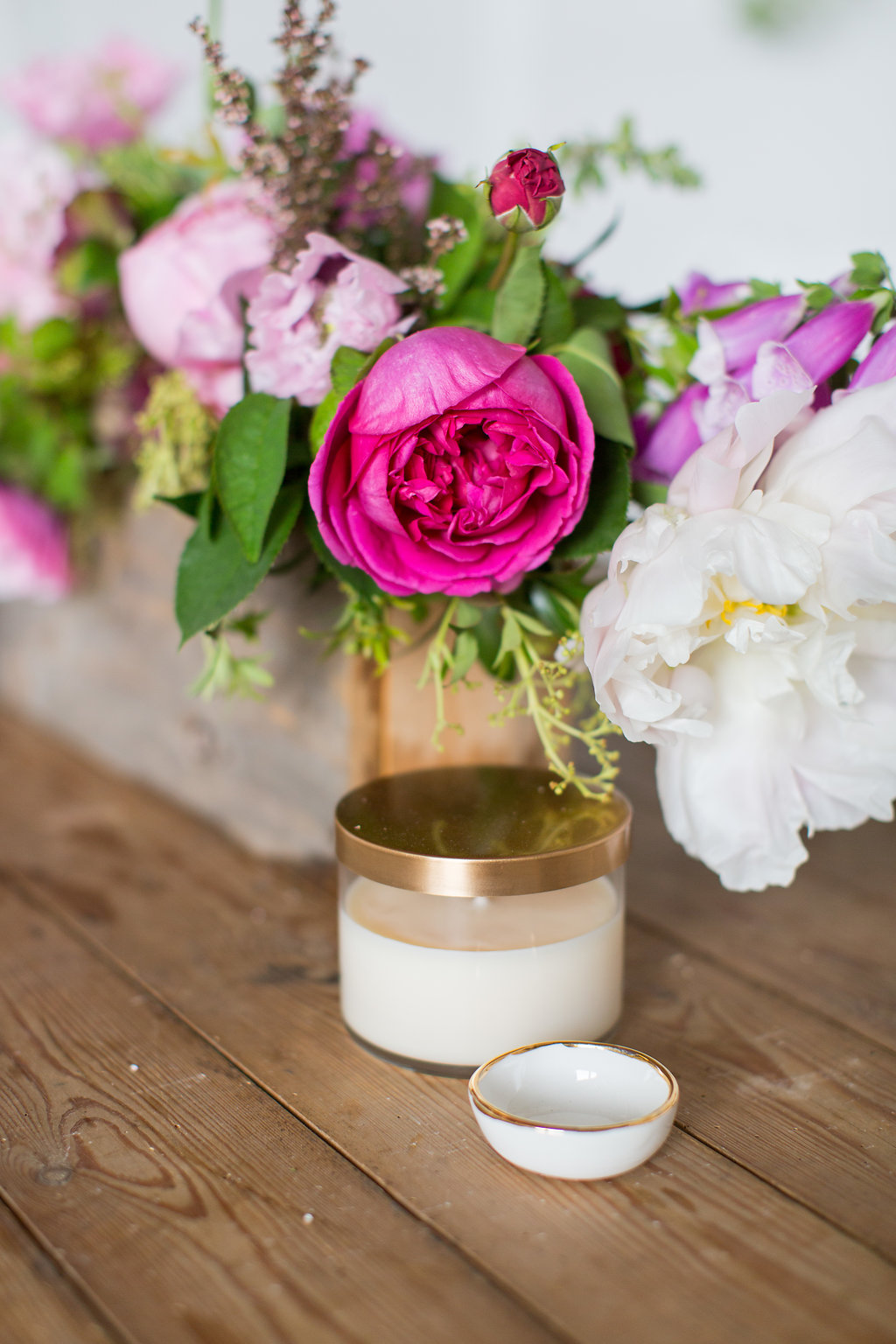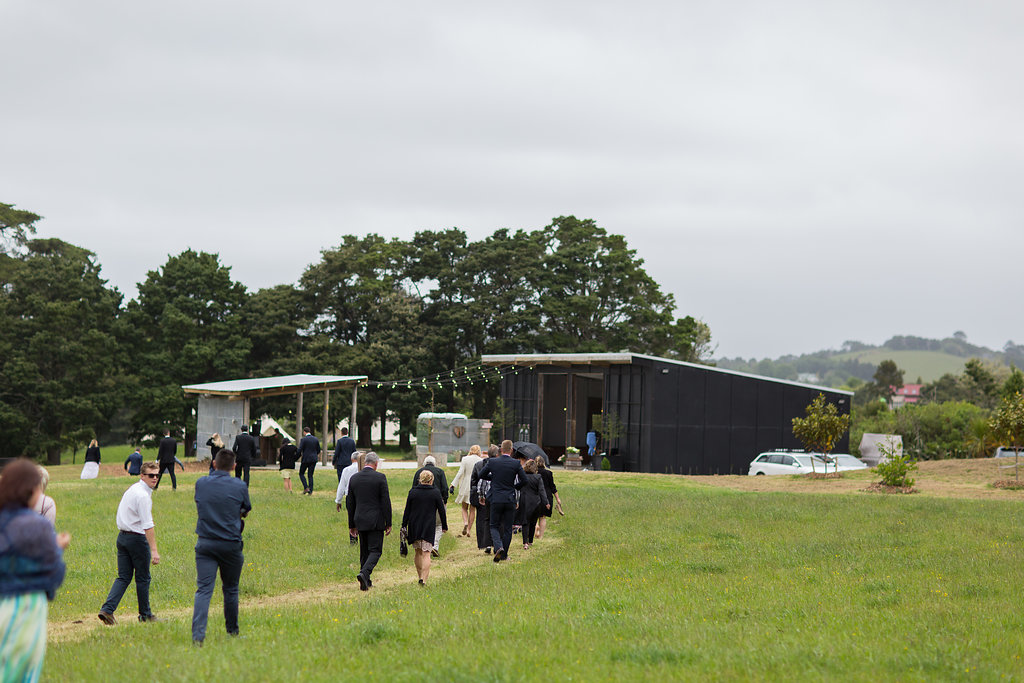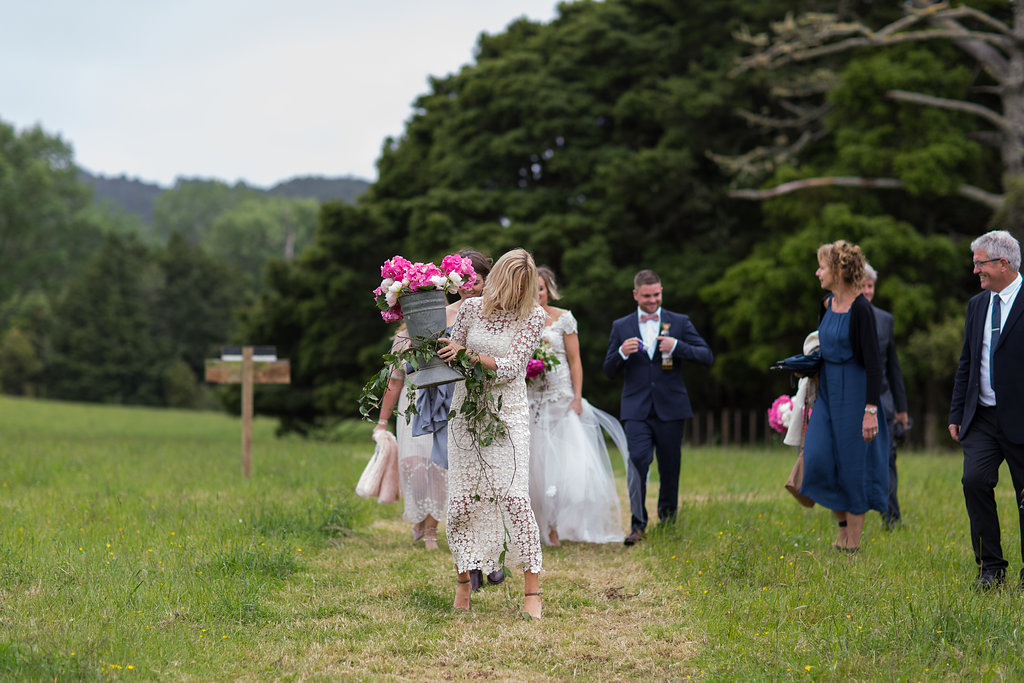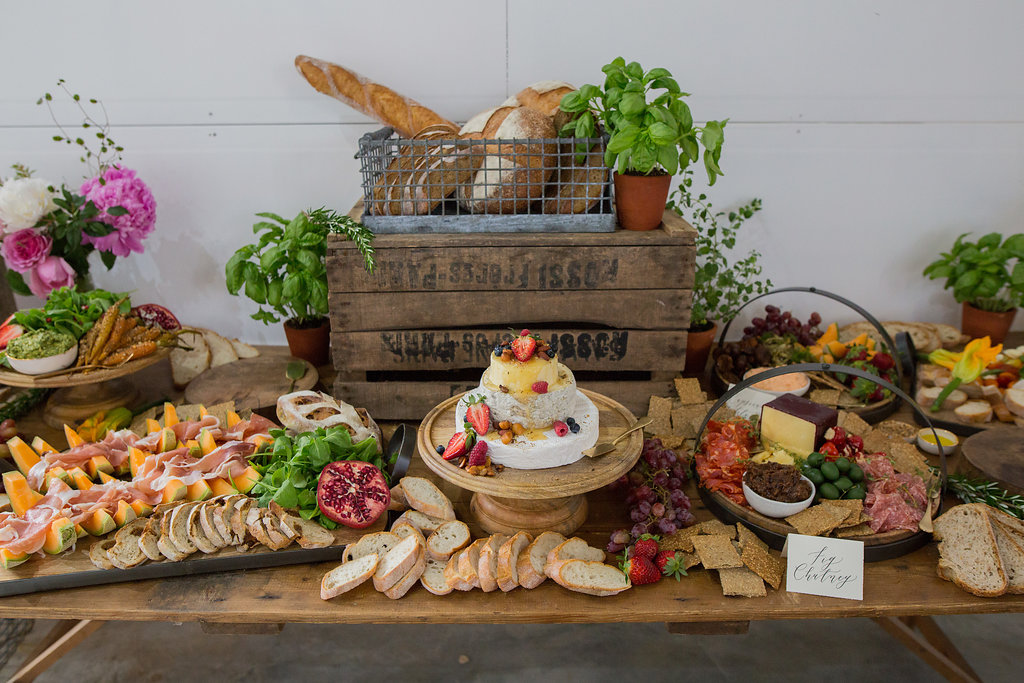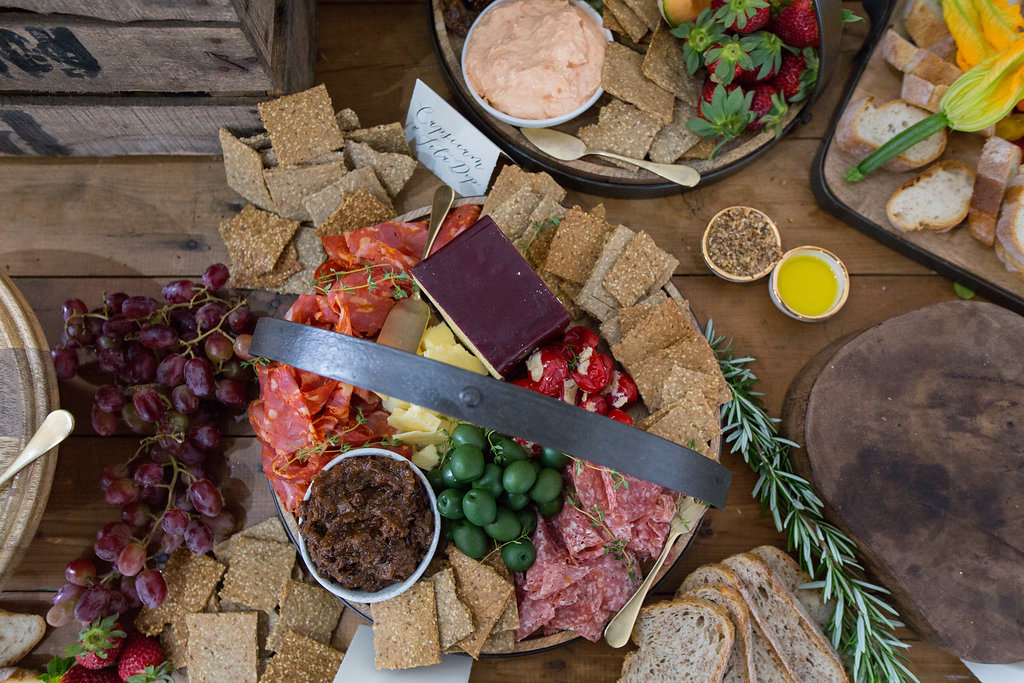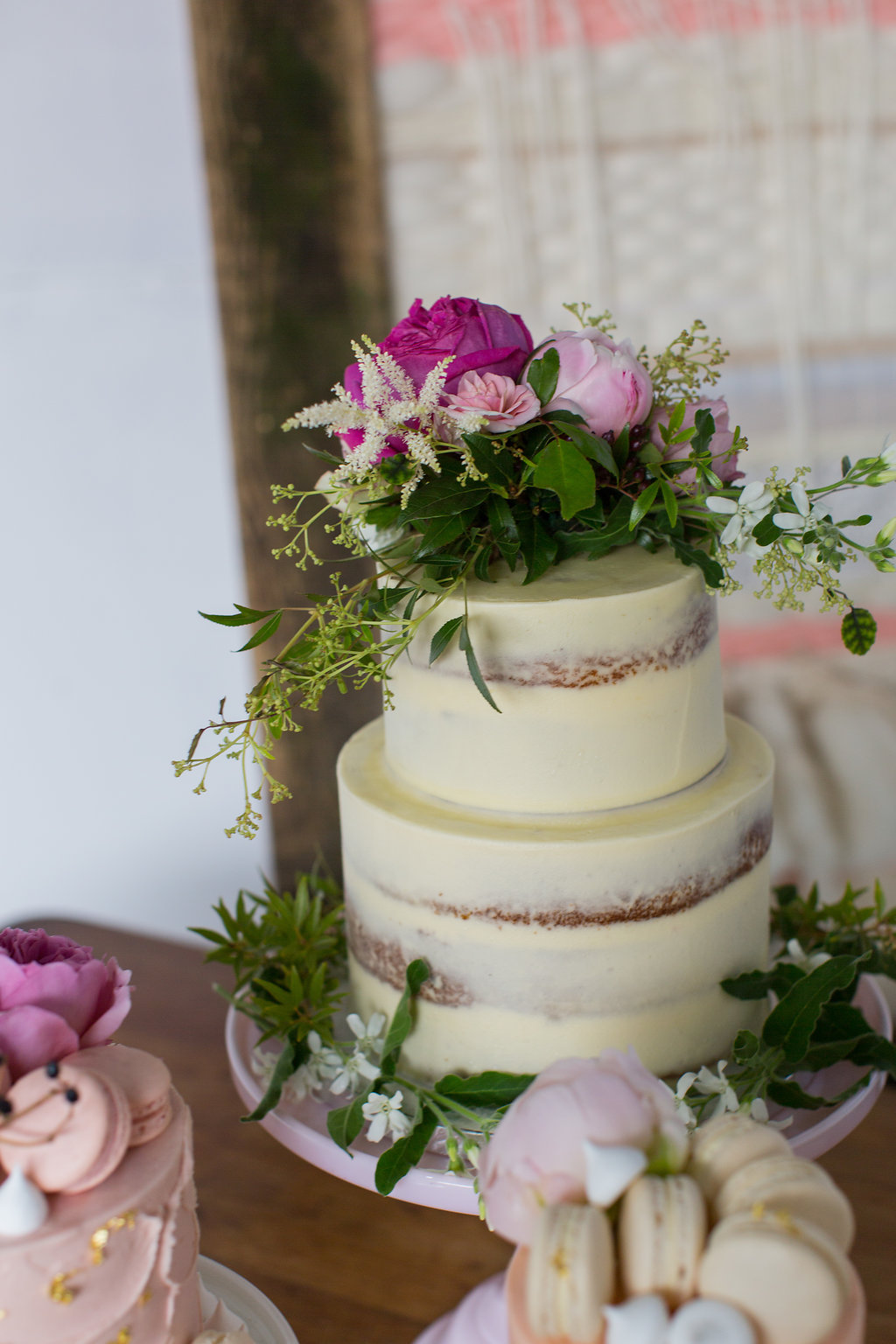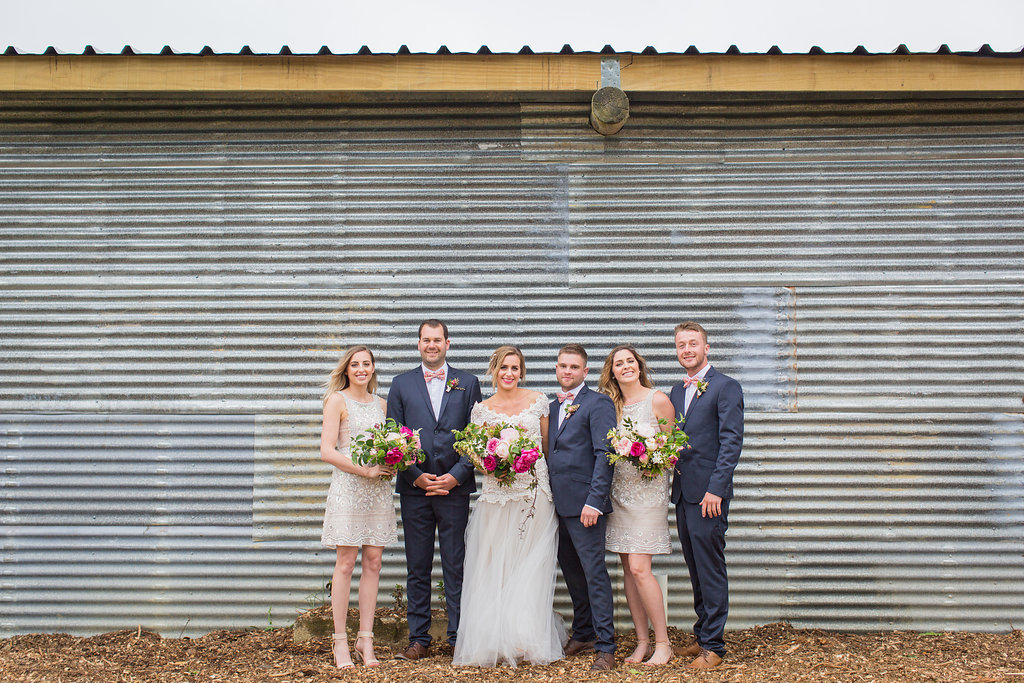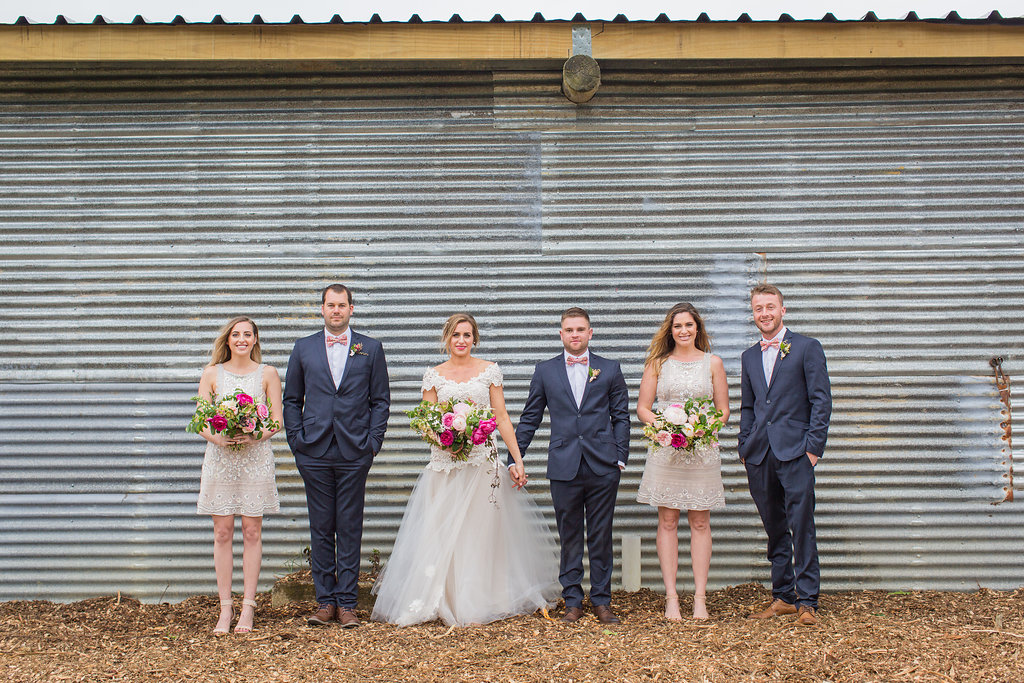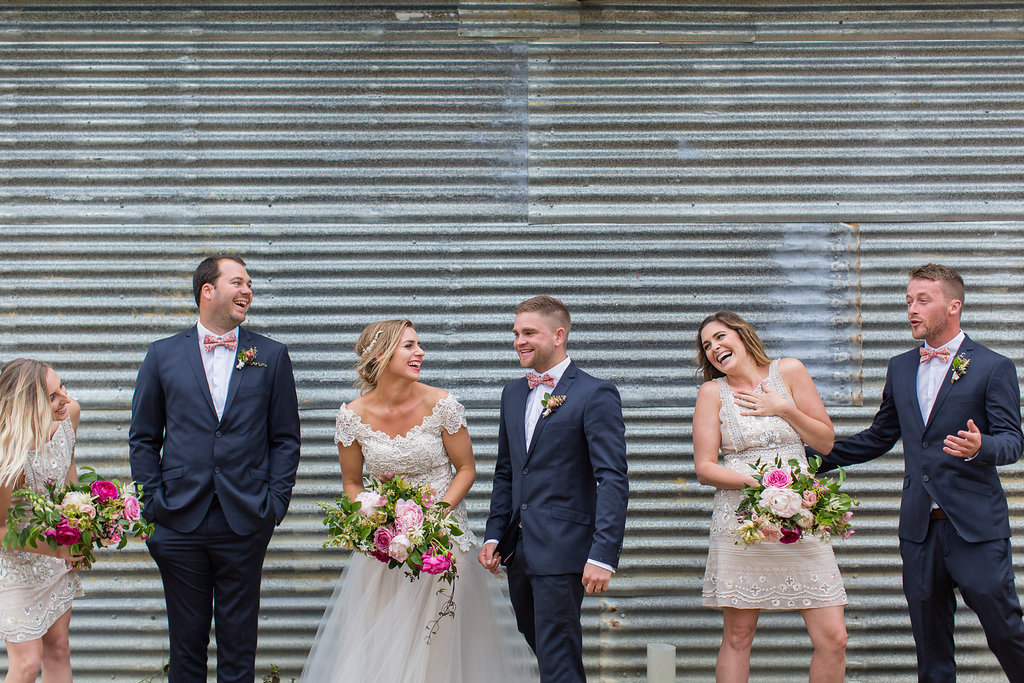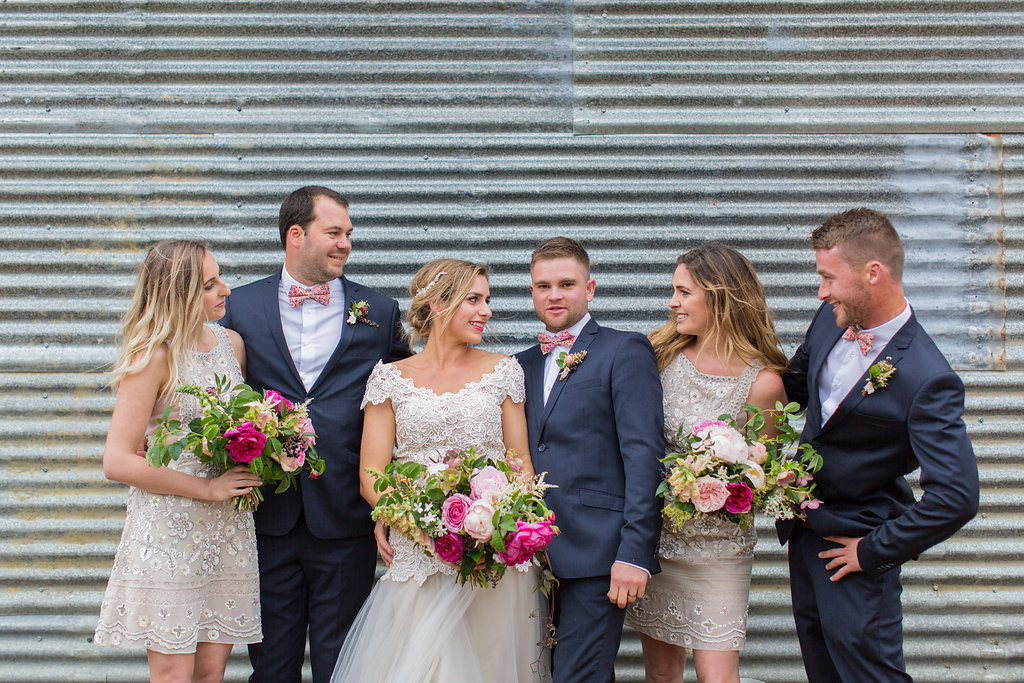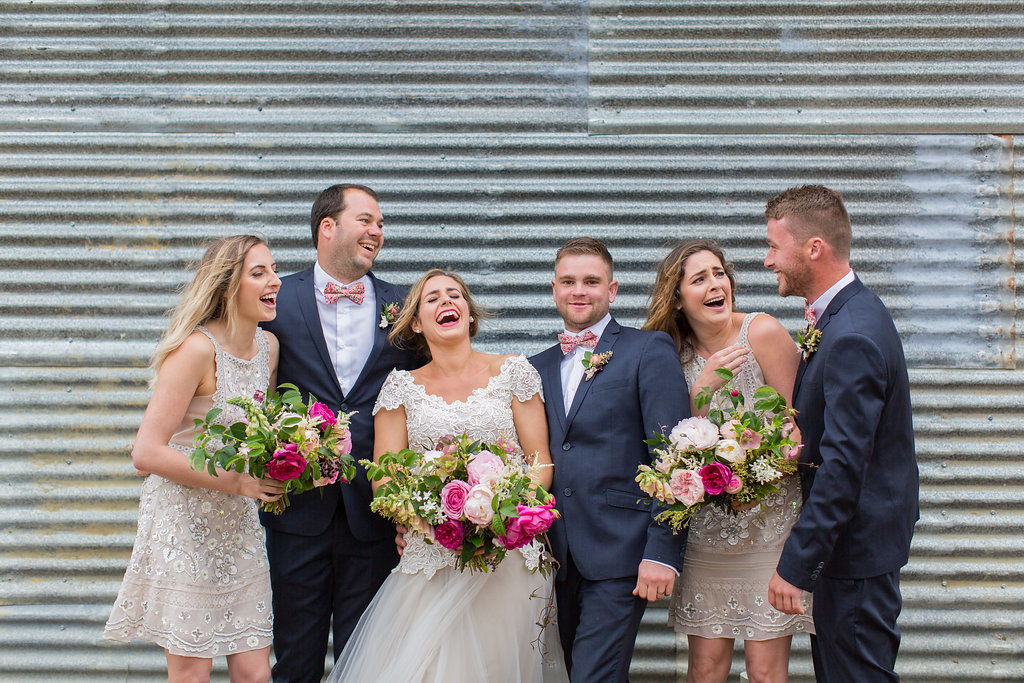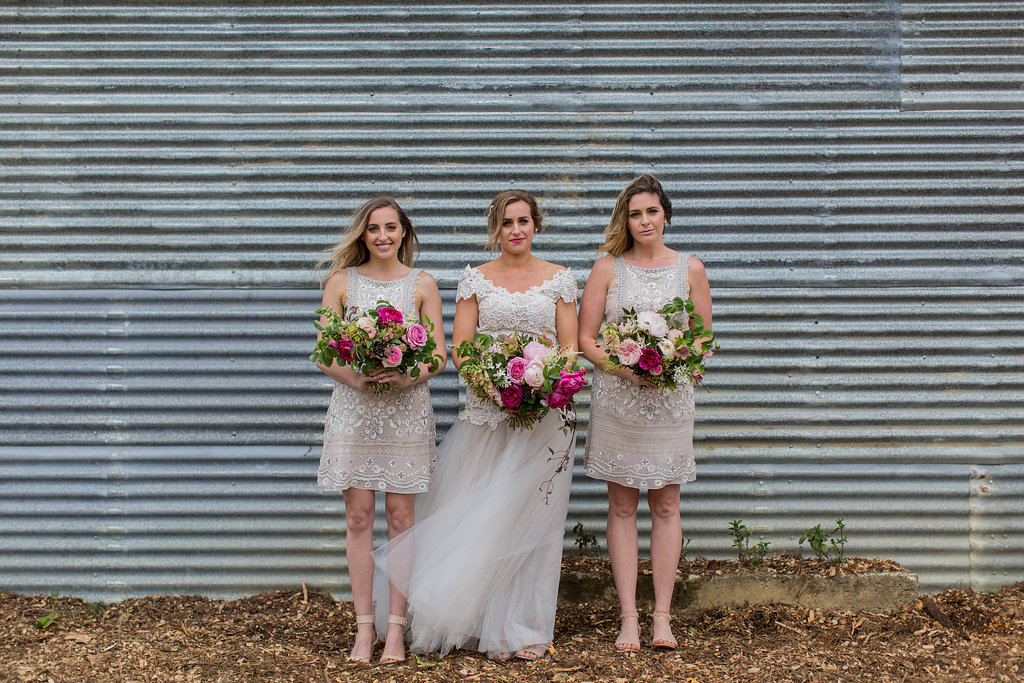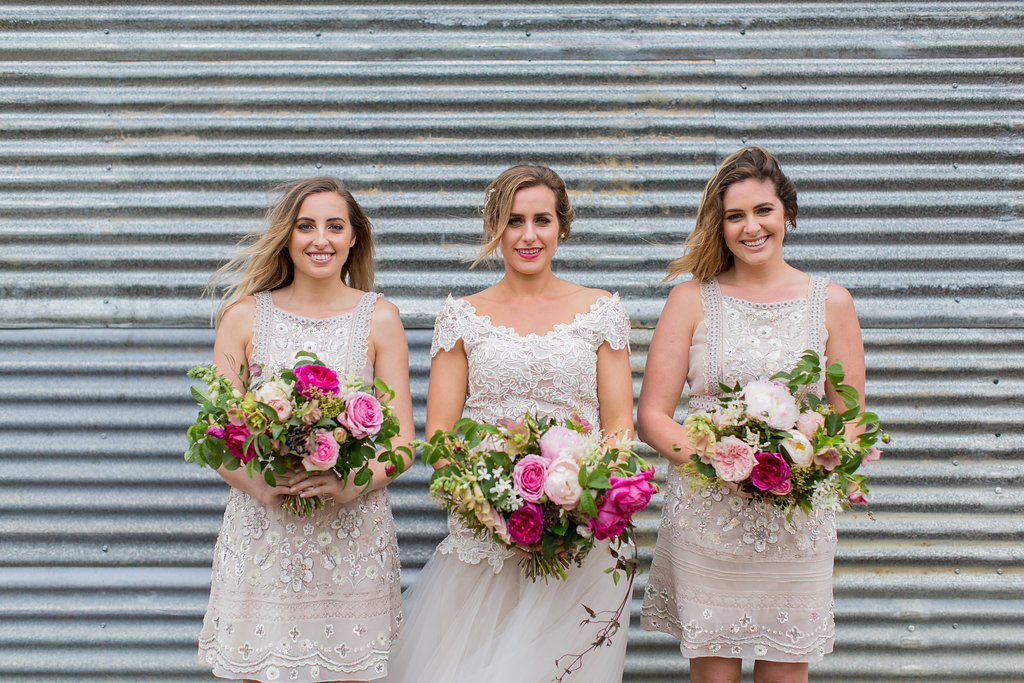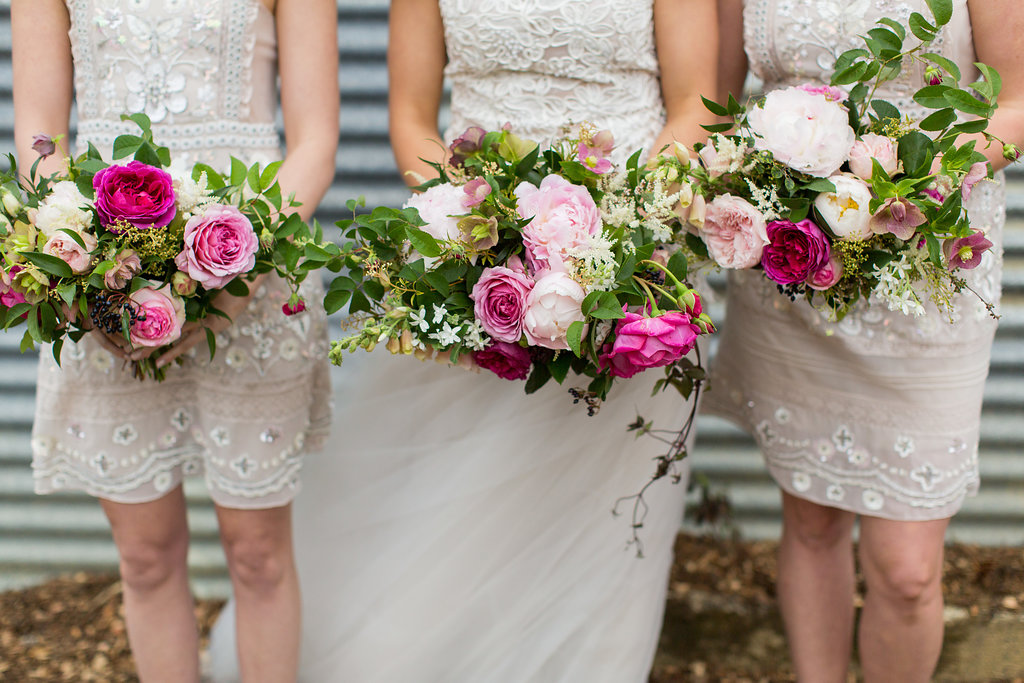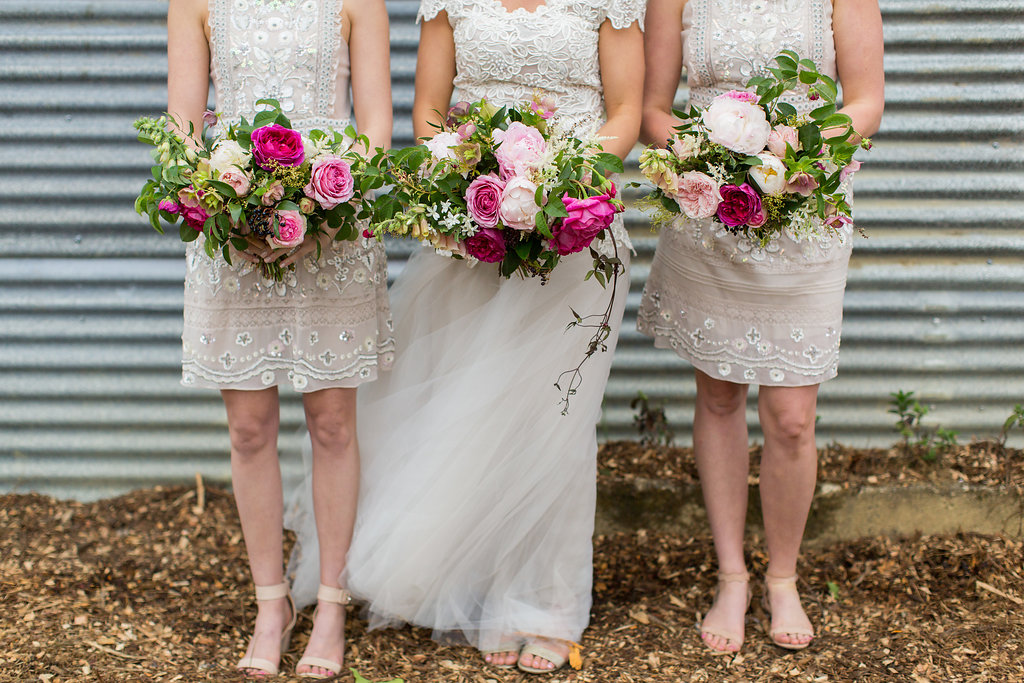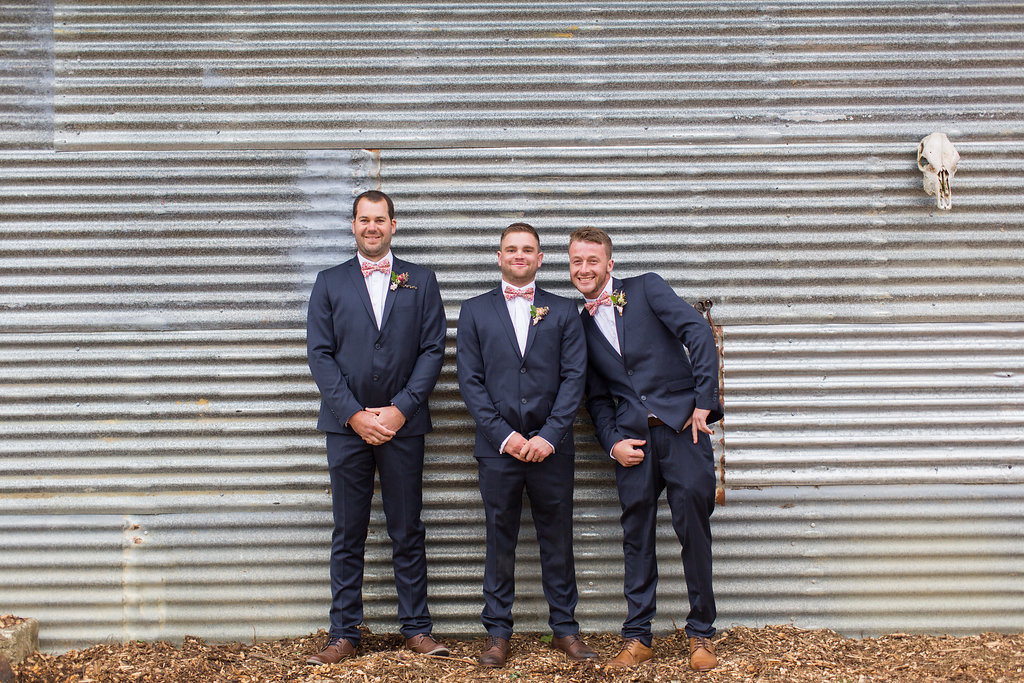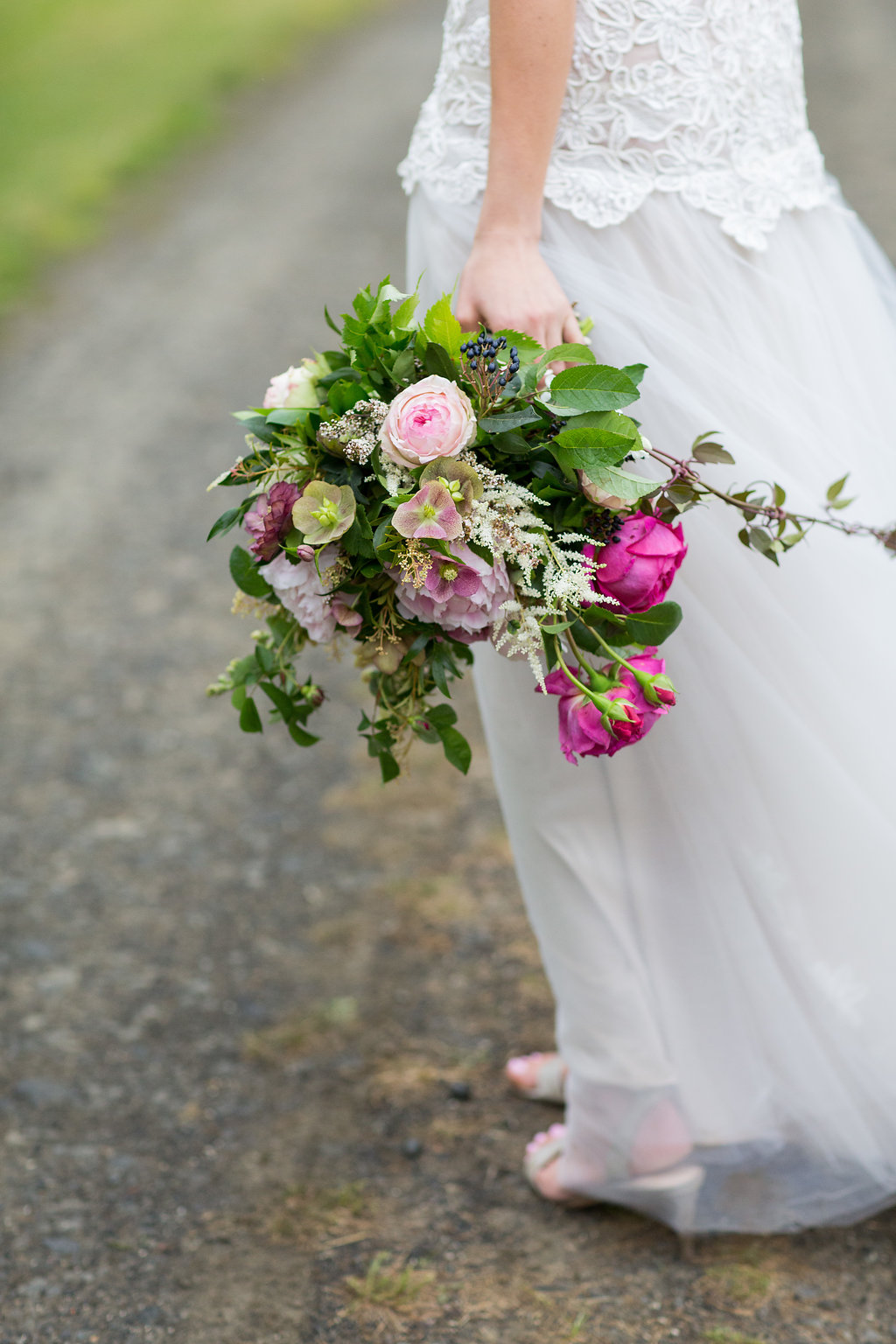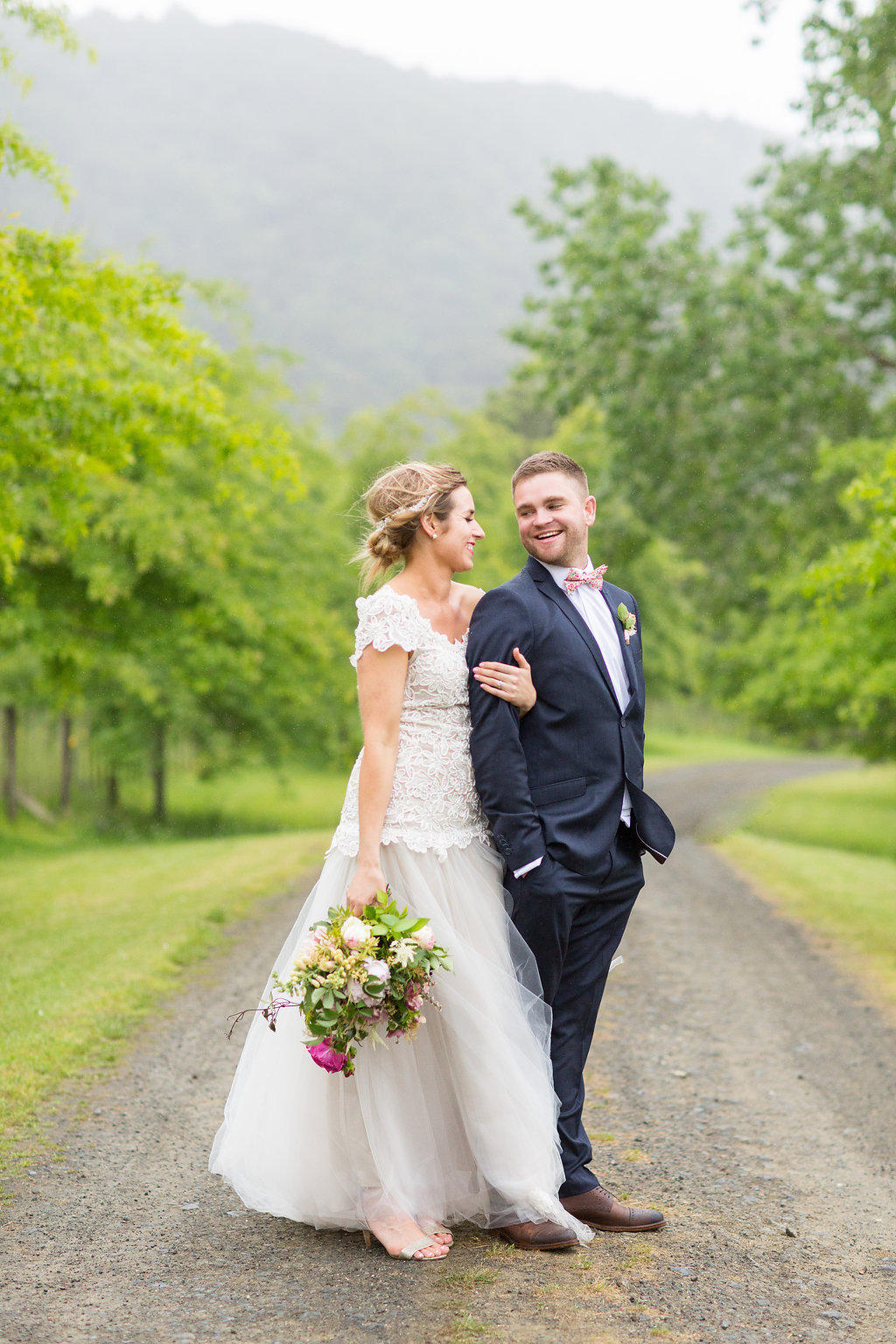 Any advice for other couples planning to spend the rest of their lives together?
Make sure you don't get too caught up in the planning. Take a moment to re group and re think what is important to you on your wedding day. Its so hard to get caught up in the trends and tiny details so I made sure our day reflected Jamie and I and us as a family.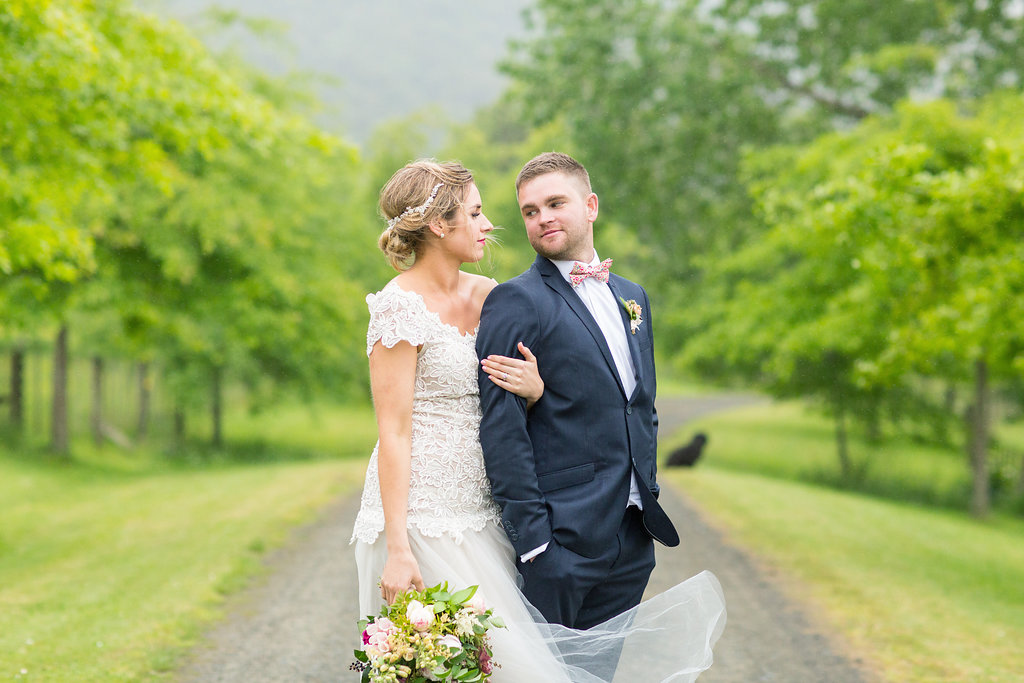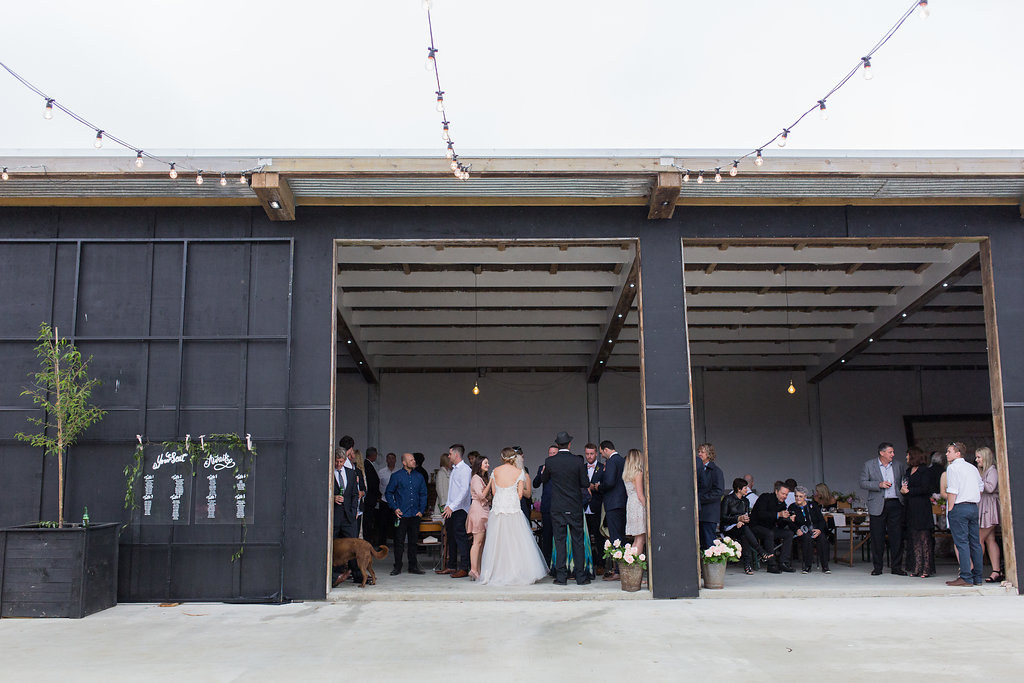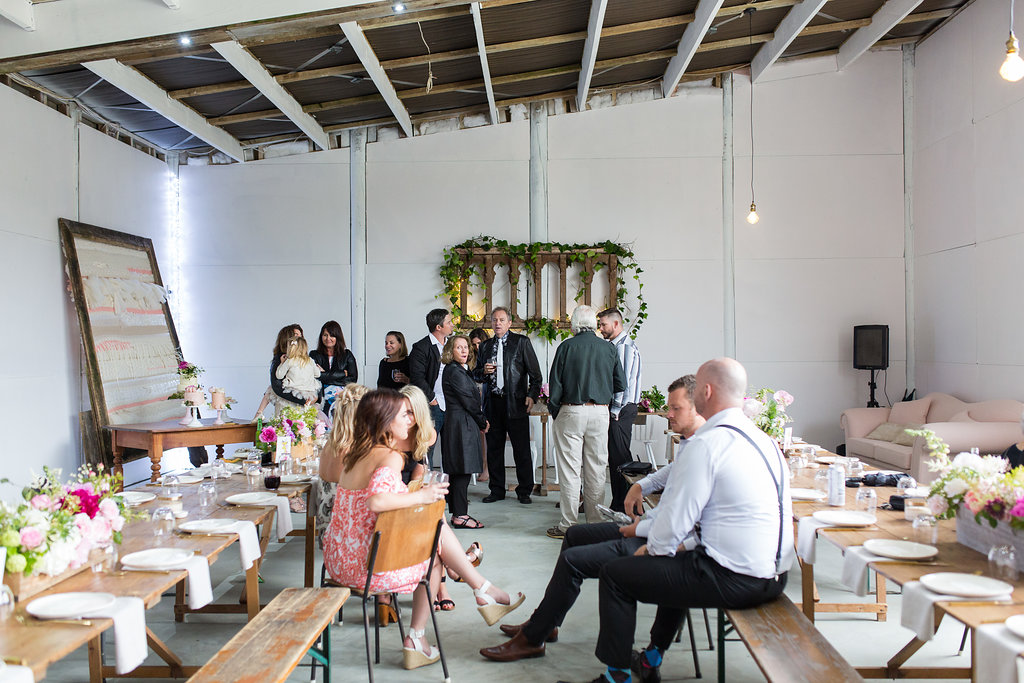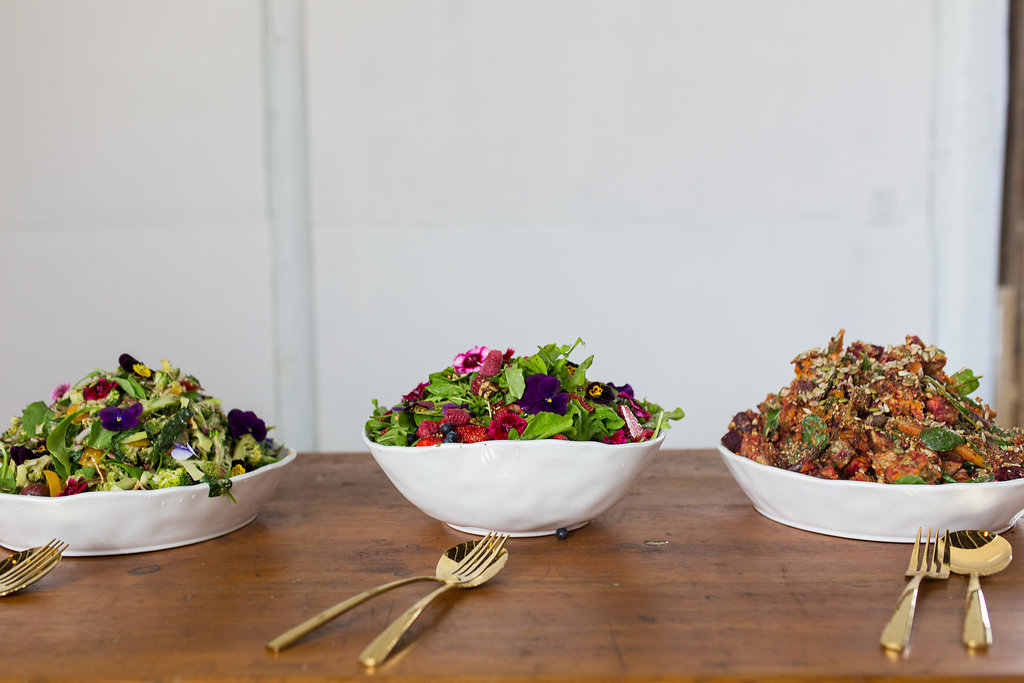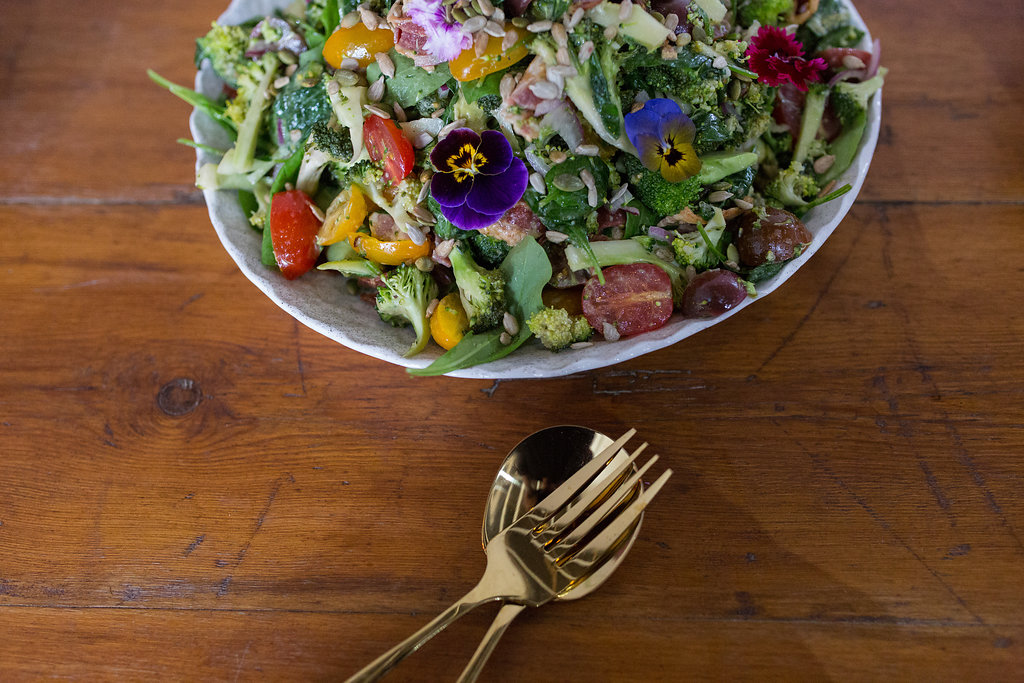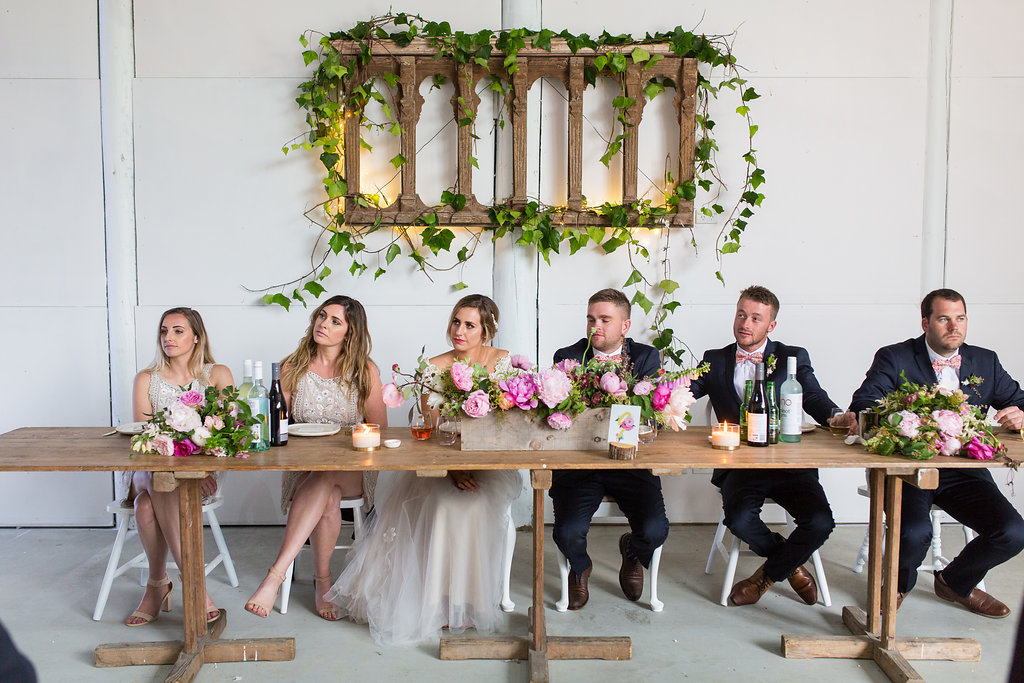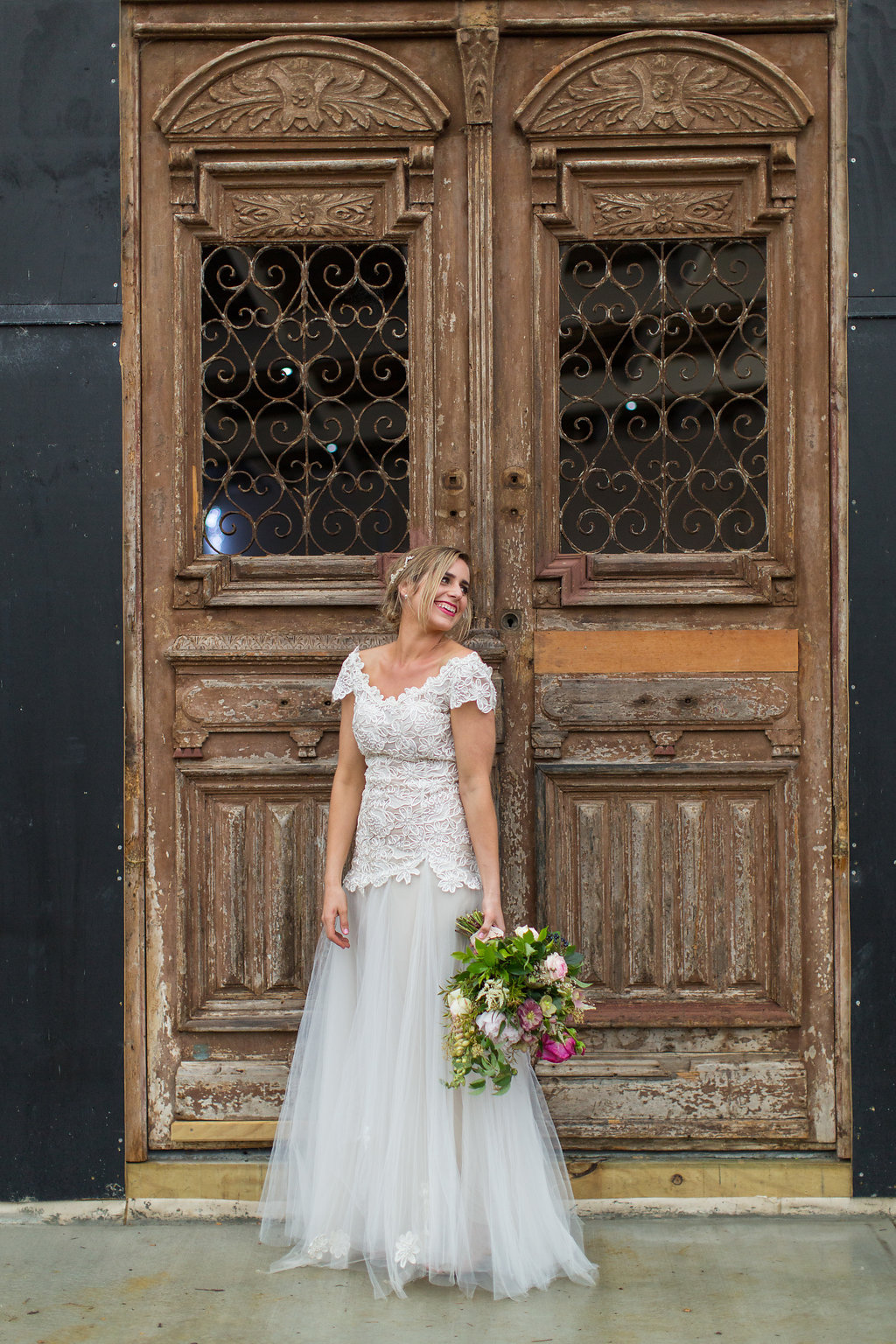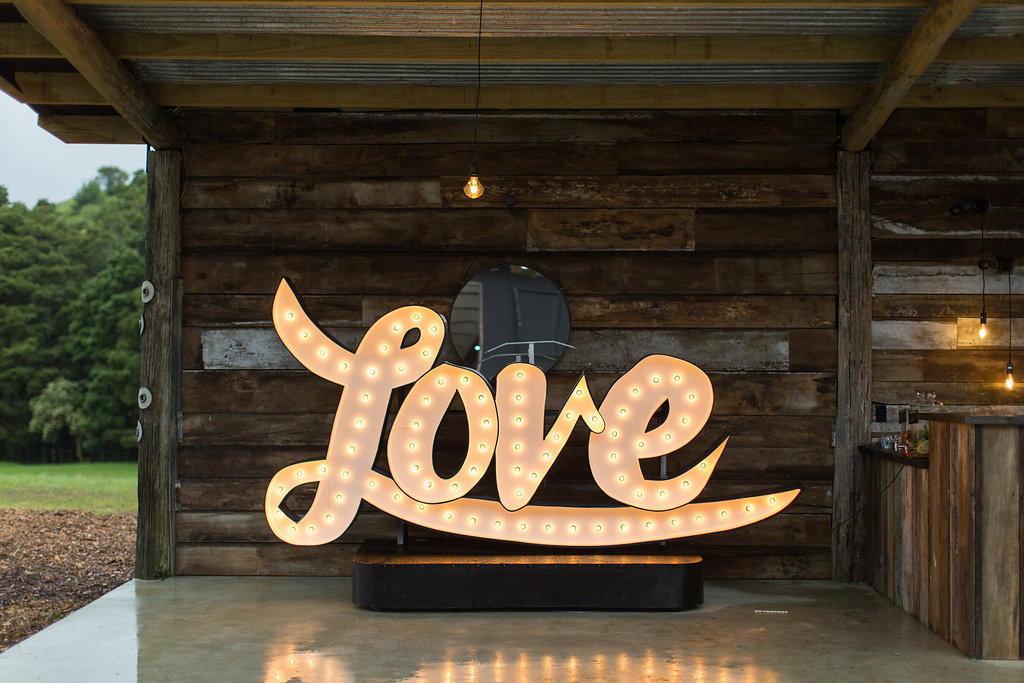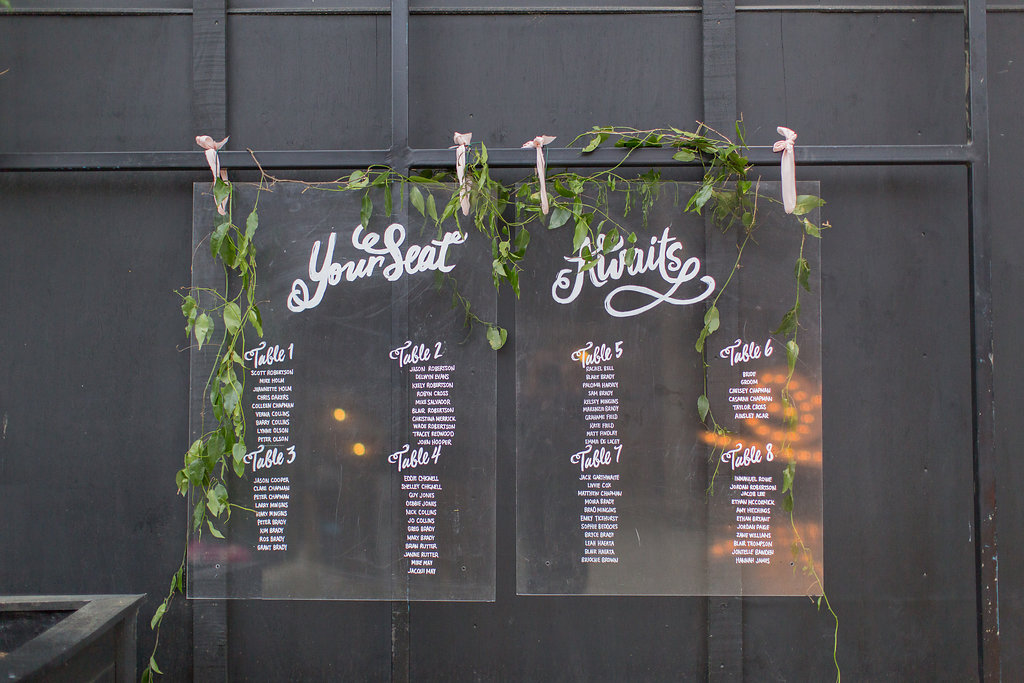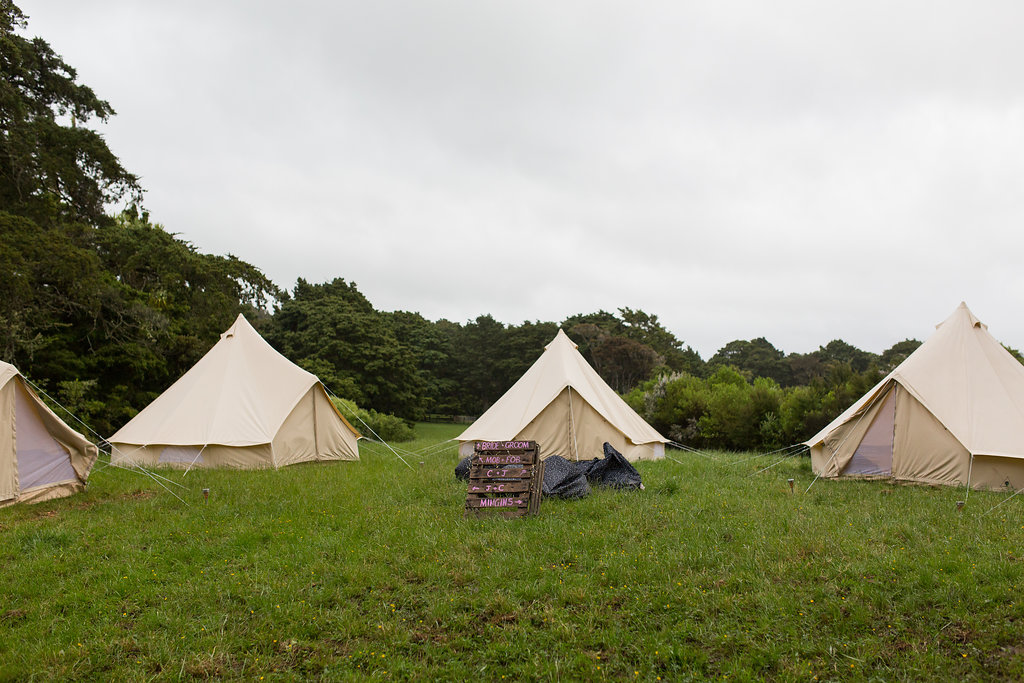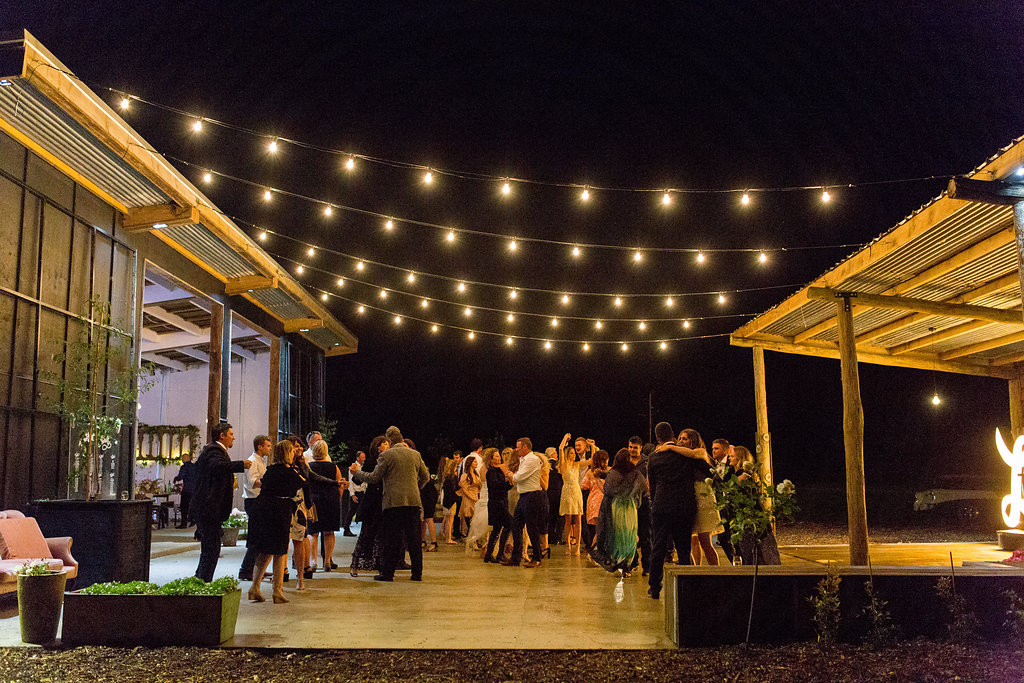 Ceremony + Reception: Home/Family Property located in Wainui 'Pebblebrook farms' | Photographer: Cat Victoria From Poppy Moss | Celebrant: Michael Goudie | Entertainment: Livie & Colin Grey singing live at the ceremony & Mix it up DJ for the evening | Styling: Bride and Mother of bride | Flora: Leaf and Honey | Food/beverages/catering: Food,Food Styling and wait staff by Together NZ | Cake: Bluebells Cakery | Bridal Party Makeup: Paige Bes | Brides Hair: Natalie Dent |