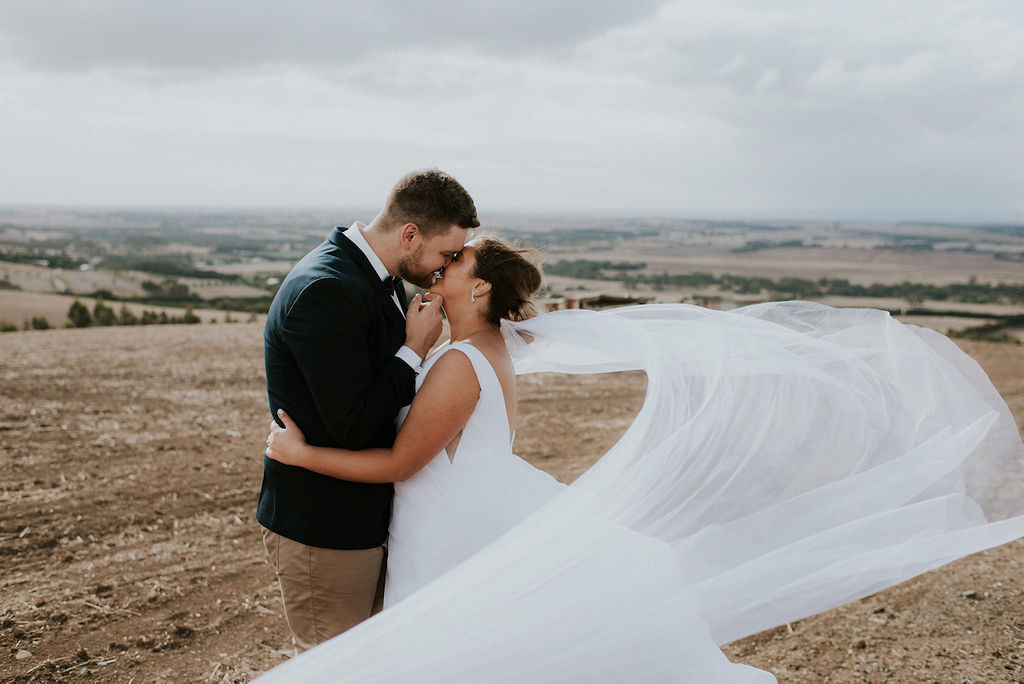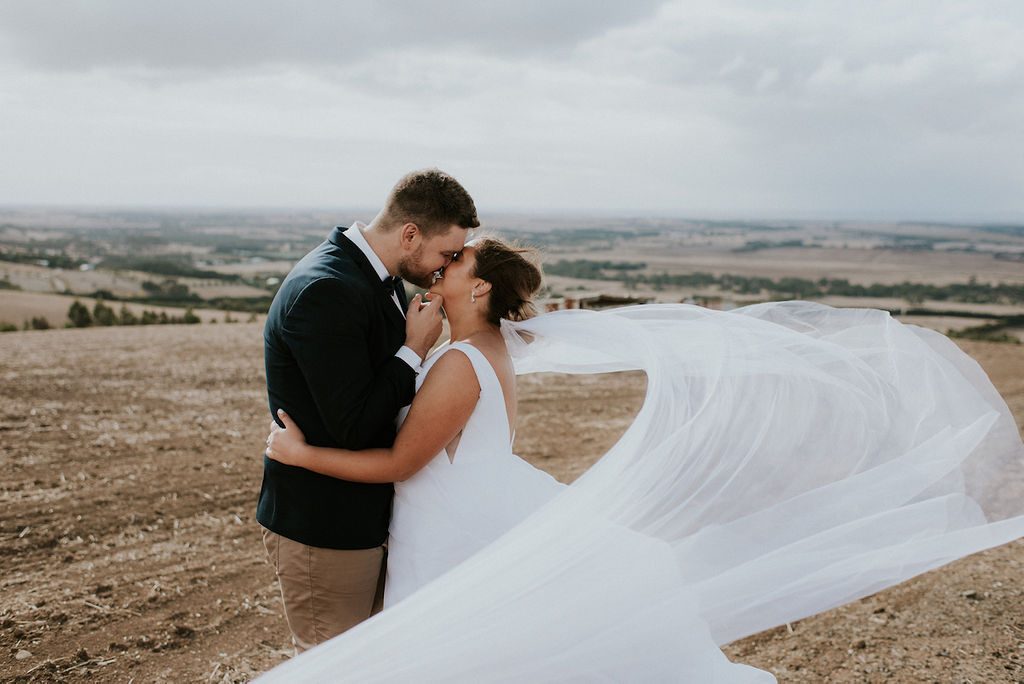 Tell us a little about yourselves, what you do, what you love, what is unique about you and your relationship…
We meet just over two years ago and had an instant connection. We meet on the dating app tinder and everything moved just so fast but all just felt so natural.
We loved spending every moment with each other and as everyone said geez you two are moving pretty quick they followed it up with it actually seems like you've known each other and been dating for years. Our chemistry was and still is electric and our love grows stronger every day. A little about our engagement – Not one to leave a stone unturned in the romance department, Nathan organised a trip to Western Australia to show Amy all the spots he fell in love with when he lived there.
It was here that Nathan surprised Amy with a day spent exploring Margaret River a small town south of Perth known for some of the best wineries, cheese and chocolate factories. After a day spent gathering little treats for their picnic they then drove down one of the sketchiest dirt tracks before stopping at a random farm. It wasn't long before they were jumping a few fences and trespassing through a few paddocks and hiking through bushland before they came to an opening that overlooked the ocean on top of a 15 meter high cliff face.
After enjoying their sunset picnic Nathan topped what Amy describes as an already amazing day by handing her a rap / poetry book which he had written as a birthday present taking Amy through a hilarious and heartfelt rendition of their first year of knowing one and other. In tears by the final page, which said that 'with all that being said, Nate got down on one knee confident as hell his Amy will say yes' she turned to find him down on one knee with the most spectacular ring.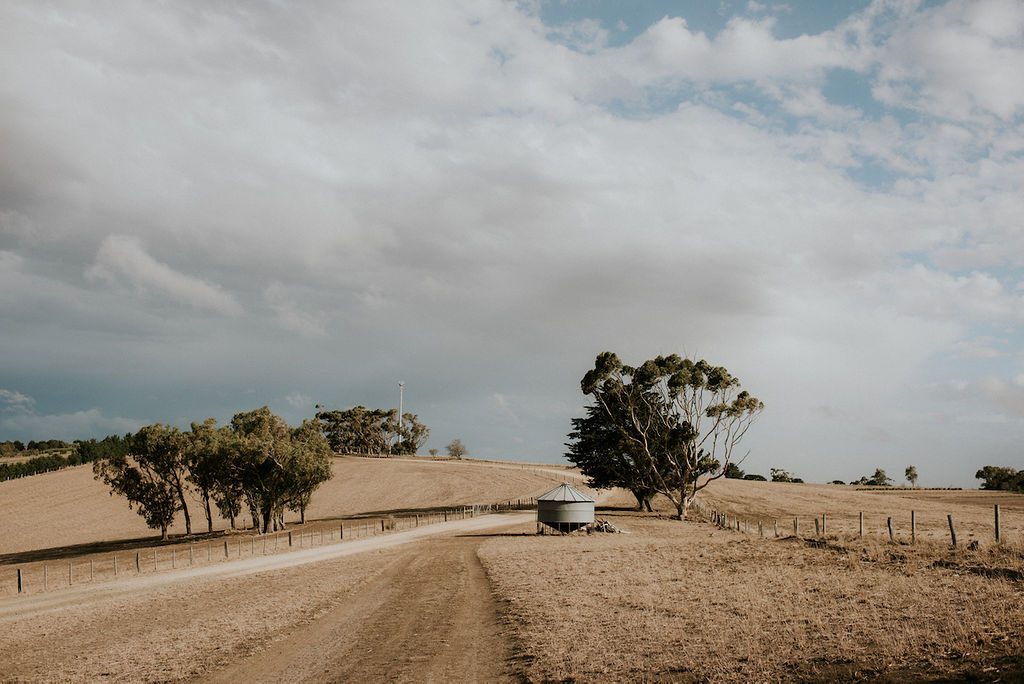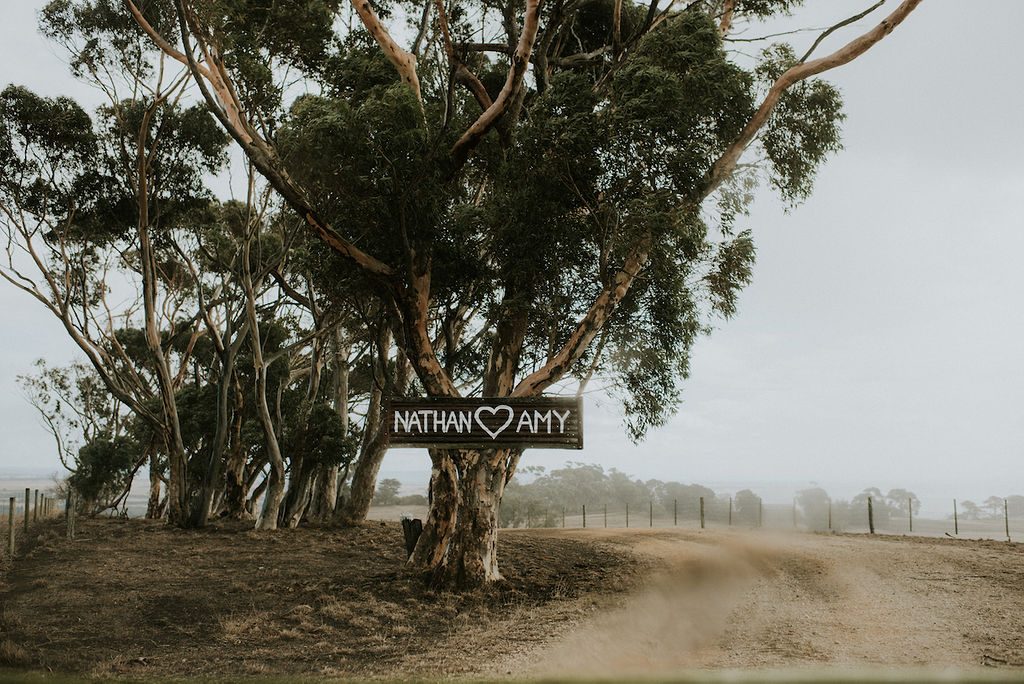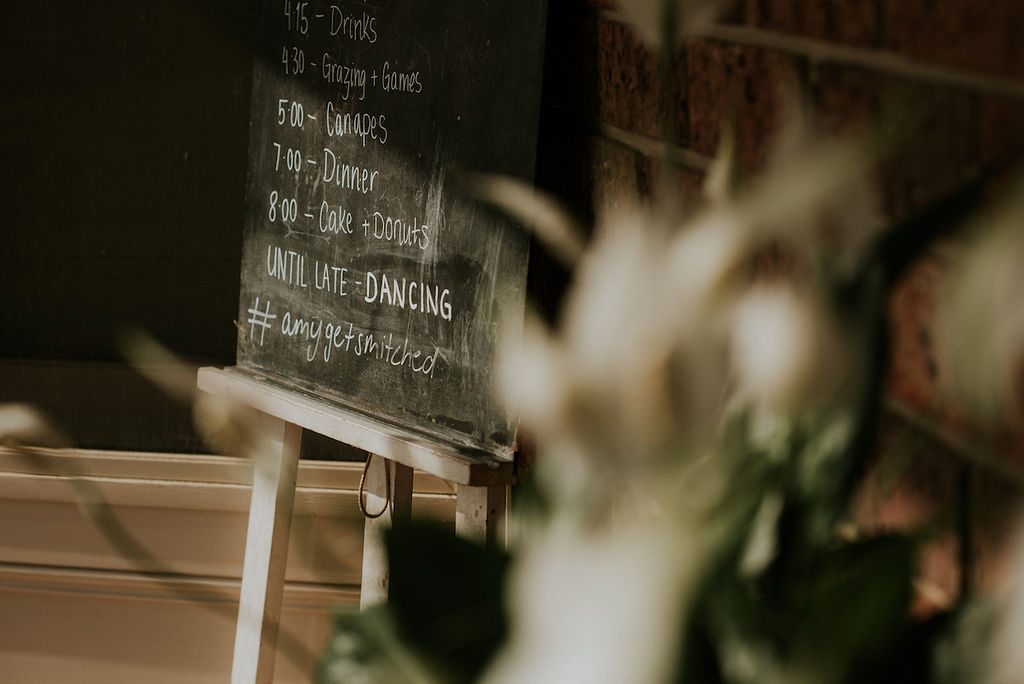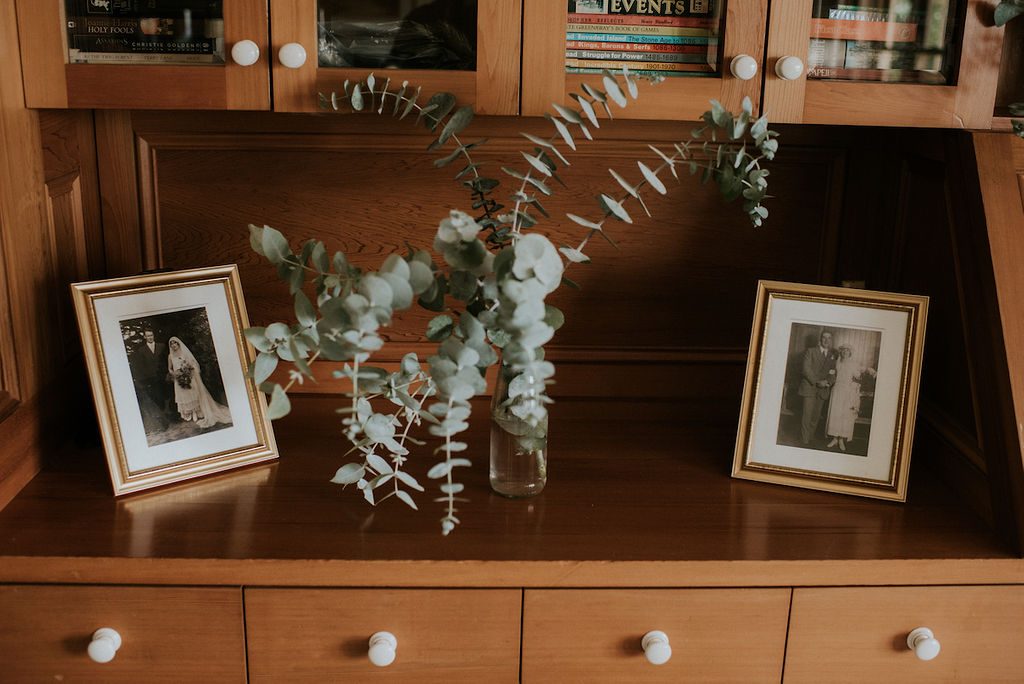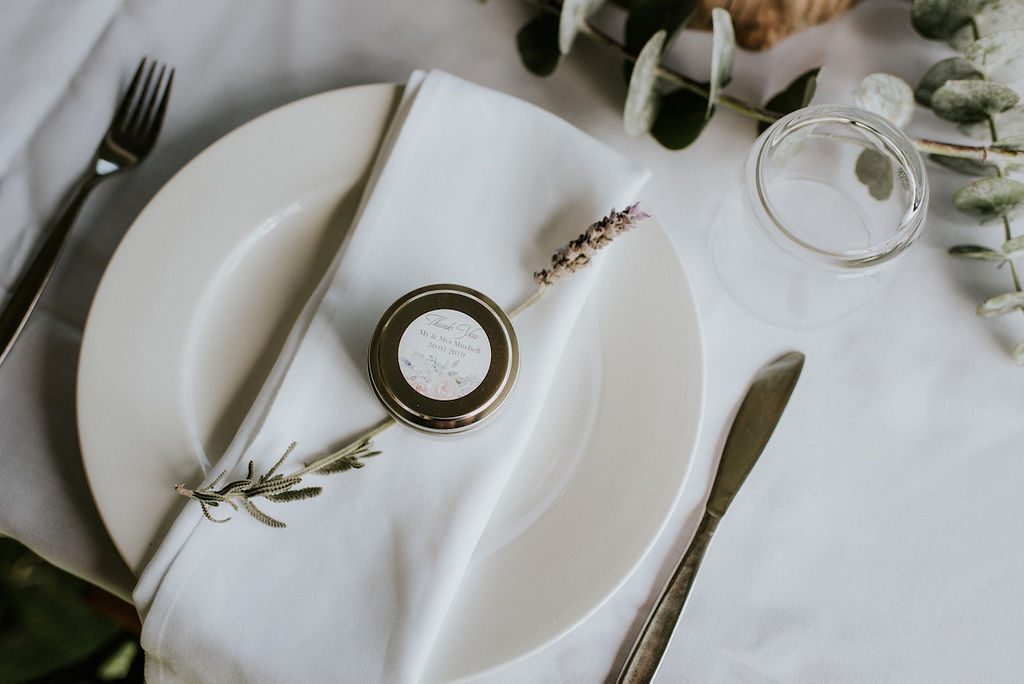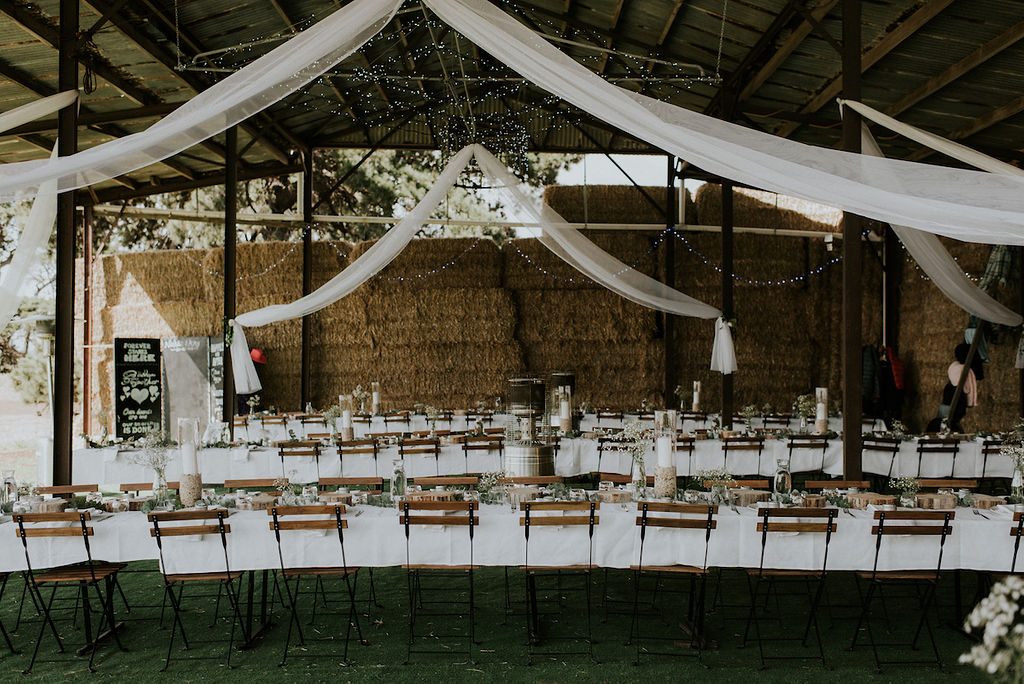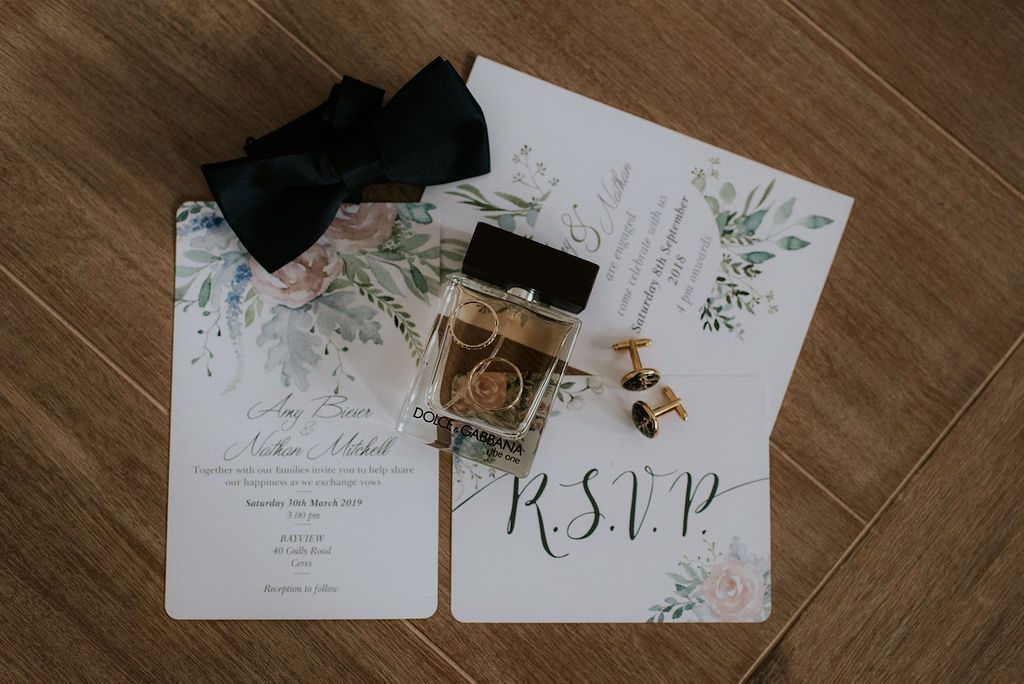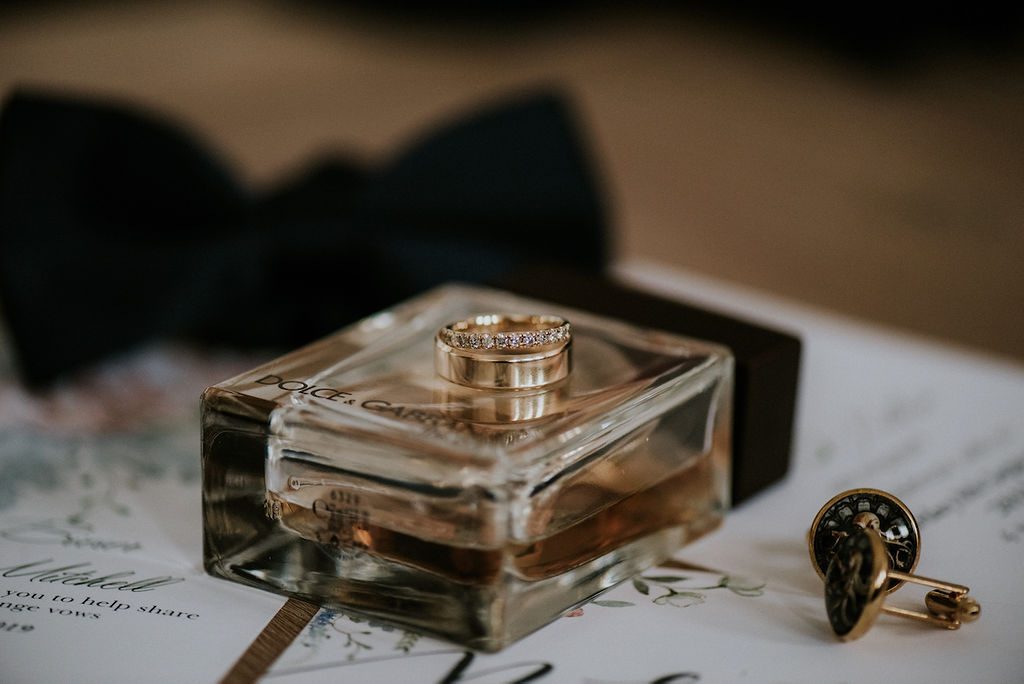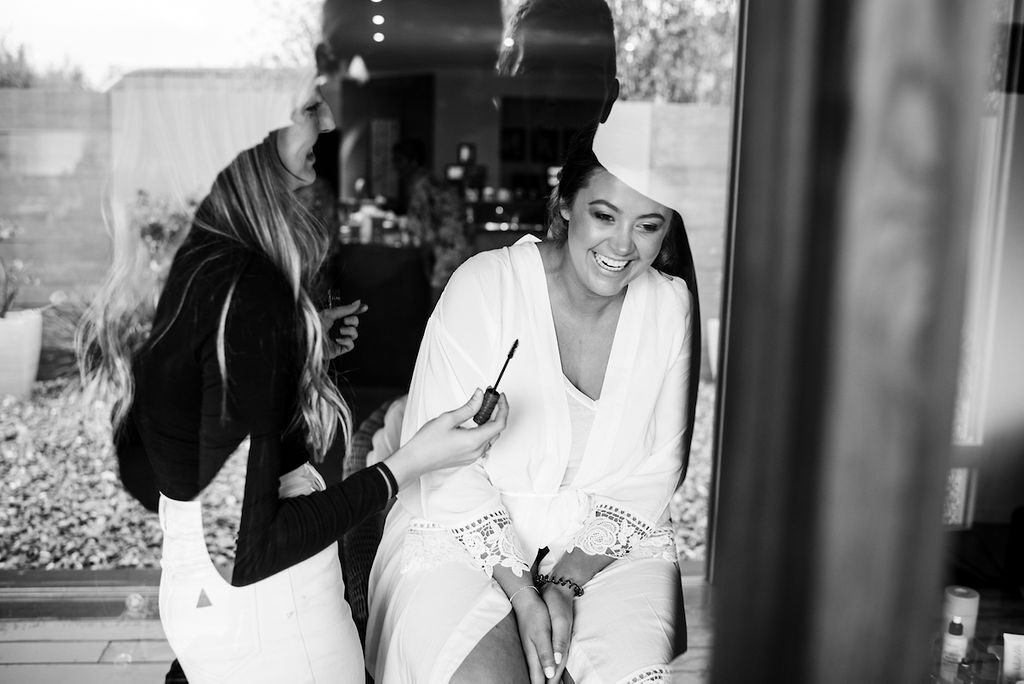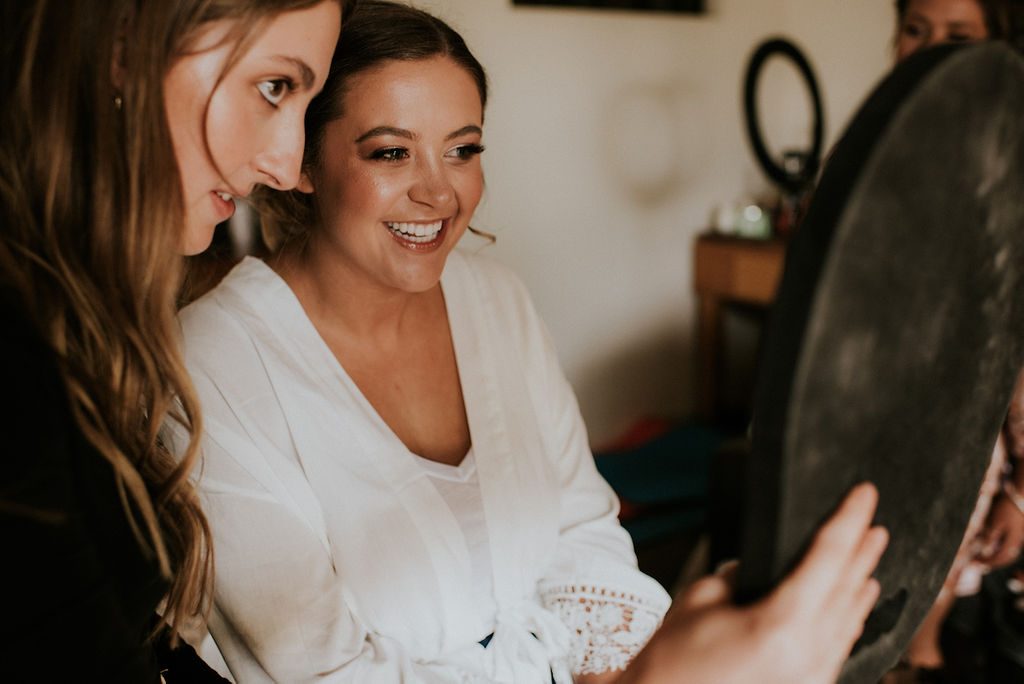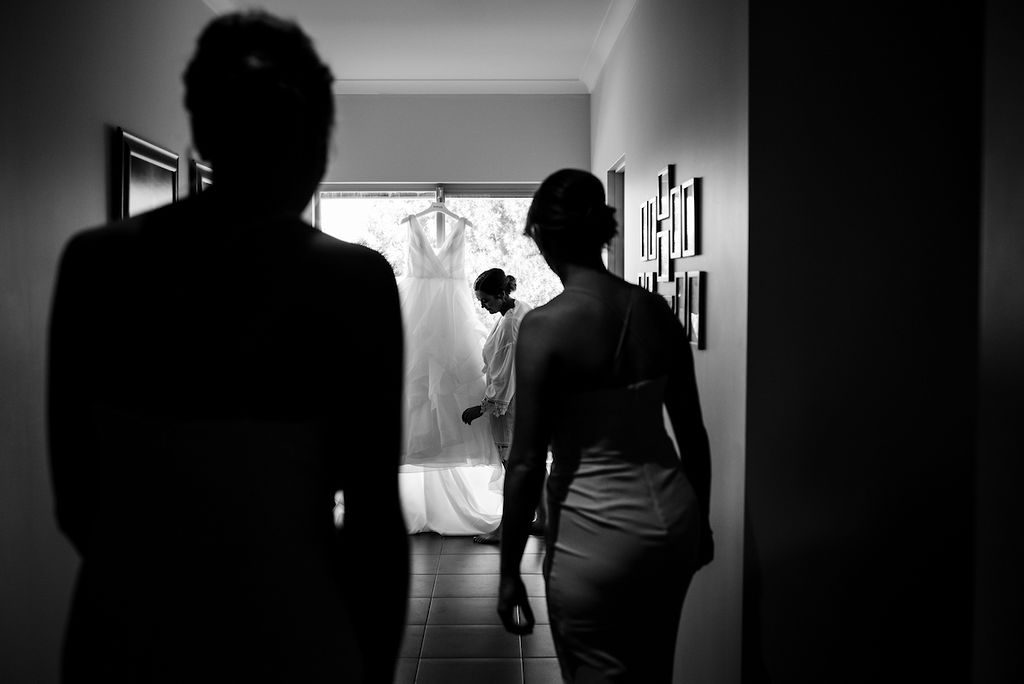 Tell us about your special day, was there a specific theme or style? Tell us a little about the setting, the styling and some of your favourite details…
We got married at Amy's family's farm. We wanted the whole day to be a celebration and a big party that fitted us and our personalities. As a result the theme was I guess relaxed country wedding. It was super important to us that the day was a reflection of us and we tried to incorporate that into every part of the day. We also wanted to make as much as possible from materials we found around the farm. From the handmade arbour we built together, the chandeliers made from an old Hill's Hoists and gates, donut wall and table settings.
We wanted to be as stress free as possible on the day, so we bought in all vendors that we were friends with where possible. With Nathan being a Chef, food was one thing we had to get right , as a result we only had one person who would make the cut – one of Nate's best friends Chef Stewart Neighbour. The menu for the night included: Roaming canapes A 9m grazing table (from a tree on the farm) Smoked Lamb (which had been raised and butchered on the farm) with accompanying sides With Cake & crispy Crème donuts to finish Similarly we had Danielle from Lightsmith Images take our brilliant photos.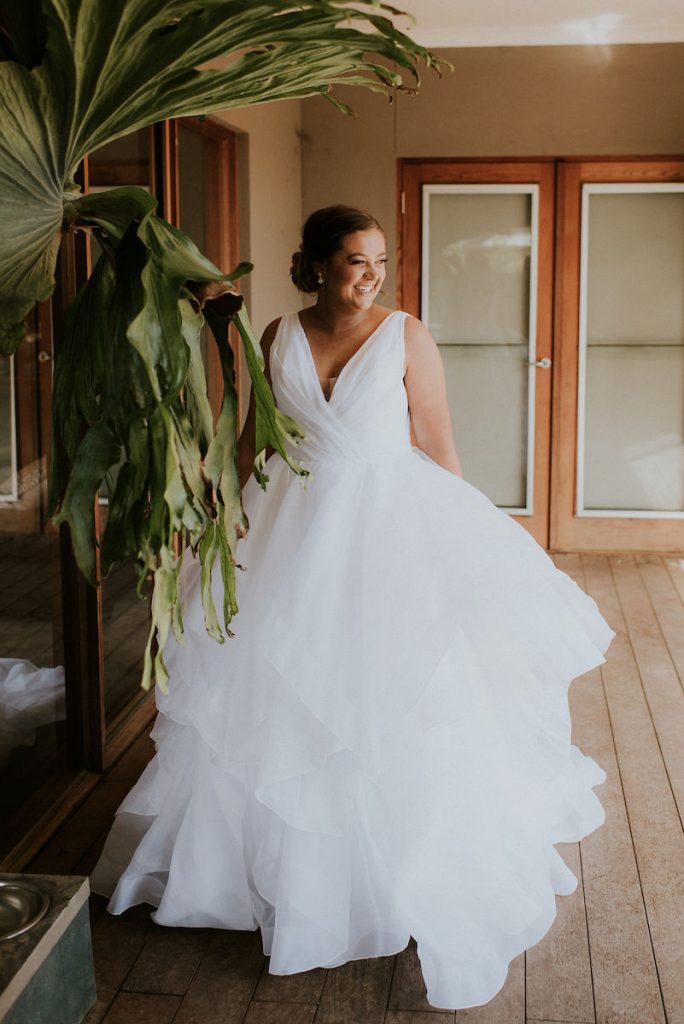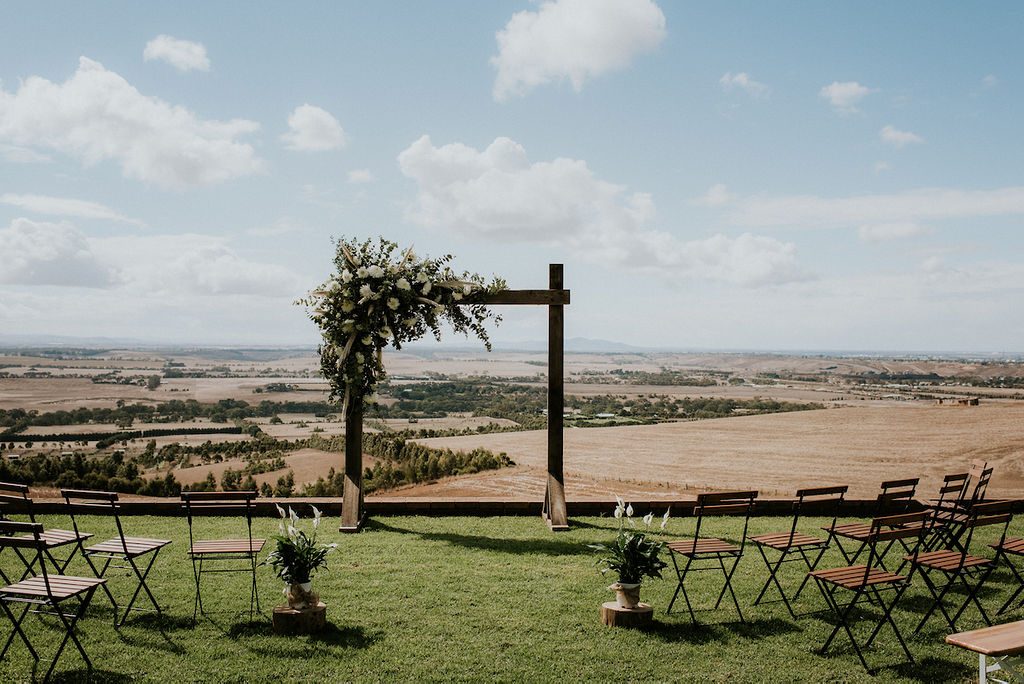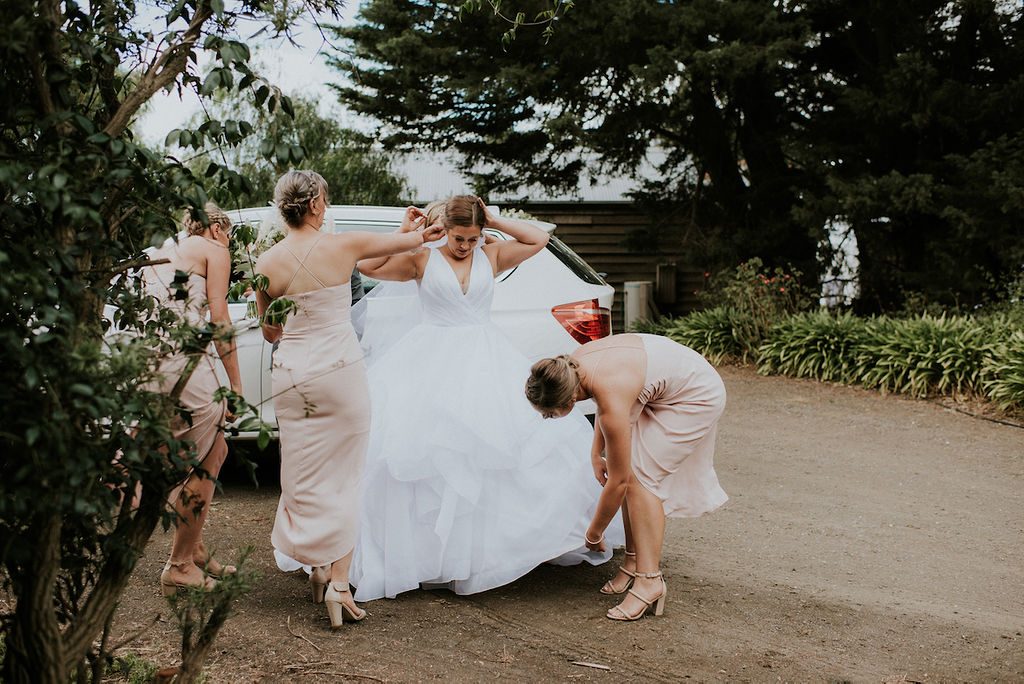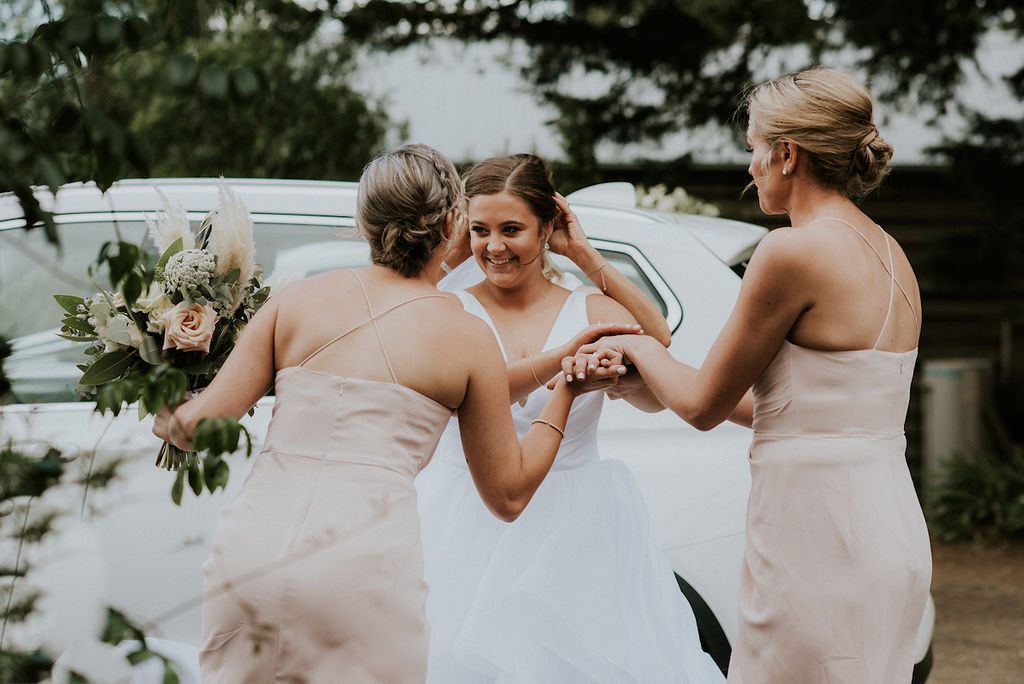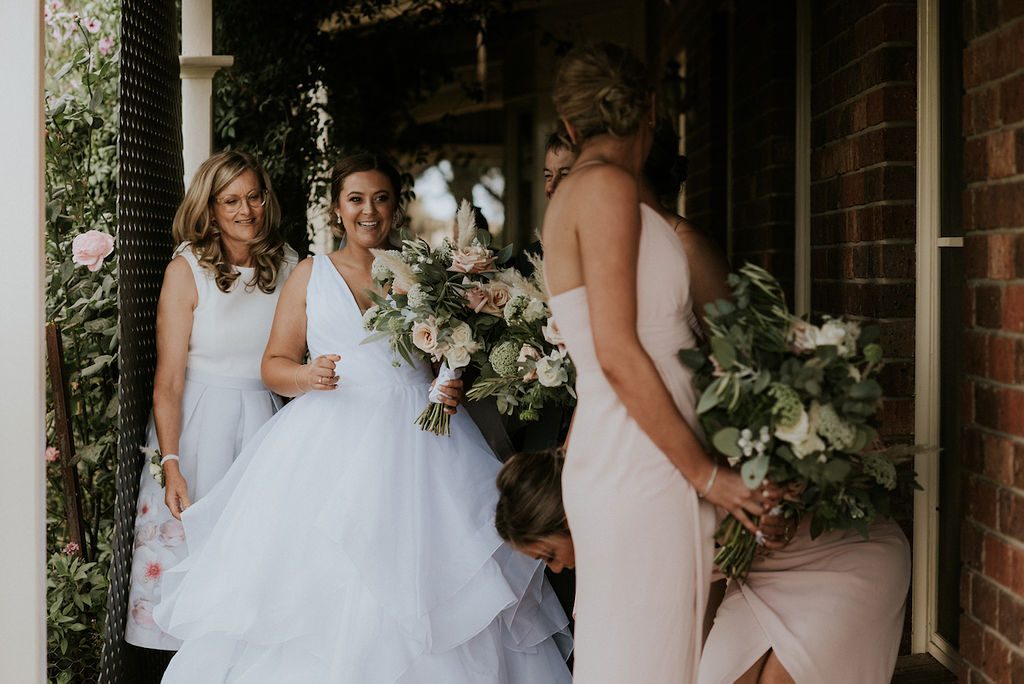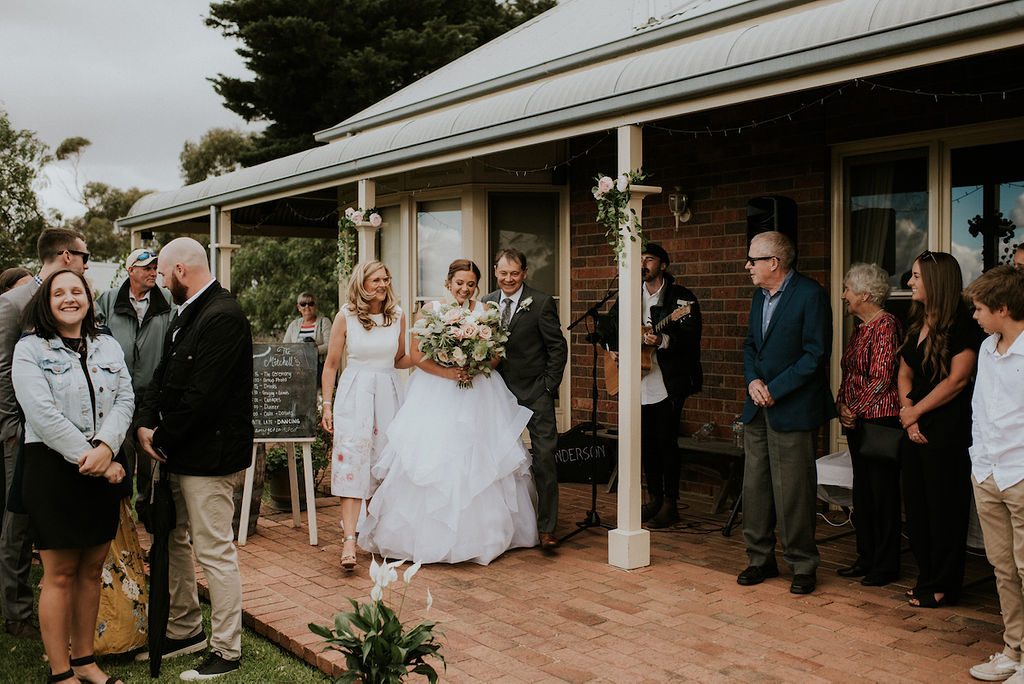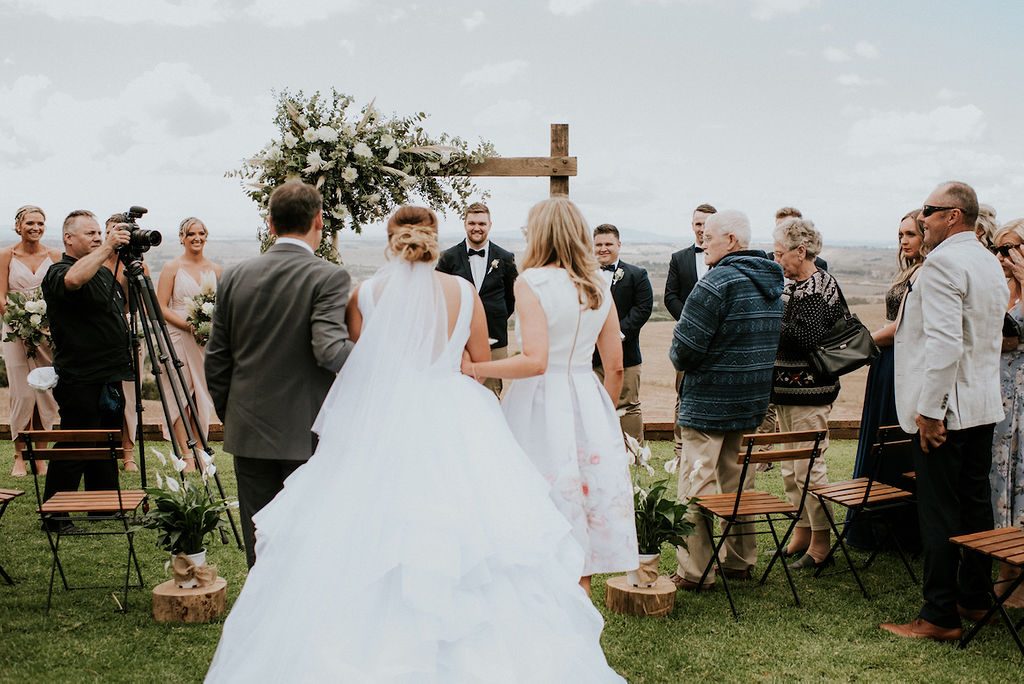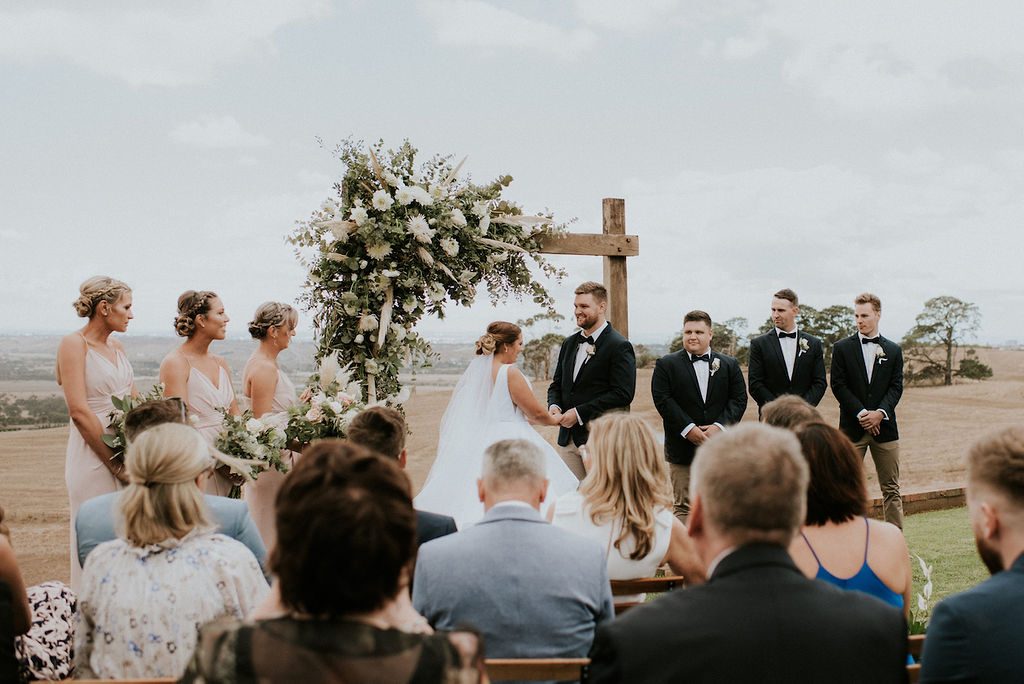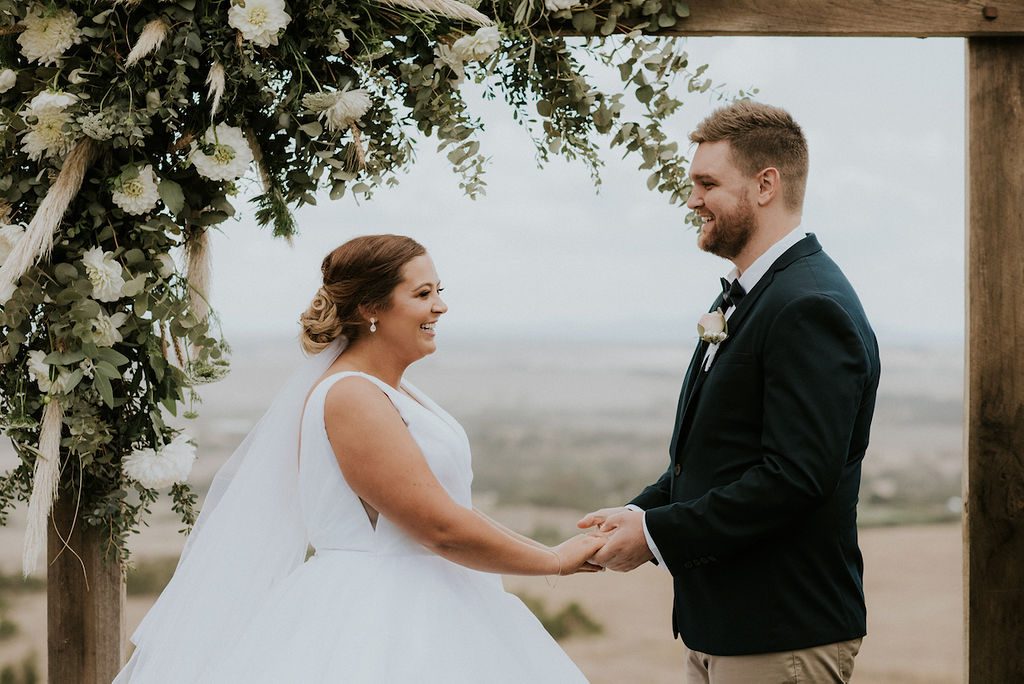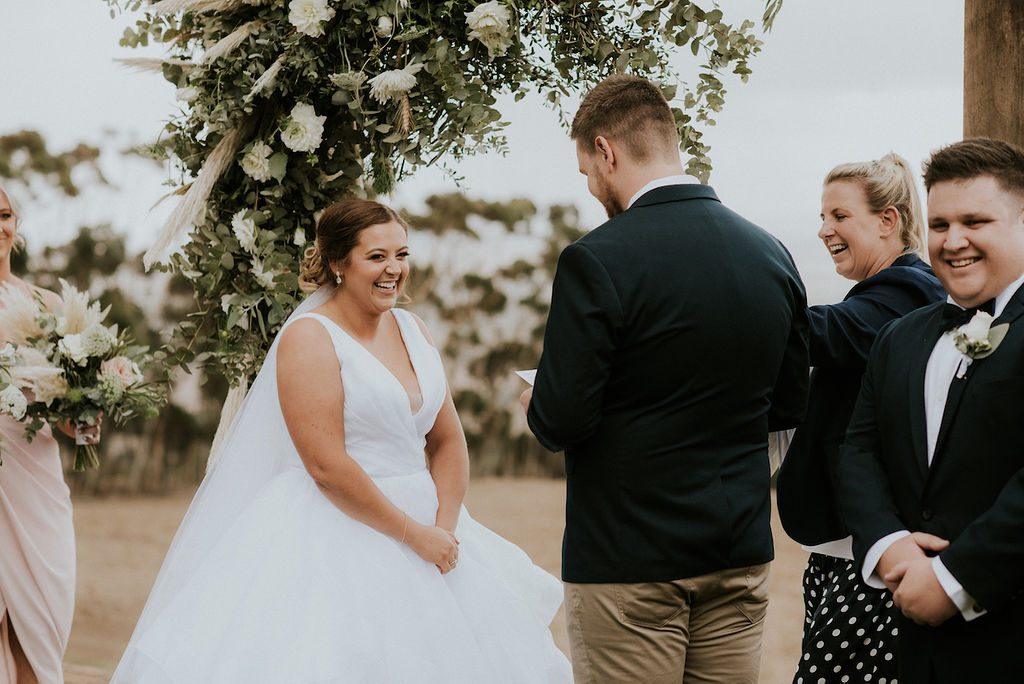 Tell us about your main outfits:
Nate was wearing a suit from his favourite menswear shop Connor. Fitting the farm theme he paired with a trusty pair of RM William boots and some cufflinks with Octopus' on them to signify his and his groomsman's love of fishing. Amy was wearing a Morilee dress purchased from local Geelong Business – and the Veil. Nathan's mum had her wedding veil in perfect condition that was used at her wedding almost 30 years ago. For our big day we got it altered to suit my dress. Amy's mum pimped out a denim jacket with her new surname – which was perfect for the chilly March evening.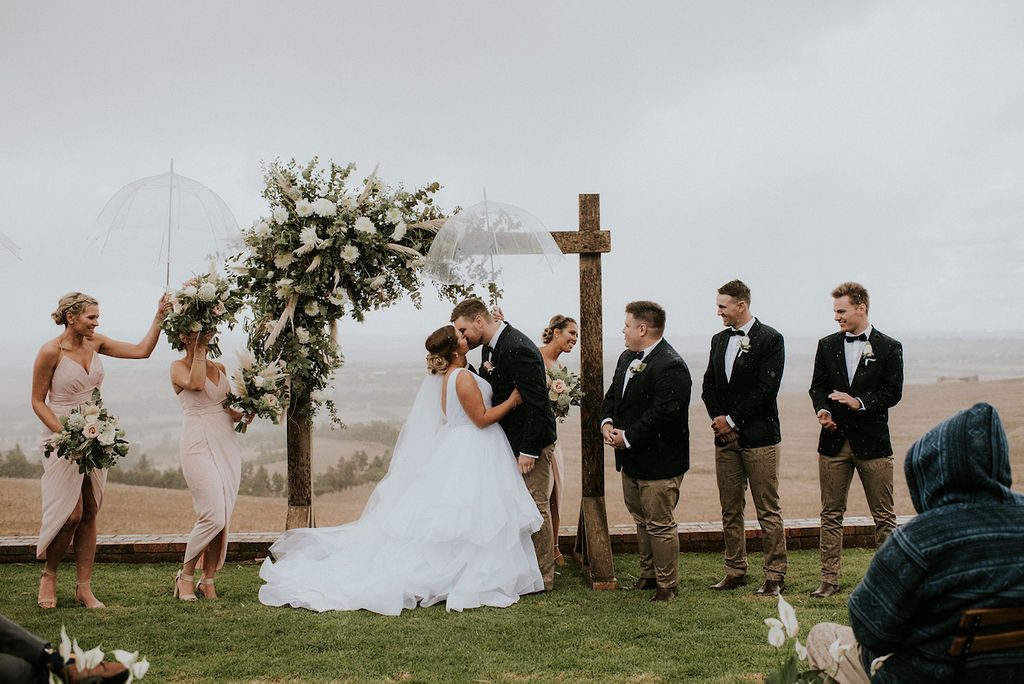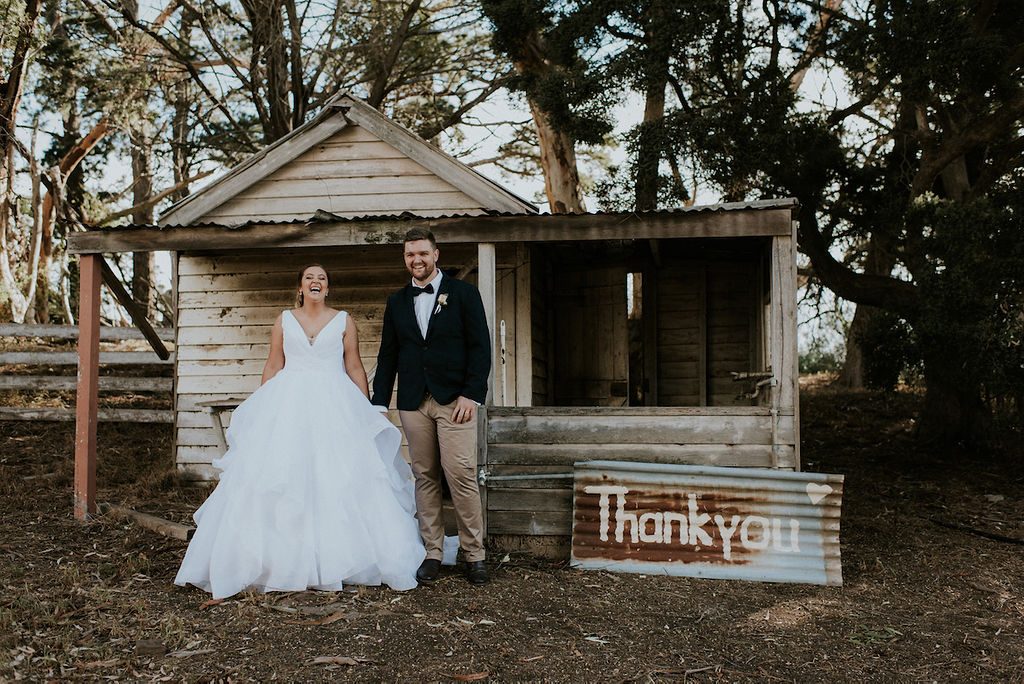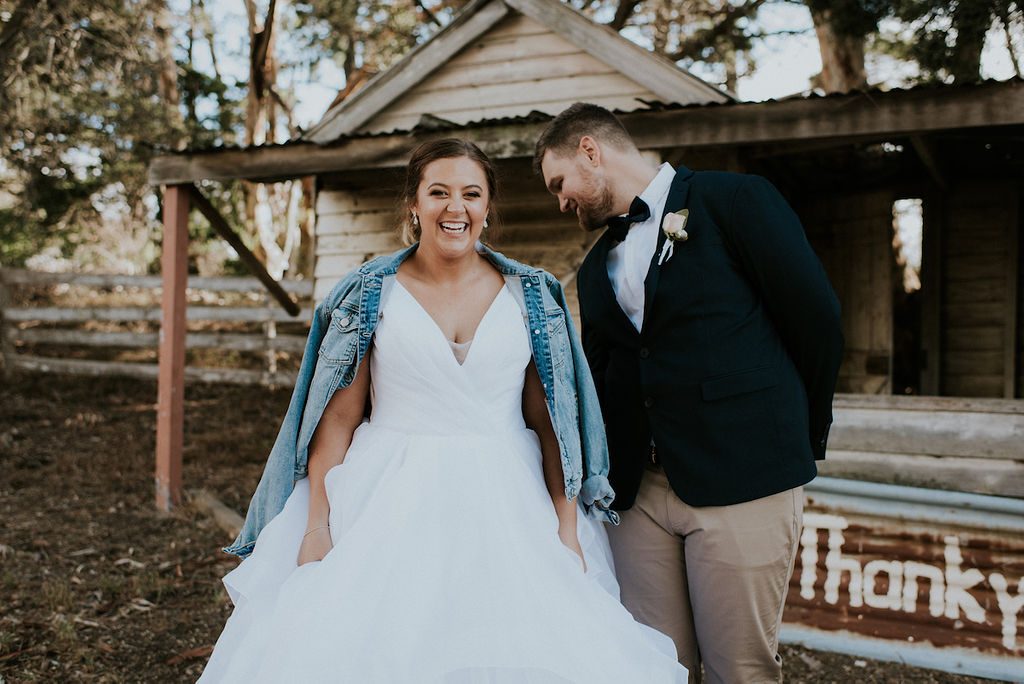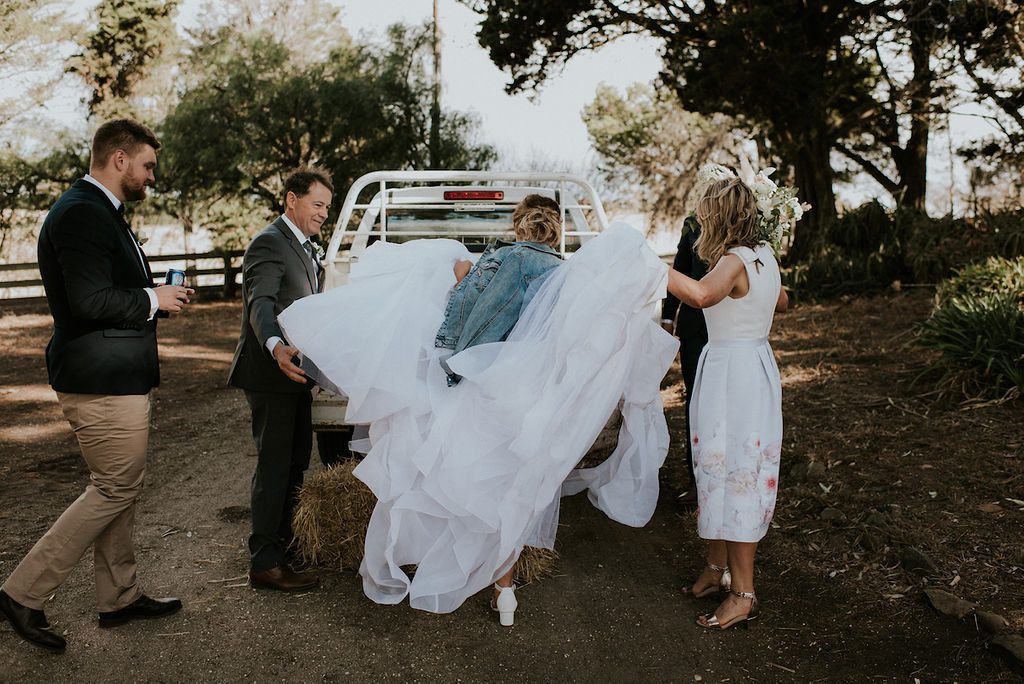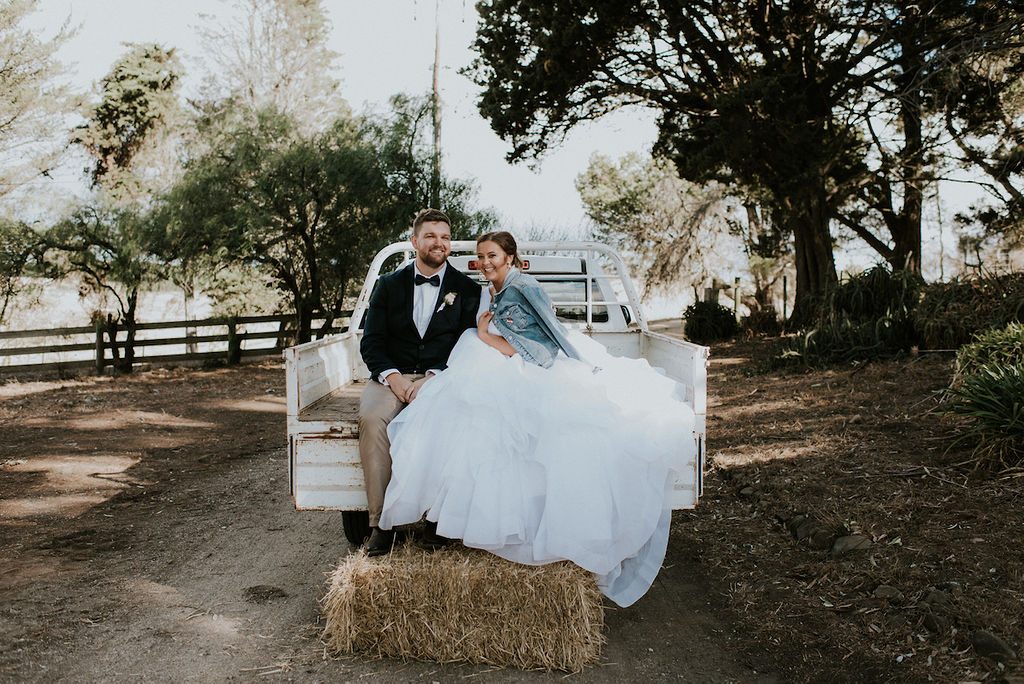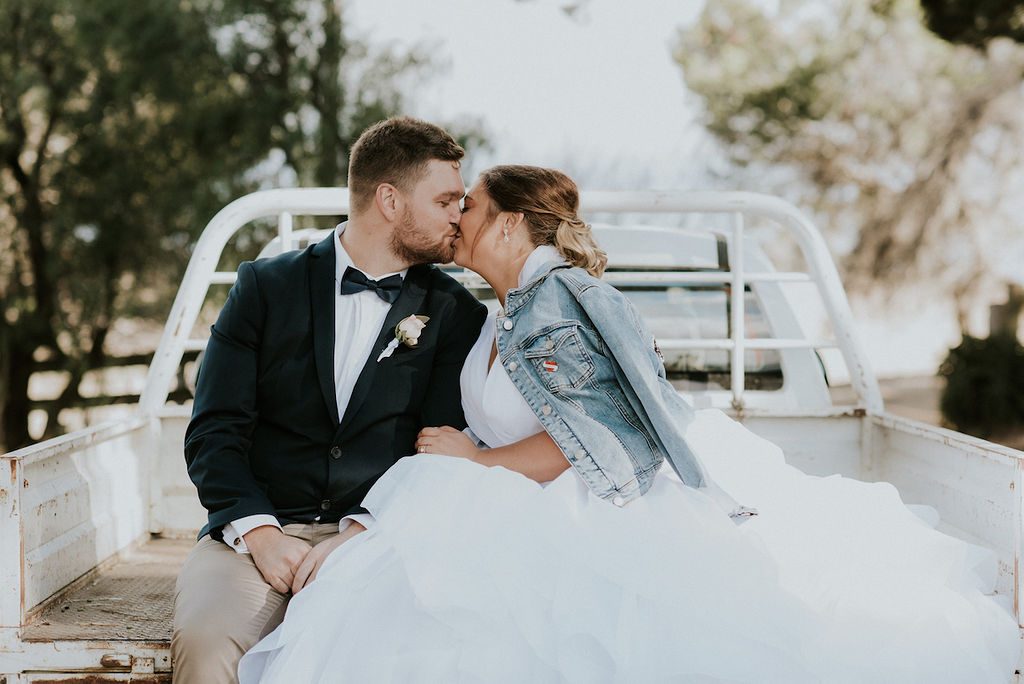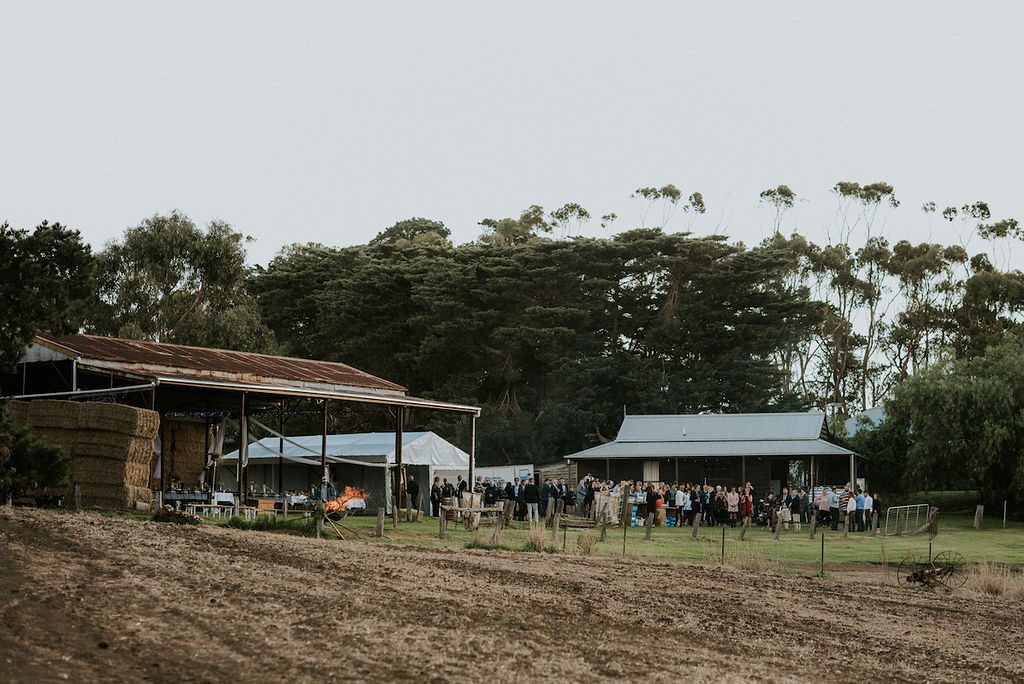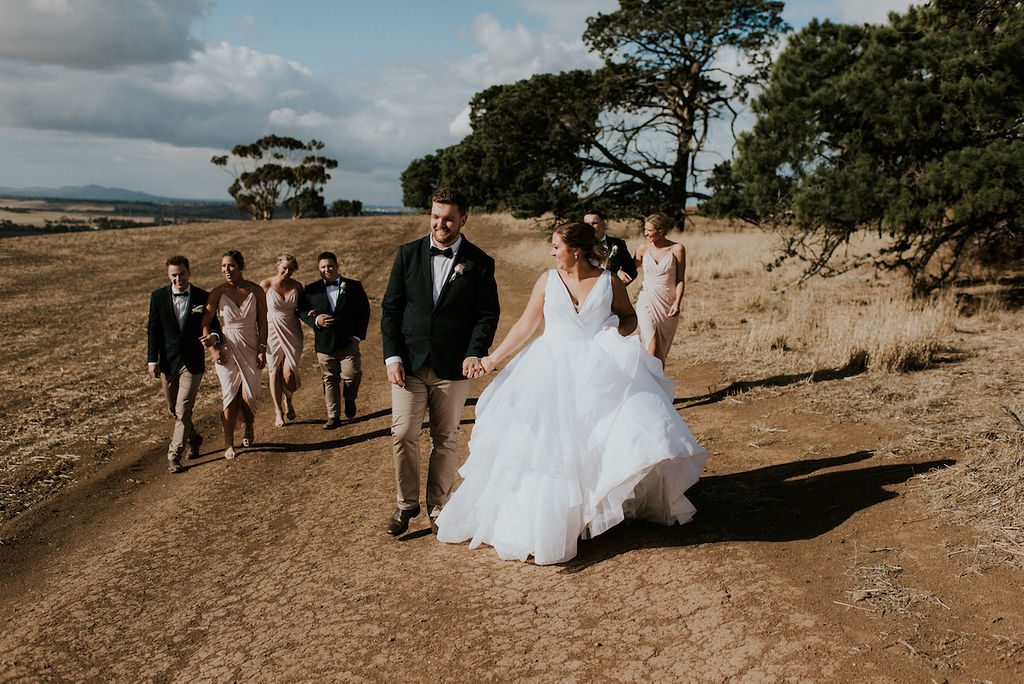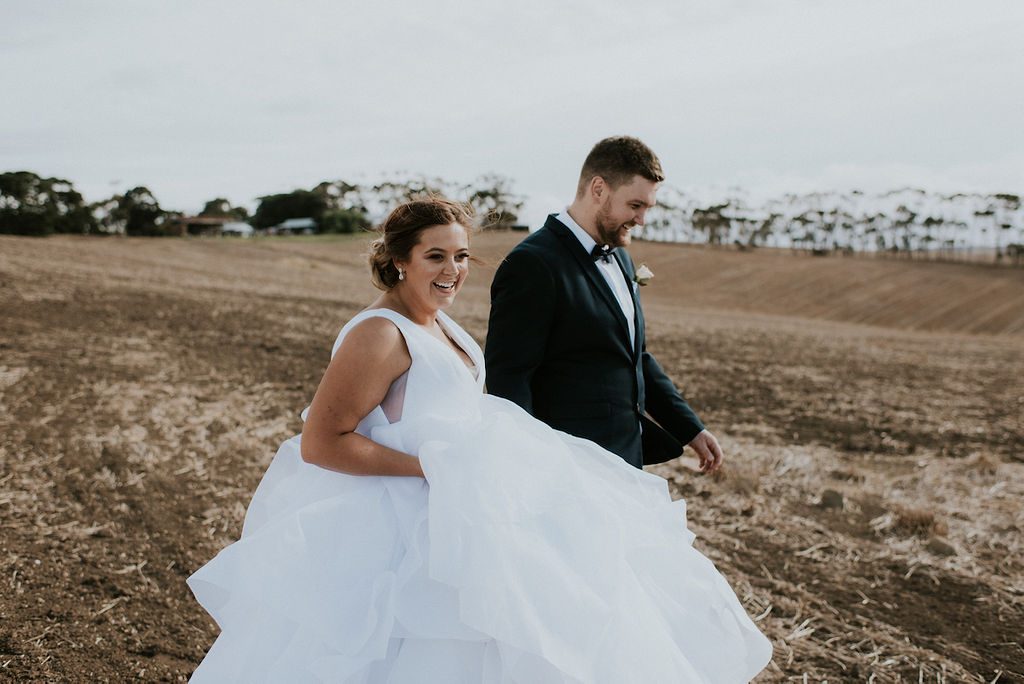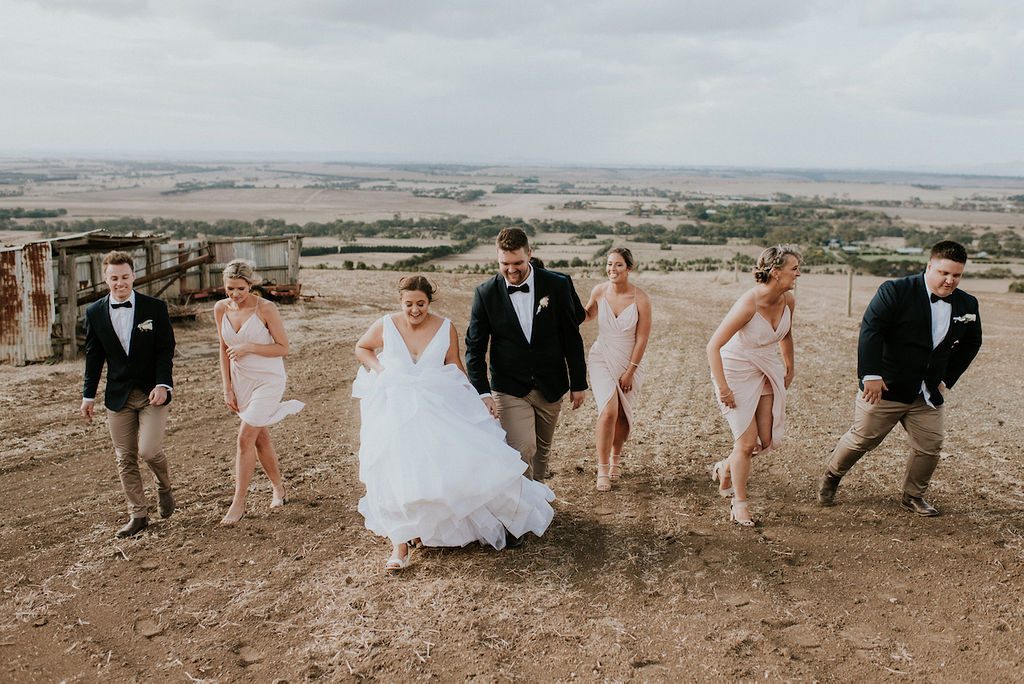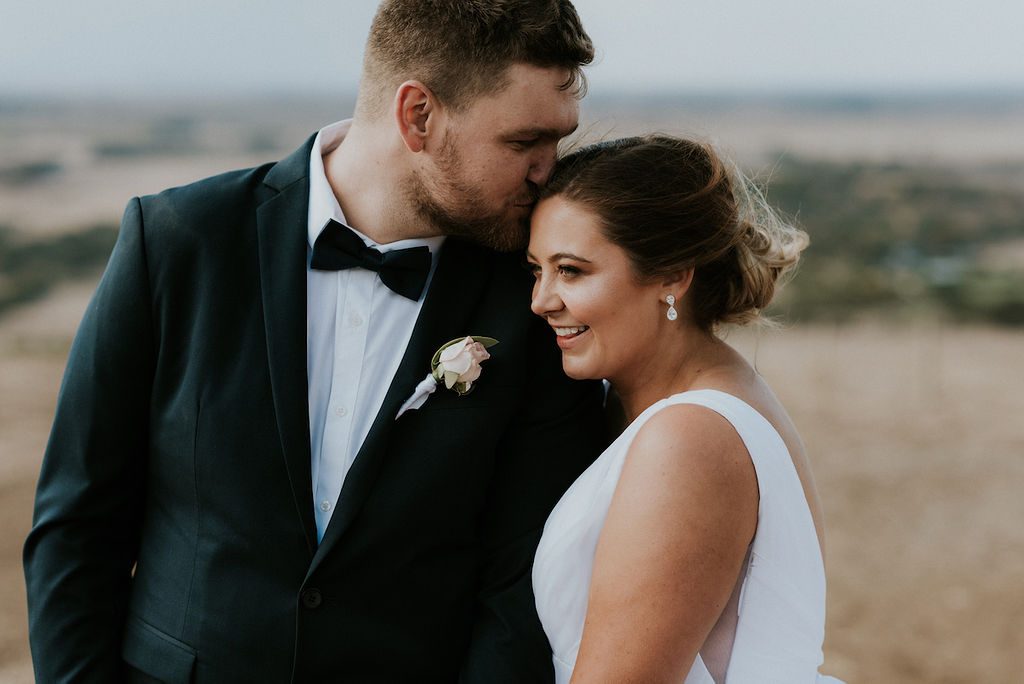 What were some of the most memorable/unique moments from the day?
The things we couldn't control – like the crazy rain during our first kiss. It was pouring rain all morning, but an hour before the ceremony started the sun broke through. The ceremony was going beautifully up until the first kiss when it started bucketing down. The rain only lasted 3 minutes but in classic Amy & Nathan fashion there always has to be something that goes a little bit wrong. Speeches, unless you were there you might not believe it. Nate's best man had the whole crowd in tears with his speech, Or should we say lack of speech because he was just an emotional wreak and could barely get a word out which really just showed the love that he could see we had for each other. And there was a moment not long after the first dance where everyone started to get up on the dance floor for the party to begin where Nathan, Amy and both sets of parents just formed a circle with each other on the dance floor a symbol of the two families joining together.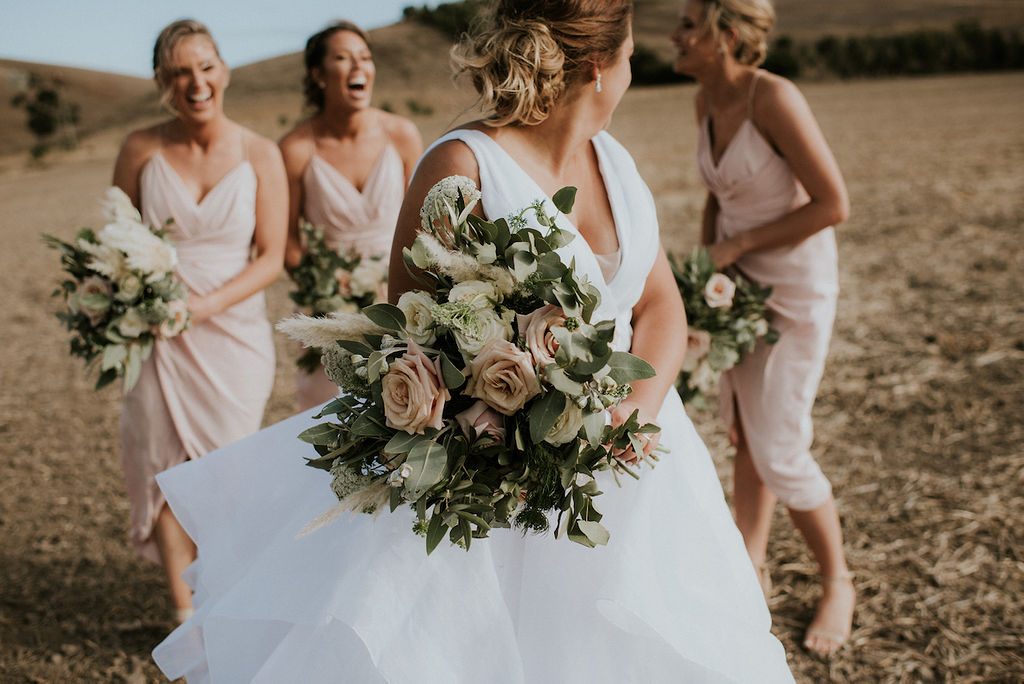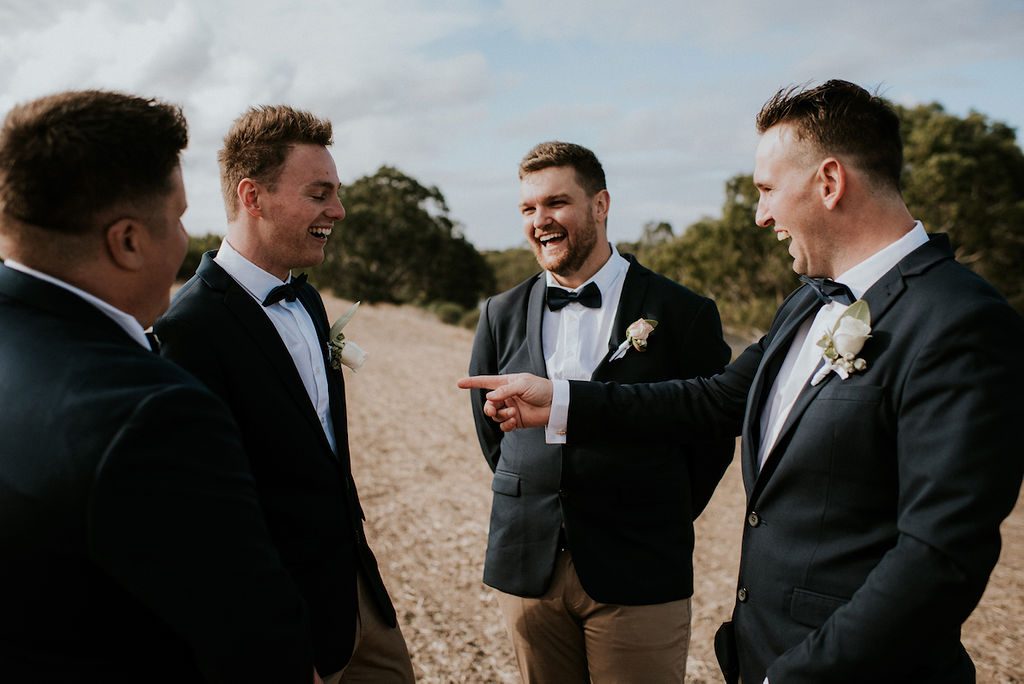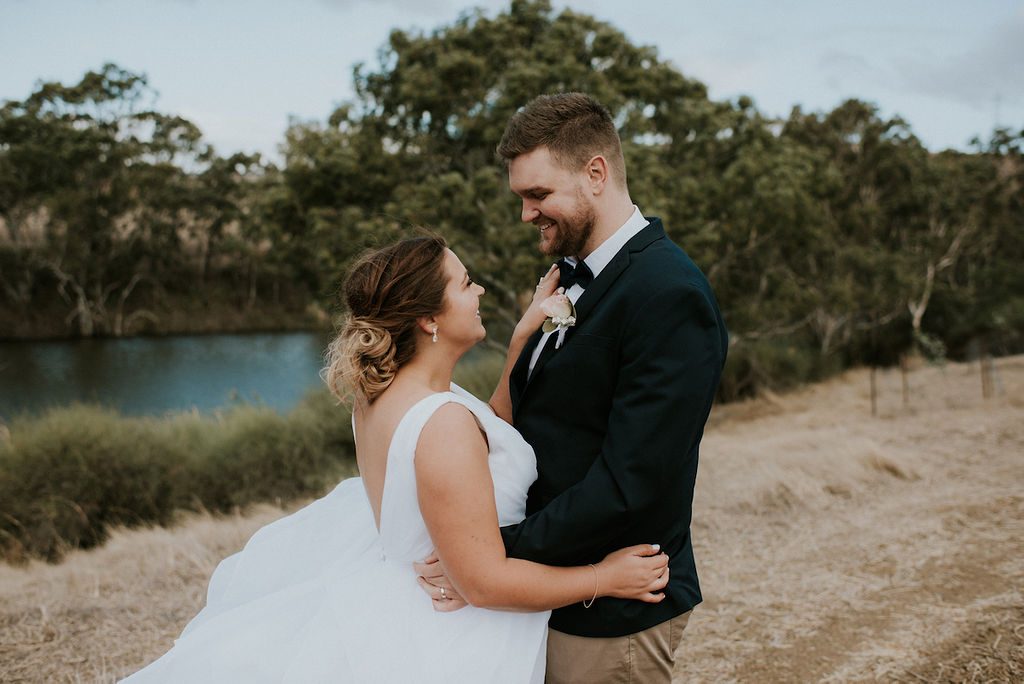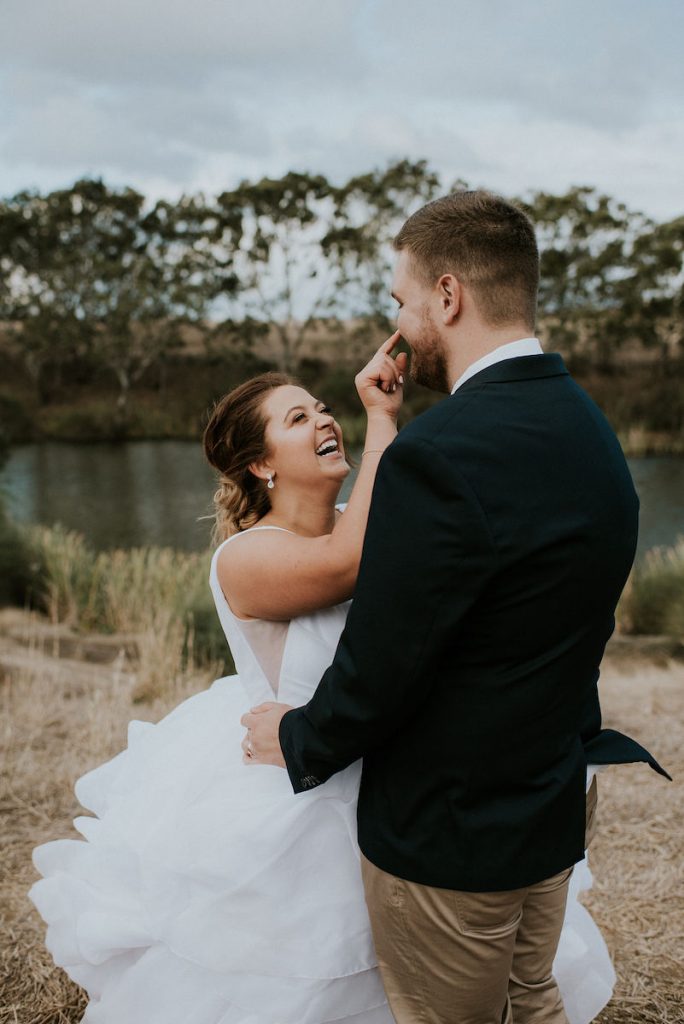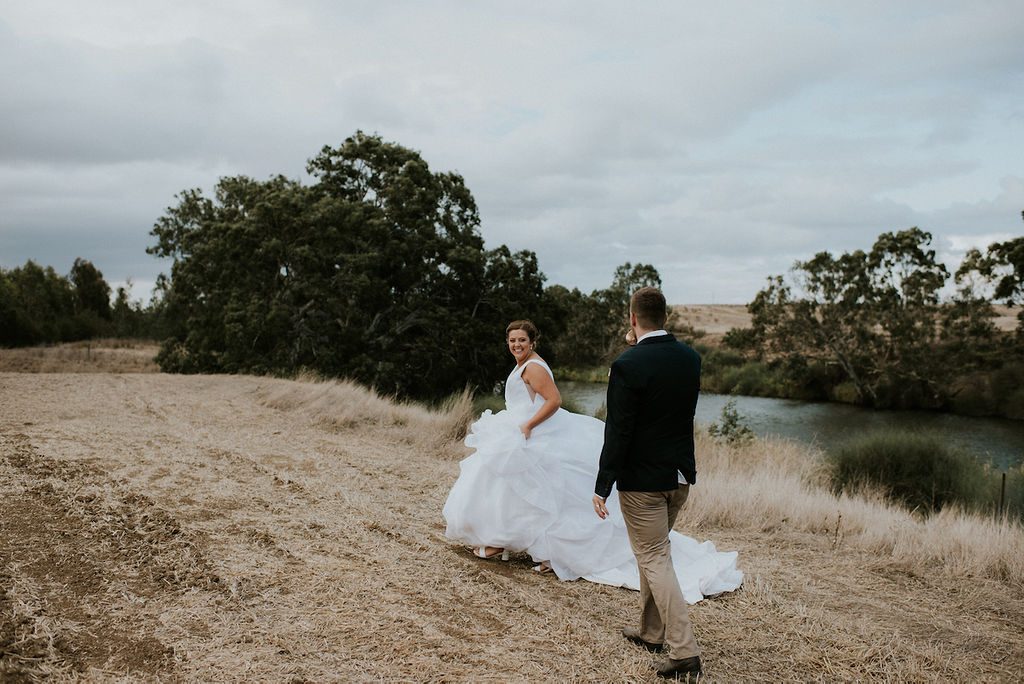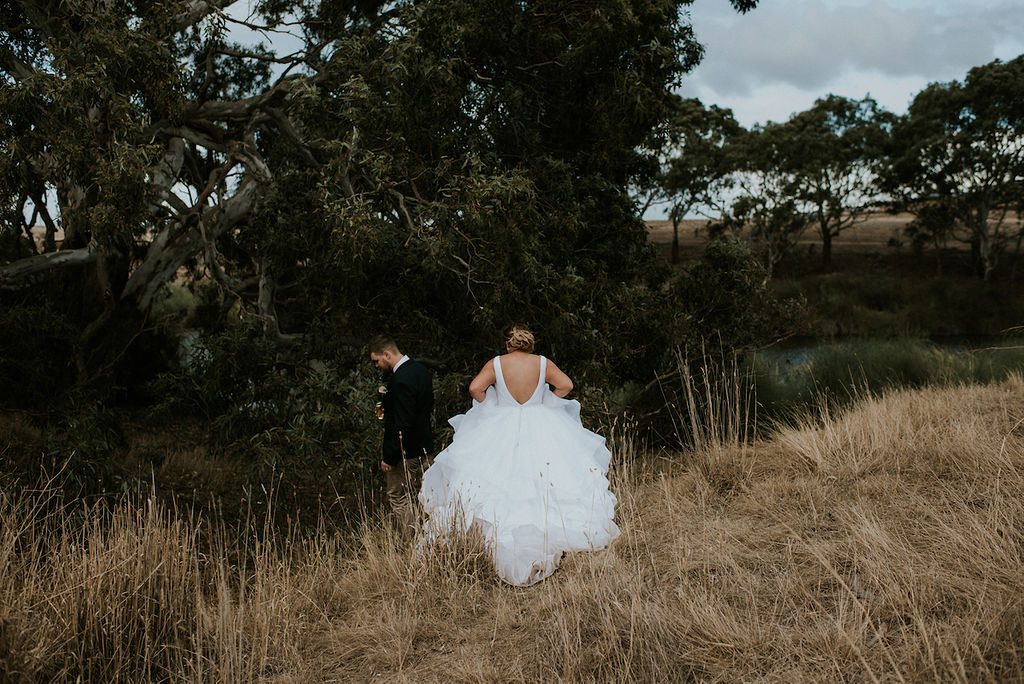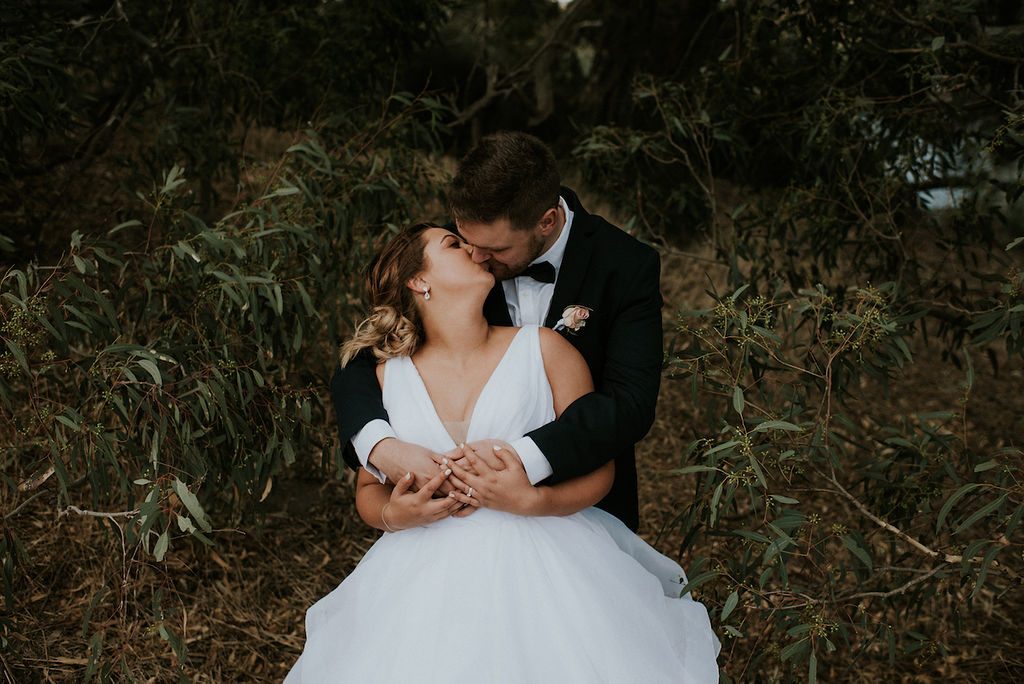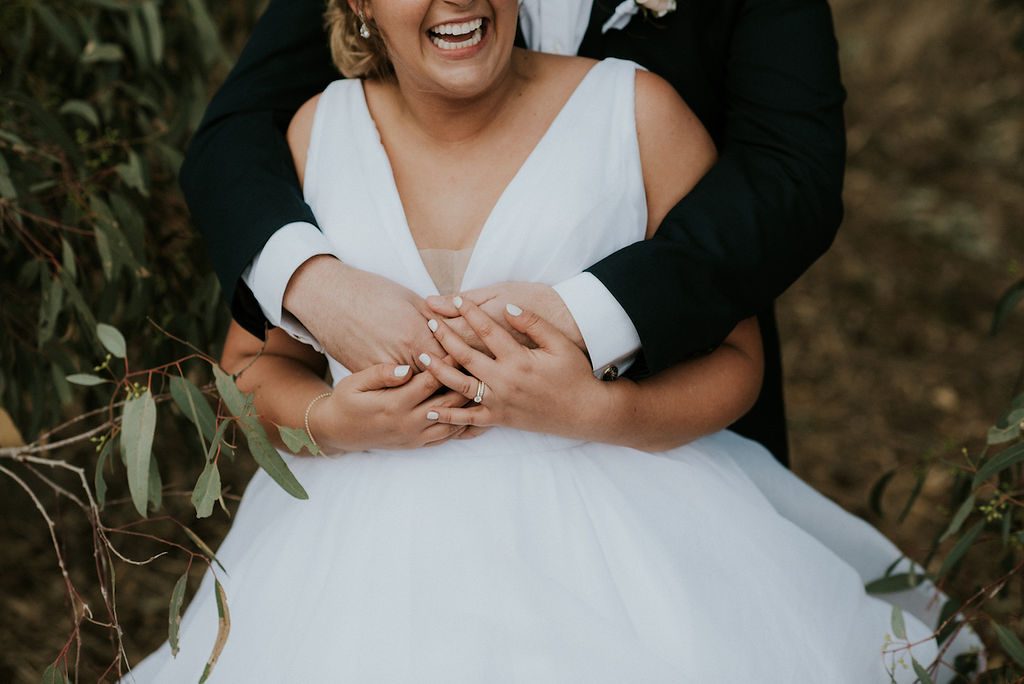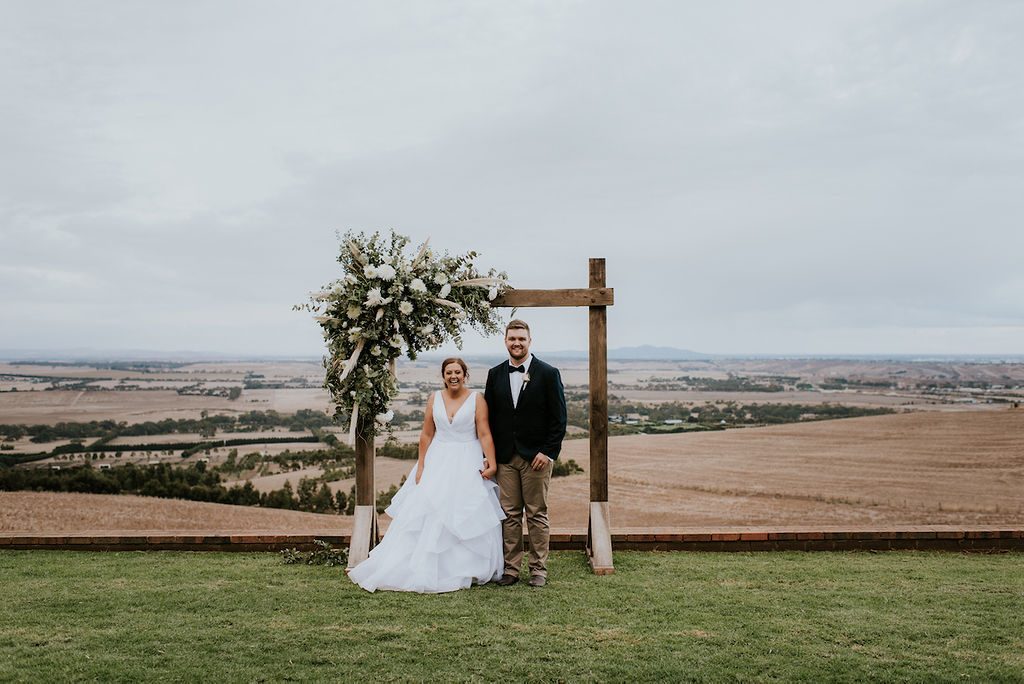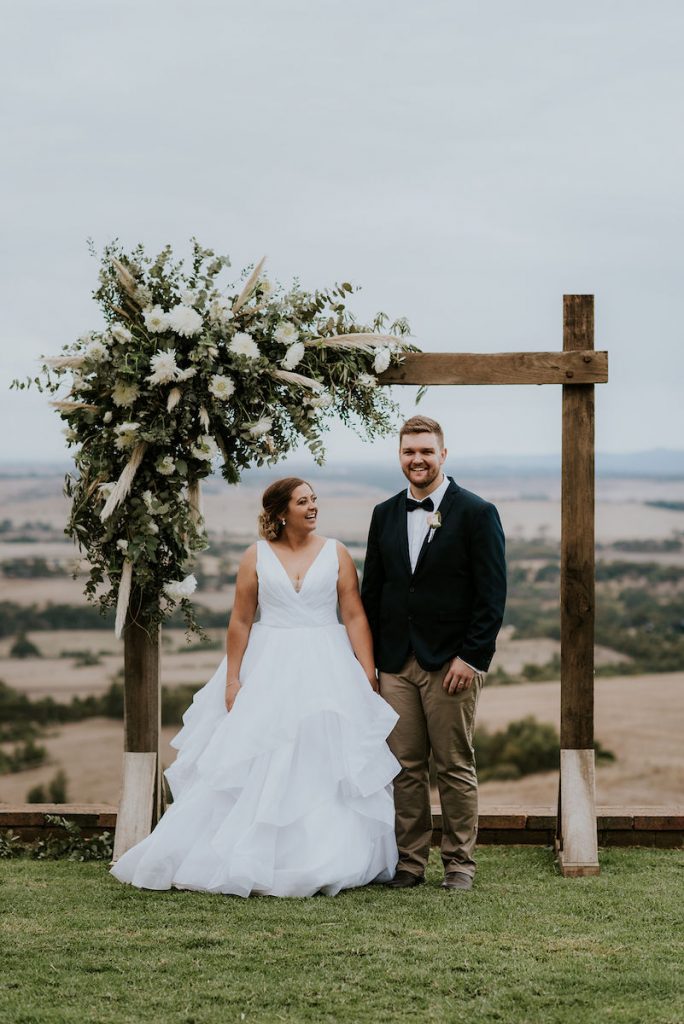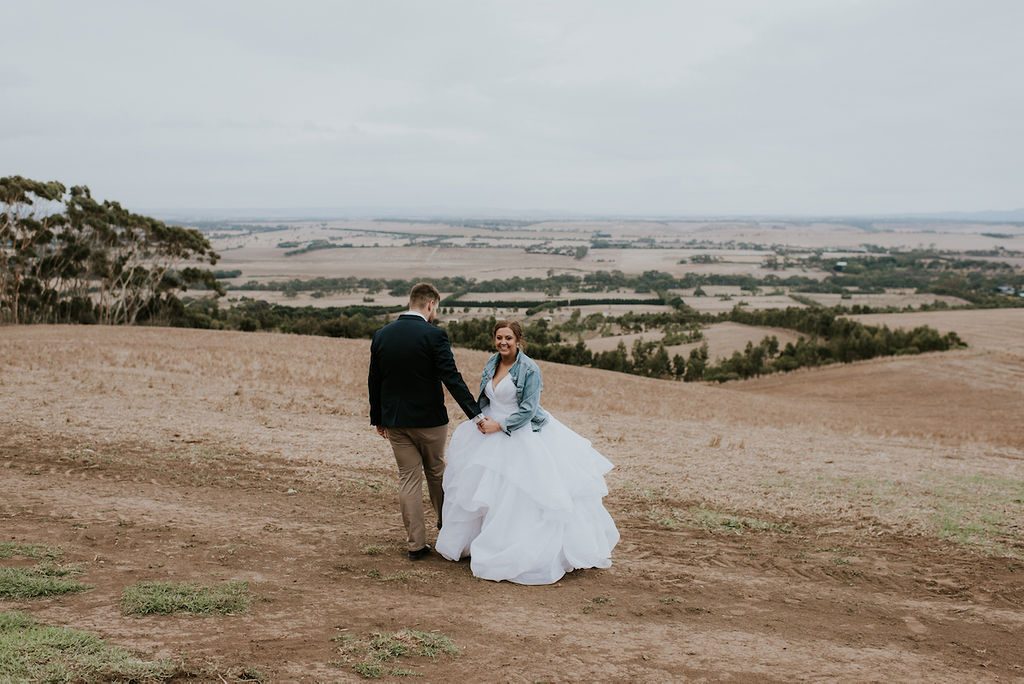 Any advice for other couples planning to spend the rest of their lives together?
To just enjoy the moment and to make sure you take some time to yourself to just soak up the experience. We got the chef to organise a little hamper and some champagne to be taken down when we got our couples photos done and there we were able to just reflect on the moments and a cheeky little kiss and just feel the love.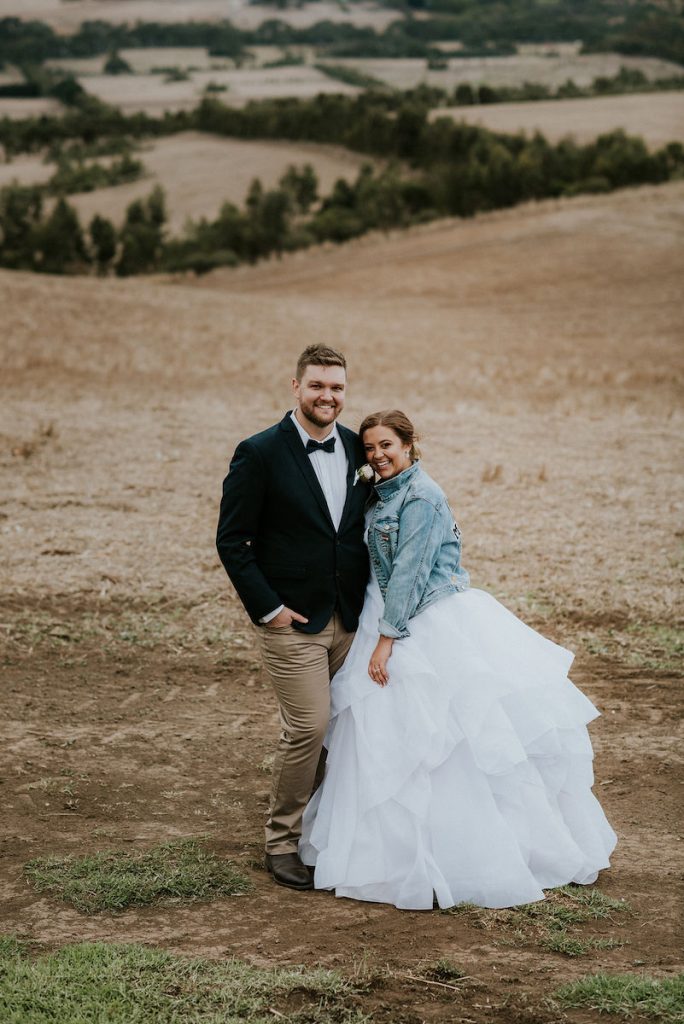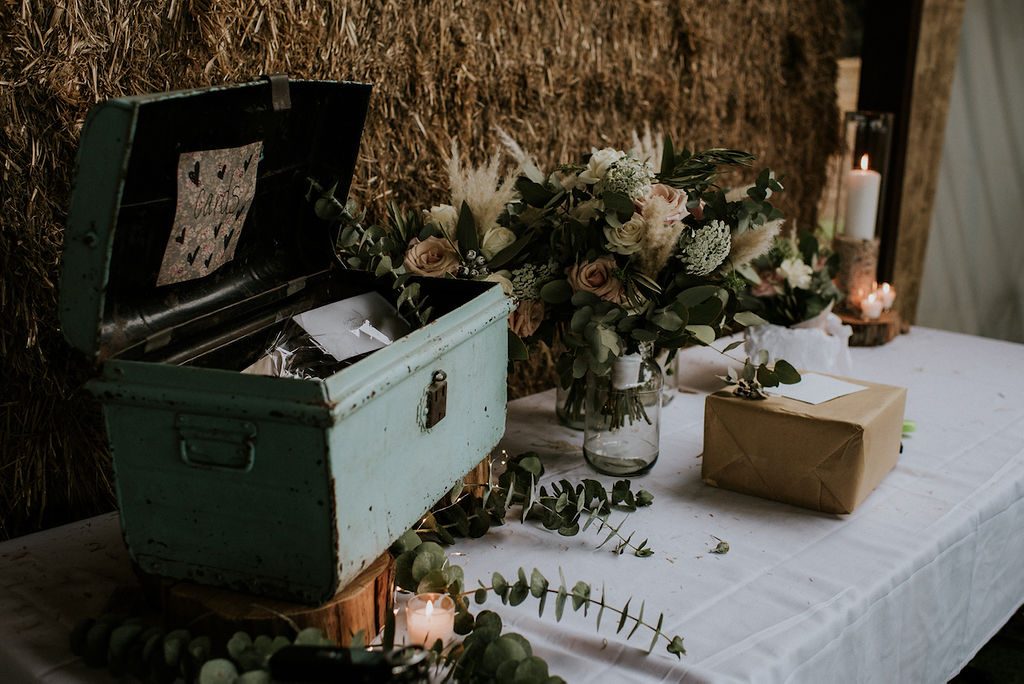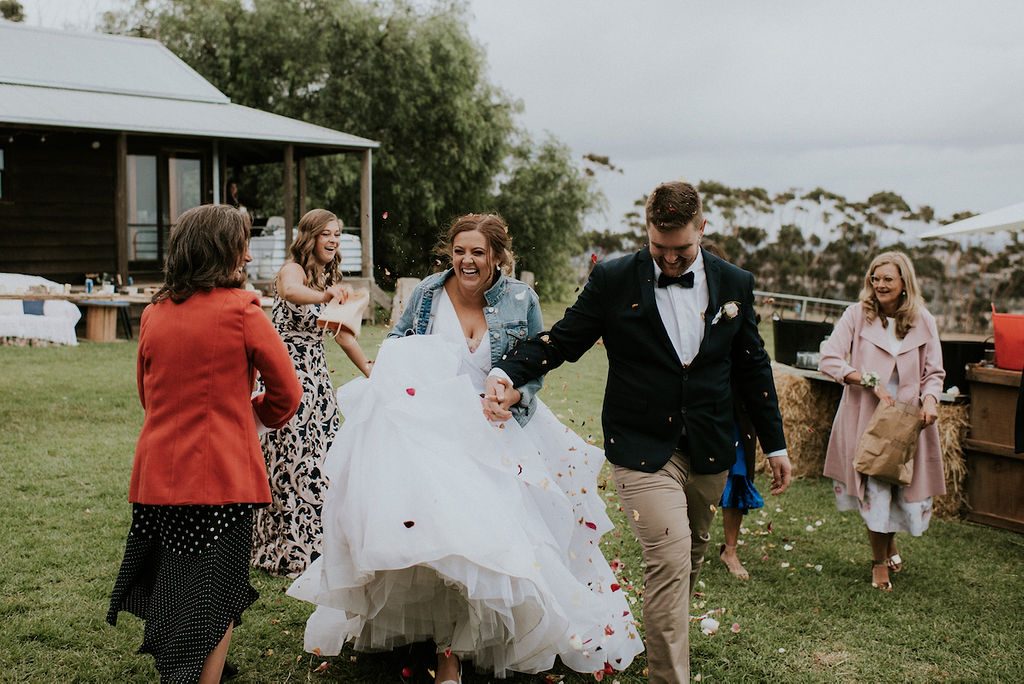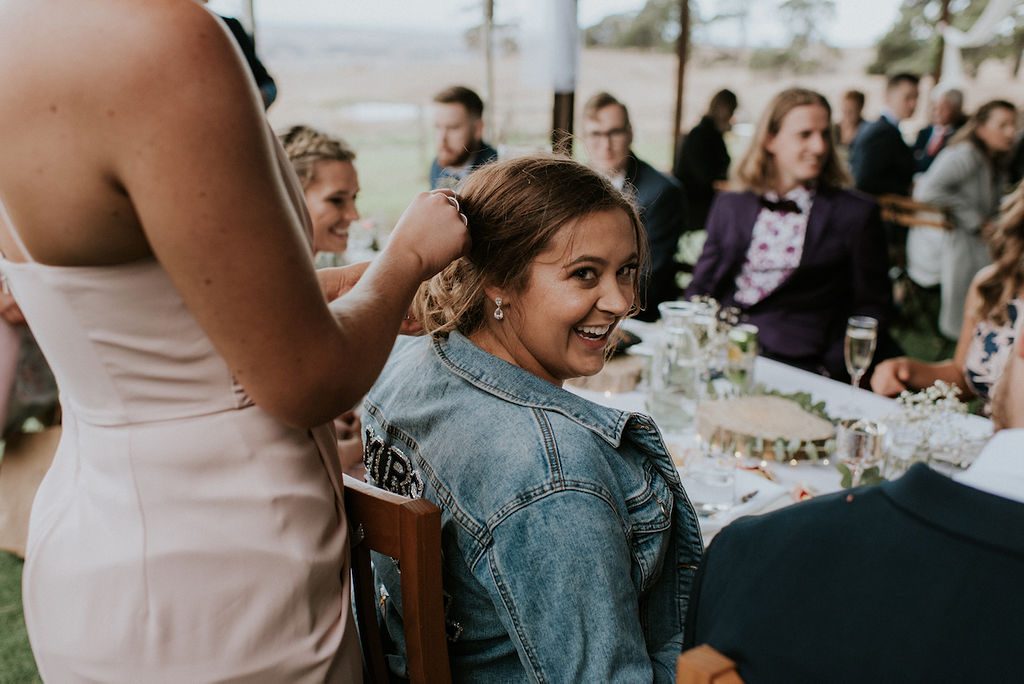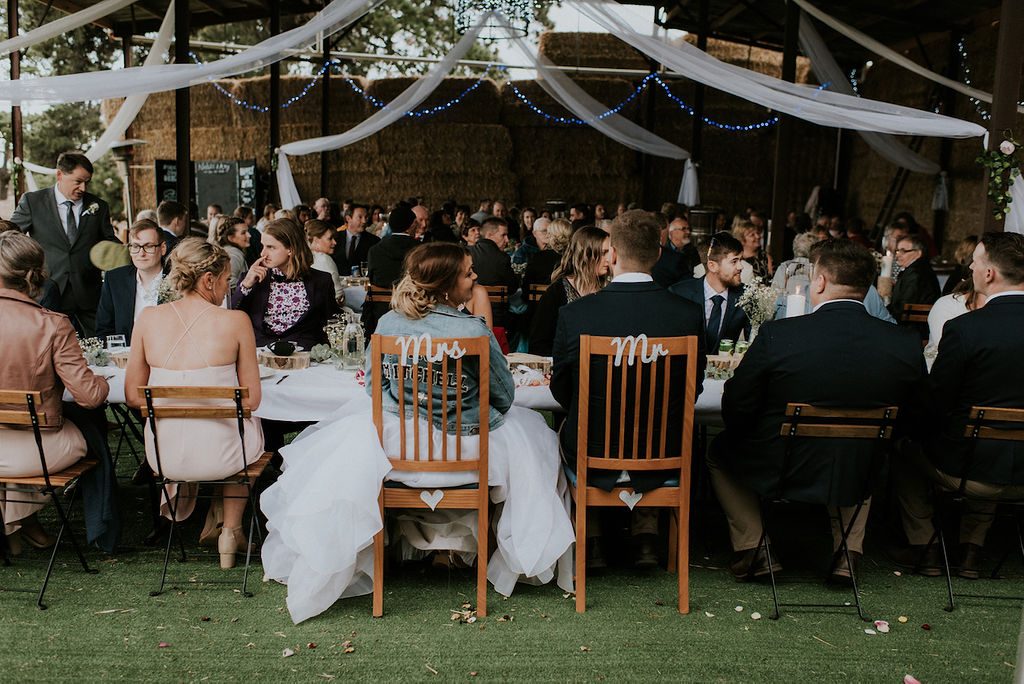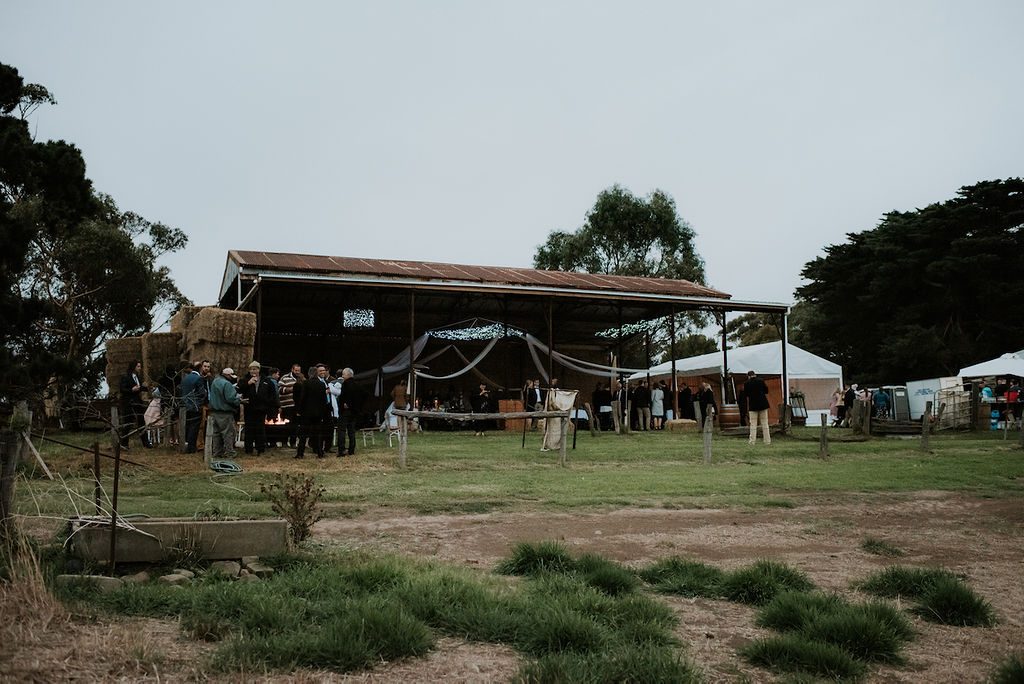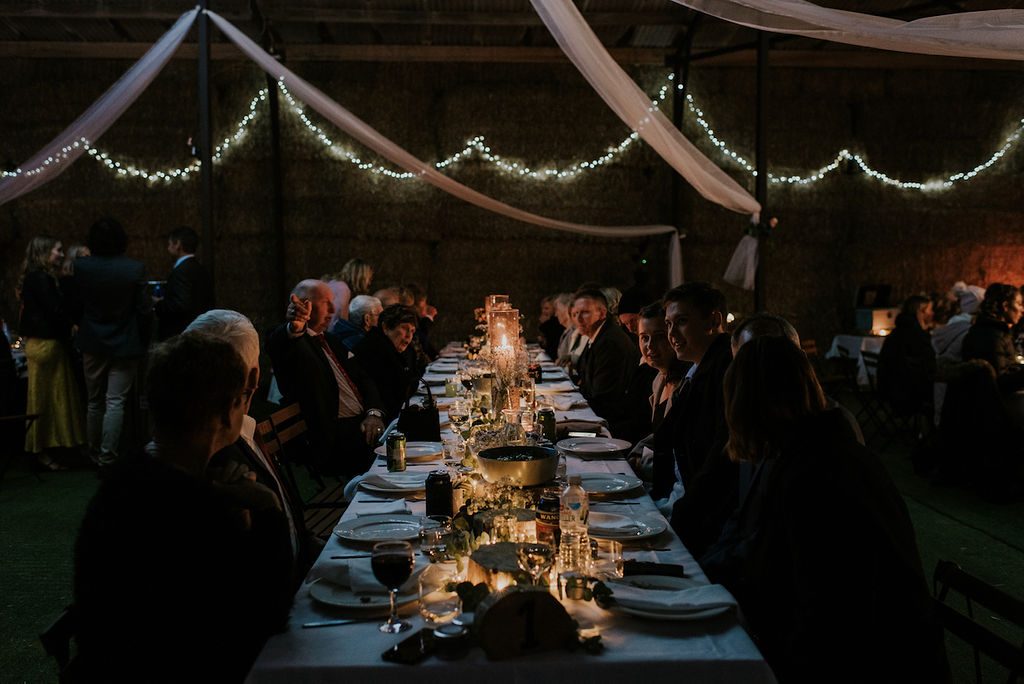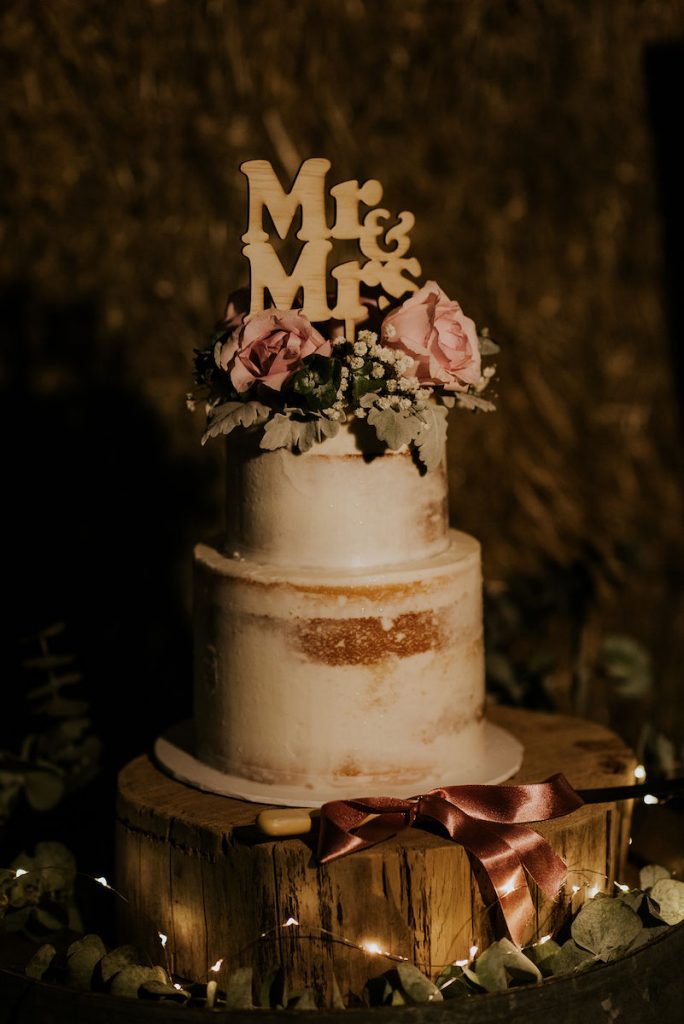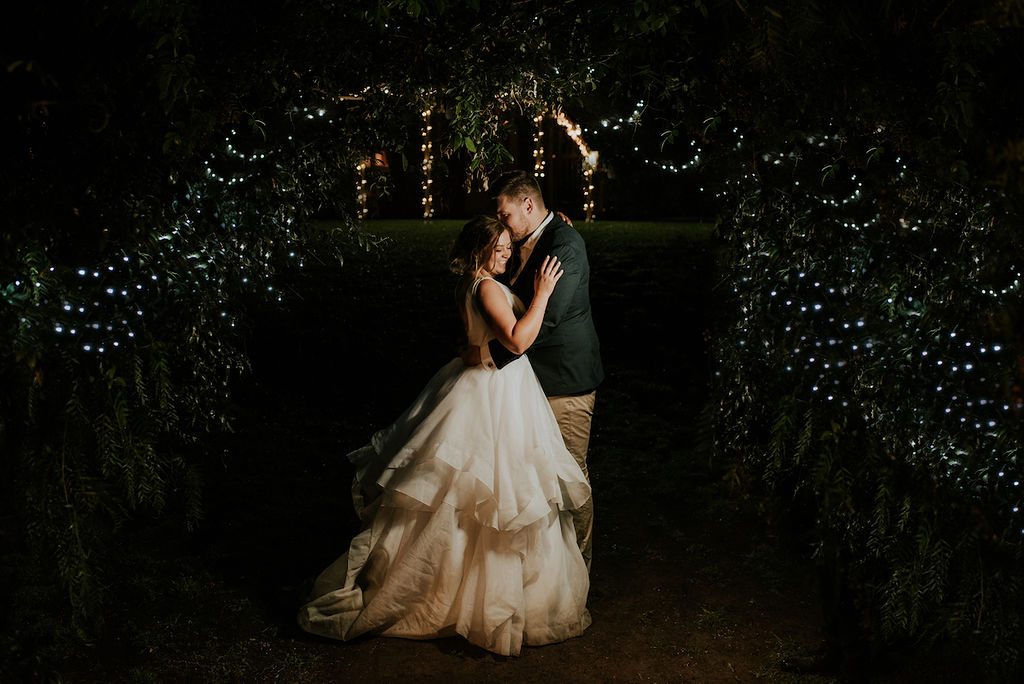 Photography: Lightsmith Images | Videography: Spectacular Weddings | Ceremony and Reception location: Family farm- Ceres, Geelong | Celebrant: Wendy Spalding | Bride's gown: Morilee from And the Veil | Groom's suit: Connor | Rings: Michael Hill | Shoes: His- R.M.Williams, Hers- Bared Footwear | Denim Jacket: Bride's mother Kathryn | Veil: Mother of the Groom's | Makeup: Shihloh Henderson | Hair: Kelly Scannell | Fragrance: His- Dolce and Gabbana The One, Hers- Valentino Valentina Pink | Bridesmaid's gowns: Forever New | Groomsmen's suits: Connor | Entertainment: Abe Anderson | Hire and Marquee: Surfcoast Party Hire | Flora: Moss Industry | Catering and Beverages: Chef Stewart | Cake: F & G Cookie Creations