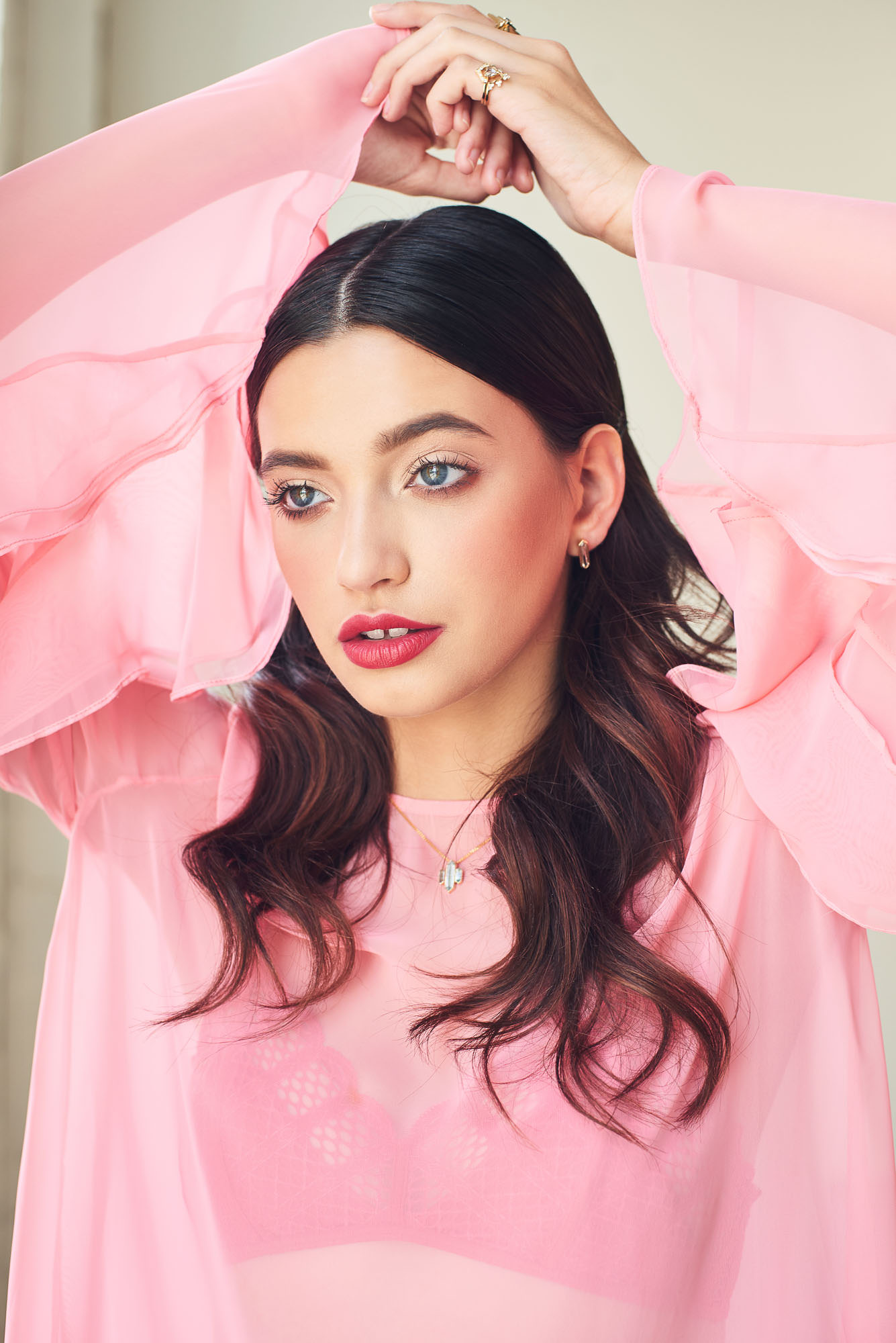 Beauty—For this elevated natural beauty look, Votary Facial Oil is used as base skincare. With its blend of Rose Maroc and Sandalwood essential oils, it's perfect for replenishing dehydrated skin.
Blac Cosmetics' Illuminating Veil is then applied — this lightweight primer is designed to add just the right amount of shimmer and glow to skin — and then Osmosis CC Cream, a colour-correcting foundation. Next, Tom Ford Beauty's Shade and Illuminate in 01 adds contour, and Hourglass' Ambient Lighting Bronzer in Diffused Bronze Light is applied to cheeks, forehead, nose and chin, before cheeks are given a peachy glow with Mellow Cosmetics' Powder Blush in Peach. To give eyes a soft glow, Estee Lauder's Pure Color Envy eyeshadow palette is used on the lids, brows are defined with Estee Lauder Micro Precise Brow Pencil in Light Brunette, and lashes are dressed with Estee Lauder Double Wear Zero-Smudge Lengthening Mascara in Black. Bold lips are the hero feature of this look, so they need to be flawless. To prevent any colour from bleeding, they're outlined first with Dr Hauschka's Lip Line Definer in Translucent, then defined with Karen Murrell's Natural Lip Pencil in True Love, a signature red. The key lip colour here is Mellow Cosmetics' Creamy Matte lipstick in Danger Zone. ~ Hair—For this hair-down style, hair is parted, slicked back and pinned just below each ear, with Evo Love Touch shine spray misted onto the part and mid-sections to add shine to the crown of the head. Finally, below the mid-section, hair is tousled and set with Evo Miss Malleable Flexible Hairspray. Azlin wears fine jewellery by Zoe & Morgan, silk blouse by Gestuz and pants by Camilla & Marc. Background florals are by Mark Antonia.
Beauty—For this chic evening look, skin is prepped with Clarins SOS Primer in #02 Peach, which conceals imperfections and gives a nice, even glow. Next, Dr Hauschka Foundation in Chestnut creates a flawless base and any darkness around the eyes is concealed with Yves Saint Laurent All Hours Foundation Stick in B20 Ivory. This oil-free, waterproof, cream to powder formulation can be built up from medium to full coverage, and it's long-wear, making it ideal for potentially tearful special events! Brows are defined with Estee Lauder MicroPrecise Brow Pencil in 03 Brunette, a darker shade than our natural look, and Mellow Cosmetics' Brow Pomade in Chocolate is added, for a more dramatic evening look. Eyes are sculpted with Yves Saint Laurent's limited edition Couture Palette Collector in Yconic Purple, to match in with this deep mauve silk Camilla & Marc blouse. On lips, choose a neutral colour like Mellow Cosmetics' Liquid Lip Paint in Ibiza (above), or create a more intense, glamorous deep berry shade (above right) with Karen Murrell's Lip Palette. For the pièce de résistance, nails are lacquered with Yves Saint Laurent Couture Palette Collector in Yconic Purple. ~ Hair—Hair is refreshed with System Professional Instant Reset Dry Shampoo and Instant Energy Dry Conditioner, then parted down the centre and tied at the nape of the neck in a low ponytail. The Cloud Nine curling wand is used to create loose waves through the length of the ponytail and Sebastian Professional's Dark Oil is applied delicately to the ponytail for extra shine and to minimise frizz, while still enabling movement. Azlin wears fine jewellery by The Jewellers Workshop (above) and fine jewellery by Monarc Jewellery (below).
Beauty—A natural beauty look begins with great skincare. To prepare Azlin's skin, we have used Dr Barbara Sturm's Glow Drops, a beautifully luxe, hydrating and anti-ageing serum designed to make skin glow. Next, we applied Bobbi Brown's Primer Plus Mattifier, a lightweight primer which extends the life of foundation and offers an extra dose of hydration. For foundation, we chose Osmosis Colour's Performance Wear Satin Foundation in Natural Medium. This brand has a reputation for making lightweight, wearable and natural-looking mineral-based products. We finished this base with a light dusting of Dr Hauschka Colour Correcting Powder in Translucent, then created a healthy glow on the cheeks with By Terry's Compact Expert Dual Powder in the aptly named Rosy Gleam. We have kept the lips soft but slightly defined with Karen Murrell's Natural Lip Pencil in Cordovan Natural and Mellow Cosmetics' Liquid Lip Paint in Tehran, a highly pigmented, velvety matte shade. For sweet, sultry eyes, we have used Bobbi Brown's wonderful Nude on Nude Eye Palette in the Rosy Nudes Edition and defined the lashes with Hourglass' Extreme Lash Mascara. ~ Hair—For a refined hair-down style, hair is first prepped with Evo Mister Fantastic Blow Out spray, then, once dry, the Cloud Nine curling wand is used to add loose, romantic waves. The look is maintained and set with Evo Easy Tiger Smoothing Balm and Evo Miss Malleable Flexible Hairspray. Alzin wears exquisite fine jewellery by Sutcliffe Jewellery and dress by Ingrid Starnes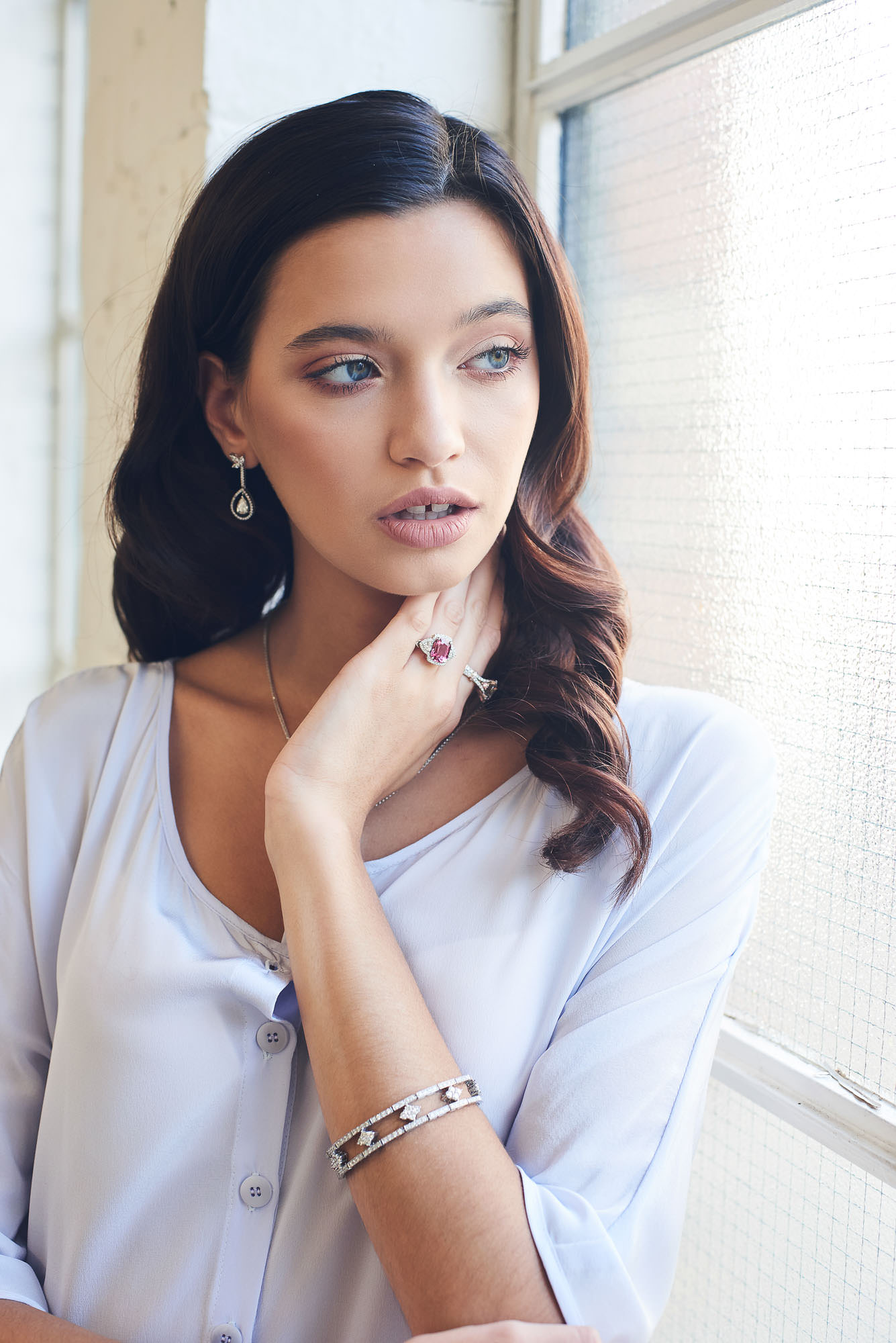 Photography—Karen Ishiguro | Styling & words—Greta Kenyon | Hair & Makeup—Rebekah Banks | Model—Azlin at Red Eleven | Location—Showroom 22