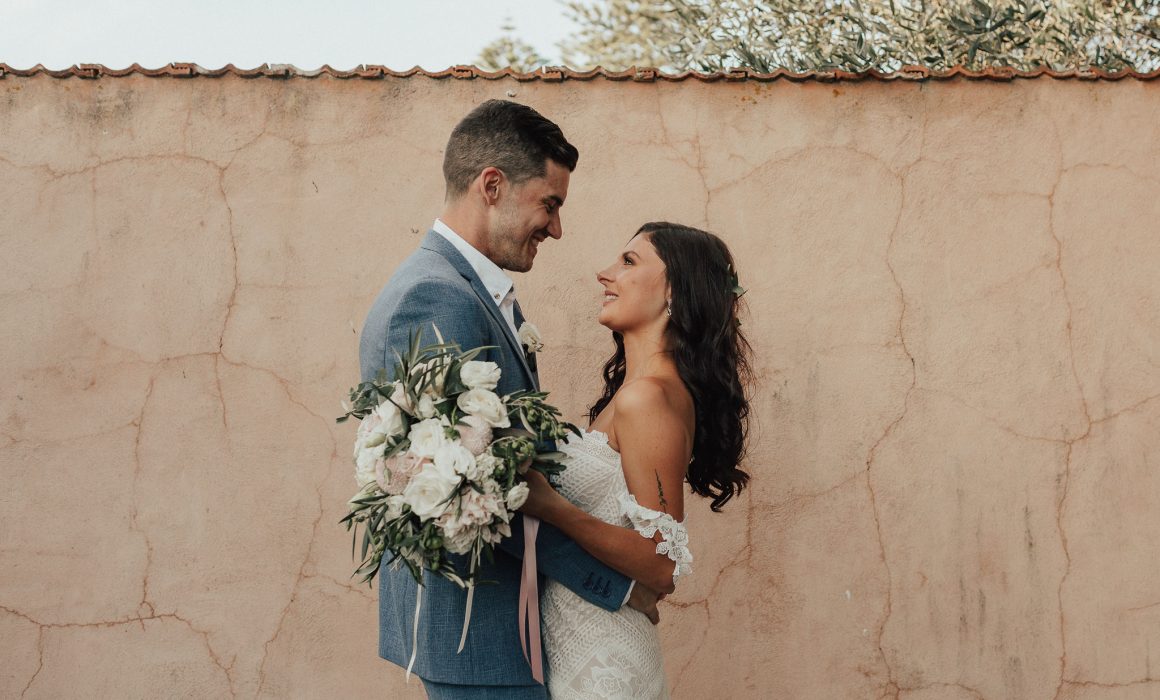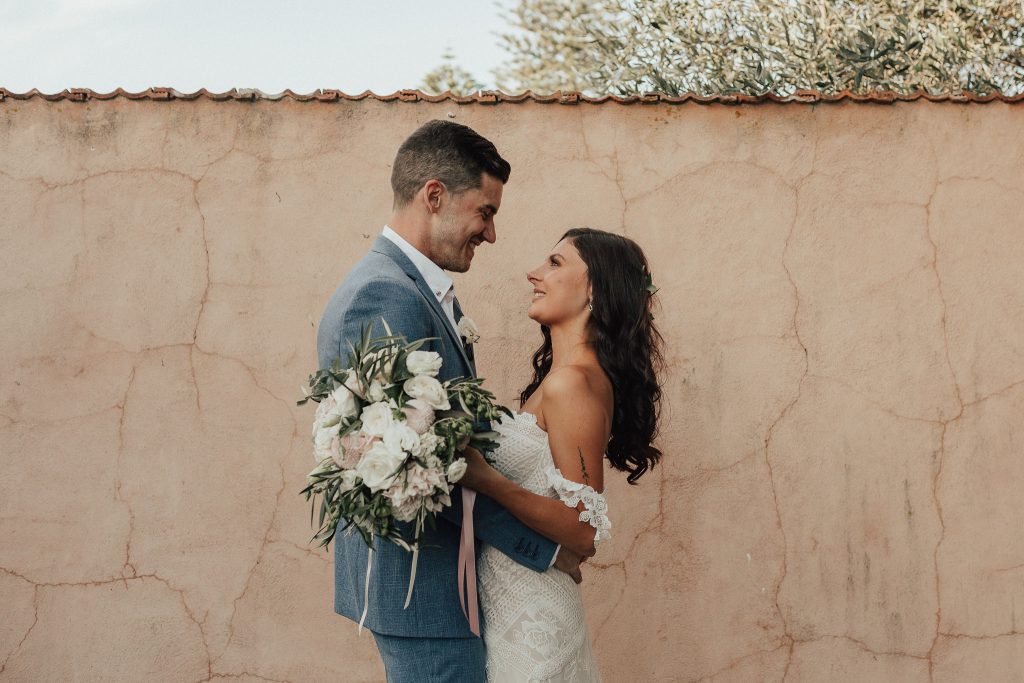 Tell us a little about yourselves, what you do, what you love, what is unique about you and your relationship…
I am a primary school teacher and Rob works at the Ministry for the Environment.
Rob and I started off as friends, we were living in Wellington in the Te Puni halls of residence with our rooms side by side, we became best friends which turned into a natural love. Rob has the quirkiest sense of humor, the kindest heart and is the biggest weirdo I know, he absolutely swept me off my feet. We have grown together and taught each other so much. He has taught me to protect him from life threatening sparrows and pigeons (he has a fear of birds), I have taught him that Friends episodes can be watched 100 times over and still be funny every. Single. time.
On our 6 year anniversary we went to Queenstown, he had arranged for us to go to Onsen spa, a private room overlooking the shotover river. I nipped off to freshen up and when I came back one of the lovely staff led me to our room. I opened the door and "with or without you" instrumental by U2 was playing, there were roses scattered everywhere and my Rob was down on one knee with my great grandmothers engagement ring. "Natasha, you are my very best friend and the love of my life, will you marry me?" he said. After lots of happy tears, cuddles and kisses I said yes, yes yes. It was the most magical day of my life. Rob and I both have a big passion for music, it was one of the things that attracted us to each other, we even included the likes Nick Cave and talking heads in our wedding ceremony. We are also very big on family and both come from such fun, down to earth families and both our siblings were in the bridal party. Books, travel and coffee are also BIG parts of our life and of course furry friends.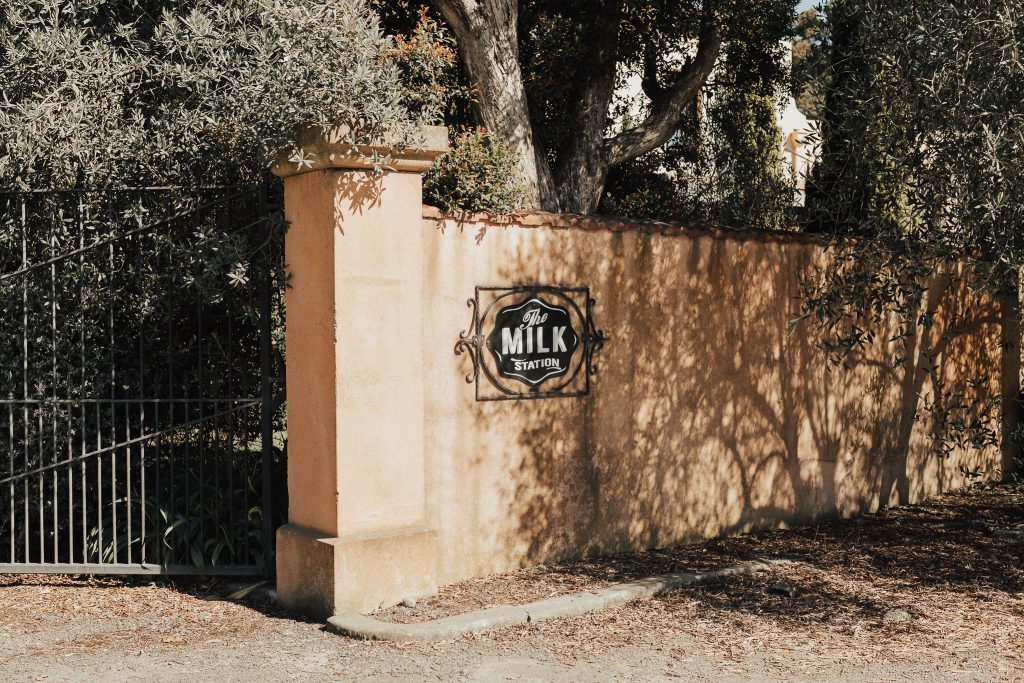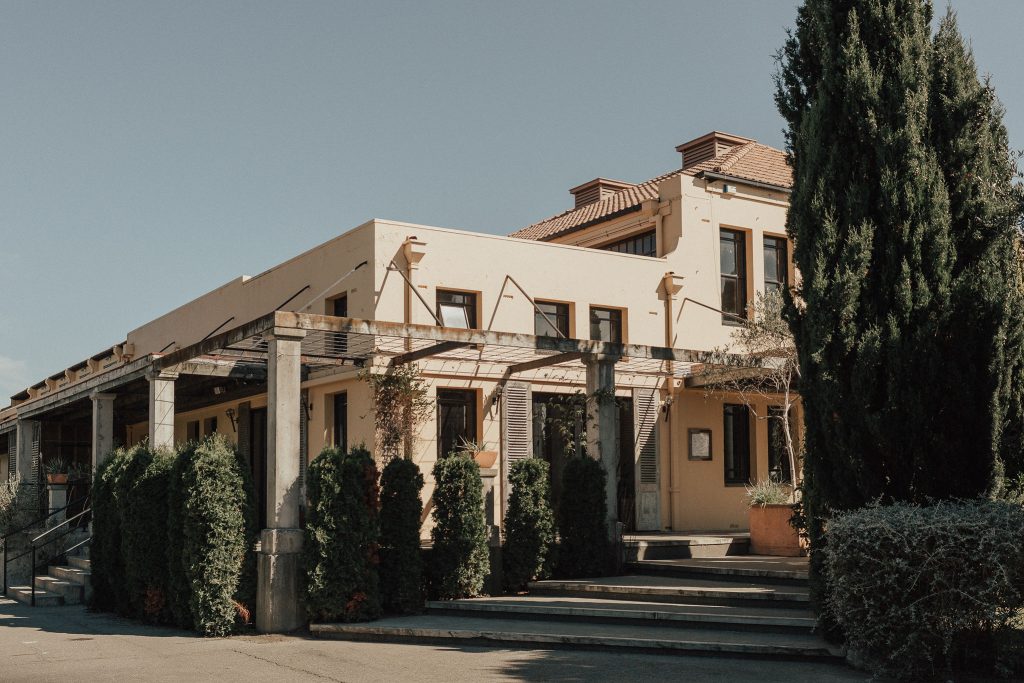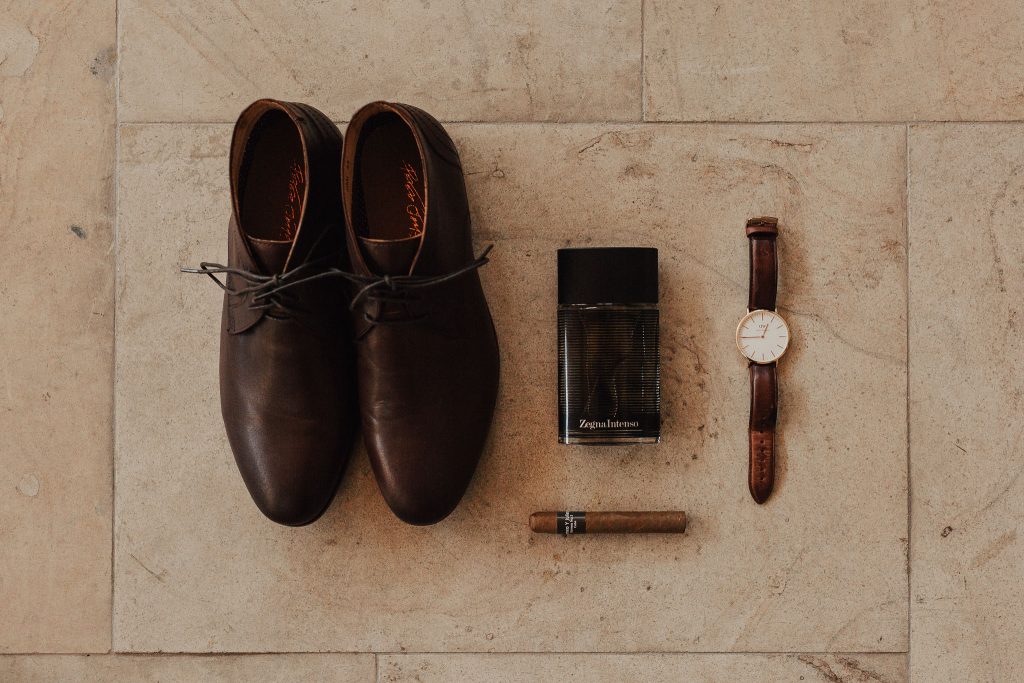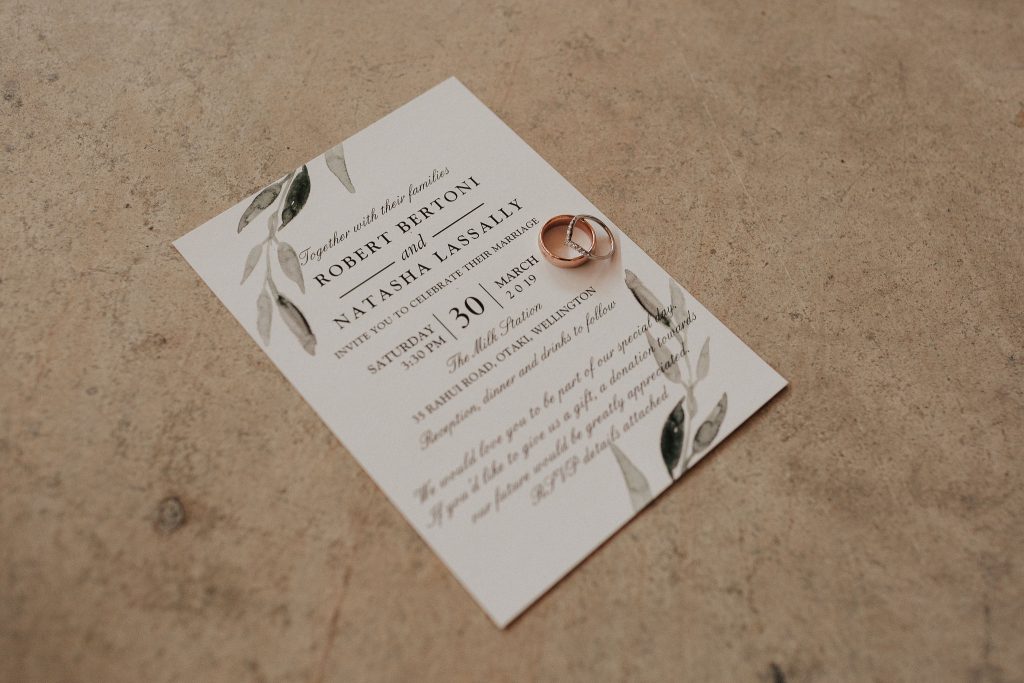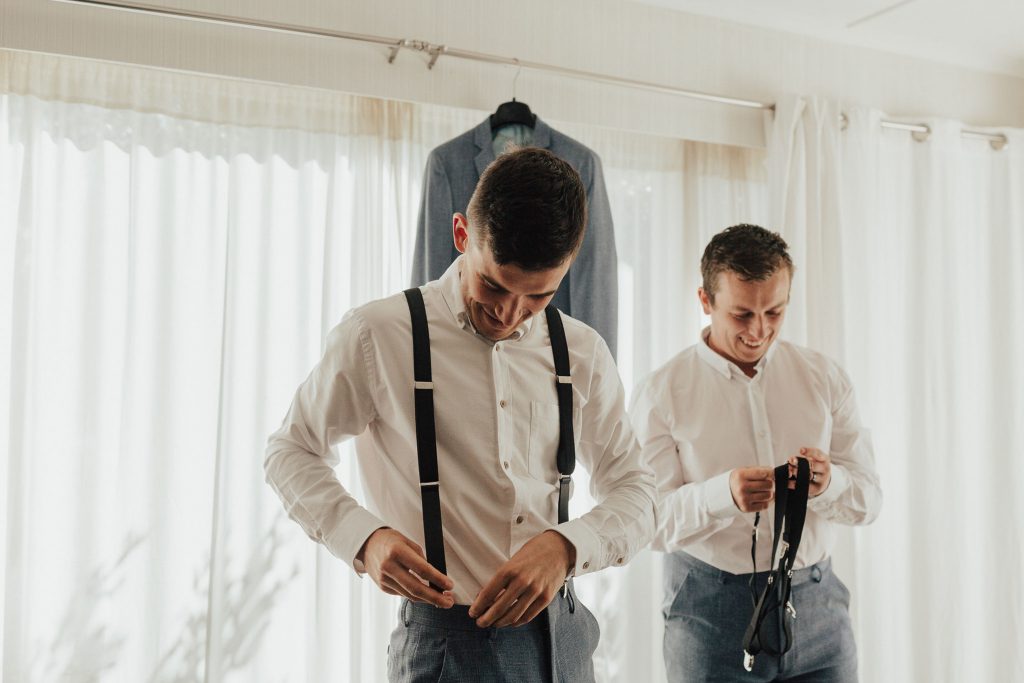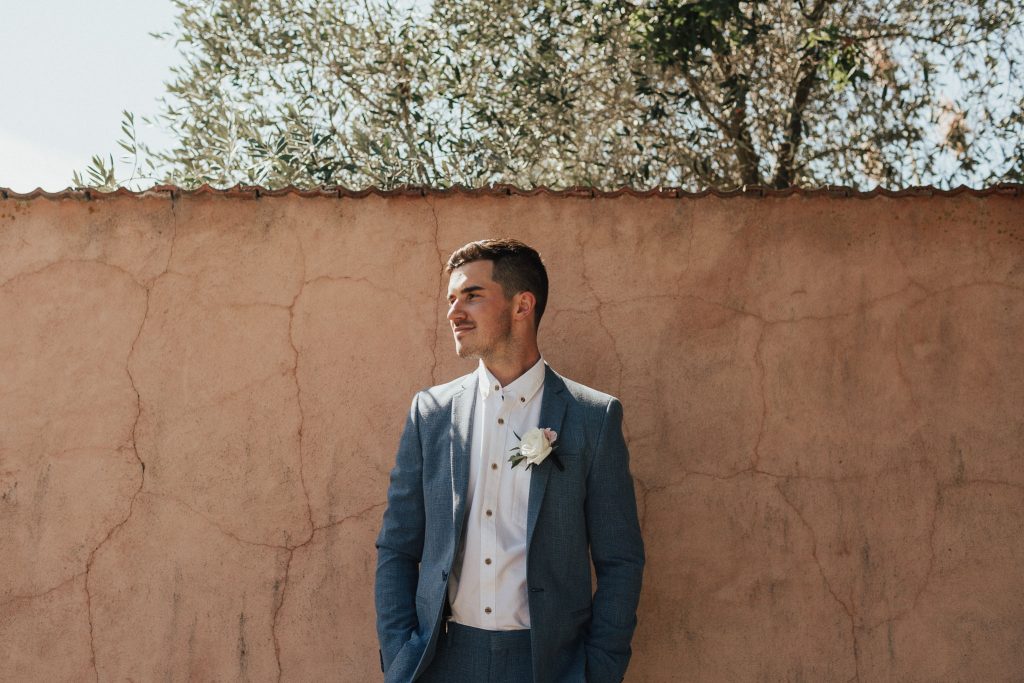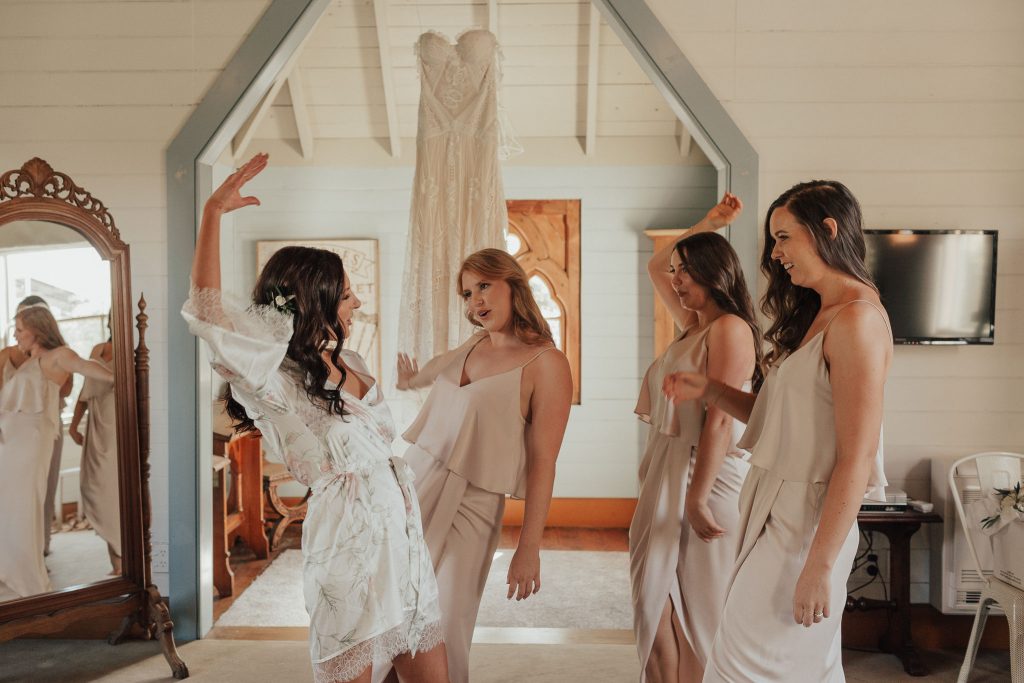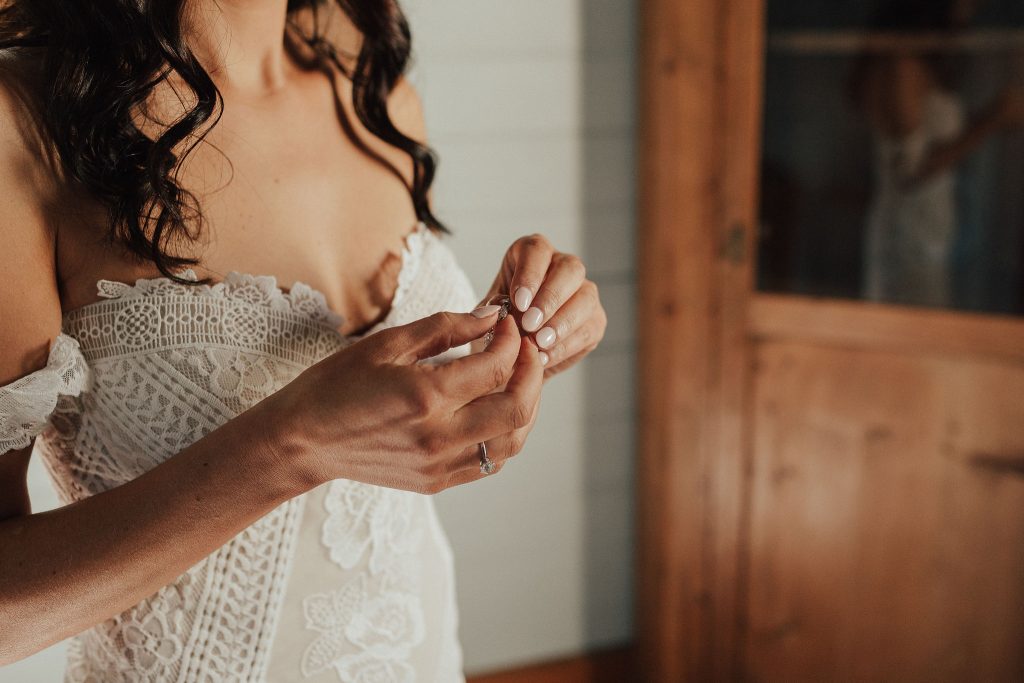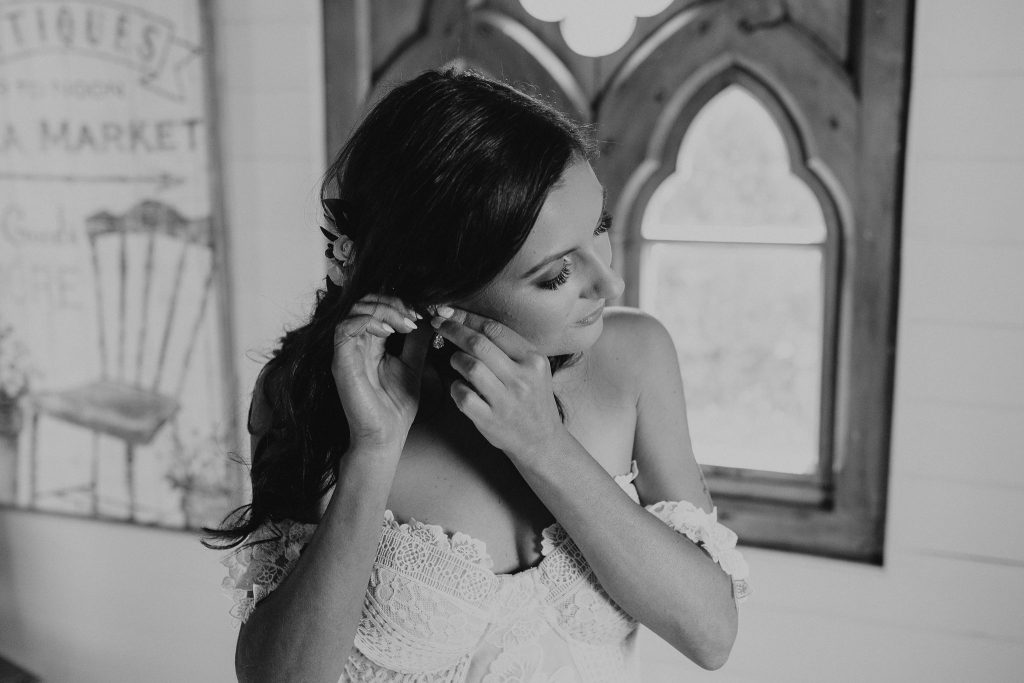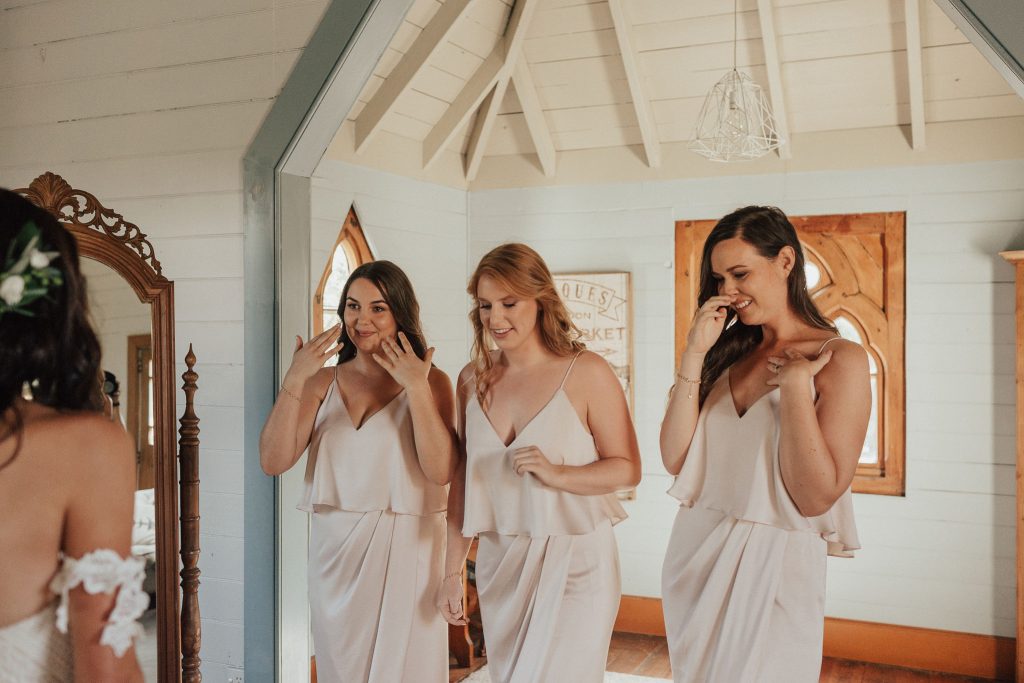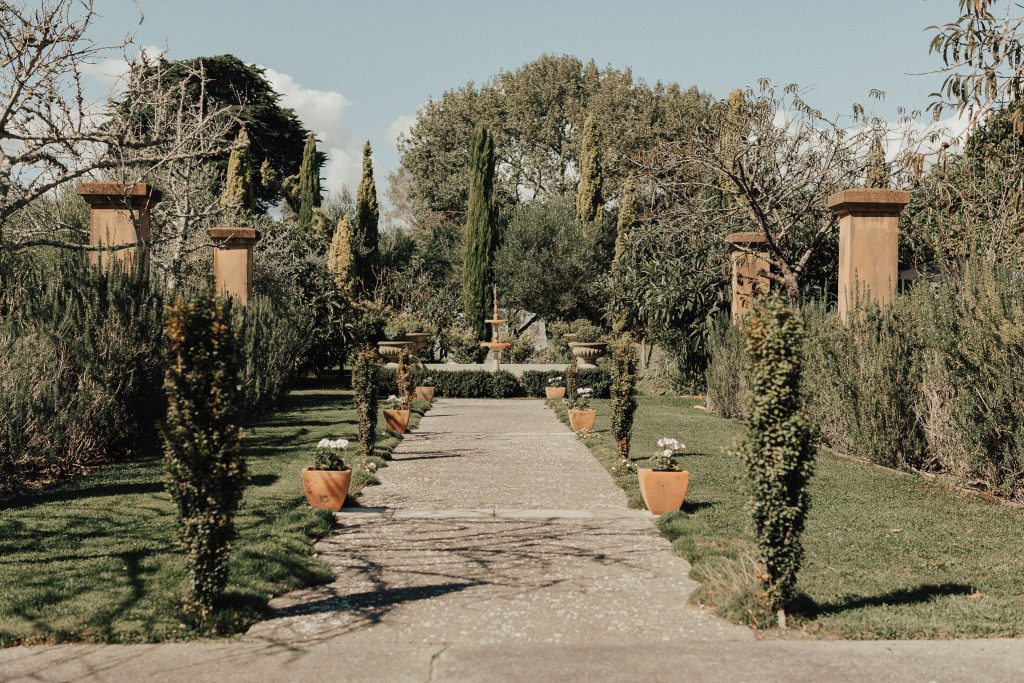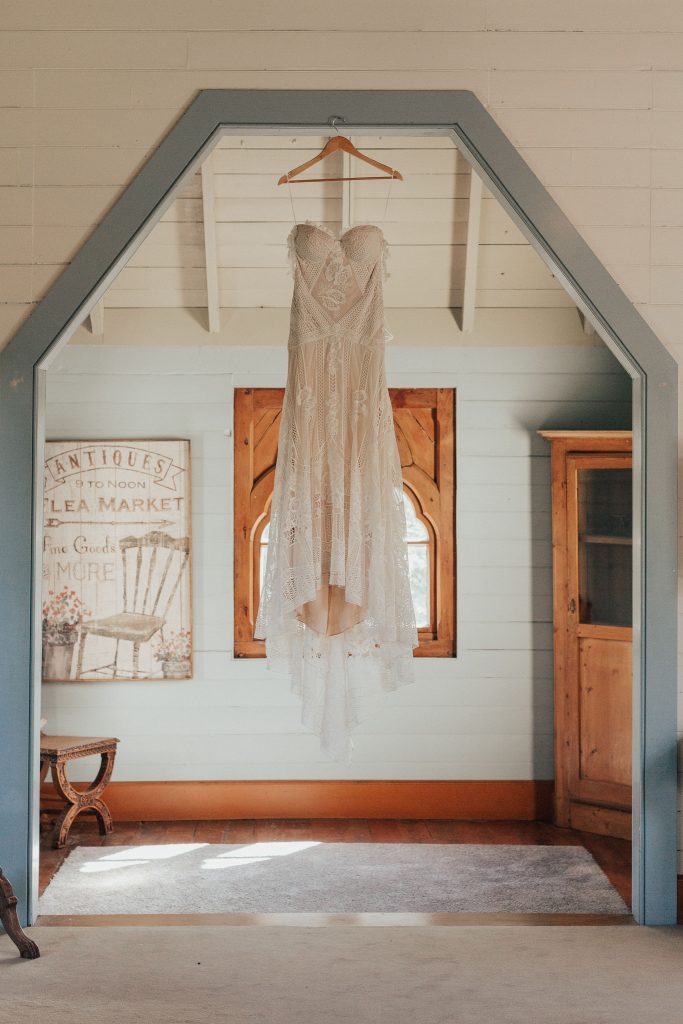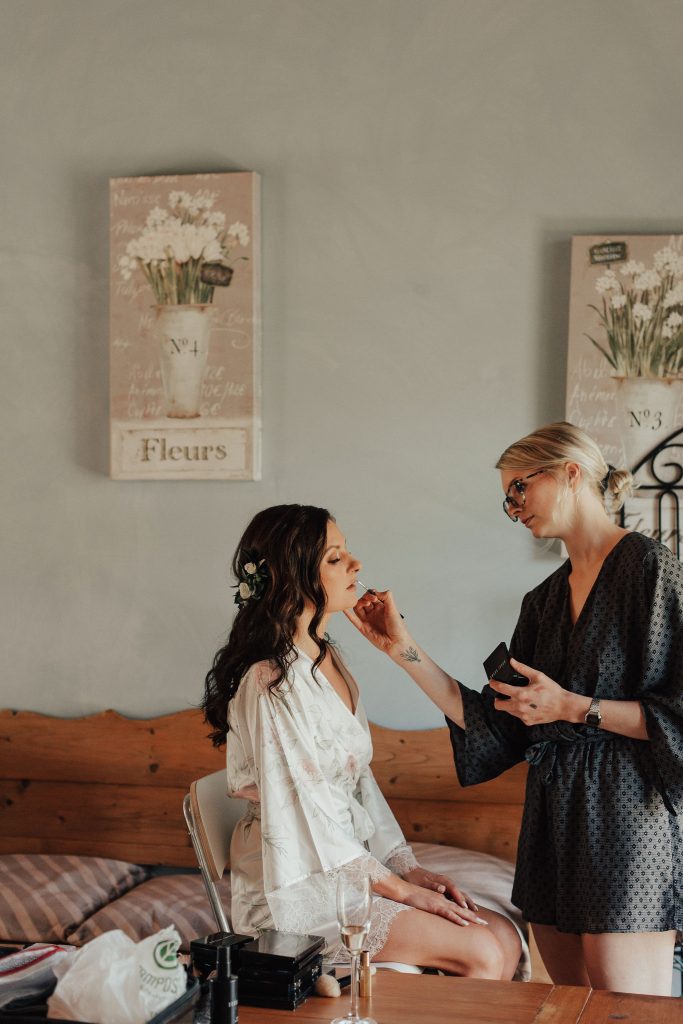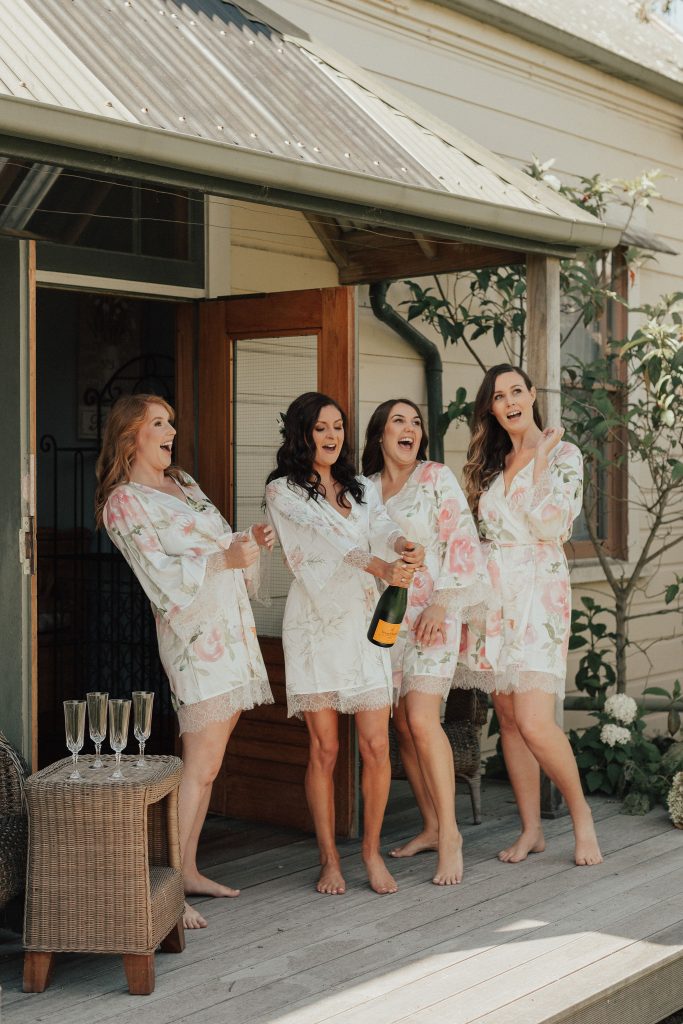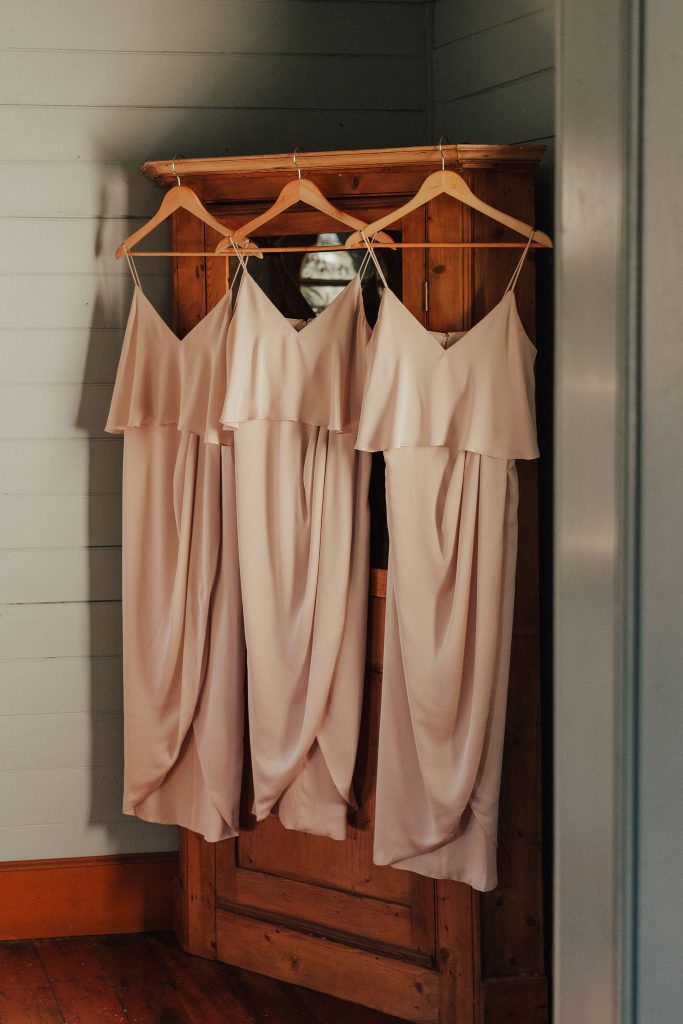 Tell us about your special day, was there a specific theme or style? Tell us a little about the setting, the styling and some of your favourite details…
I wanted to keep it fairly simple with classic and neutral/pinky tones. The Milk Station had a beautiful Tuscan feel with the gorgeous garden surroundings and terracotta buildings with a romantic touch. The venue also had a chapel for the girls to stay in, a managers cottage for the guys to stay in and accommodation for guests to stay in too so everything was on site which made it really easy. We collected candelabras and candle holders and spray painted them copper gold for our centre pieces. Melissa Jane was our florist, I told her what I wanted, a romantic, modern look with bursts of green and white with touches of blush to tie in with my bridesmaids porcelain coloured dresses and the groomsmen and grooms light washed blue look as well as my ivory dress. We also had the wedding shoe game, 'how well do we know each other' which was so much fun and got everyone up and going after dinner.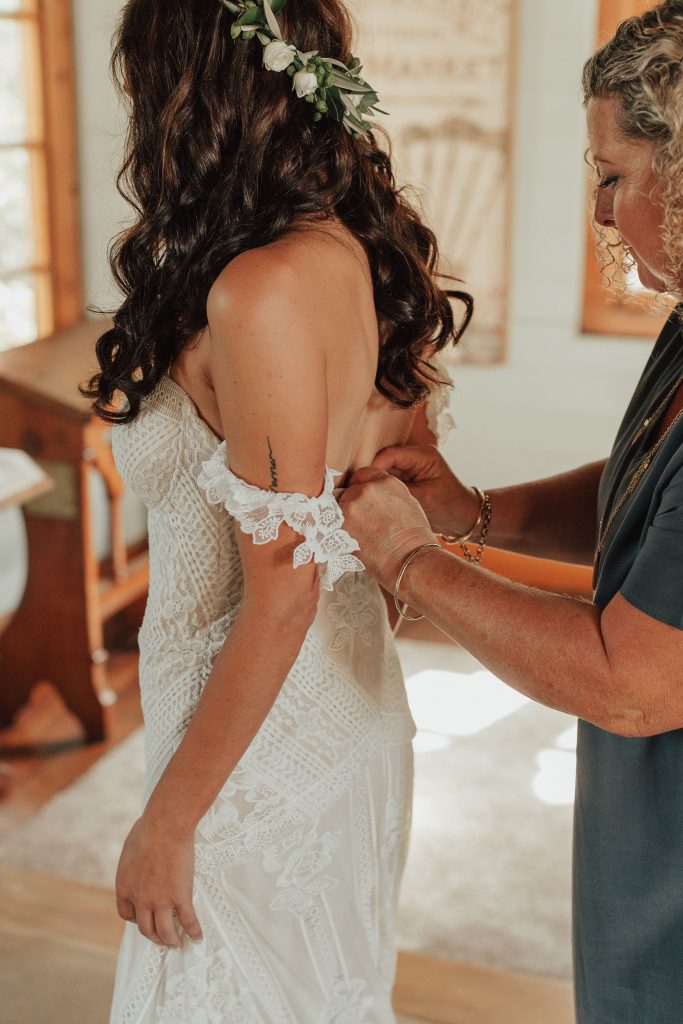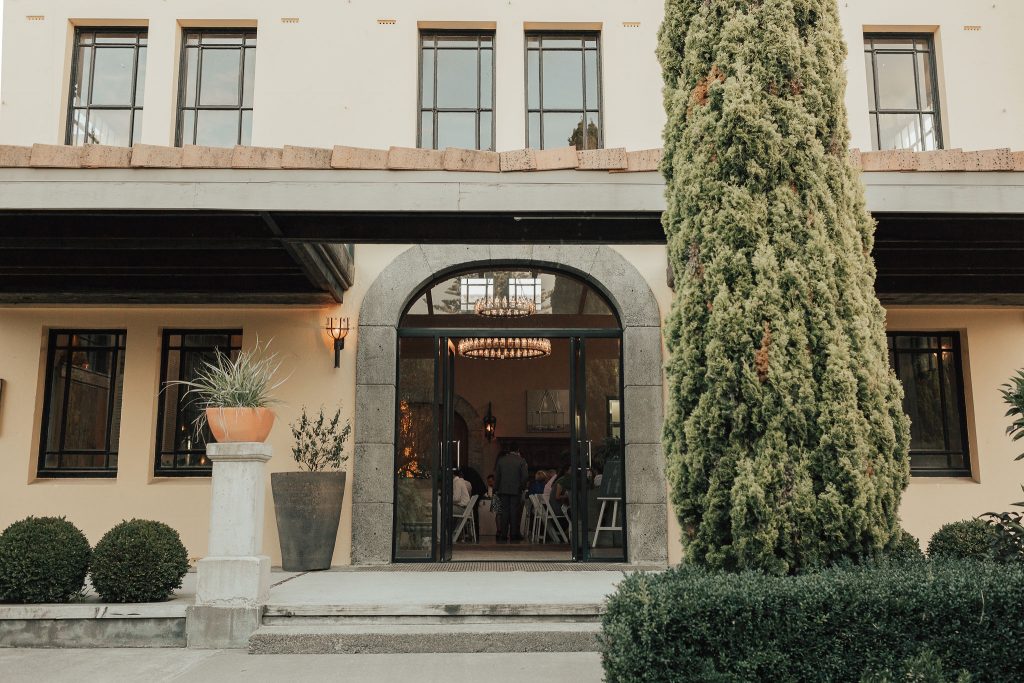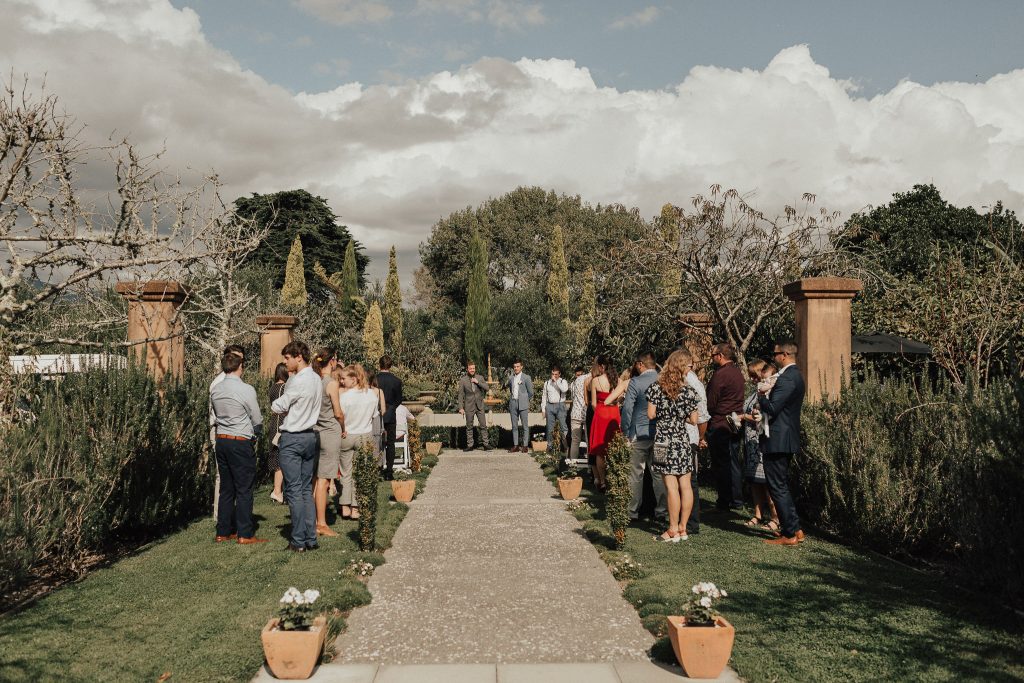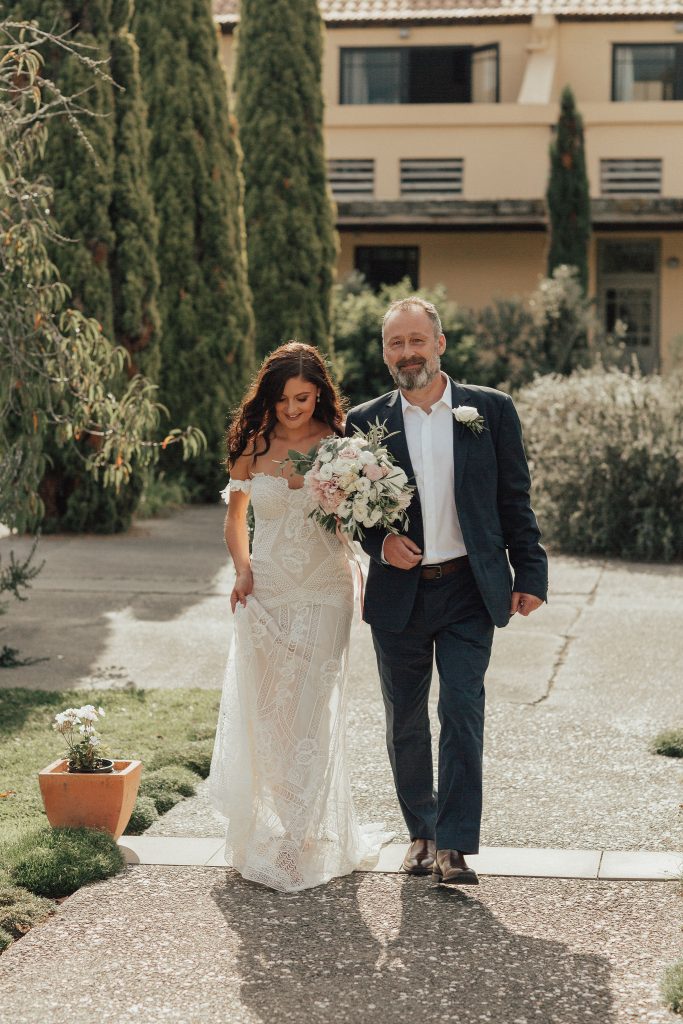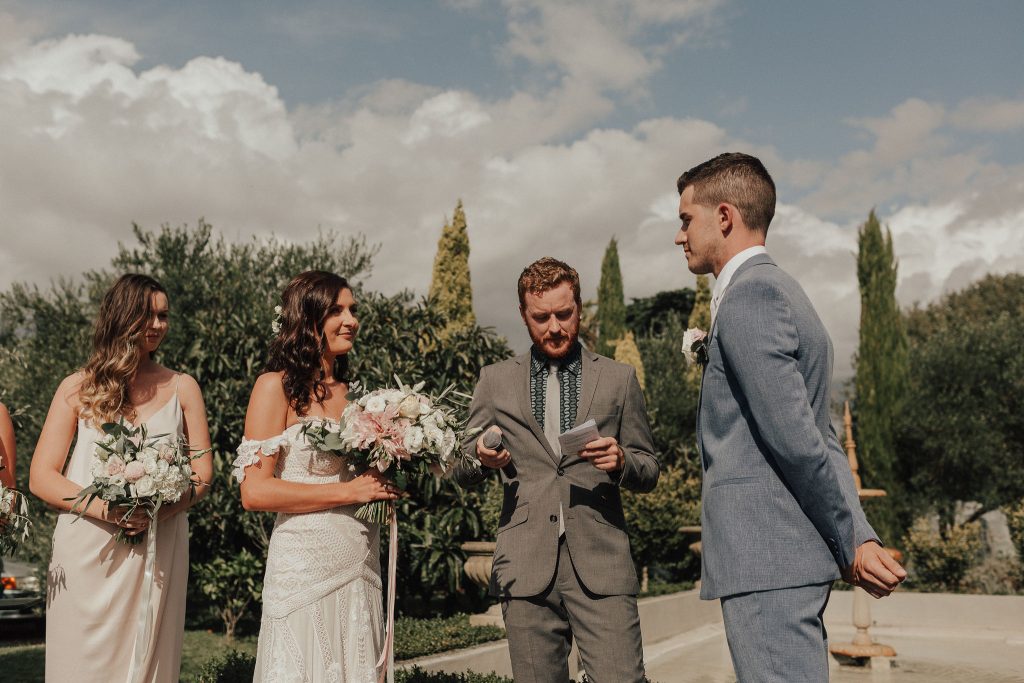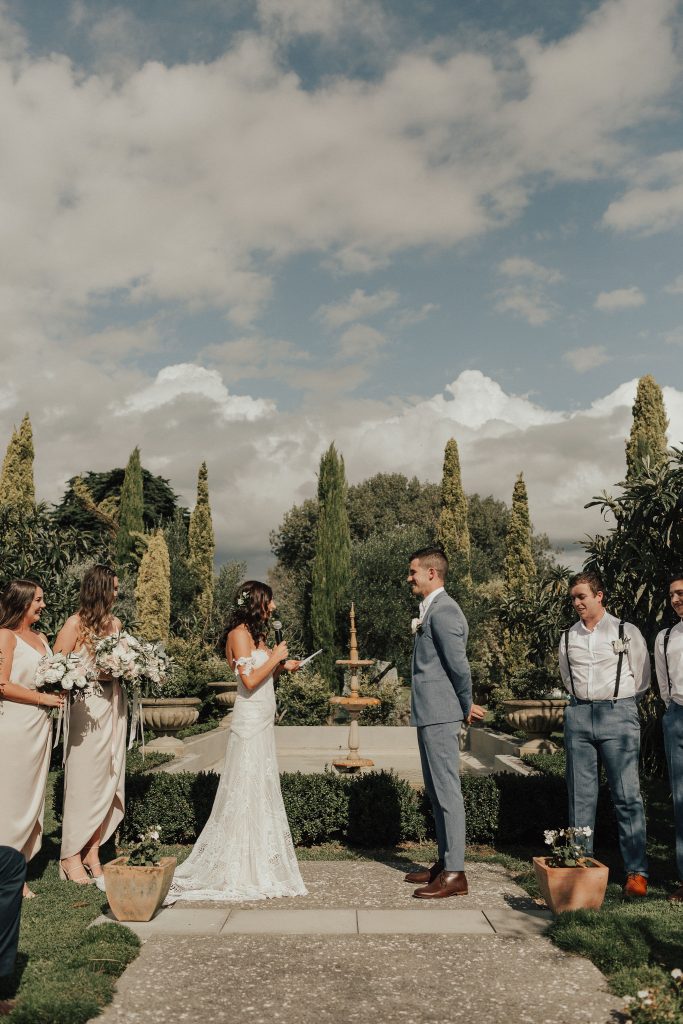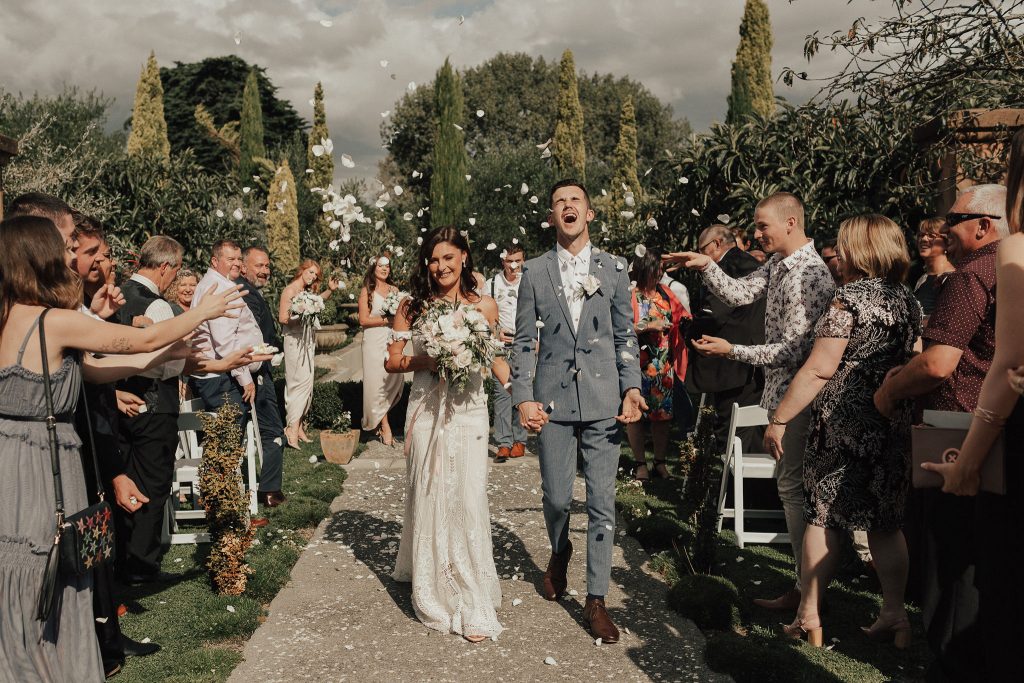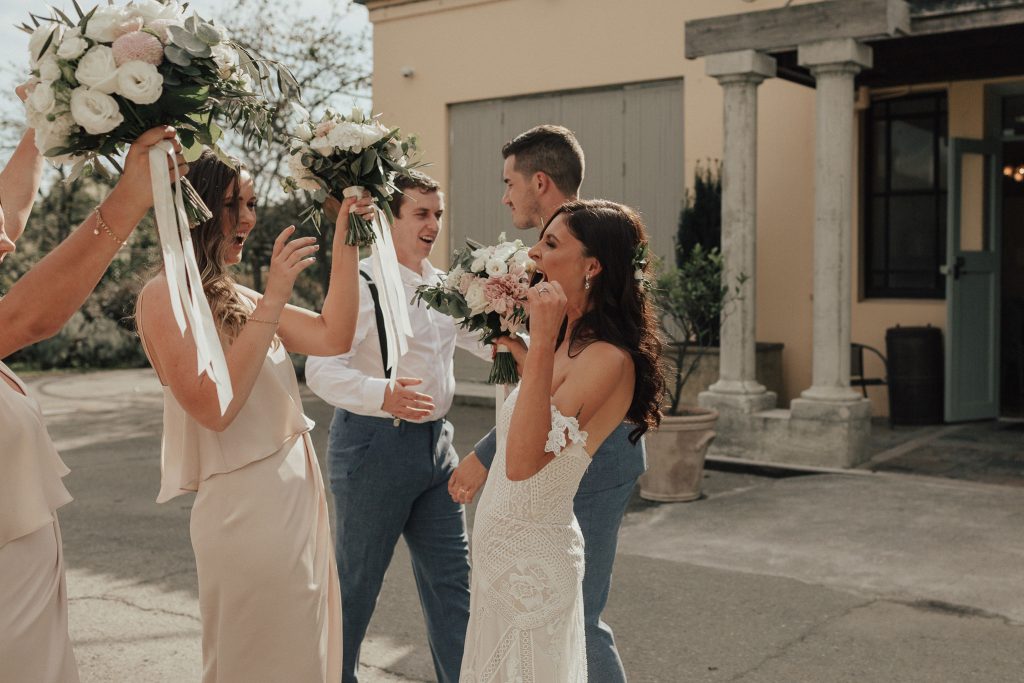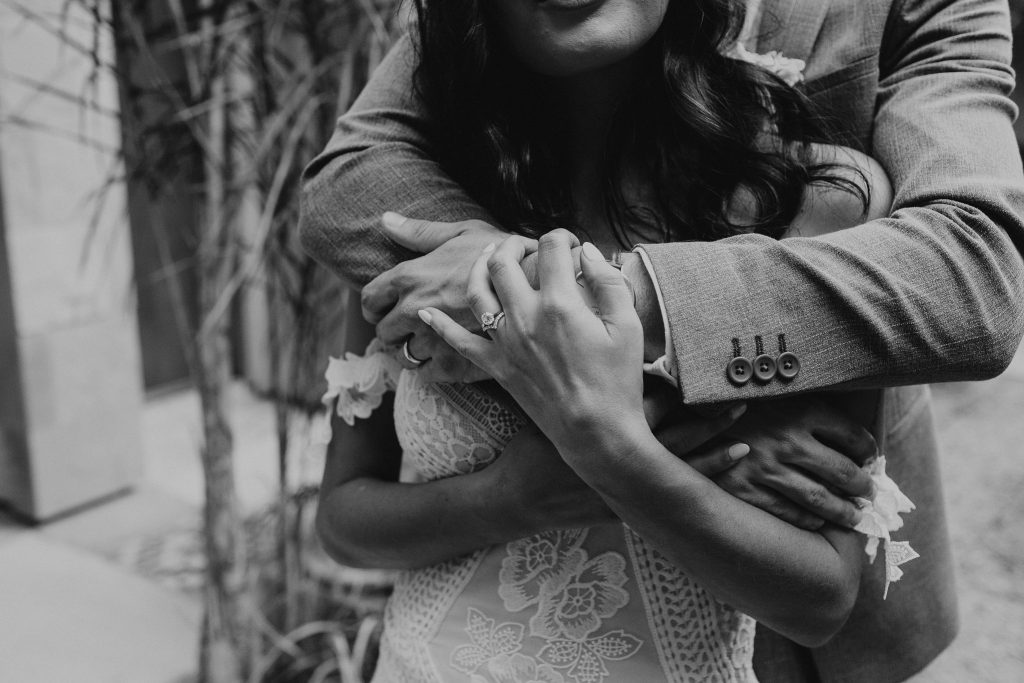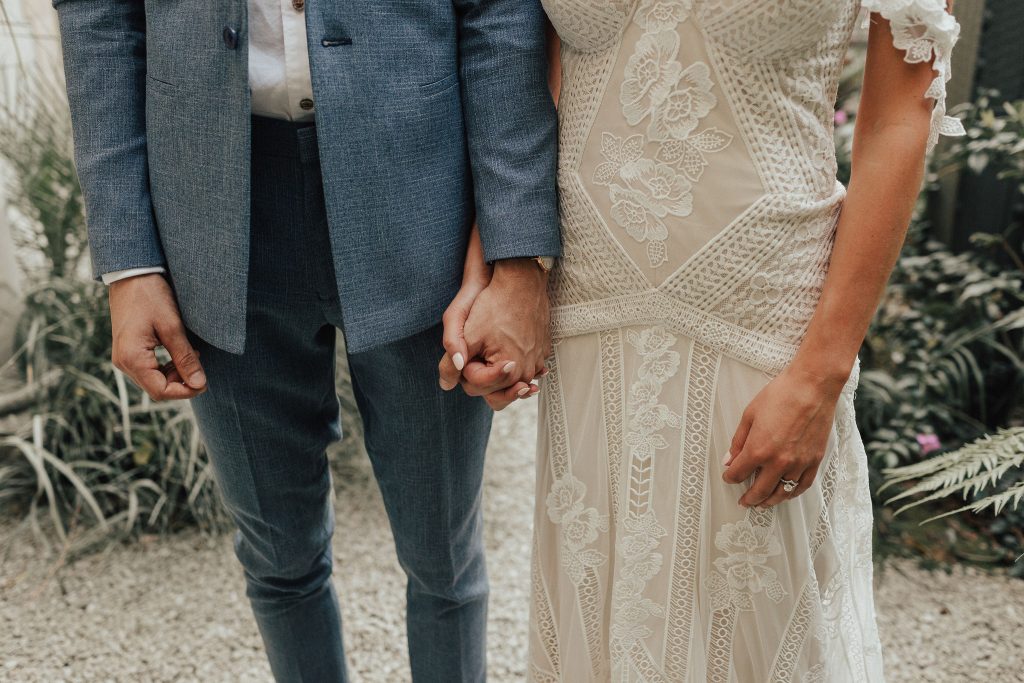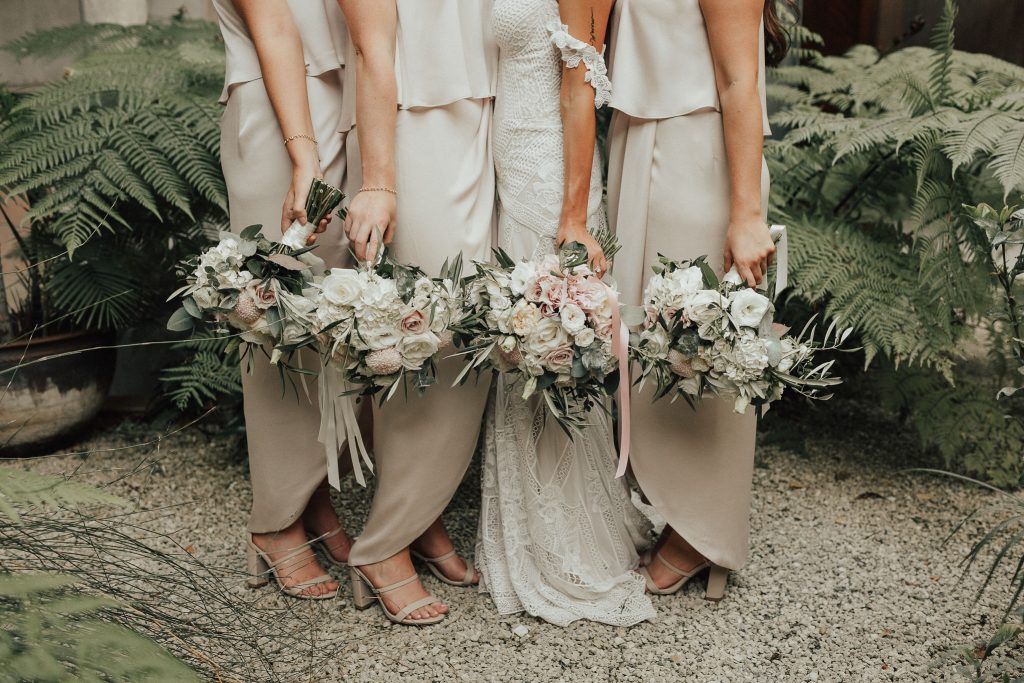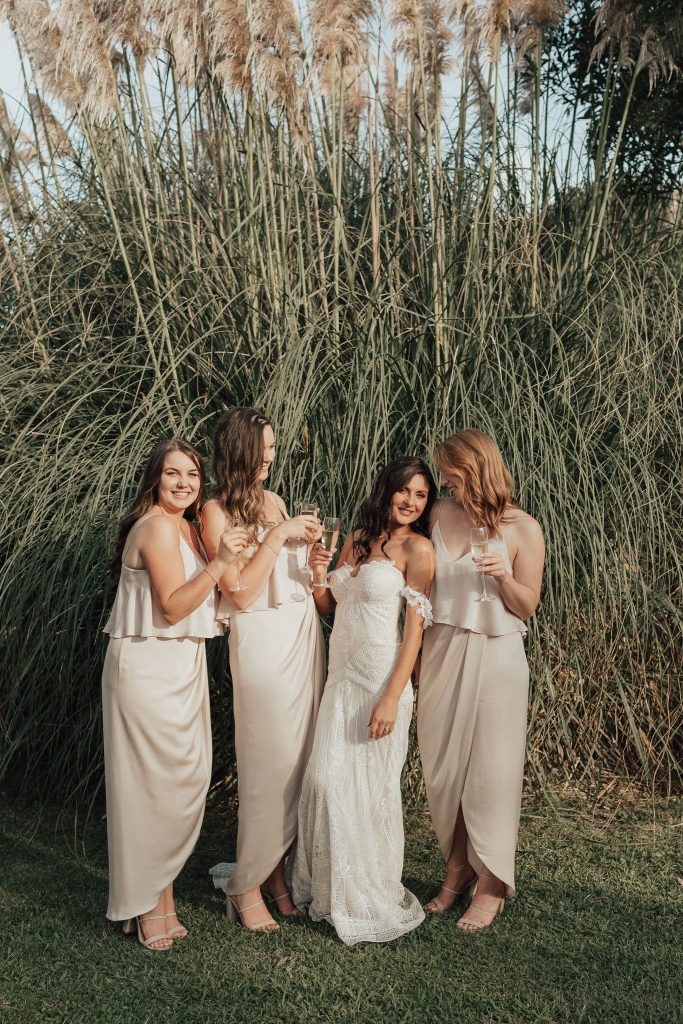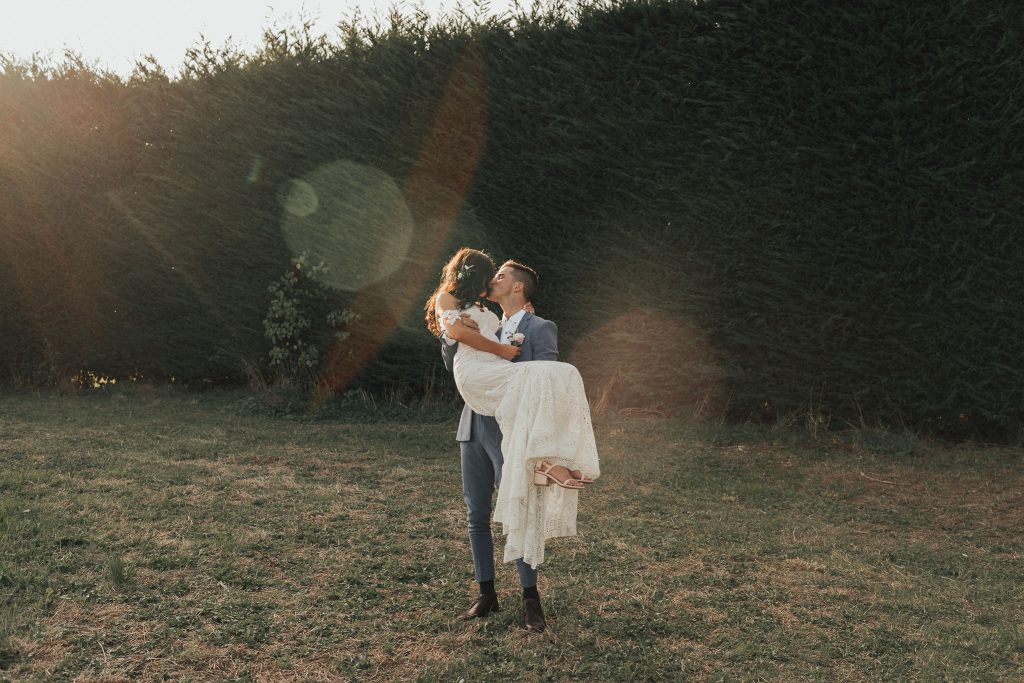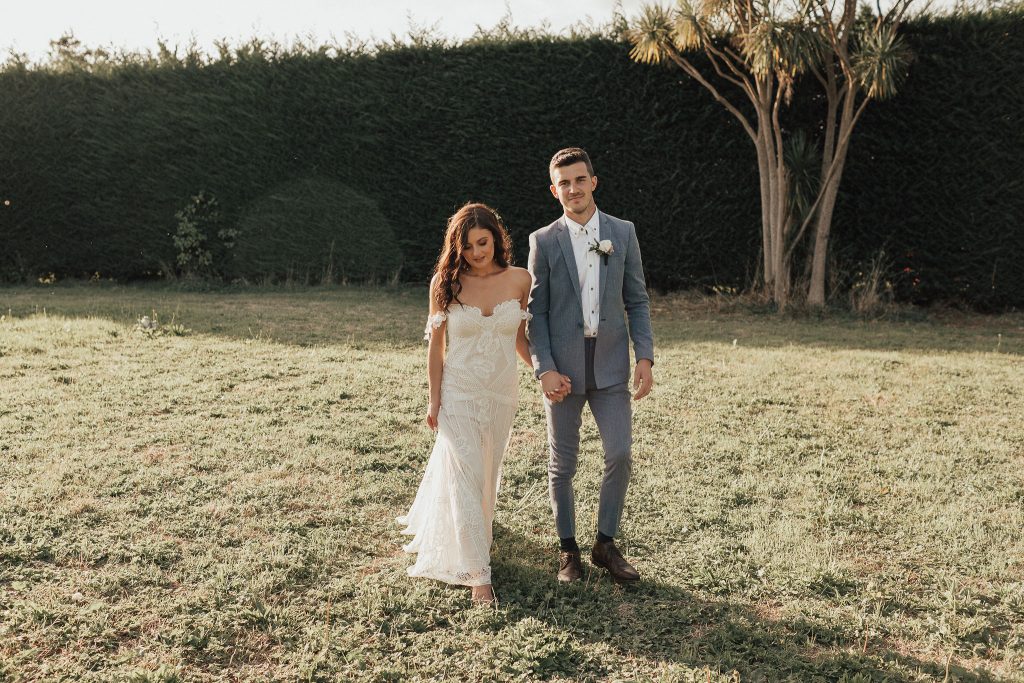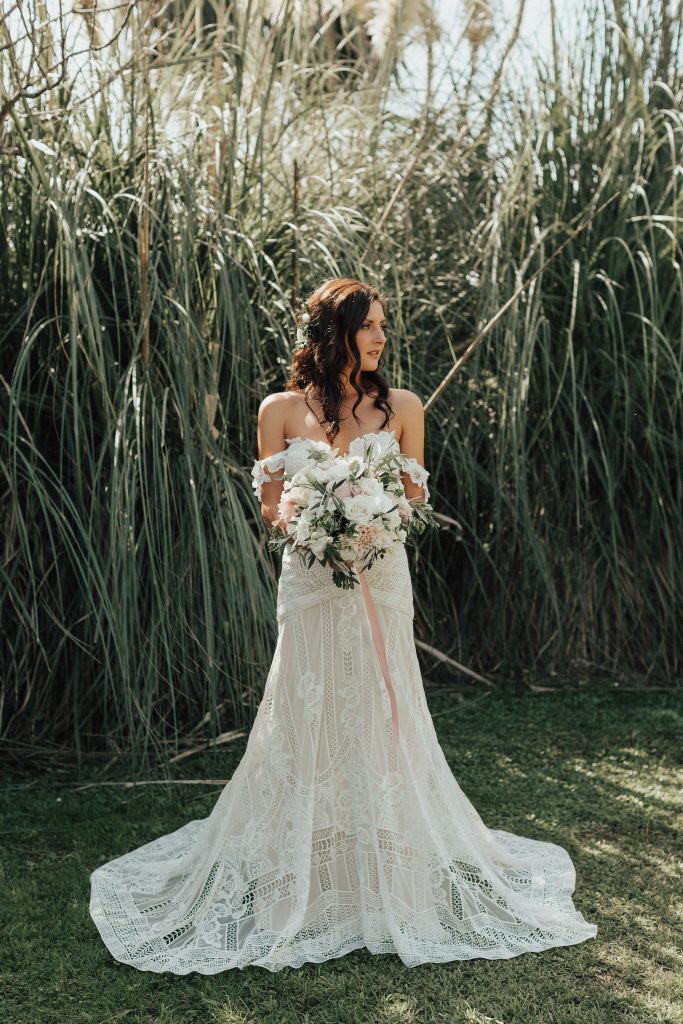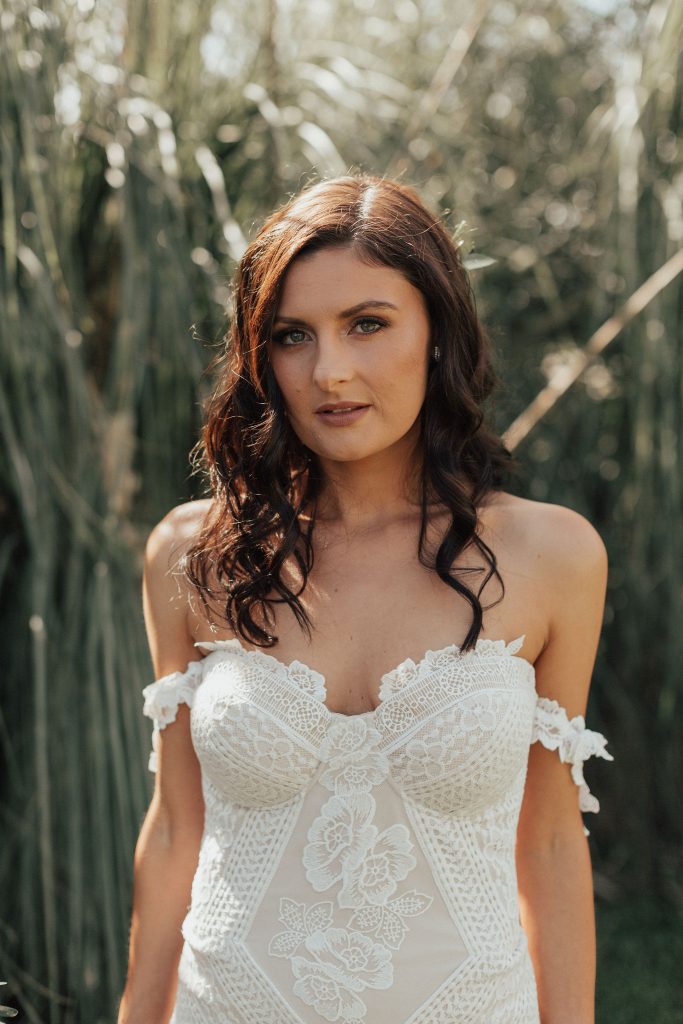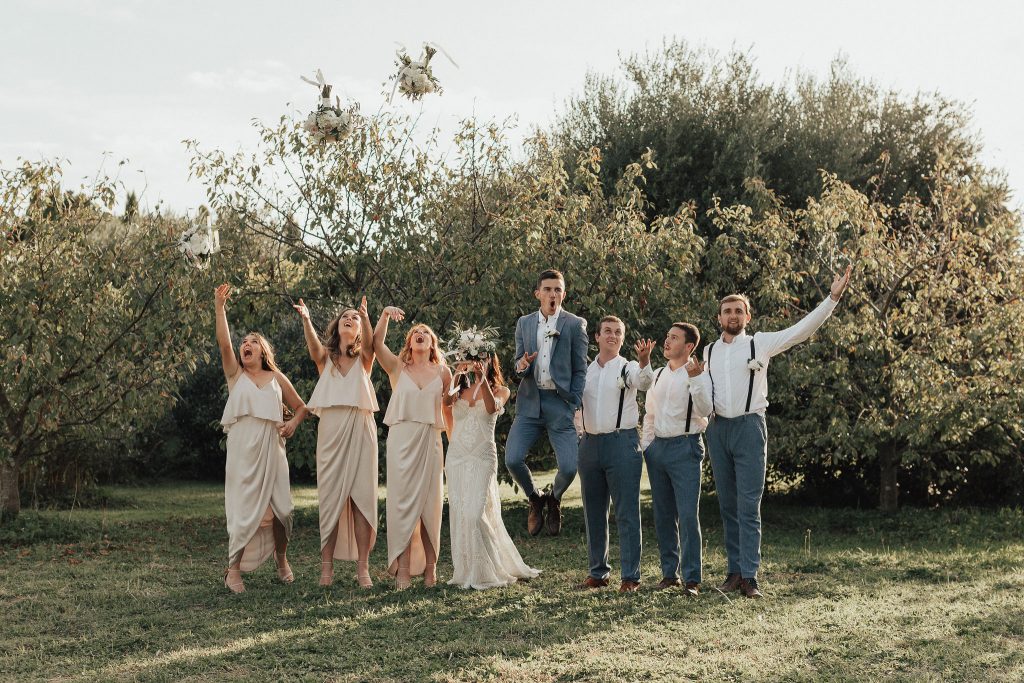 Tell us about your main outfits:
As soon as I got engaged I was straight on Pinterest, wedding magazines and blogs searching for dresses. I knew I wanted to look elegant and wear some sort of lace. My maid of honour and I went dress shopping, we went to Rue De Seine in New Market and I tried a few dresses on. I tried the Fox gown on and stepped out and my bestie had tears in her eyes, we knew it was the one. My dress was a structured bustier gown, form fitting silhouette & floral appliqué detail from bust cups. It was fitted up the top and had design lines throughout bodice with a draped lace skirt and full train. It also had beautiful floral off the shoulder sleeves. I find it so tricky to wear high heels so wanted something short and a very pale pink, I found some in my hometown, Mount Maunganui and they were perfect.
I knew I wouldn't be able to dance in the fox gown so found a very simple white dress to wear for dancing the night away from Winona fever. My husband wore an ASOS suit jacket and pants with suspenders underneath and a white barkers shirt with brown buttons, he wanted a slim, tailored look and he wore dark brown shoes from Merchant. His groomsmen wore the same ASOS pants, suspenders and a plain white shirt from The Iconic, they all wore brown shoes too. I wanted the boys to all wear buttonholes so I got Melissa Jane to design them and Rob's one was slightly different to his boys with a touch of blush on his, they all pinned these to their suspenders. Rob wore his grans handkerchief in his pocket as she couldn't be there on the day.
I had three bridesmaids. My maid of honour was my best friend, Bryony who I have known since I was a toddler, she knows all my secrets hehe, my bestie from high school, Julia who is the funniest girl I know and my sister in law, Jessica who is honestly my other half. I love them all so much. I chose to have porcelain colour dresses for my girls and I wanted spaghetti straps and very simple and elegant, I have always loved Shona Joy so when I saw these ones they were perfect for my bridesmaids. I told them they could get their own shoes I just told them the colour I wanted and they ended up getting the same ones which was awesome. I made little gift boxes for the girls for the morning of the wedding and inside was a Ruby Boutique gold bracelet which they all wore on the day.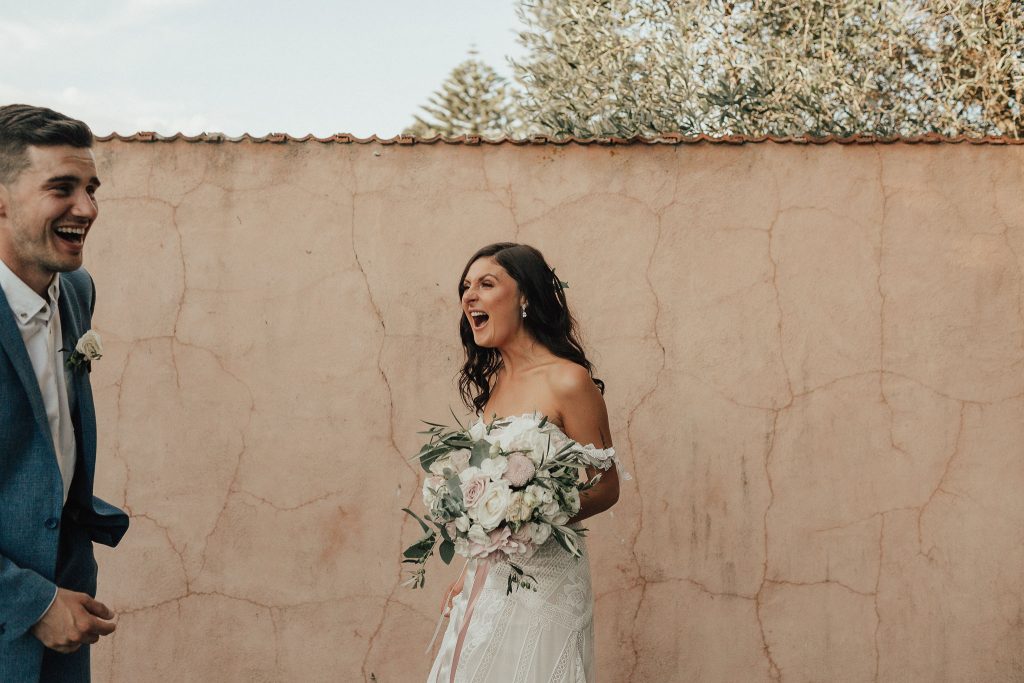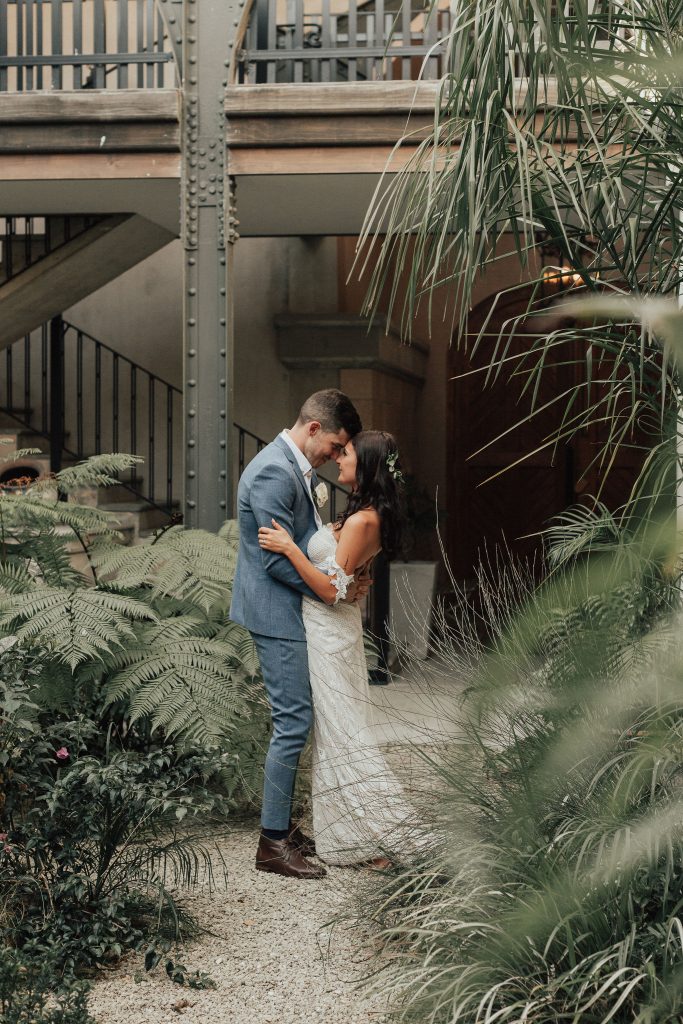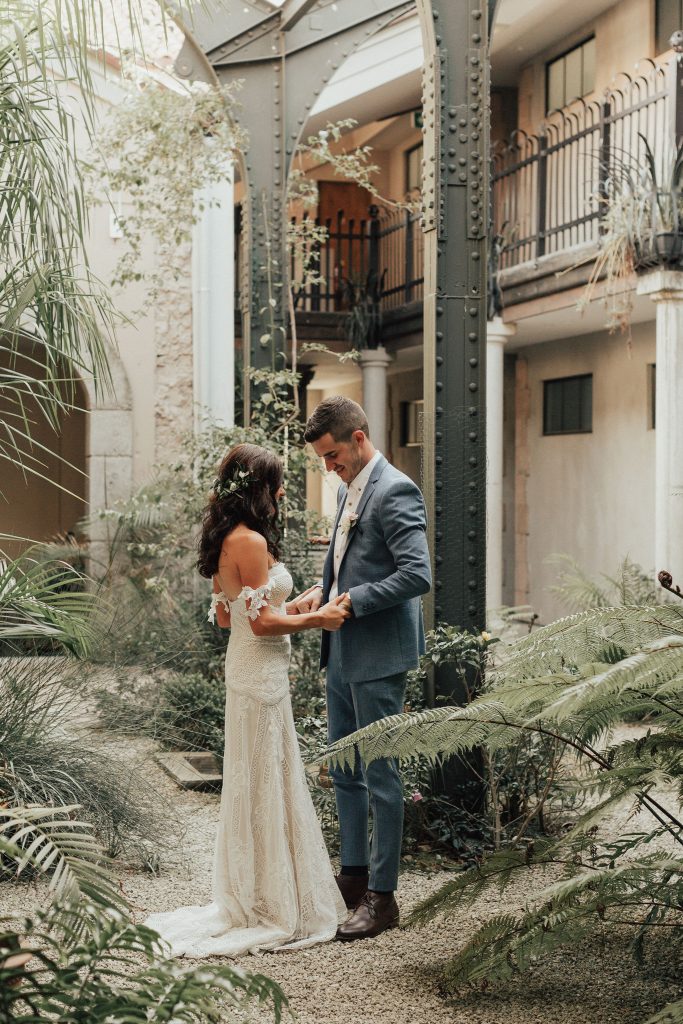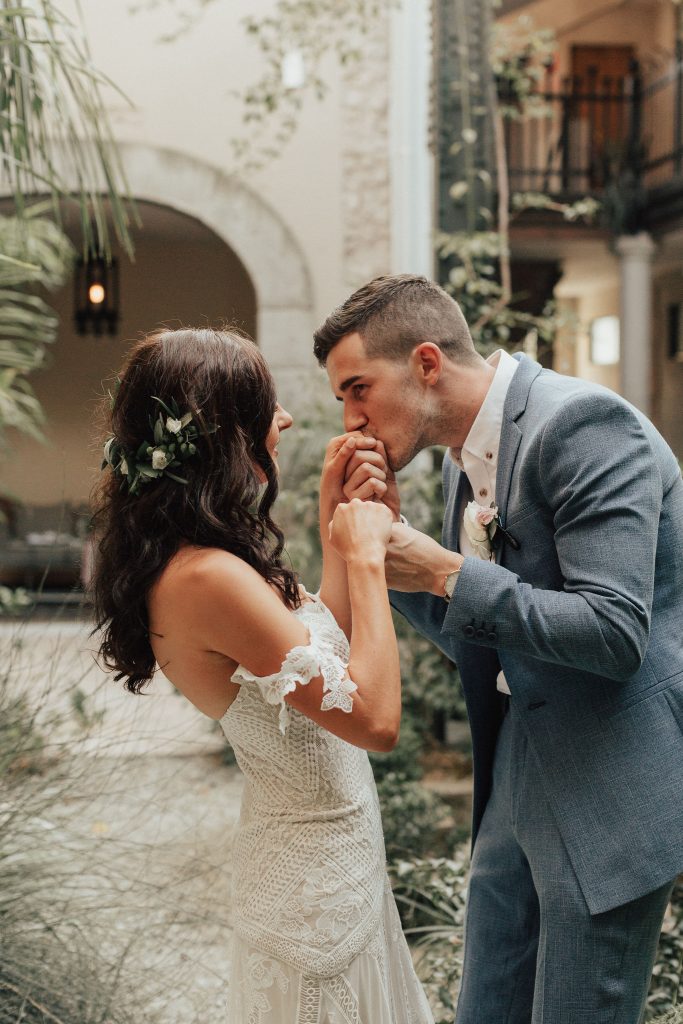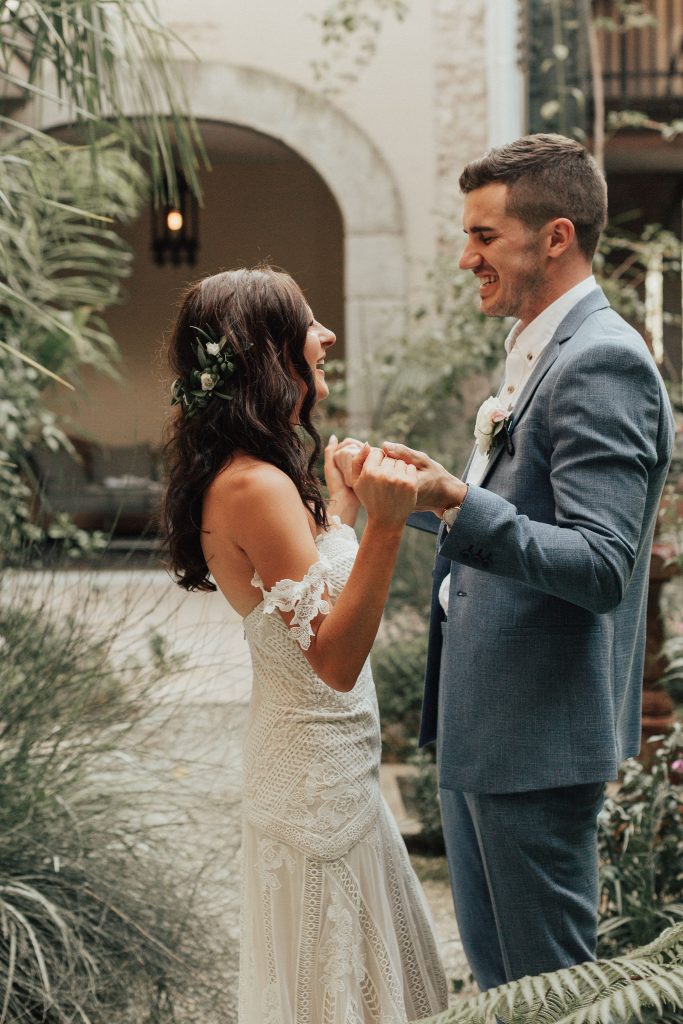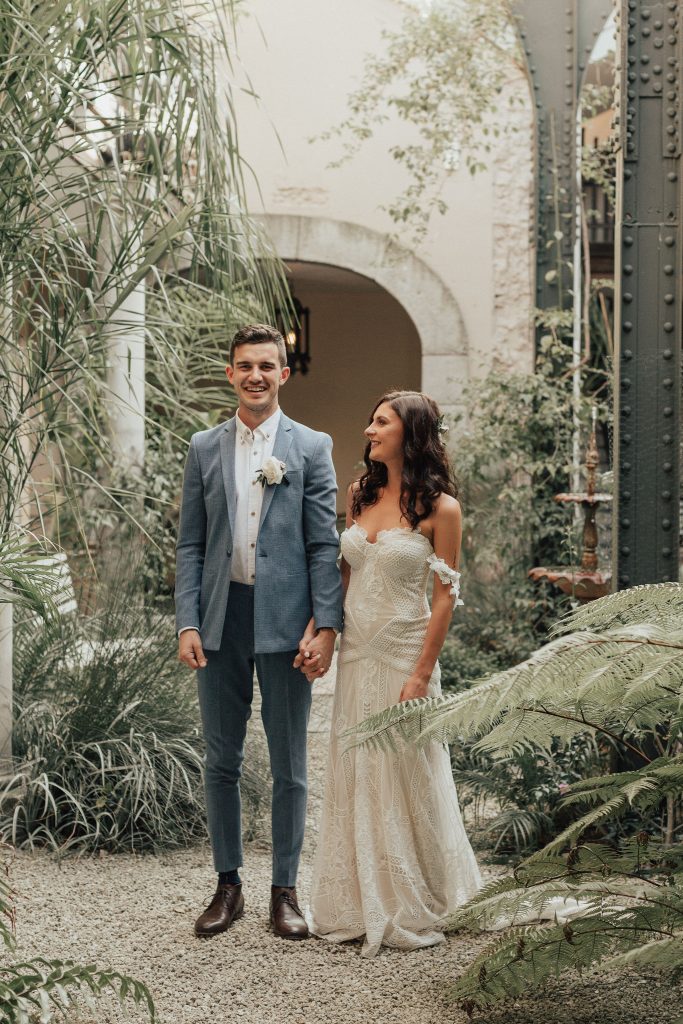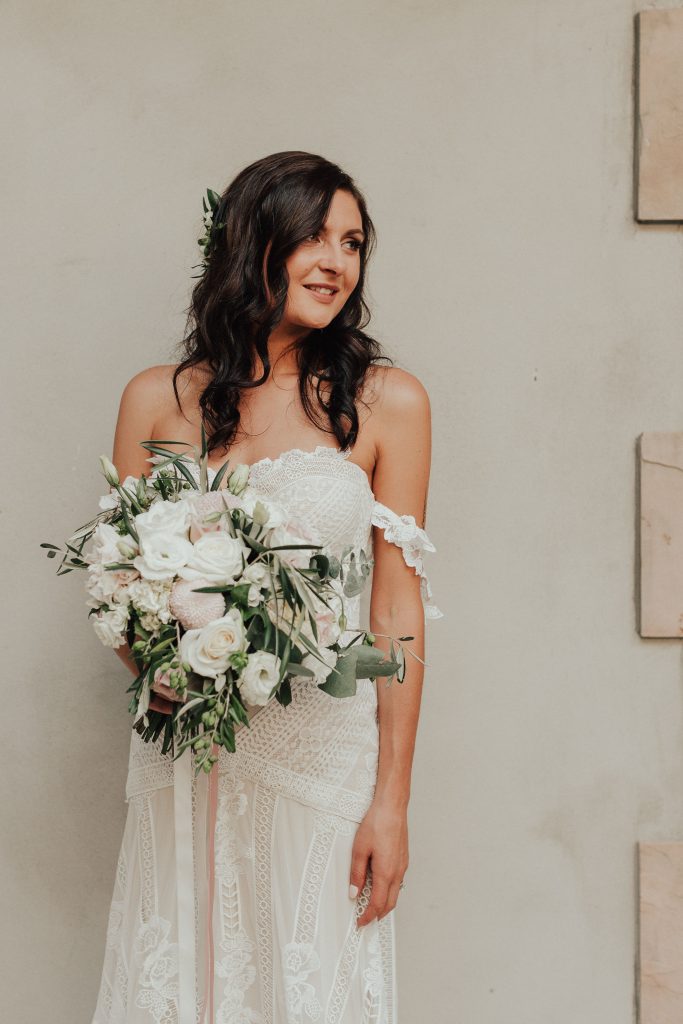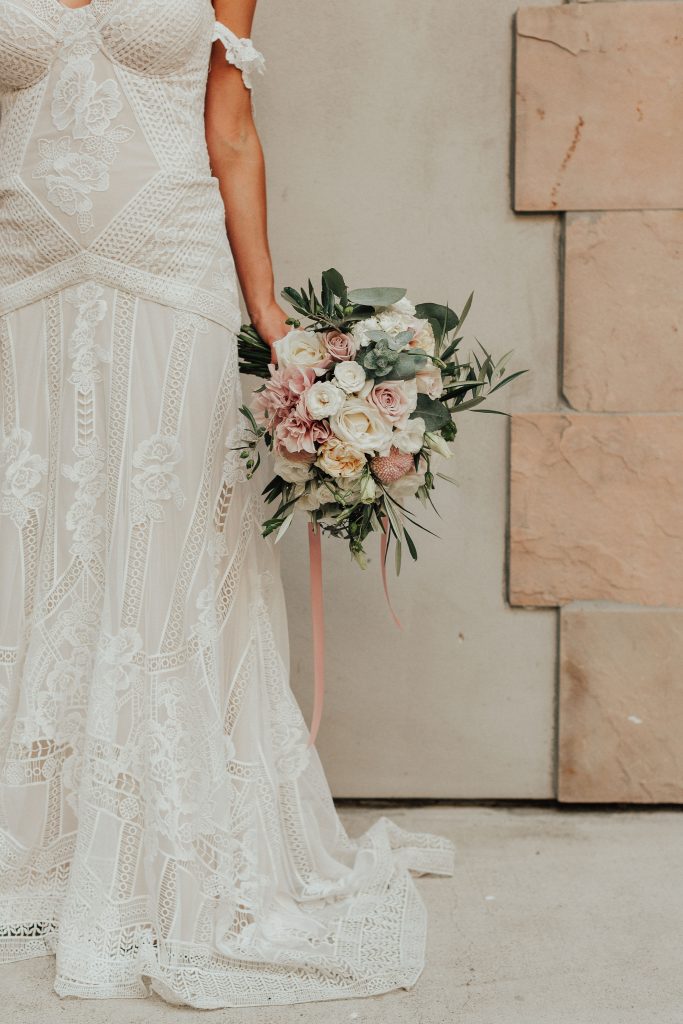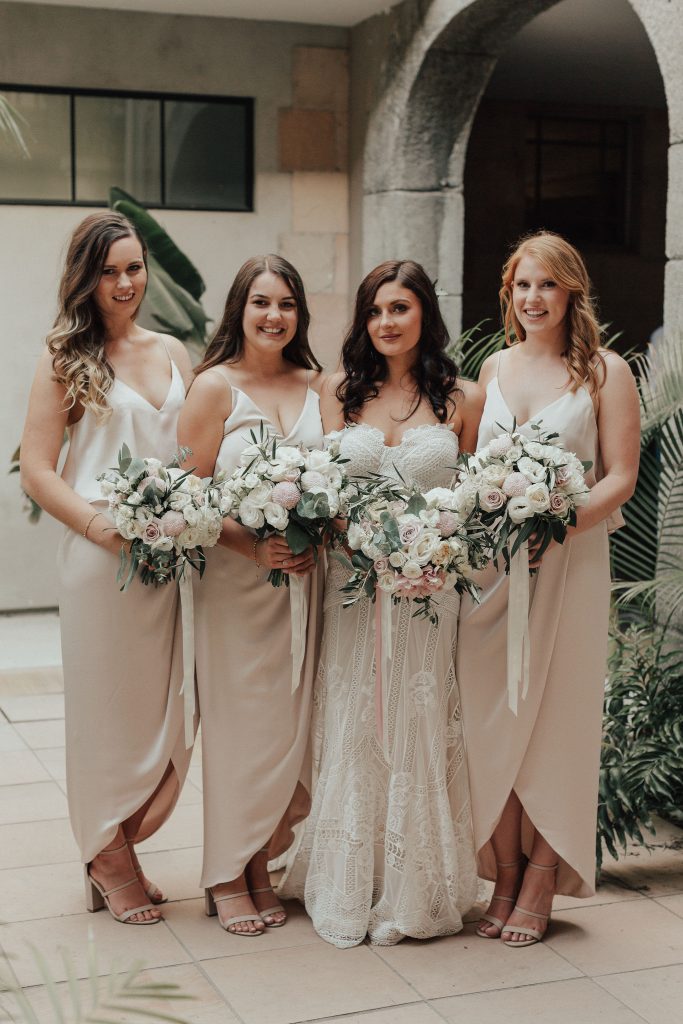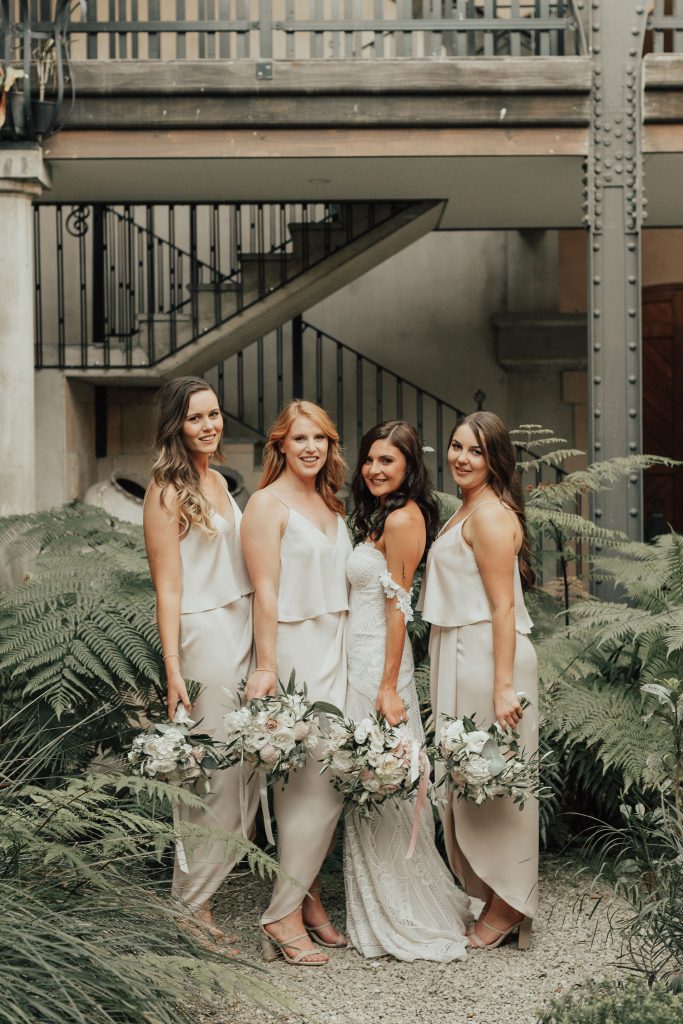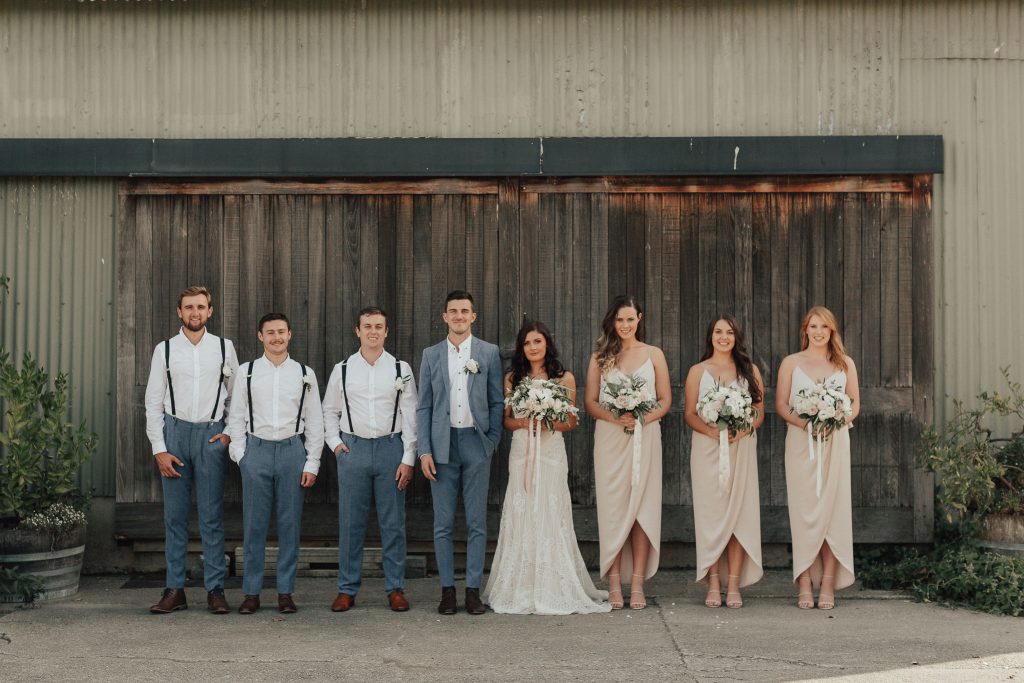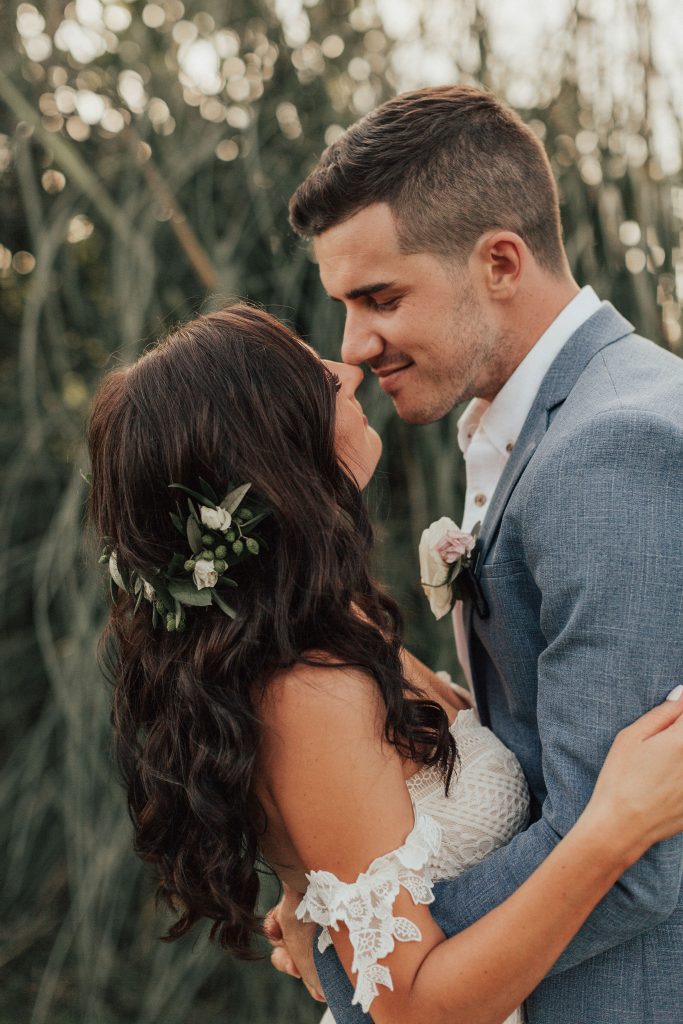 What were some of the most memorable/unique moments from the day?
It is really hard to pick one special moment but I loved when my dad walked me down the aisle and I saw Rob standing there with his big grin, it was such a special moment. Robs favourite was seeing me for Our photographer, Krystle was such a highlight, she made us feel comfortable and relaxed, she was so much fun and made the bridal party shoots such a hoot! It was such a perfect day with all of our beautiful friends and family either outside with a drink in their hand, dancing, crammed into the photo booth or downstairs in the whisky and cigar room. The most special moment has got to be when Rob and I snuck upstairs before our first dance and had 10 minutes to just ourselves to talk about the most magical day.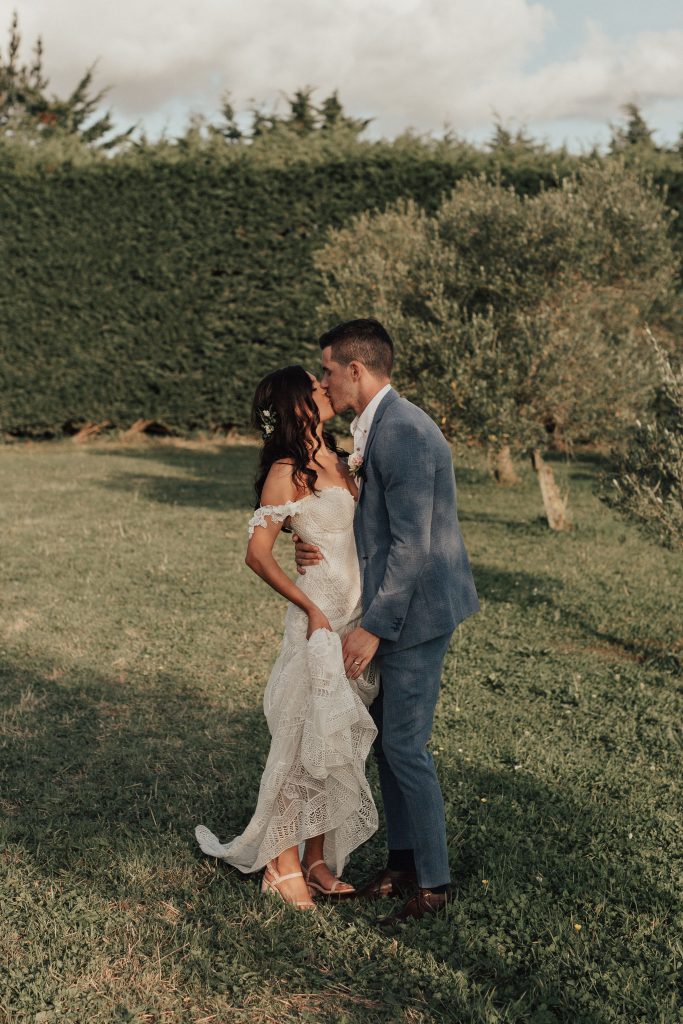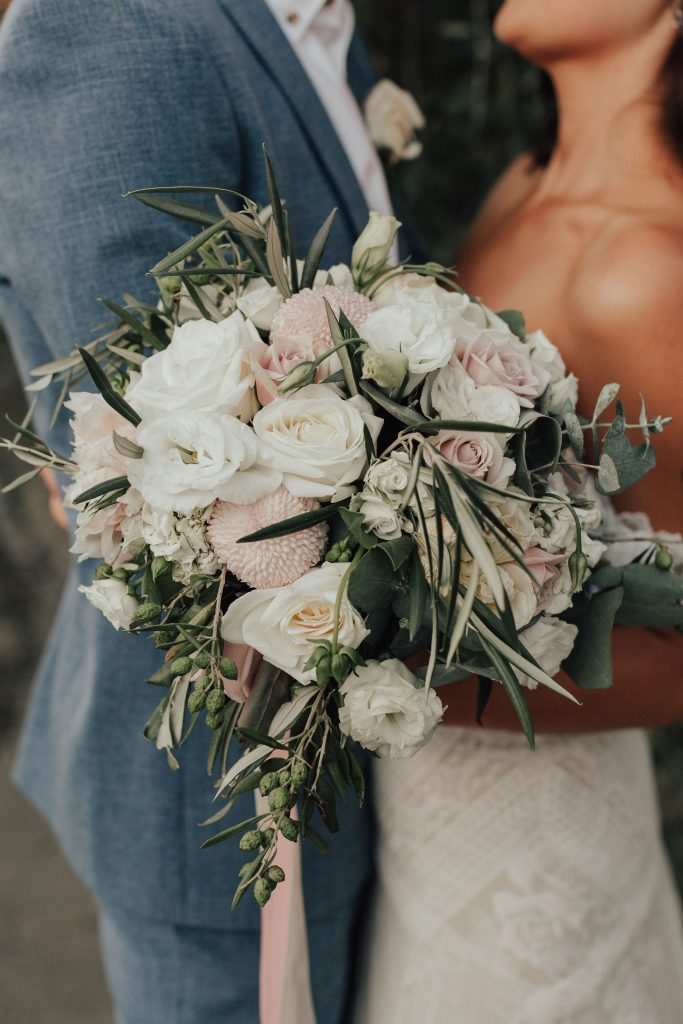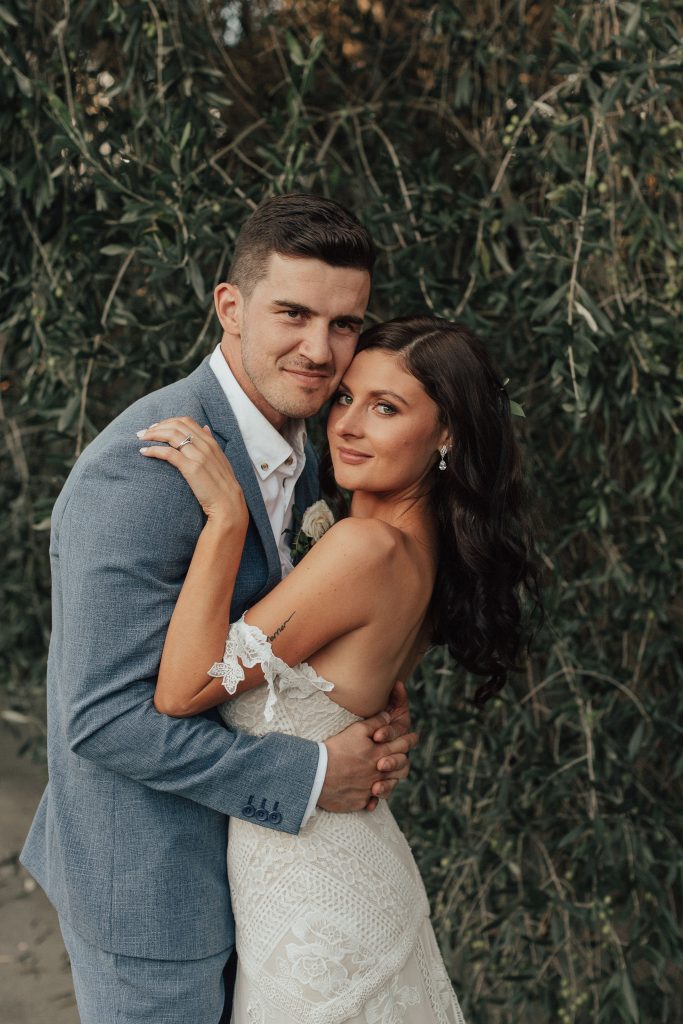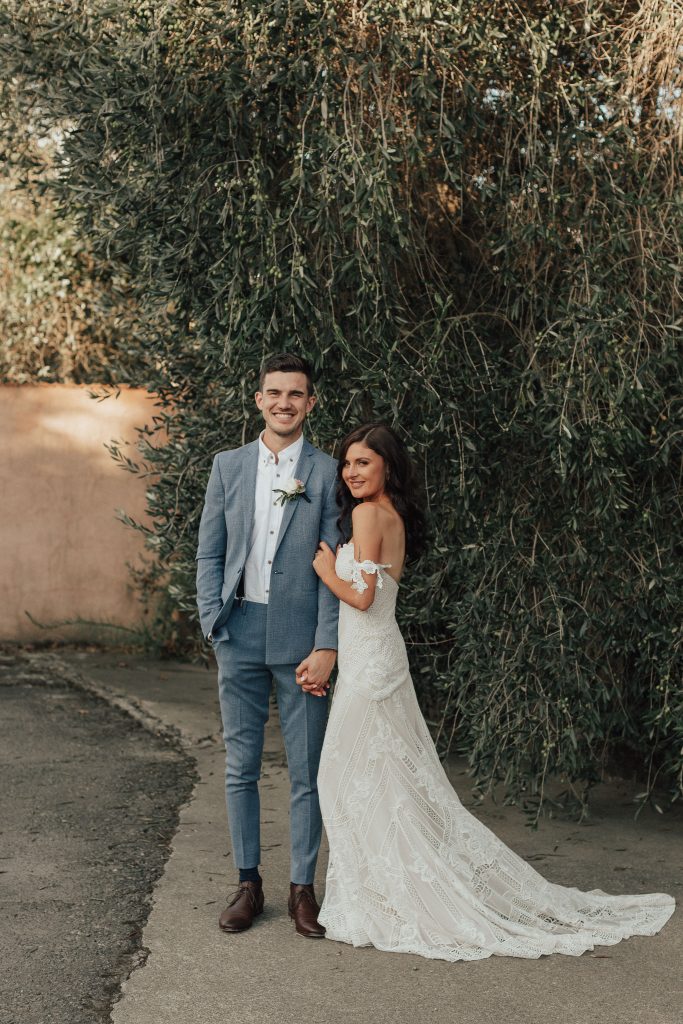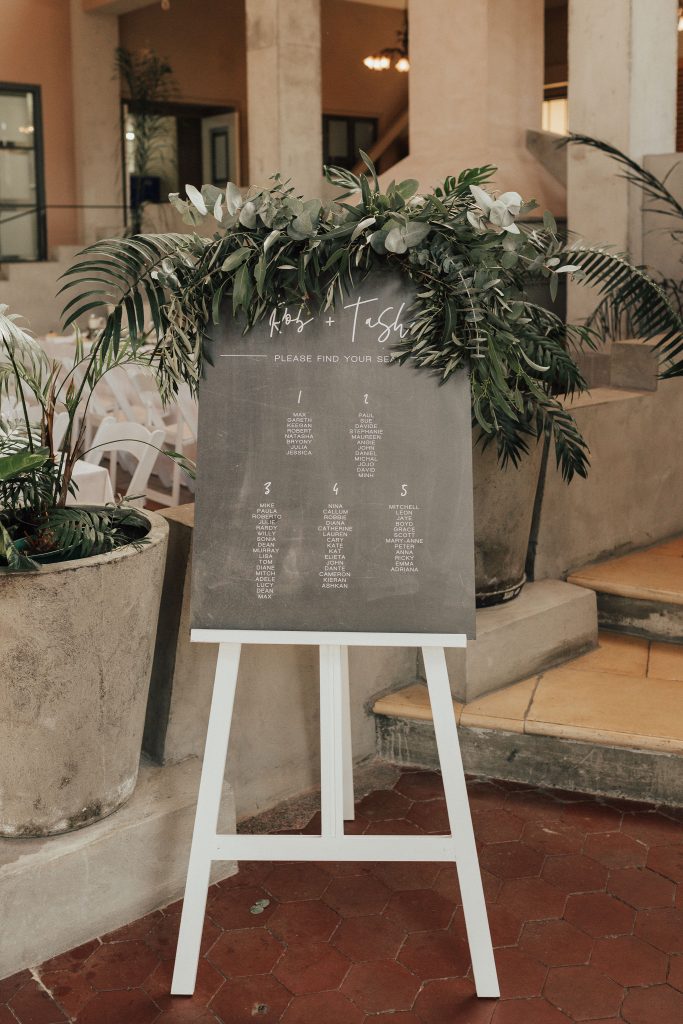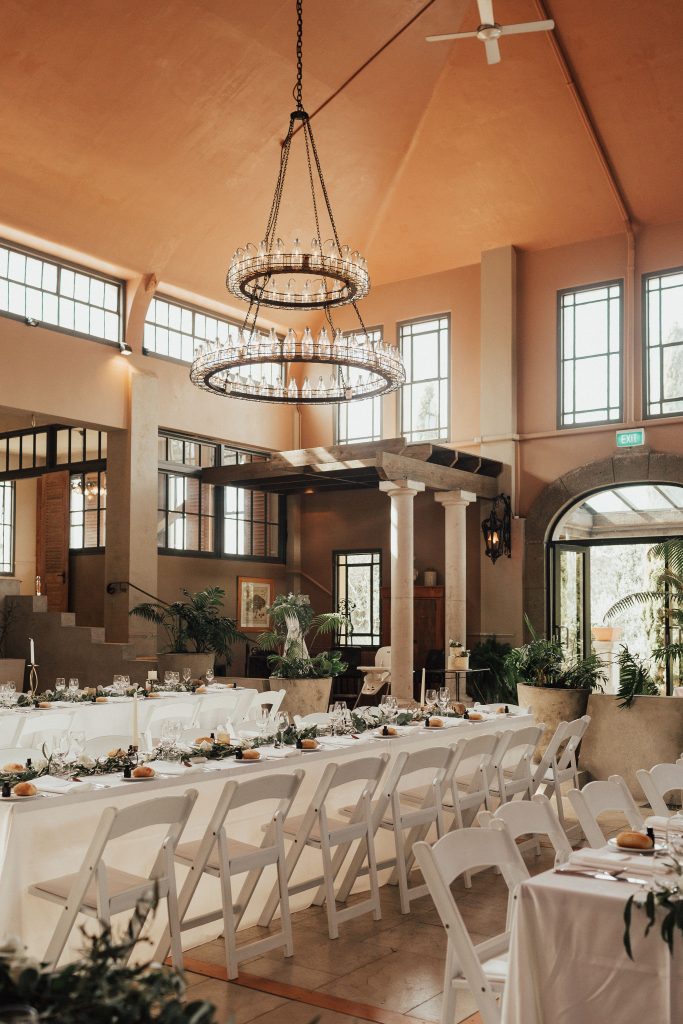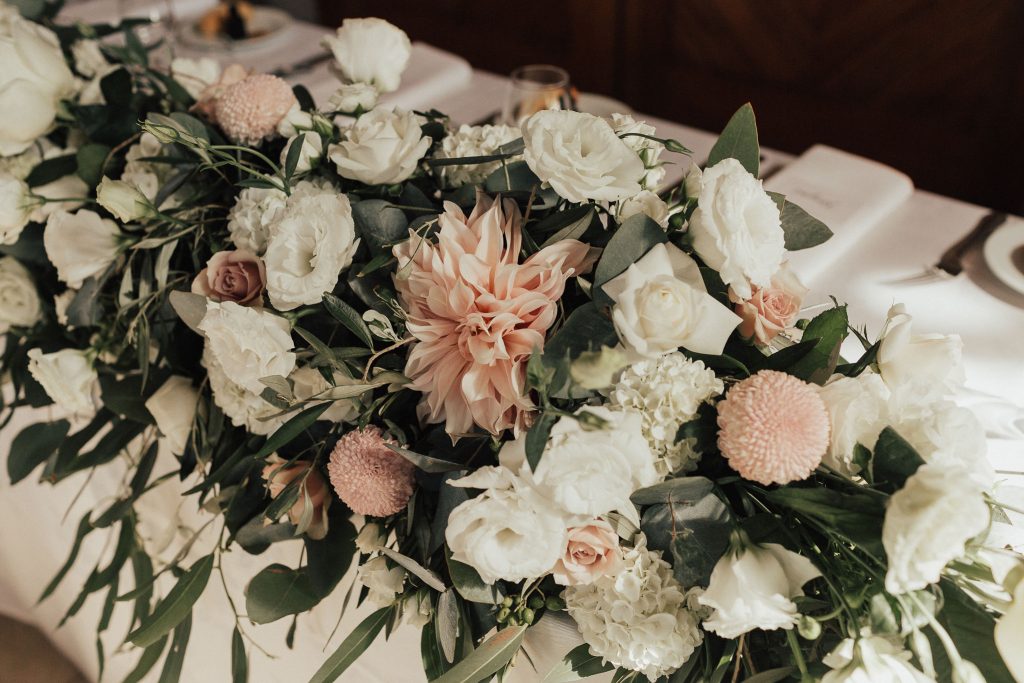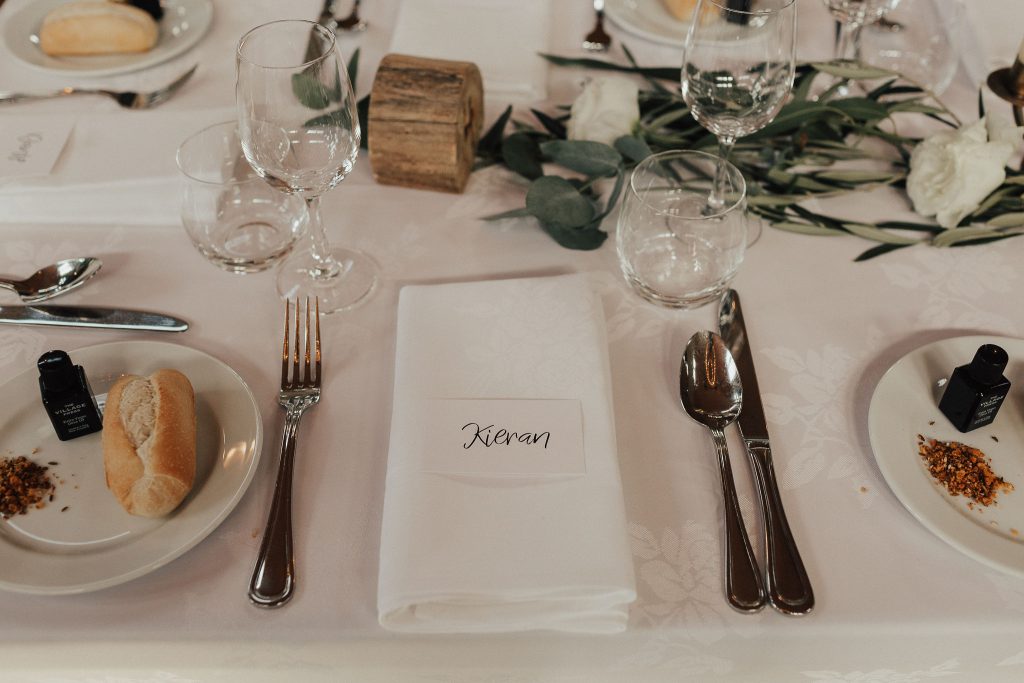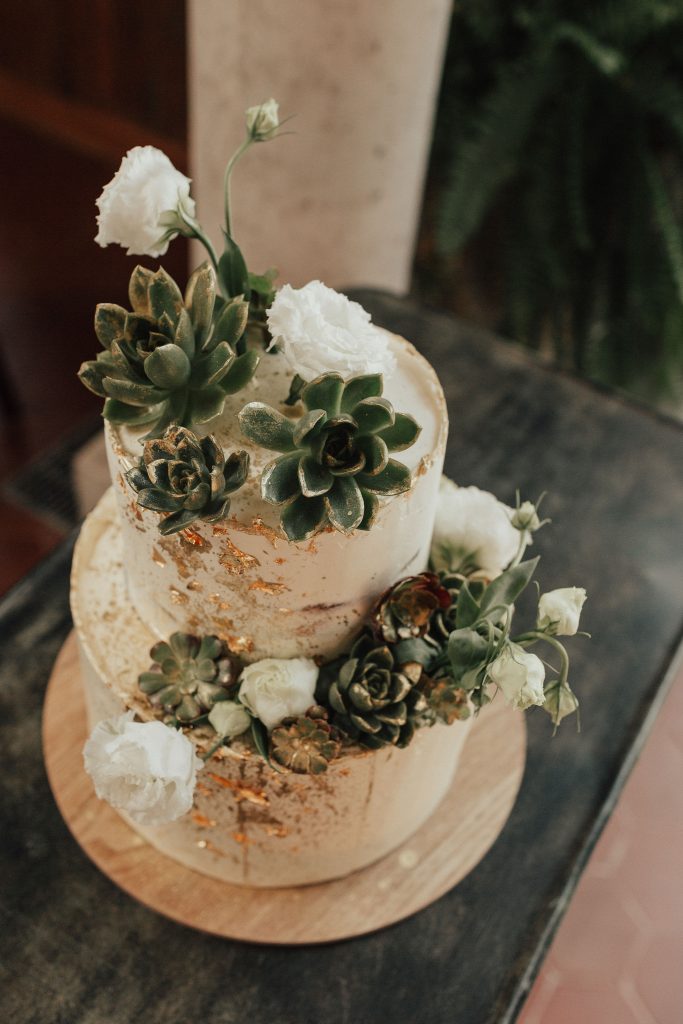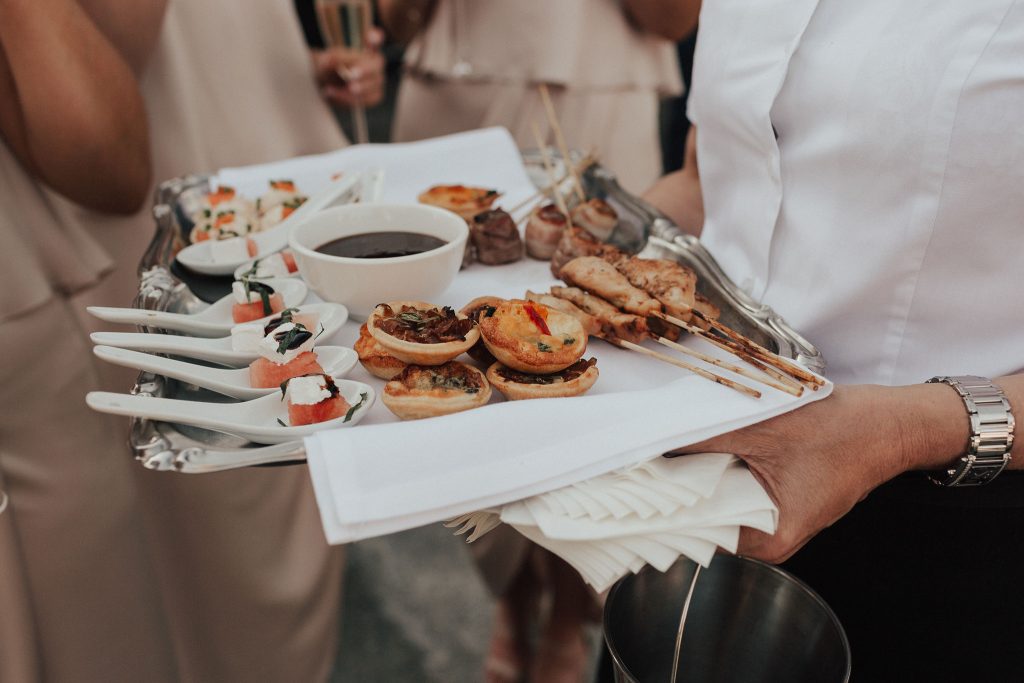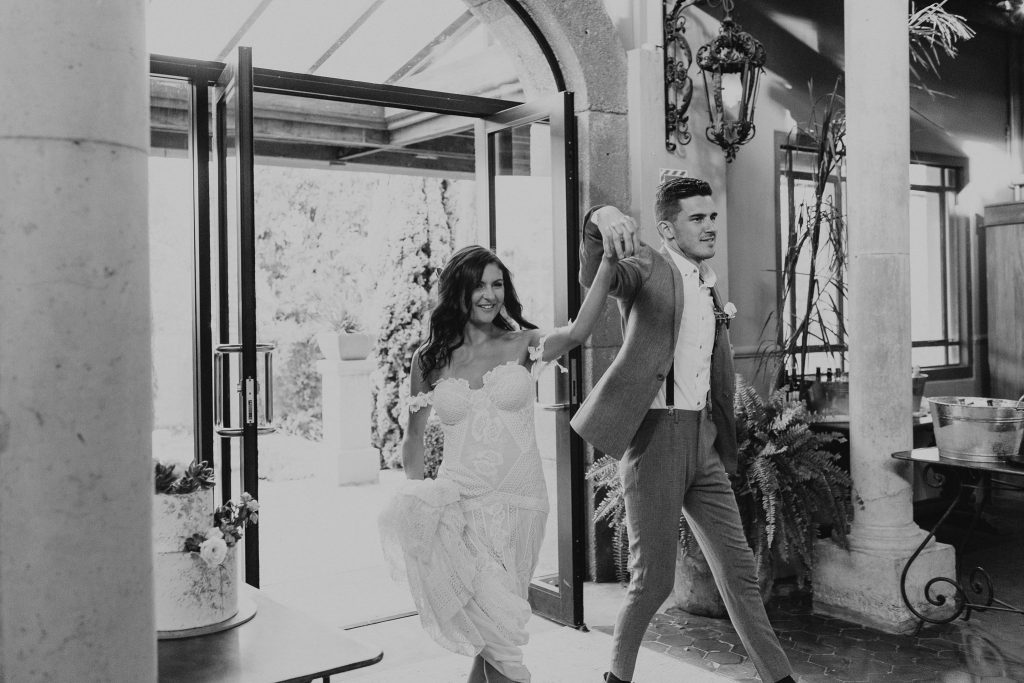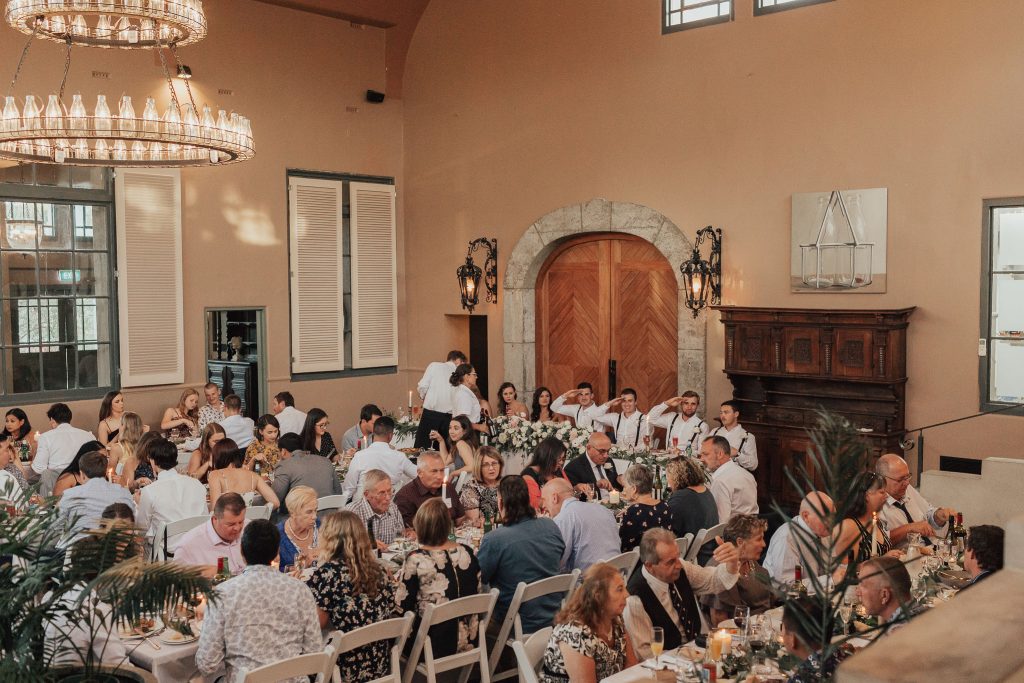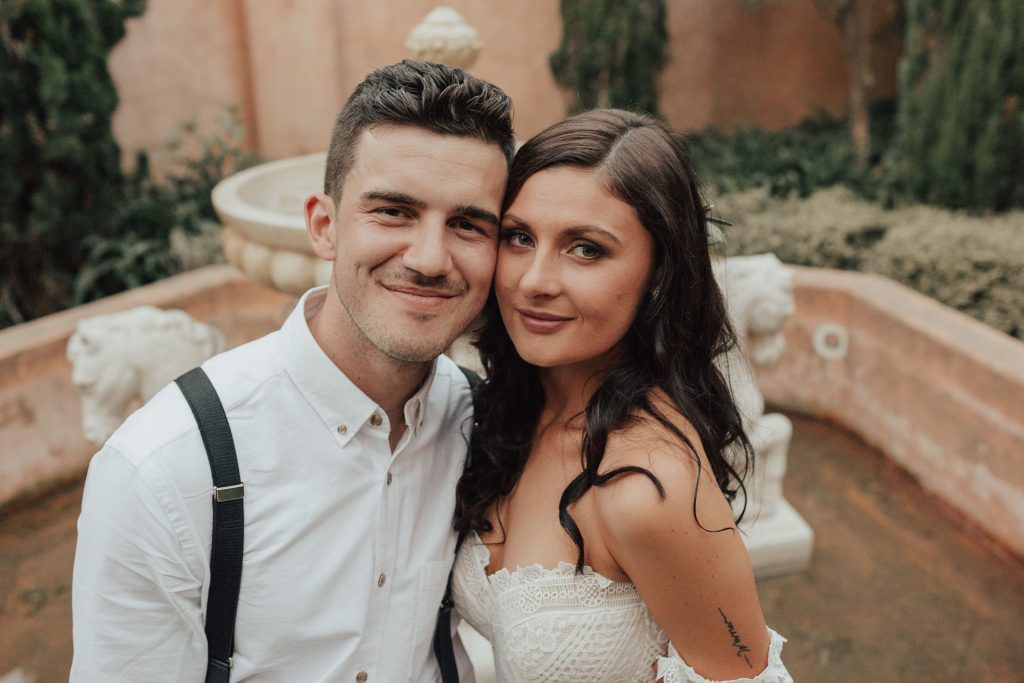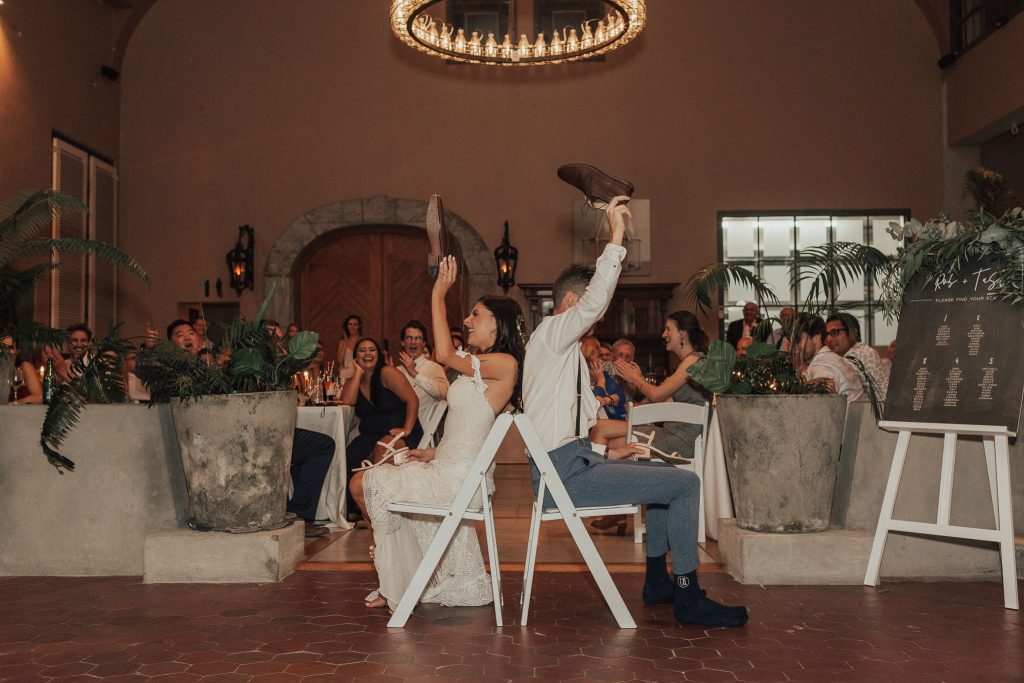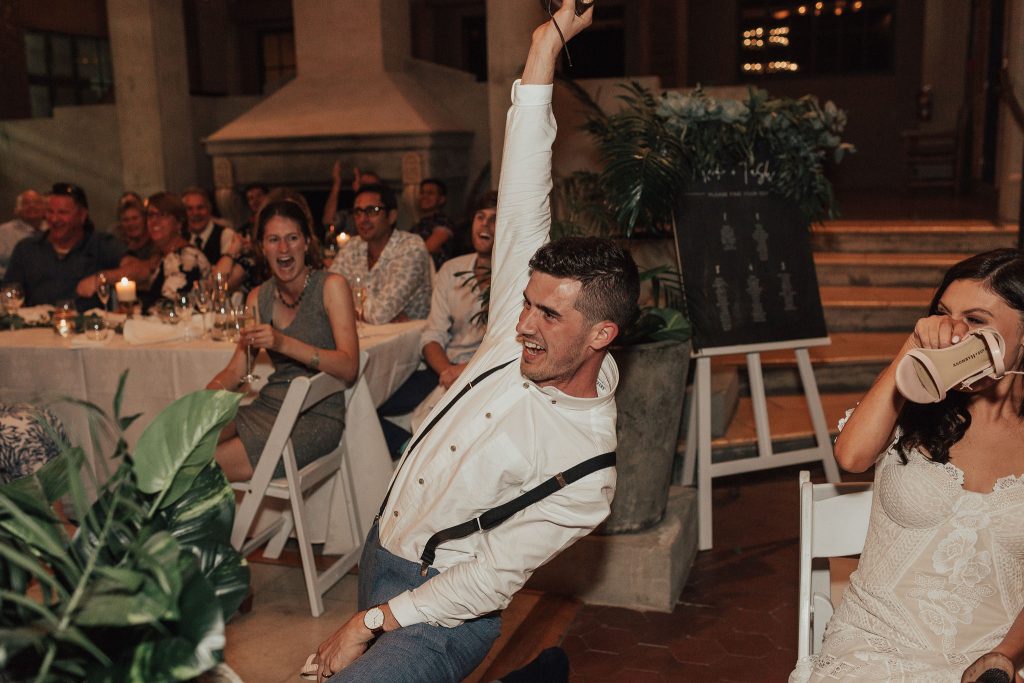 Any advice for other couples planning to spend the rest of their lives together?
Don't overthink anything, just go with the flow and have fun! It is such a special day and everyone is there to celebrate you as a couple, it is the one day you get to feel like a VIP so make the most of it!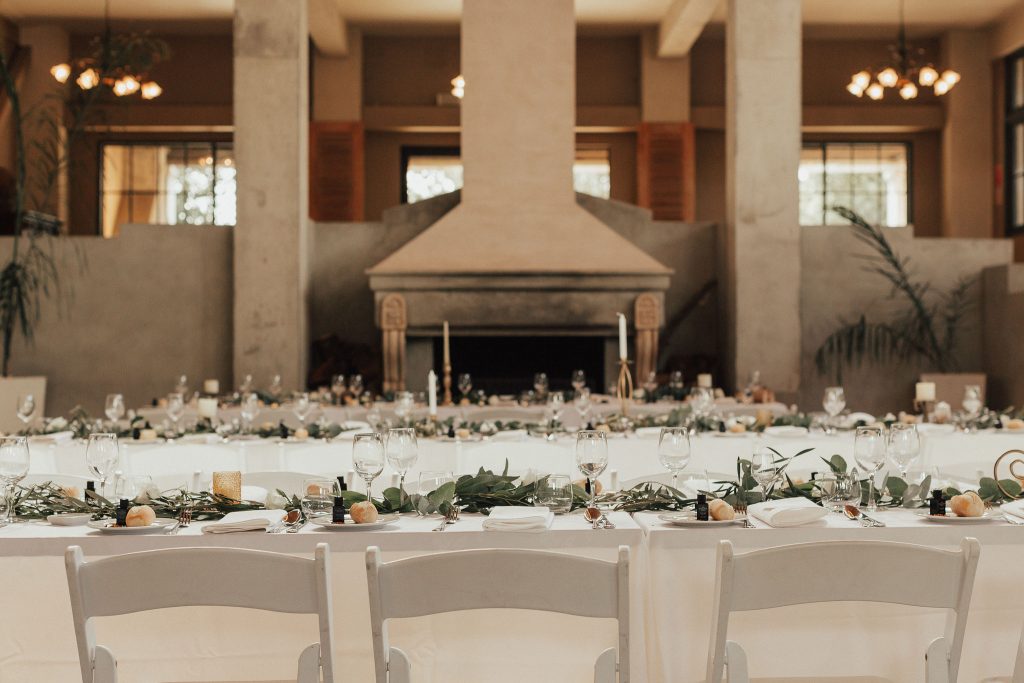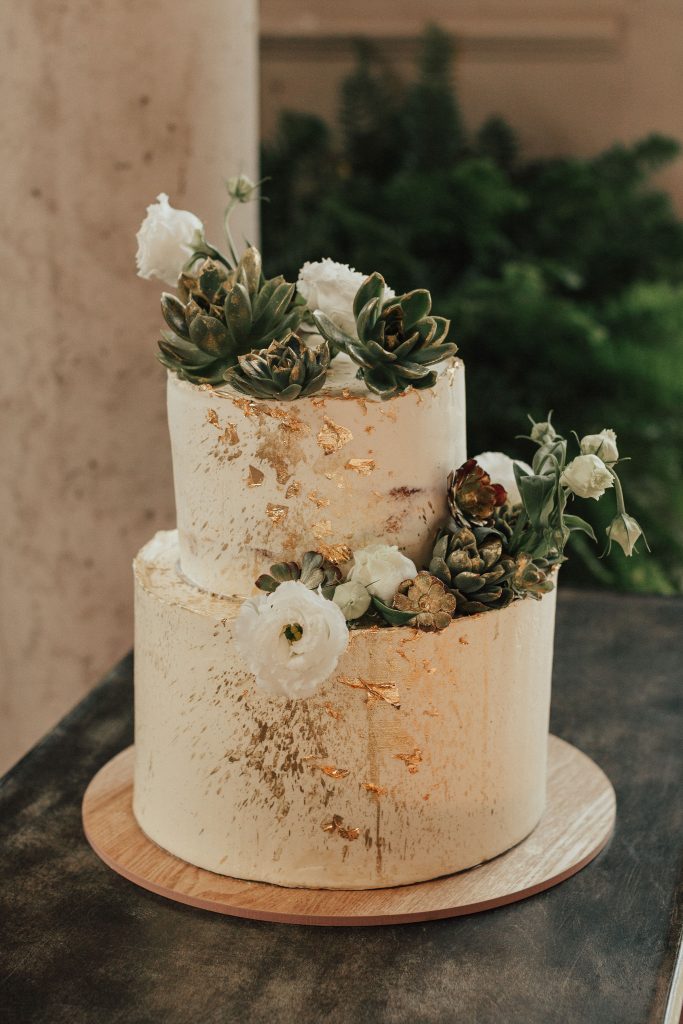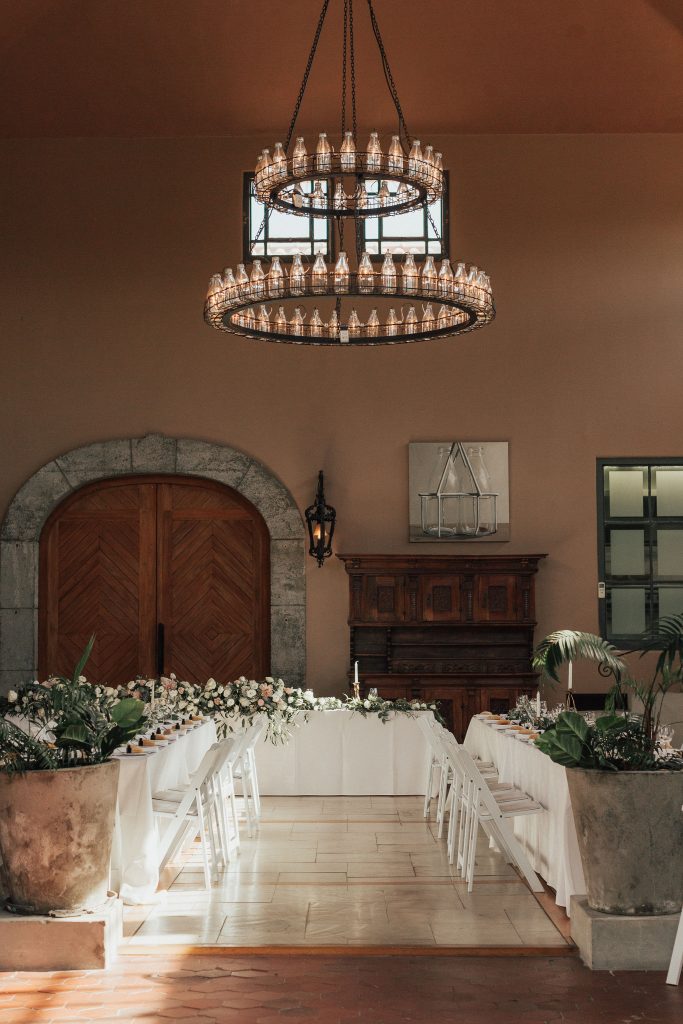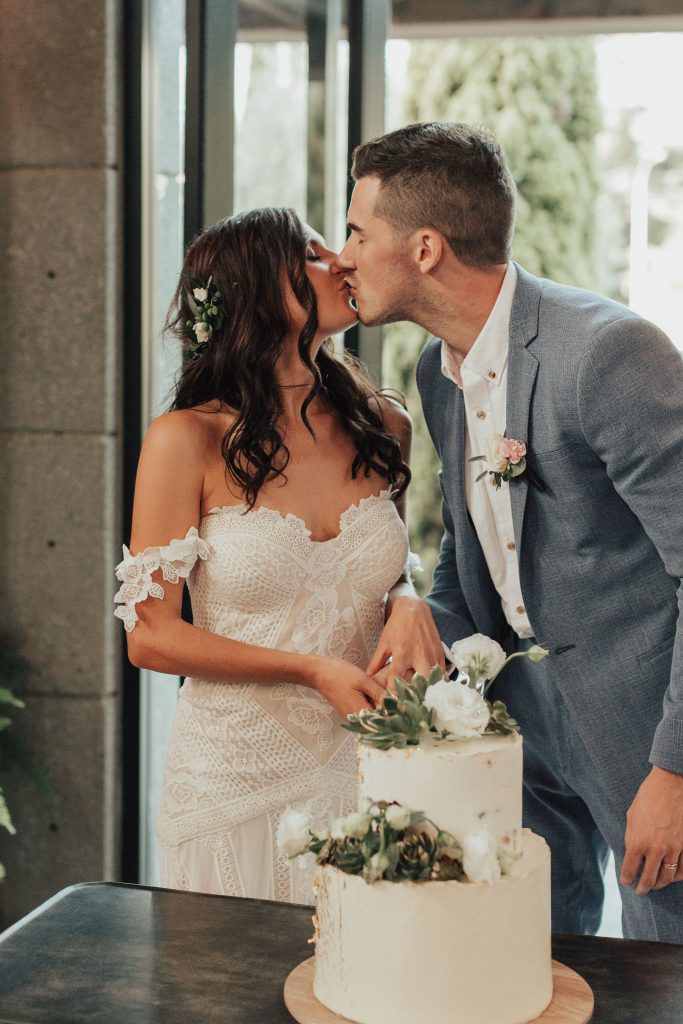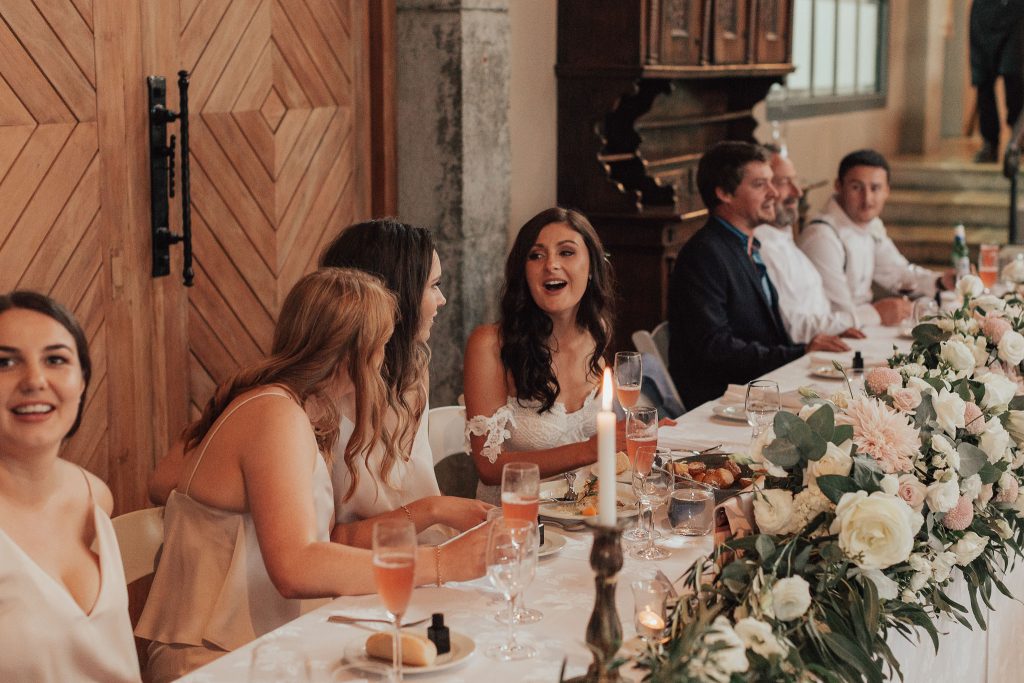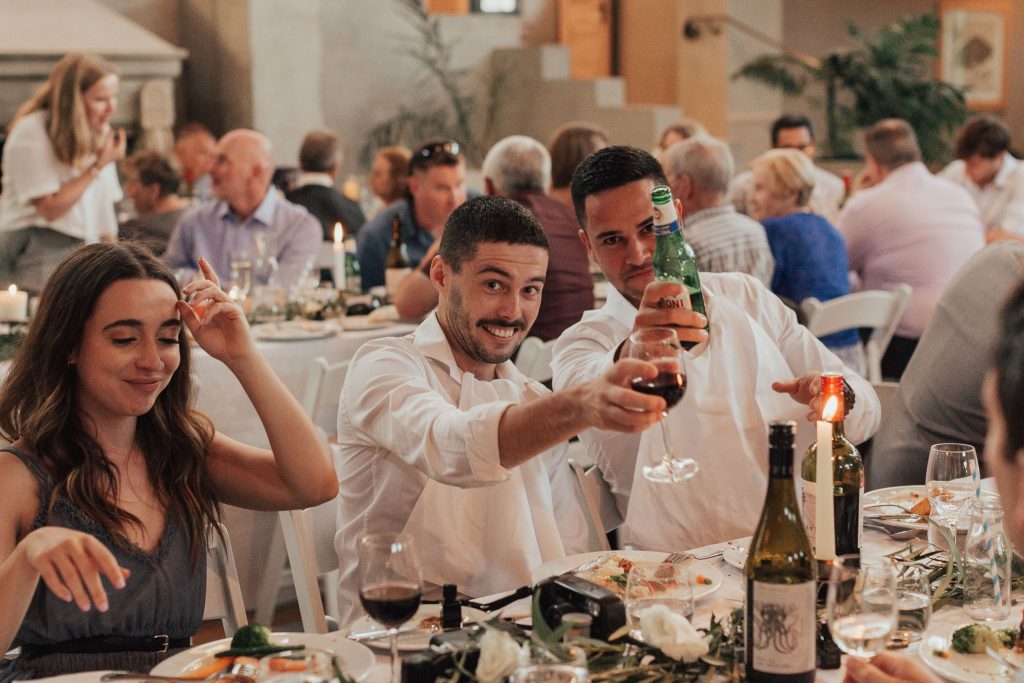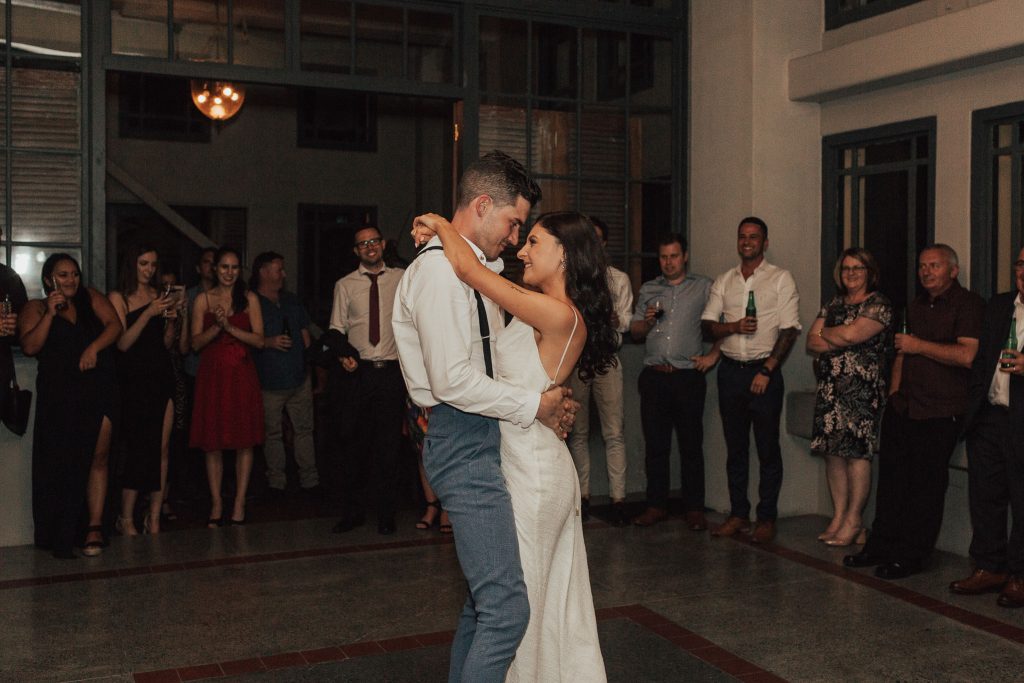 Photography: Bespoke Photography | Ceremony and Reception location: The Milk Station | Celebrant: Hogan Gill | Bride's dress: Rue De Seine fox gown for ceremony and Winona Australia for dancing dress | Groom's outfit: ASOS suit, pants and jacket with Barkers shirt | Engagement ring: bride's grandmothers | Wedding Ring: The Village Goldsmith | Bride's shoes: Chaos and Harmony | Groom's shoes: Merchant | Makeup: Penny Rose | Hair: Hair by Antoinette | Groom's fragrance: Zegna Intenso | Bride's fragrance: Elle Saab | Bridesmaid's outfit: Shona Joy | Groomsmen's outfits: ASOS | Entertainment: Andy Gartell | Hire: The Vintage Party | Flora: Melissa Jane Florist | Catering & Beverages: Simply Food Catering | Cake: Cake Friday | Stationery: Zazzle
Love the content?
Sign up for more here