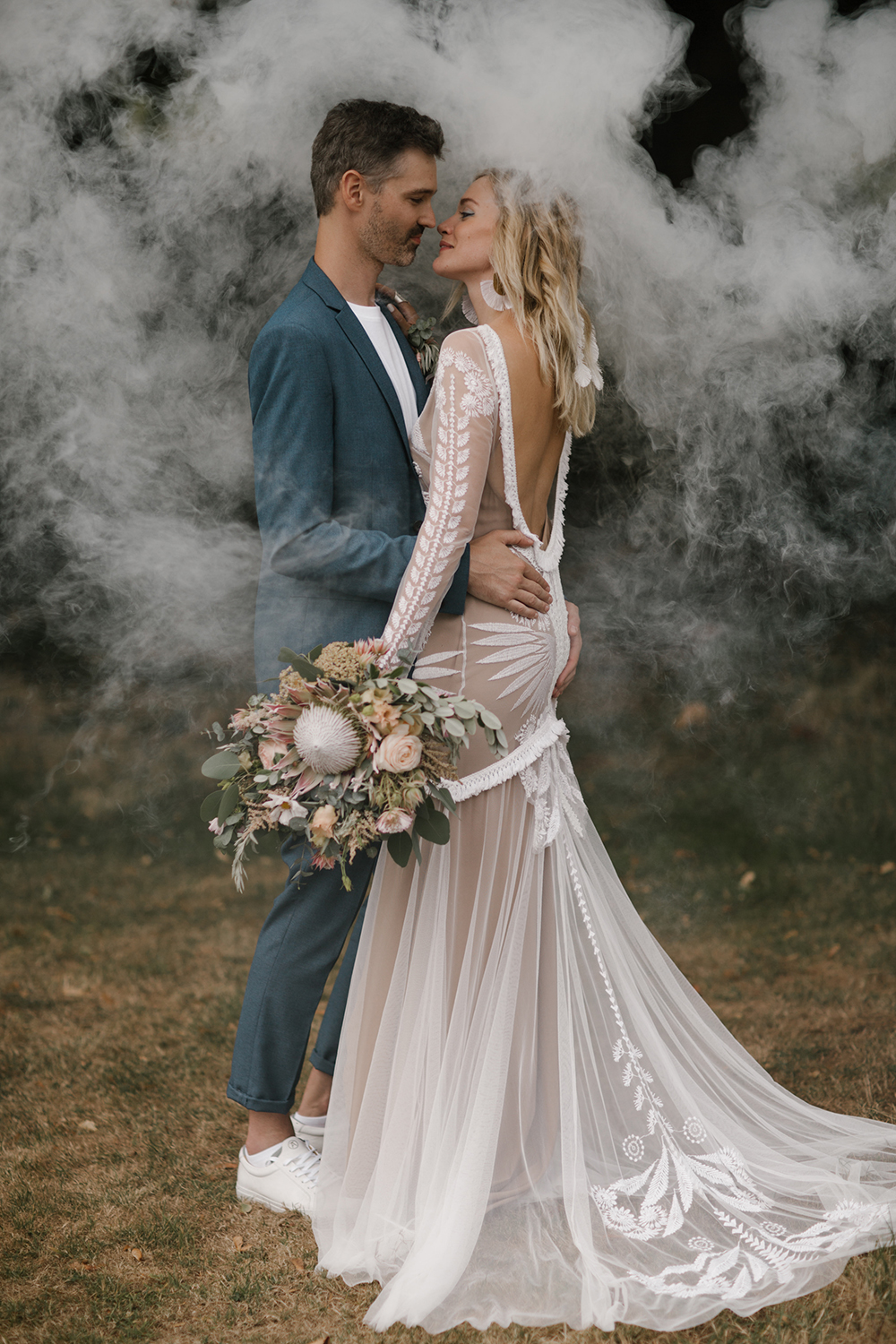 Tell us a little about yourselves, what you do, what you love, what is unique about you and your relationship…
Rob runs his own digital design agency Kuro Kin and I currently work in Bridal with a love for landscape photography and art. We are both very visual people which is something we have enjoyed together for over 9 years. We love long walks with our Dog Renji, going on adventures and travelling around other countries. Festivals and music are also a big part of our relationship with Rob proposing on a beach in Sardinia during Sun and Bass.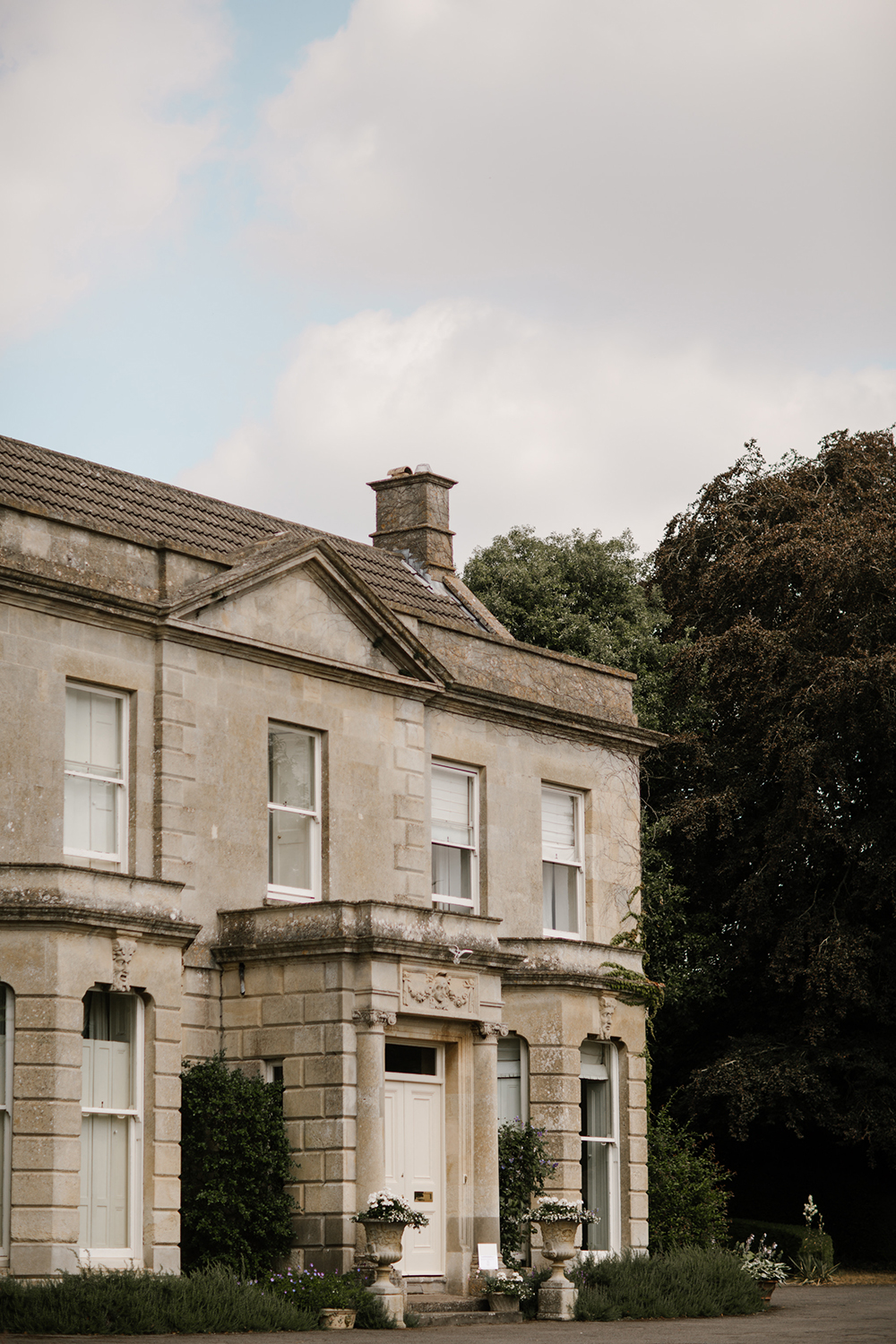 Tell us about your special day, was there a specific theme or style? Tell us a little about the setting, the styling and some of your favourite details…
Our wedding was held in the gardens of 'The Grange' in Bath, which we originally viewed in the cold month of December. Even with no flowers or leaves on the trees we already knew it was the perfect location for us. The Grange owned by the very welcoming Meg had that nostalgic feeling, a home from home. Growing up in a rural area and enjoying the countryside with our Dog Renji, greatly influenced our wedding day. We wanted to create a feeling of the outside in, by having lots of Eucalyptus and plants taken from our home. We also wanted a venue where we could legally get married on the land, could celebrate in beautiful white tipis and have Renji with us on our special day. The Grange was the only venue we found which had all those elements, plus a beautiful glass house and stunning views over the chew valley viaduct.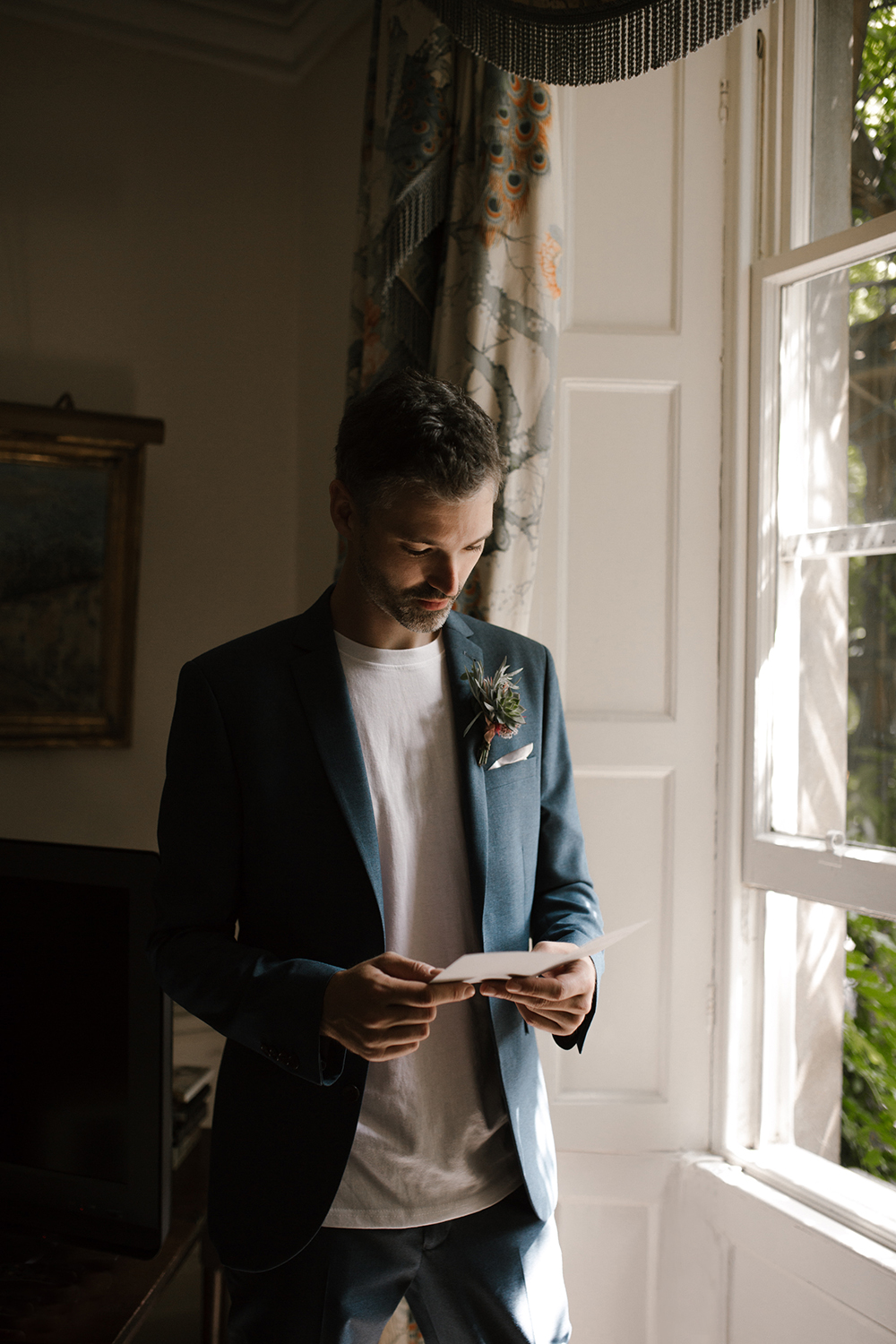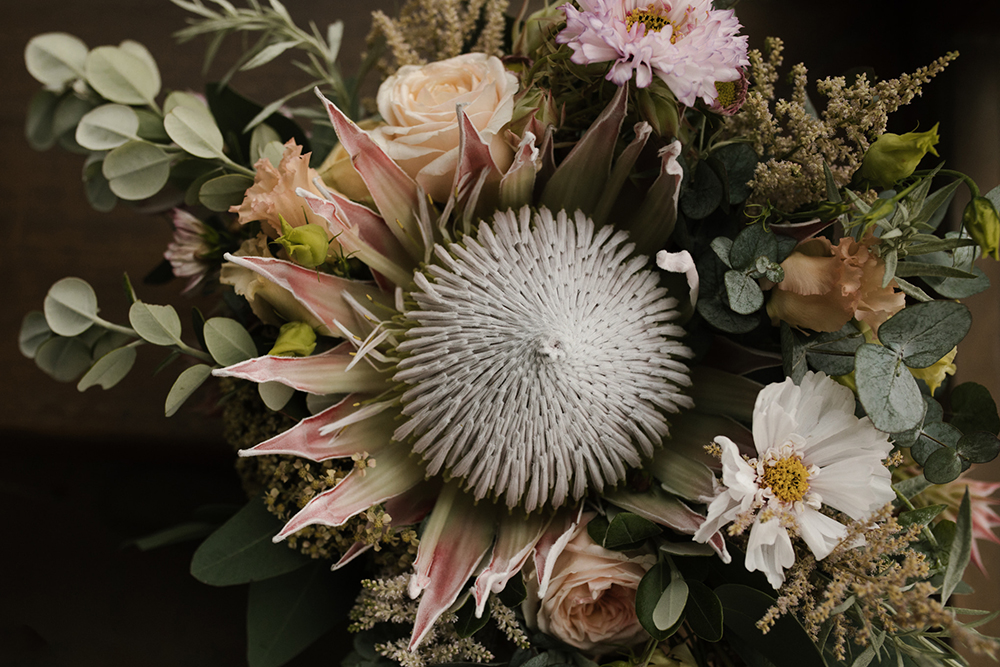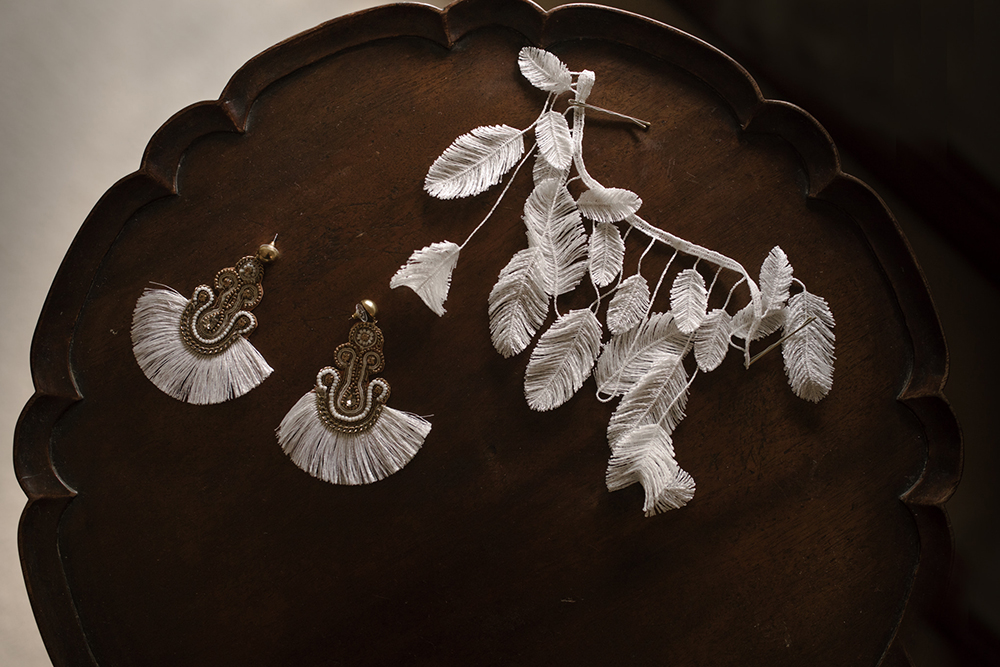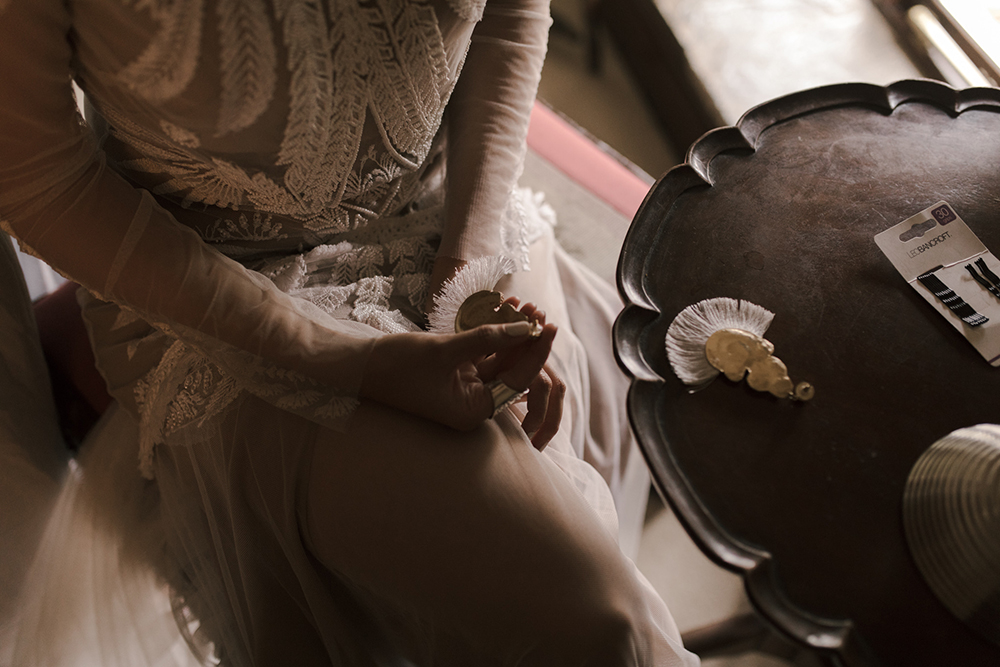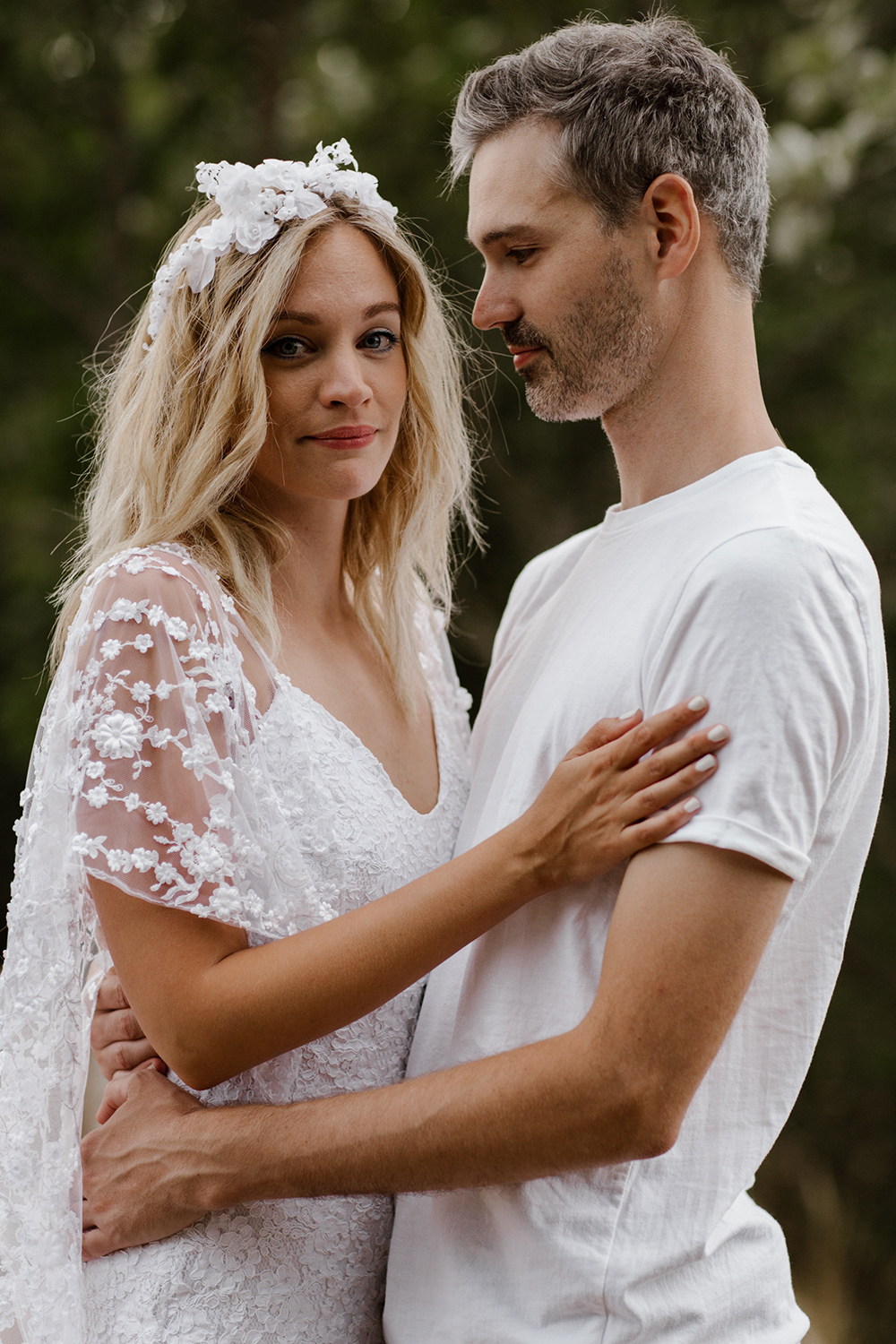 We knew we wanted to design and make as much of the visuals on the day as possible. Rob designed and printed the invites and made our own wedding website. I saw some beautiful vases and candleholders online made from concrete and knew it was something I wanted to create for the tables. All the vases on the tables were made from Pringles tins and the candleholders were wine bottles filled with eucalyptus. It was a great excuse to drink Rose on the run up to the wedding!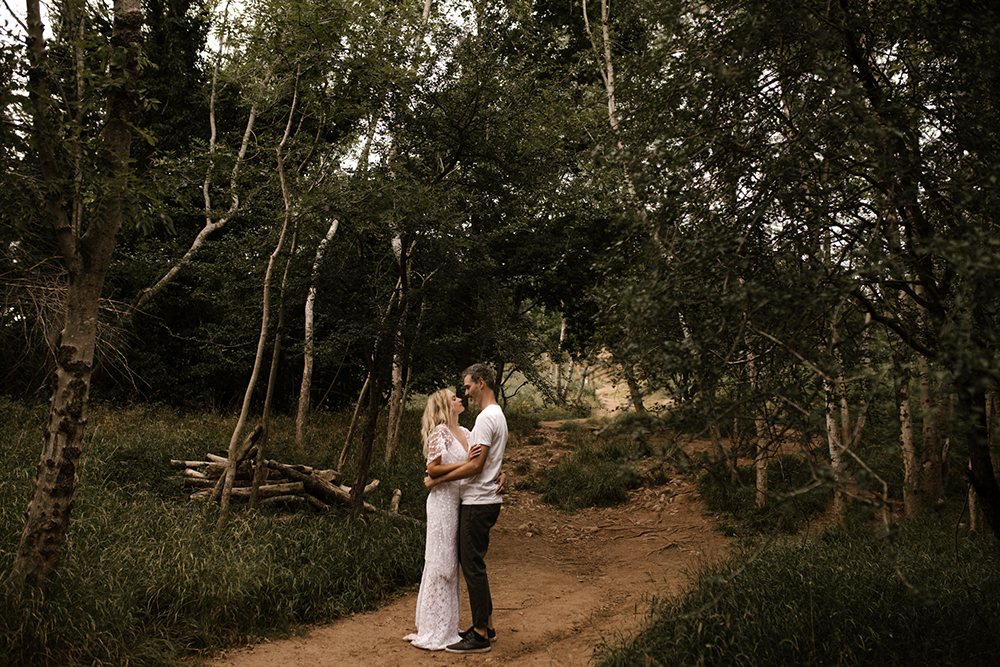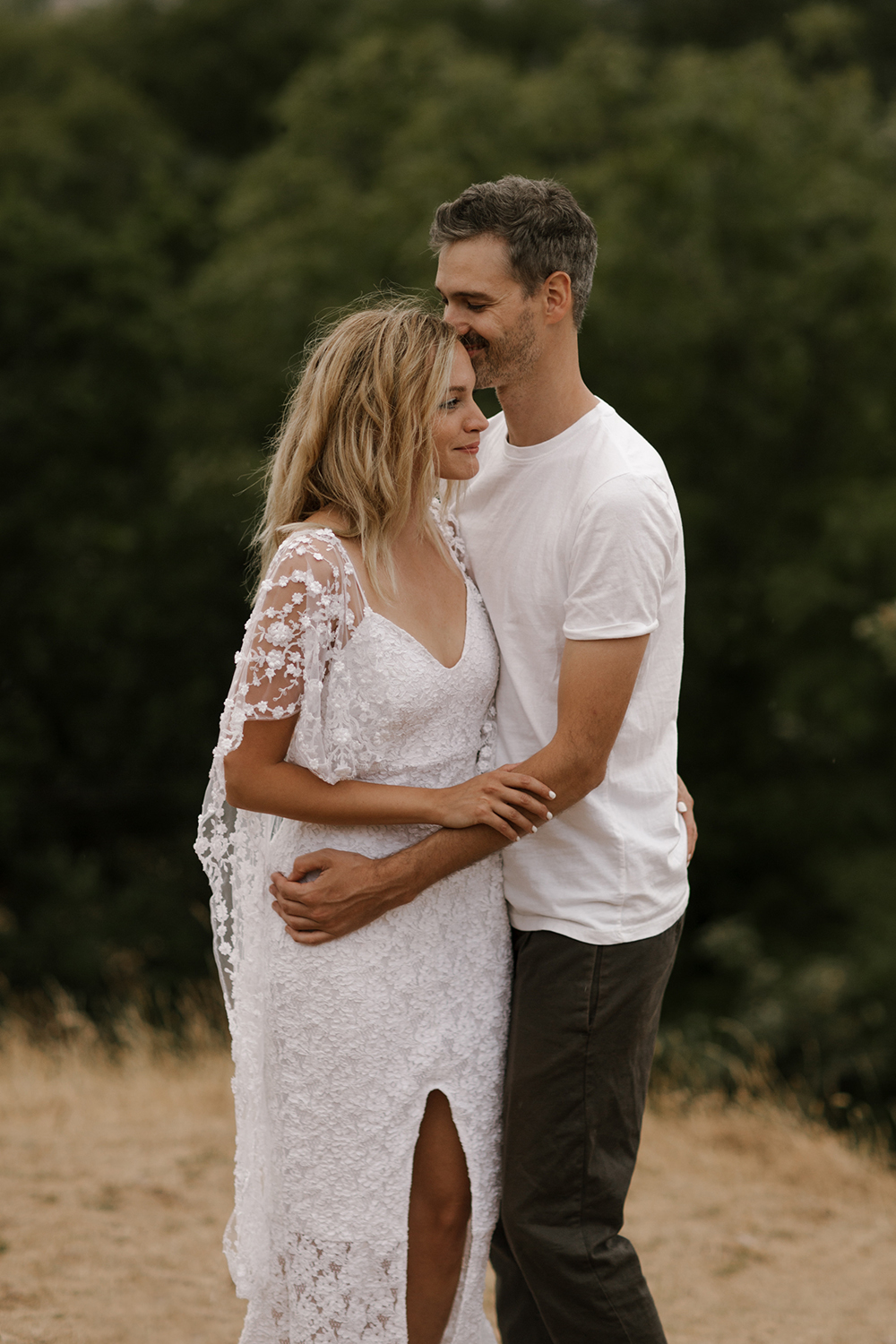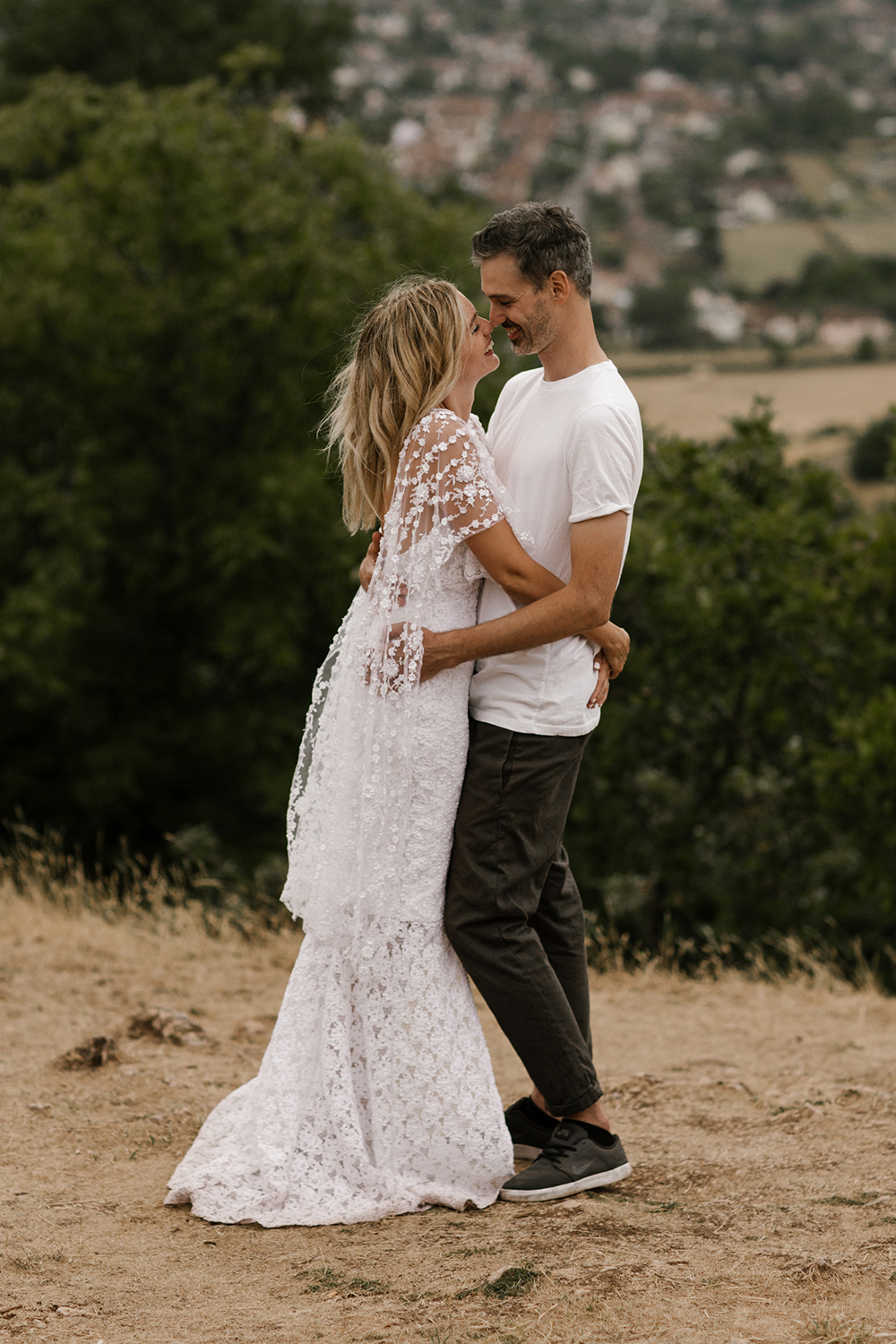 After looking at other botanical weddings online we knew that hanging installations were something incredibly important to creating the look and feel we wanted. After several attempts at making small hanging versions in our kitchen(!) we scaled this up and created swooping installations within the tipis, some of which were an overhanging Eucalyptus tree from my parents garden. One of my favourite memories of the day was waking up at 5am, putting on some music and with the help of my sister-in-law, we transformed the ceilings in the tipi's. It left me with an hour to get ready before the ceremony but I wouldn't of had it any other way!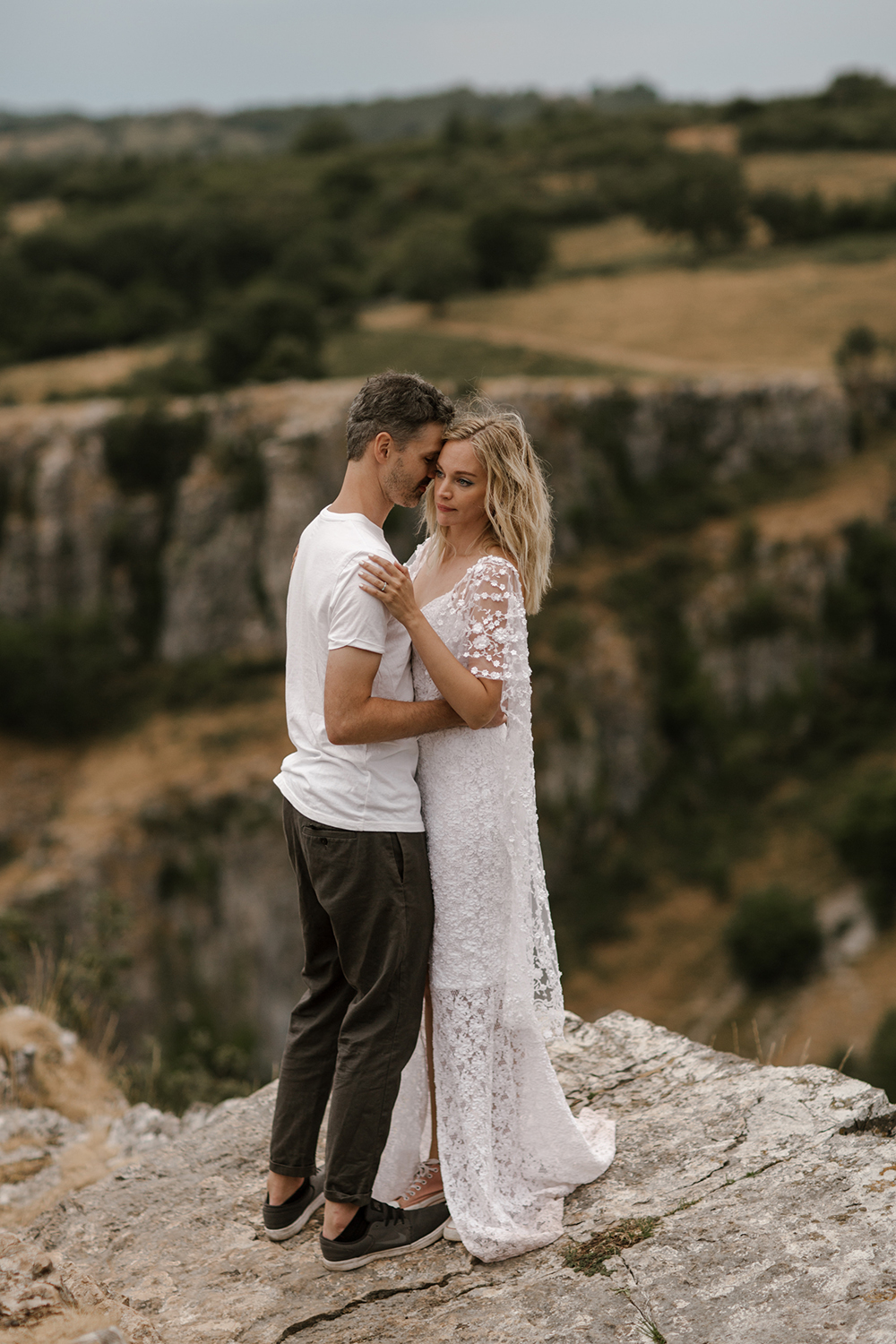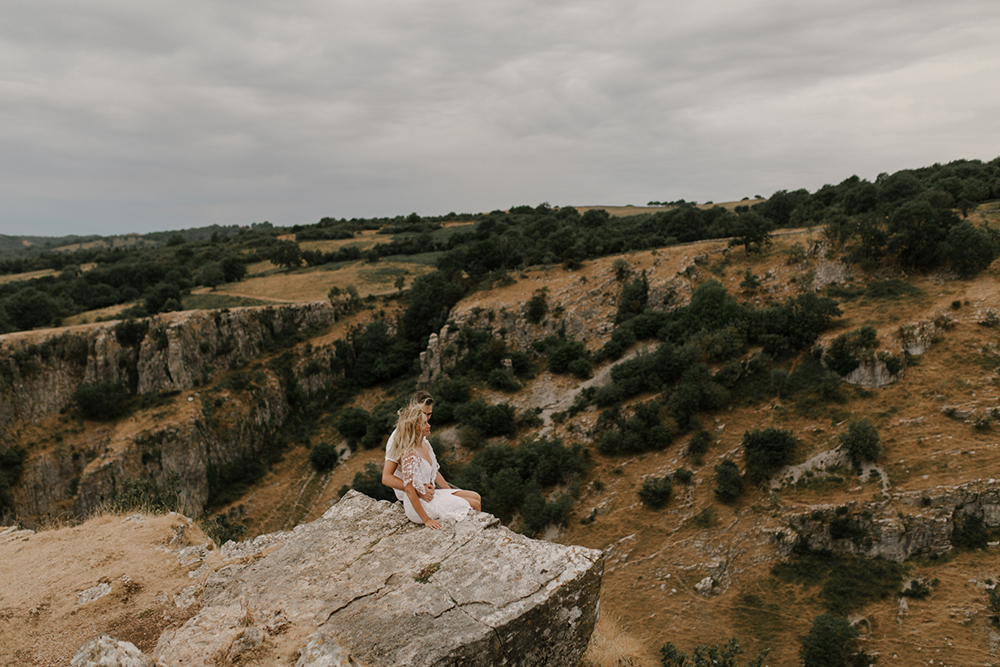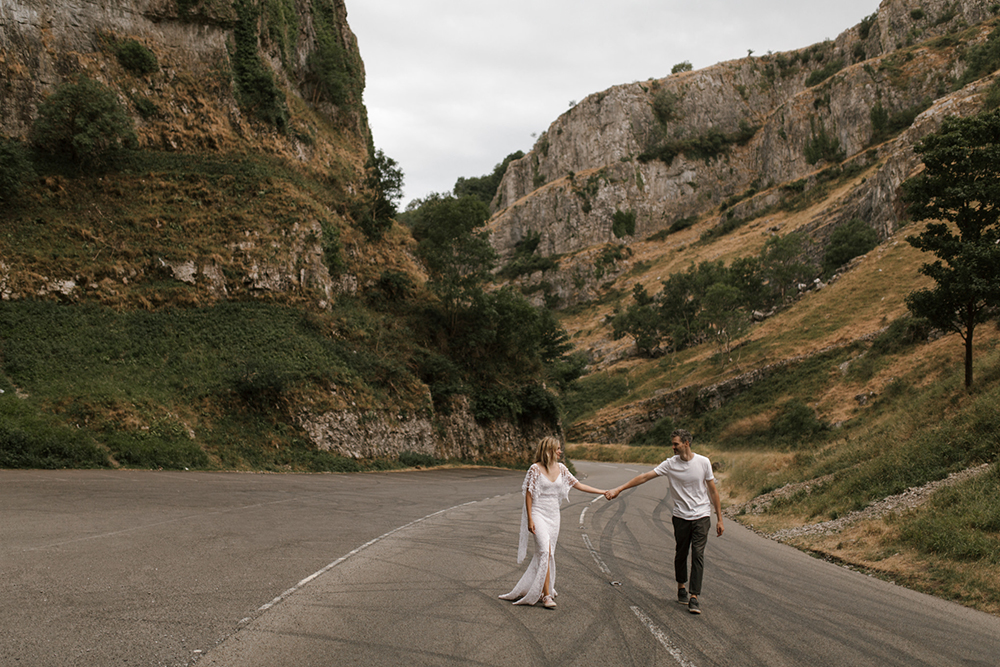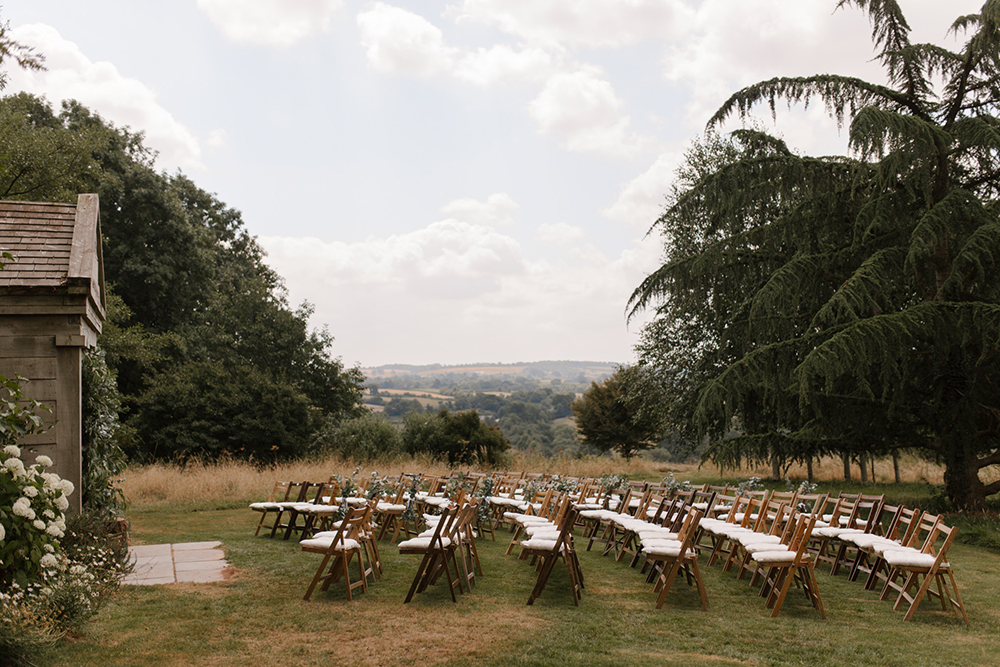 All of our friends and family came together over that long weekend and helped to decorate the gardens and tipi, for that we were incredibly grateful and was one of my favourite memories. The feeling of unity and love, much like that of a festival was priceless.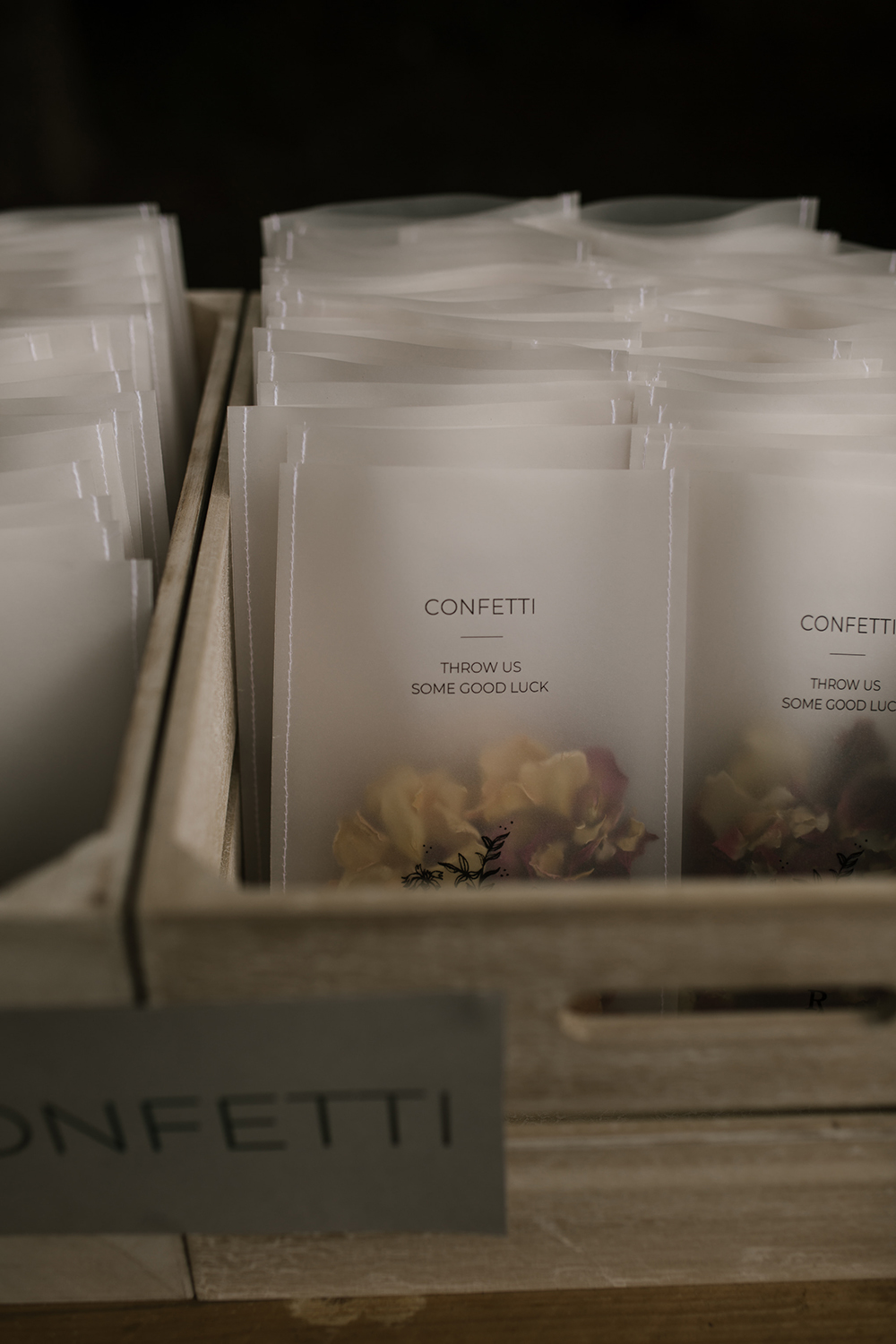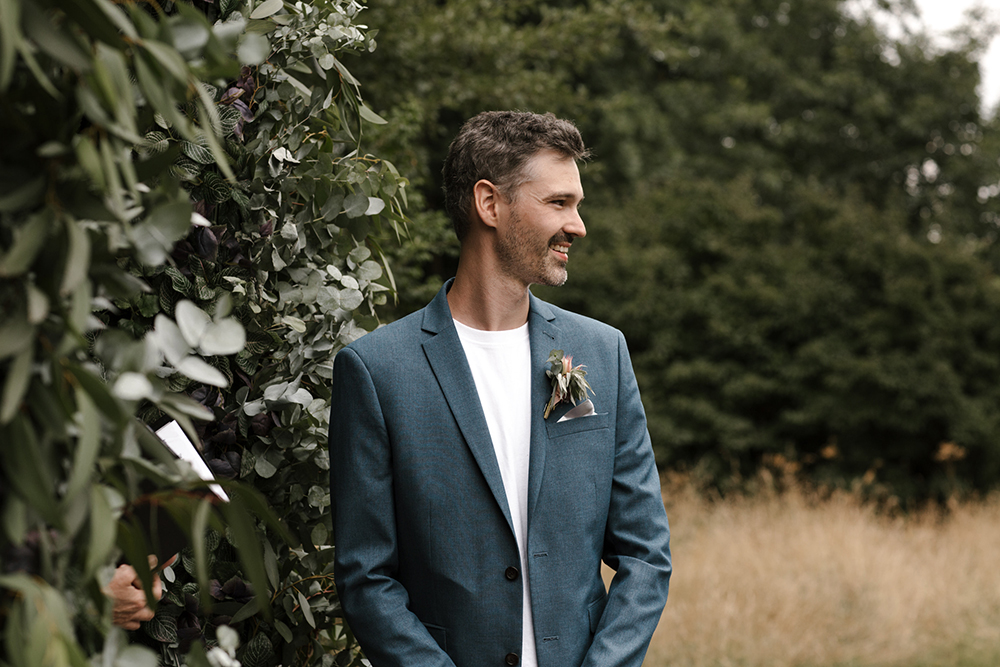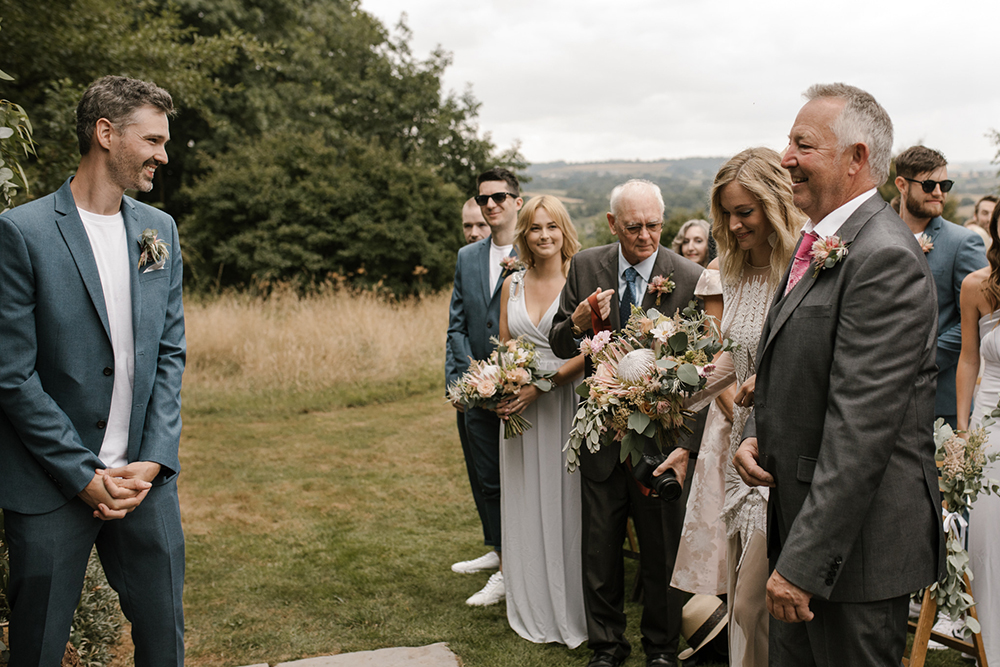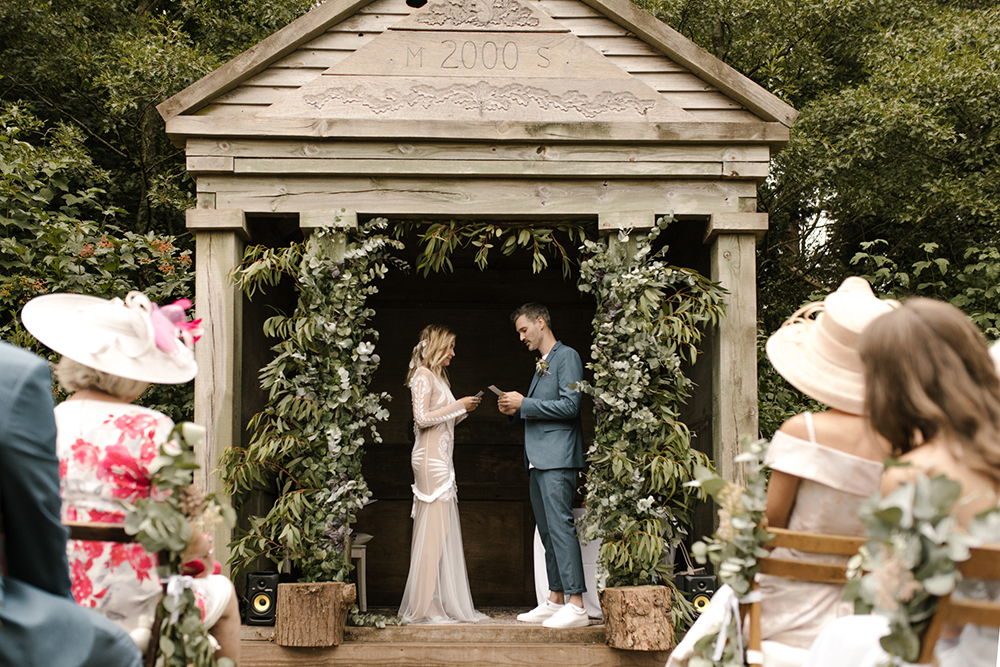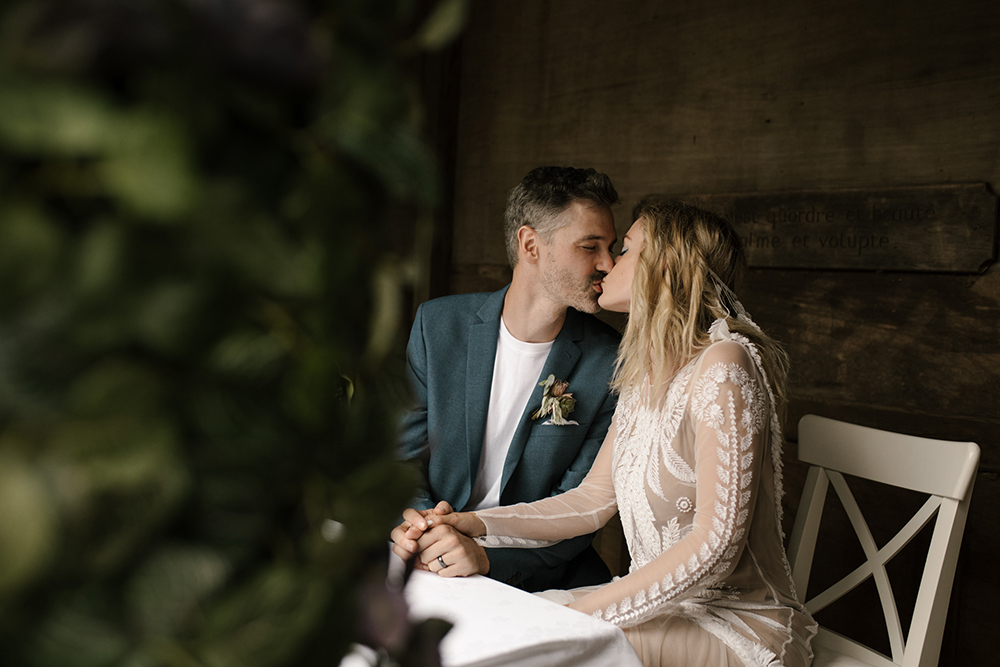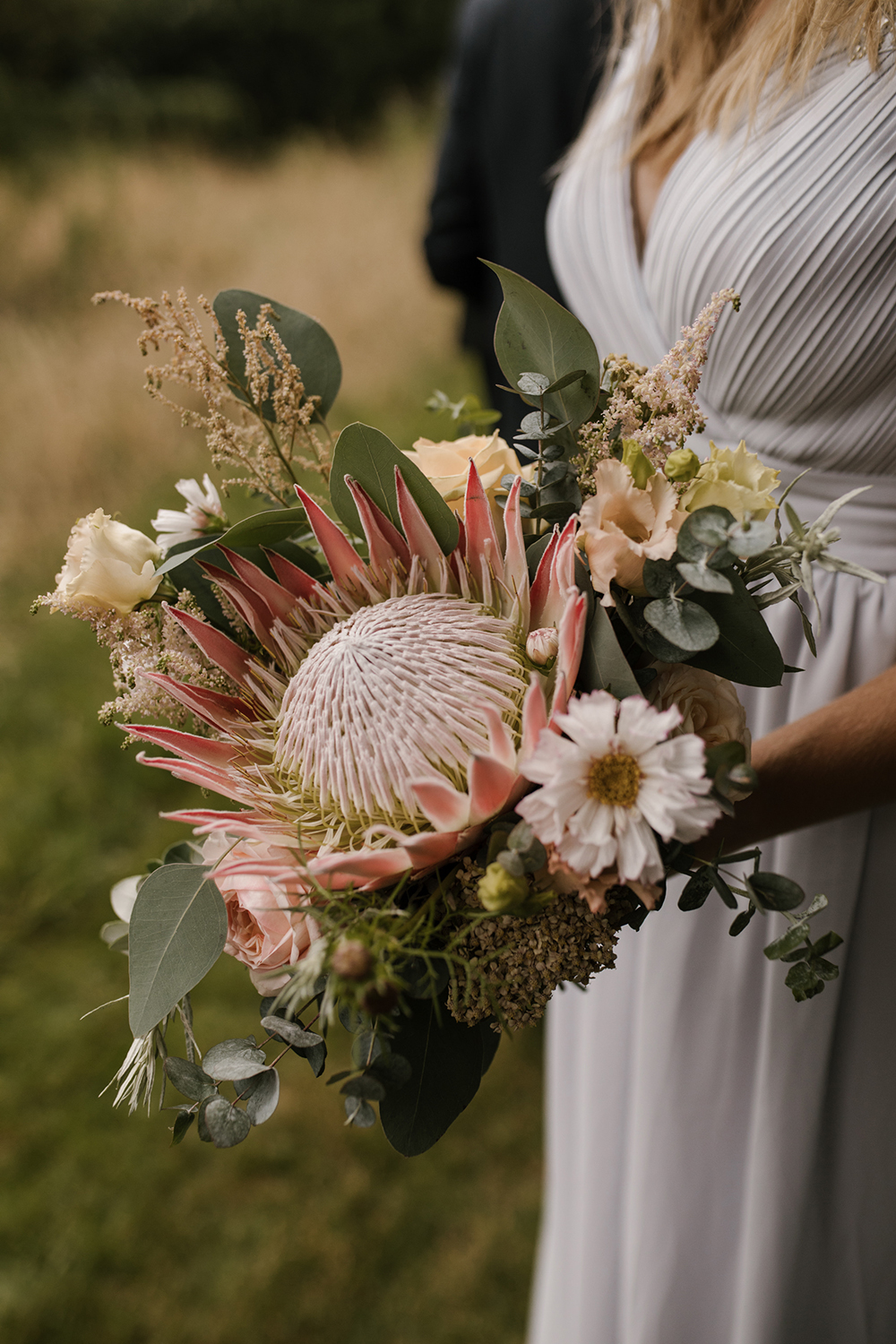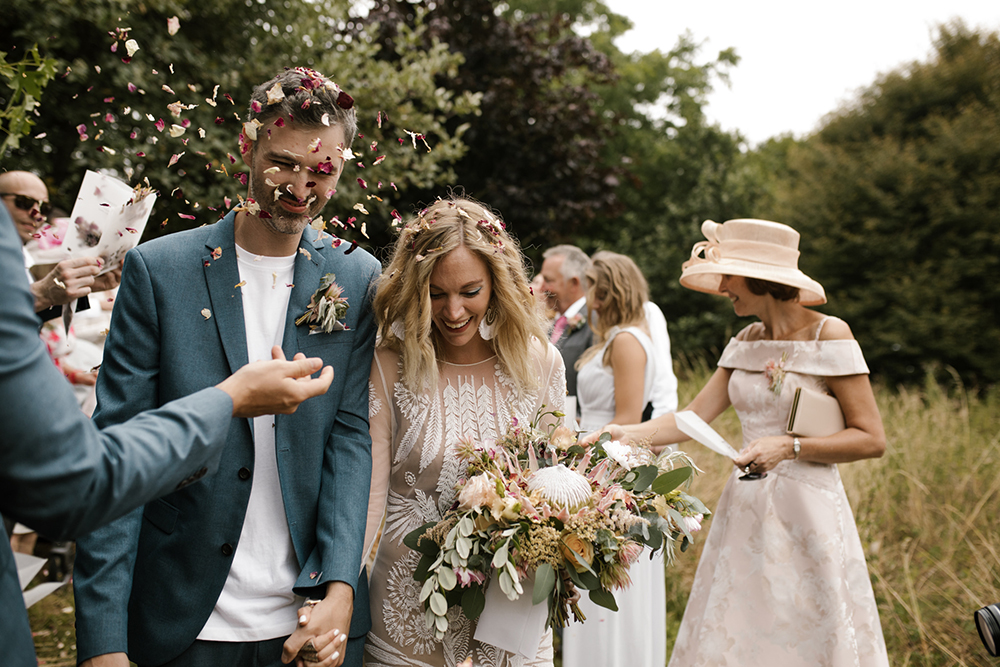 Tell us about your main outfits:
Originally I wanted to make my wedding dress. I spent months pattern cutting and sewing my dress but once I found Rue De Seine online I couldn't get them out of my head! A trip to Brighton to Leonie Claire resulted in me falling in love with the Luca gown as soon as I tried it on. It was incredibly easy to wear but with a free spirited feeling and beautiful beading I knew it was my dress, but what was I going to do with the one I made! After speaking to our amazing photographer Jess about taking a trip to Cheddar Gorge the afternoon before the wedding day, I realised it was the perfect opportunity to wear the dress I made and also keeping my actual dress a surprise.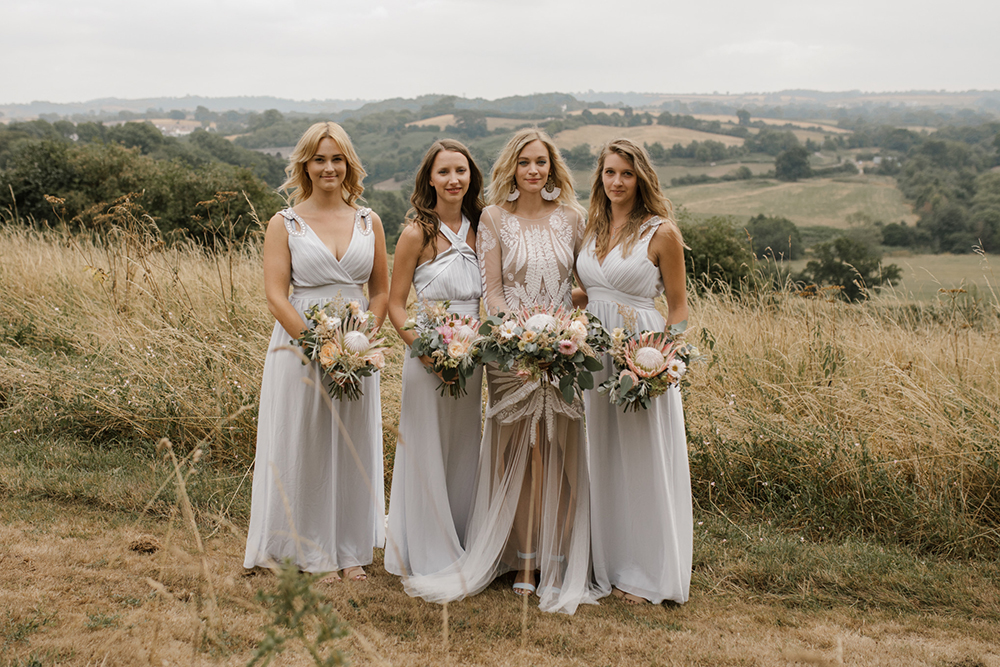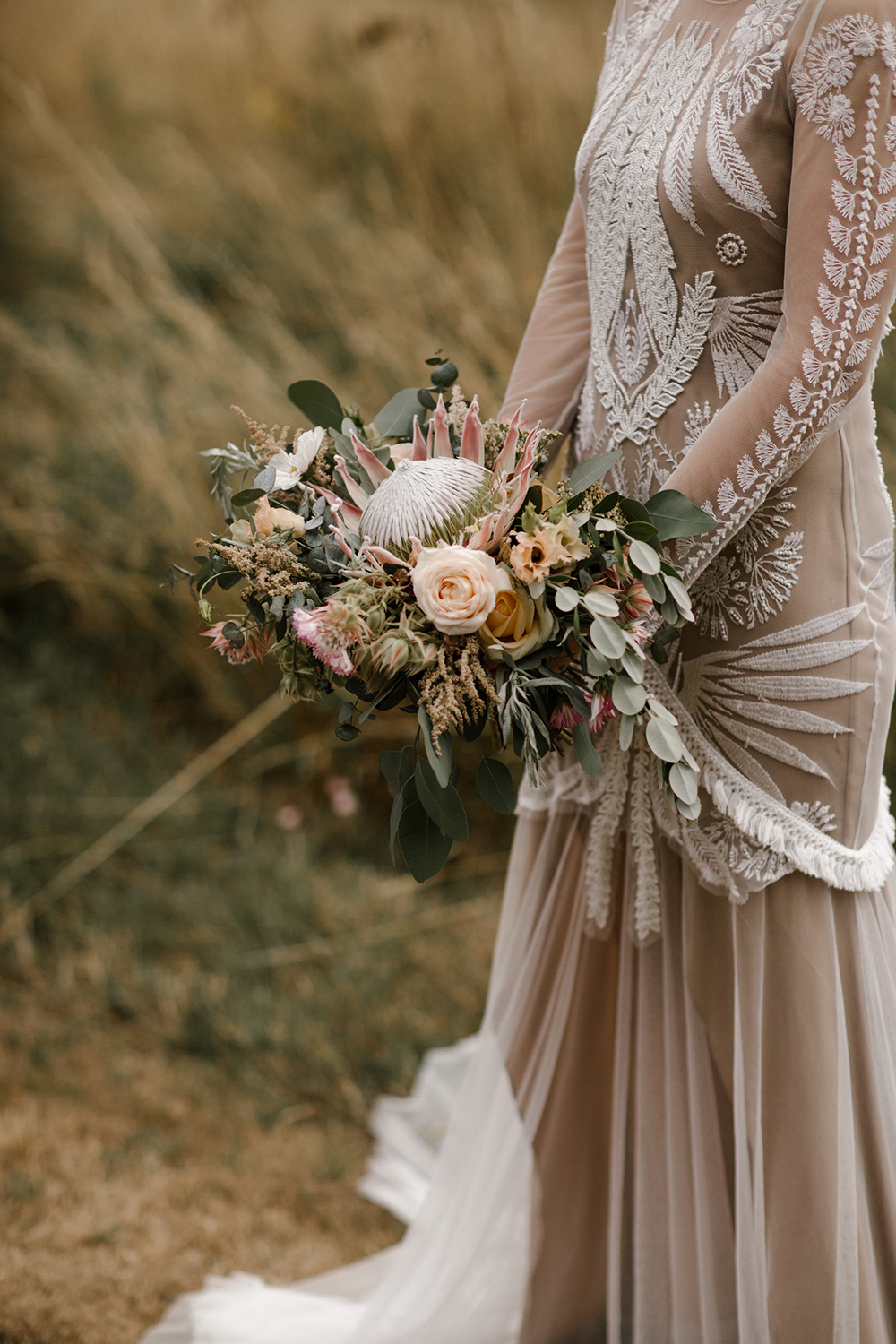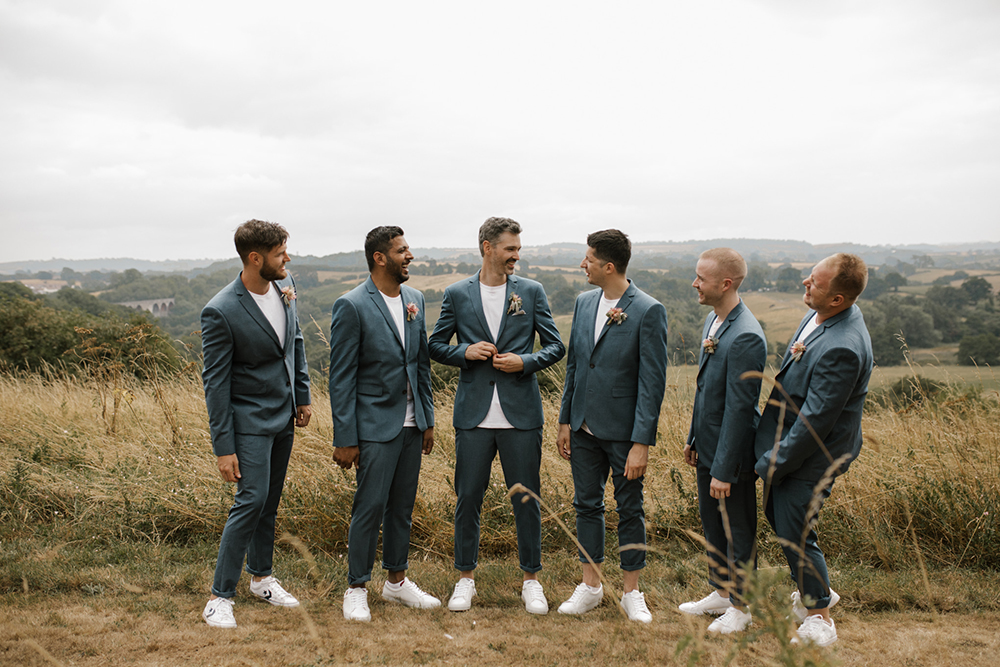 Rob similar to me wanted to feel comfortable on the day so he opted for a t-shirt and trainers over shirts and shoes! A friend of ours recommended Seven Feet Apart and they were super comfy. Later on after the wedding breakfast I changed into a sequin jumpsuit by Rosa Bloom. I had made so many happy memories dancing at festivals wearing Rosa it felt only right to wear one of her pieces on my wedding day!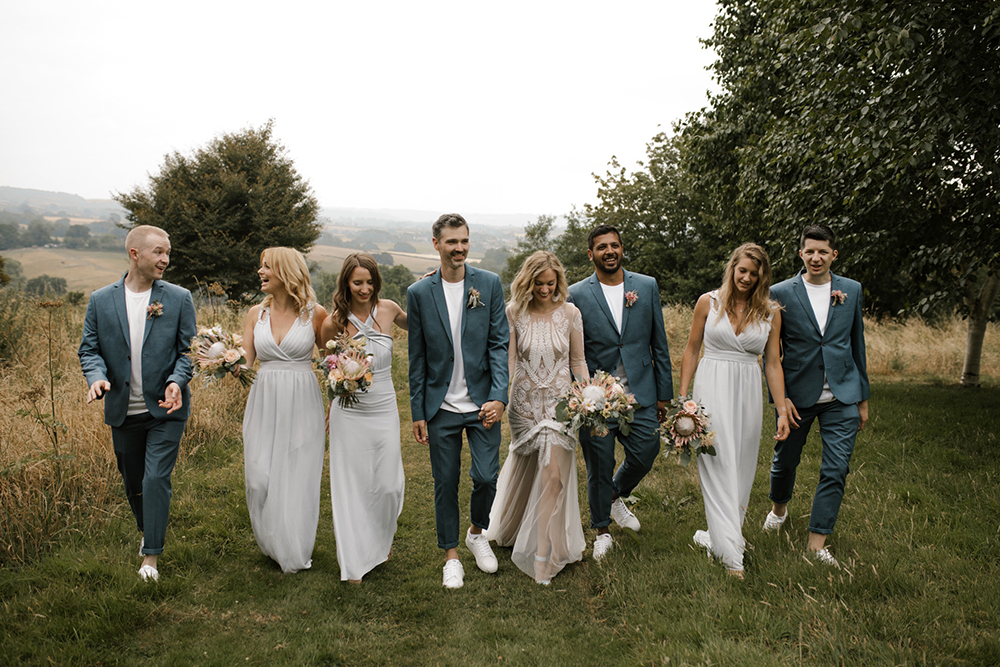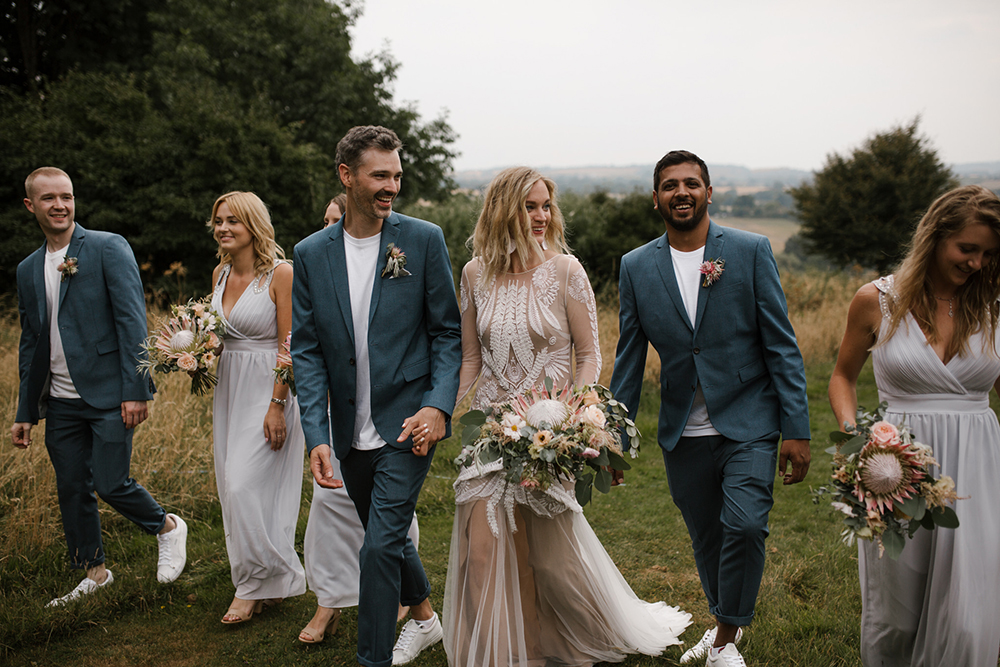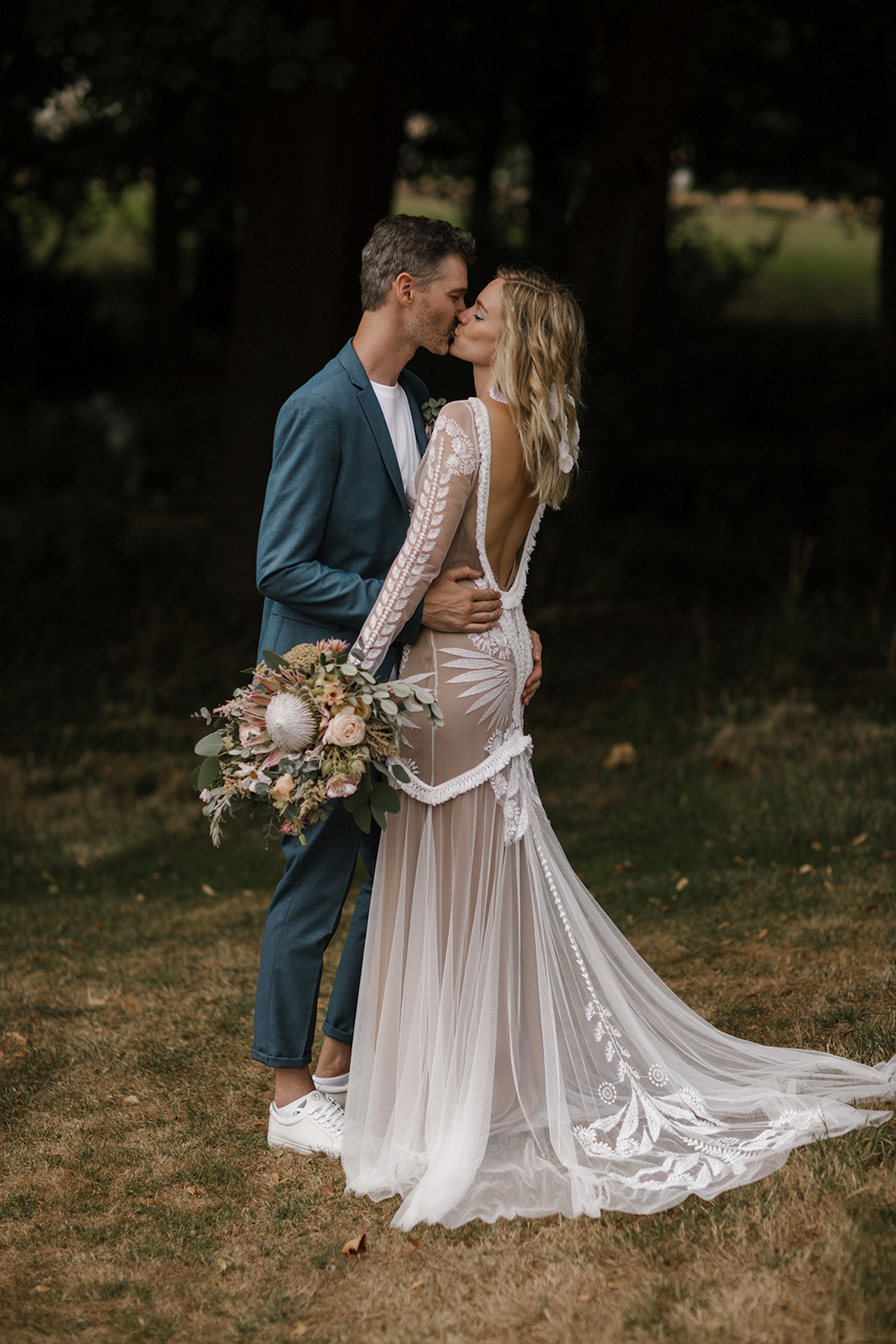 What were some of the most memorable/unique moments from the day?
We have so many beautiful memories from the day t's hard to list them all! Some of my most fondest memories from the weekend was everyone working together to help create our vision! Hanging eucalyptus from the ceilings at 5am and transforming the little summerhouse where we were to say our vows. My bridesmaids and I scrambling over the wall separating the B-and-B where we got ready and the Grange was fun!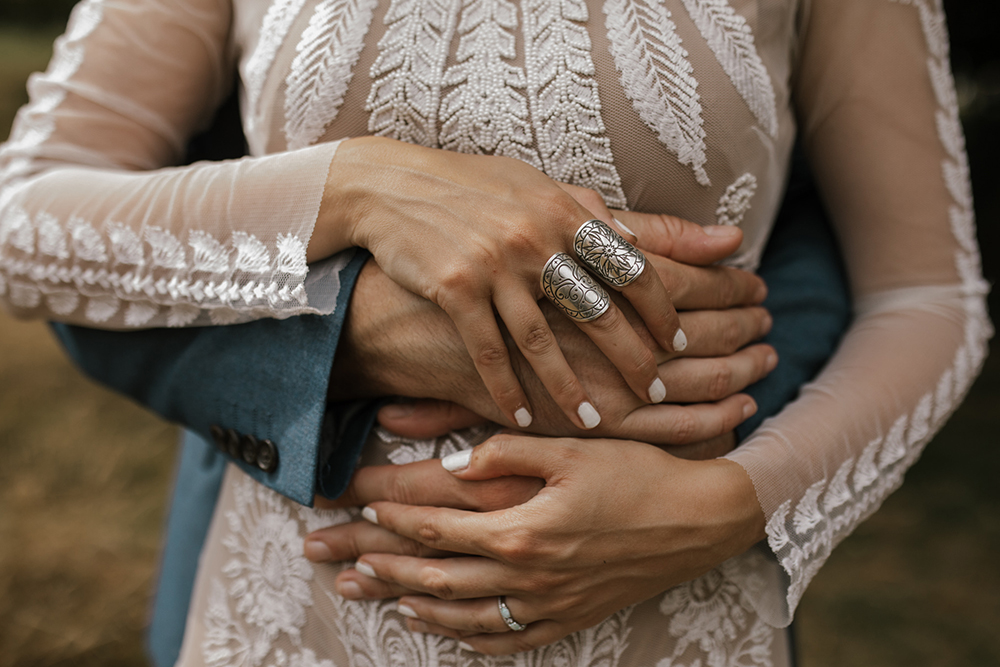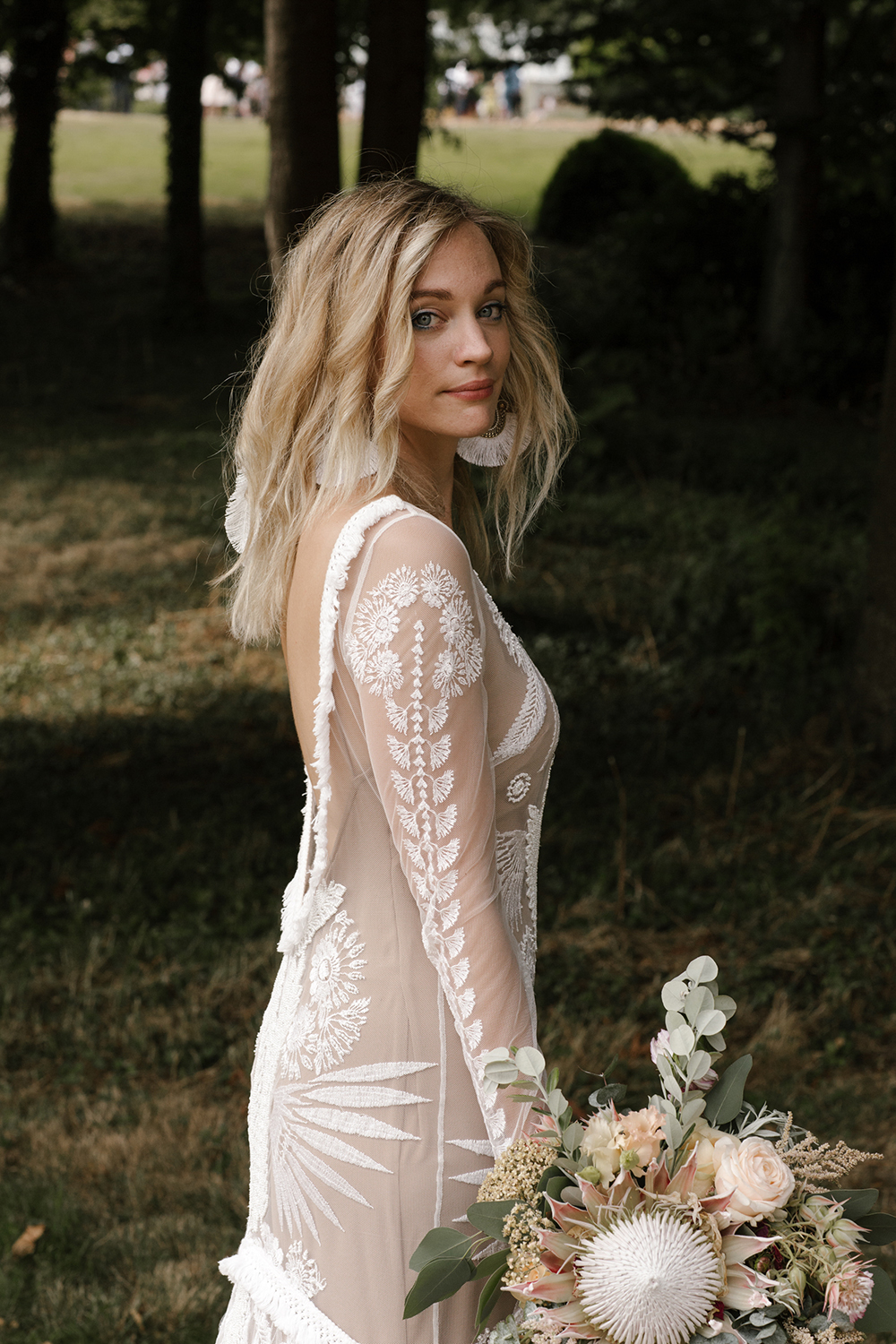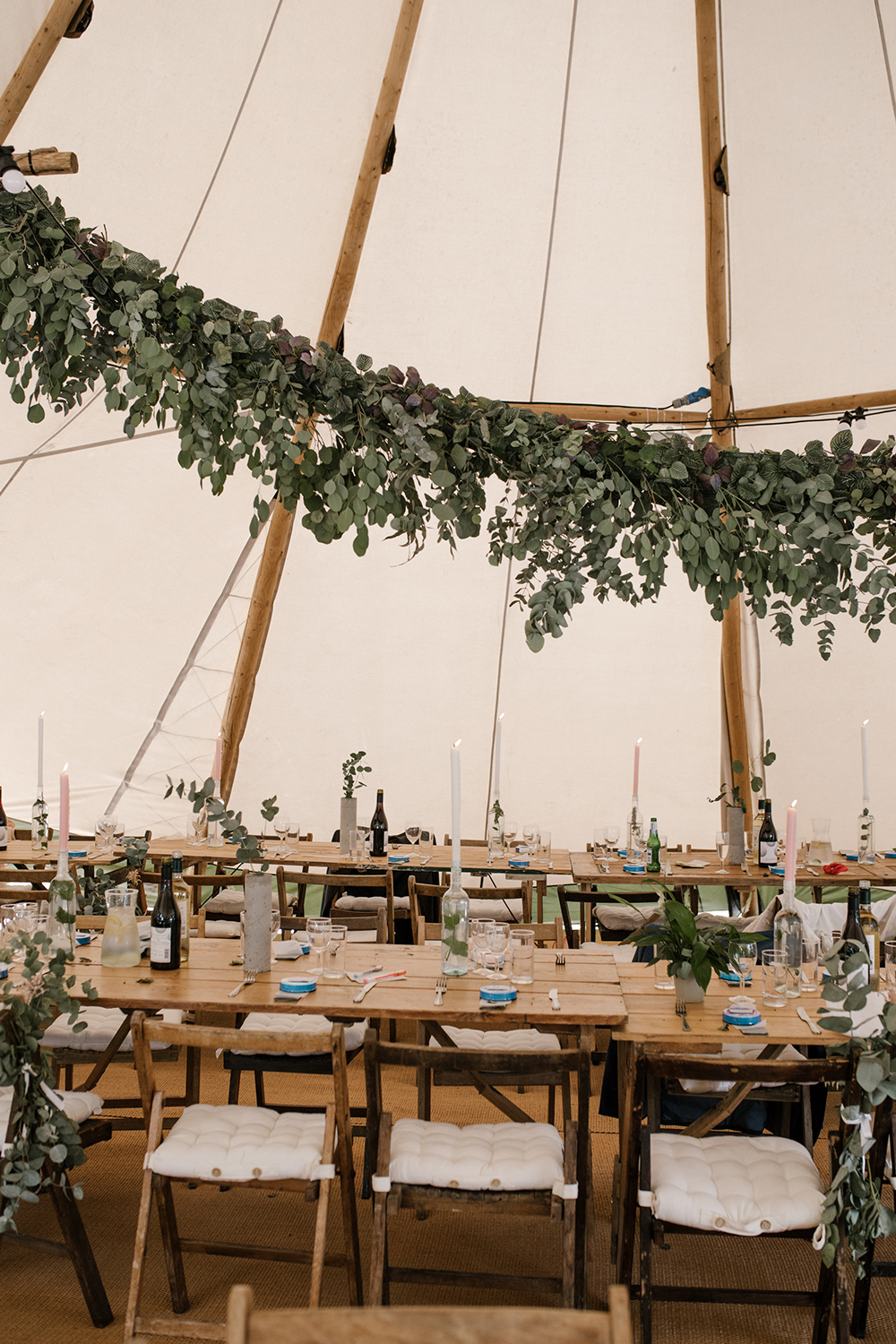 Walking up the aisle with my Dad and us 3 holding each other around the waist in front of all our friends and family was a special moment, along with reading our vows to each other and having the biggest smiles on our faces the entire day!
Our friends running around behind us with smoke bombs during our photoshoot with Jess, along and our first dance to a track that Rob mixed together are also some of our favourite memories.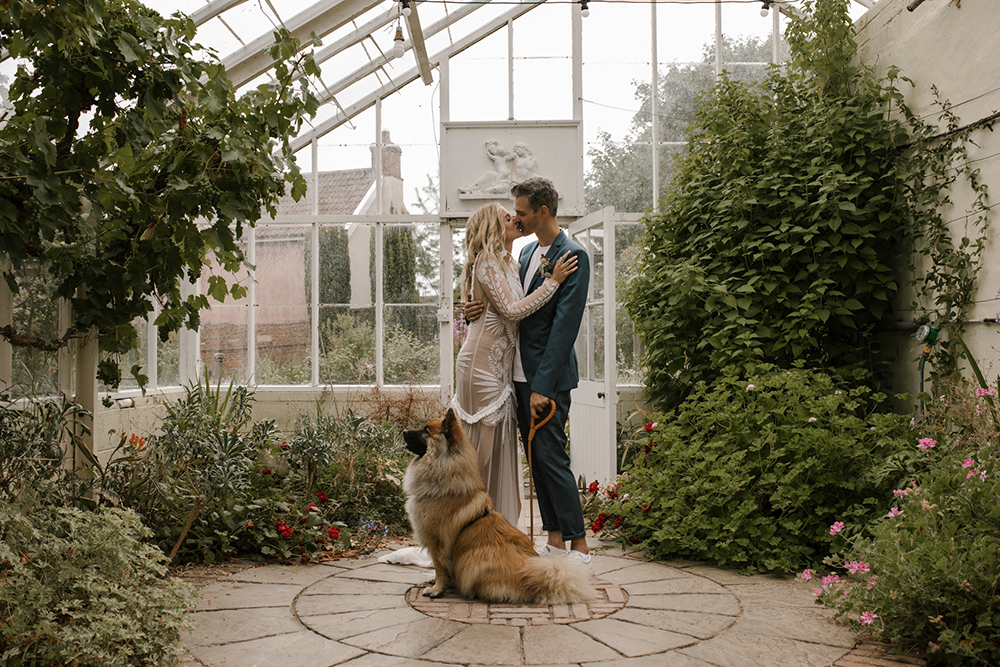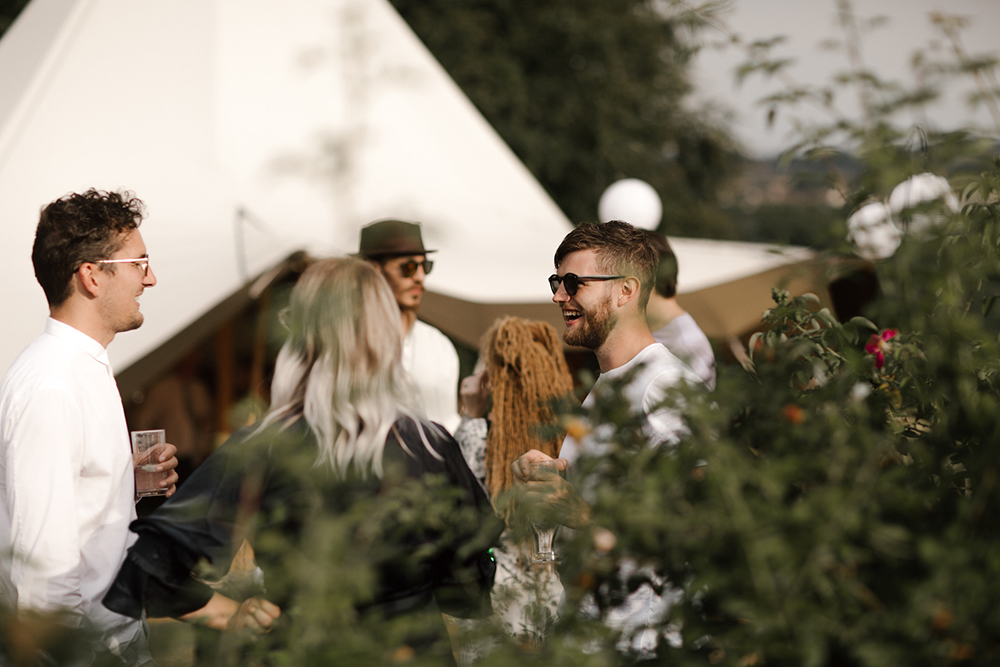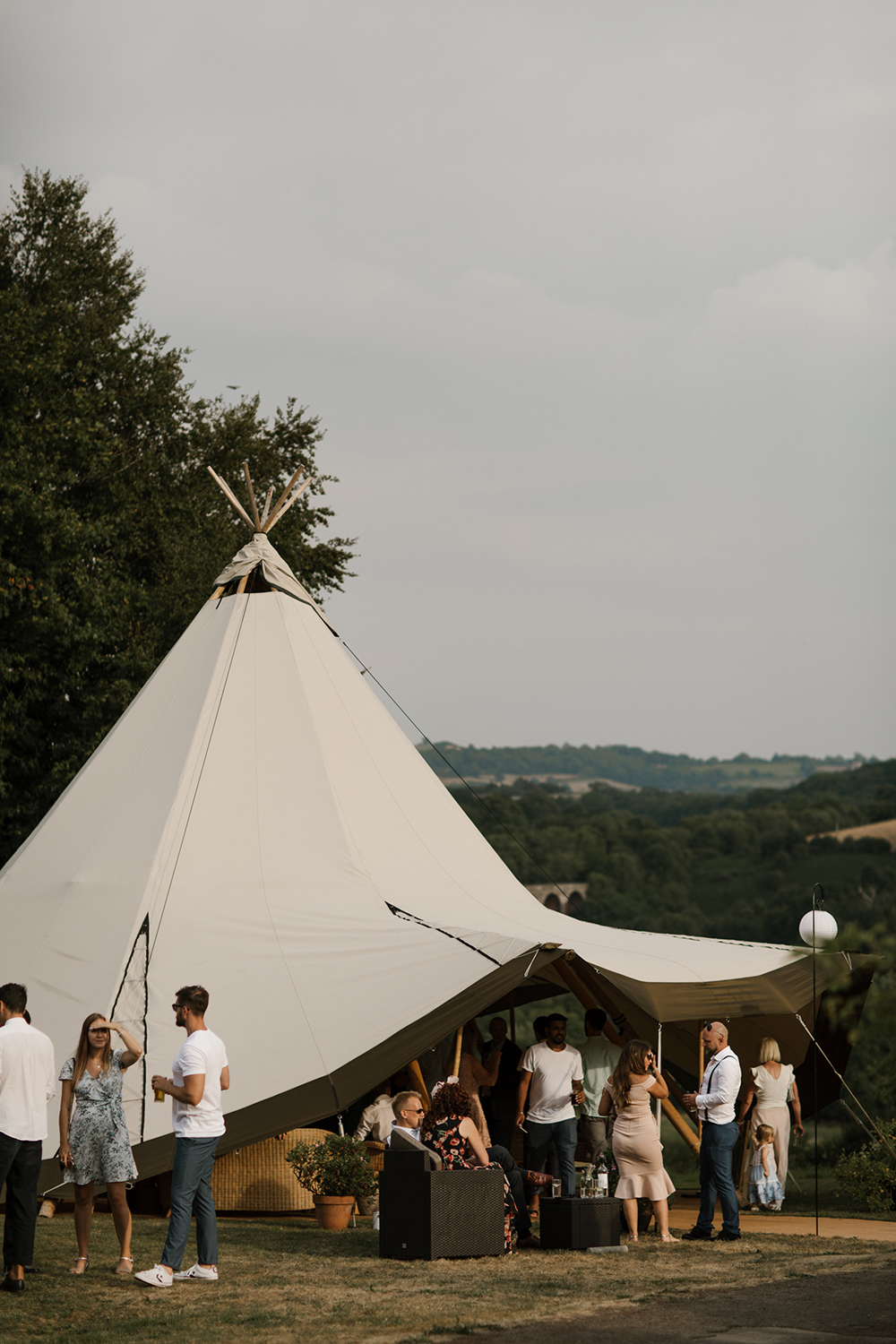 Any advice for other couples planning to spend the rest of their lives together?
Express yourselves and don't get too sucked into your Pinterest board. Enjoy every moment and try not to get too stressed, especially during the run up to the wedding. This time is also so special and shouldn't be wasted arguing over silly details you won't remember.
The photoshoot the night before the wedding was such a lovely way to spend time together, I would recommend that to every couple.
Do what feels right for you both, express yourselves and have fun!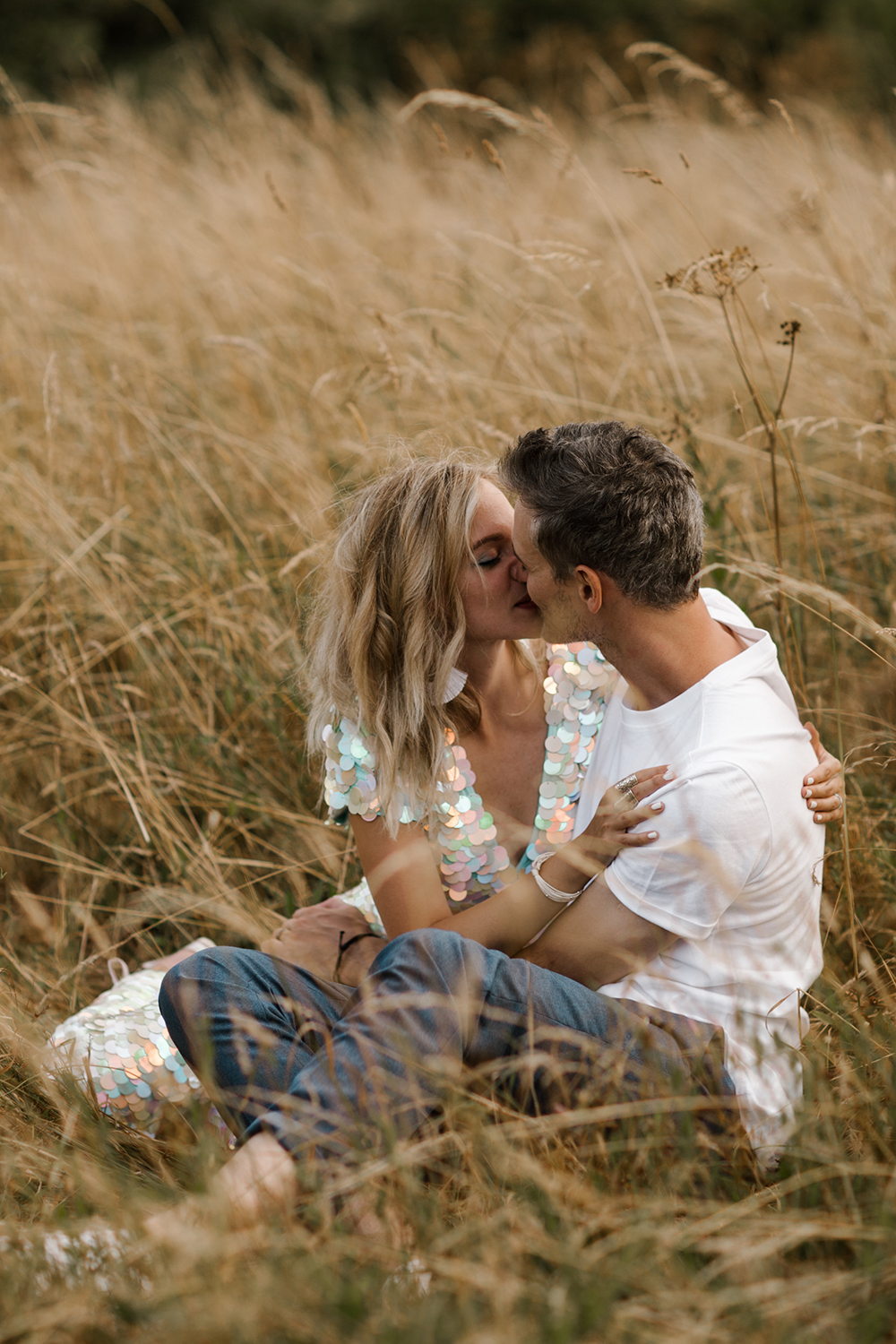 Photographer: Jessica Williams | Ceremony and reception location: The Grange | Entertainment: Audio Venom DJ | Bouquets: Herbert and Isles | Generator: Chew Valley Generators | Marquee: Maka Tipi | Catering: Nyama | Cake: Mother of the bride | Wedding dress: Rue de Seine ("Luca") | Sequin jumpsuit: Rosa Bloom | Bride's shoes: Linzi | Groom's shoes: Seven Feet Apart | Bride's ring: Ferkos Fine Jewelery | Groom's ring: Titan Jewellery | Feather headband: Red Rose White | Bridesmaids' dresses: TFNC London | Groomsmen's suits: Next