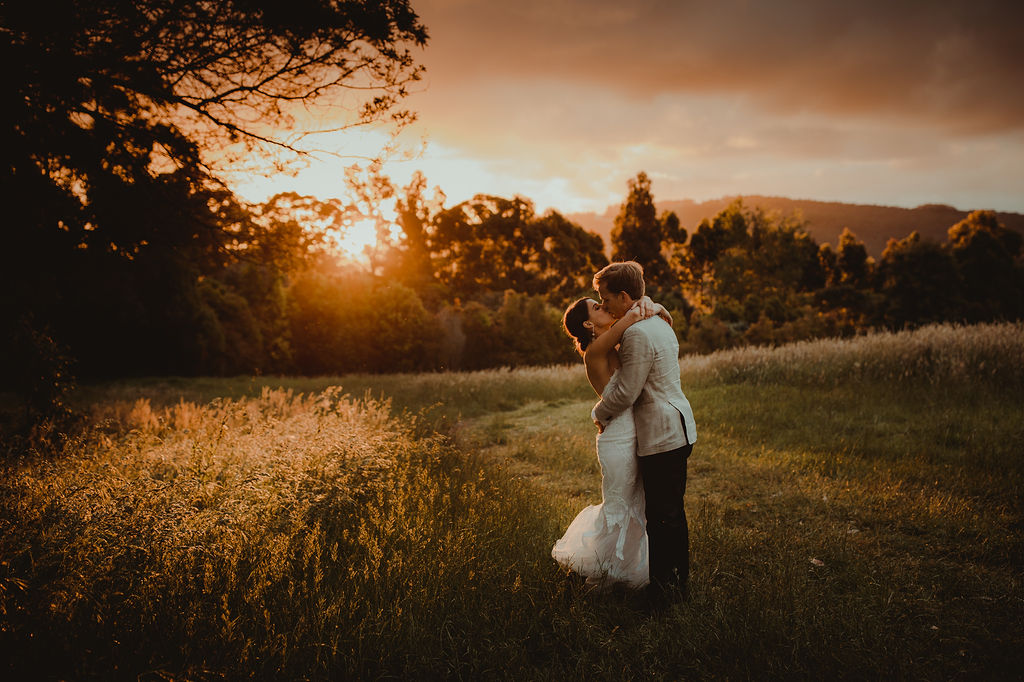 Tell us a little about yourselves, what you do, what you love, what is unique about you and your relationship…
Brittany is an early childhood teacher and Gordon is a wedding photographer, both based here in beautiful Margaret River. We are both outdoor, adventurous people who love to travel and explore new places. Alongside the weddings, Gordon is an avid ocean/wave photographer and spends his spare time travelling the coastline of WA. We had known each other for years before we got together, as Gordon is best mates with my older brother. Growing up he was always over, hanging out and we became really good friends. As we got older we started dating and it has all just flown by since then. Our families have known each other for years and we both share the same friendship group. This was amazing as every guest that came to our wedding we both knew very well.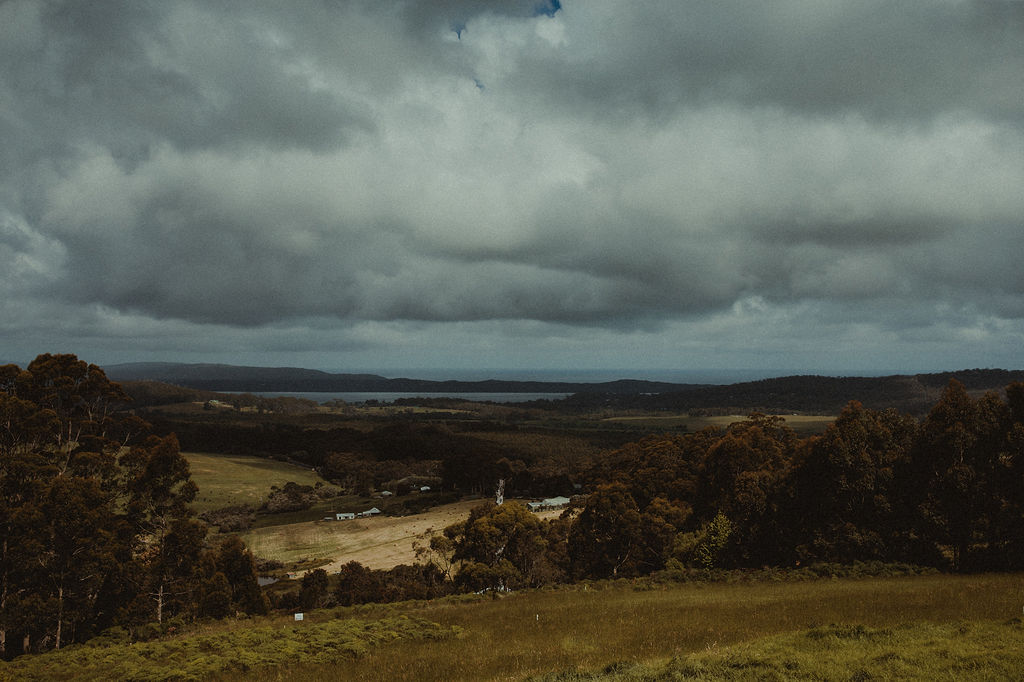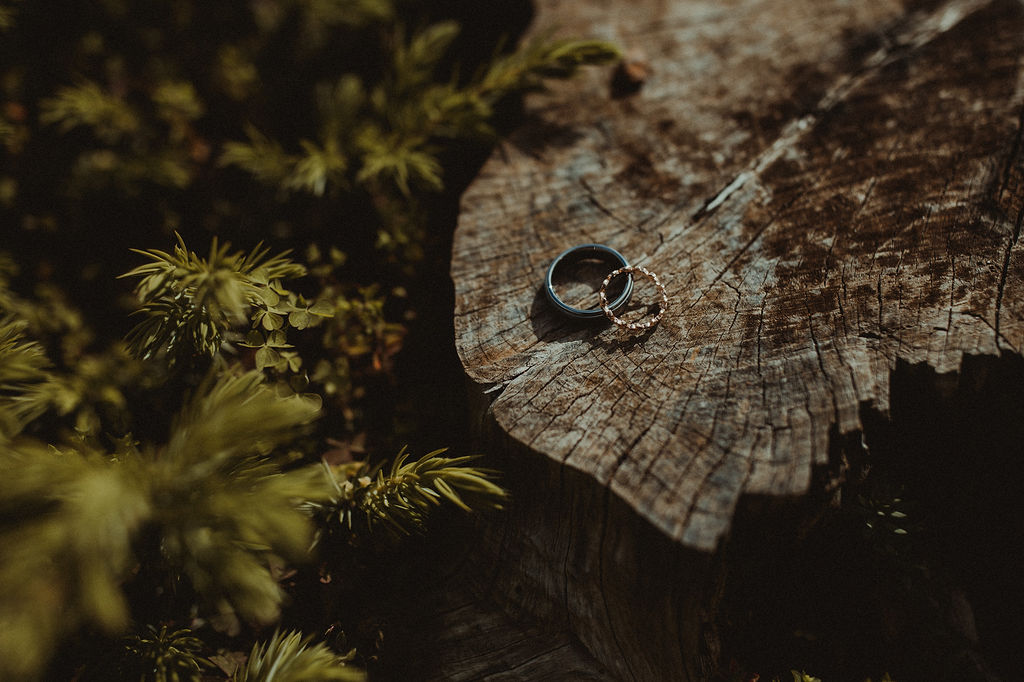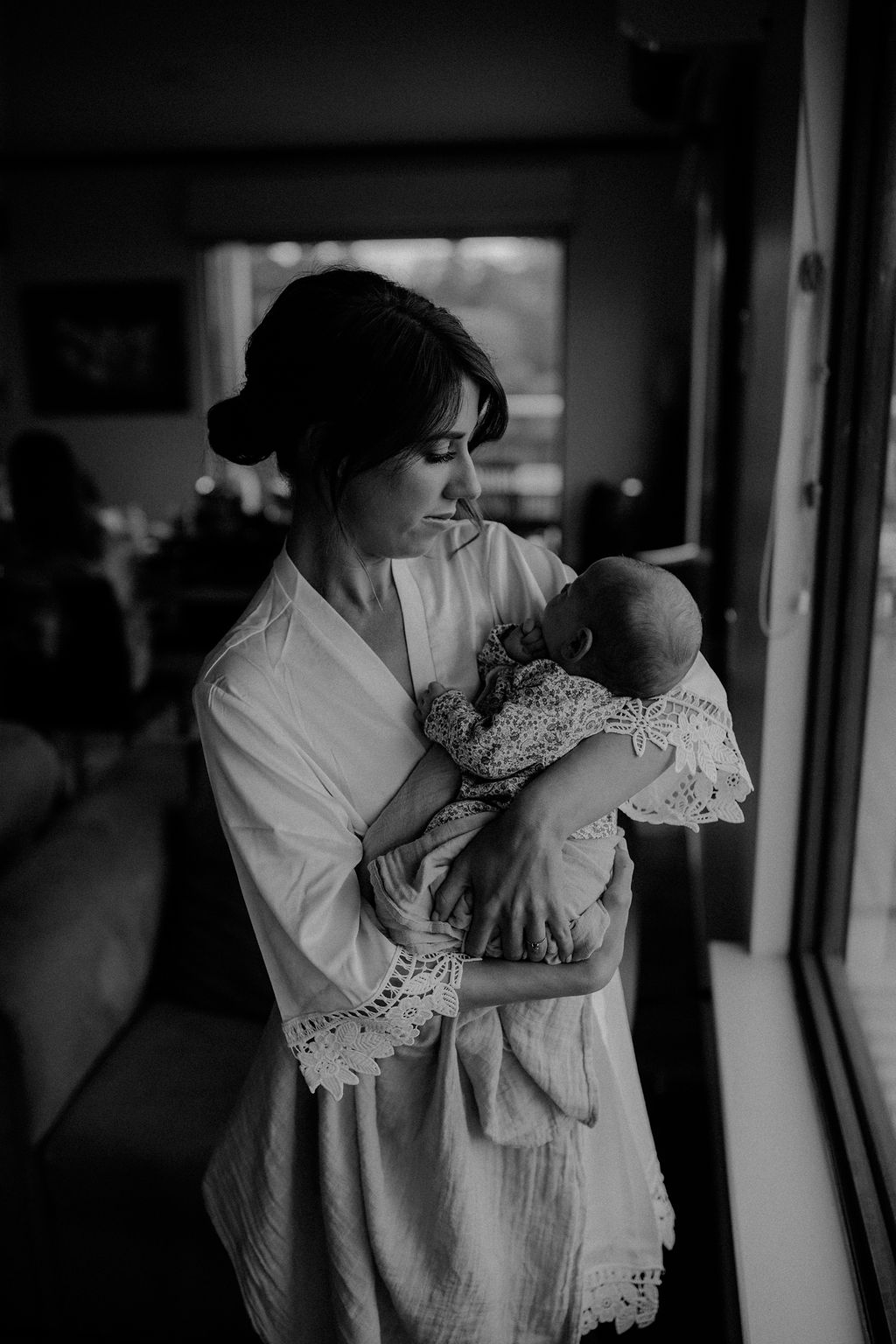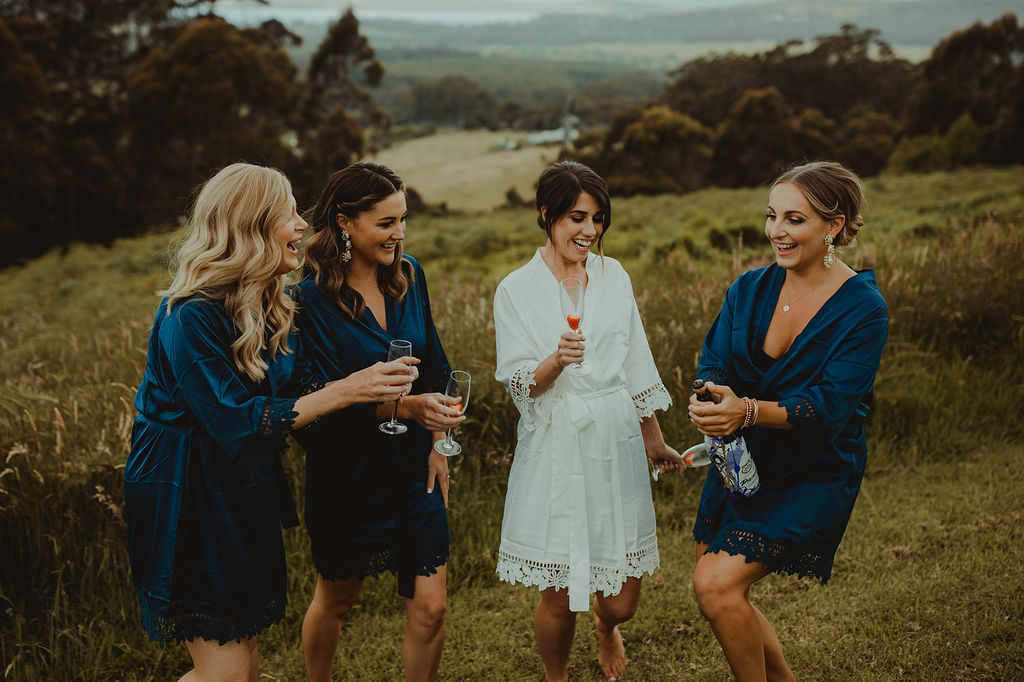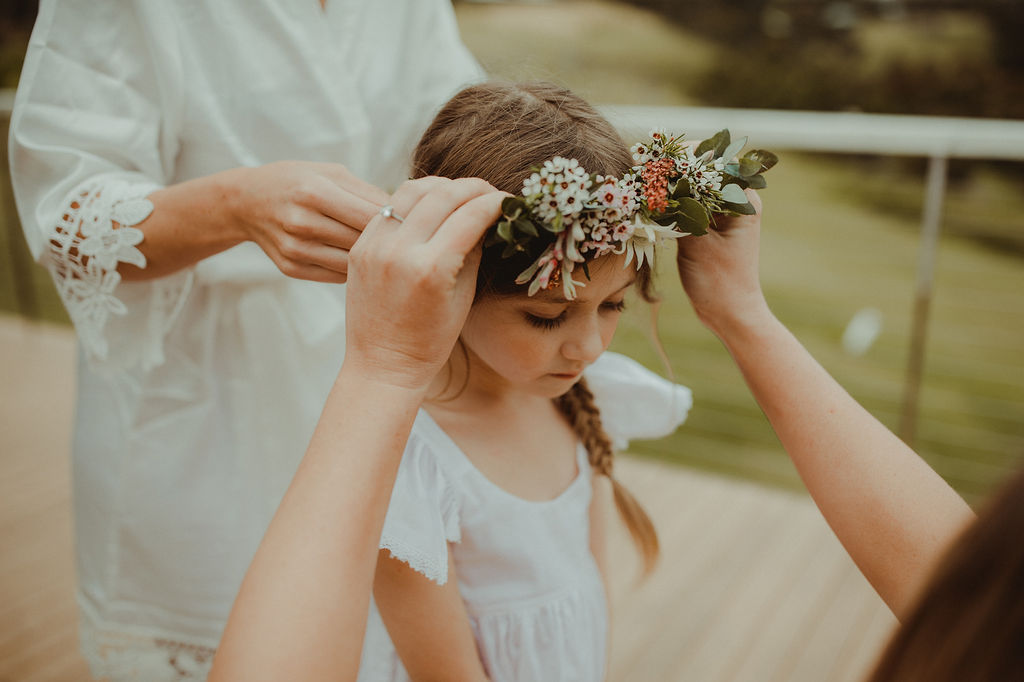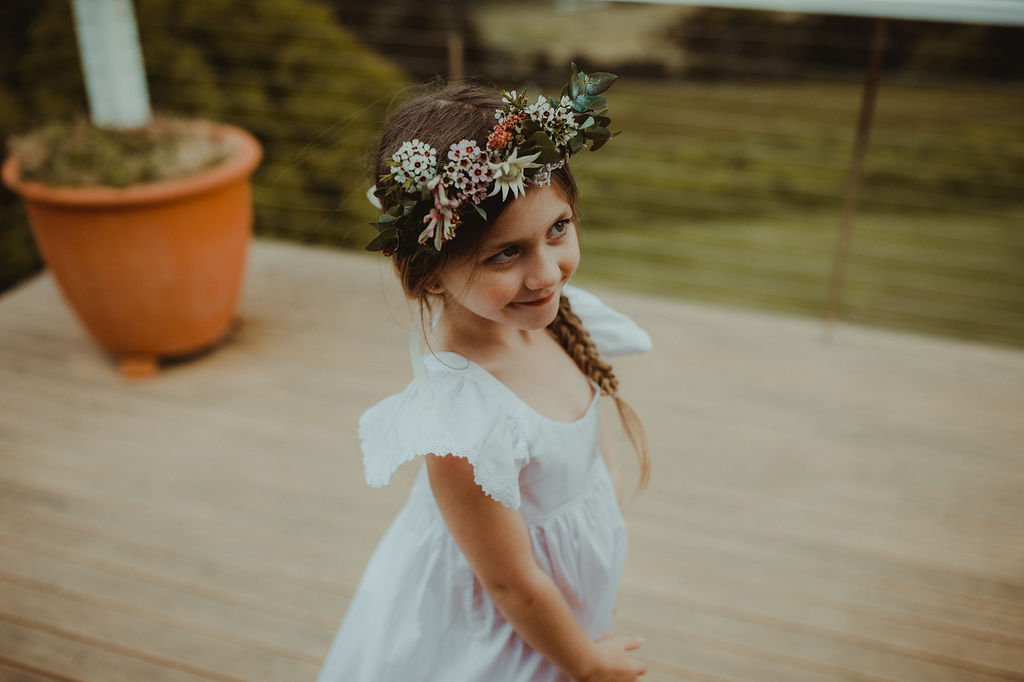 Tell us about your special day, was there a specific theme or style? Tell us a little about the setting, the styling and some of your favourite details…
The ceremony and marquee reception were held next to each other on top of Mt Shadforth in Denmark. It had an amazing view looking south out over the Southern Ocean. We were after a backyard, chilled style wedding which we created at Karri Mia under the Eucalyptus trees. We styled the wedding ourselves, carting all of our own cane settings, furniture and bars in trailers down from Margaret River. Part of what made it so special was that Gordon built the arbour, glass shelf, wine bar and keg bar especially for our day. Our friend Chelsea at Clouds & Clay brought the whole day together perfectly with her choice of flowers and greenery. She styled the ceremony and reception just how we envisioned, bringing the whole day together with the natural 'native' vibe. The bridal party all worked together the day before to hang lights, place furniture and set up the bars to create the reception area perfectly and only putting the finishing touches  on the morning of the wedding.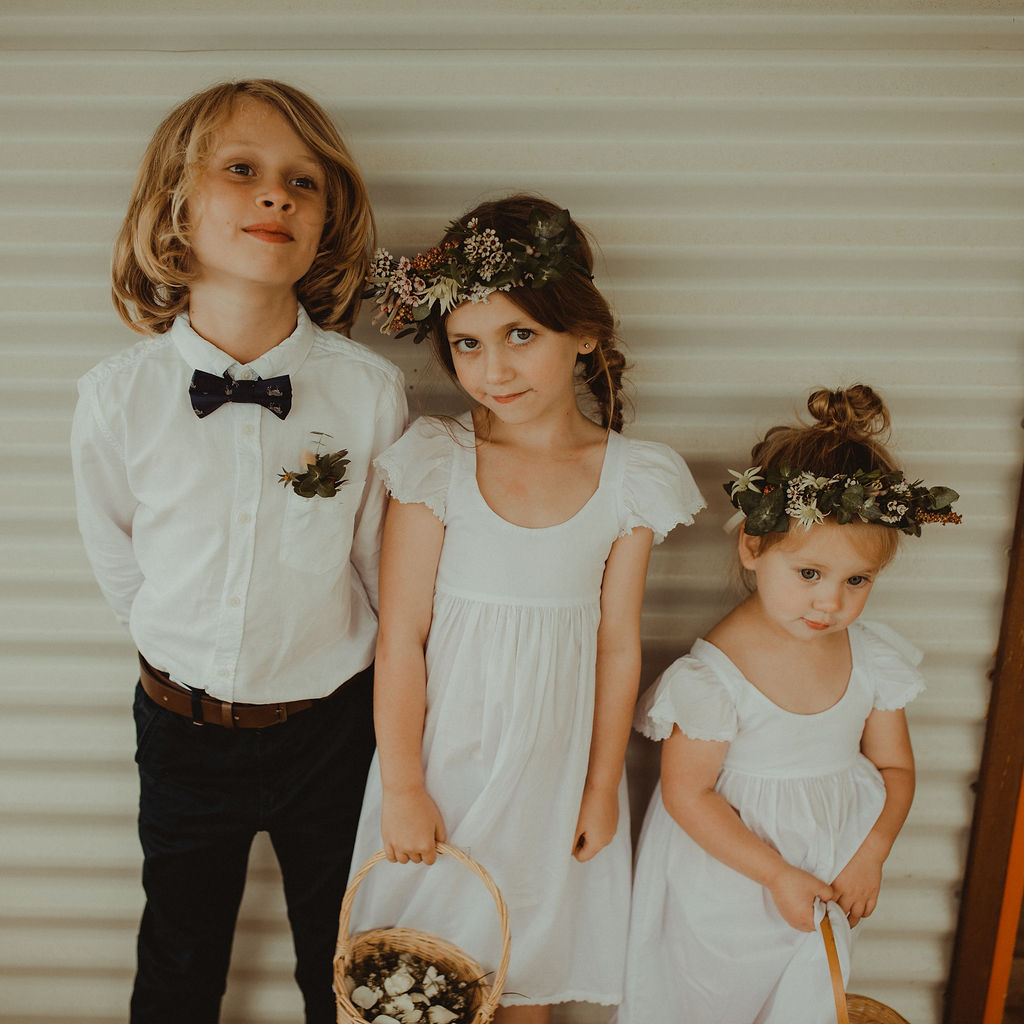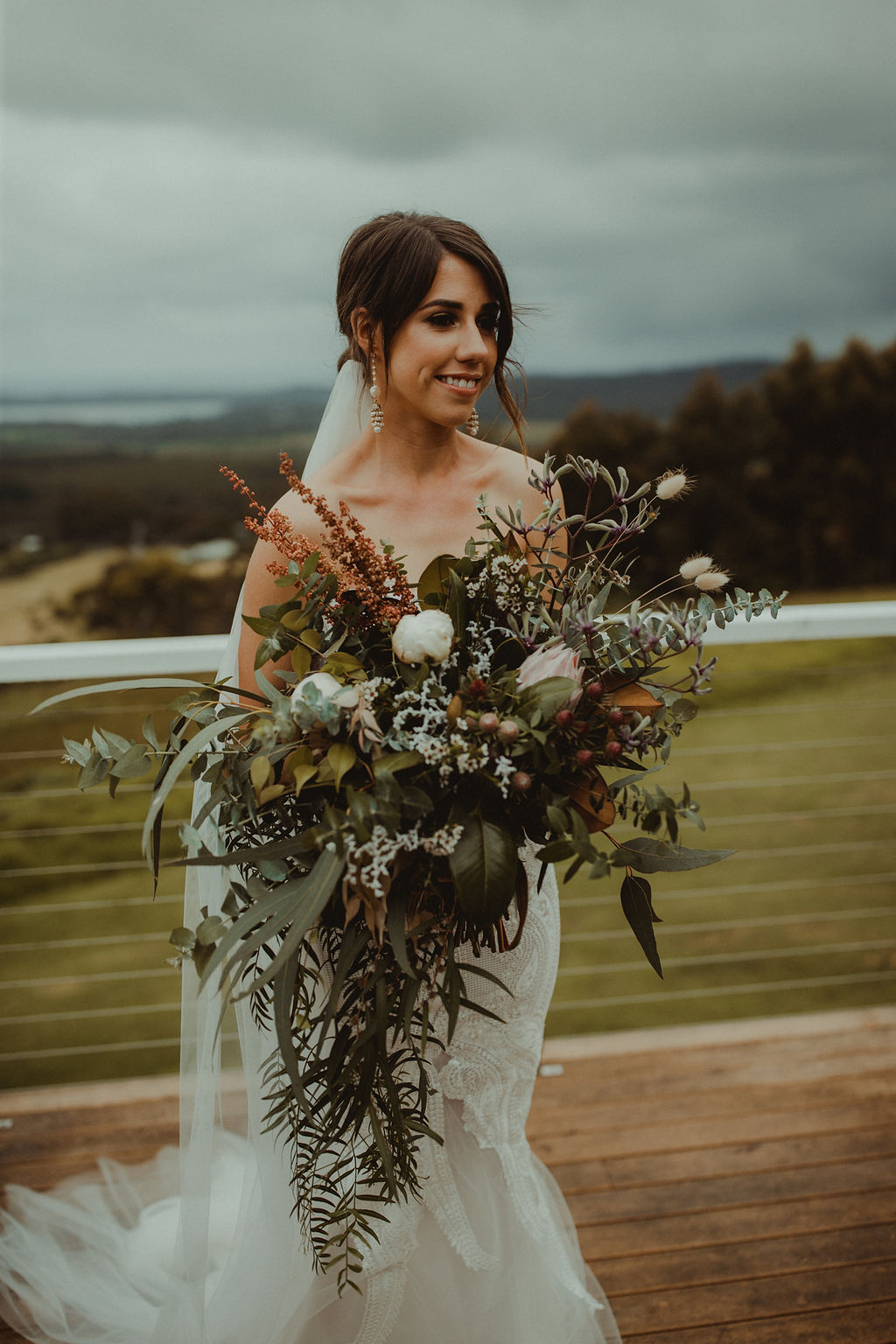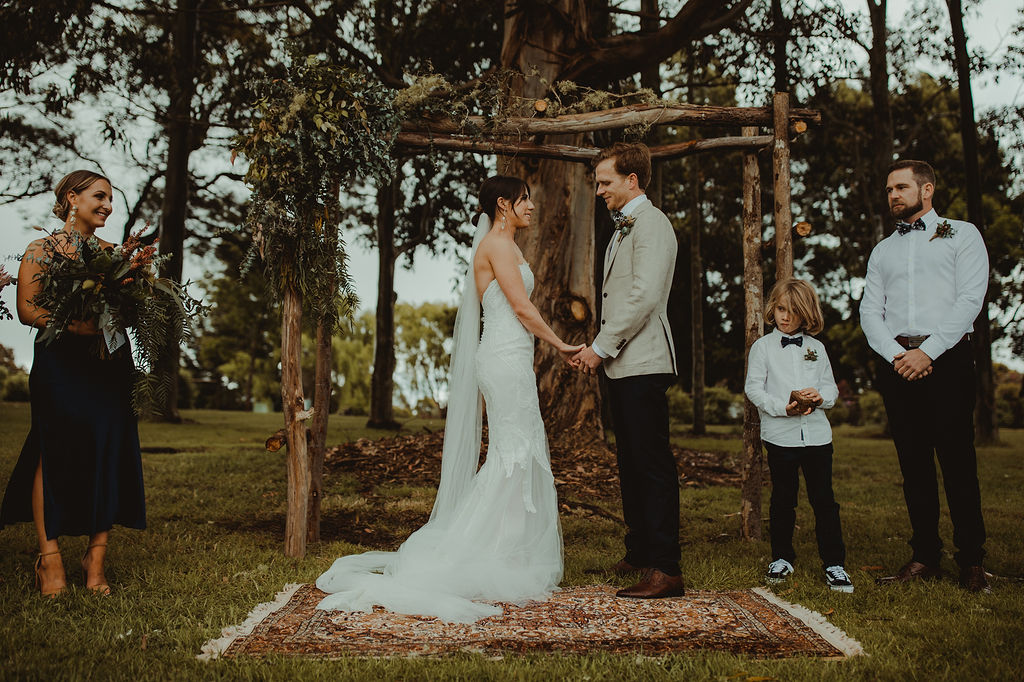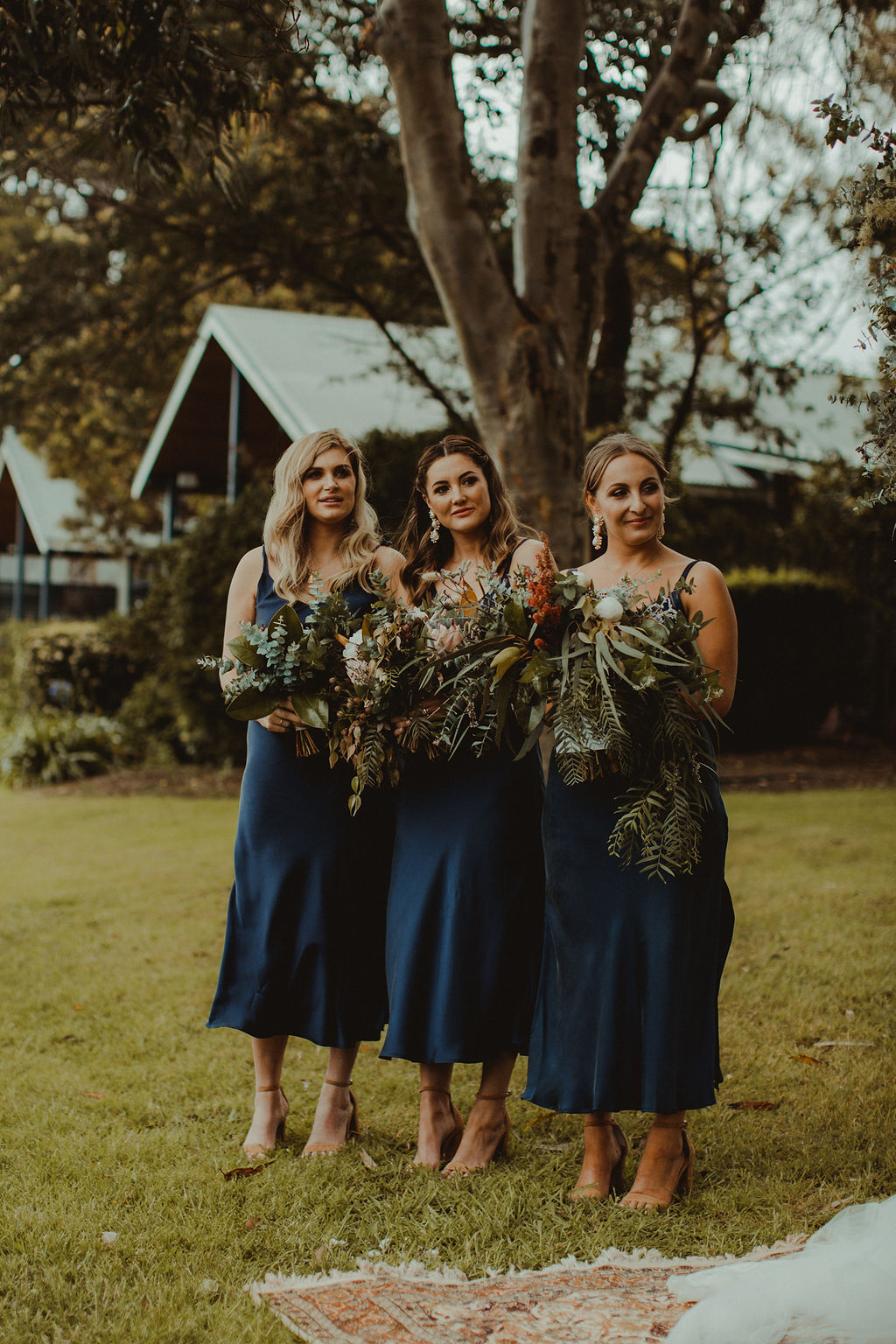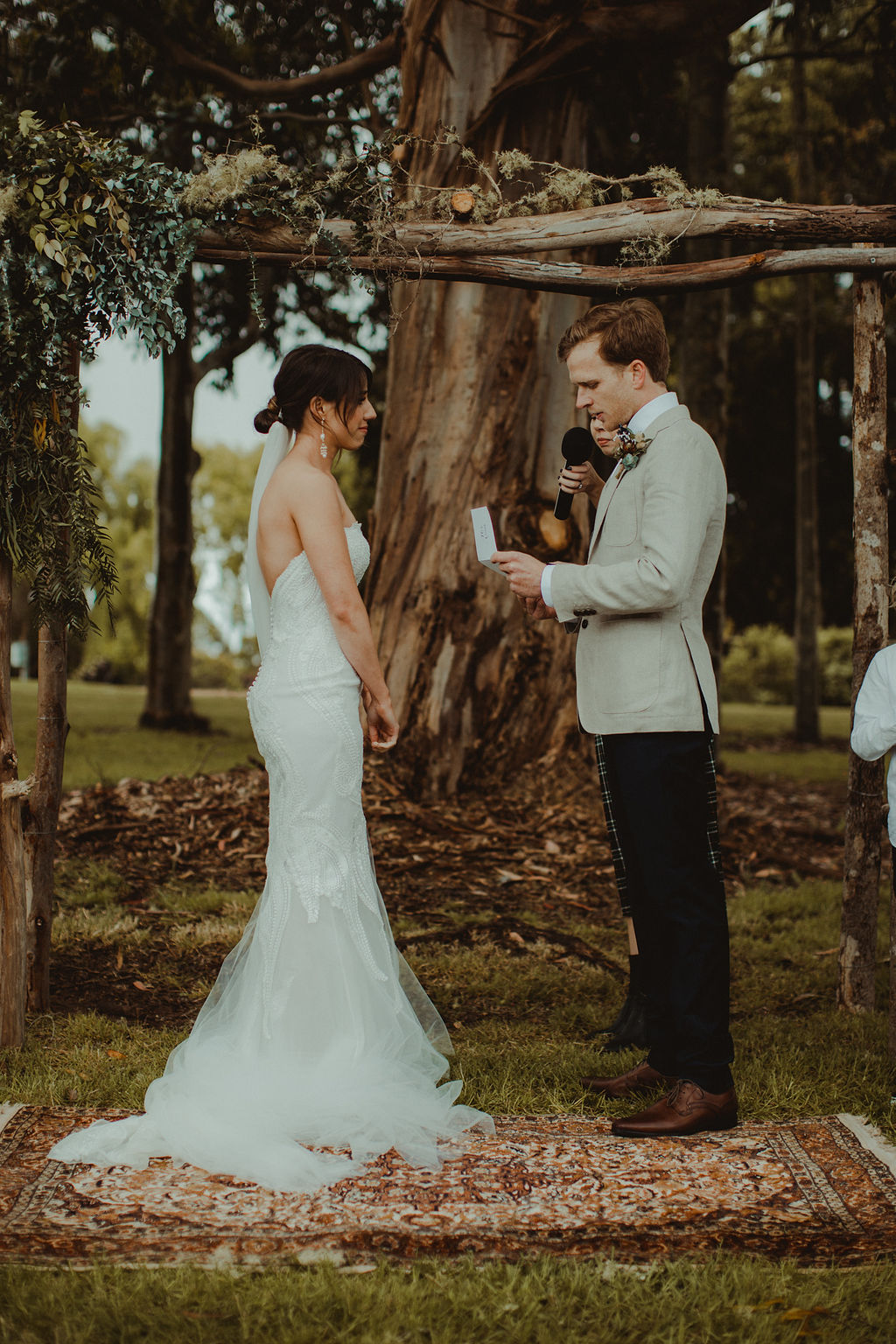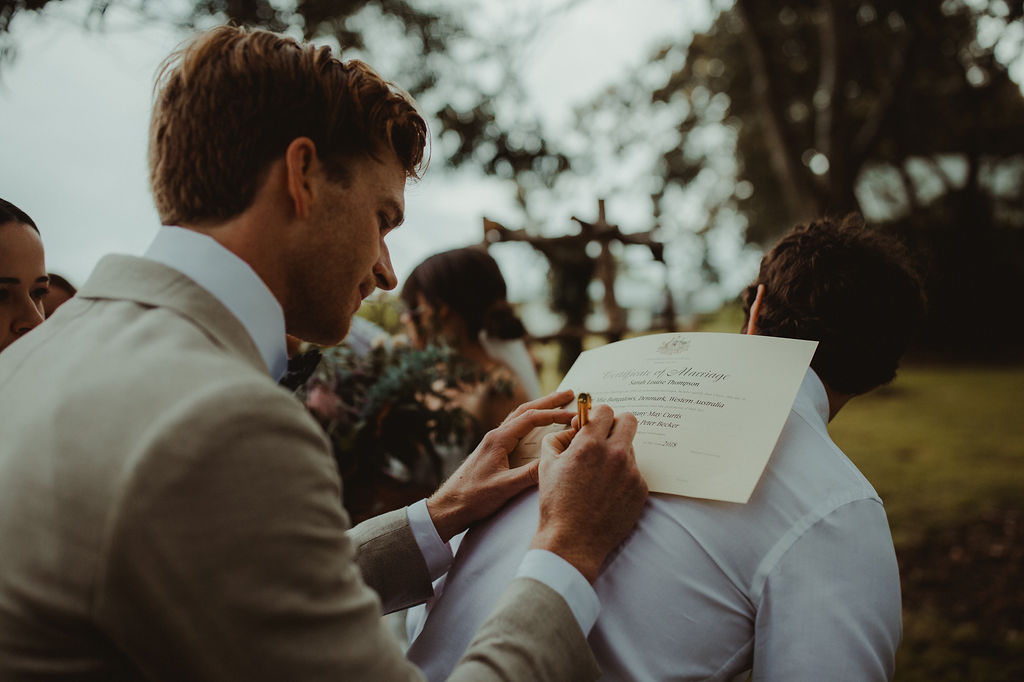 Tell us about your main outfits:
I designed my dress with Donna Tobin Couture in Perth. After only showing her a few photos on the first visit, she knew exactly what I was after and what design would suit me the best. Over the 8 month process of liasing with Donna and a handful of fittings, she created something I genuinely love and will hold close forever. I also wore my bridesmaids veil as my something borrowed, which was very special. Gordon wore a stone coloured jacket and a crisp white shirt from MJ Bale. To tie in the navy pants and bridesmaids navy dresses, we added a navy floral bow tie.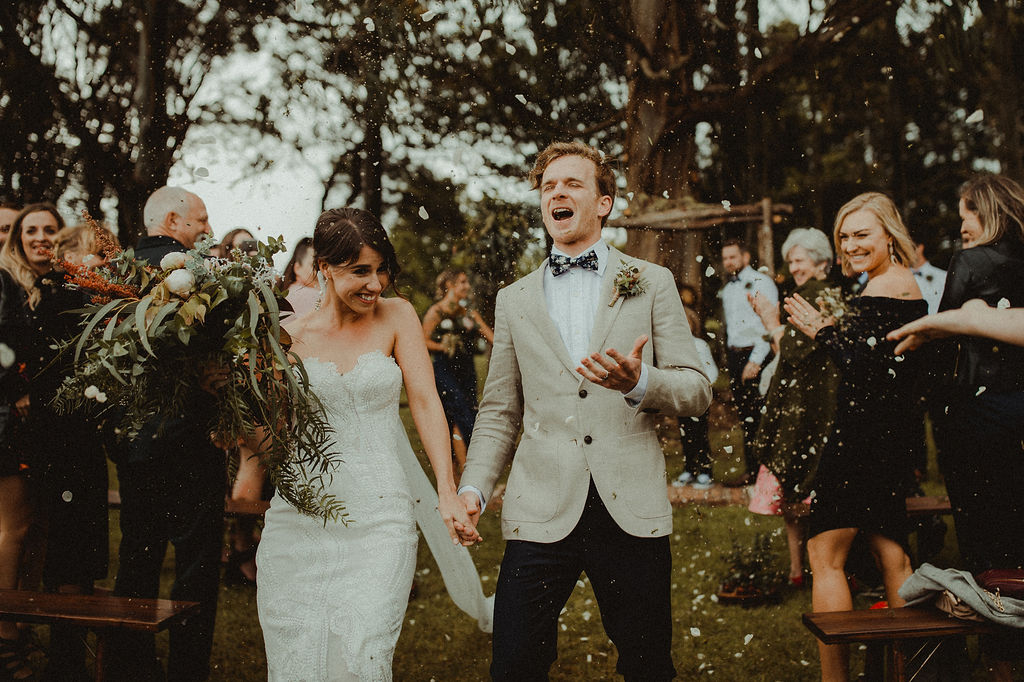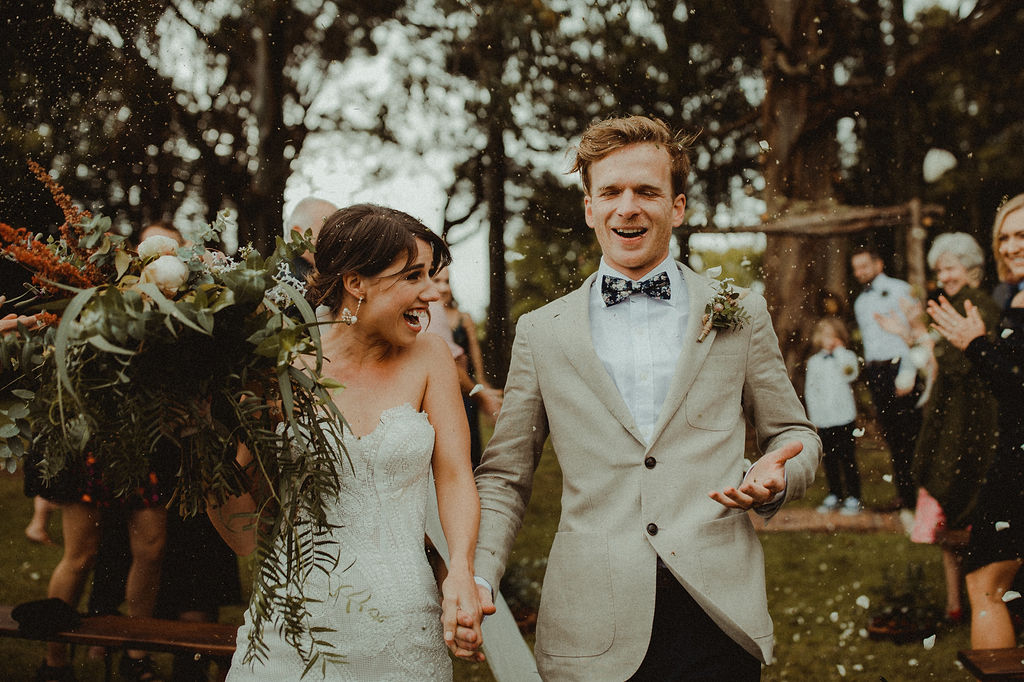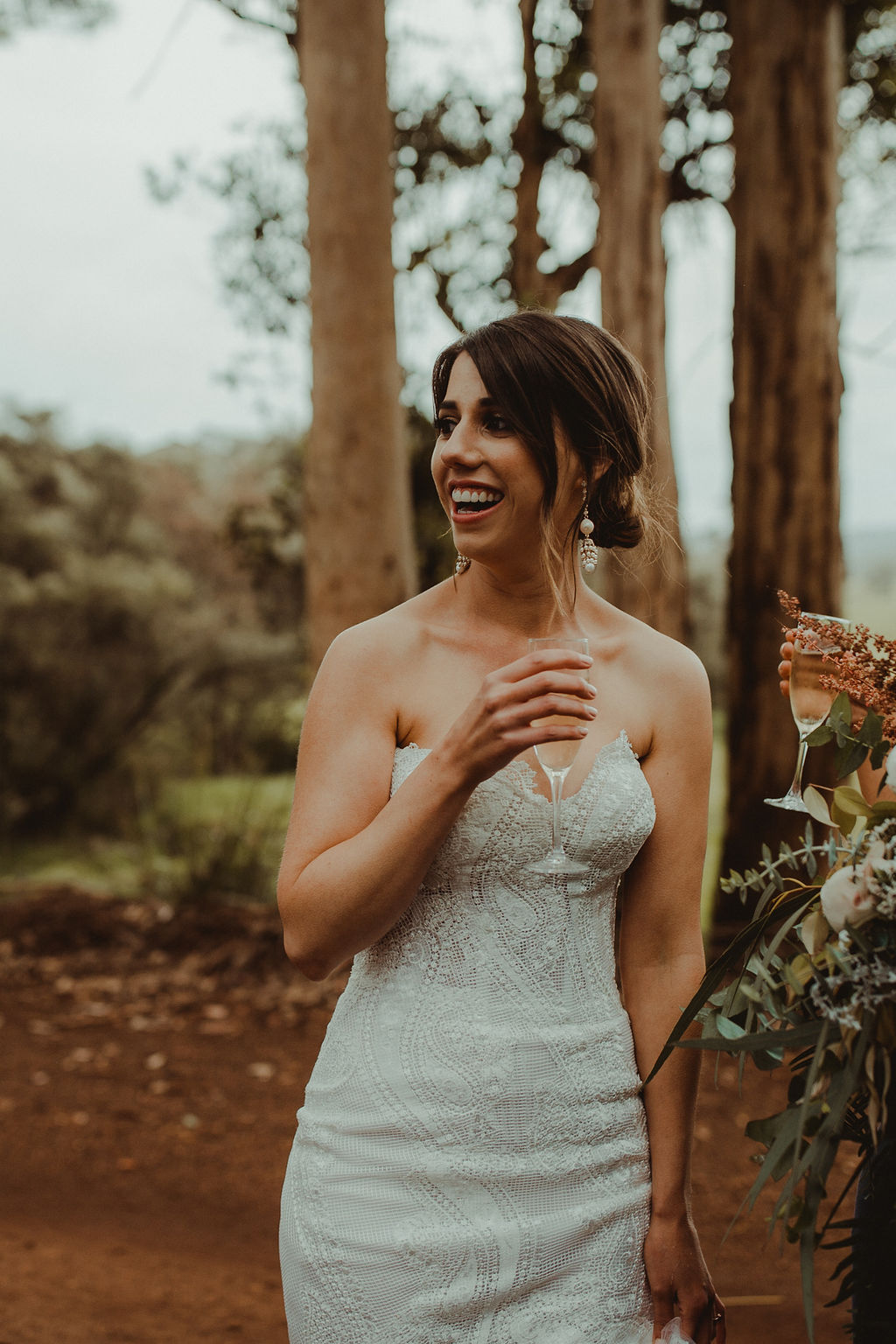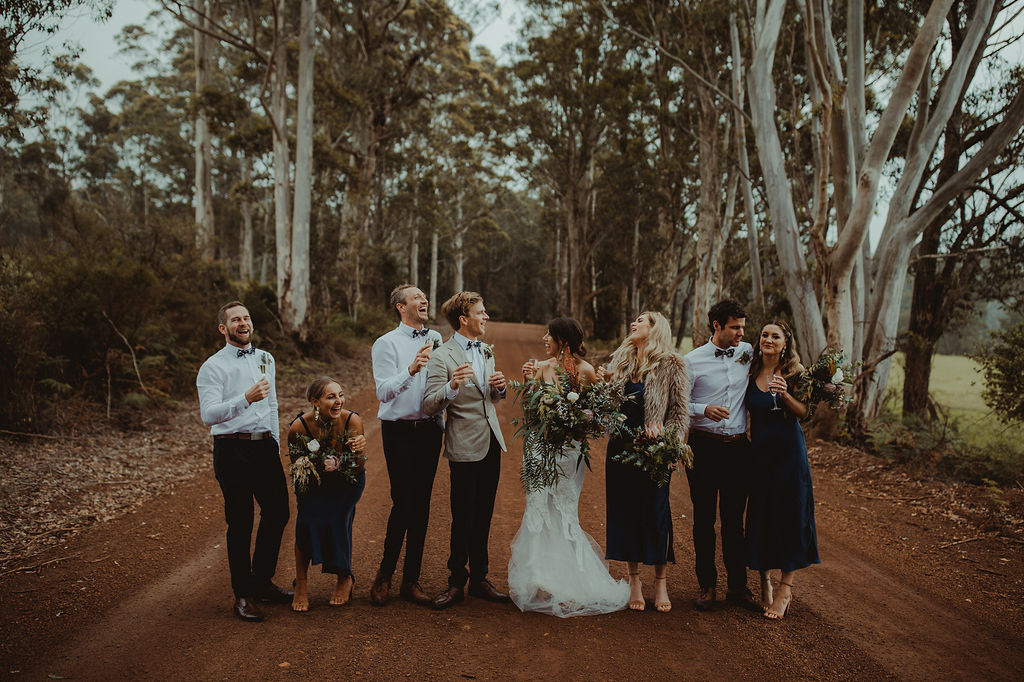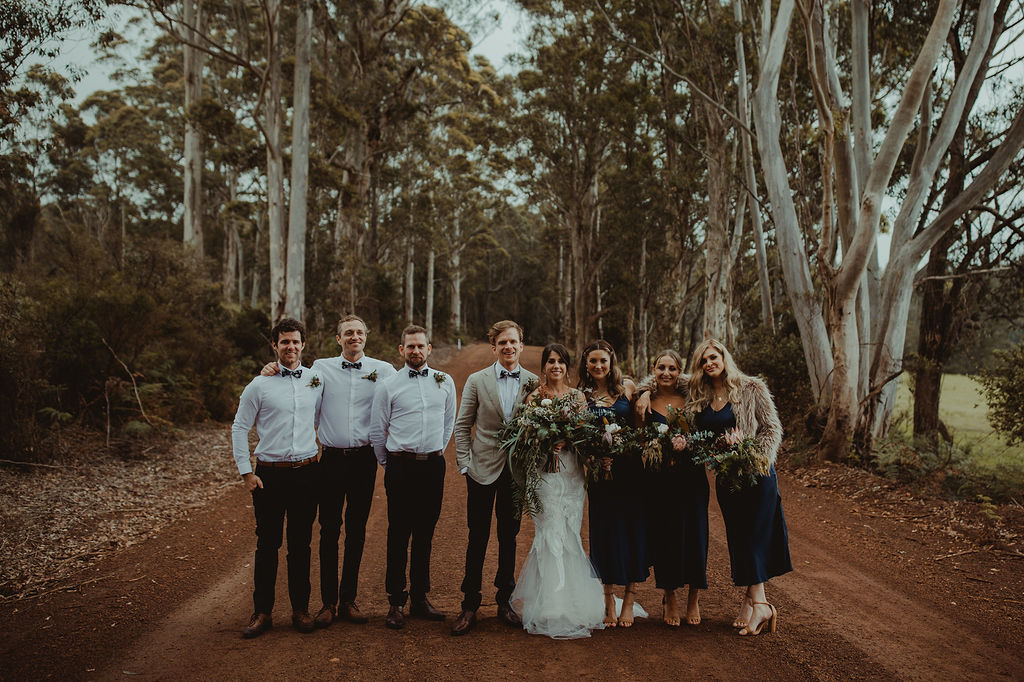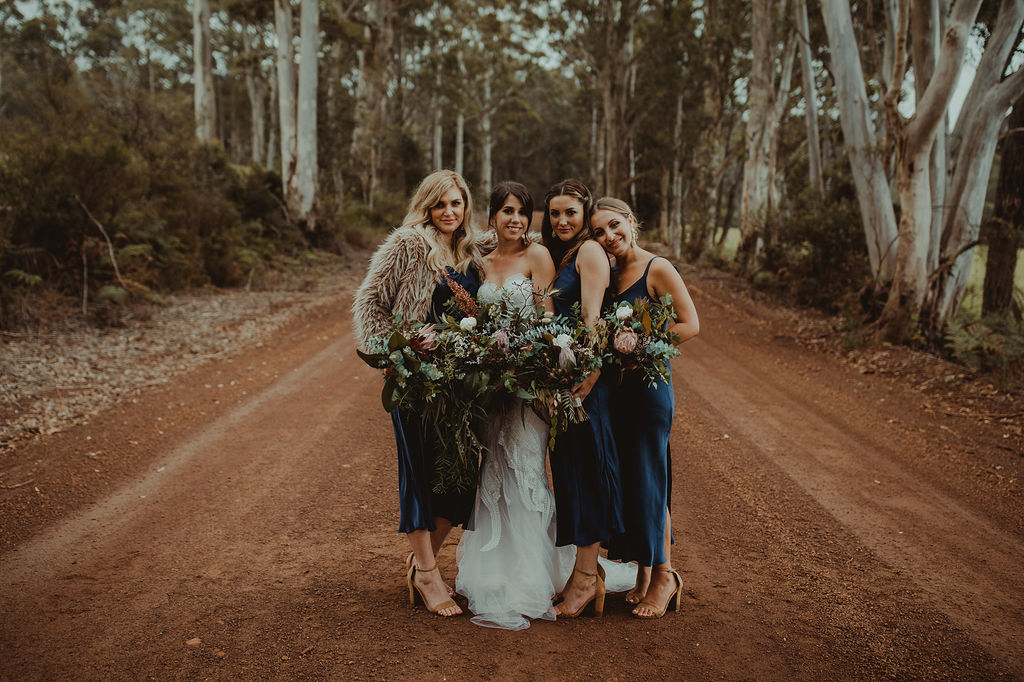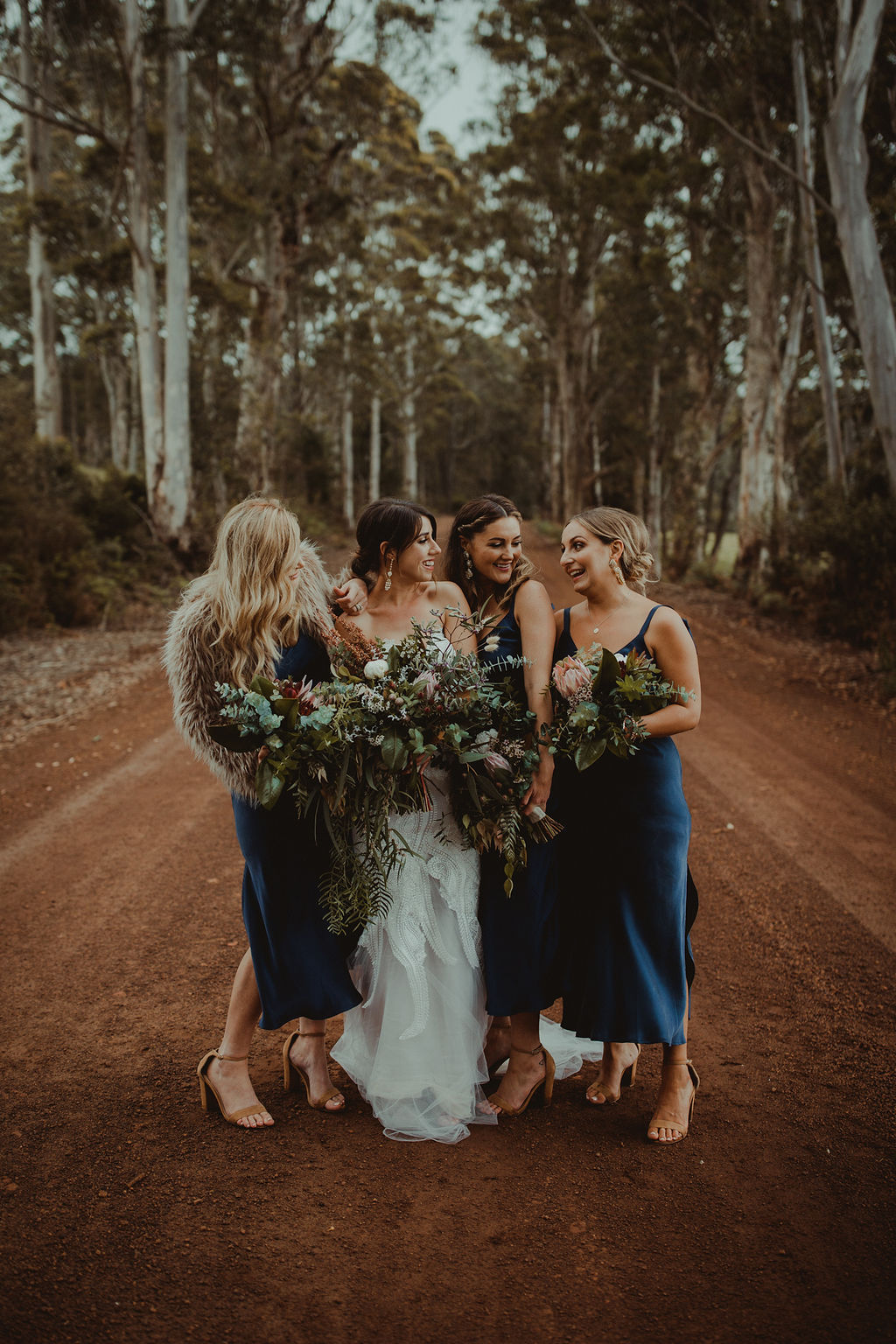 What were some of the most memorable/unique moments from the day?
We loved having our nieces and nephew involved in our ceremony, in particular our niece Lily who put together a special little surprise speech for us.  Our sister-in-law wrote a poem about us and read it during our ceremony. Having all our friends and family travel down to spend the weekend with us means a lot. Being able to have our good friend Paris capture our day so perfectly was amazing. Having Brittany's brother DJ and creating the playlist ourselves.  The boys were standing at the ceremony ready to go when a small rain shower postponed the proceedings for a few minutes, just enough time to have a quick bubbles before the girls could arrive. This little shower passed and the rest of the night was perfect, with the sun poking its head out just on sunset. To top off our chilled backyard wedding, we partied until the early hours of the morning.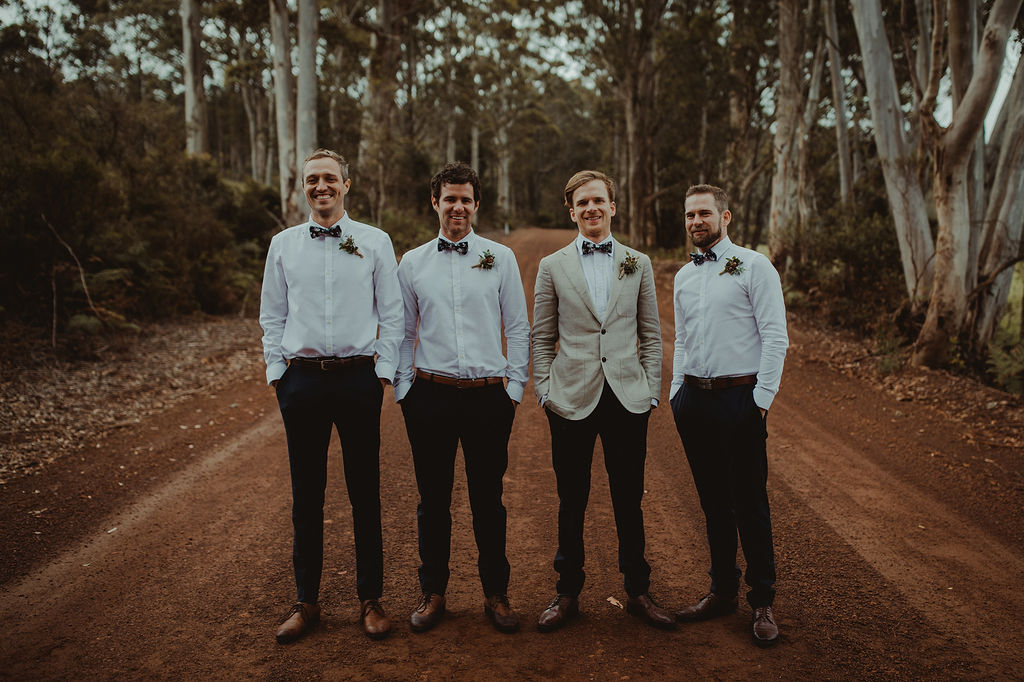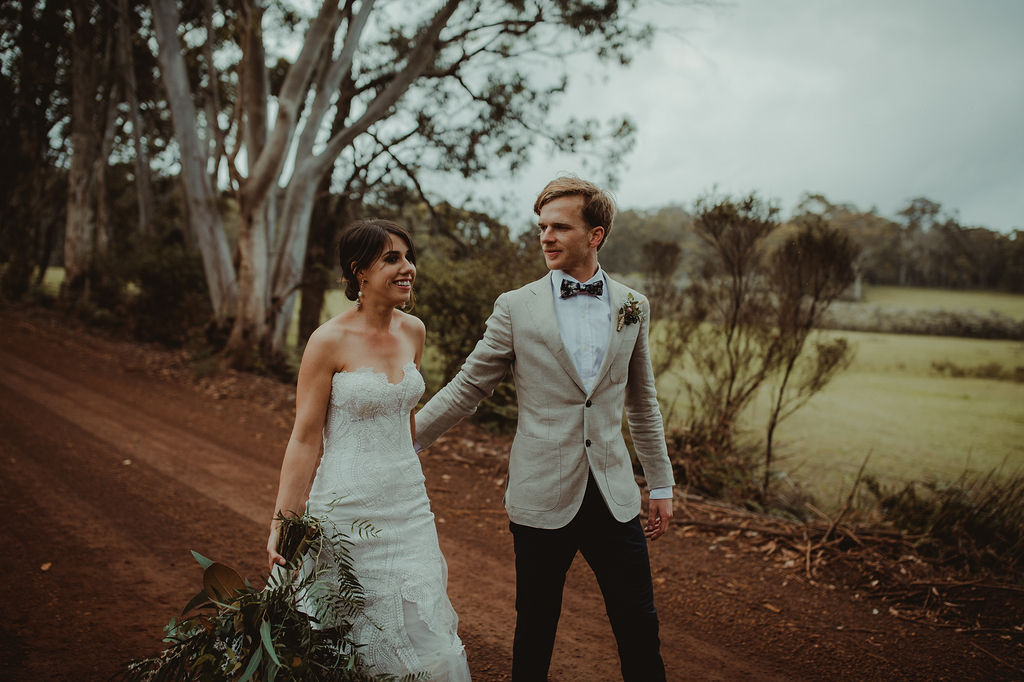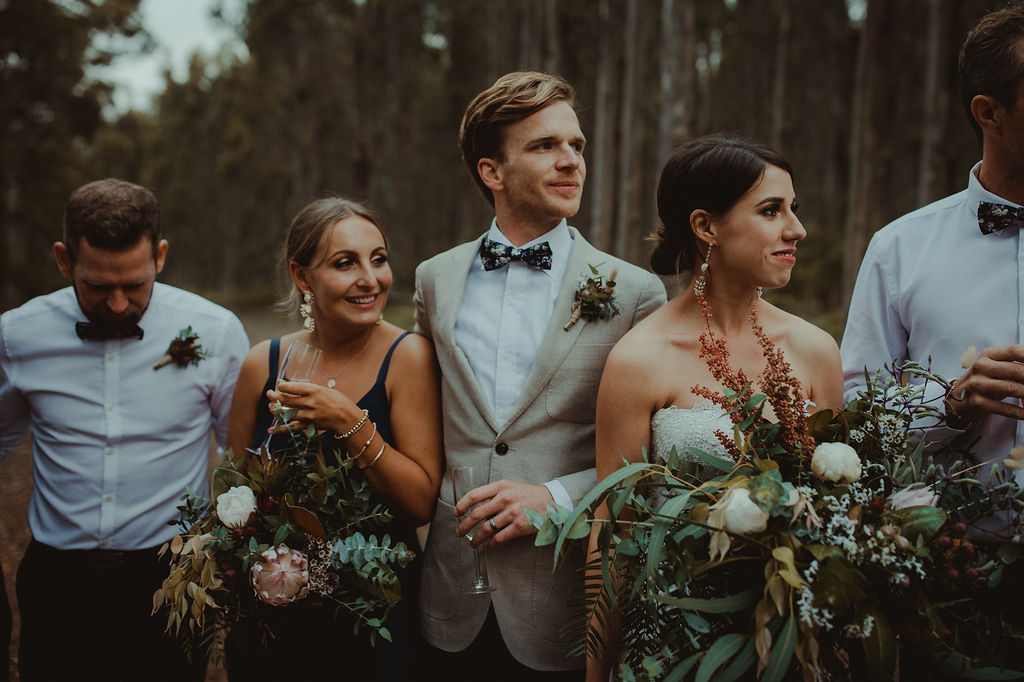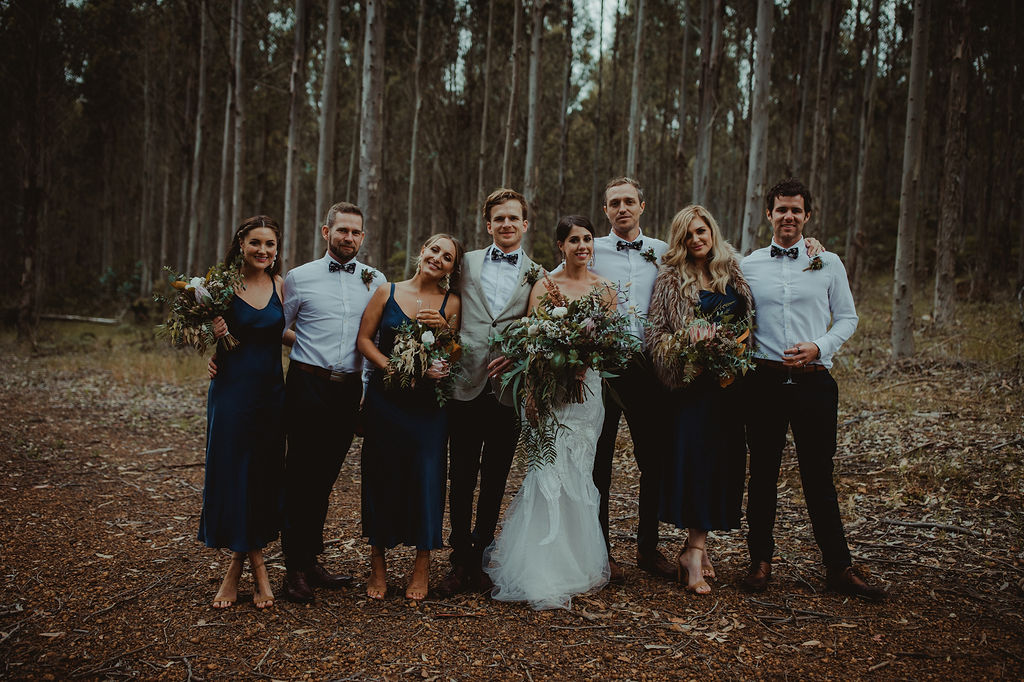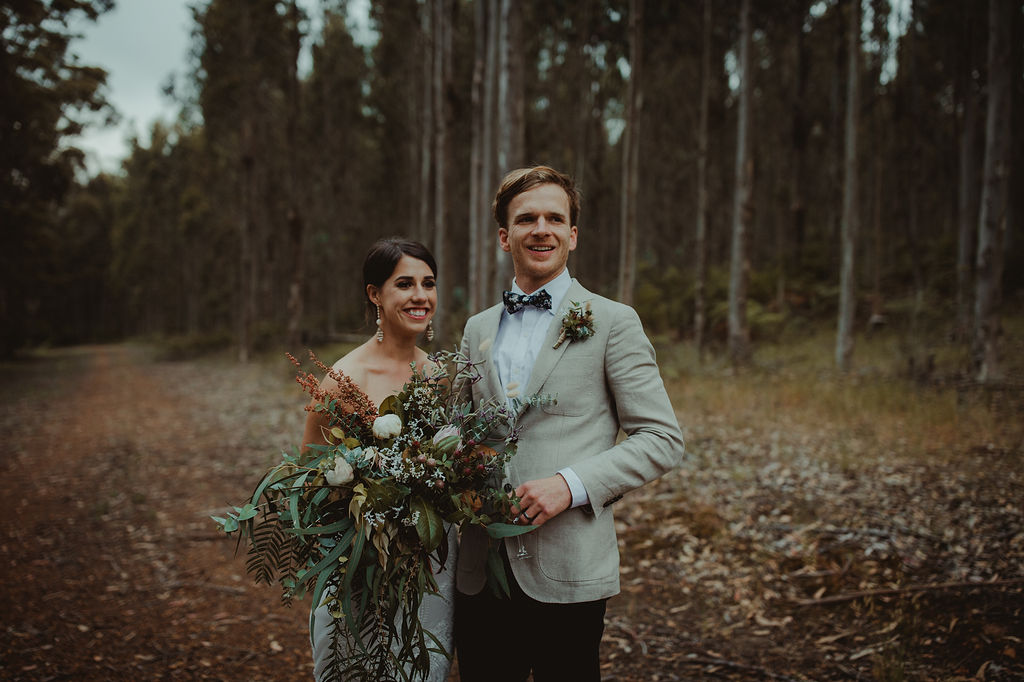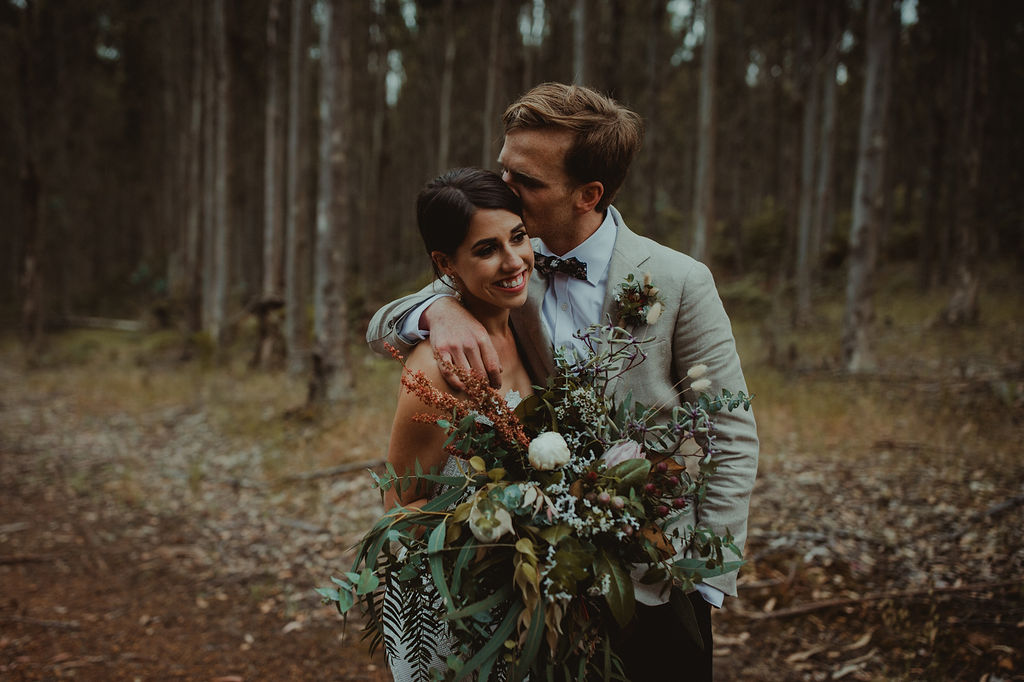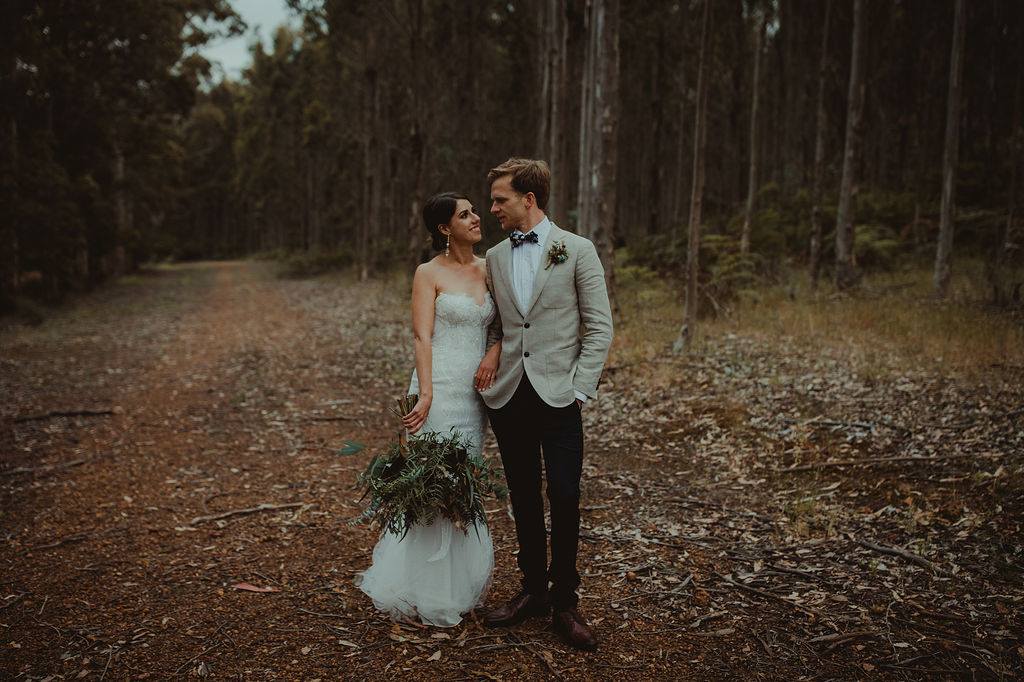 Any advice for other couples planning to spend the rest of their lives together?
If possible, find a venue with accommodation attached to the reception site. Karri Mia had bungalows that slept 70 ppl on the venue, so we could spend the weekend with our friends and family.
Remember to take a minute and soak up the wedding day with your partner, the whole day and night flies by very quickly.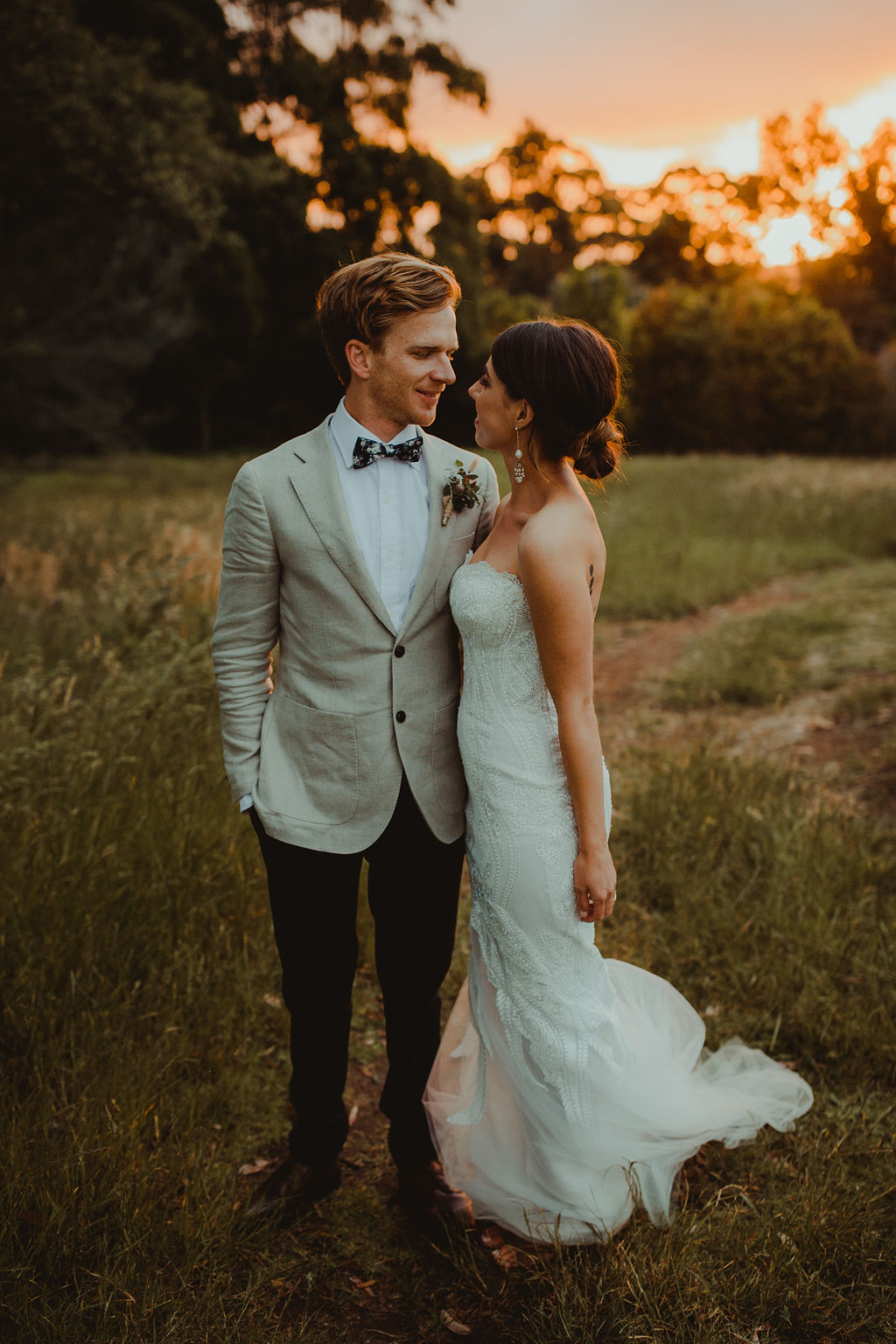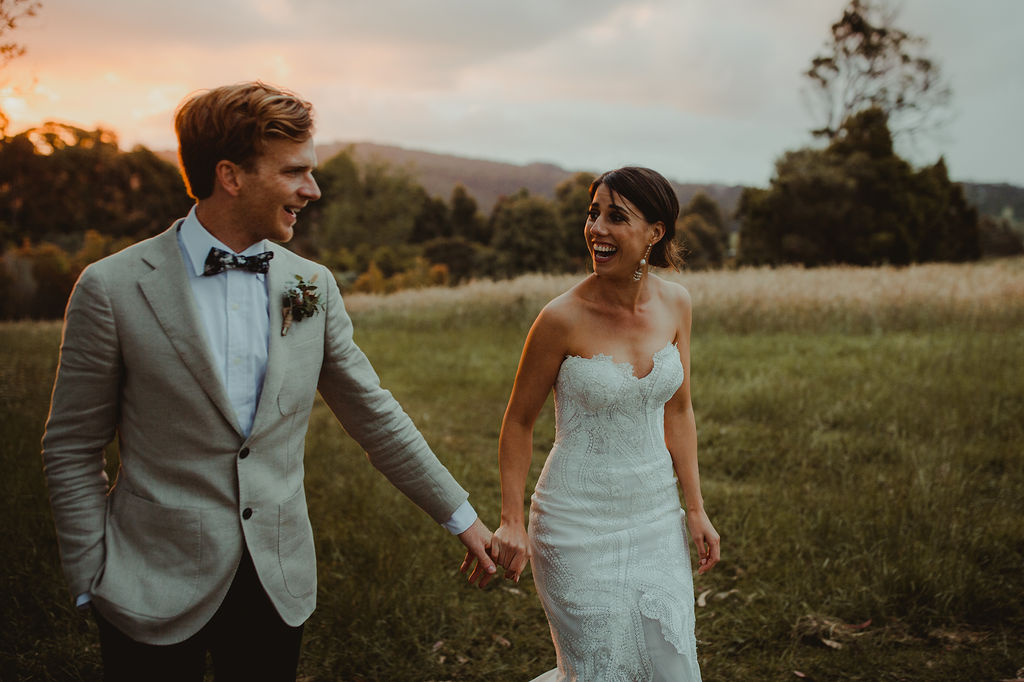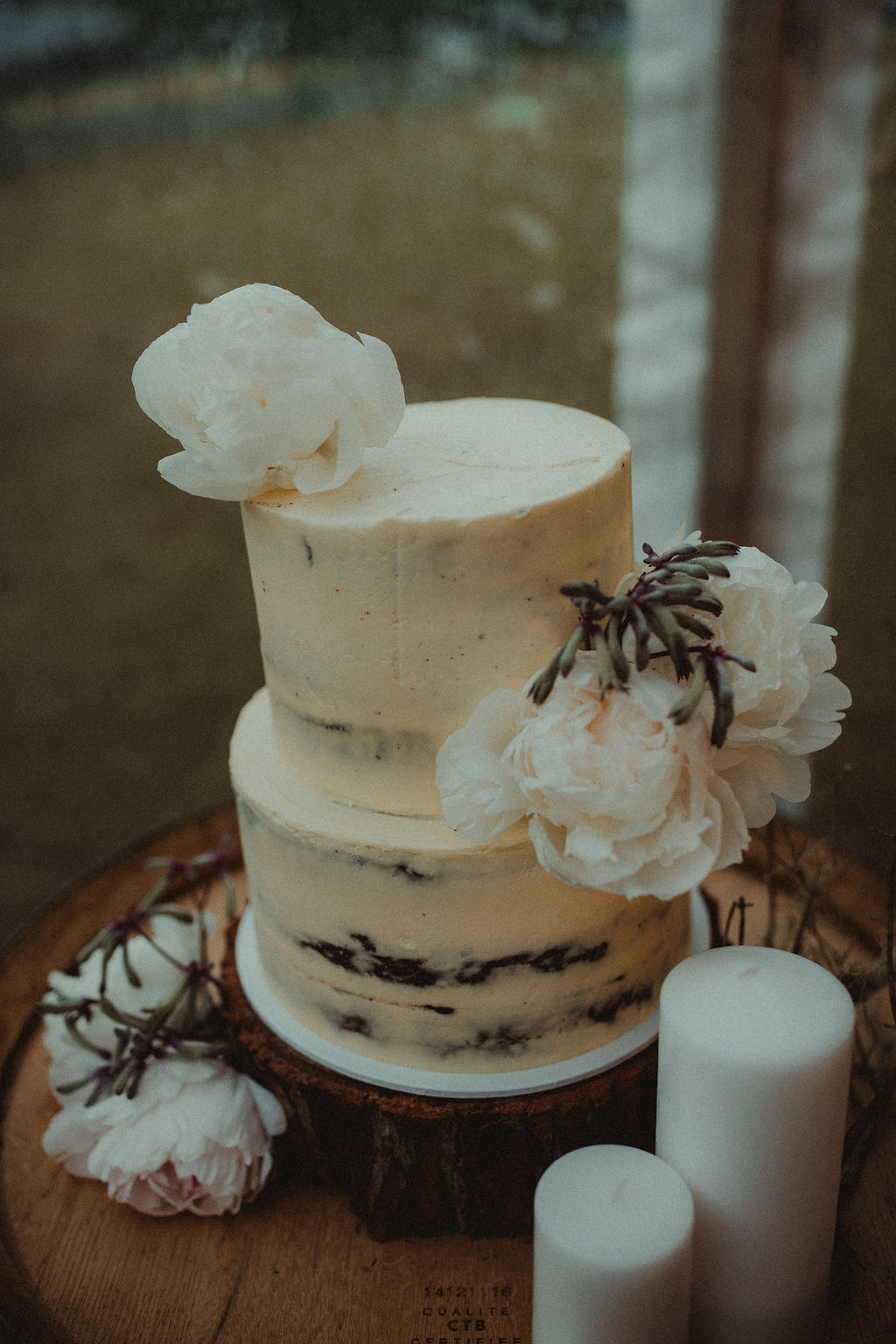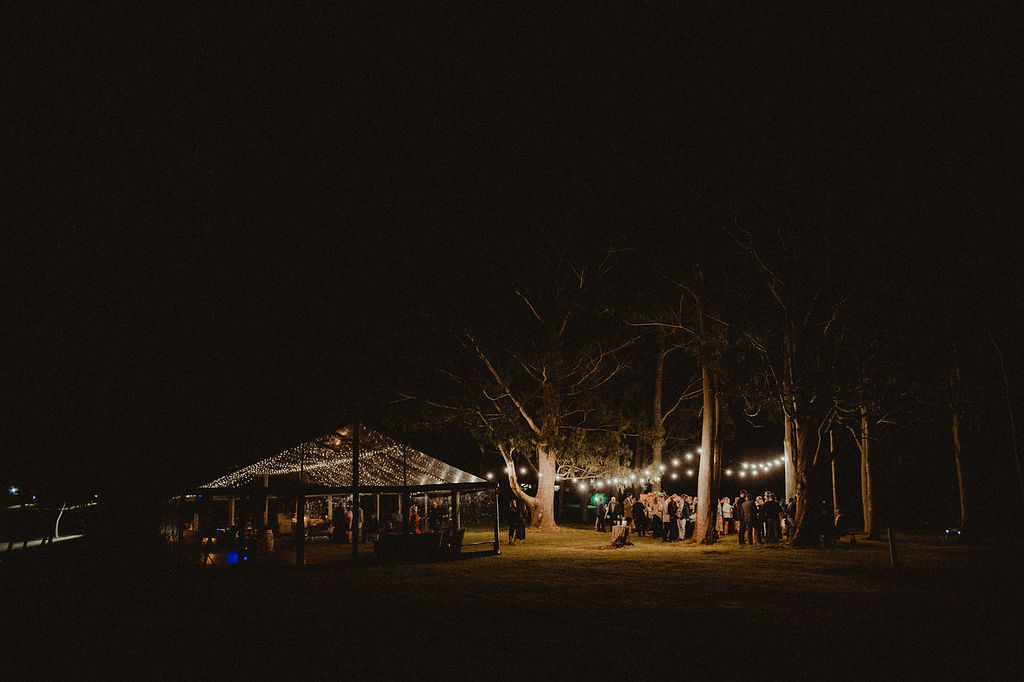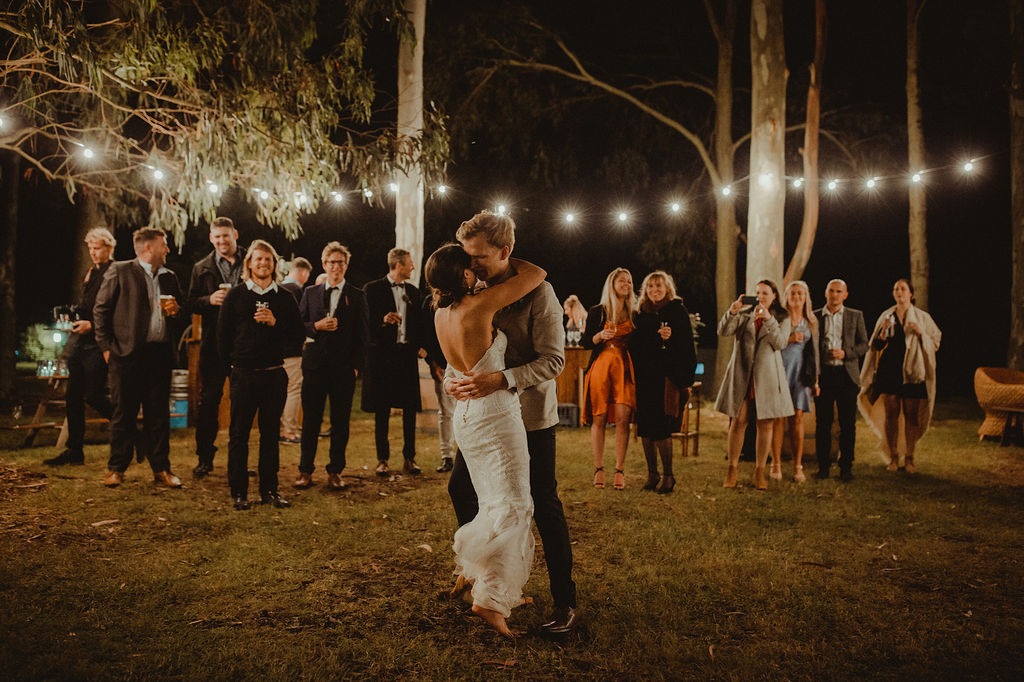 Photography: Paris Hawken Photography | Celebrant: Sarah Thompson | Bride's gown: Donna Tobun Couture | Groom's outfit: MJ Bale | Rings: Audry Rose and Michael Hill | Shoes: Tony Bianco and David Jones | Earrings: Samantha Wills | Makeup: Ruth Wilmer Makeup | Hair: Scarlet Hair | Bridesmaid's: Silk Laundry | Groomsmen: Zara | Entertainment: Valentine and DJ BrownBear | Styling and Flora: Clouds & Clay | Hire: Zest | Marquee: Carlisle Event Hire | Food/beverages/catering: Supper Road | Cake: The Sweet Piece