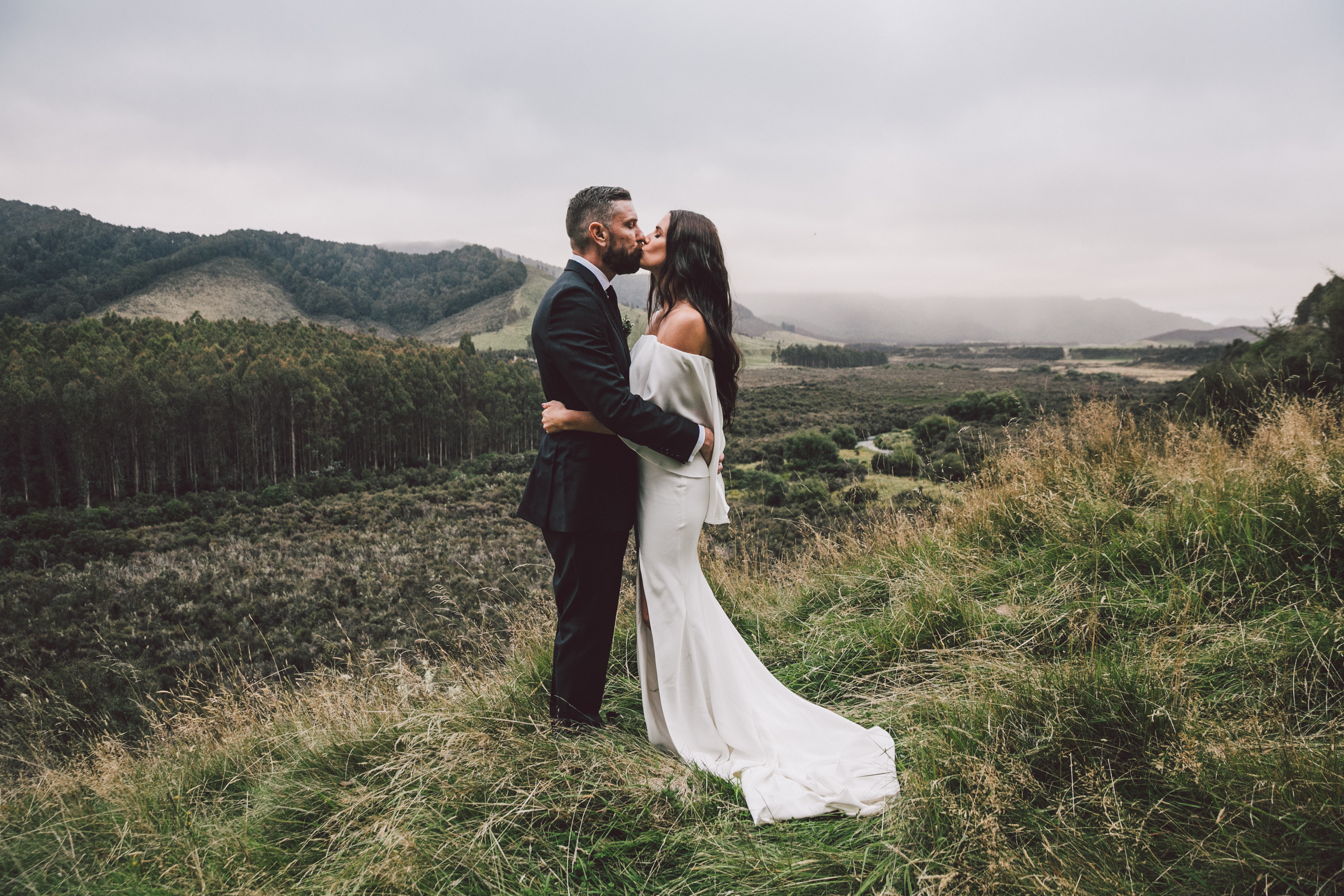 Tell us a little about yourselves, what you do, what you love, what is unique about you and your relationship…
Chris and I both come from creative backgrounds: I've worked in film for the last 15 years and Chris has worked in publishing, photography – and for the last five years, in one of his passions: Fly fishing. 
We met through a mutual friend one night, drunk too much and pretty quickly realised we were going to be in it together for the long haul. It always seemed like a cliché, but the old adage of 'when you know, you know' was pretty clear from the start. Before we met, both Chris and I had recently found ourselves wanting to more responsibly and sustainably source the food/meat we were eating – so, even whilst living in Auckland, had both learnt to hunt and with Chris being a pretty dedicated fly fisherman, and we get ourselves away from the city and into the bush as much as possible. It was a real connection to be able to do this as a couple and the first trip we took together, several years before our wedding, was taken in the Kaimanawa Ranges – which borders along an edge of Poronui. We both remember walking the 16km track back out from the ranges, the end portion of which you walk right through the Poronui land, and seeing Blake House (where our wedding eventually was held) in the distance and thinking it seemed like this majestic oasis in the middle of the wilderness. Back then, the thought of exchanging vows there would never have crossed our minds – but the area has always been special to us. As a couple, we both find comfort in being in the wilderness and living in a way that pays homage to it. We wanted our wedding to be a celebration of that. 
Tell us about your special day, was there a specific theme or style? Tell us a little about the setting, the styling and some of your favourite details…
We didn't have a theme as such, but we really wanted to give our friends and family a real sense of the area (as it is so special to us) and utilise the natural resources at hand as much as possible. In lieu of flowers, we used foliage sourced from the property, and inject as much 'wild food' into the menu as we could too, without freaking people out. With the marquee interior, we wanted to incorporate as much of the bush around us inside as was practical – I think our incredible team at XOX Floral hated me for it as it meant a lot of rigging in order to string up and hang greenery everywhere, but it brought the outdoors inside and they nailed it. I felt like we'd succeeded in creating our vibe when one of our friends said to us 'I never quite understood why you two are always disappearing off into the bush, but being here now – I feel like I finally get it'. It's exactly what we wanted – our loved ones to get a sense of US. It was also a total bonus that we had no phone reception on site, so we had a captive audience! As we were asking our guests to travel so far to attend the wedding, we really wanted it to be a treat for them – Great food, music, lots of laughs and a memorable, dramatic landscape. We hope we delivered all of that. 
Tell us about your main outfits..
I used to consider myself super low maintenance as far as fashion goes and thought finding a dress would be a total breeze. I tried so many dresses on, at so many stores – and just never felt like myself in them. It was like looking at someone pretending to be a bride when I stepped out of the changing room and looked in the mirror. I kept waiting for that 'feeling' everyone talks about – but just felt uncomfortable instead. Then, when in Wellington on a trip, we made a last minute appointment at Paperswan Bride. They happened to have a couple of sample dresses from Mariana Hardwick on hand and as soon as I tried the Lola on, I was like 'Ahhh… THIS is that feeling of knowing you're going to be married in this dress'. It was super comfy to wear, as were the Kathryn Wilson heels I wore. Chris had previously worn a Crane Brothers suit as best man at a friend's wedding and loved their stuff, so it was a no brainer. Our three groomsmen also had Crane Brothers suits made, however on the morning of the wedding – Chris and one of our best men realised they'd had a little 'miscommunication' and forgotten to bring one of the suits down with them. It was hilarious. Being pretty isolated, five hours from Auckland – there was no getting a replacement, so the amazing staff at Poronui managed to source a stand-in from one of the staff who lived on site, who evidently must be about a foot taller than our best man, as it was a little 'ill fitting' (as you'll notice in the photos). It was a source of lols the entire day as he was kind of swimming in those pants. Both of my amazing Bridesmaids had recently had their first babies and I know that can be a time where your body can be a little different and create a set of 'practical' requirements (hello breastfeeding), so all that mattered to me was that they both felt beautiful, confident and comfortable in what they wore – so I let them find something, anything they felt special in, with the only proviso being 'black'. Jilly chose a stunning Miss Crabb number, and Amy, who is a very clever seamstress herself, opted to make her own.   
What were some of the most memorable/unique moments from the day?
It's hard to pick one. But a few that come to mind – Having our entire family stay on site together at Poronui for the weekend was pretty great, it's not often that both sides of a family get to share that. Chris and his groomsmen being picked up by a helicopter to fly in to a remote spot to fly fish on the morning of the wedding. Seeing my grandparents dance together, after 64 years of marriage – and given that my grandmother has since passed on in the months since, it felt like a very special moment. My grandfather then dancing so hard that he fell over and was caught by another guest before hitting the floor.  Chris and I taking off with the photographer after the ceremony and getting to have 45 minutes all to ourselves to take it all in and go 'Umm, we're married…how did this happen?'. My father's speech. One of our best men forgetting his suit, somehow, was a high point as we got to laugh at his giant replacement pants all day. Crashing into a deer that ran across the road in front of us after the reception was also kind of dramatic. I spent thirty minutes at 2am canvasing the bush in bare feet and my wedding dress, making sure that there wasn't an injured animal anywhere on site (there wasn't).   
Any advice for other couples planning to spend the rest of their lives together?
Don't let the stress get to you (or hire a planner/stylist). I had a couple of moments in the weeks leading up to the wedding where I felt really overwhelmed by it all and had to remind myself 'The only thing that really matters is that Chris and I get married – everything else is a bonus' – I used this as a bit if a mantra whenever I felt strung out. Also, let go and have fun – the day is over in a flash and there's no use wasting any of it on anything other than joy. 
Photographer: Sarah McEvoy | Ceremony & Reception location: Blake House at Poronui Lodge, Taharua | Celebrant: Peter Hockly | Flora: XOX Floral, Taupo | Hire: Arkade (plates & bowls); Maree & Co (glassware & napkins); The Vitrine (vintage rugs); Mustard Folk (vintage caravan, tables, bar) | Marquee: Flagship Events | Catering & Cake: YUM Food Co | Bride's dress: Lola dress by Mariana Hardwick from Paperswan Bride | Groom & Groomsmen's attire: Crane Brothers | Rings: Meadowlark | Bride's shoes: Kathryn Wilson | Groom's shoes: Florsheim | Hair & Makeup: Sarah O'Gorman | Bridesmaids dress: Miss Crabb
Love the content?
Sign up for more here