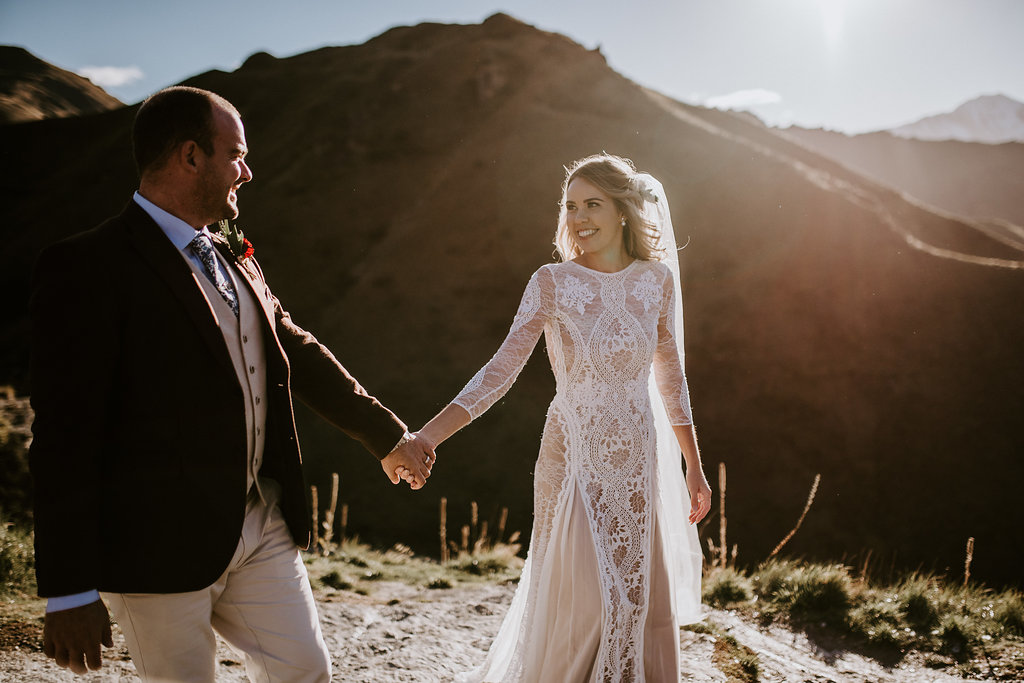 Tell us a little about yourselves, what you do, what you love, what is unique about you and your relationship…
Cameron is a General Sales Manager in the car industry and I manage a family owned and run Café. We met in January of 2014 at my work not long after I moved to Queensland from South Australia. After a few heartfelt lines came a romantic gesture of flowers and a dinner invitation.
We spent the rest of the summer tripping up and down the coast line surfing, getting tan lines and trying new restaurants. We both have a great love of food, spending weekends away in our caravan and absolutely adore animals. Cameron has a beautiful kind nature and a heart of gold, A true gentleman, living and breathing proof chivalry is not just a thing of the past. After a few blissful months Cameron surprised me with a trip to Queenstown NZ for my Birthday. I instantly fell in love with this magical place, there is really no other place like it. Fast forward three years we had bought our first home and adopted two crazy pugs to our tribe. After three years of dating we found ourselves in an island paradise while holidaying overseas with crystal clear beaches and beautiful white sands. Cameron wasted no time proposing on the first night of the trip at dinner writing in the sand 'will you marry me?' Little did I know he preorganised a private bungalow decorated with native flowers and candles.
Tell us about your special day, was there a specific theme or style? Tell us a little about the setting, the styling and some of your favourite details…
We got Hitched at Thurlby Domain a stretch of property just 8kms from Queenstown. When researching for the location for our day Thurlby Domain caught our eye. We instantly fell in love with the pictures online, with Jewel on Speargrass a delightful Cottage right next door for us girls to stay and Akaraua Kitchen and Wines a short distance for our reception, it was an easy choice. Our Plans for a winter wedding quickly changed after seeing the photos of the location in full swing in autumn, although we were blessed with a cold snap a few days before the wedding that snow-capped the mountains setting us up with some unreal backdrops. We found our photographer Carla Mitchell through Instagram, after a couple of phone calls we discovered she had a great local knowledge and experience in the area we were certain she was the right choice. Carla teamed up with Photographer Andy Brown to second shoot our day and boy oh boy did they work well together, both with incredible talent and a creative edge. They just had an energy that made us feel super relaxed and comfortable throughout the day.
The ruins at Thurlby Domain were the perfect backdrop for our ceremony, with fruit trees by the plenty, the failing leaves and running streams which made the whole day feel like a dream. The Flower Room designed an amazing array of flowers expanding from the wedding arch to the table setting at Akaraua. Perfectly styled with candles that complemented our vintage autumn theme.
Tell us about your main outfits: 
I found my dress the 'Inca' from Grace Loves Lace, as soon as I laid eyes on this glorious gown I knew it was the one. I made a pretty gutsy decision to order the dress online and it arrived swiftly within a few days, packaged beautifully with personal touches. After trying the dress on it was clear a few alterations were in order, luckily my good friend Julianne is a ridiculously talented seamstress, she also designed and handmade my veil. A non-negotiable feature of my wedding dress was it had to be comfortable, the Inca was unbelievably light weight made up of layers of French lace, Japanese cotton lace, hand cut motifs and sheer. I wore my Nana non's Brooch for my something old which Claire from Beautiful Bridal Hair styled perfectly into my hair. Philippa from Eve Make Artistry completed our make up with the perfect look for each of us.
Cameron pieced together his suit from an arrangement of tailored stores with the help of his brother. He had a vintage style look to go with our theme. Cameron and his best man (brother) also wore tie clips passed down from their pop. Jacket and vest from Brawlers to Barristers, shirt from Joe Black, pants from industry and shoes from Rod and Gunn.
What were some of the most memorable/unique moments from the day?
My fondest moments of the day were waking up to the most loving and supportive people in my life. Grabbing a breath of fresh air on an early morning walk through the fairy-tale acreage with my sister then having breakfast made for us all by my wonderful mother. Arriving at the Ceremony to be greeted by my dad and a few words of love and support then continuing on down the aisle for my step dad to accompany me the rest of the way before being given away to my soon to be husband.
Cameron's most memorable moment was the whole twenty-four hours. He felt like the whole day was a dream, He woke up to a view of perfect blue sky filled with sunshine, fresh snow on the peaks and chirping birds. Cameron was overwhelmed seeing his bride soon to be wife coming down the aisle. Enjoying every moment in this beautiful place with our beautiful family, beautiful food and drinks and heartfelt speeches.
Any advice for other couples planning to spend the rest of their lives together?
Our advice for other couples getting married is try what we did.  Grab your nearest and dearest and travel to a place out of your normality.
Photographer: Carla Mitchell | Second Photographer: Andy Brown | Ceremony location: Thurlby domain | Reception location & Catering: Akarua Wines & Kitchen by Artisan | Celebrant: Rev. Ian Guy | Styling & Flora: The Flower Room | Cake: Cup and Cake | Bride's dress: Grace Loves Lace | Makeup: Eve Makeup Artistry | Hair: Beautiful Bridal Hair