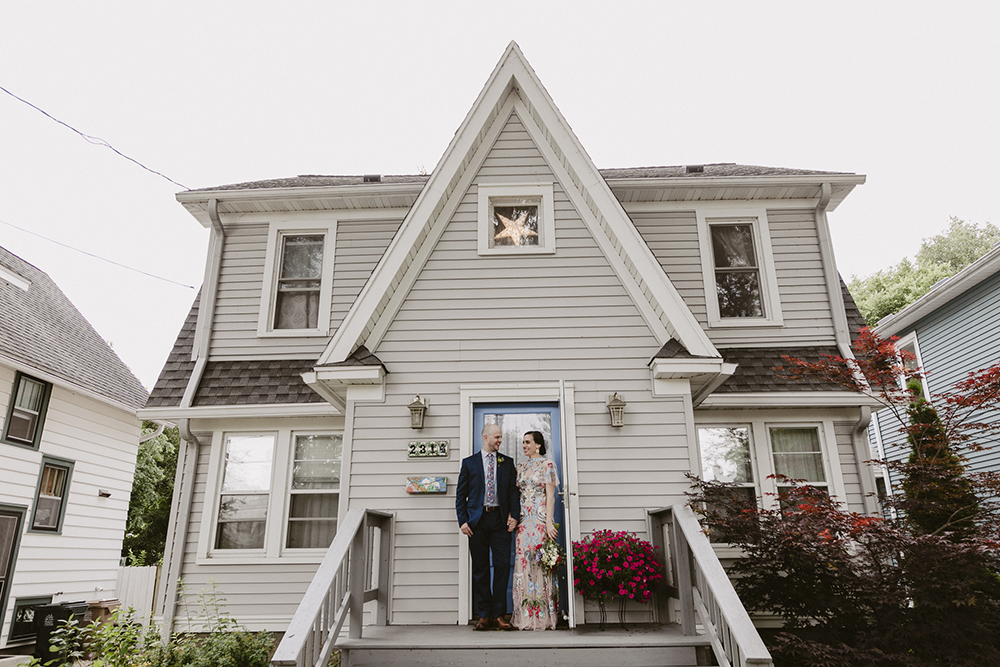 Tell us a little about yourselves, what you do, what you love, what is unique about you and your relationship…
Joel works as an IT Manager at the Trek Bicycle world headquarters in Wisconsin. Prior to that, he worked in Trek's Australia office and also for a few years as a teacher. While biking has been a lifelong skill and passion, IT was something he had to learn quickly on the fly after taking a career opportunity to be back in the U.S. with me shortly after we met during his time at a job training he had here.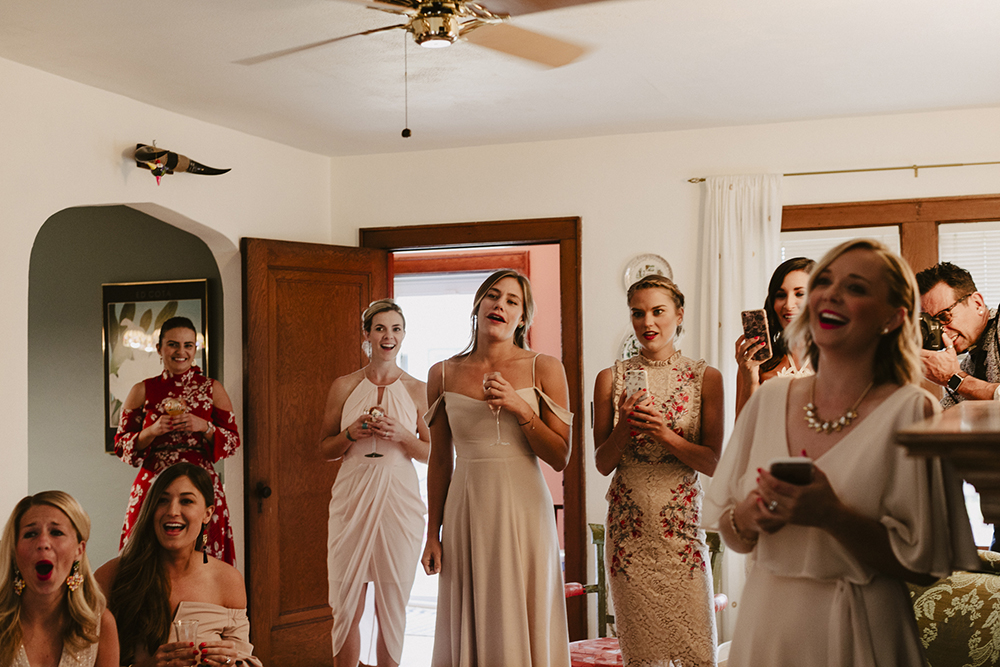 I work as a Cardiothoracic ICU Nurse taking care of patients who have had heart and lung surgeries and transplants. However, I frequently find myself daydreaming about opening my own vintage clothing and antique furniture business on the side!
We have been together for six years! We first met in November of 2011 through our mutual friend, Andrew, a Wisconsinite who was living in Australia and working with Joel at the time. Joel was at the beginning of a short stint in Madison, Wisconsin for work when he decided to tag along for a night out with friends at our local German beer hall, The Essen Haus. What started with a shared Boot of beer that night turned into me taking on the role of 'tour guide' to Joel and quickly snowballed into much more over the next few months.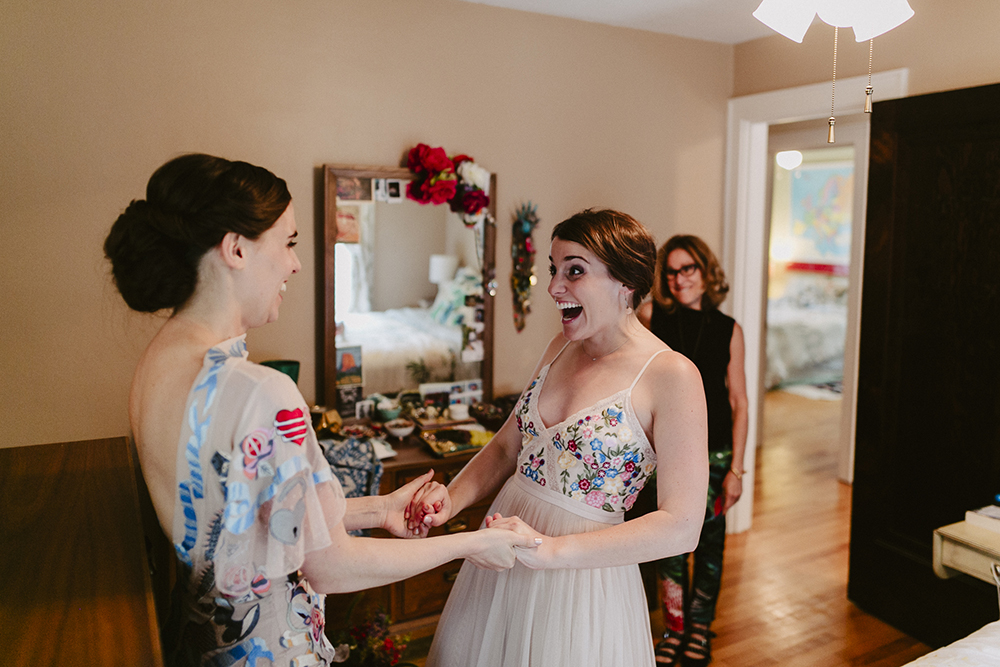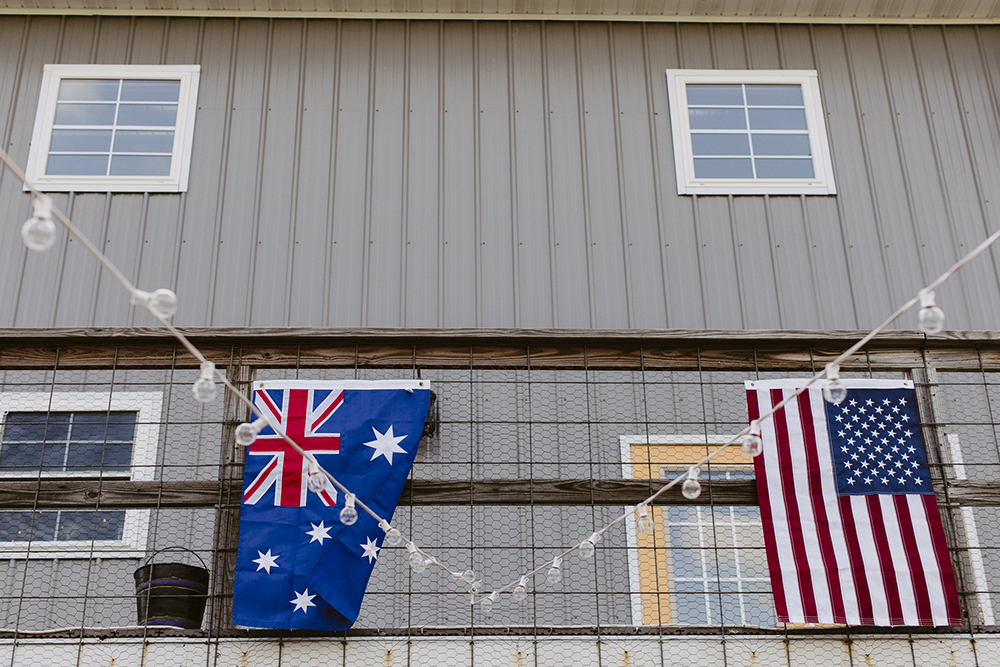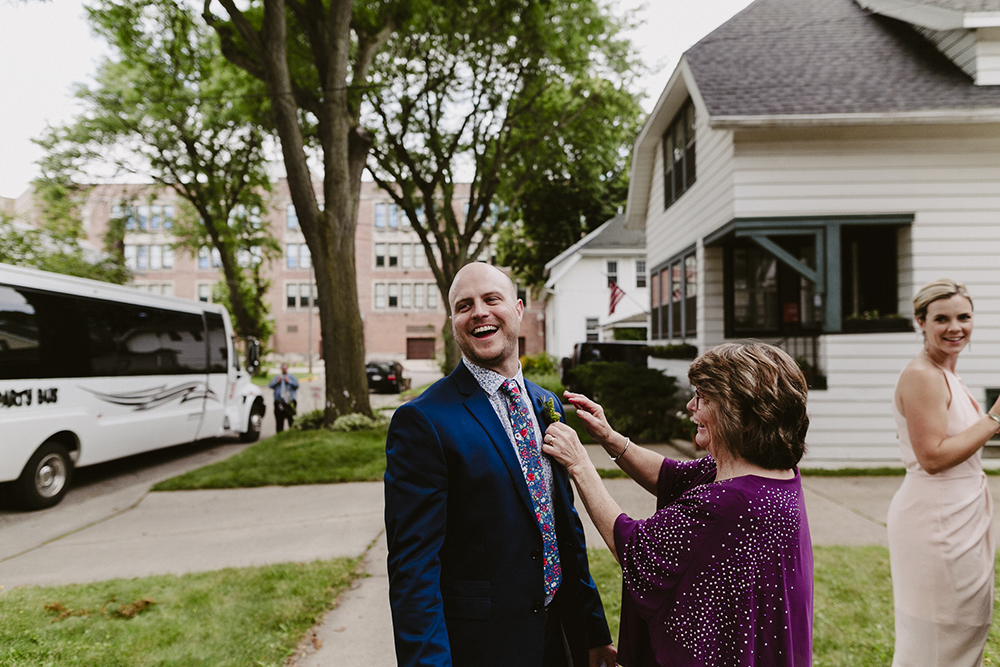 In February, Joel's best friend Pete came to the U.S. to travel with Joel before he returned to work and life in Australia and we said goodbye not knowing when we would see each other next, but determined to end up back together!
After six months of Skype conversations at all weird hours of the day (due to the 17 hour time difference), daily long-winded emails, and my first trip Down Under, Joel finally made the move back to Madison. Since then, we've had fun-filled, unbelievable adventures together – dancing our way through music festivals, roadtripping around the country, jetsetting back and forth from Australia, feasting, biking, laughing, too many cheese curds and bloody Mary's to count, buying our first home together, and finally – getting hitched!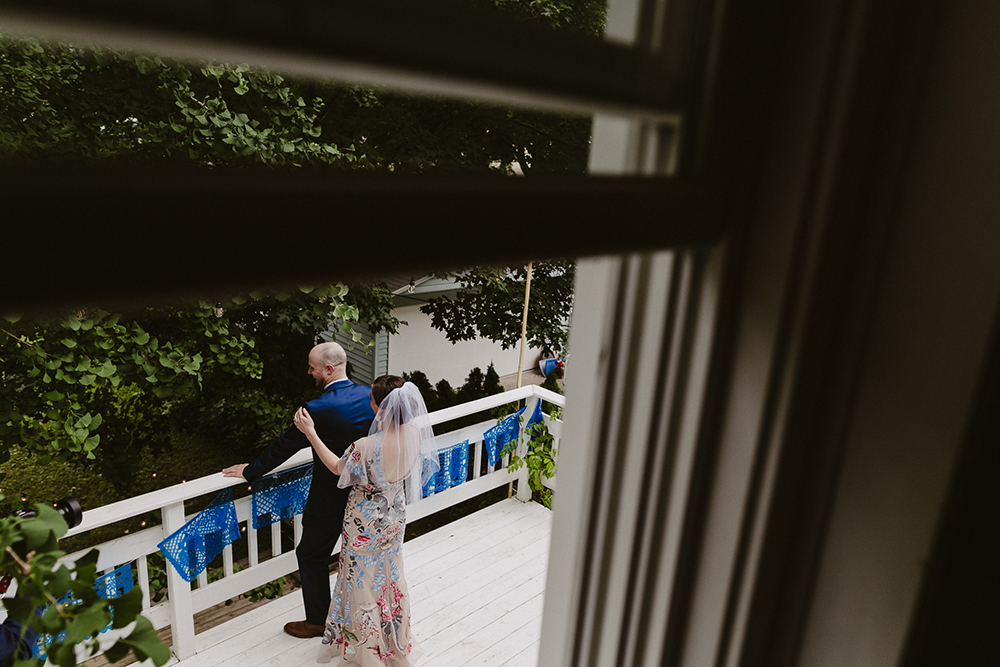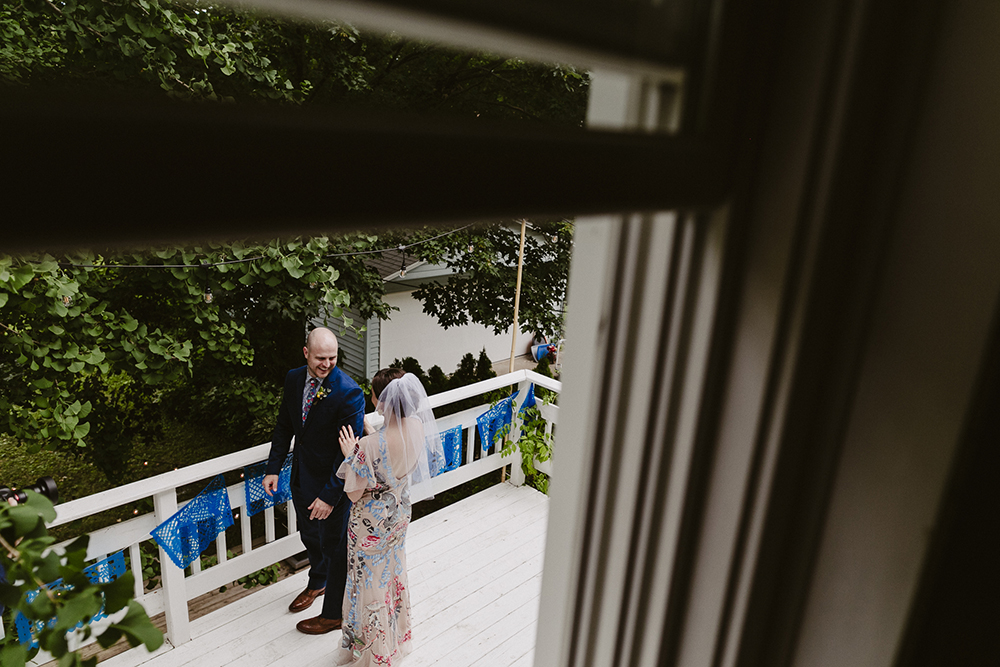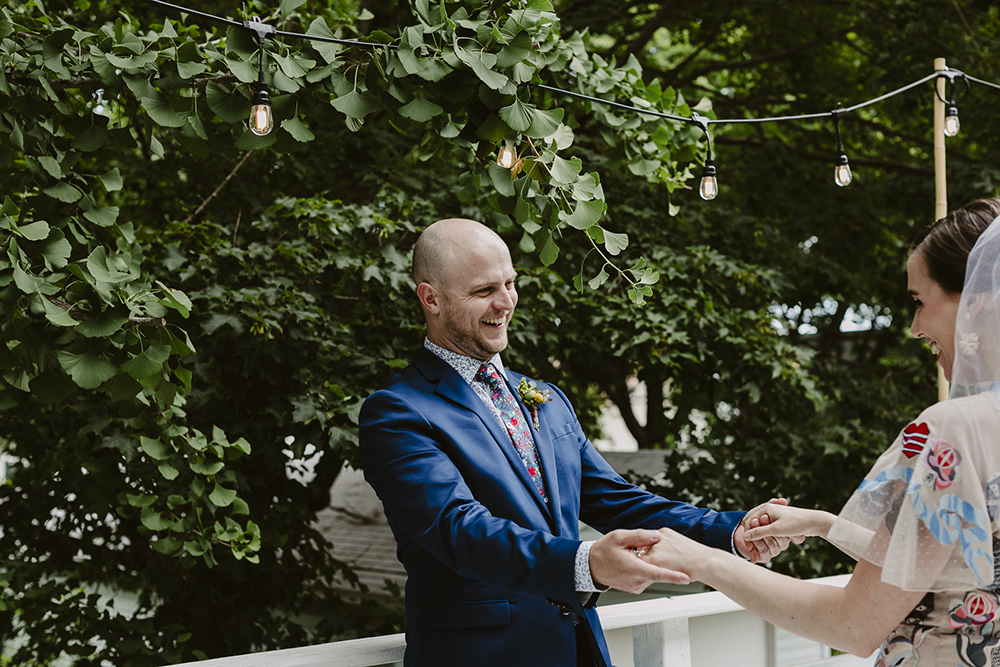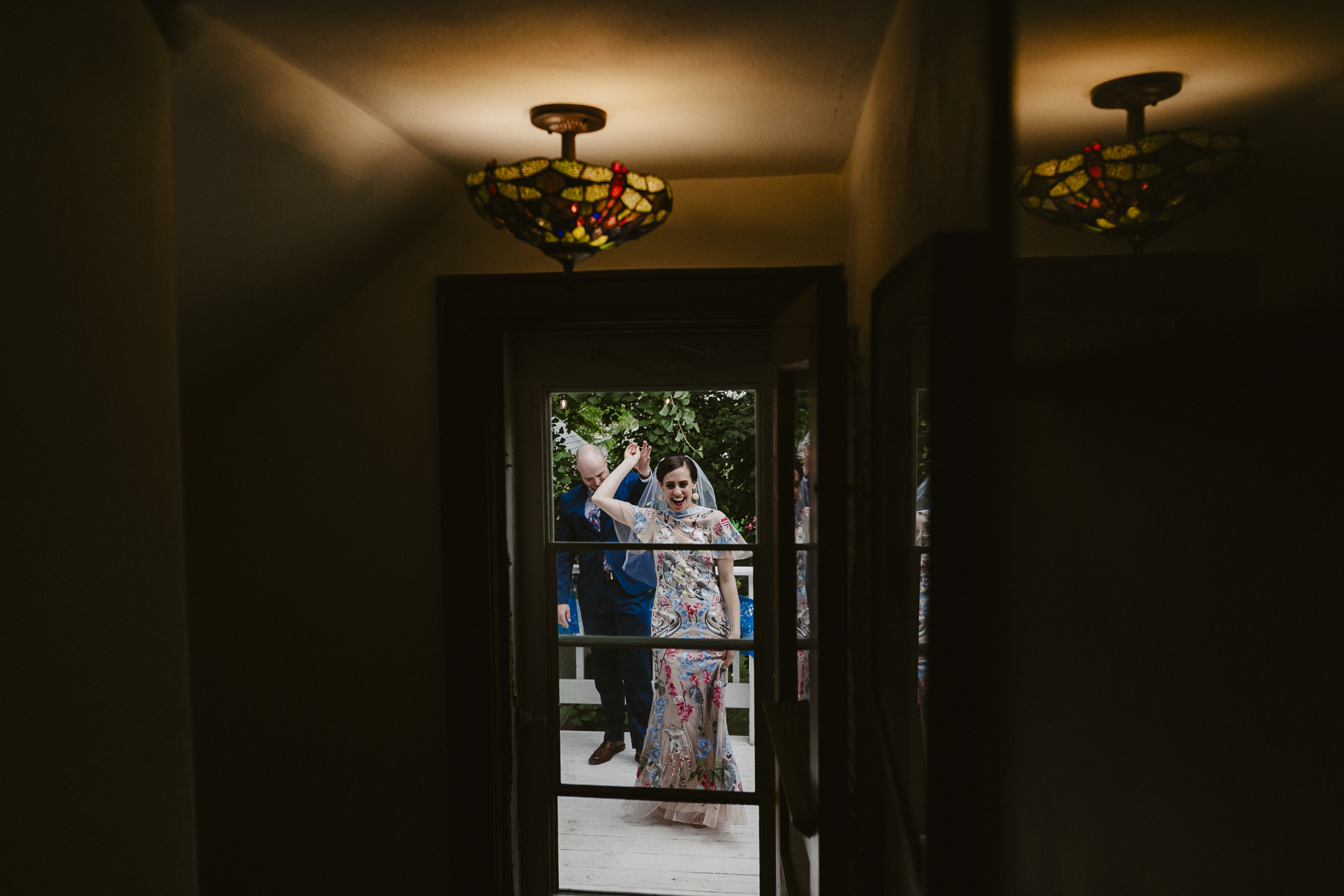 Joel proposed in January of 2016 during an action-packed trip back to Australia, in which we were spending time with his family and friends over the holidays. We were enjoying a quiet day to ourselves in between all the fun chaos and decided to visit some of Joel's favorite spots in Canberra, where he grew up (café's, neighborhoods, etc), and ended up on top of a hill that overlooks the city on one side and his parent's house on the other side.
While looking out toward the neighborhood he grew up in, he started talking about how amazing it was that he ended up so far away on the other side of the globe with me and then asked if I would like to continue this round-the-world adventure with him for the rest of our lives. He then got down on one knee and pulled out this beautiful antique art deco ring to seal the deal!
We had plans to meet his parents for lunch immediately following and got to share the news with them first and in person, which was really special for all of us since most of our news is shared with them via Skype with Joel living in the U.S. now. We spent the rest of the day dropping in on close friends and family and calling my friends and family in the U.S. to surprise them with our announcement. Needless to say, there were a lot of champagne toasts throughout the rest of our vacation and they continued for another week once we arrived back in the U.S!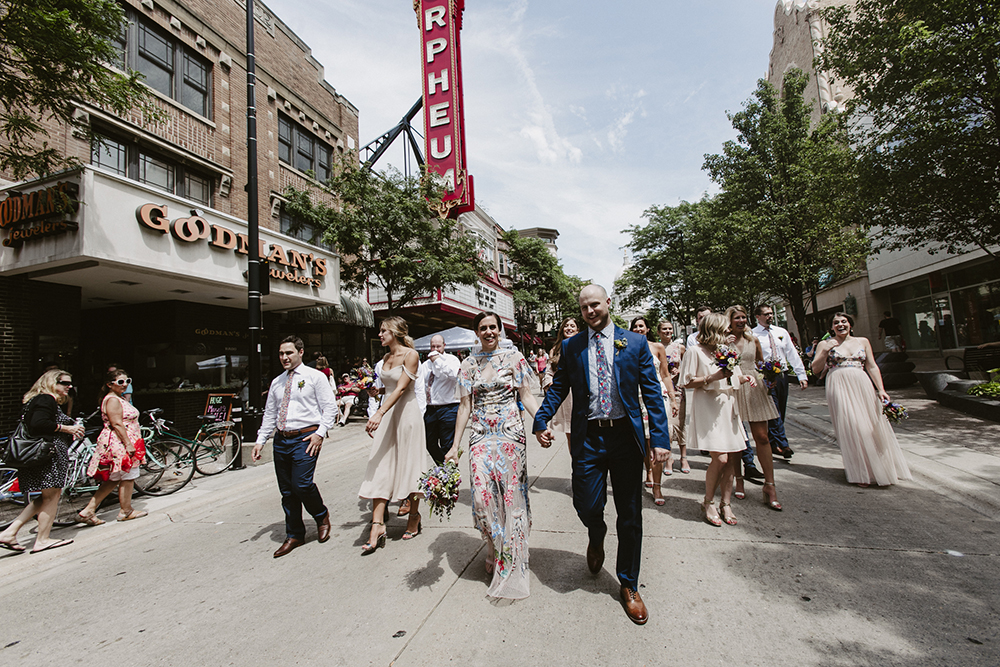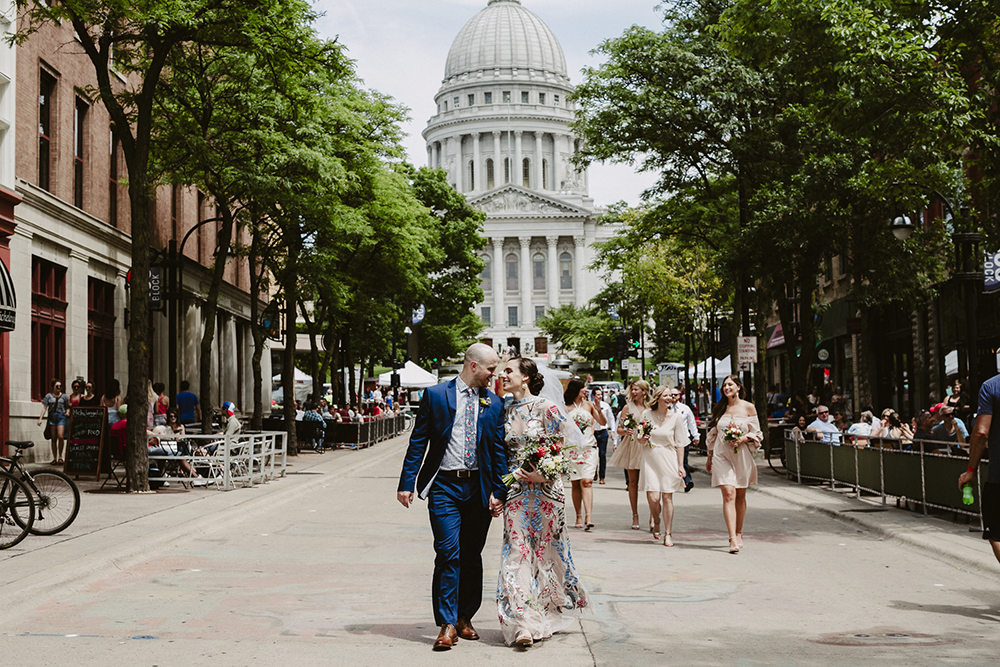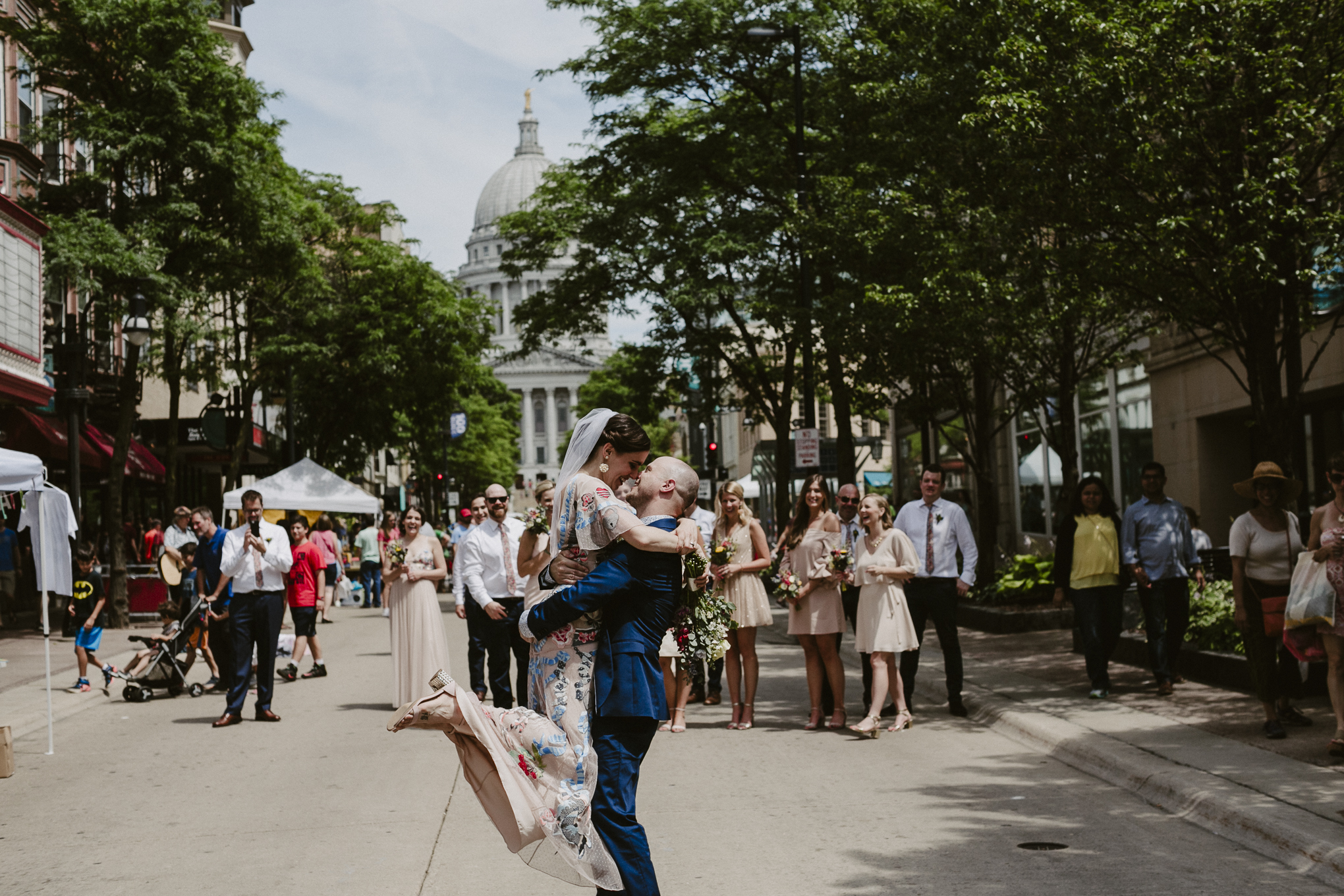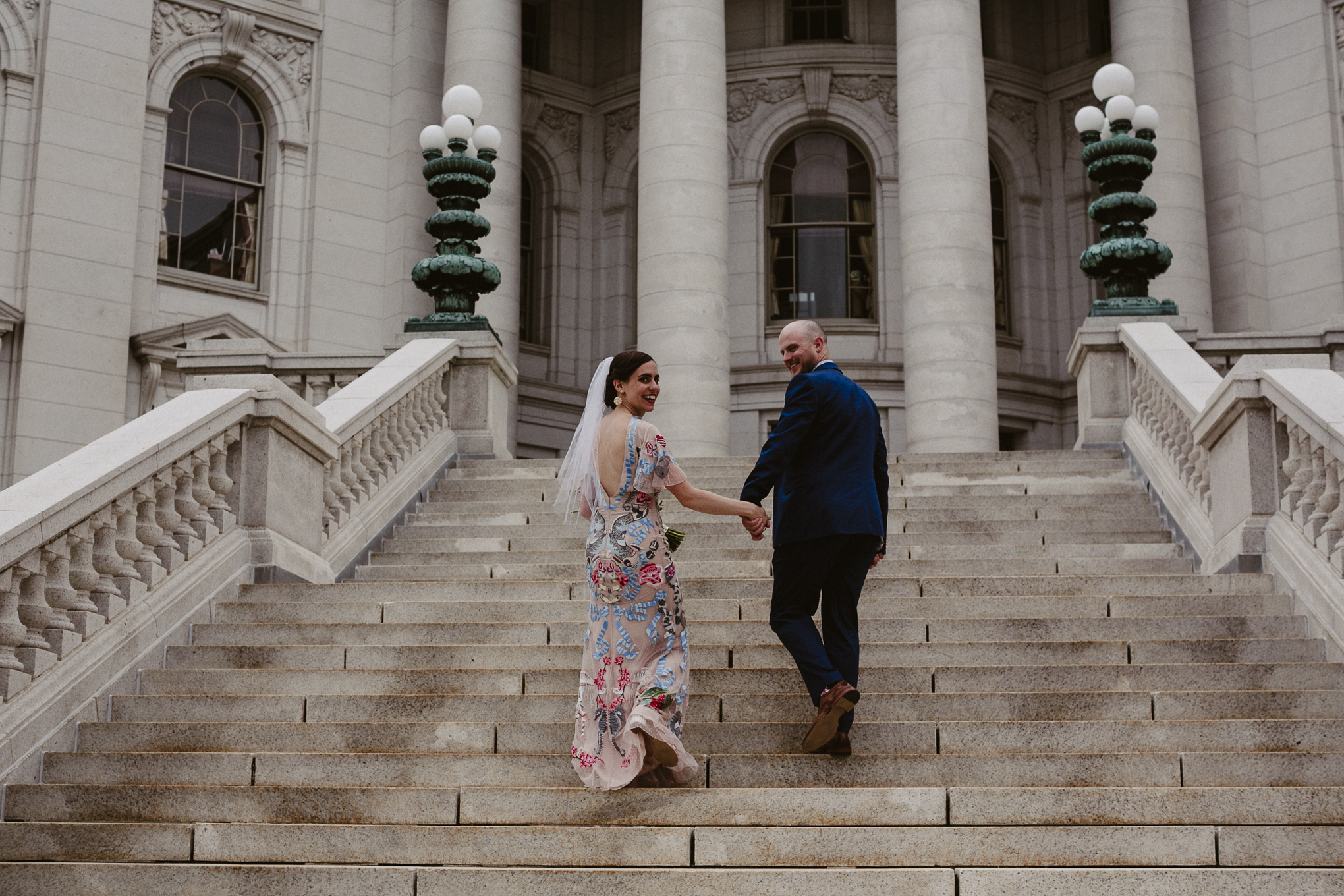 Tell us about your special day, was there a specific theme or style? Tell us a little about the setting, the styling and some of your favourite details…
I have to admit, my vision for the wedding décor really started coming together once I found my dress. From the invitations and flowers, to the painted table runners, signs, and glassware, to the food selections and craft beer labels, it was all about incorporating COLOR. We even encouraged our guests to dress colorfully!
As far as the vibe, in staying true to our laid-back nature and embracing the feel of the venue, we decided to plan our wedding day around the idea of being "a big bohemian backyard party in the middle of nowhere" with all of our closest family and friends! We relied on personal touches such as Aussie flags and light up tambourines to keep it fun, as well as mismatched antique furniture and a food cart to add character.
We opted for a summer menu with brisket, Mediterranean chicken, stuffed peppers, and lots of vibrant veggies and decided to maximize our outdoor space by hosting both a 'cocktail hour' before dinner and 'sunset toast with dessert' following it outside under strung bulb lights. Throughout the planning process, we frequently reminded ourselves that the rules of the day were "up to us," especially when we were considering adding something that felt "too traditional" or "too fancy" for our taste.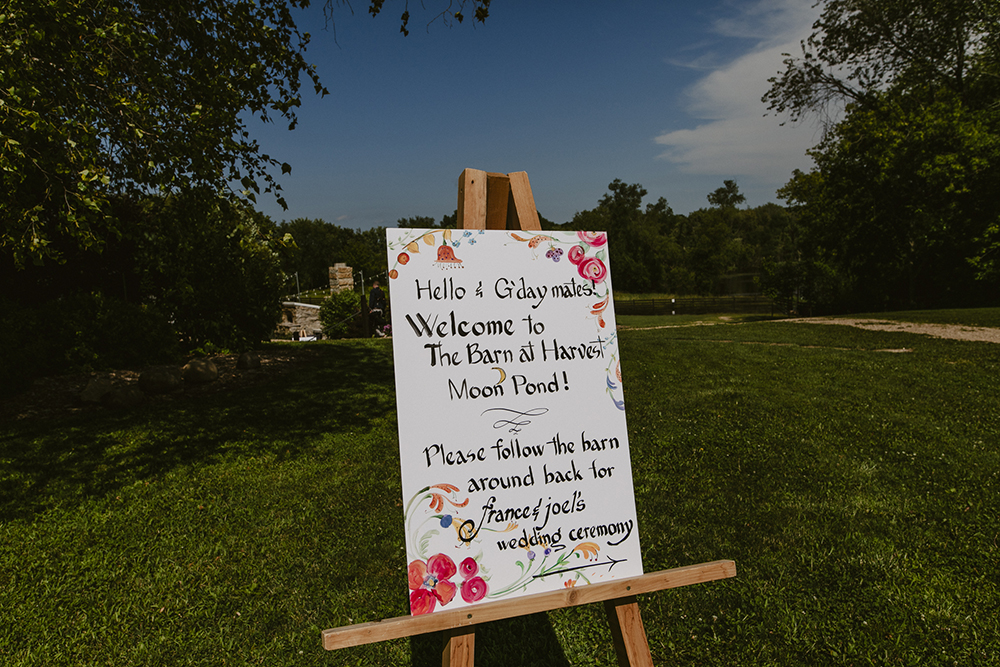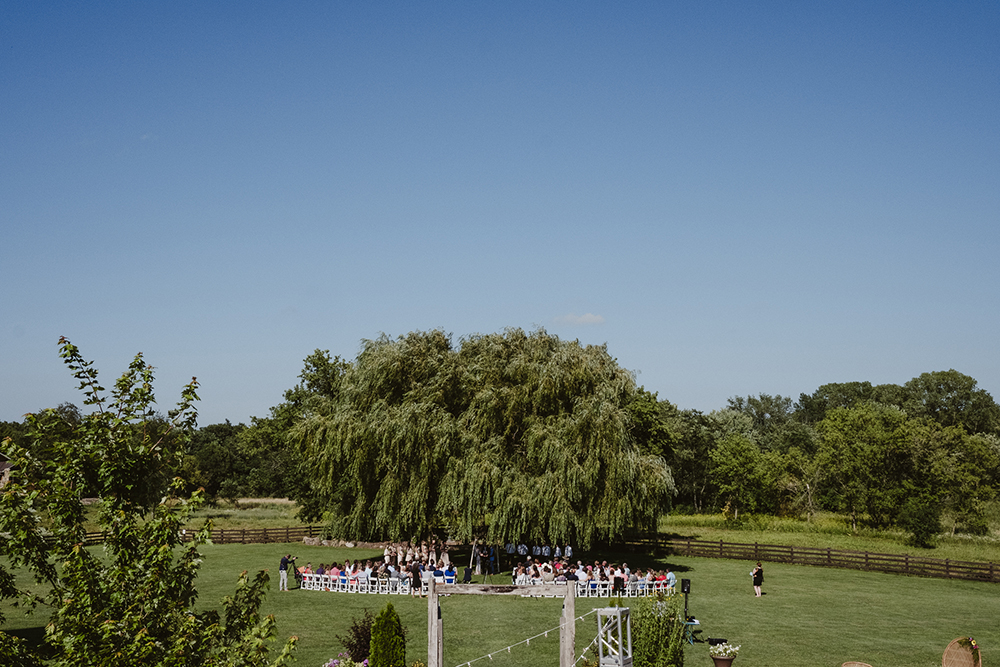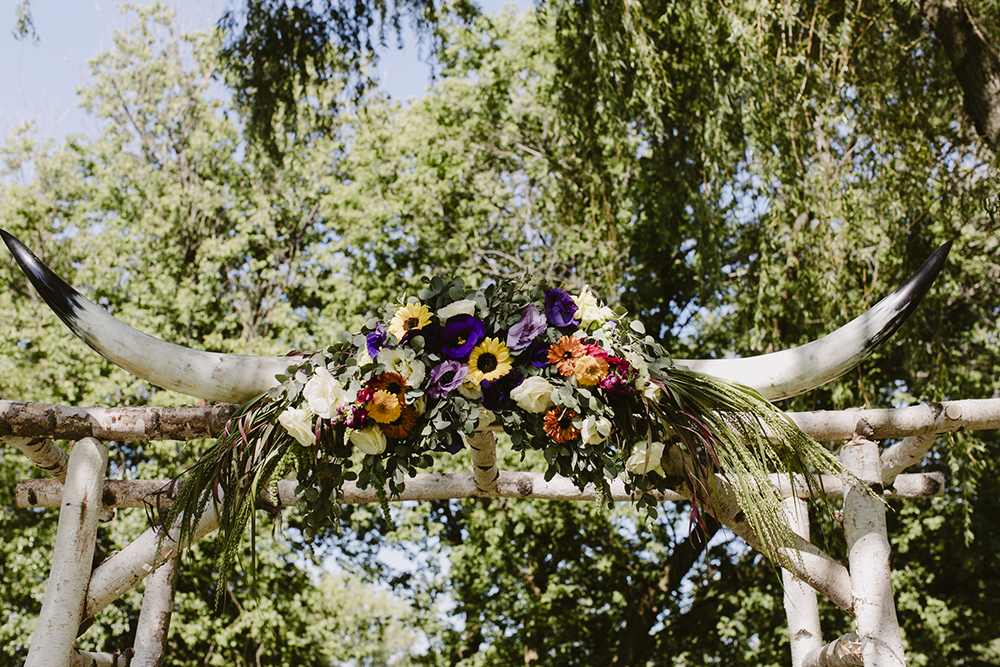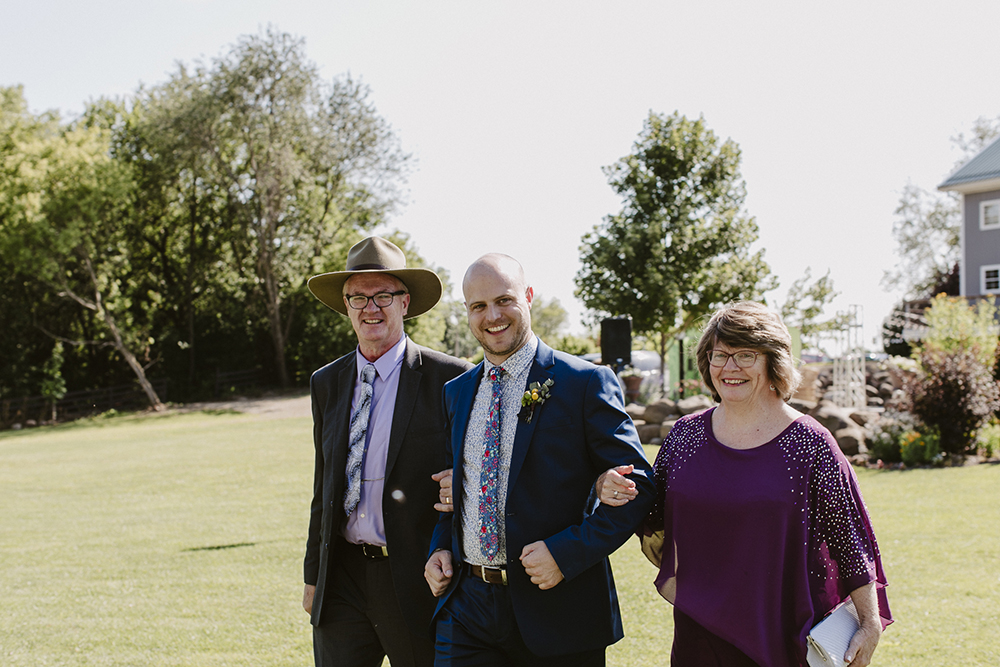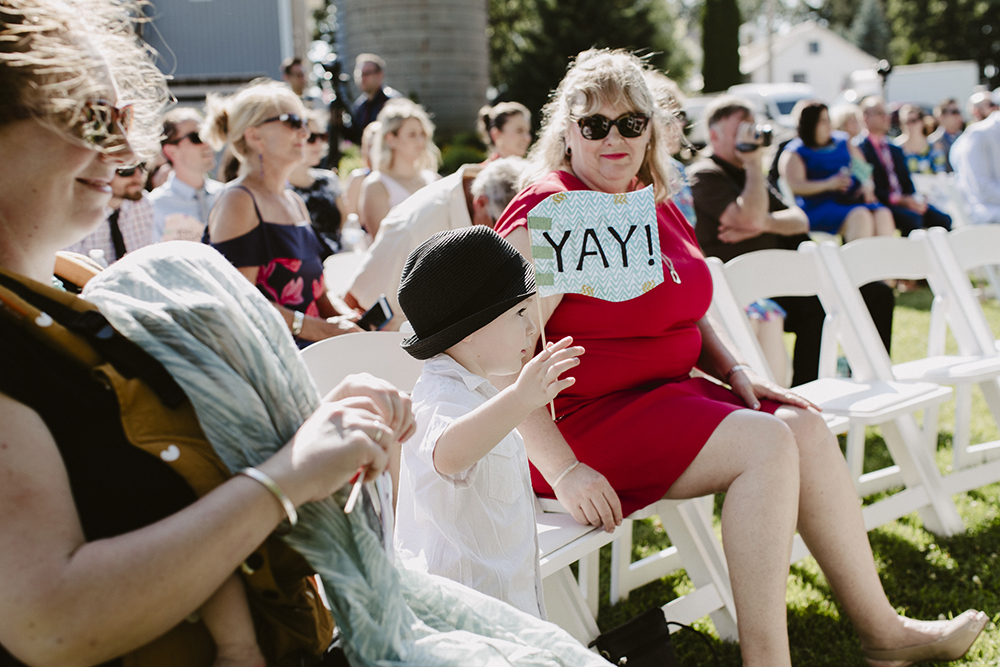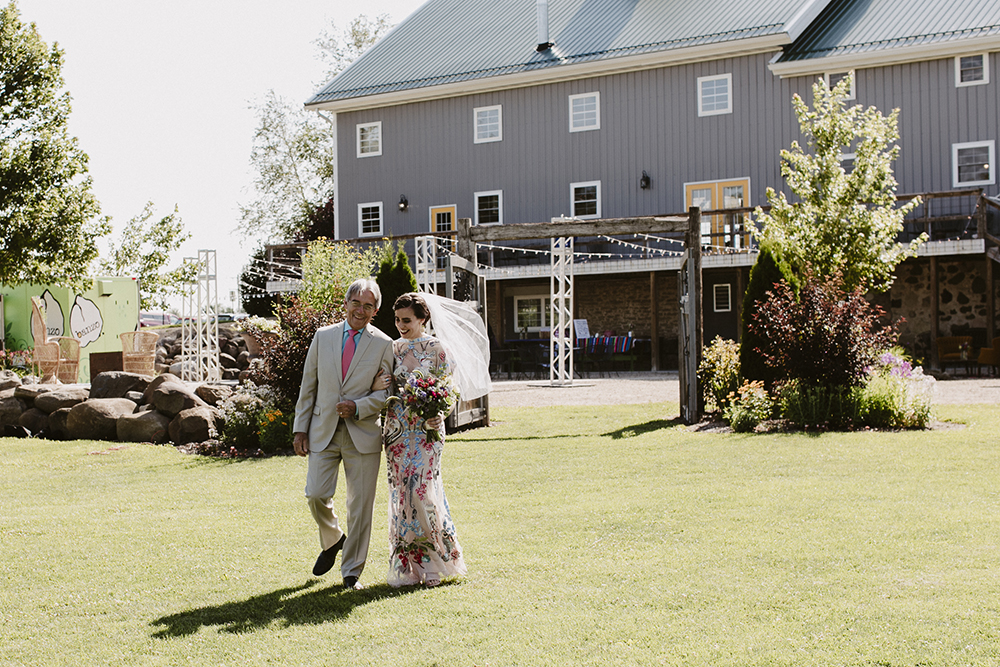 Tell us about your main outfits:
I loved my dress! It was by Temperley London and a true work of art. From the beginning, I always knew I wanted to find something unique to wear on my wedding day and went through a number of different ideas in the process of finding my dress. I scoured Etsy and secondhand shops for something vintage or colorfully embroidered and perused bridal boutiques for one with boho flair such as crocheting or flashy touches. All of the above criteria were enthusiastically met and the stars aligned when I discovered my dress online!
I loved the fun chaos of the mix of meticulously hand embroidered good luck charms, bright flowers, and animals gracefully swimming up the delicate fabric. Along with the open back and elegant silhouette, it was the perfect mix of sophistication, style, and imagination. With the assistance of a very helpful sales associate named Hannah at Temperley London's Notting Hill location, I was able to track down the very last one in my size and received it on my doorstep the next week. I tried it on and fell in love with it in front of my bedroom mirror and a lot of the vibe and décor of our wedding day fell into place afterward, inspired by it!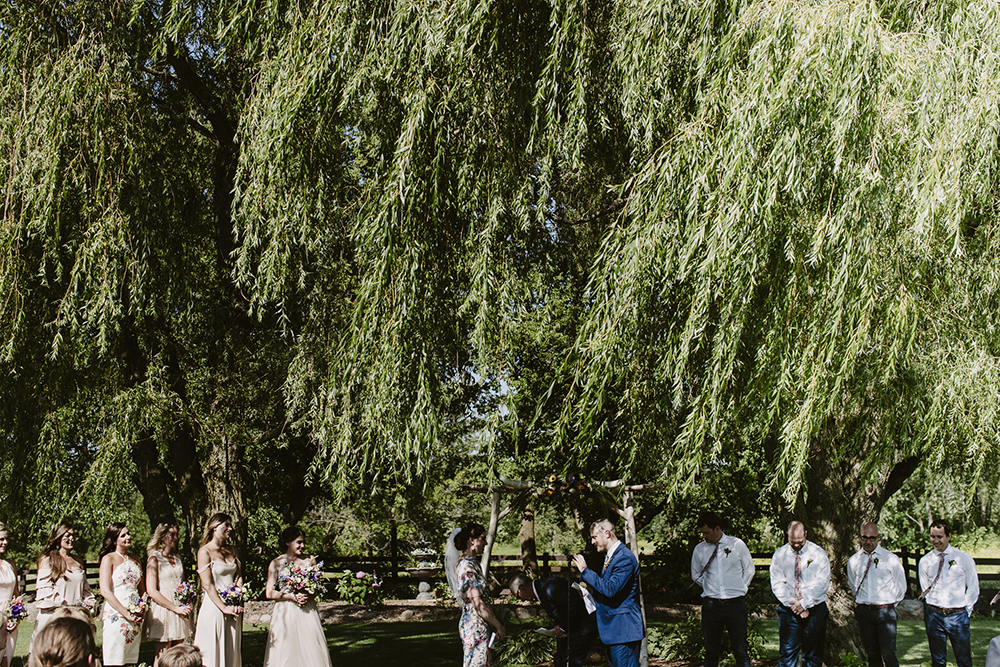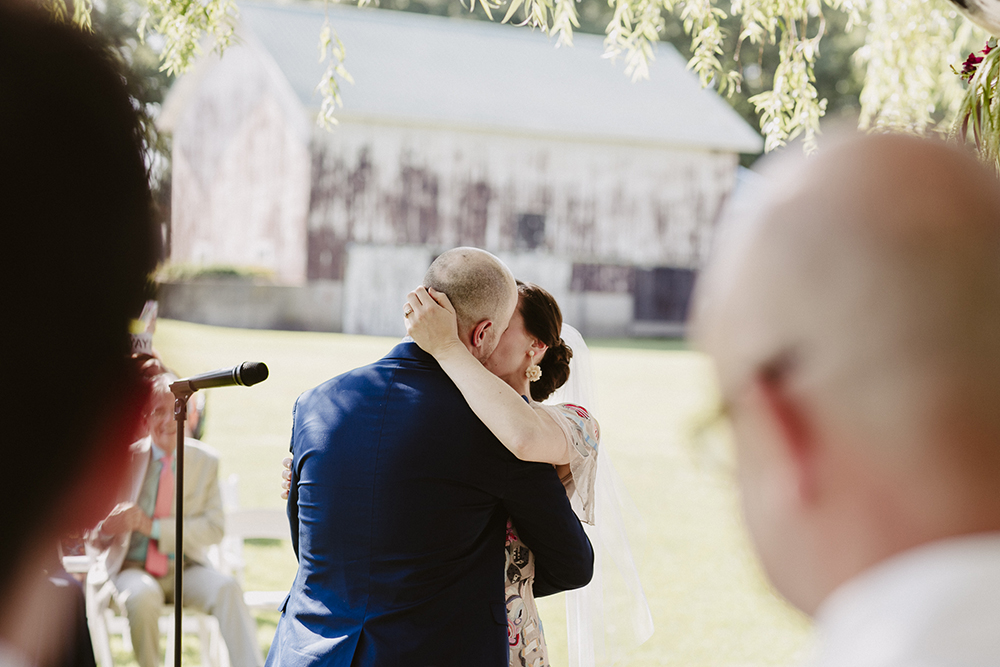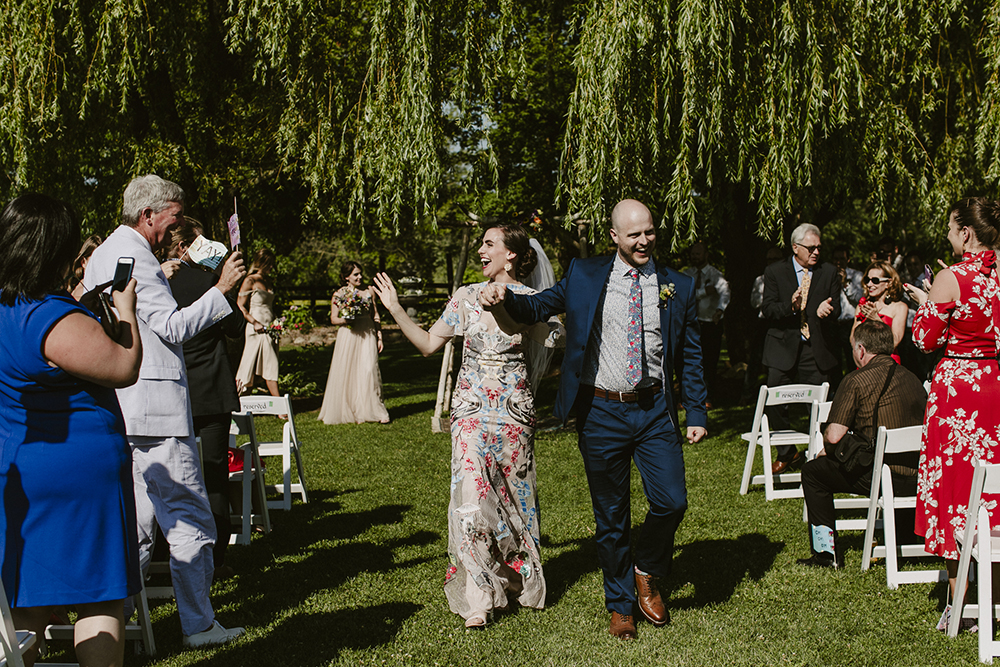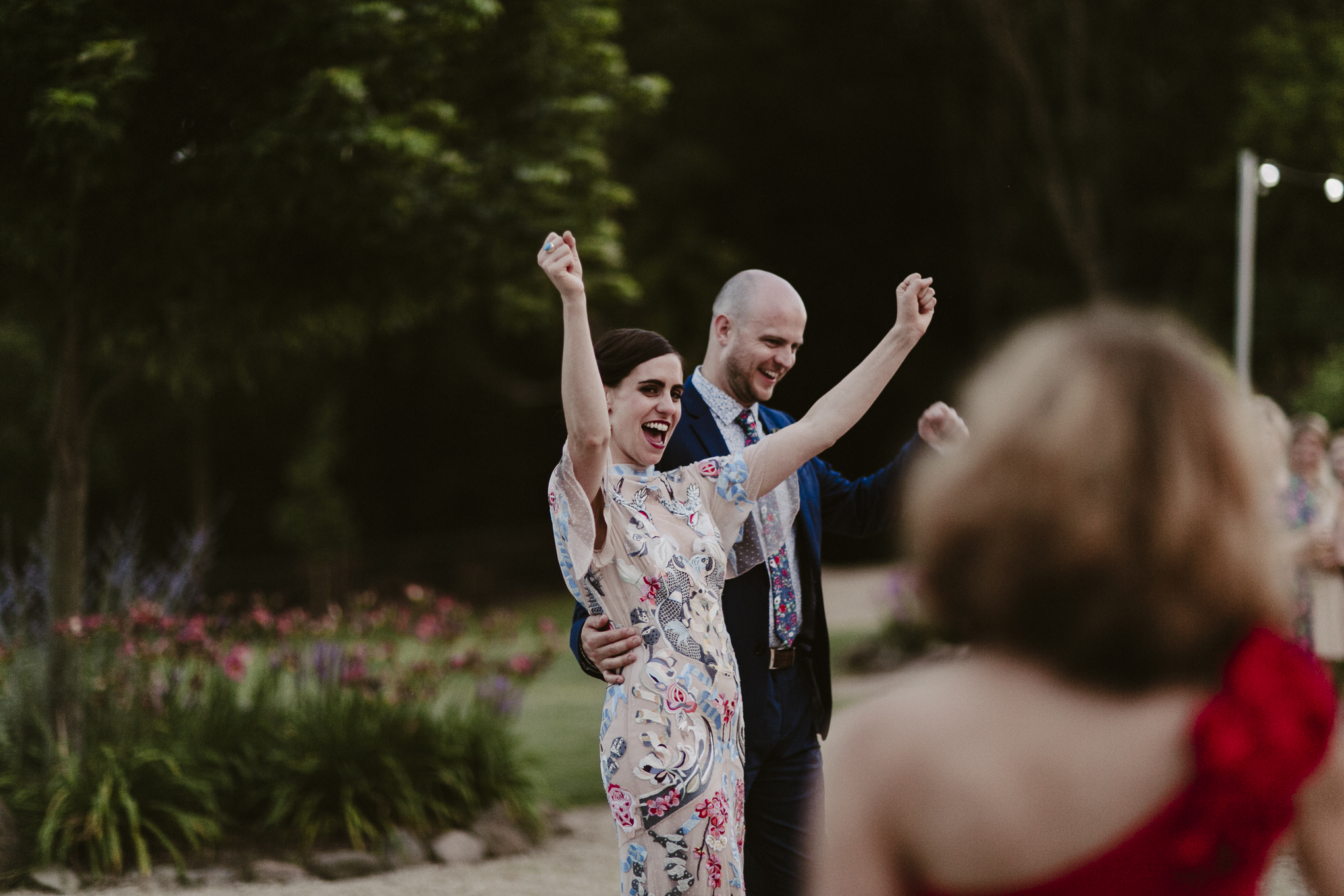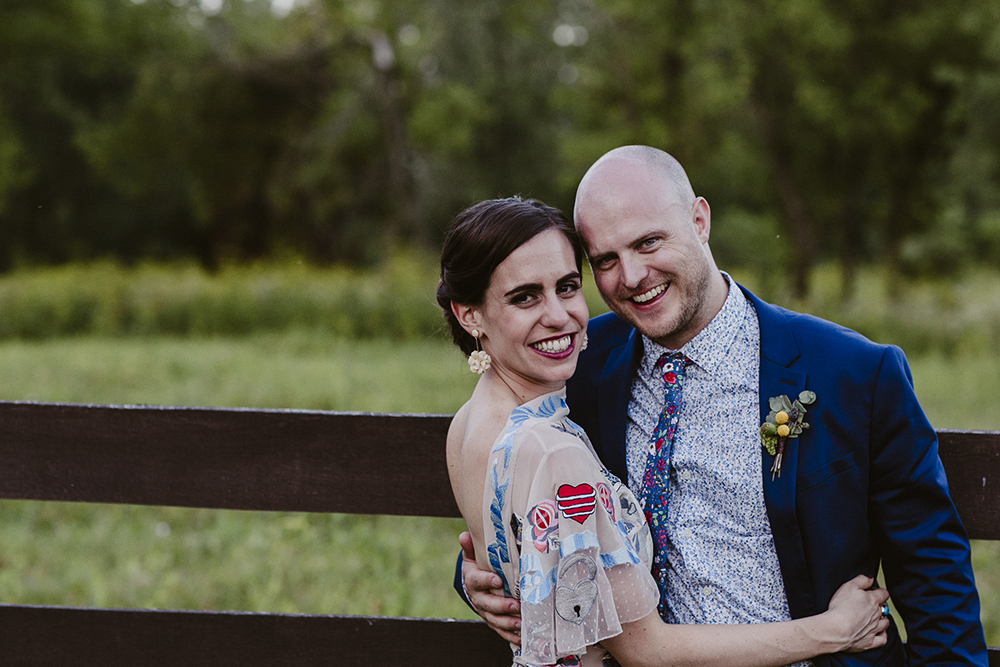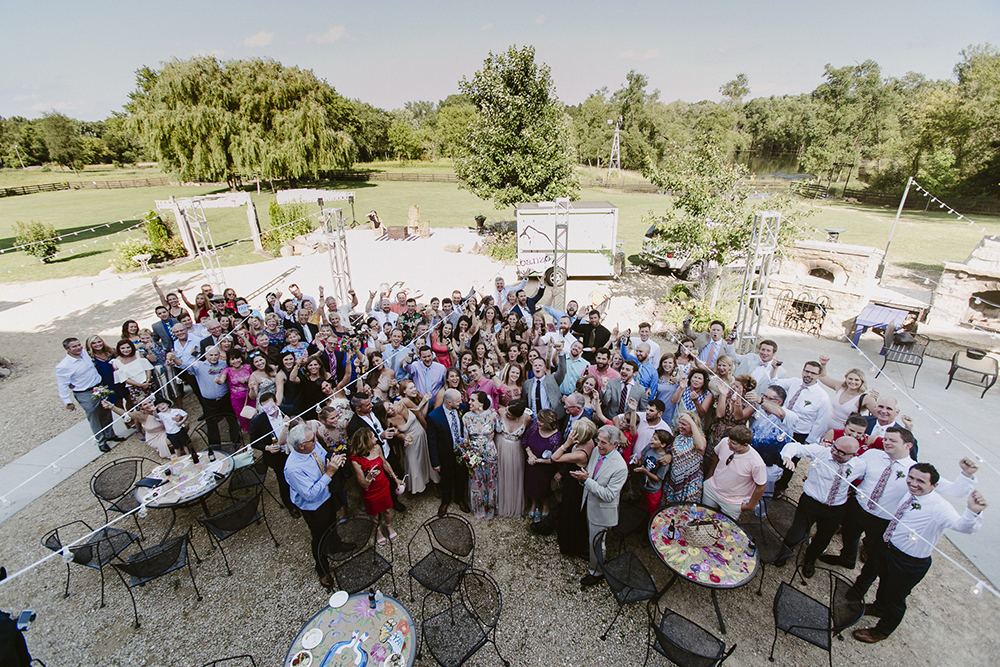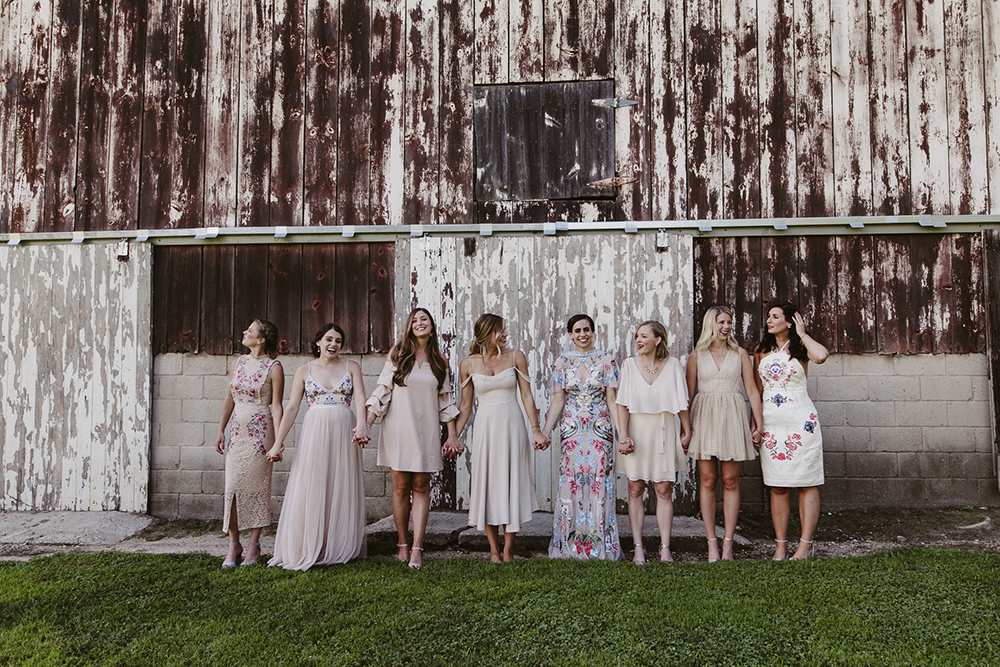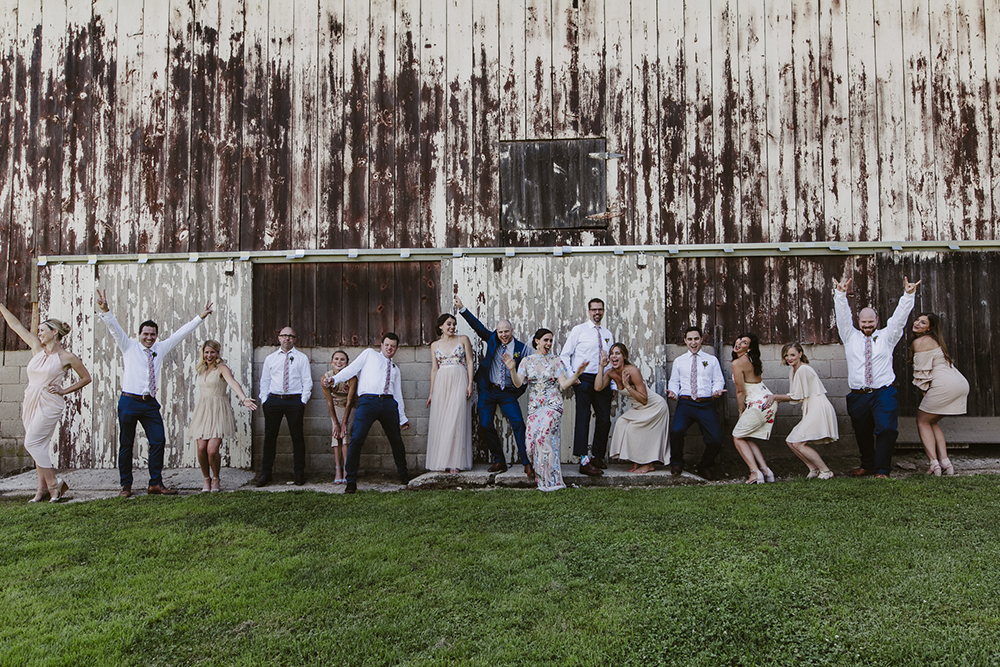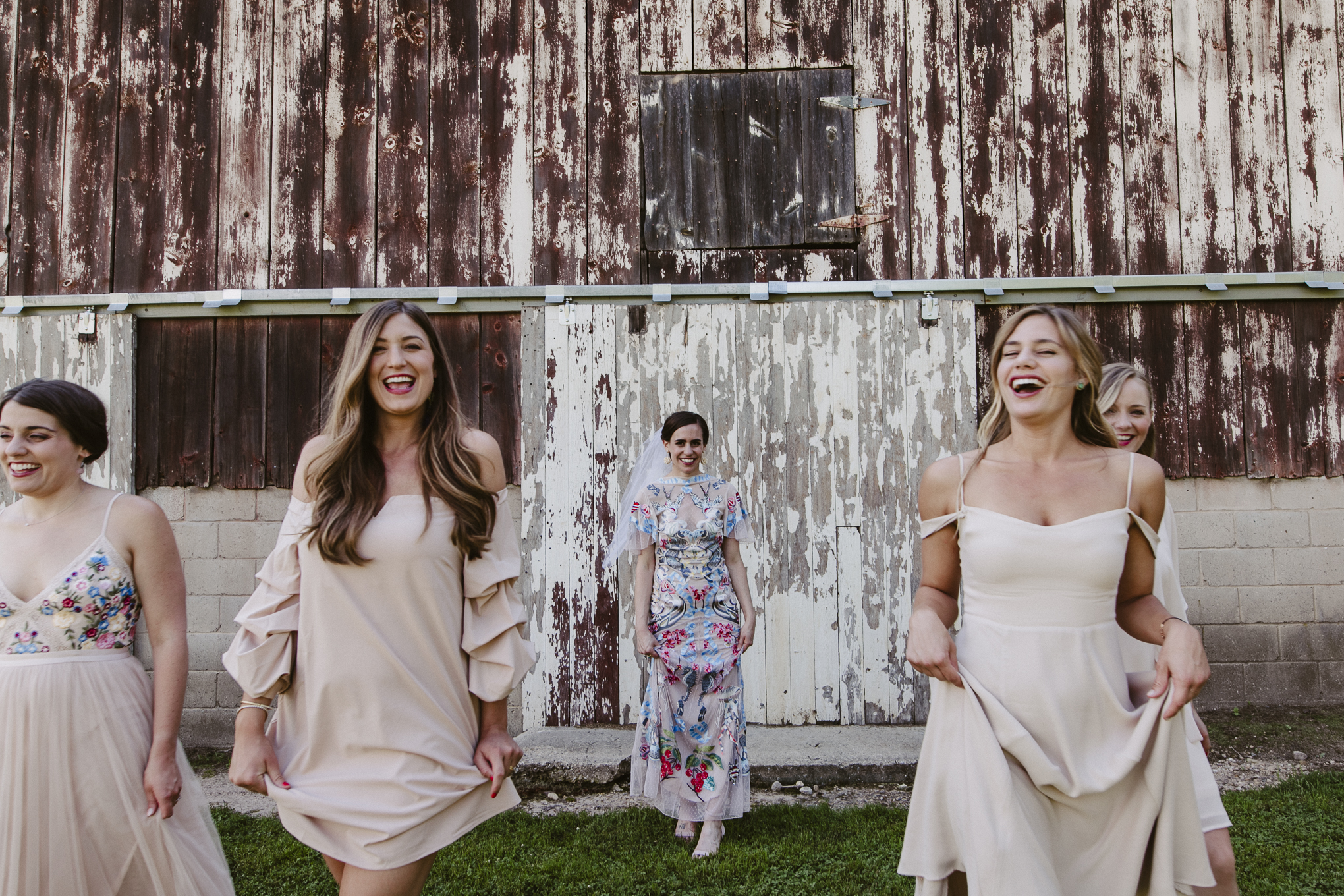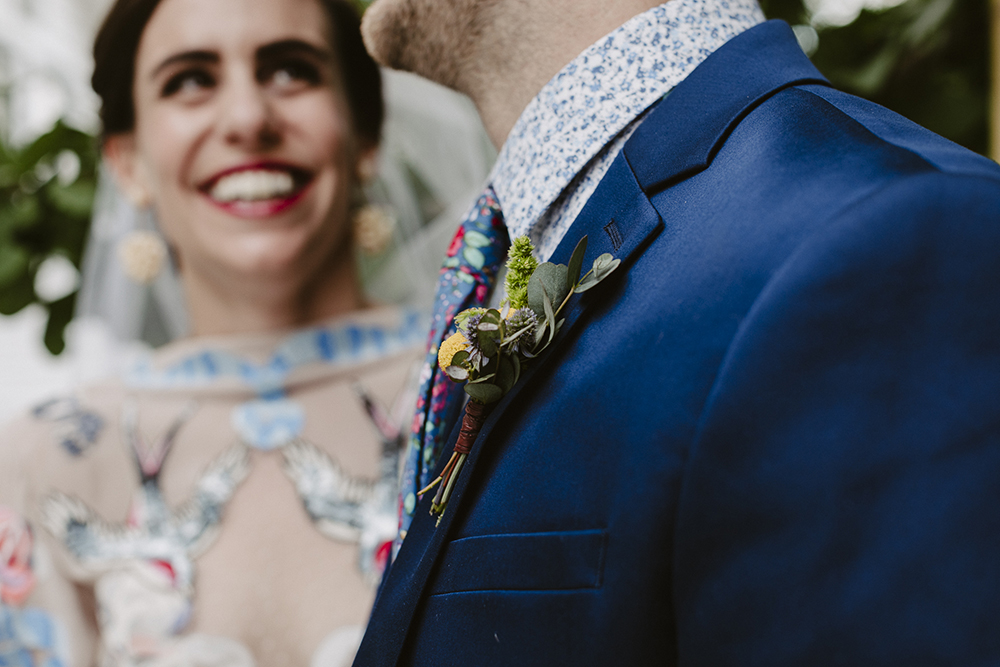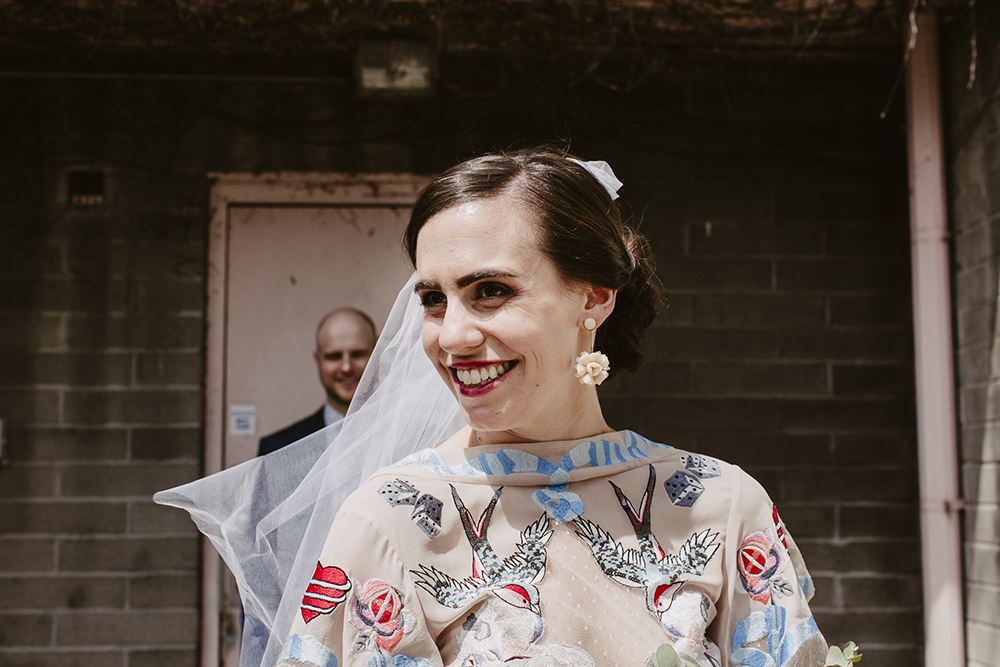 What were some of the most memorable/unique moments from the day?
Frances: There are so many! Above all, I would say our "first look" is at the top of the list. It took place at our home, on the balcony overlooking our backyard, under our favorite tree. It was so much fun to show Joel my dress for the first time and see his reaction as he spun me around. Any stress or nerves I had about the day completely vanished as soon as we saw each other and everything felt so incredibly perfect. Afterward, we cruised around with our closest friends to take photos in some of our favorite parts of the city – people were clapping and cheering, it felt like a parade or a party in the street and the wedding hadn't even happened yet!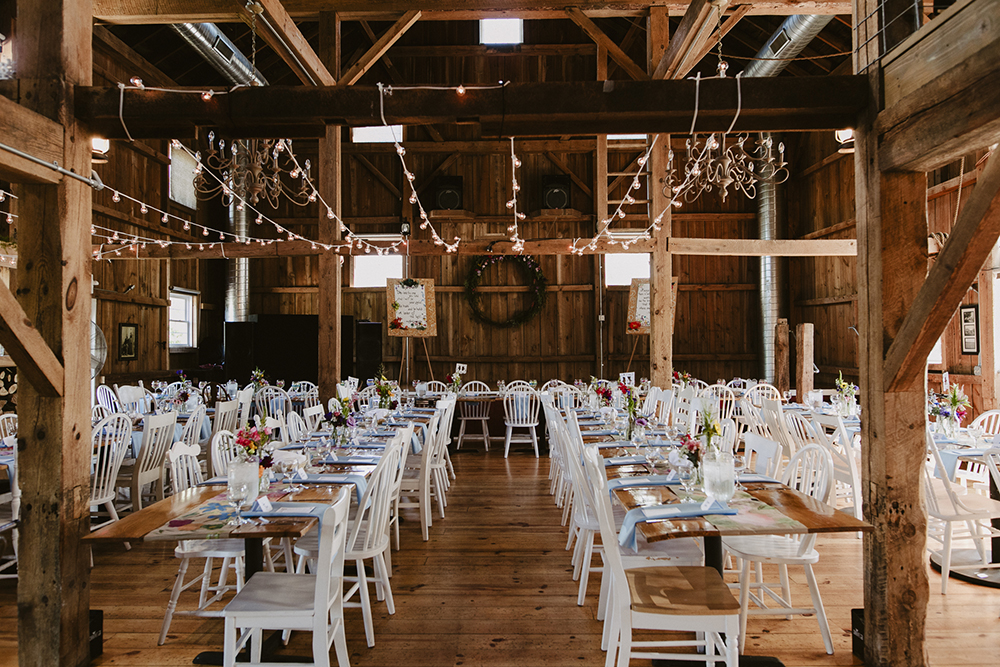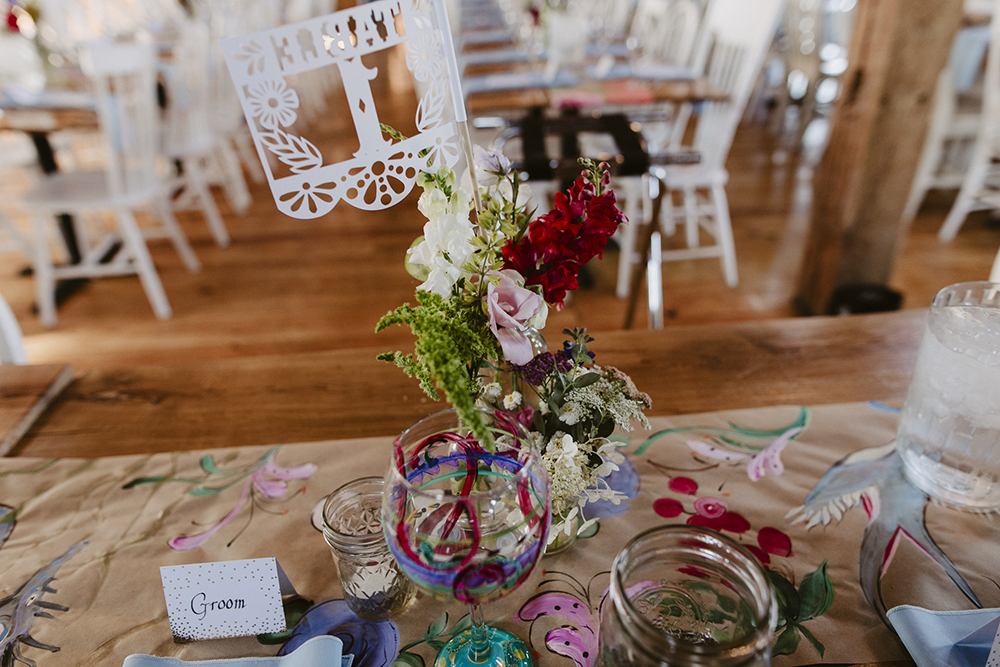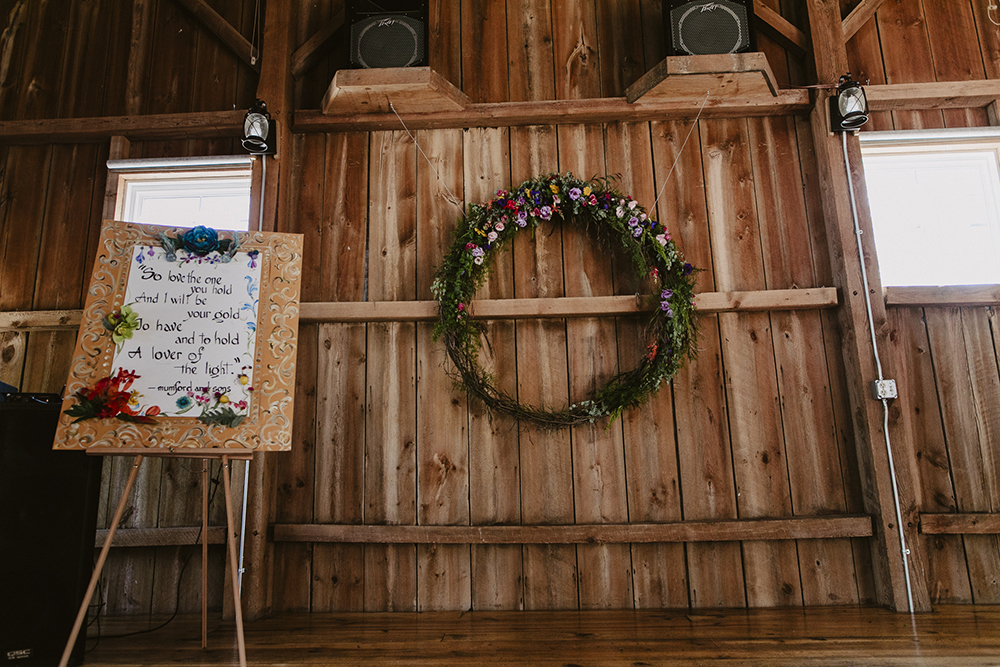 In addition, two other memories stand out – the words that Joel and I spoke to each other as we recited our own vows and commitments of love to each other and the speeches that were given by our friends and family at our reception. It was the biggest rush of love and support I have ever felt and I was blown away listening to the kind messages and stories that were shared that day! Our MC Simon even surprised us with a few "telegrams" from close friends and family in Australia who were unable to make the trip over!
Joel: Having all our friends and family rush the dance floor after we'd finished our first dance and having the best party of your life surrounded by all your favourite people in the world. That's an incredible feeling to share with your new spouse and one that will always be remembered.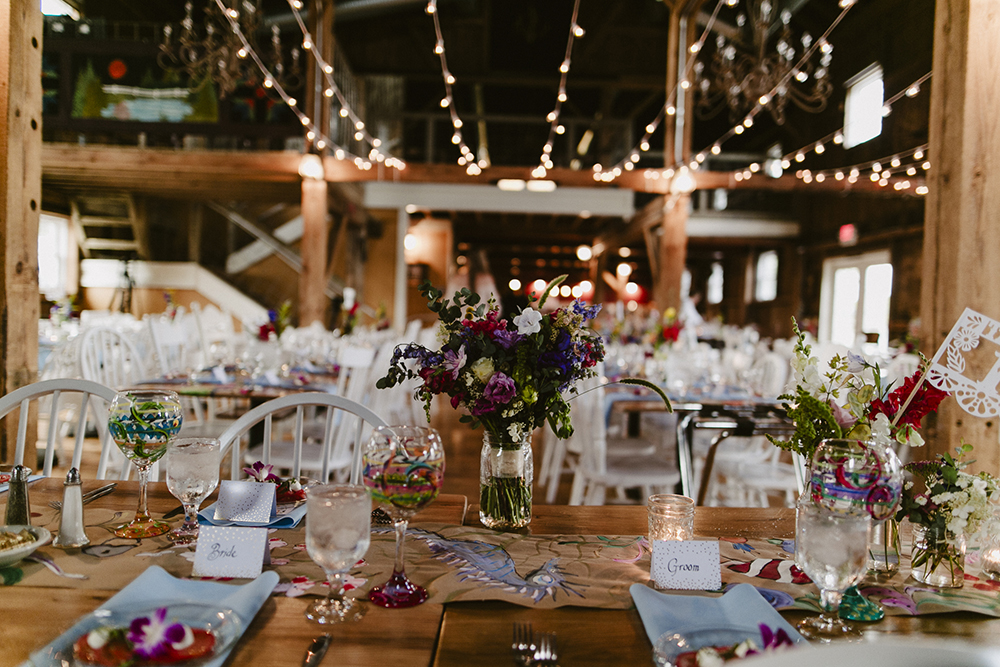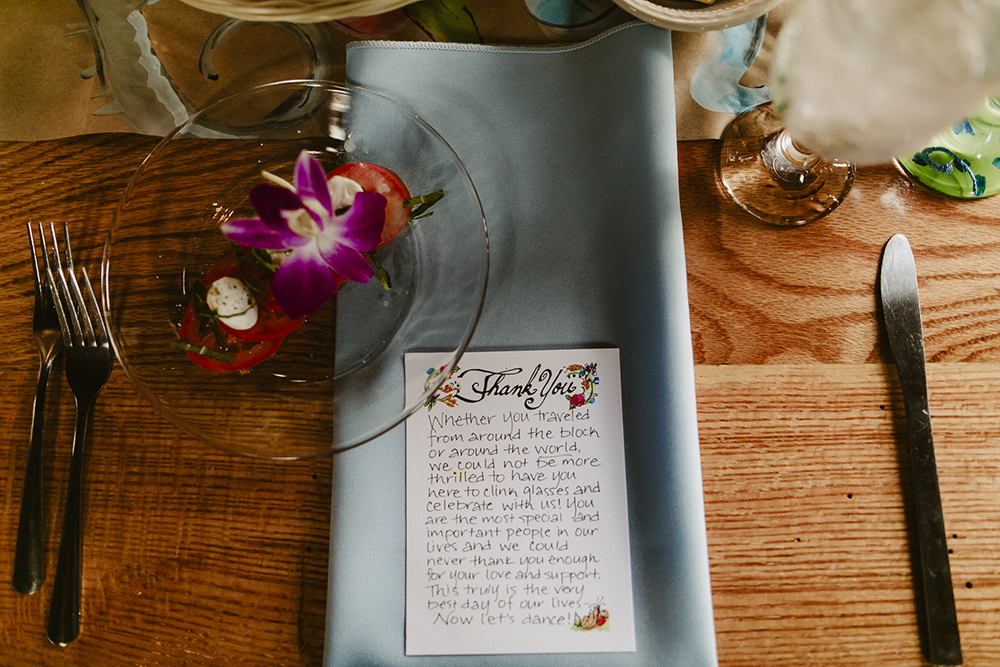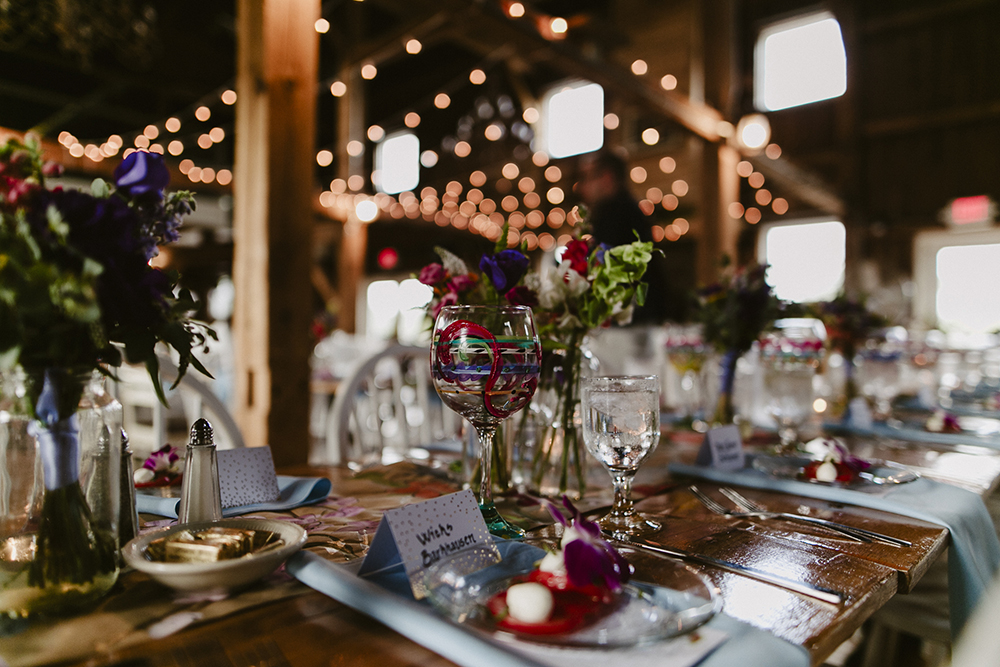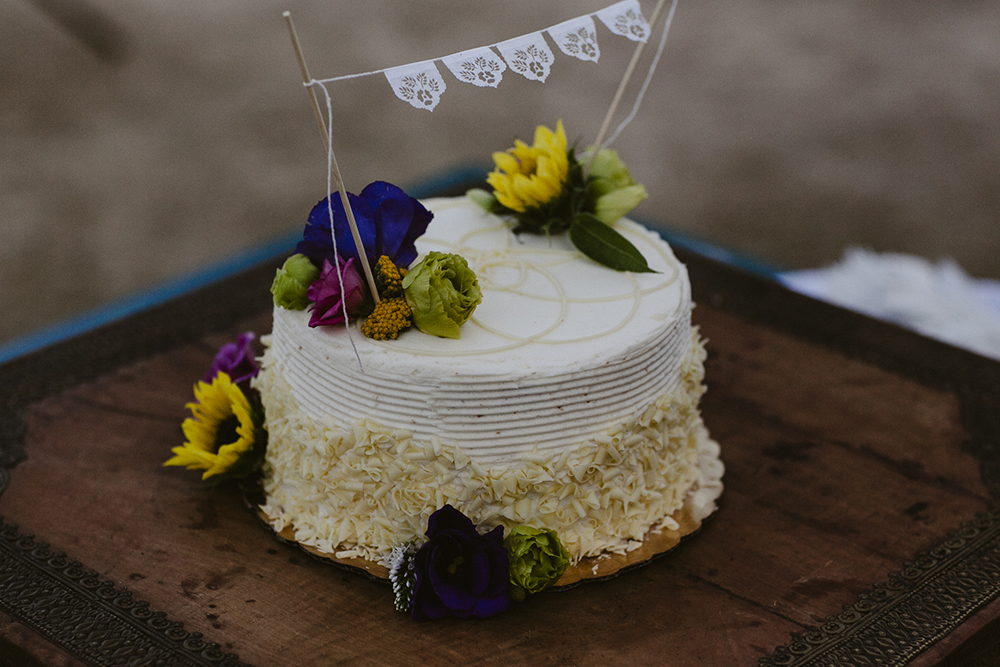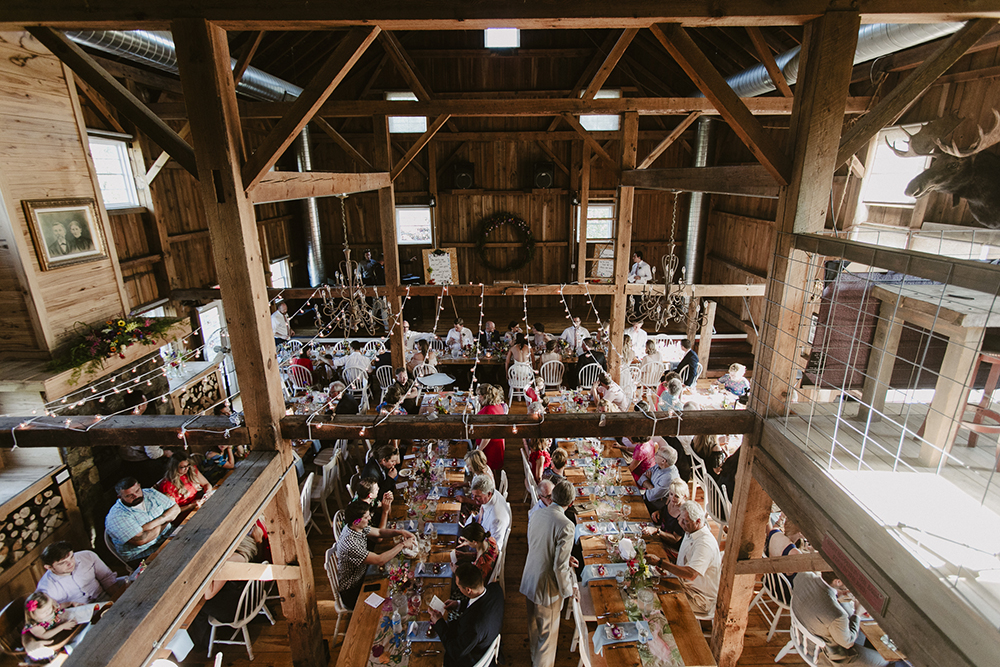 Any advice for other couples planning to spend the rest of their lives together?
We heard this a lot, but stay true to yourselves, what's most important to you, and your vision! We know that our wedding day didn't tick all the traditional boxes, but it was unique, reflective of us and truly all about celebrating us and our love for each other and everyone there – and that's what mattered most!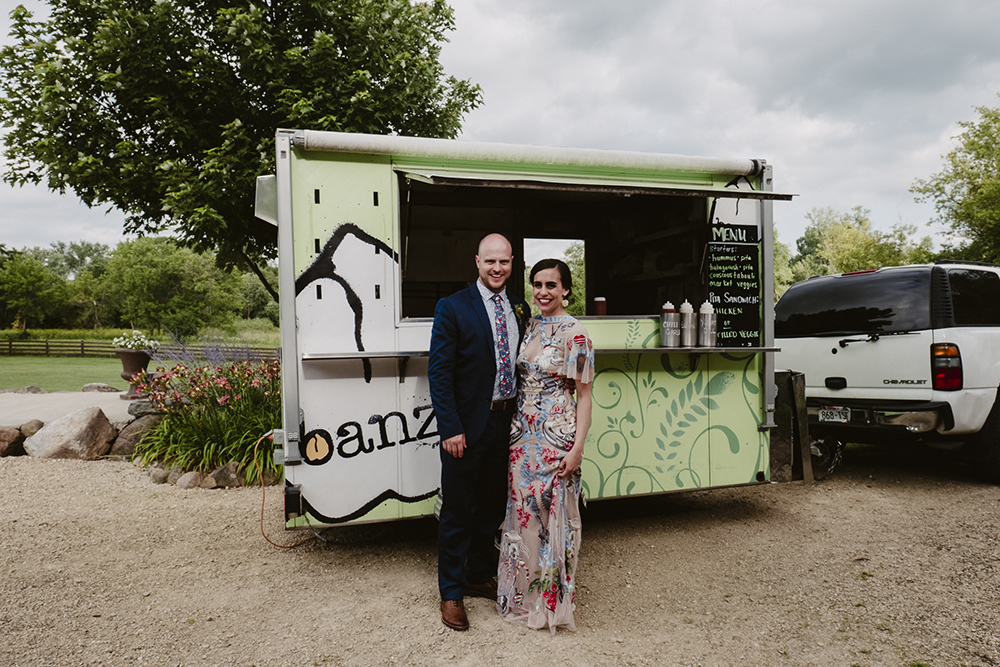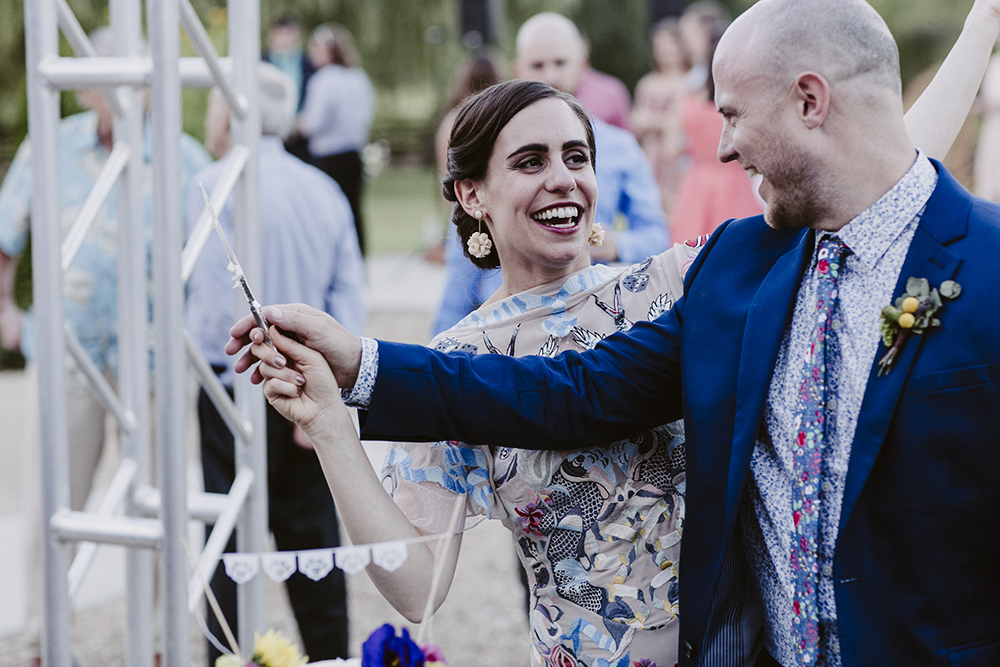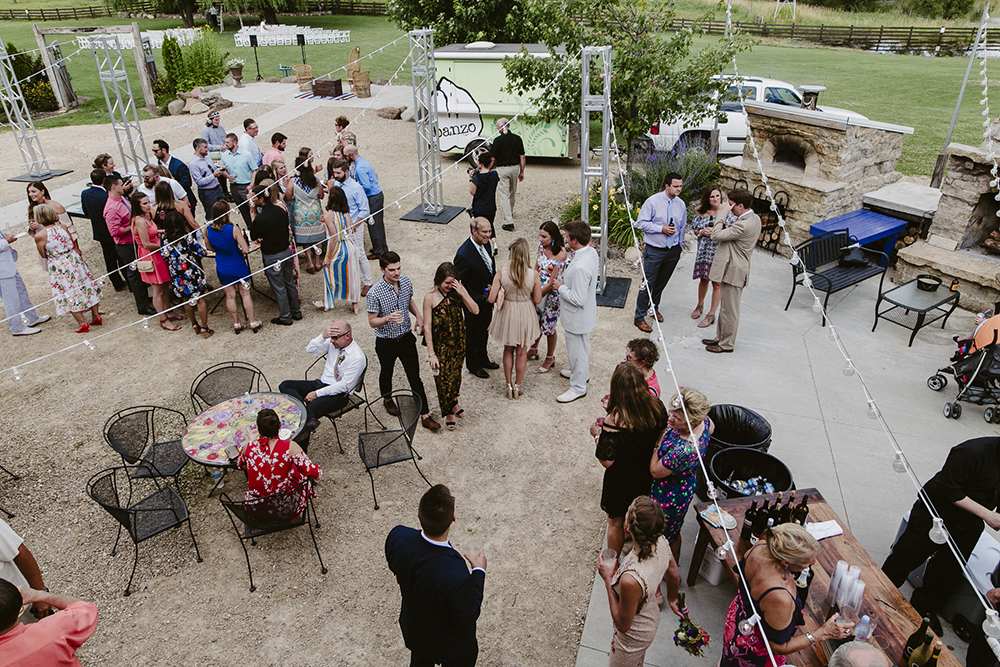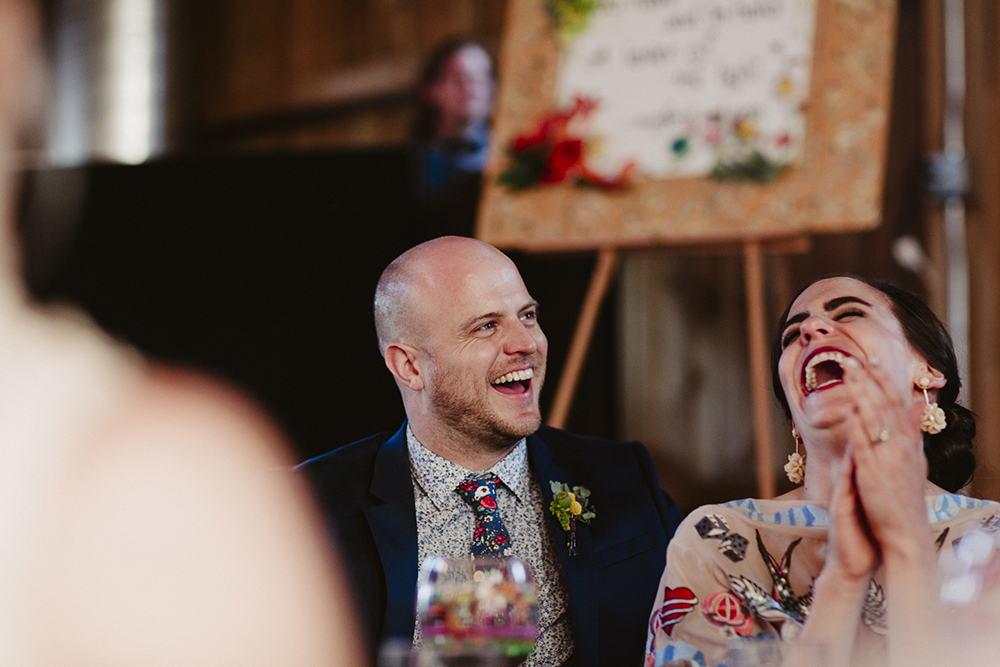 Take the time to do your research and figure out your style and your vision early on. Be confident about your choices! It's easy to second-guess your decisions along the way, but if you find vendors who support you and your ideas, it will all come together!
Our photographers! They were incredible – Not only did they make the trip over from Australia to be here with us, but they spent the week leading up to the wedding in Madison to hang with us, get to know our friends and families, and document all of it. They became our close friends by the end of the week! Our wedding photos were by far the greatest gift we'll ever receive and we can't thank them enough. Once it's all said and done, video and photos are the only tangible thing you have to remember the day and lucky for us, we have many amazing ones to look back on and remind us all the love, support, and joy we felt on our wedding day!
The only thing I wish we hadn't done was stress leading up to it! It's amazing how it all magically comes together on the Big Day and all the little things you might have worried about don't matter or never happen (and if they do, you won't care or notice them anyway because you'll just be so damn happy!).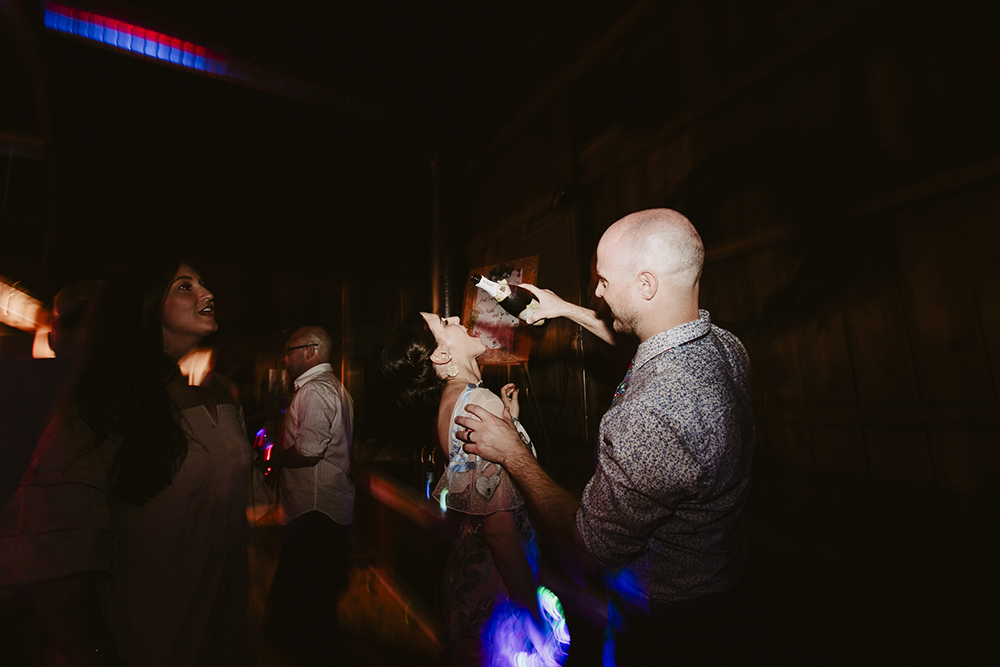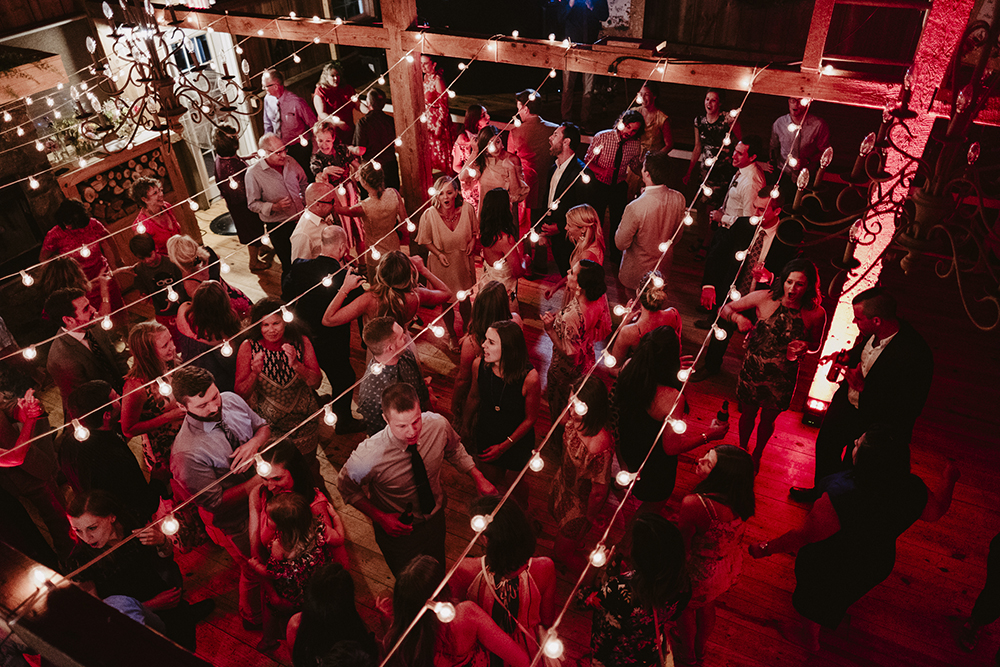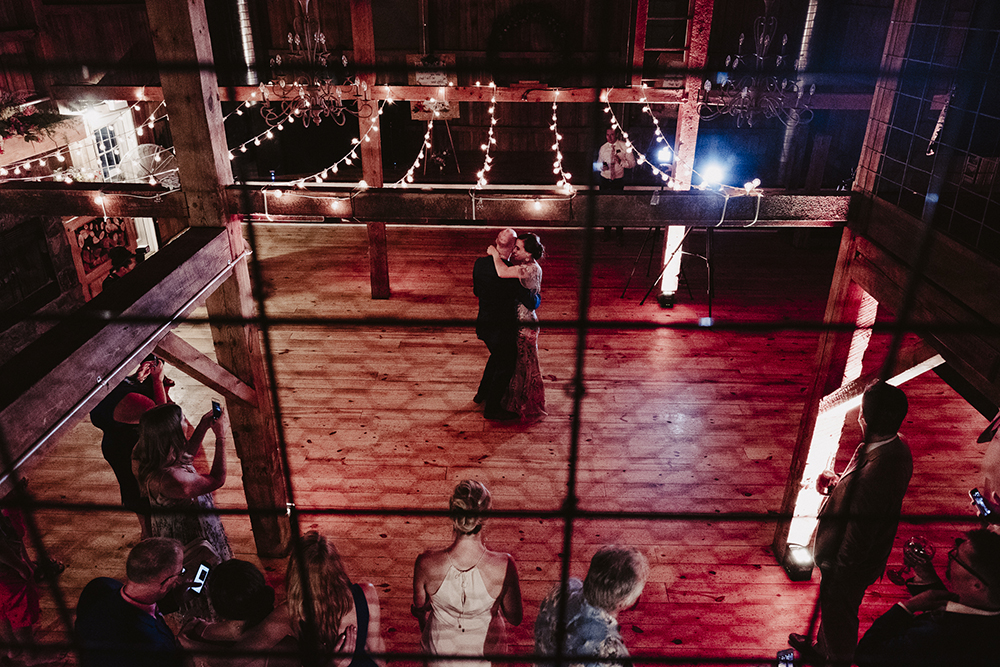 Photographer: The Beautiful Collective | Ceremony and reception location: The Barn at Harvest Moon Pond | Celebrant: Family friend | Entertainment: Sound by Design DJ | Styling: Martha Coughlin, Bliss Coordinating | Flora: Lisa Larsen, Sunborn Flower Farm and Florist | Food cart: Banzo Food Cart | Pizza: Fricano's Pizza | Cake: Whole Foods | Hair and makeup: Alice Ezrow, Midwest Beauty House | Wedding dress: Temperley London | Shoes: Betsey Johnson | Veil: Melinda Rose Design | Groom's suit: Express | Vintage ring: Antiques on Pierce