Gee & Adam | 33˚S, 151˚E from Amico Films on Vimeo.
Oh how we love a good wedding film! And this one by Amico Films is incredibly beautiful. We also have the stills and story…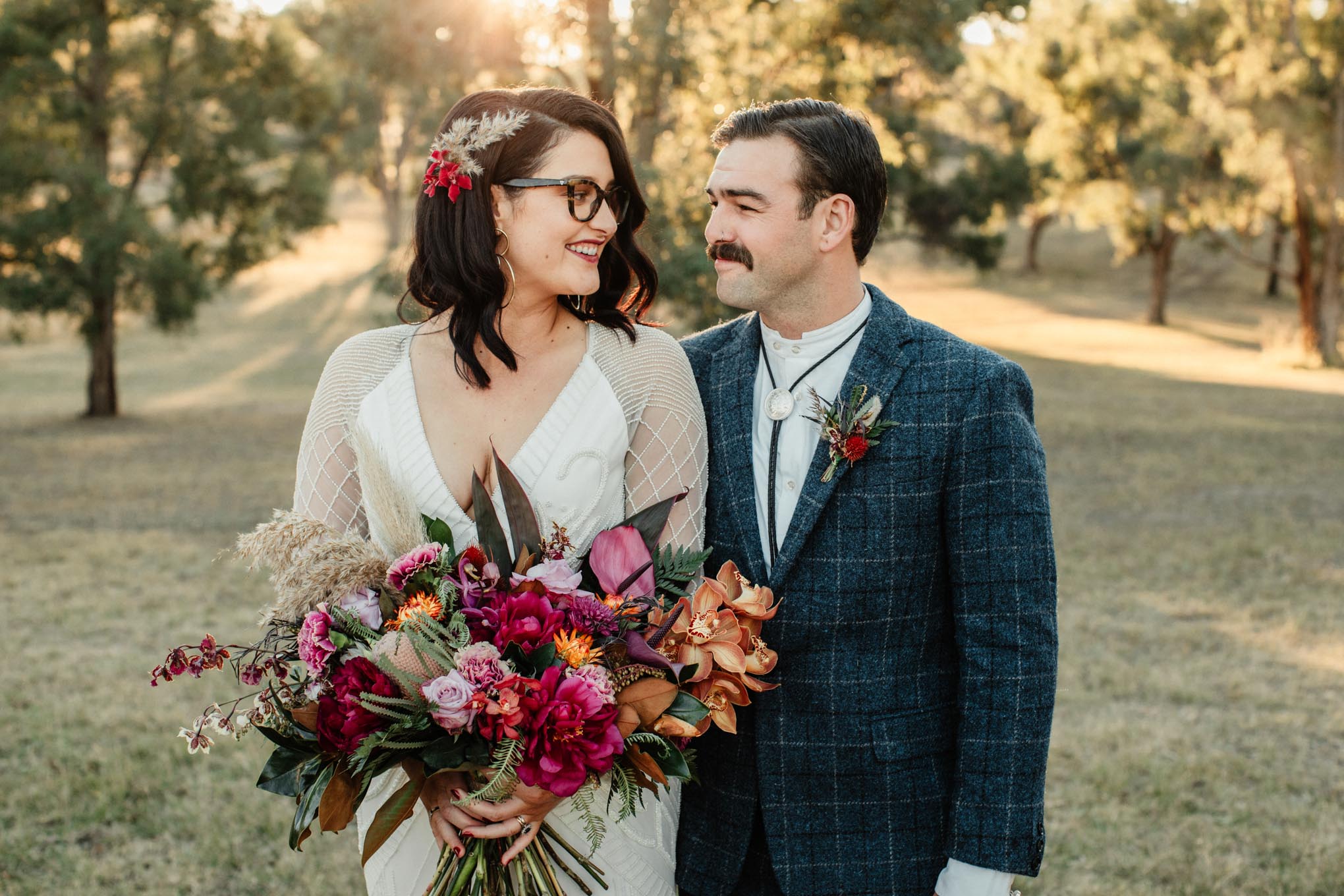 Tell us a little about yourselves, what you do, what you love, what is unique about you and your relationship…
I'm a Primary School Teacher and Adam is a Carpenter. We have been together for 7 years. We met at a random party in Newcastle. I saw Adam on the half pipe with his peroxide blonde hair and was instantly digging him. I told my friend and she warned me off him, "Too wild', she said. I went for it anyway. We fell in love pretty quickly and have been best friends ever since. 
Adam and I enjoy our friendships and our family time. We have a remarkable bunch of loved ones and choose to spend our lives laughing and having fun with said bunch. It's hard to describe how our relationship is unique. But I find myself asking how I managed to find my best friend and person I love most in this world and then marry him and be this blissfully happy. We're lucky and blessed. 
Tell us about your special day, was there a specific theme or style? Tell us a little about the setting, the styling and some of your favourite details…
There was no real theme. My best friends (Ash & Sarah & Madie which make up 3/6 of my bridesmaids) are so incredibly on trend and talented in so many different ways. They made the wedding what it was. Ash is an incredible florist, so she had full creative control (get a go of the blooms she did for our wedding, it was a dream). Between these three, they could rule the world. 
Our ceremony was on the hills of Broke, NSW at Adams Peak Country estate. The open landscape was beautiful with breath-taking views of the mountains surrounding us. I am a country girl, from Parkes, NSW so a country vibe was what I'd always dreamt of. It was in the middle of winter, yet we were blessed with a warm, sun shining day. It was so perfect. Ash created a pampas grass cloud to hang off the arbour. With that as the focal point and the magical landscape, decorations were minimal. Our best friend Roxy did the ceremony for us. We felt that it would be so much more personal having somebody up there who knew us from the beginning. It made us feel relaxed and we all laughed and cried the whole way through. I shook Adam's hand when I got the end of the isle and lined up ready to begin. It was perfection. We both love a solid handshake. We wrote our own vows, which Adam cried throughout the entirety of. Again, it was perfect. 
The reception was located in 'The Barn' at Adams Peak Country Estate. It already has a rustic vibe, and with Ash's incredible flower installation and decorating, the reception styling looked flawless. We opted for a Cocktail menu because we wanted our guests to mingle as they pleased and to create their own vibe. The food was so delicious, and it allowed for a free-flowing night. 
Tell us about your main outfits:
As soon as I was engaged, I found the Mariana Hardwick gown online at Hope X Page and knew it would be my wedding dress. Fast forward 6 months, I went into Hope X Page and met Alex (owner). We instantly clicked and became best friends right there in her changing room with my boobs out trying on wedding dresses. She tried to convince me to try other dresses on (cause she's good at her job) but I was right, it was the Ingrid gown by Mariana Hardwick. 
Adam knew he wanted a tweed style suit. We looked in store around Newcastle and Sydney but ASOS came through with the goods which was also a cheaper option. He's a funky dresser and put together the entire outfit himself down to the choice of bolo tie, and socks matched with a (super) tailored pant, which really allowed for his personal style to shine through. 
What were some of the most memorable/unique moments from the day?
Each guest had their own glass to keep for the night which Juliet (Adam's mother) collected from various Op Shops around the Newcastle area. Each guest chose their glass and attached their personalised love hearts with their name on it. A lot of the guests took their glass with them as a keepsake.  
My darling dad passed away suddenly at the end of last year so there were a few special reminders which we added to the day to remember him. We had an image of my mum and dad on their wedding day set up on a table, my dad's cuff links which he wore to his wedding were attached with twine to my bouquet, along with his button hole that he would have worn on the day. Adam and I walked down the aisle as husband and wife at the end of the ceremony to 'Whole Lotta Love' by Led Zeppelin as it was one of my dad's favourite songs. We danced to 'Someone Like You' by Van Morrison for our first dance. This song has always and will always remind me of my beautiful mum and dad.  
A favourite moment would have to be the fireworks. Adam's cousin secretly put on a fireworks show (sorry again Karyn from Adams Peak). We were all on the dancefloor when they started. The band started playing Firework by Katy Perry and Adam and I walked out onto the grass and stood together and watched. We laughed, hugged, kissed and took a moment to take in the incredible day and night which was on the cusp of ending. It was so special and a moment we will never forget. 
Any advice for other couples planning to spend the rest of their lives together?
Take it in!!!!! Don't sweat the small stuff. Oh and if you're tossing up whether or not to break the bank and get a Videographer. DO ITTTTTTT!!!!!!! The day went so fast and I felt like I wasn't even there, so to have that incredible video come into our hands a few weeks after was pure joy! JUST DO IT. 
Photographer: Samuel Jacobs Photography | Ceremony & Reception location: Adams Peak Country Estate, Broke (Hunter Valley) | Videographer: Amico Films | Celebrant: A Special Day | Entertainment: Mark Wells Duo | Styling & Flora: With Love Bespoke Styling | Catering: Monkey Place Catering | Cake: Wheels of cheese/ grazing table by Harley's Table (Adam's sister) | Bride's dress: Mariana Hardwick 'Ingrid' dress from Hope X Page | Bride's shoes: Wittner | Earrings: Alix Yang Jewellery | Fur: Unreal Fur | Groom & Groomsmen's attire: ASOS; H & M | Groom's shoes: Doc Martens | Bride's ring: Grandmother's sapphire ring | Groom's ring: Custom made by Sue the Boy | Bolo tie: Western World Saddlery | Makeup: Ilona Kish | Hair: Grace Kelly from Shag Hair | Bridesmaids dresses: Sheike; Bec & Bridge; Tigerlily | Bridesmaids shoes: Wanted; The Iconic