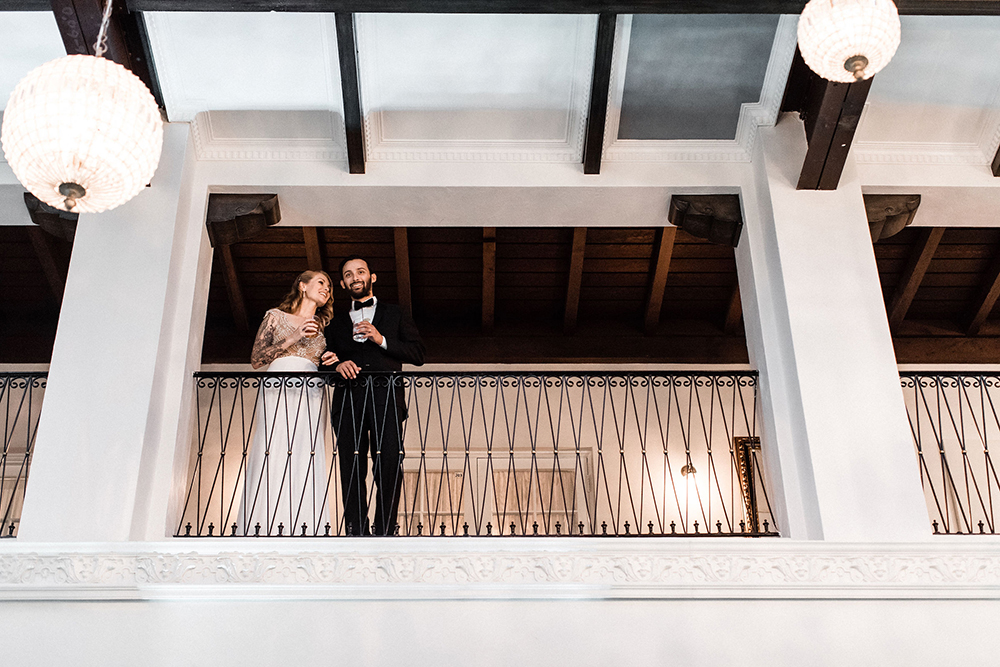 Tell us a little about yourselves, what you do, what you love, what is unique about you and your relationship…
Dustin: I'm an east coast guy, born and raised in New Jersey, and Jaymee is very much a California girl. We met June 5th 2016 in New York City while Jaymee was finishing up her masters degree and I was working as an art director. From the moment we met we began falling in love. Real Love.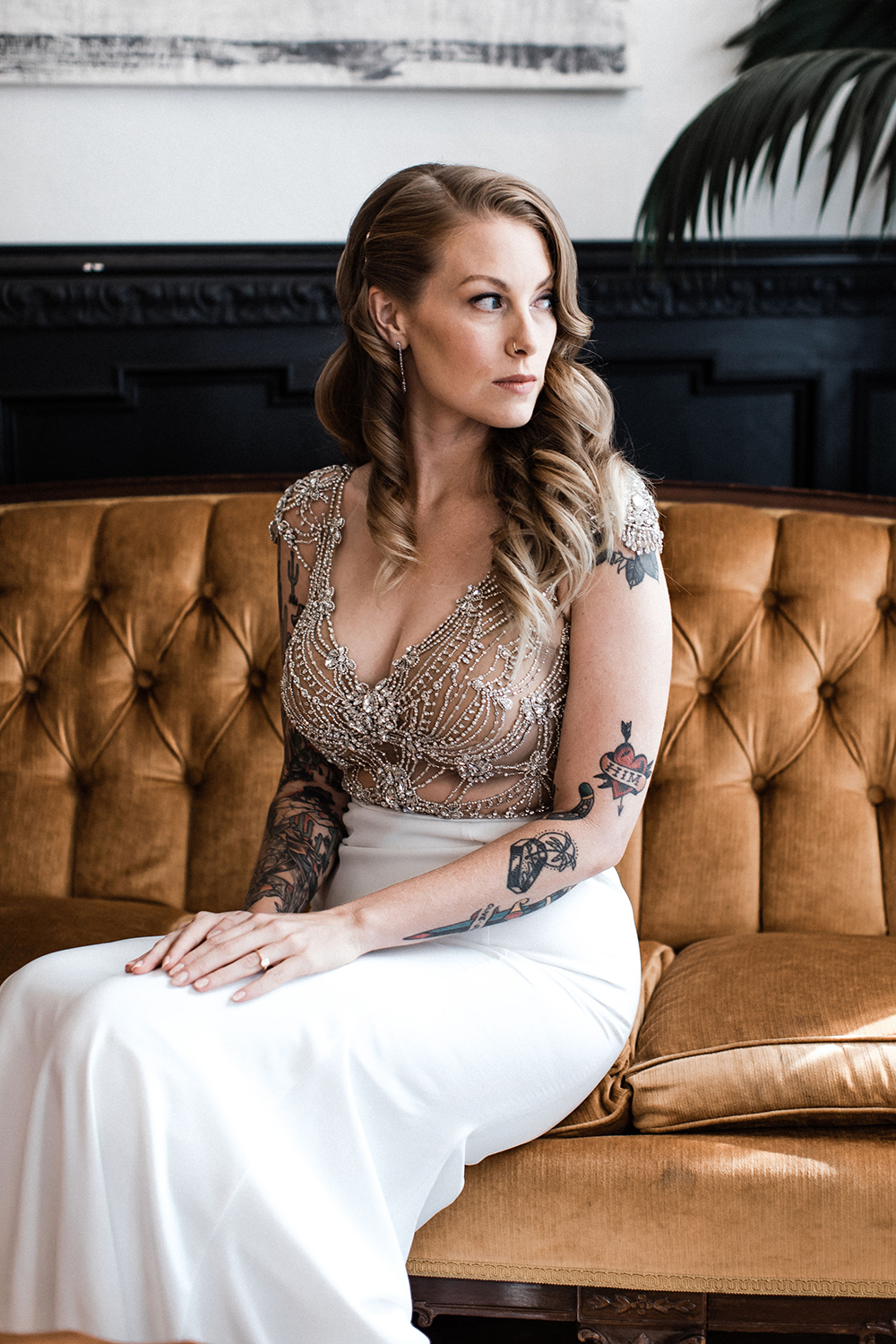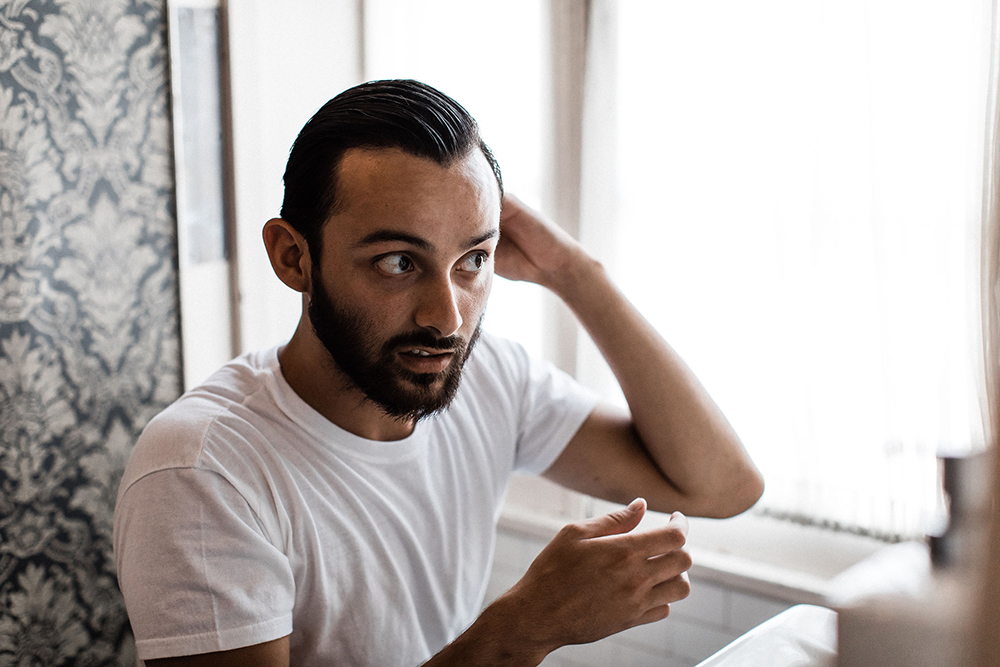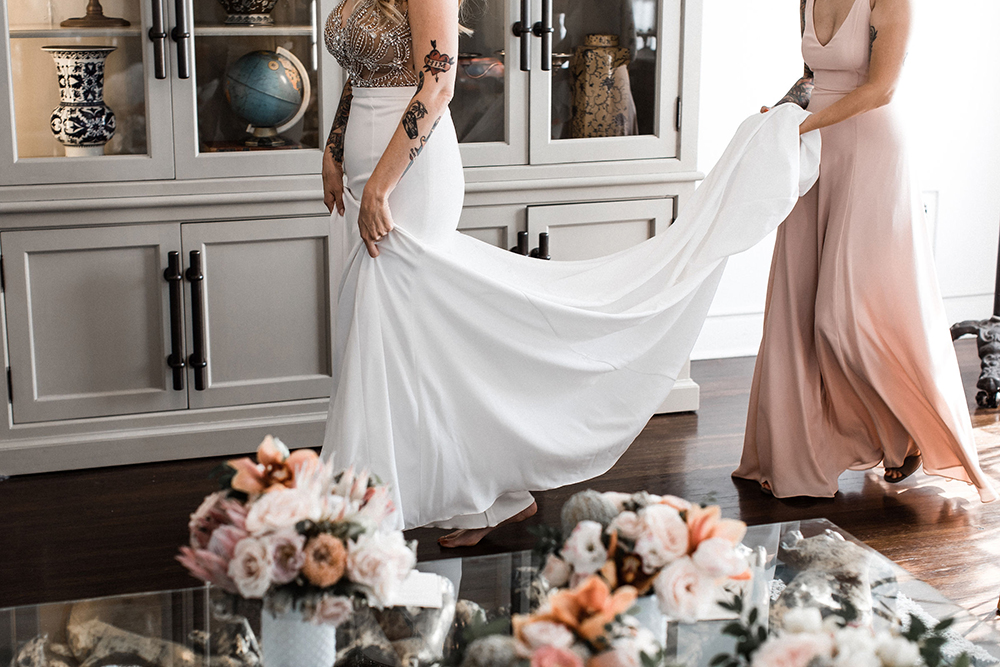 It wasn't the cheesy Fairy Tale stuff but the hard love that those married for 50/60 years speak about, that has you so connected with someone that nothing else matters, and the years before are merely remembered as nothing more than the journey to each other. She told me she loved me first! TWICE!
It's funny how such an impactful word could mean so little before the right person says it. It actually wasn't the word that stopped me in my tracks but the way I felt when she said it, as if I was in quick sand, couldn't escape it. The more I fought it the more I fell deeper and deeper. I love you too. Fast forward just two years later, two dogs, and a house on the opposite side of the country, we said our I do's.
Jaymee: The week after I met him, I flew back to California, and on the car ride home from the airport I casually announced to my mom that I had met this guy and that I was totally going to marry him one day! Very out of character for me, but hey when you know you know 😉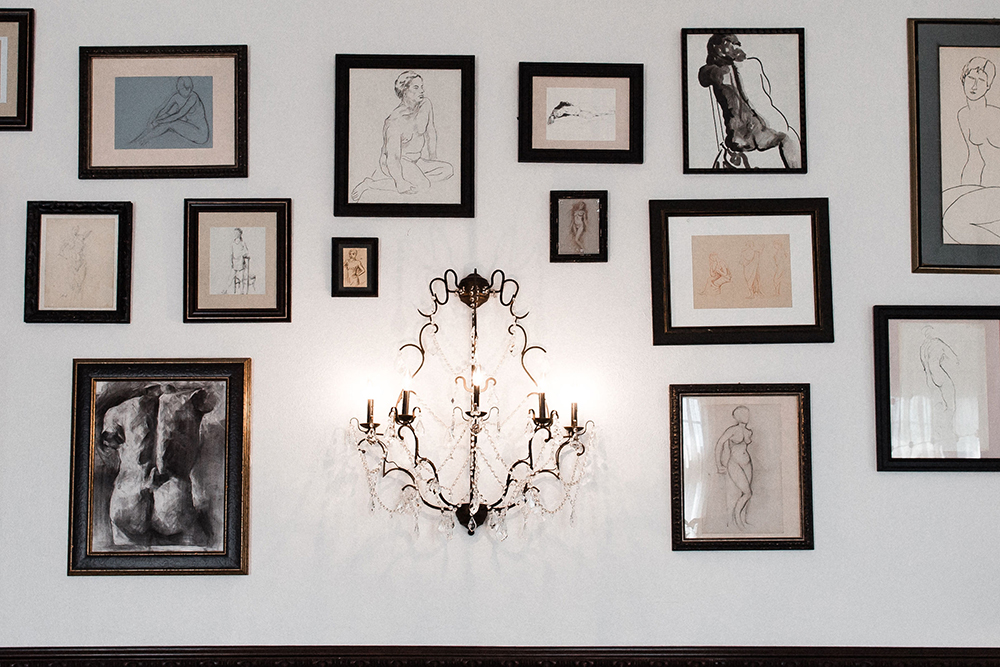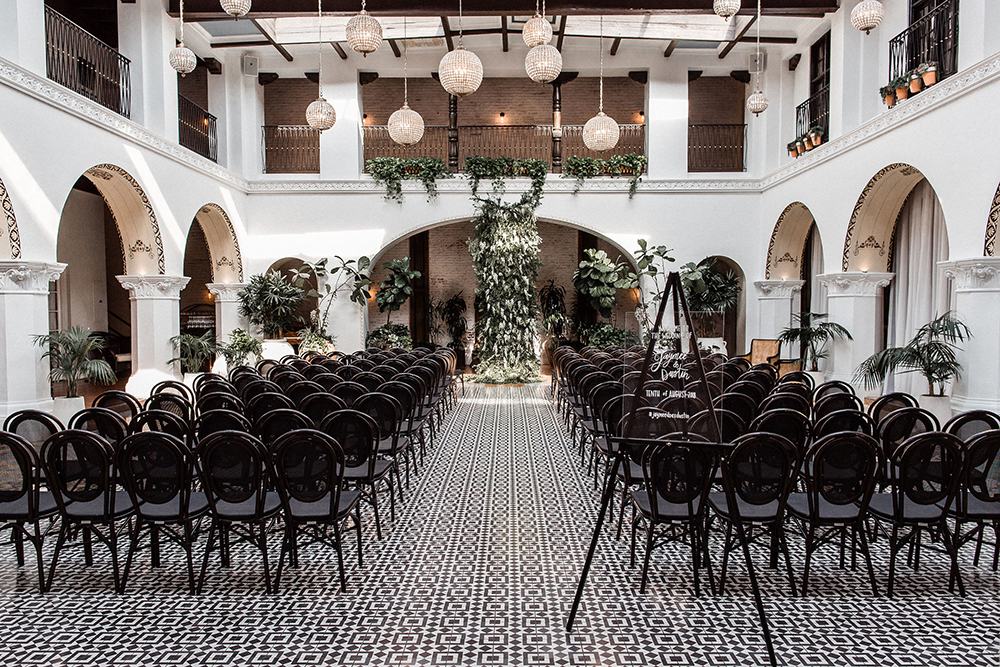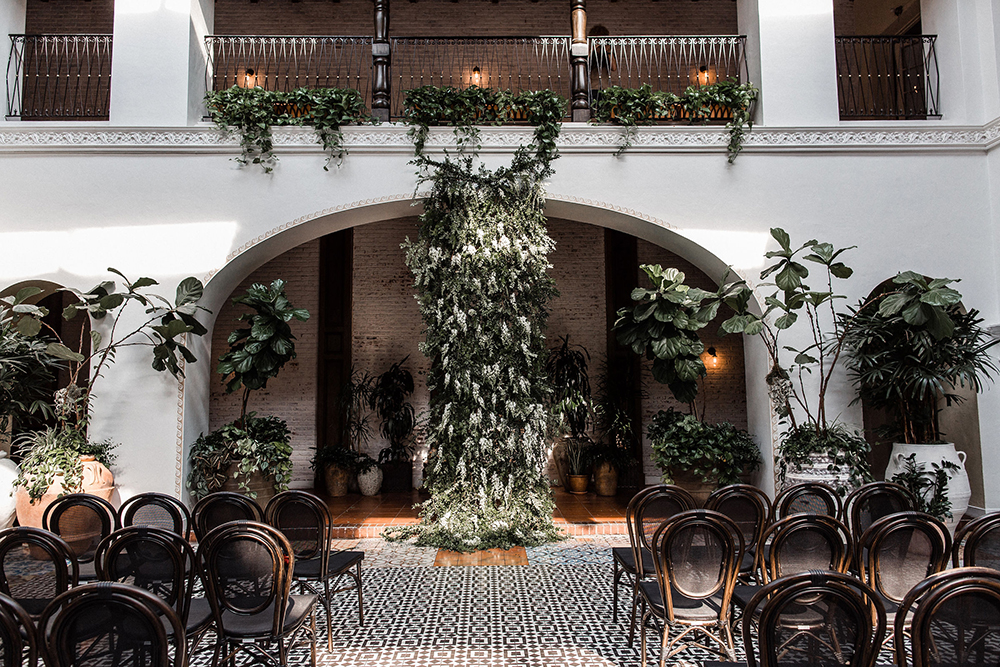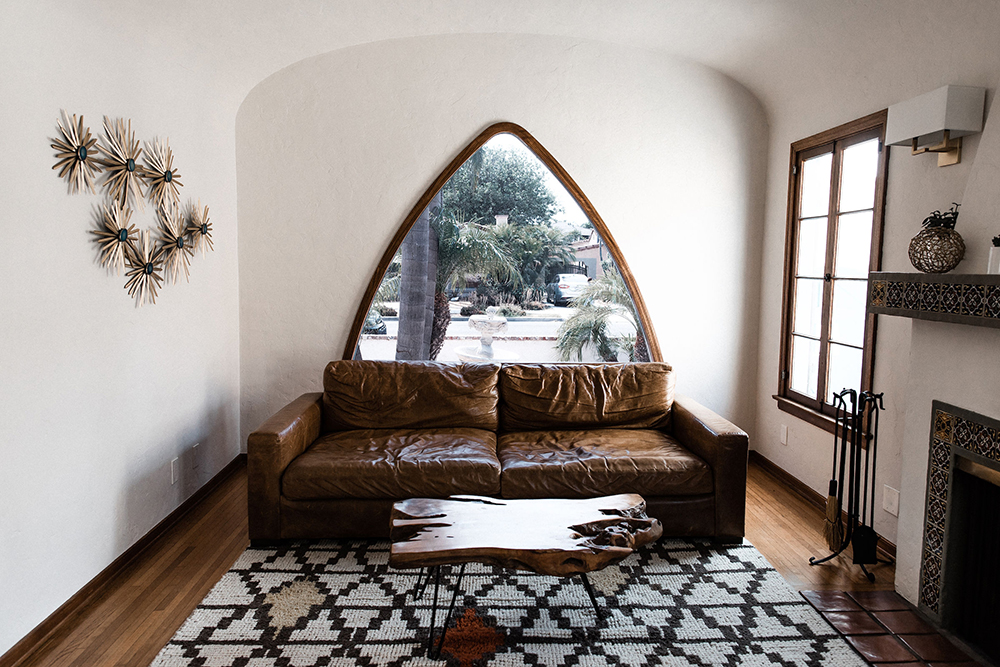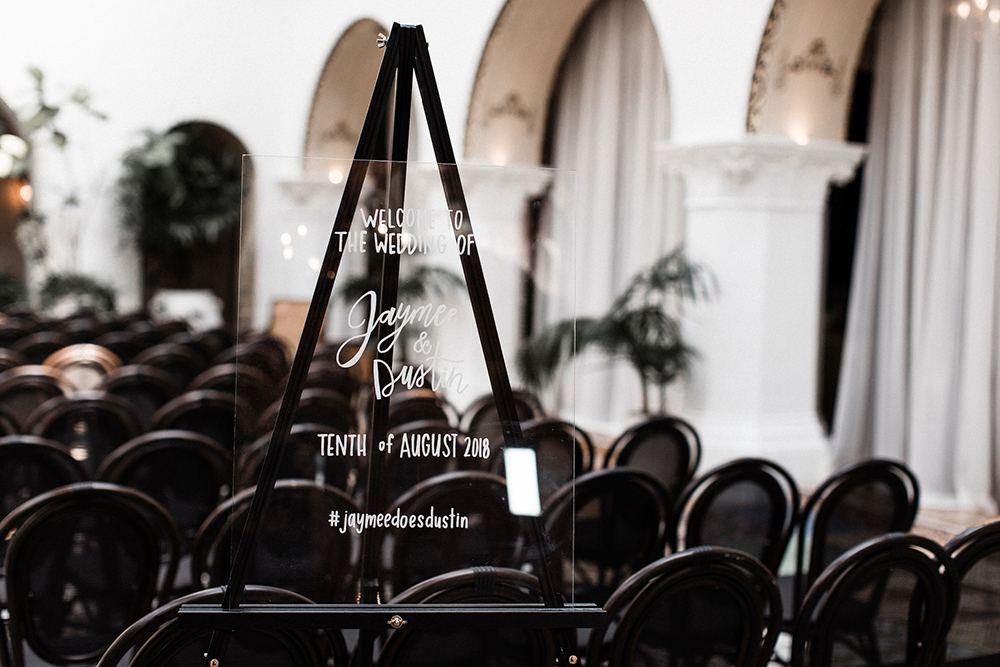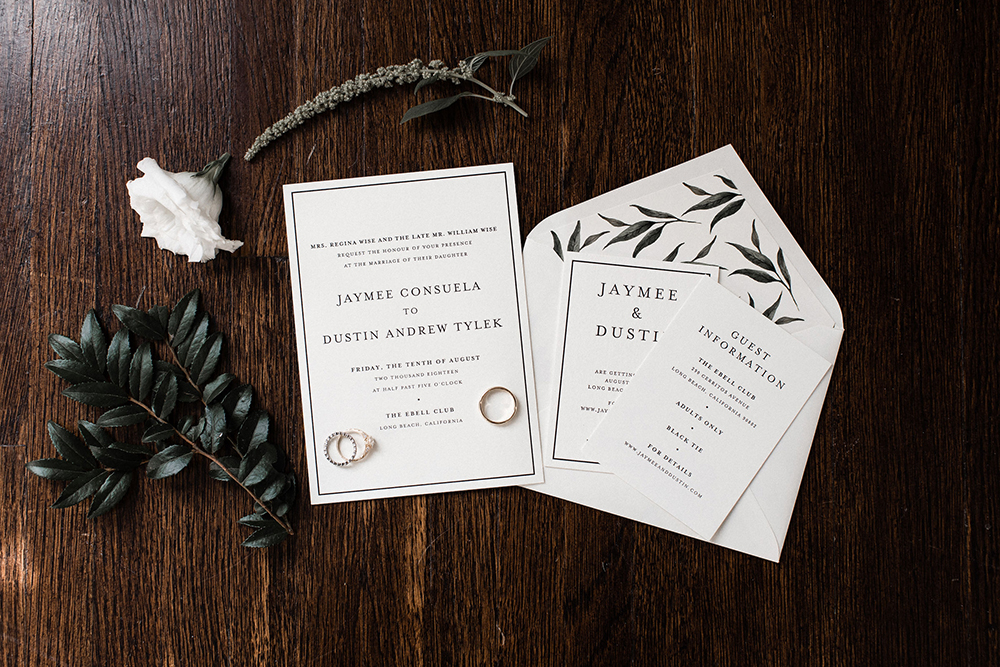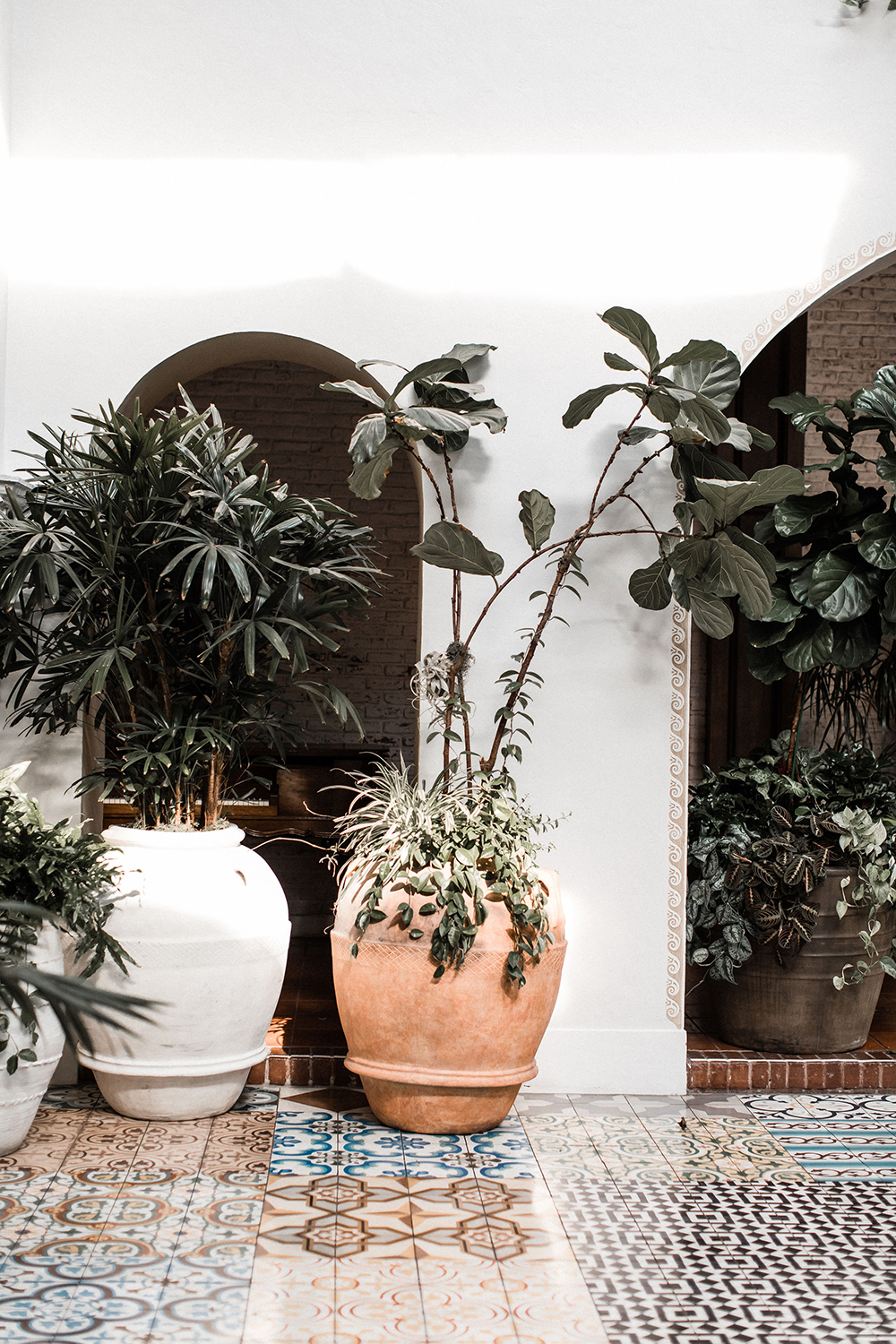 Tell us about your special day, was there a specific theme or style? Tell us a little about the setting, the styling and some of your favourite details…
Jaymee: We looked at venues on both the east and west coast with a rough idea of the outdoor woodsy wedding I have always dreamed about. As time went on and wedding venues fitting that theme dwindled, we broadened our search. My mom had suggested the Ebell Club in Long Beach as she once hosted an event for work there. Dustin and I both didn't have high hopes as we weren't sure that a venue which hosted a work function years ago was the dream setting for our wedding day but as the saying goes, "Momma knows best" and she sure did.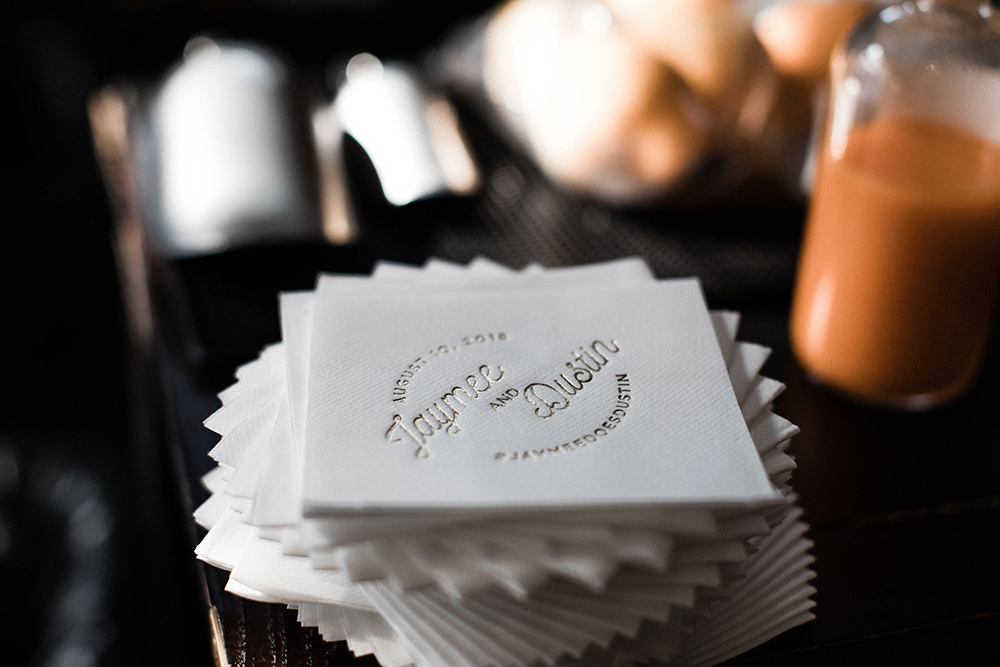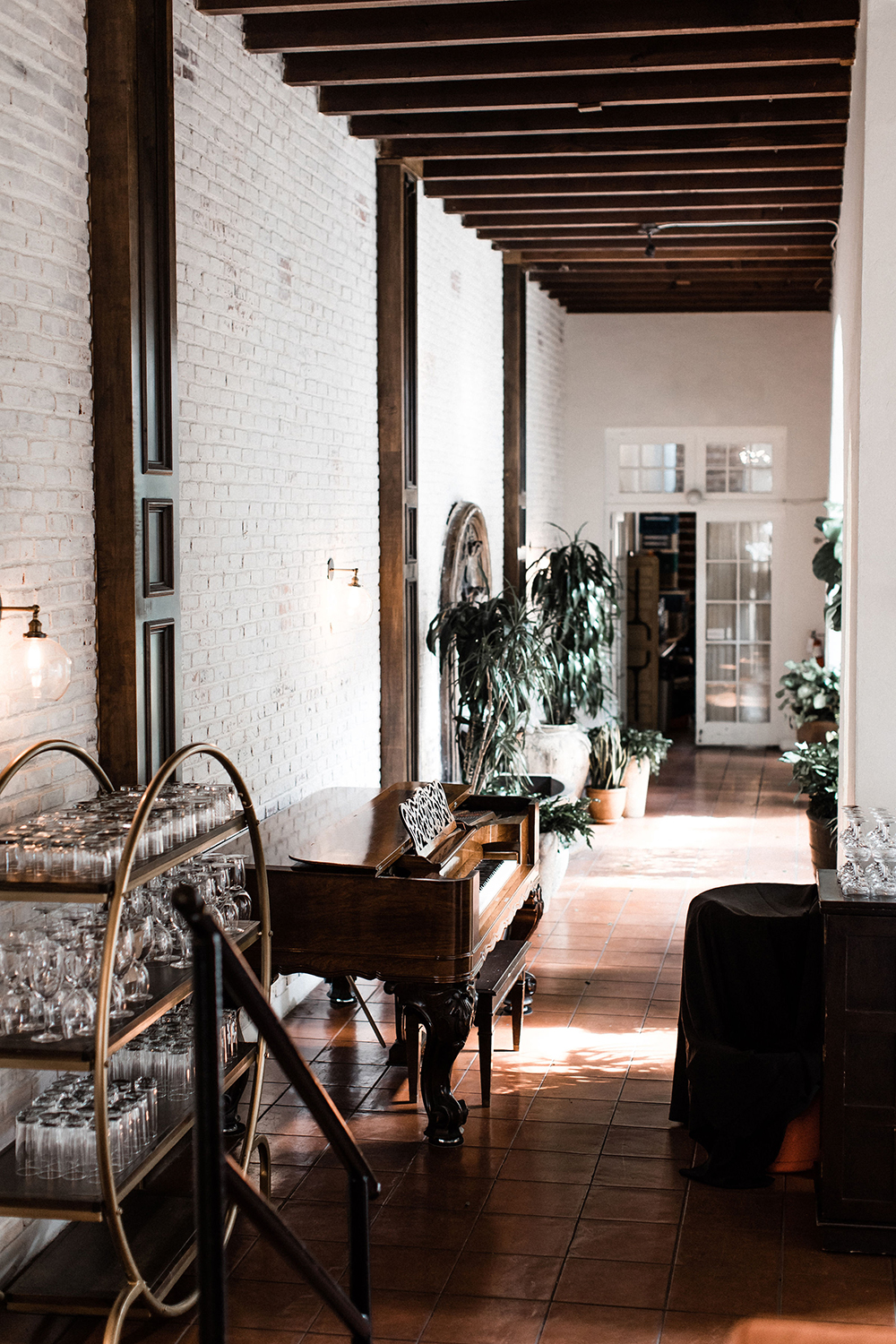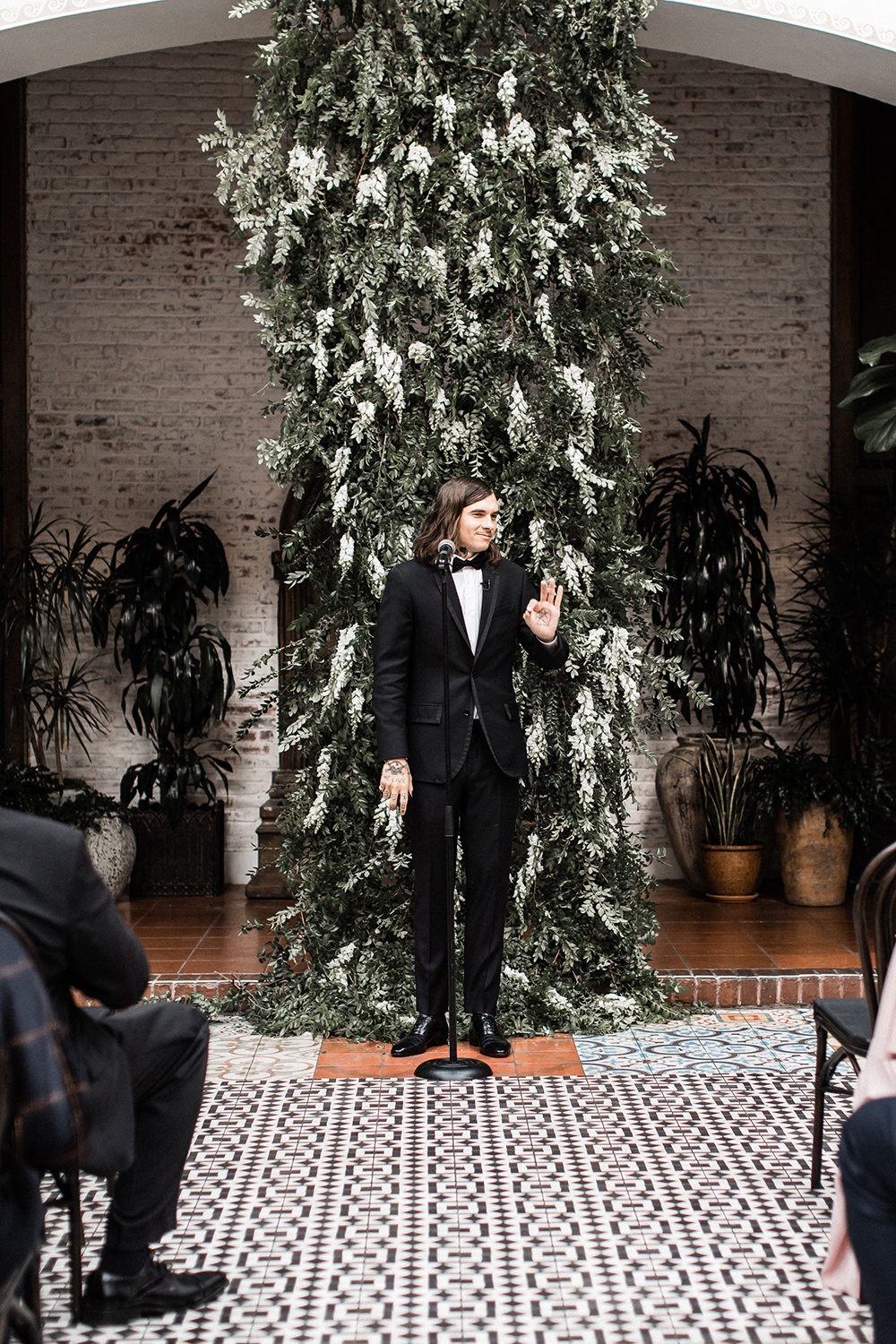 A complete renovation of the space had been done since mom's work days and the second we walked in we knew it was the place. Dustin being an art director fell in love with all the small details and I loved the larger than life but still intimate feeling of the overall space.
Not picking an outdoor venue, it was important to me that we had a lot of greens and florals everywhere to still give that fresh outdoor feeling, with the high ceilings, sky lights, and wrap around balcony we were able to do just that. The venue itself has such a rich history and an existing decor that fit right in with the mood in which we wanted. Classic, unique, bright. It was the perfect mix of California and New York.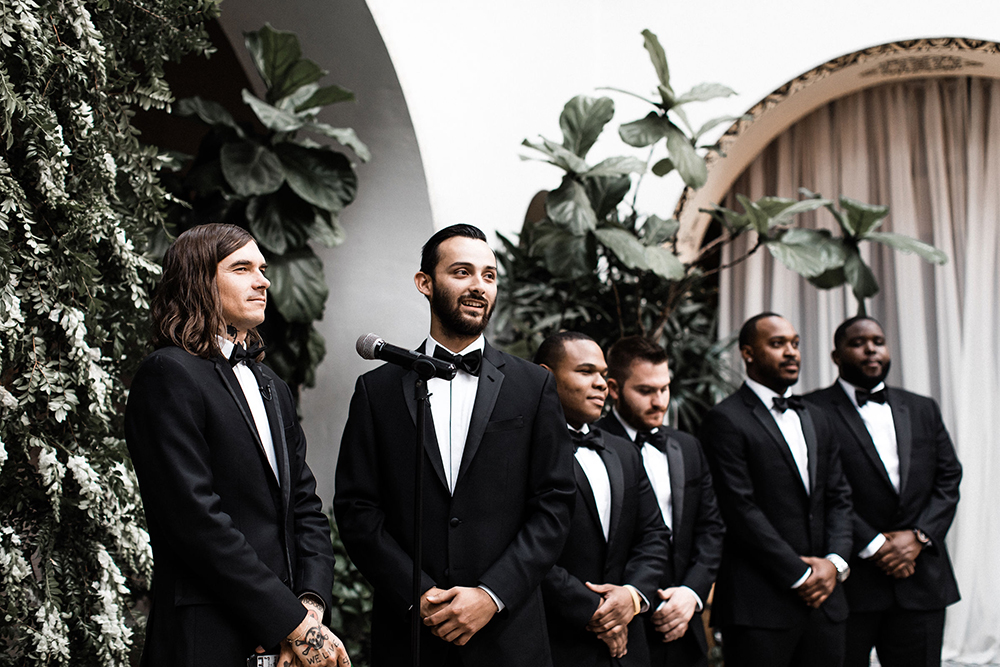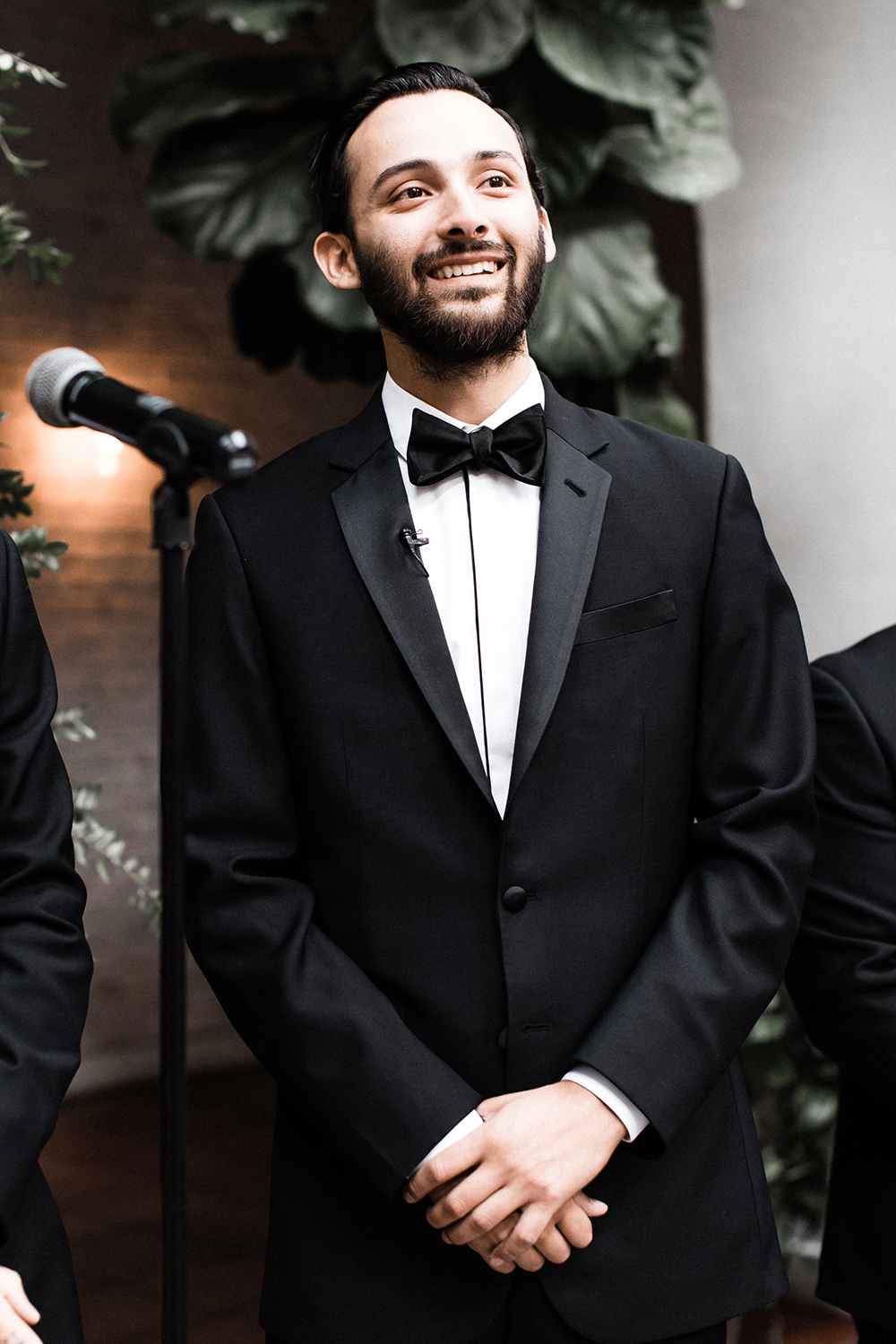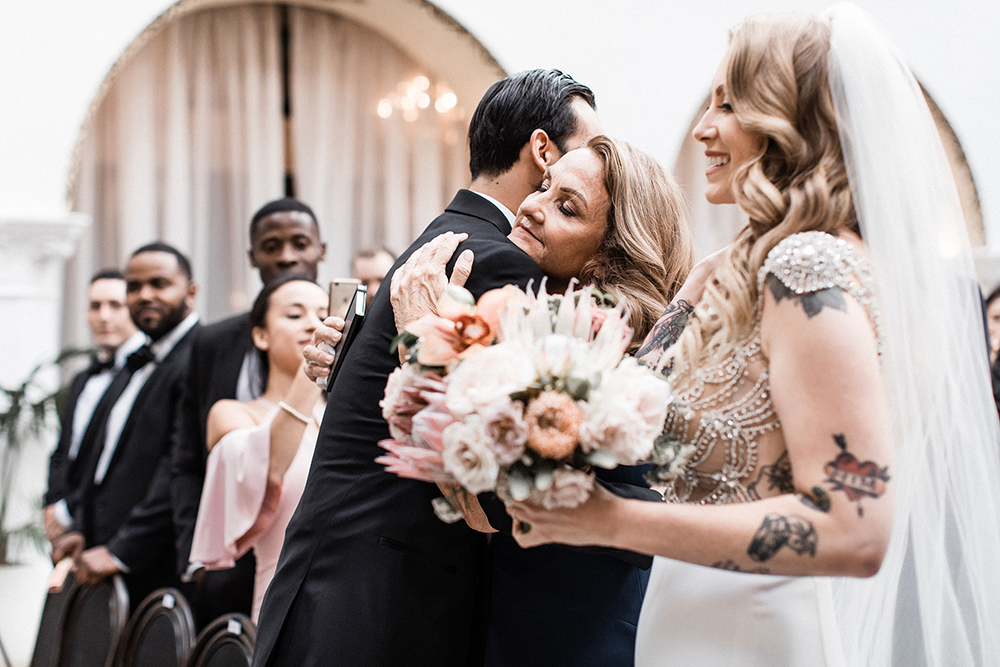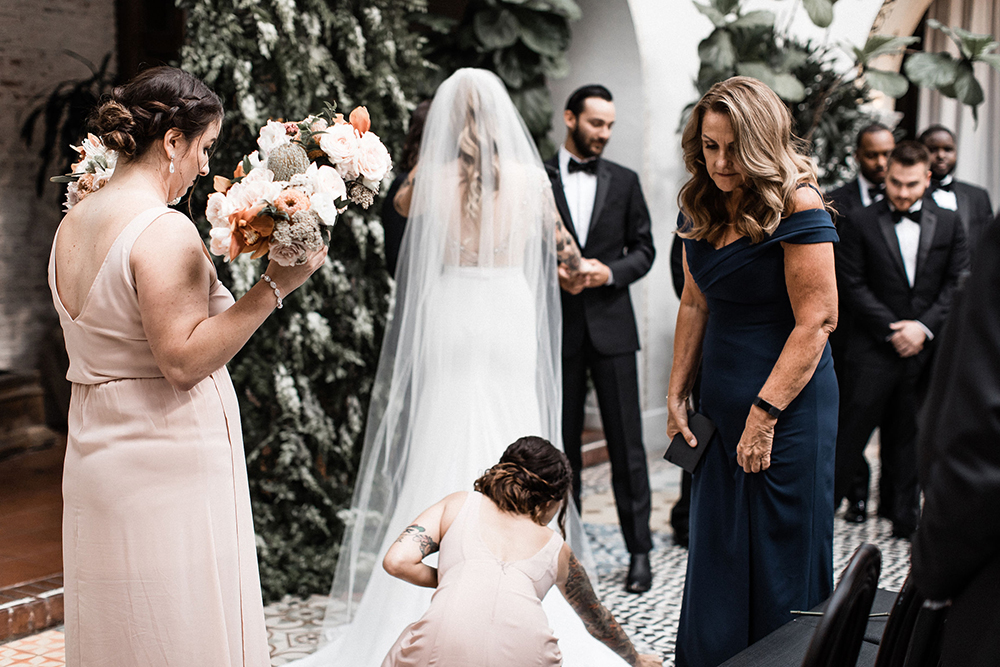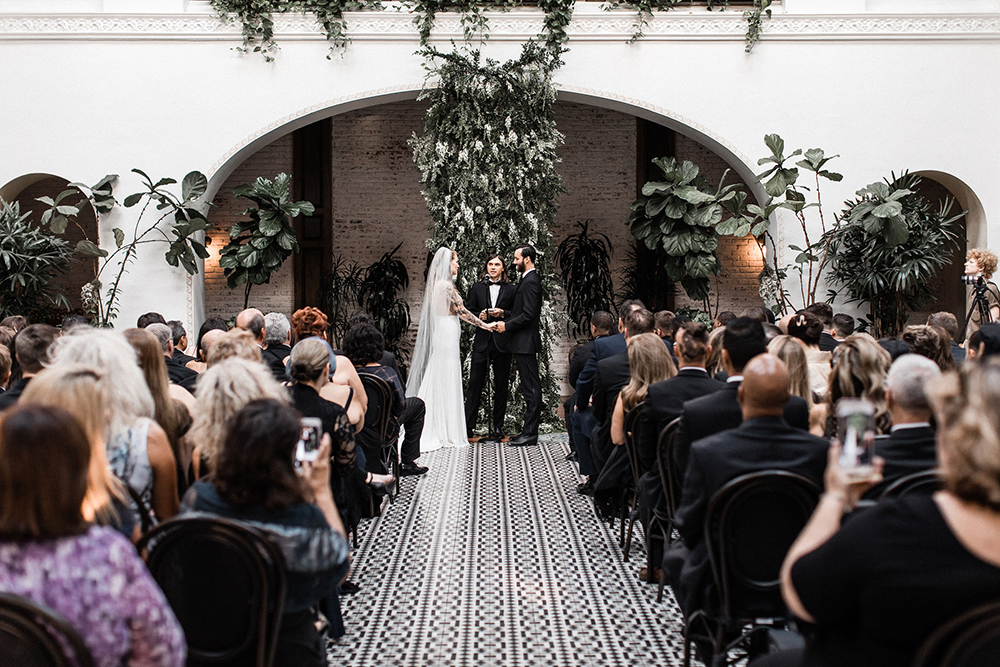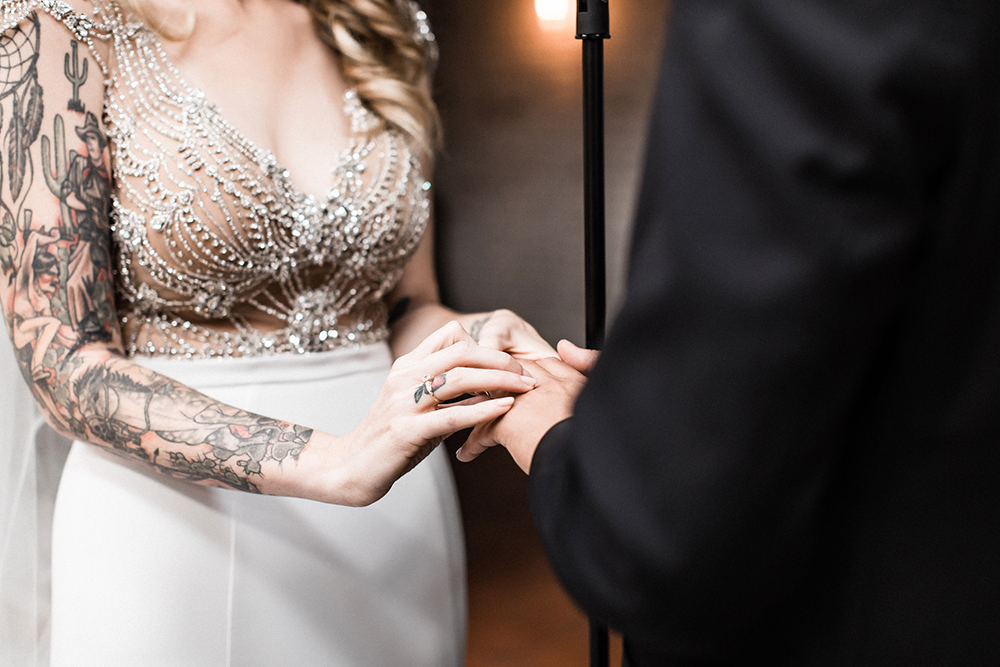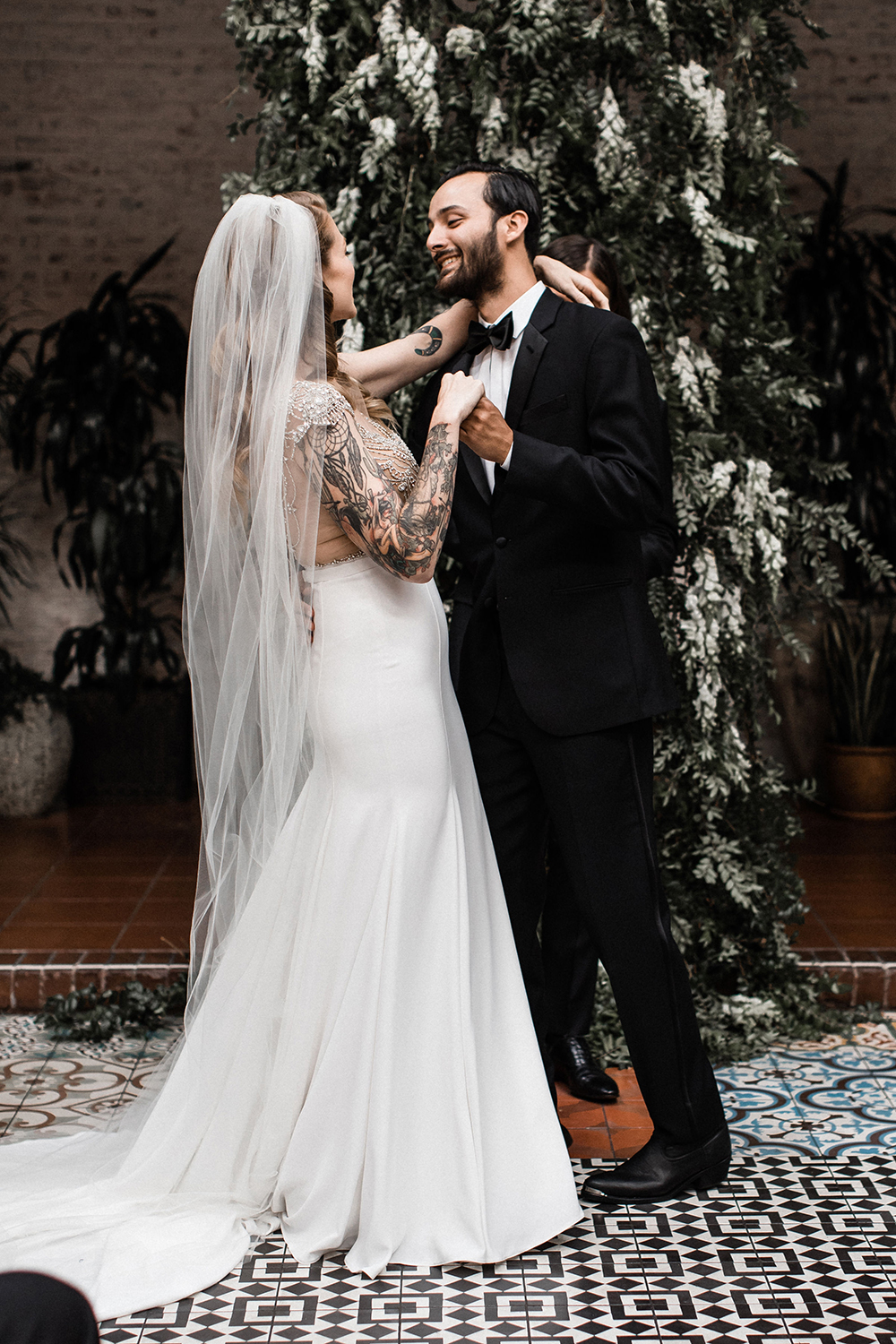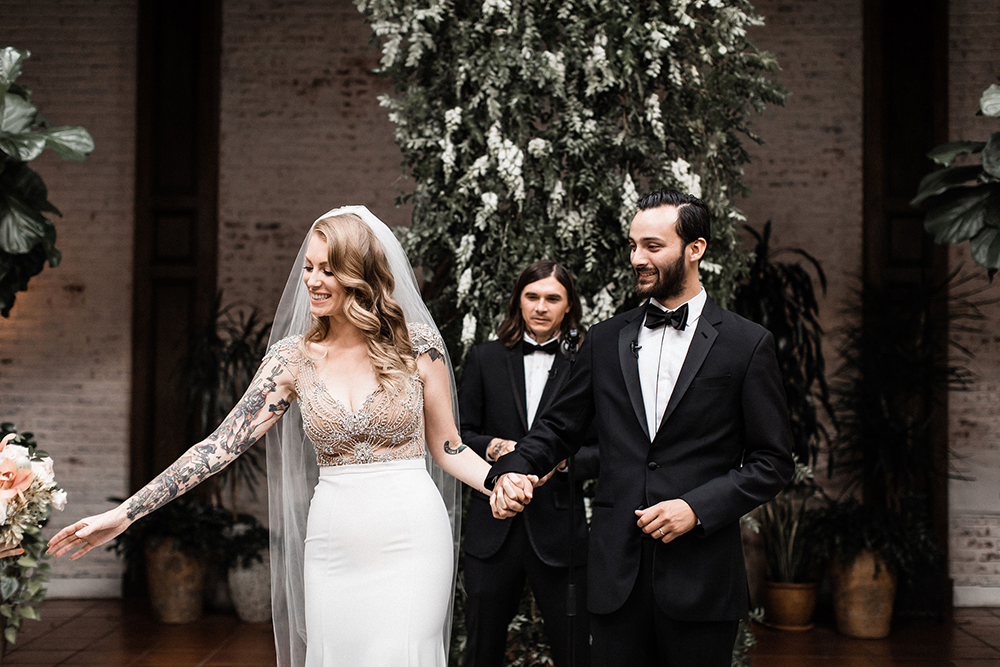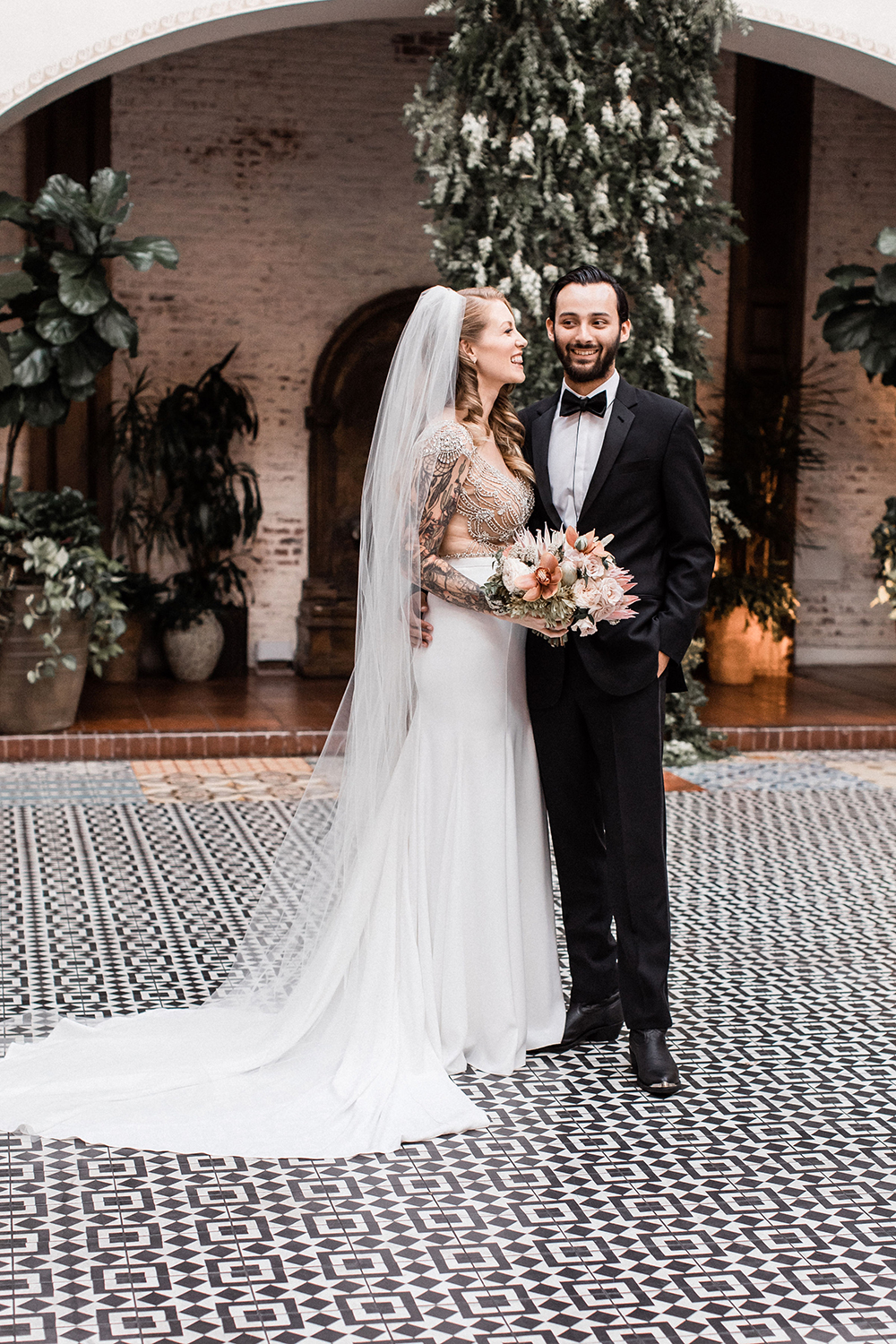 Tell us about your main outfits:
Dustin: My groomsmen and I got fitted at The Black Tux in classic black peak lapel tuxedos with bow-ties to match. To differentiate myself slightly but still keeping the classic look I picked up a shirt from Hugo Boss with a contrast placket and a pair of all black cowboy boots. James Bond meets Johnny Cash.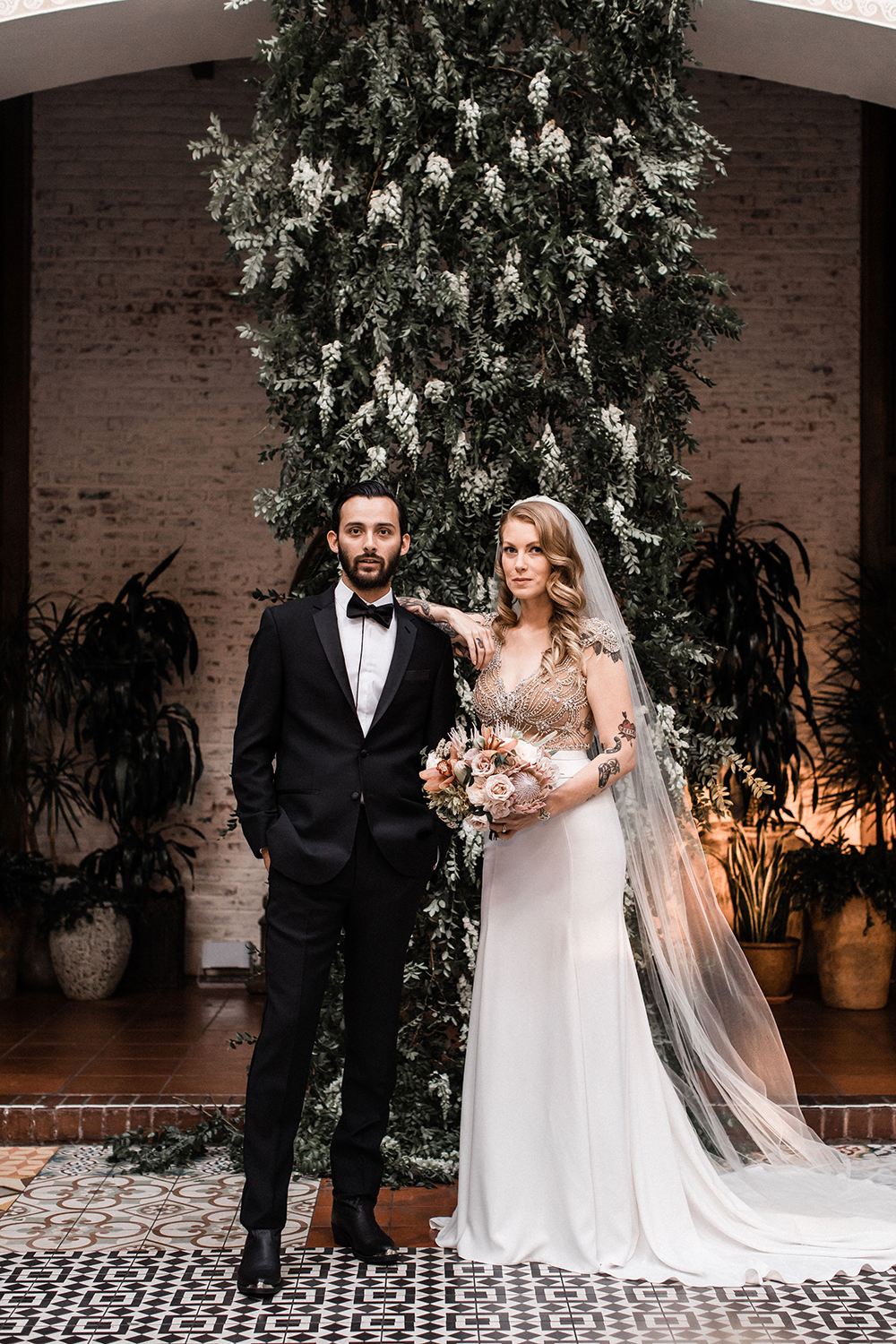 Jaymee: The dress I ultimately chose was not at all what I envisioned when I was a little girl growing up and planning my wedding. For as long as I can remember, I was certain I wanted lace and long sleeves, but trying those on just didn't quite feel like me. On our second dress shopping adventure my aunt spotted this jeweled cap sleeve dress from Alon Livne.
From the moment I slipped into it I just knew. It was different, none of us had ever seen anything like it. It was very old Hollywood vibes – very glamorous but with some sass. I didn't want to take it off! It was one of those moments, similar to when meeting Dustin, of just knowing.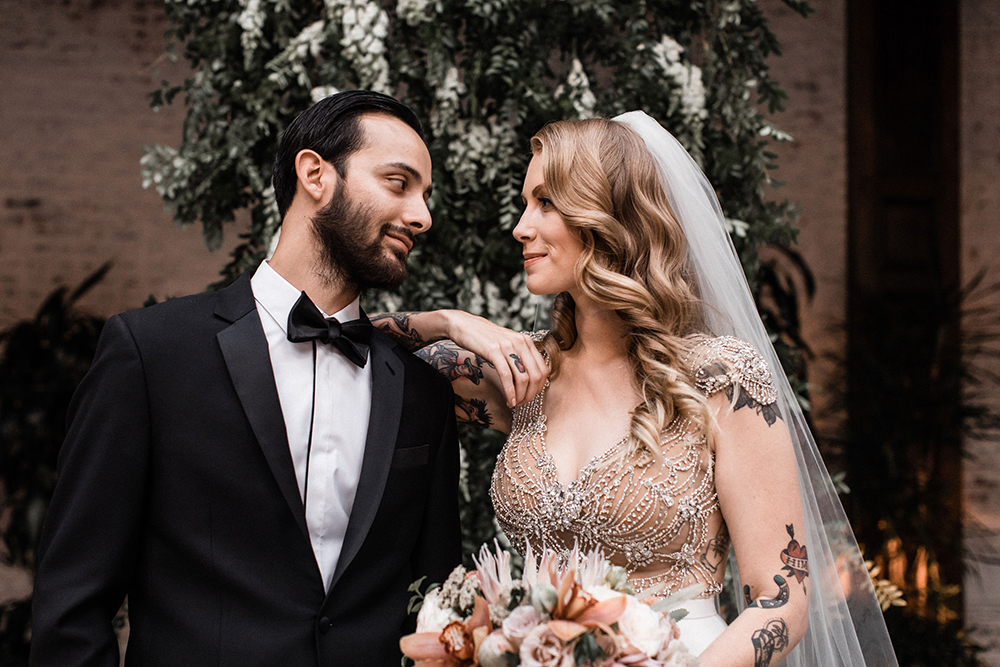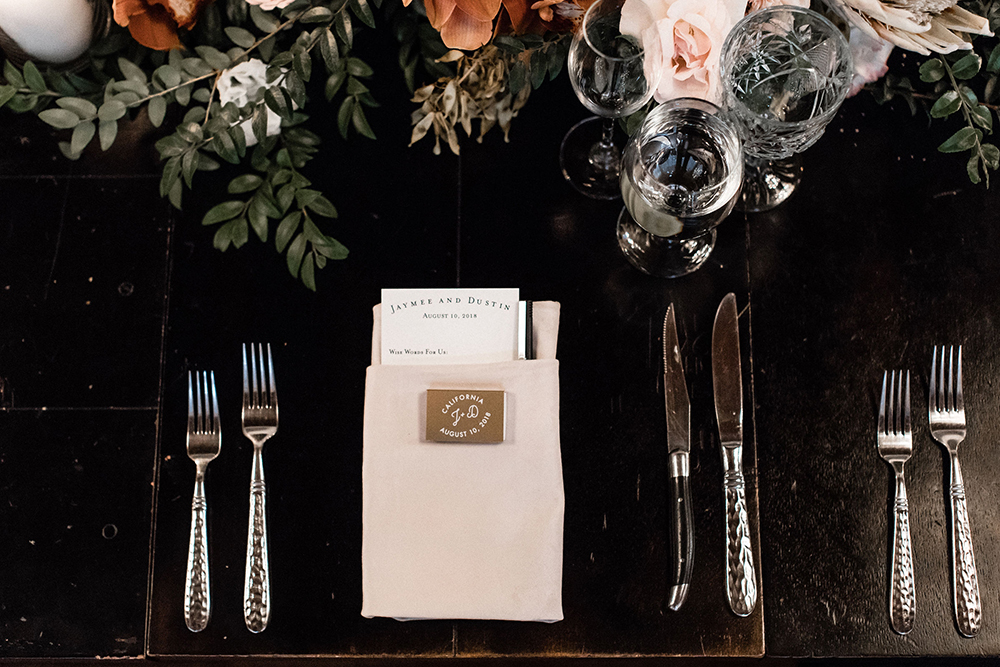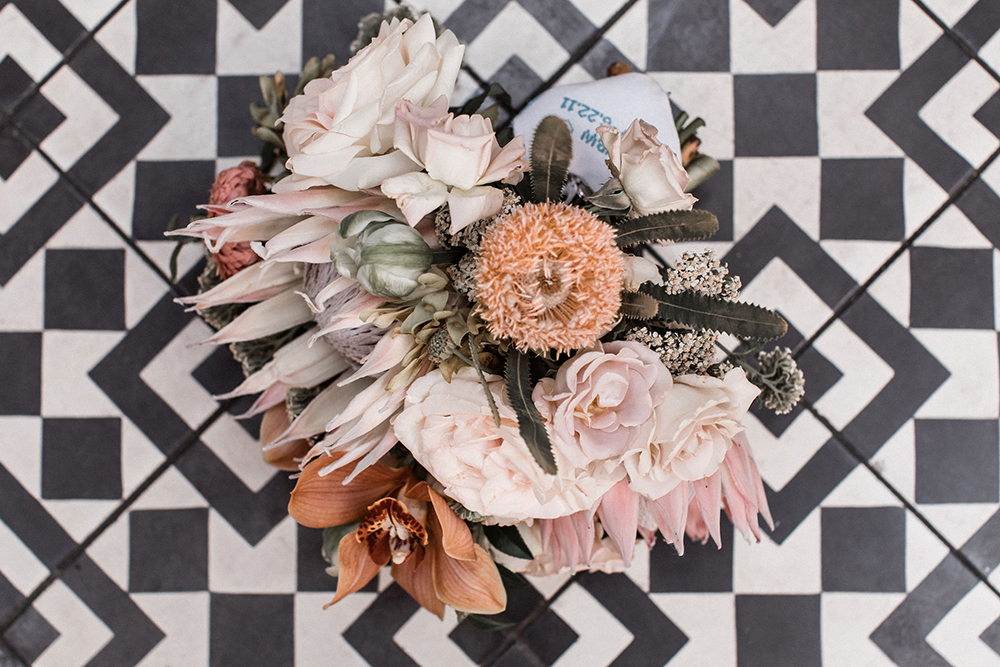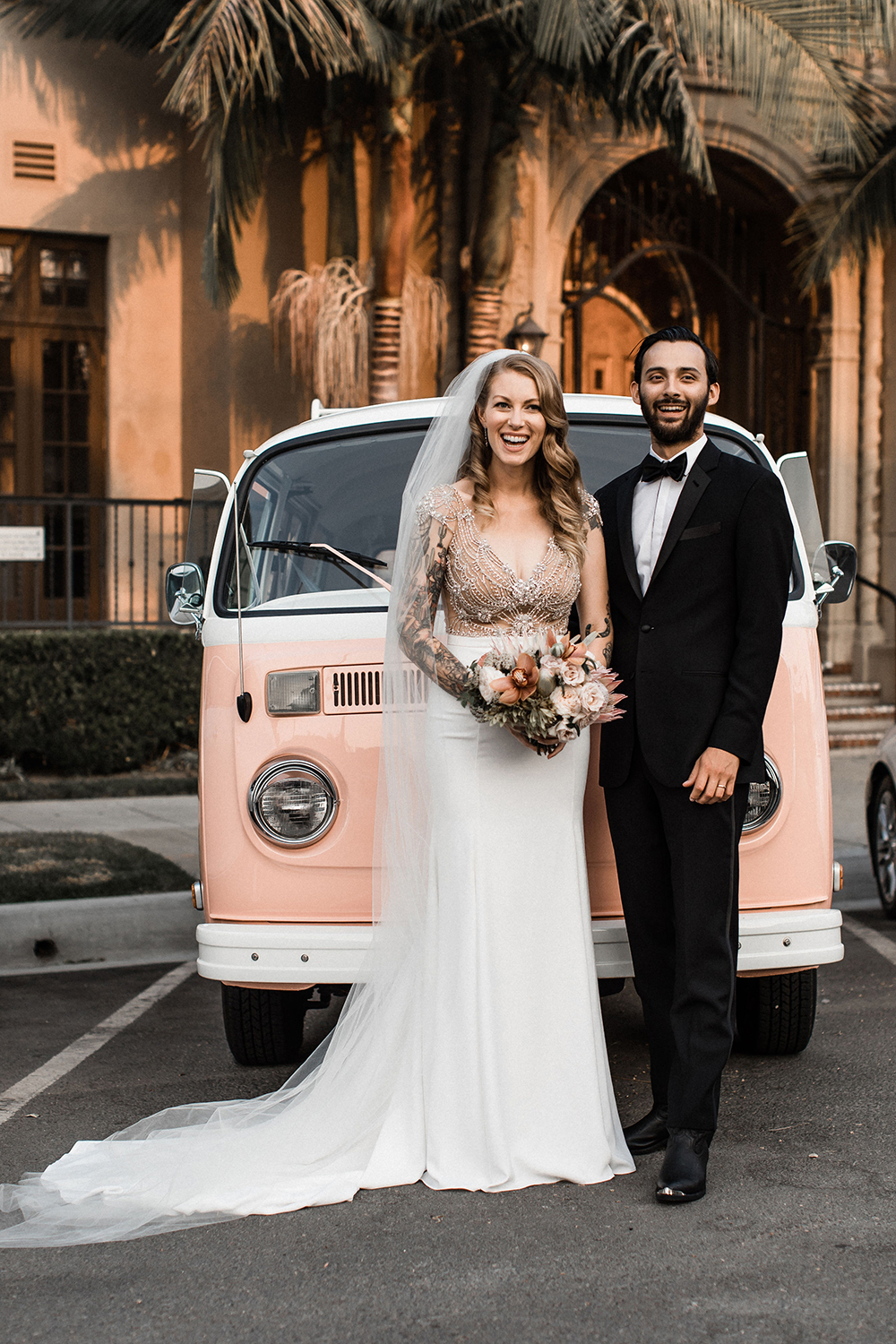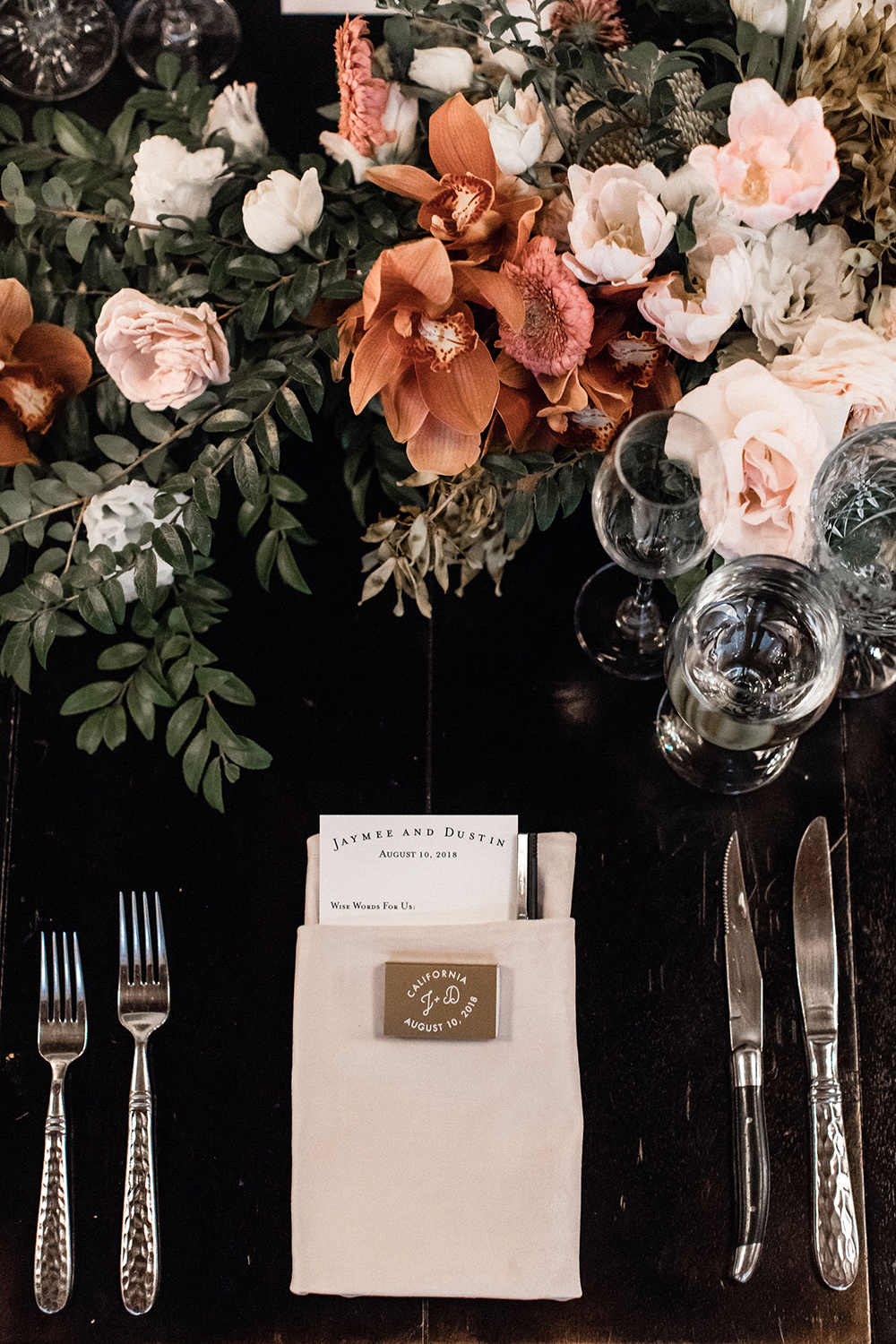 What were some of the most memorable/unique moments from the day?
Dustin: Unique I would say was the anxiety I never felt before as they played the walking down the aisle music cueing my groomsmen and myself to go. I loved every moment of our wedding. I couldn't stop looking at my bride. I couldn't stop getting lost in the moment. It felt like a dream. One of my favorite moments was captured so well by our photographer, during some of the speeches, Jaymee sitting beside me with her arm on my shoulder and us just falling in love all over again.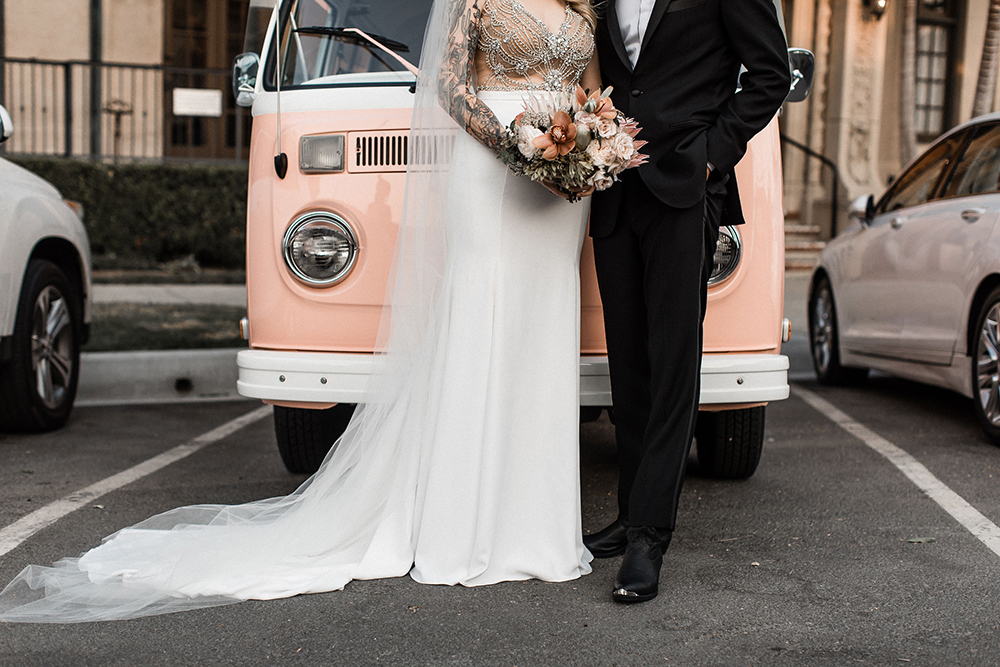 Jaymee: Oh man, so many! Can I just say the whole entire day? Haha. The hour or so before the ceremony with my mom, brother, and best girls – when I knew Dustin was also at the venue and just the anticipation and excitement of "holy f*ck you guys I'm about to marry my person!" And then walking down the aisle with my mom and seeing Dustin for the first time. Definitely, our vows.
Our "family" dance where I danced with my brother, and Dustin danced with my mother, to my father's favorite song. And then just all the in-between moments, us dancing and shout singing to our favorite songs, seeing each other from across the room and smiling and thinking to myself "damn that's my HUSBAND"!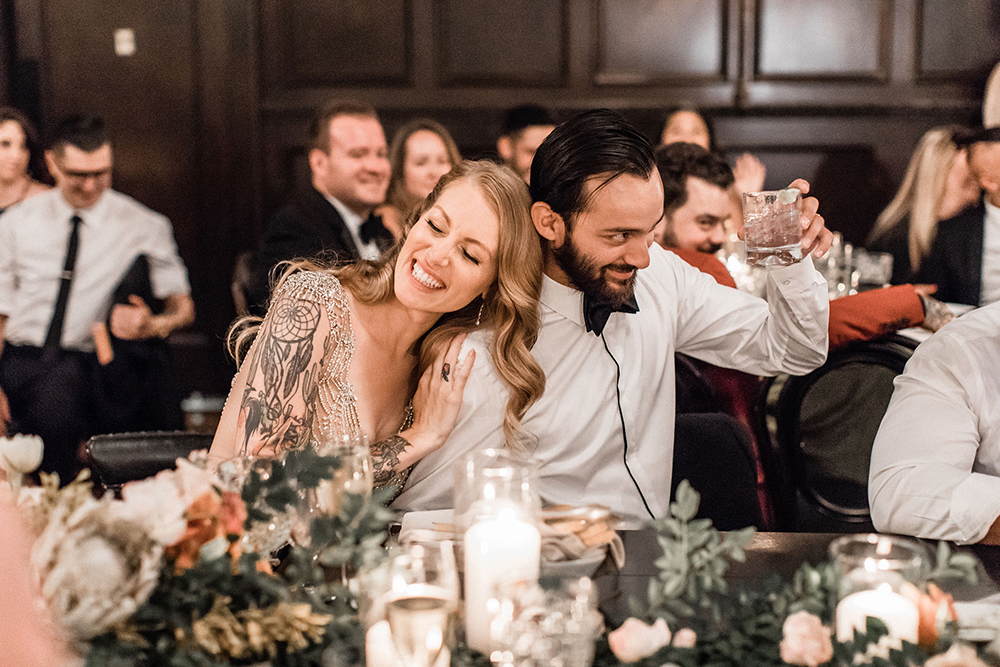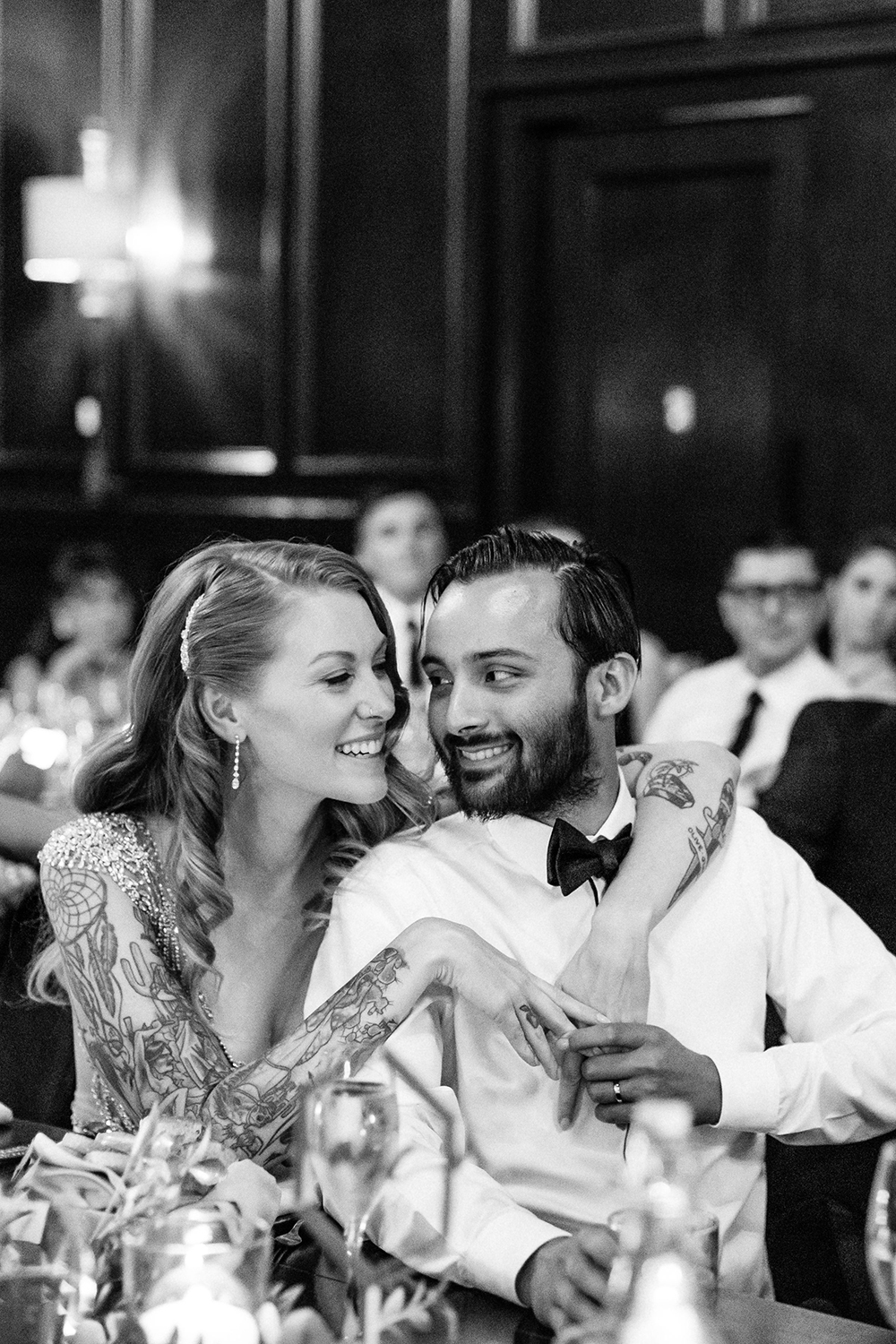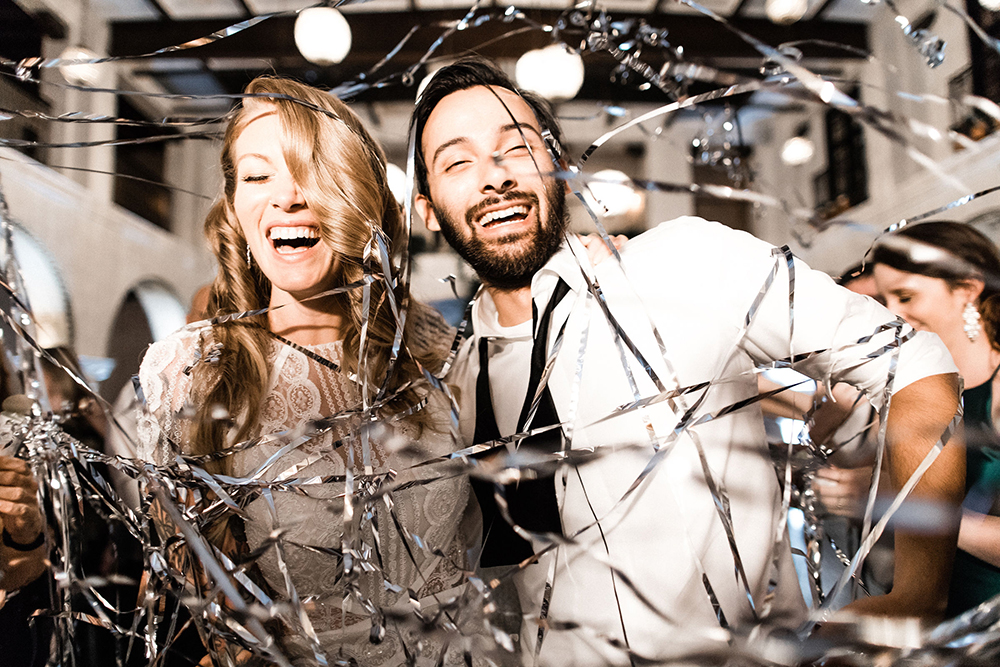 Any advice for other couples planning to spend the rest of their lives together?
Be each others best friend. Take the time to listen to each other. Grow together, but also give each other space to flourish on their own. Be patient. Forgive. Be grateful. Love each other even when it hurts or it's awkward. Keep doing the small things – like Dustin always makes sure the coffee's ready before I get out of bed even though he hates the smell of coffee and doesn't drink it himself. And just have fun and be silly together.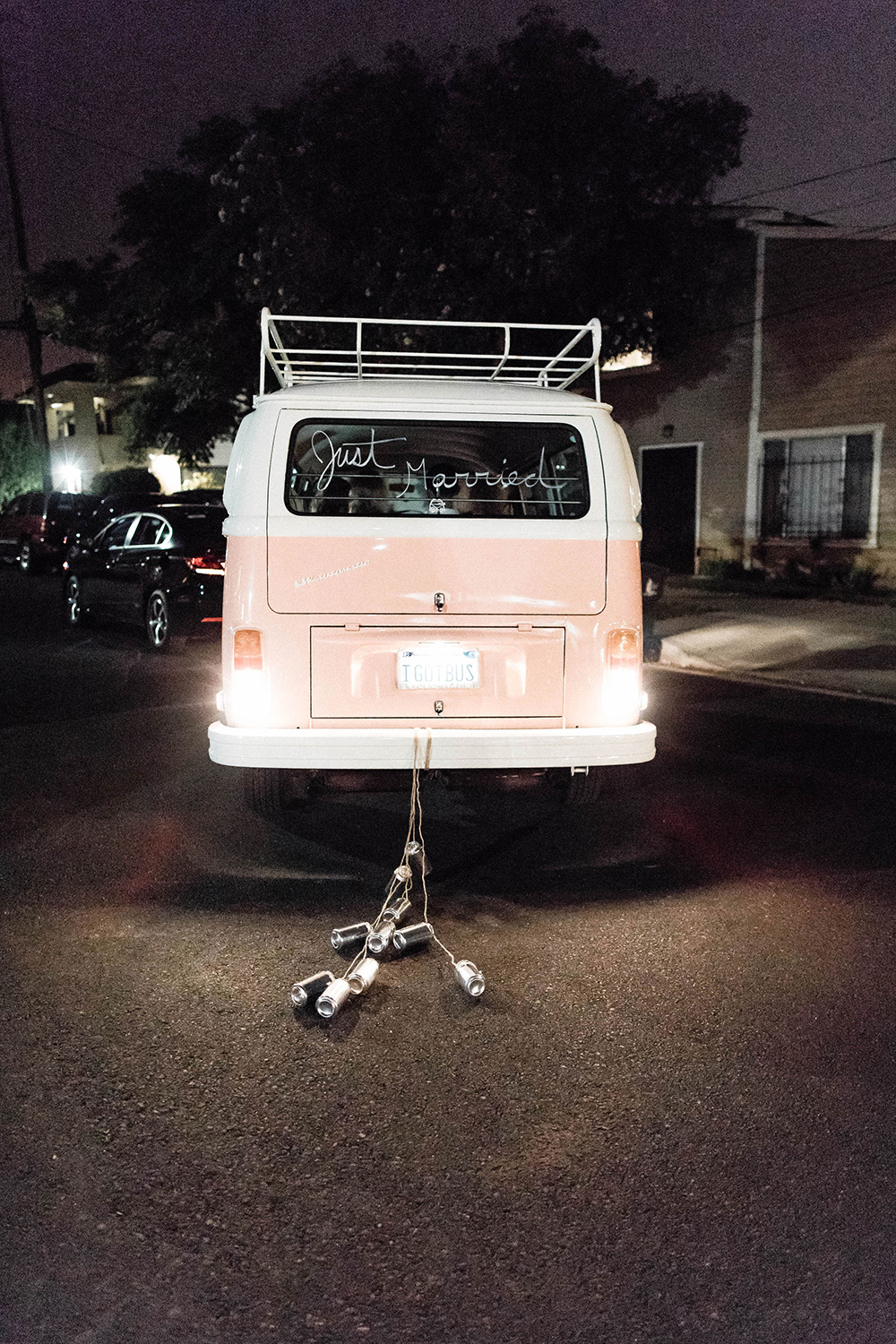 Photographer: Aimlee Photography Styling: The Groom Flora: Revel Petals Catering: Tres La Cake: Cakes by Colin Hair and makeup: Design Visage Wedding dress: Alon Livne White Groom and groomsmen's attire: The Black Tux Rings: Single Stone Bride's shoes: Lenora Groom's shoes: Laredo Fragrance: Viktor&Rolf, "Flowerbomb" Bridesmaids' dresses: Show Me Your Mumu Ceremony and reception location: Ebell Long Beach