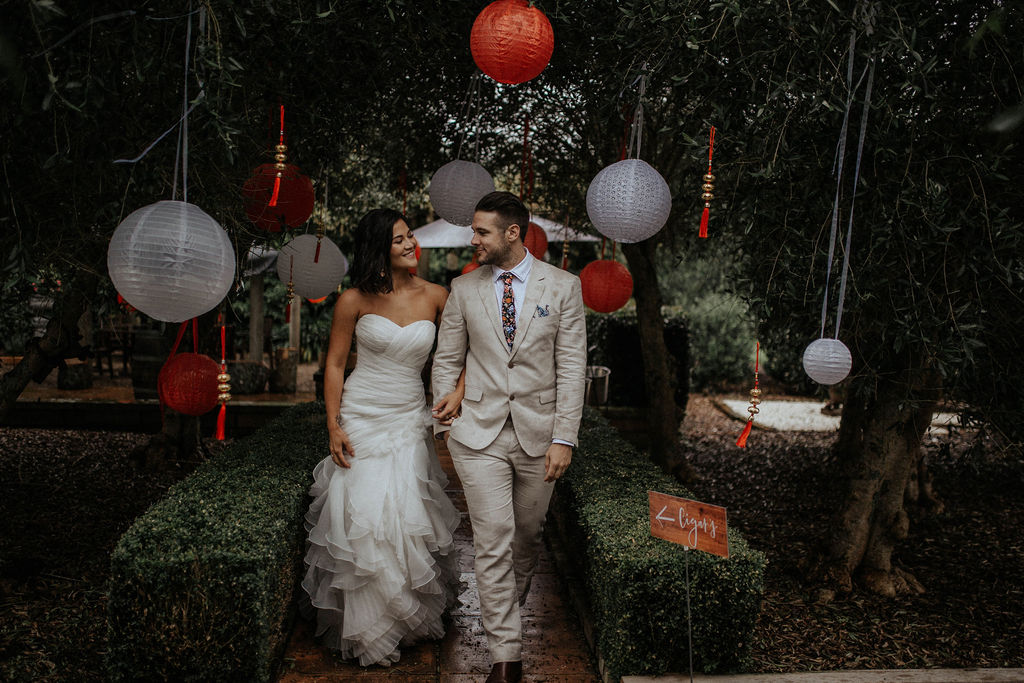 Tell us about yourselves, what you do, what you love, what is unique about you and your relationship?
We have both lived in Hamilton NZ all our lives & didn't cross paths until 5 Years ago. Our relationship started from friendship. We both have a huge love for fitness and a good black coffee – we would go to the gym together & catch up for a coffee regularly but always just as friends & nothing more. When we first got together we both worked as personal trainers in the same gym. We trained together everyday – Joey even proposed to me in the middle of one of our favorite workouts. Now that Joey works longer hours as an engineer & me as a yoga teacher & fulltime mum to our son Kyran we don't get to train together as much but it is something that we try do together at least once a week. Its our favorite way to spend quality time together. When you ask what we love our lists are really the same – we love our son Kyran, our puppy girl Lunar, Our Families, Fitness, Health, setting goals together, going to the beach, family holidays, surfing, yoga, coffee, wine, carrot cake & of course each other. Some people say when a couple has to many things in common they are not compatible or clash – I feel like this isn't true for us and what makes us unique. Joe and I would both describe each other as our best friend & I truly believe that being so similar is what makes us as a couple work so well because we love being with each other all the time & love doing life together.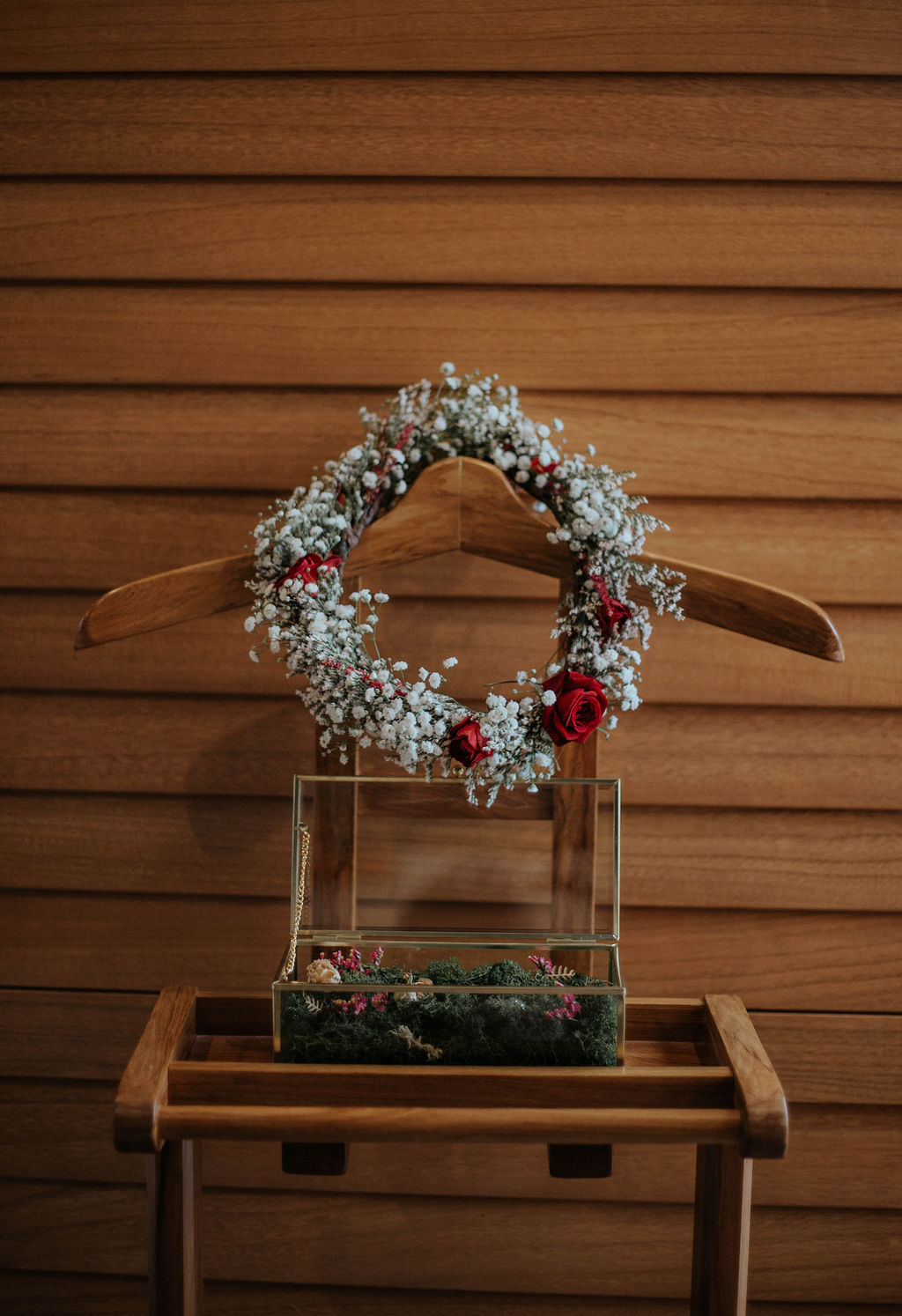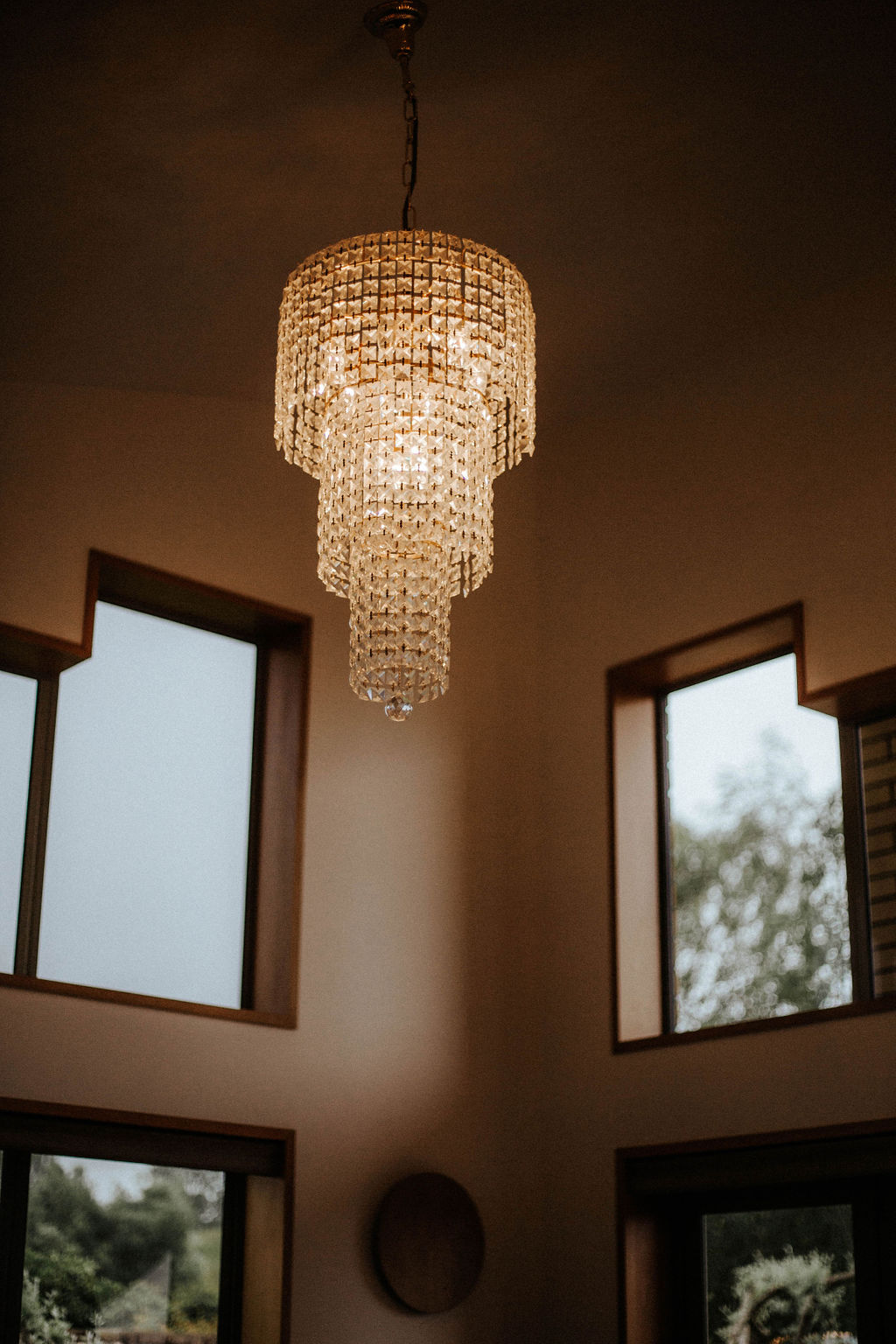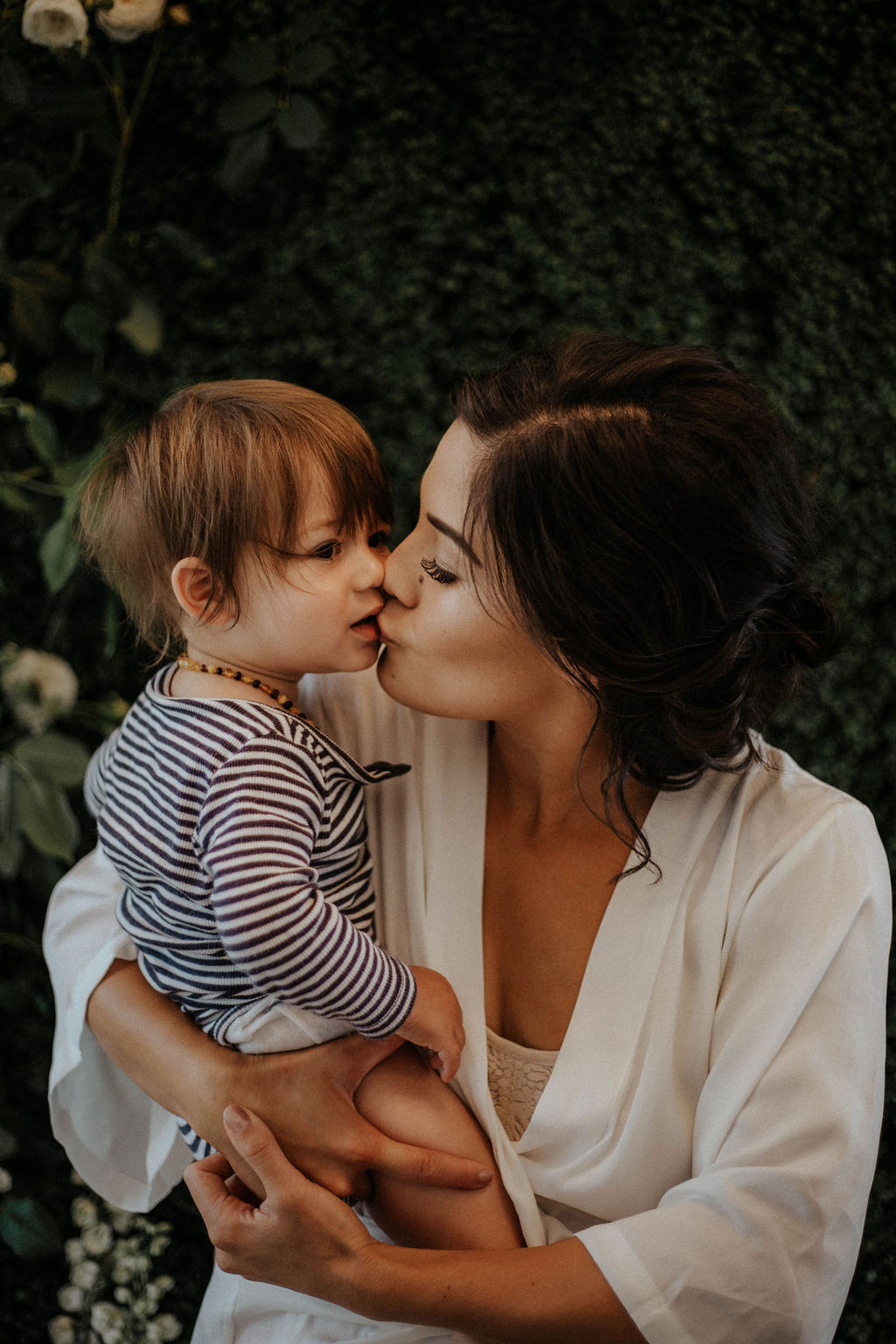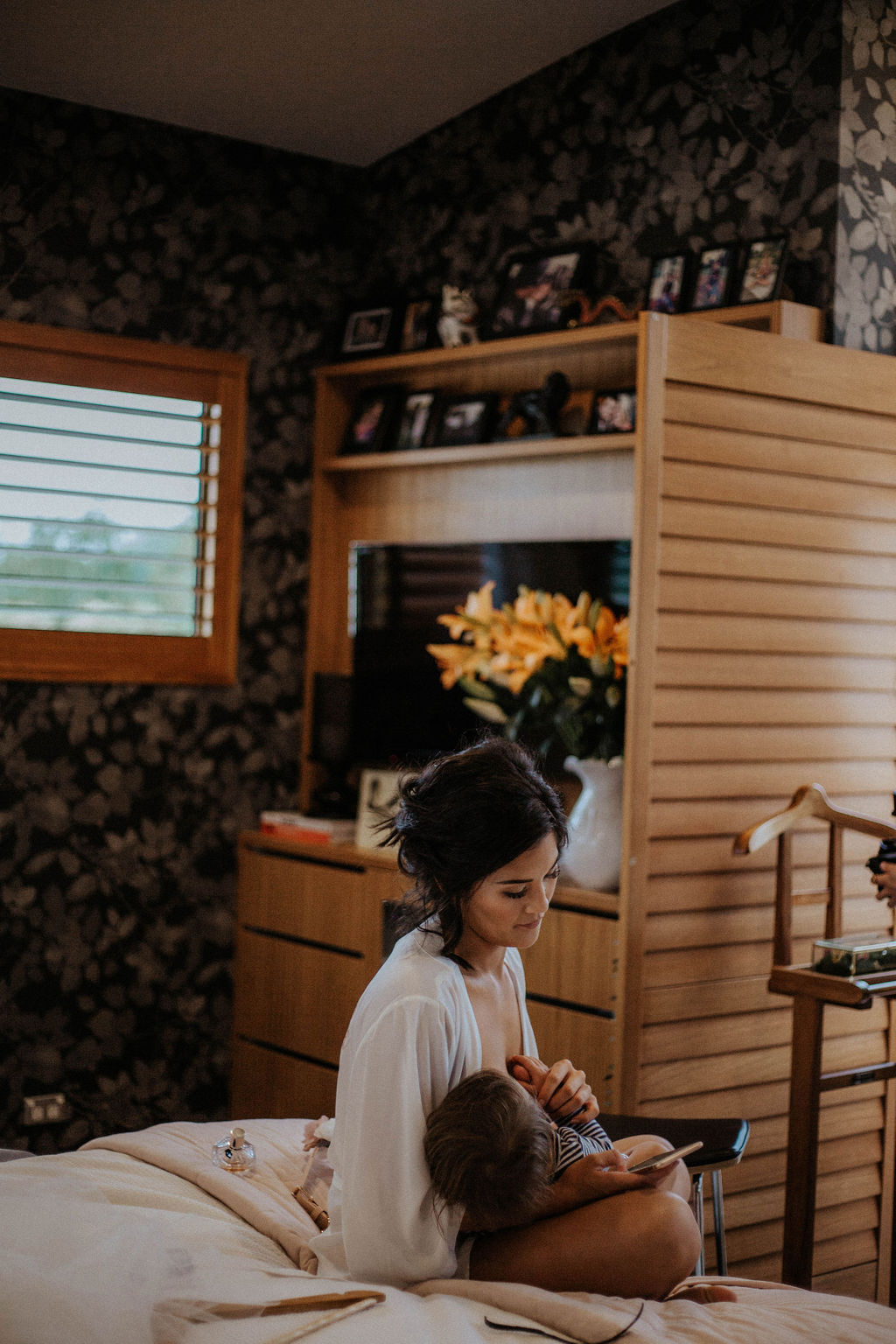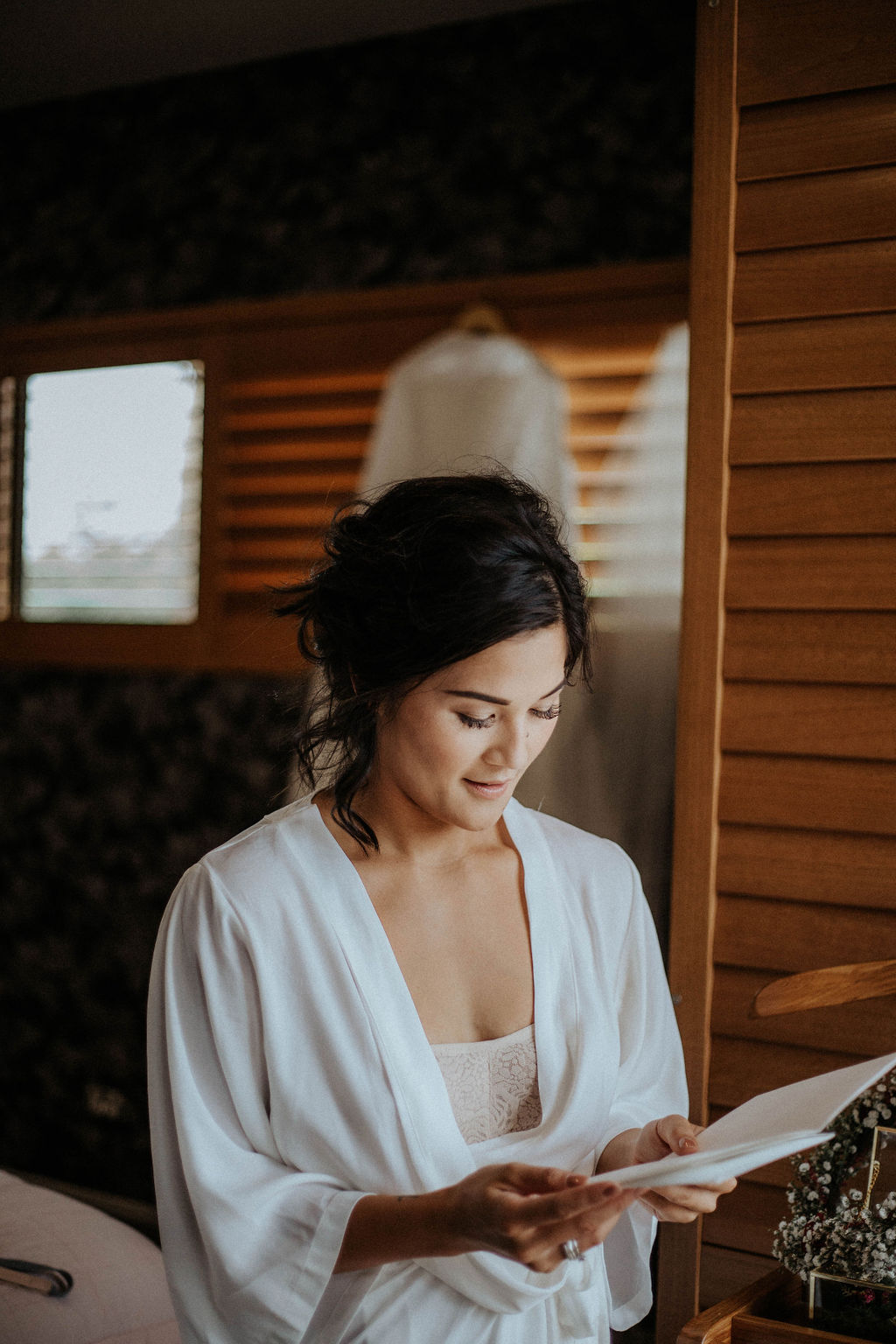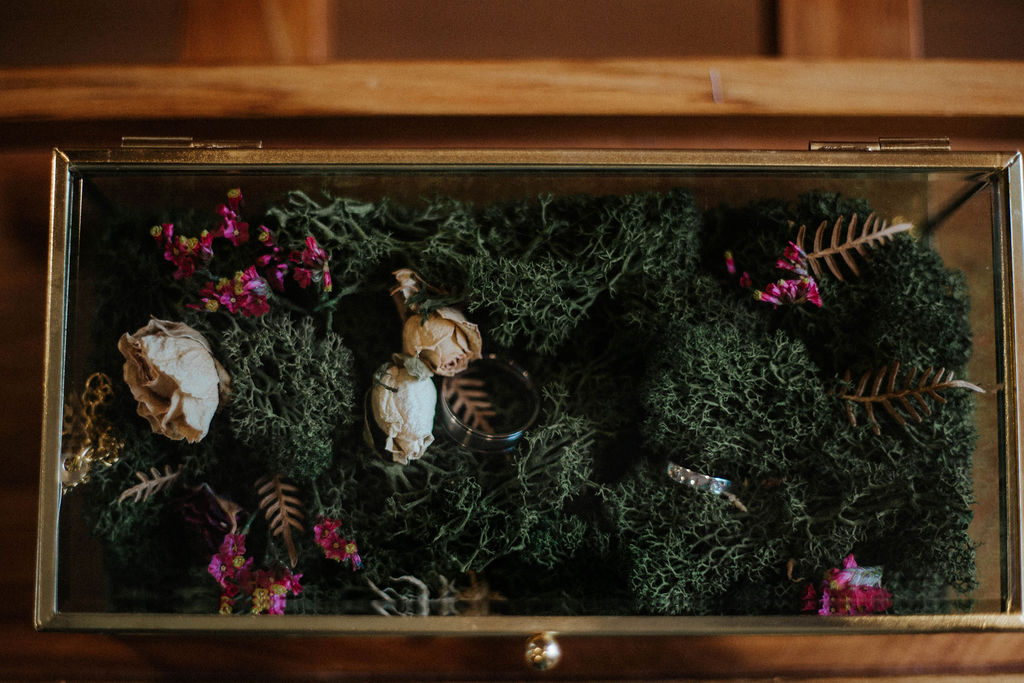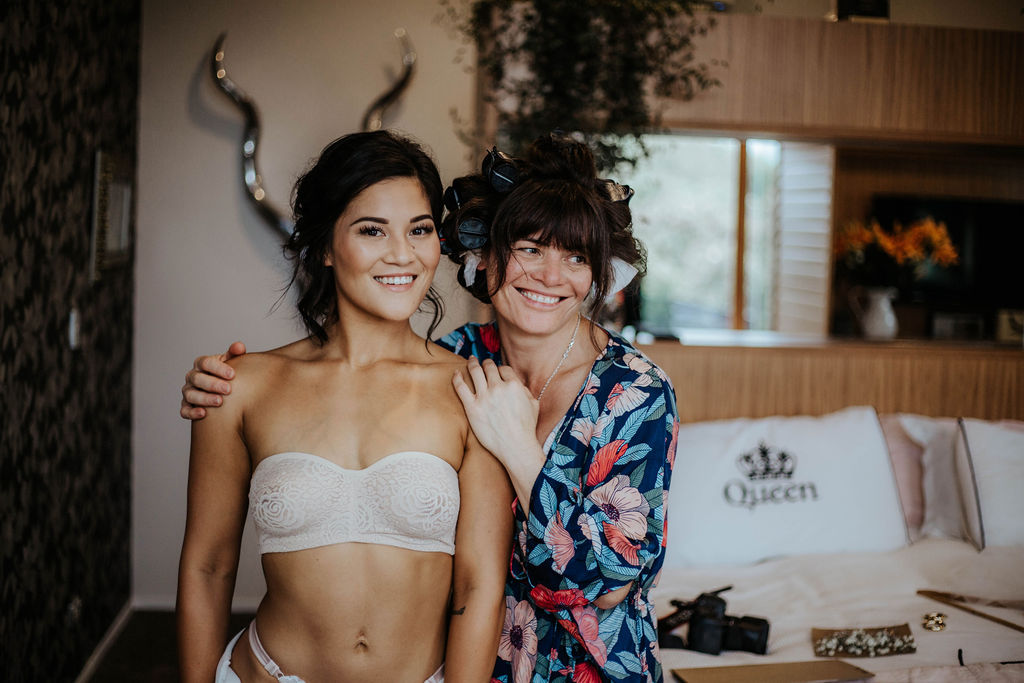 Tell us about your special day, was there a specific theme or style? Tell us a little about the setting, the styling and some of your favorite details…
Our special day was wet. Not what we had imagined at all picking our date "The first day of summer" and like any couple hoping for perfect summer weather. Joe and I love summer & when choosing a date for our special day we couldn't think of a better day to suit both of us. Even though it rained and the weather wasn't how we expected it to be, I am so grateful we did get to have our dream outside wedding with a 20-minute window for the ceremony. Our main style of the wedding was "garden theme". We had 3 different style gardens set up for everyone to enjoy but sadly because of the rain not much time was spent in them. One of my favorite gardens was the Asian lantern garden which was set up because my family are Chinese & my grandparents loved it. We were lucky to enjoy this garden as well even with the rain because we had big umbrellas placed all within it. The entire time we were planning our wedding we never wanted to have a sit down reception. We wanted to have a formal ceremony & then have a big party with out friends – this is where the idea of the giant grazing board came in & this was absolutely one of my favourtie details – it was deliciously incredible.
Leading up to the wedding I folded 1000 paper cranes, with the help of family & friends. The detail of all the different origami paper in a range of sizes was definitely one of my favourtie details & even better than I had imagined – especially with the amount of love and time it took into folding them all.
A detail I am really grateful for is the green hire wall we had inside. Without it the photos wouldn't have turned out as amazing as they did. Keeping the wall inside allowed us to still have greenery in our photos even though all of them had to be taken inside.
My best friend is working overseas and couldn't make our special day so we had a cut out made of her & she spent the morning with me getting ready and we drunk champagne and got into my dress together – that was really special for me. Because of her not being here I chose to have no bridemaids & this is why we had a full bridal party of groomsmen. We both have two brothers who we are extremely close with so we had them standing on each side of us when we said "I DO".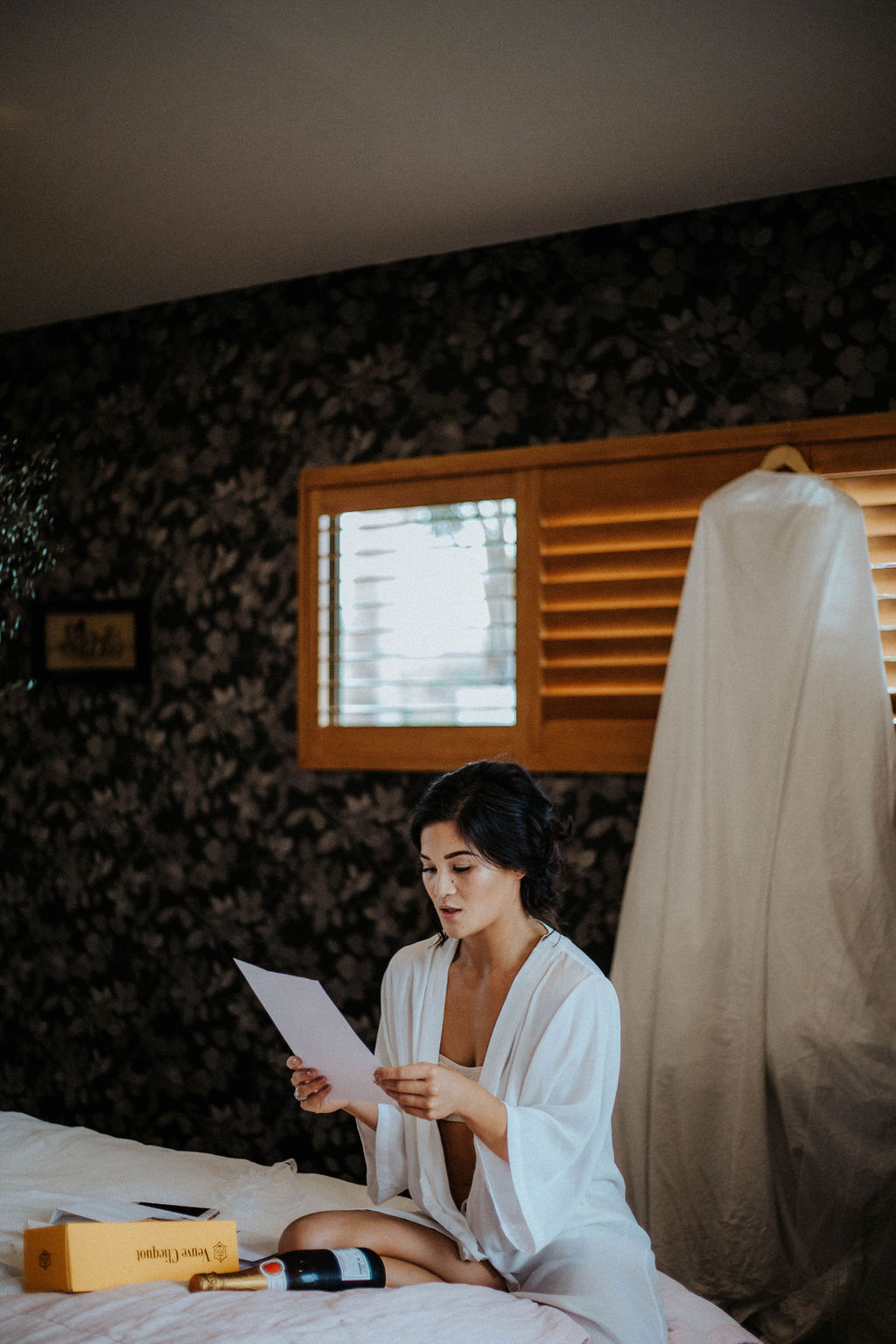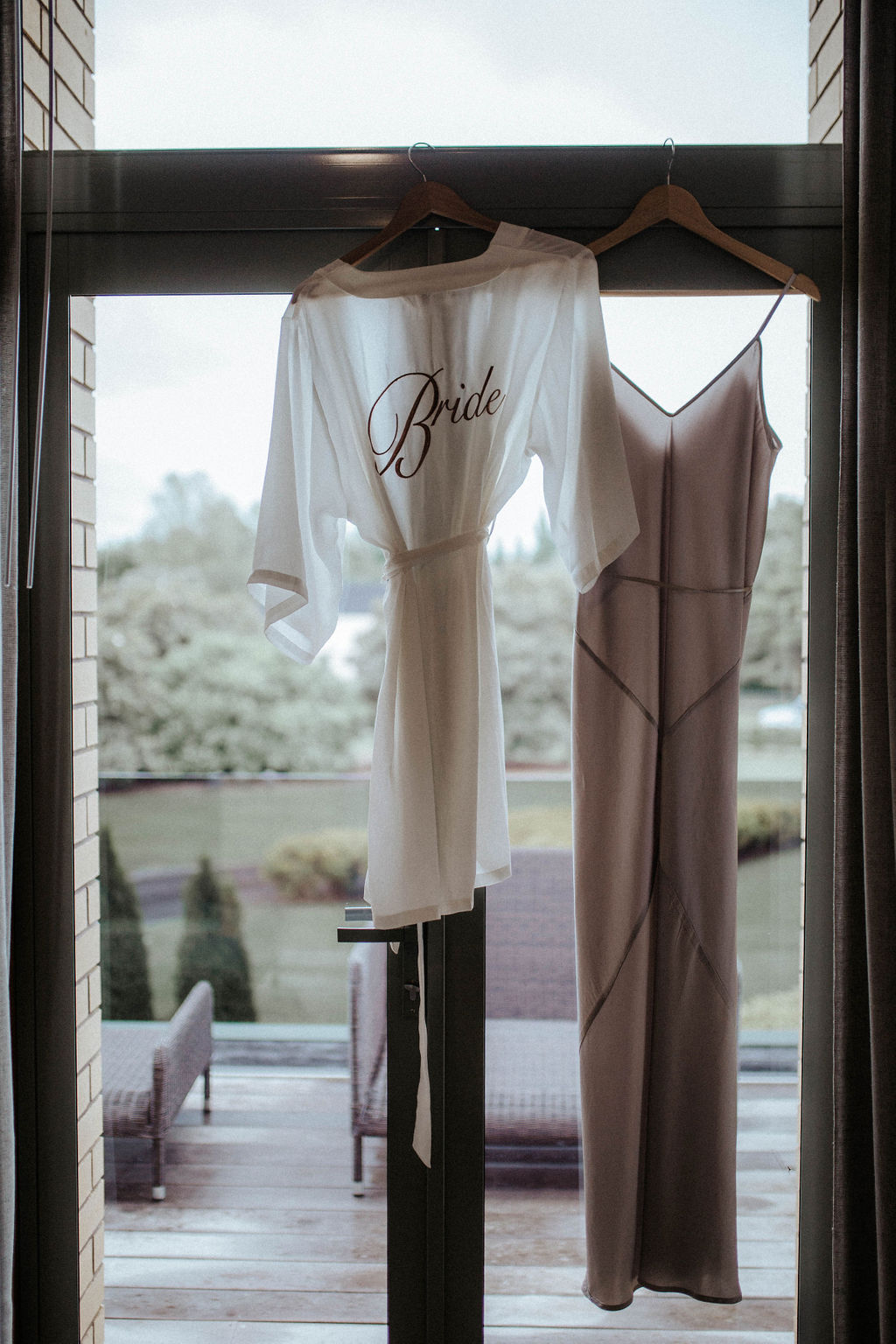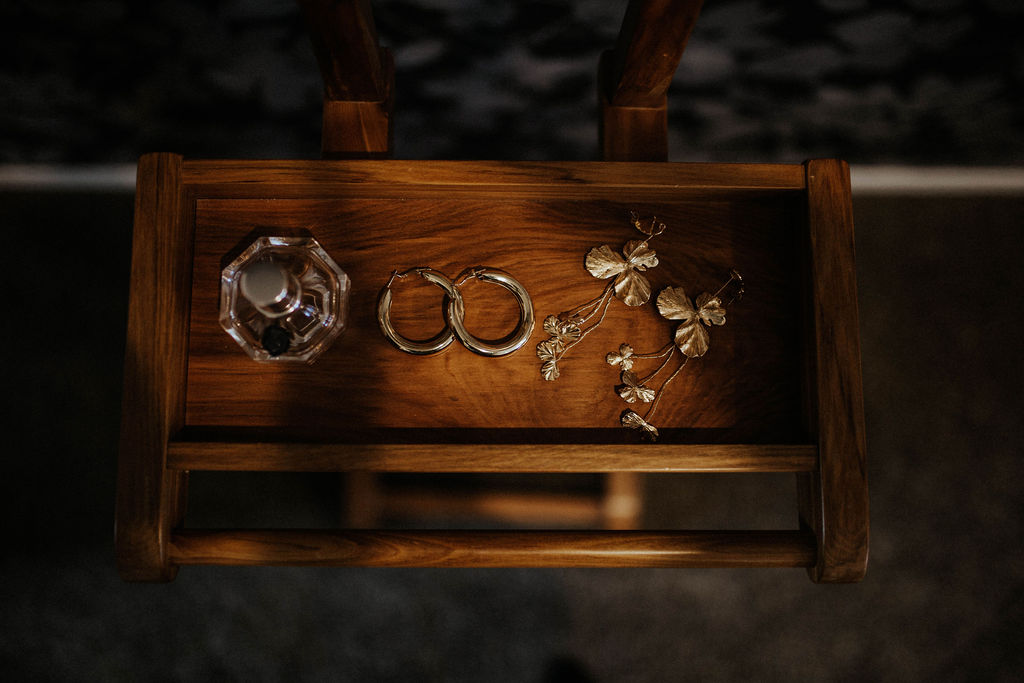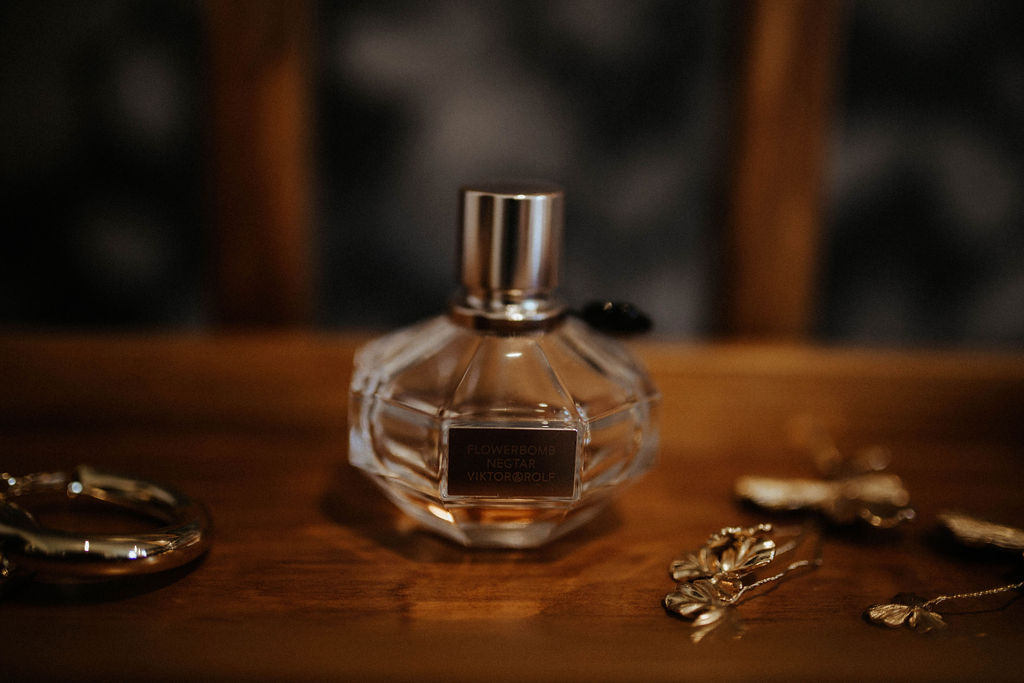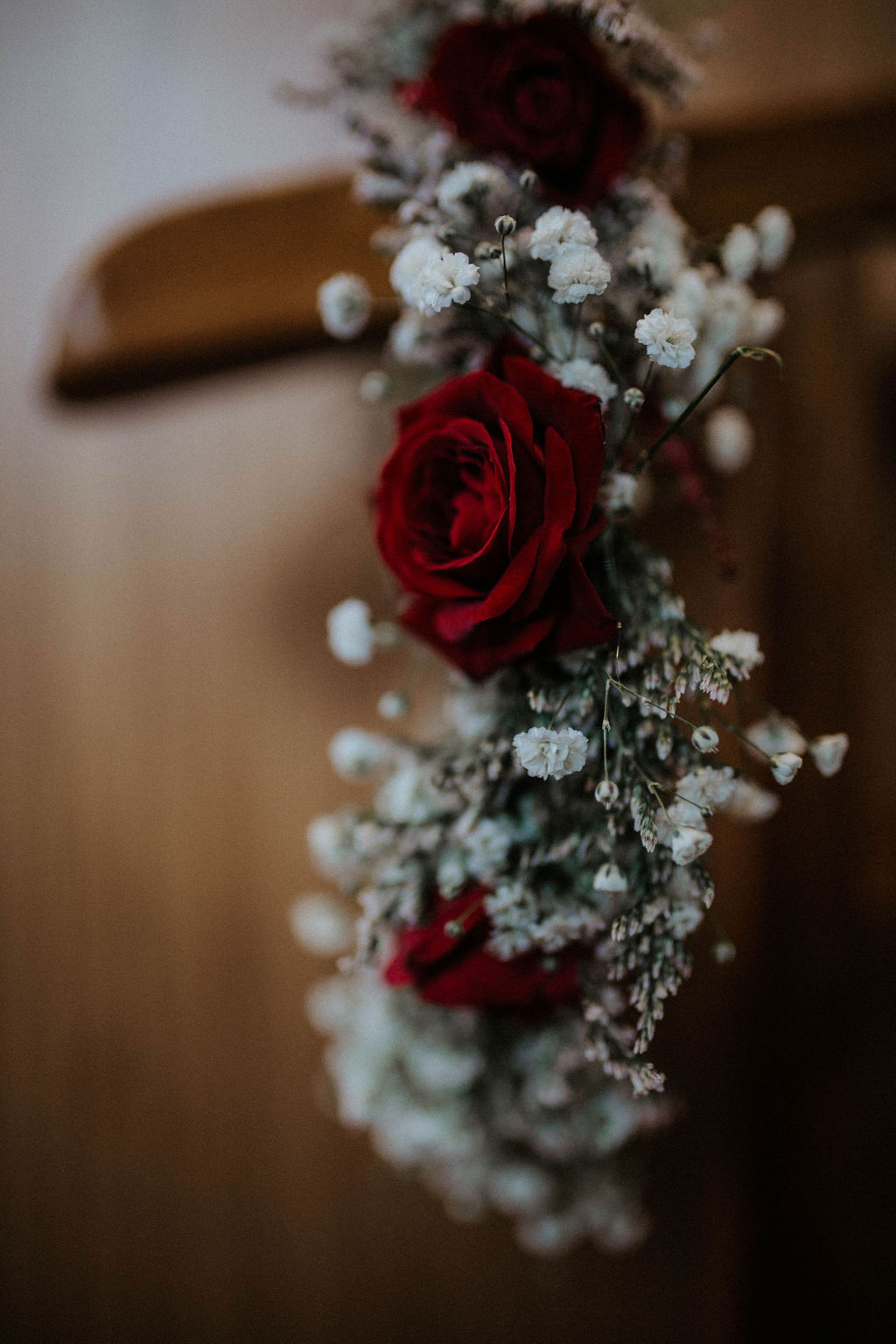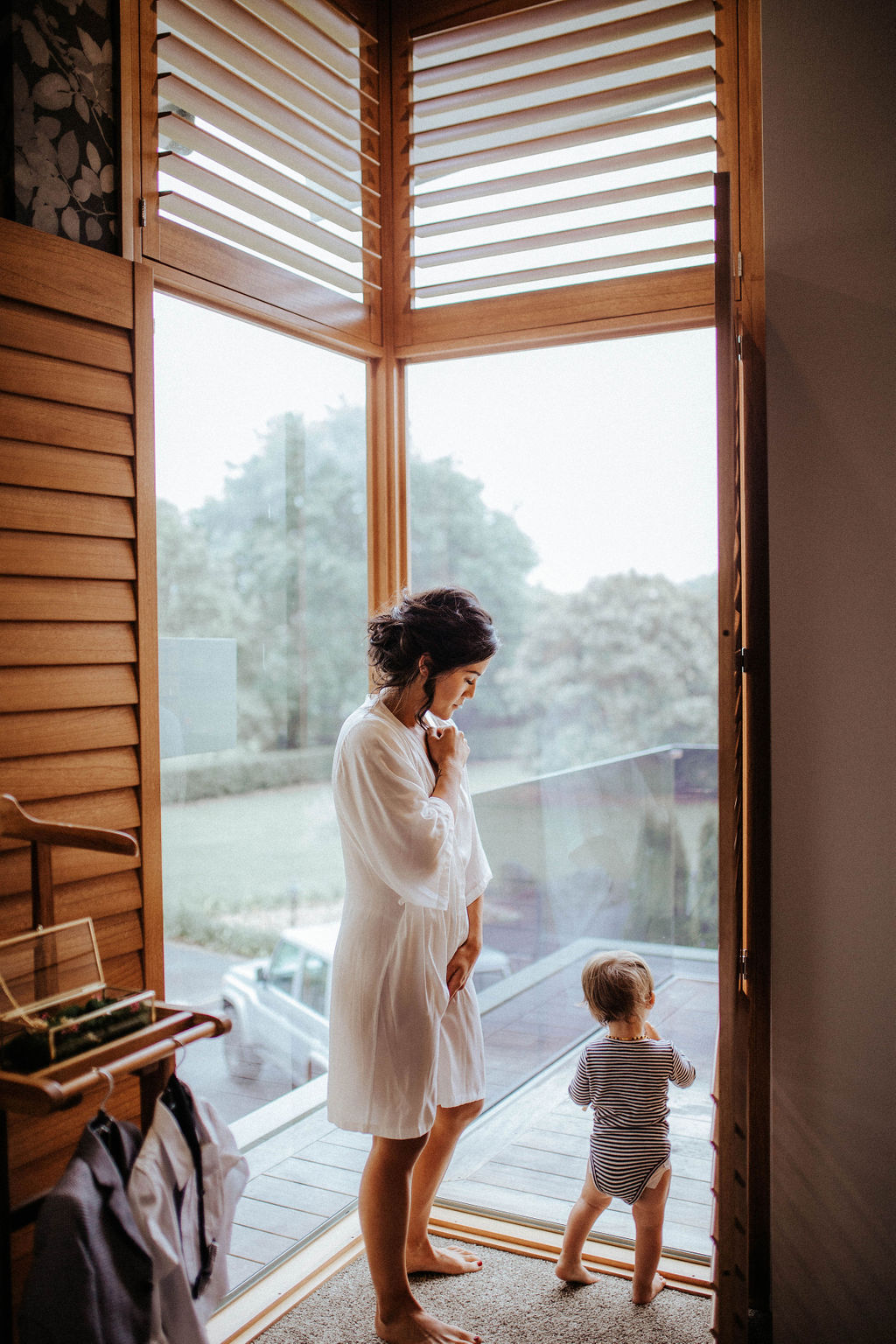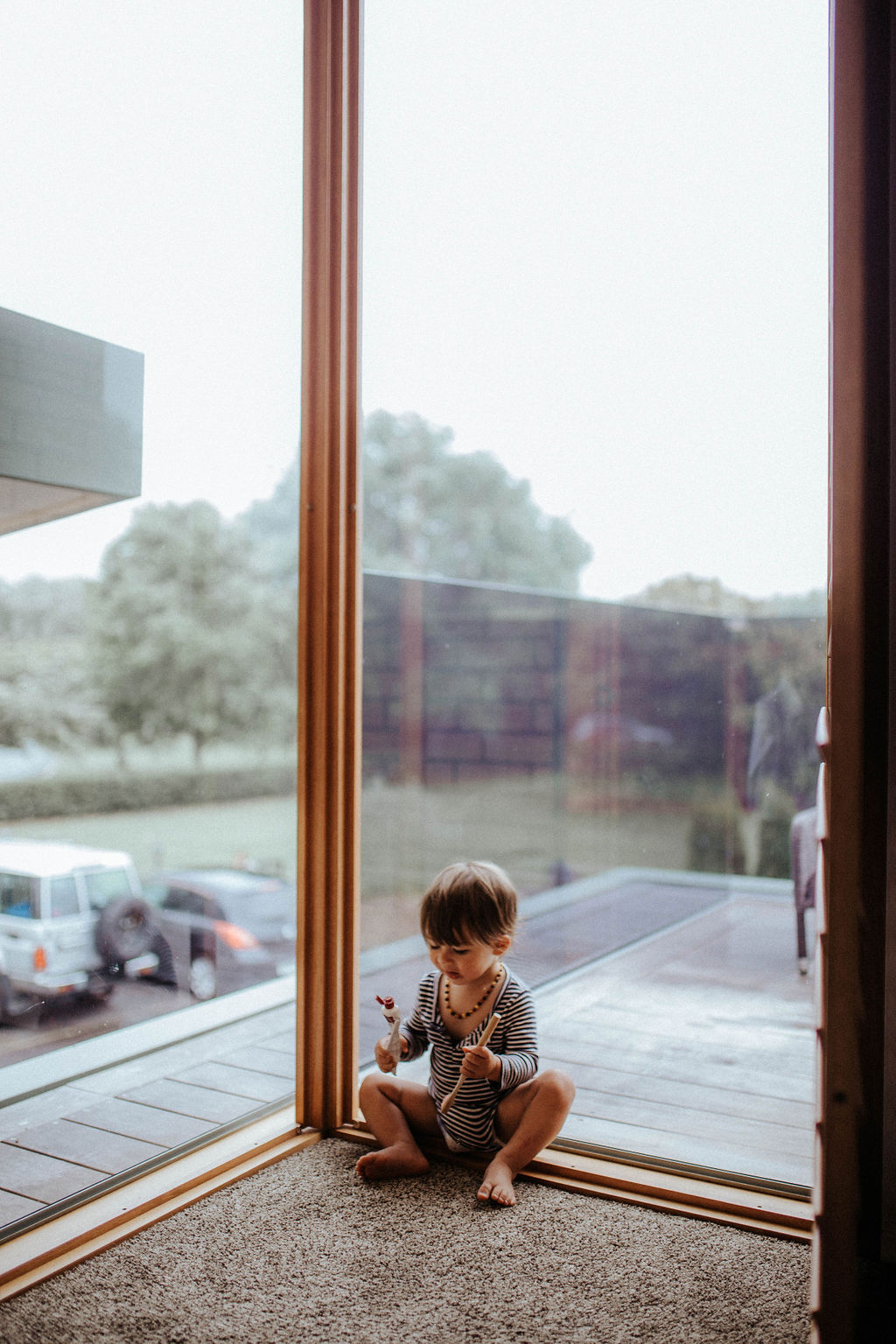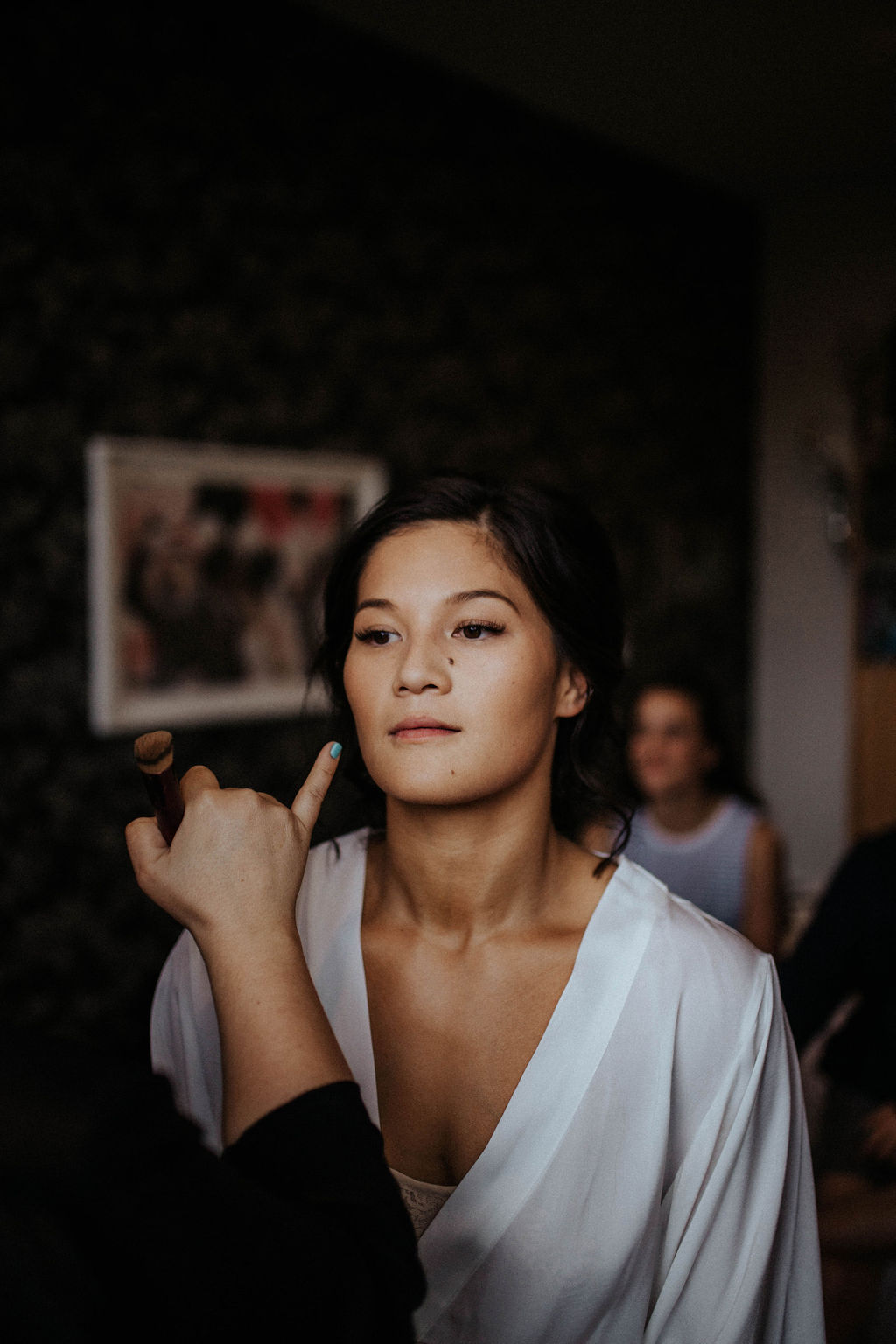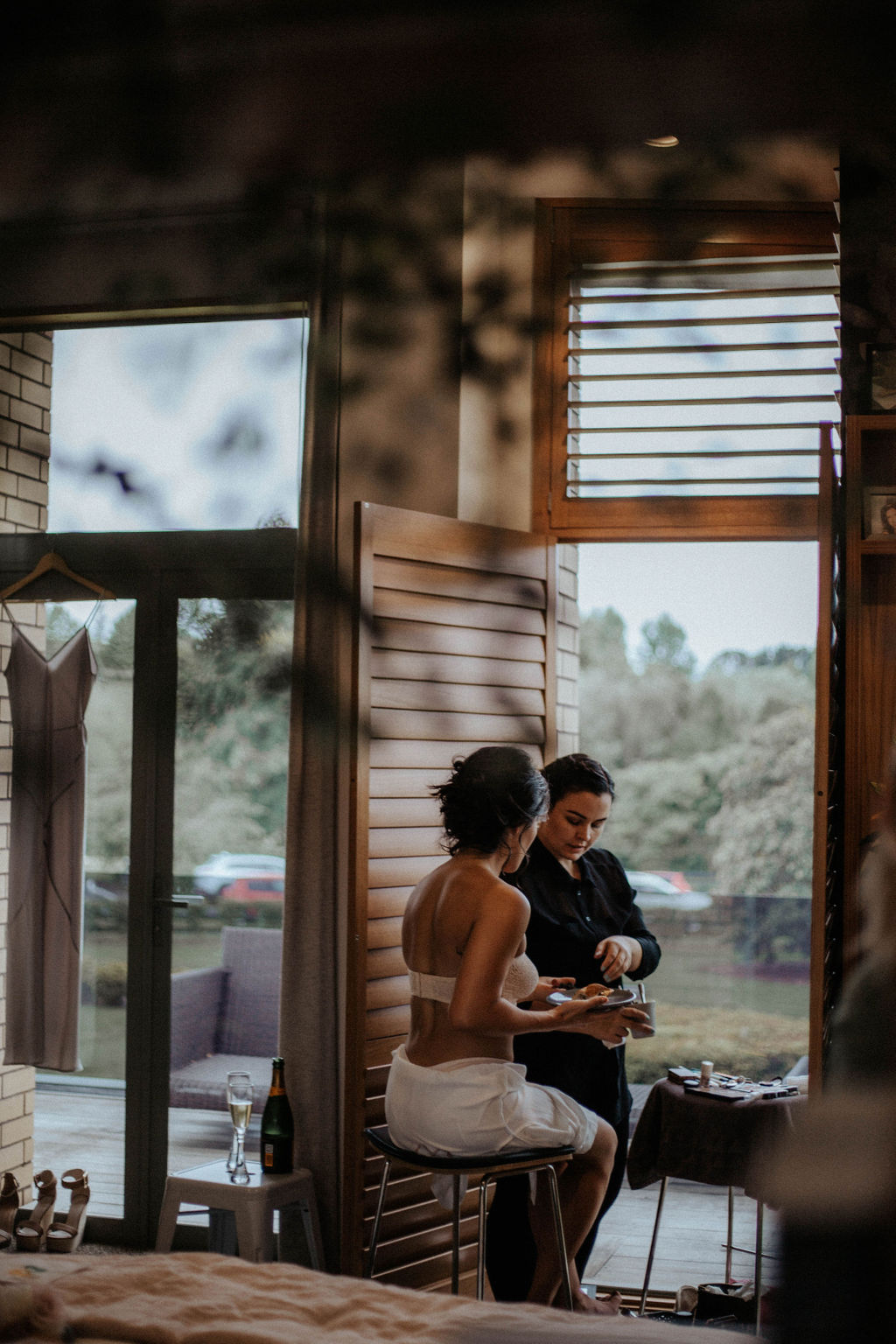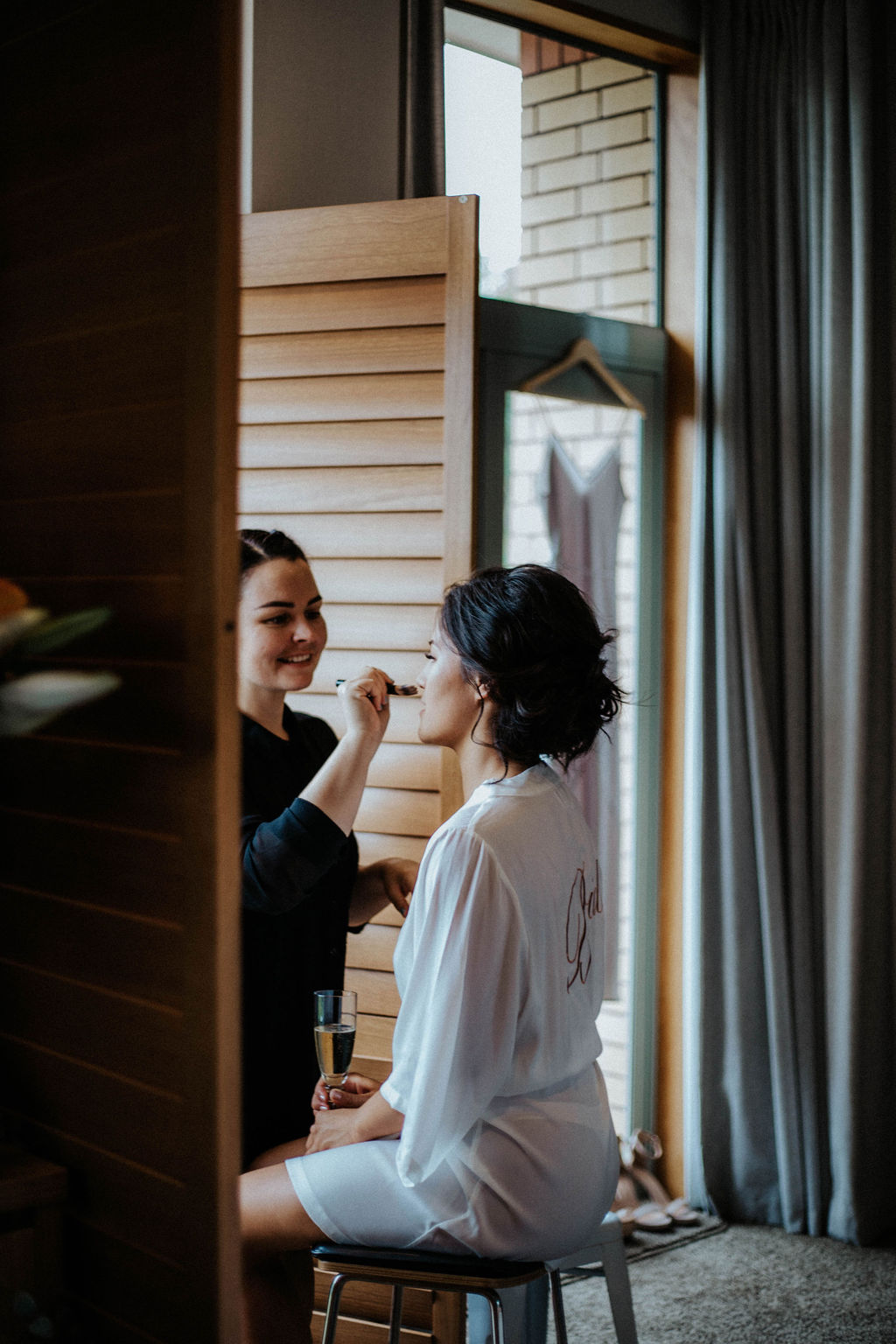 Tell us about your main outfits:
Lashara: When my mum and I were discussing my wedding dress, planning our shopping trip away & trying decide if I would have one made or buy one, she asked me to try on her dress just to get an idea of colour and style. For fun we ran upstairs and I slipped into her dress & it fit me like a glove. Mum asked me to wear her dress & I still can see her eyes when I said yes. With no alterations made I wore my mums dress that she wore in 2012 when she married my step dad. The dress was designed by @janeyeh and I had my own veil made by @janeyeh to match the dress that flowed all the way to the end of the dresses train and covered my face. I wore high wooden wedges with a big gold buckle from @kookai the highest & sturdiest shoes I could find as my dress was really long and I had to walk on the grass. I chose the earrings I wore because I love statement jewelry & I thought that they were different but not too much with the tidy, classy/edgy bride look I was going for – I absolutely loved my earrings on the day when I had everything put together and my hair was up off my face. My make up for this look was soft with a gentle nude lip and dewy cheeks.
My second dress was the @miss_crabb lucidity dress. Which on its own is effortlessly sexy. I wanted this look to be playful & fun. I had my hair down because it got absolutely ruined in the rain and had a beautiful flower crown made by @theflowercrate with soft white flowers and dark red roses. I changed my earrings to big gold hoops from @lovisajewelery & wore nude stilettos from @novoshoes. My make up for this look was a slight smokey eye, big cheeks & a red lip. Perfect look to party into the evening with all out friends & family.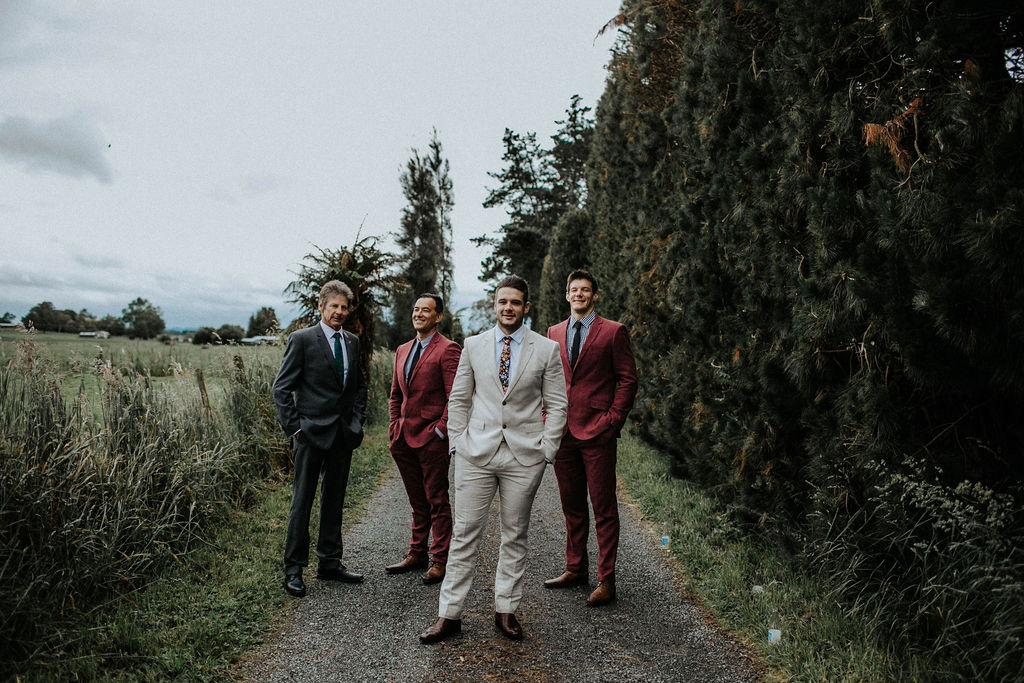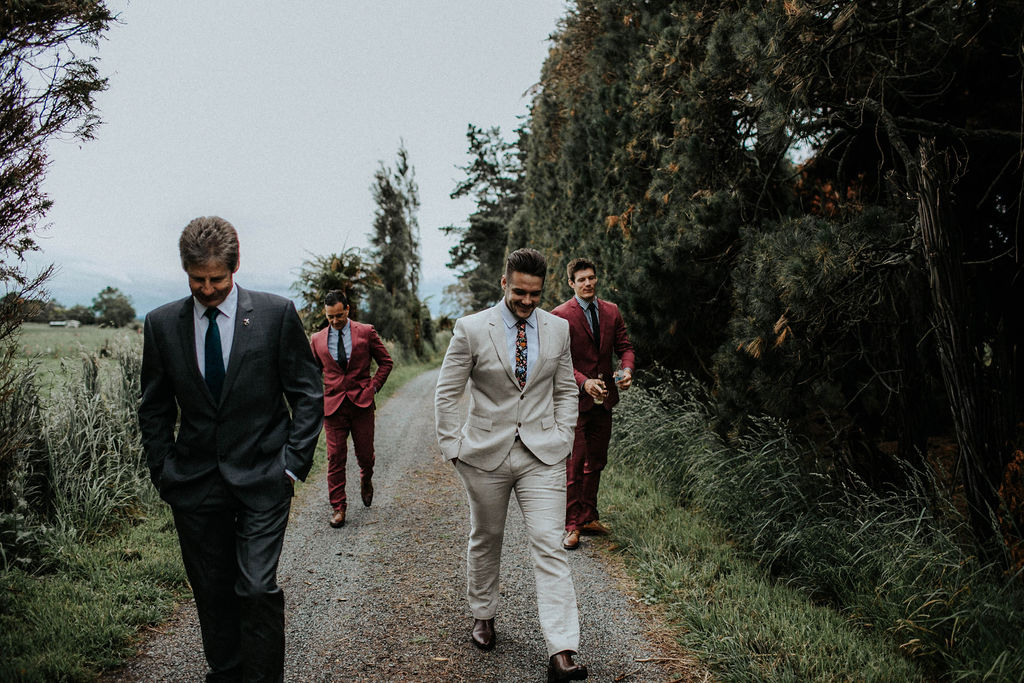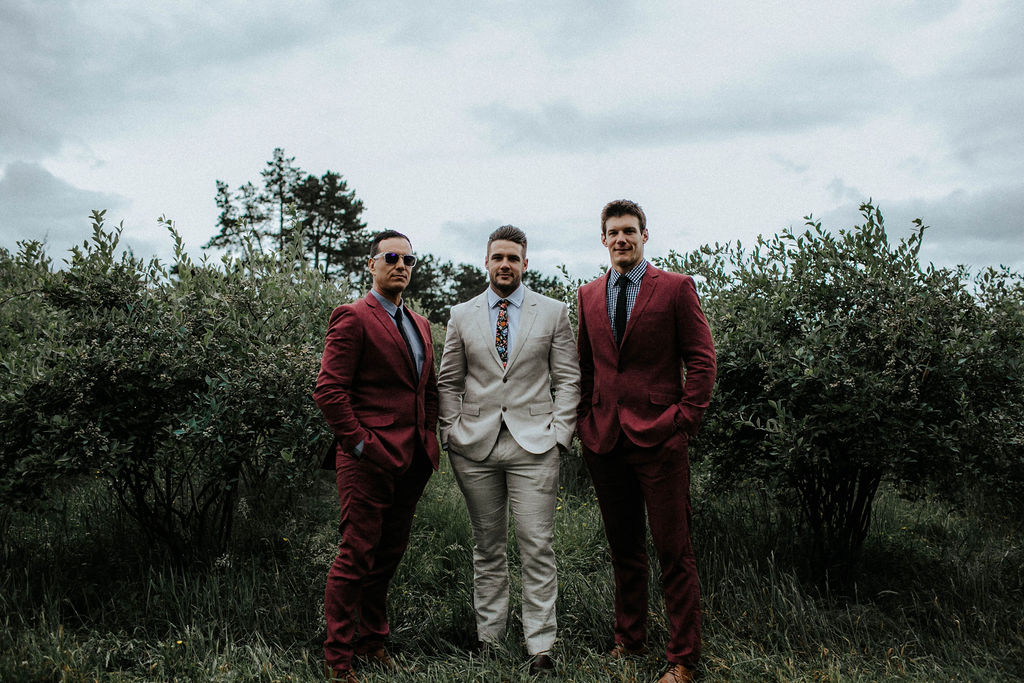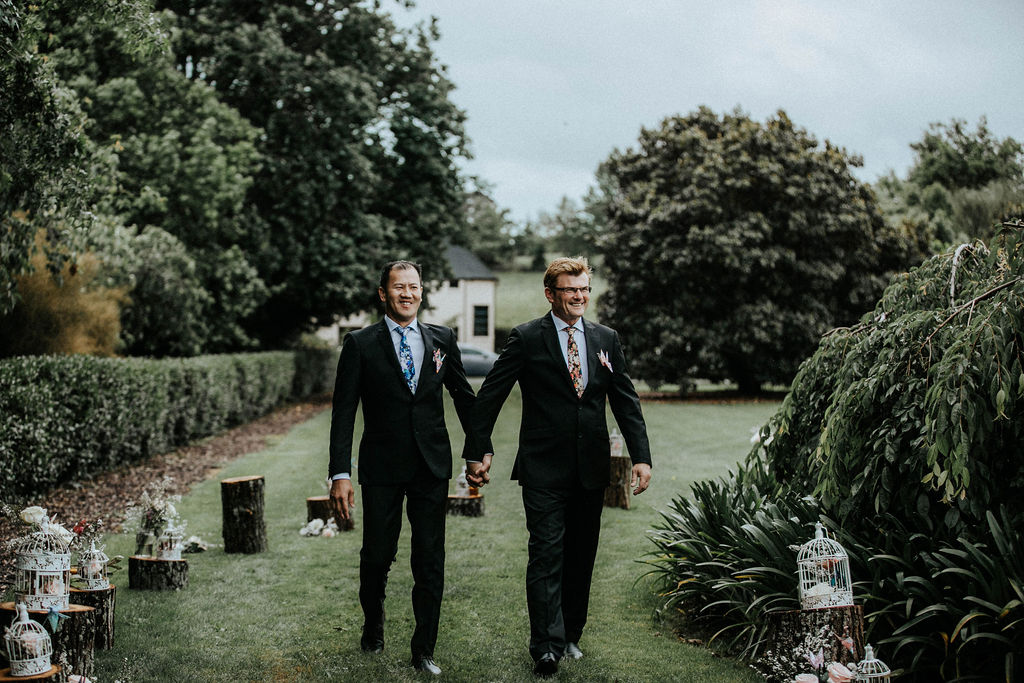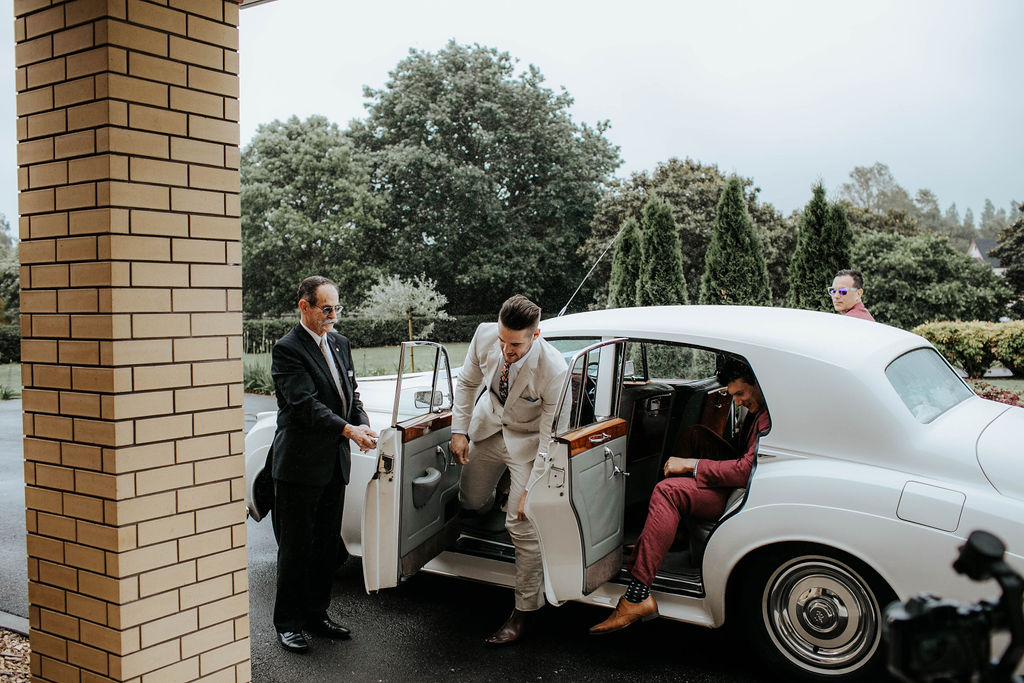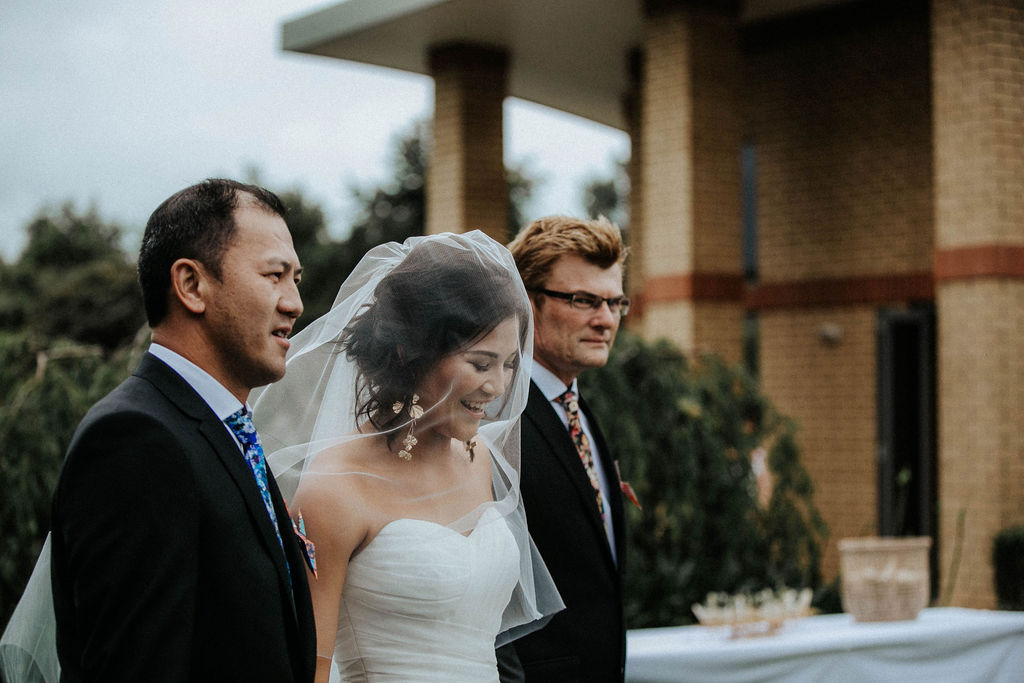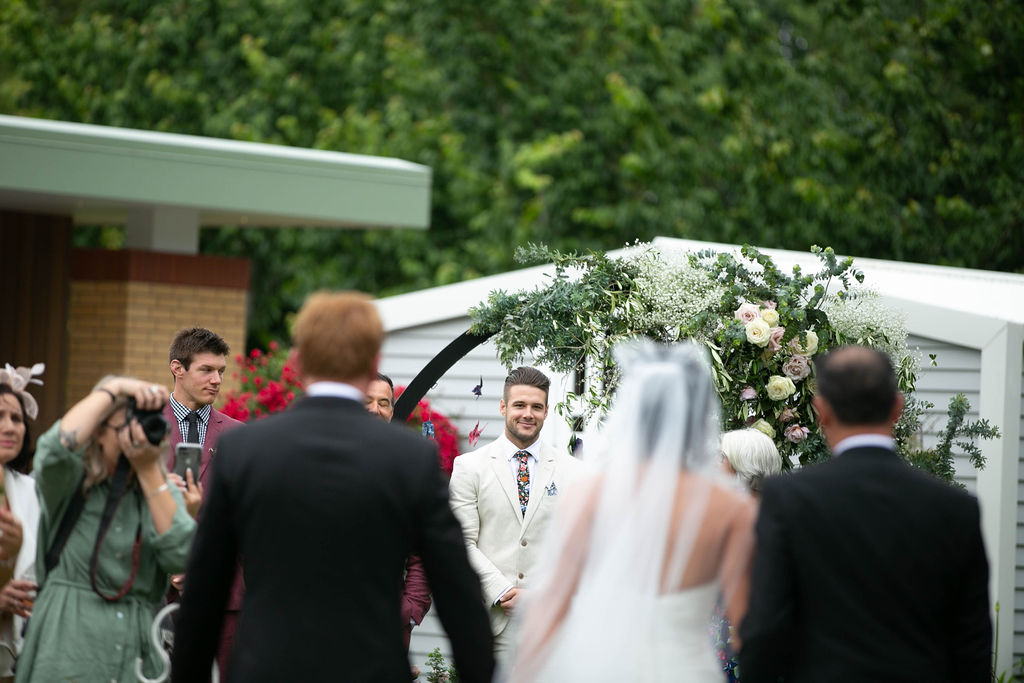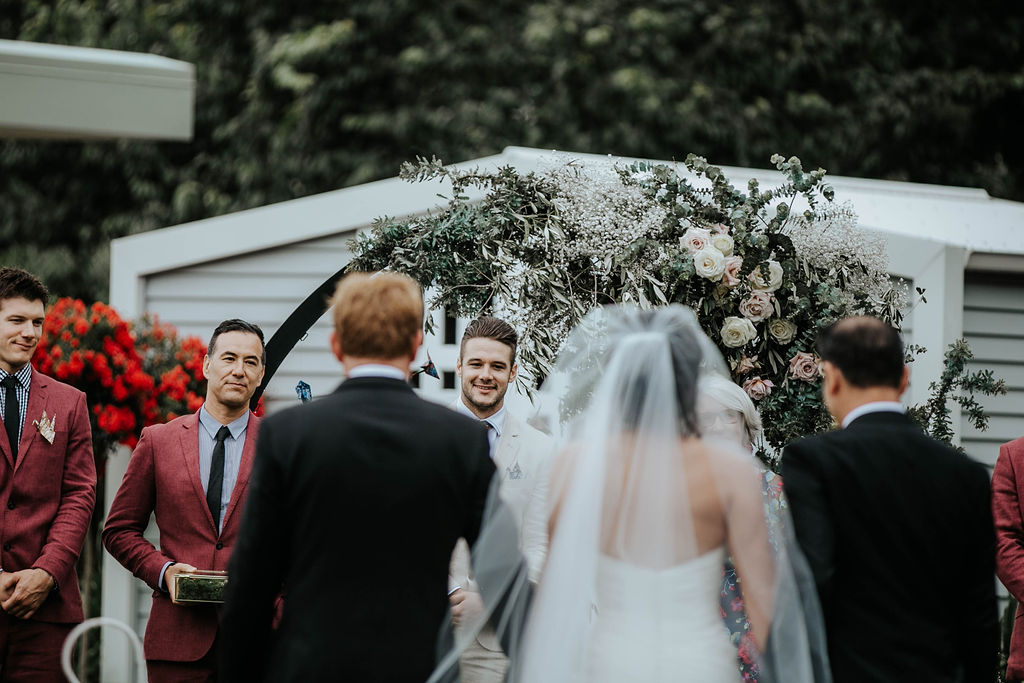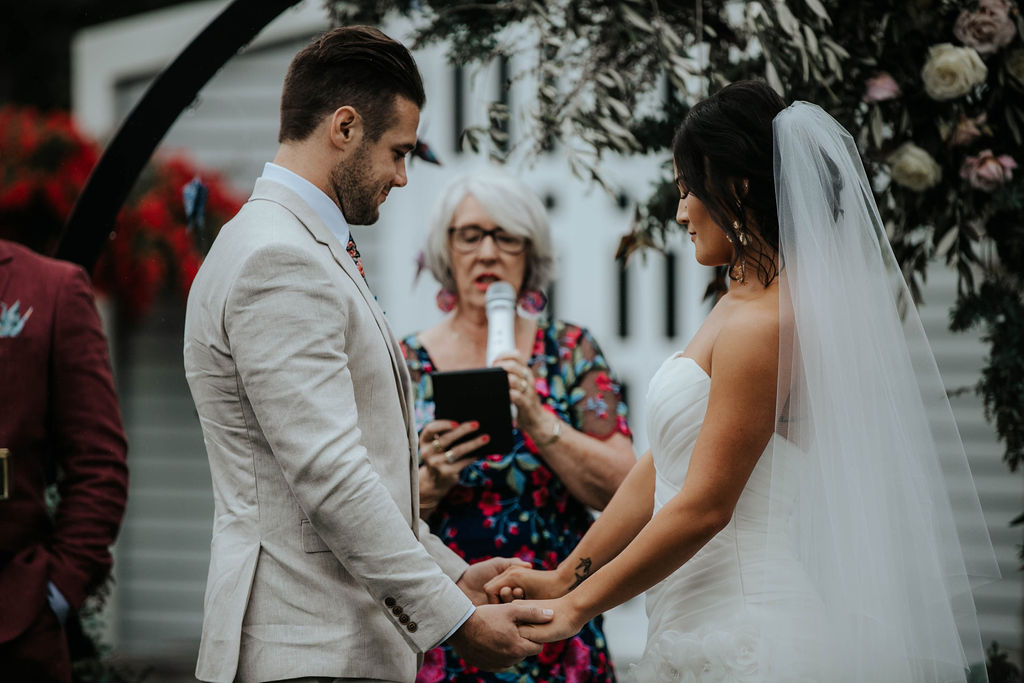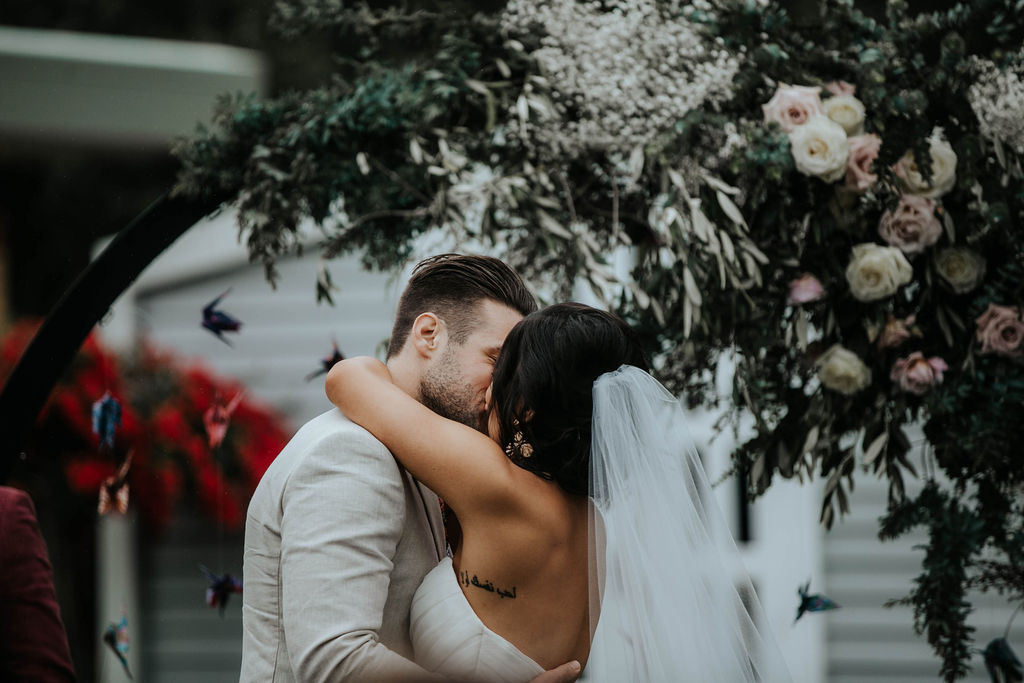 Joey: Joey knew exactly what he wanted to wear, but it was not an easy find. He knew exactly what colour he wanted and didn't try on anything else. We tried on around 4 different beige suits until he found the one that felt and looked how he wanted it. Once we found the perfect suit we then tried on a number of different shirts and ties to find his final look. In the end it was a toss up between a flora shirt & plain tie or a plain shirt & flora tie. In the end we chose a crisp white shirt that has some texture to it to match the linen suit. We had the option of smaller flowers on the tie or the bigger ones. We chose the dark flora tie with big flowers as the red flowers in the tie matched the flowers in my crown & also tied in the suit colour of our groomsmen. Joey kept his hair long on top with a nice touch of stubble, clean but not to perfect – just how he likes to be. He wore dark chocolate boots & chose no laces to keep the look clean and simple.
Our groomsmen all wore burgundy linen suits from Halensteins. Each of them had a shirts with different sized checkered patterns in the colours black, blue, navy & grey. We did this to that they were alike but not completely matching. They all wore the same black paisley tie & tanned shoes from @tarocash.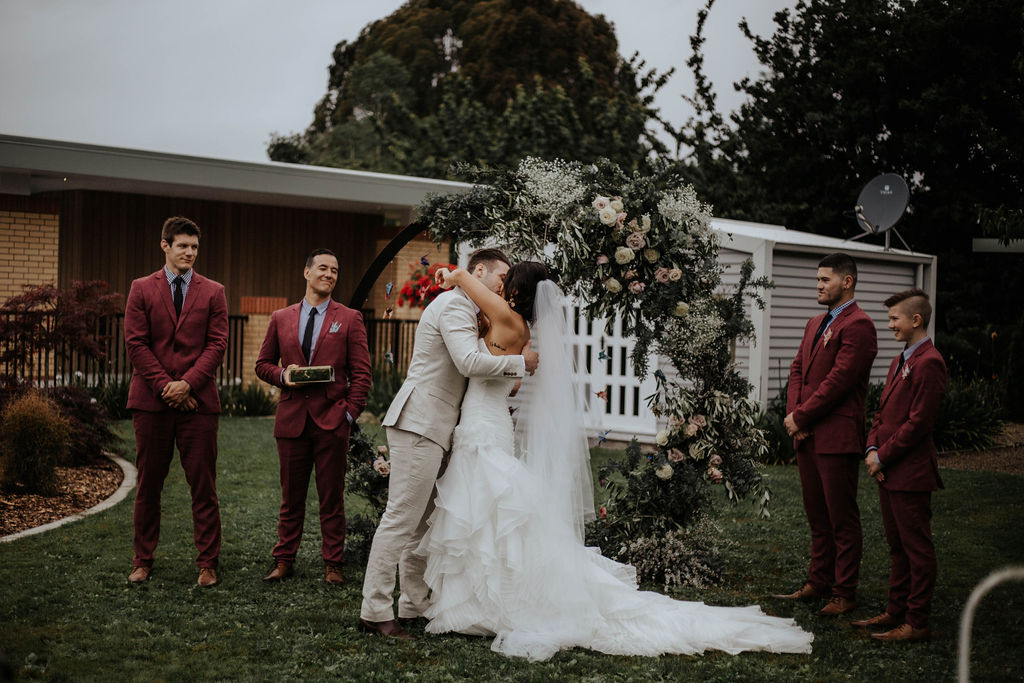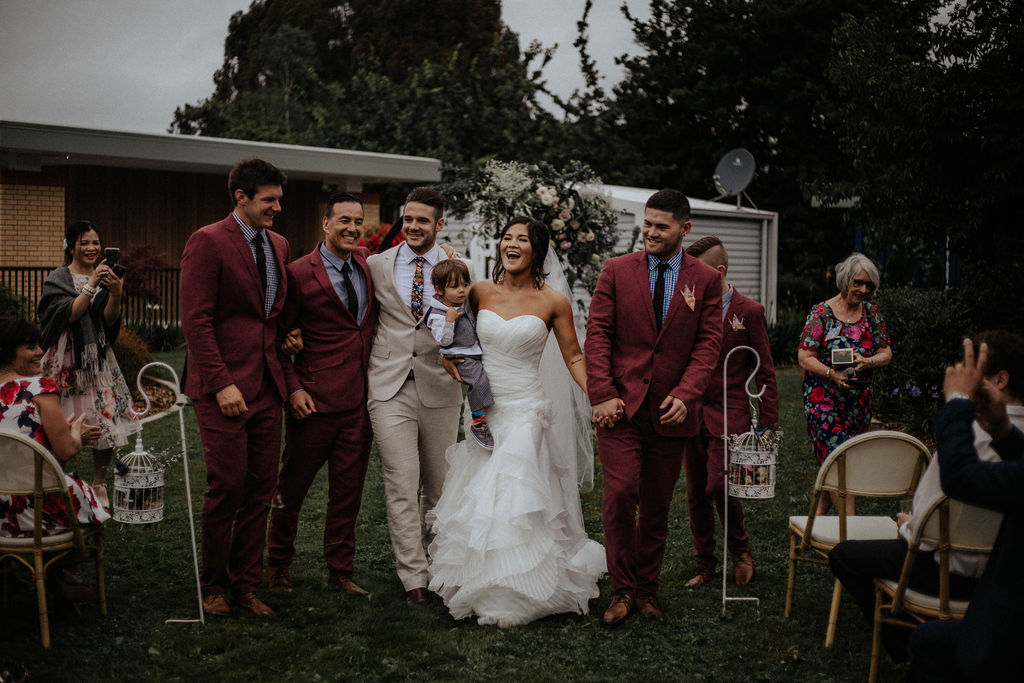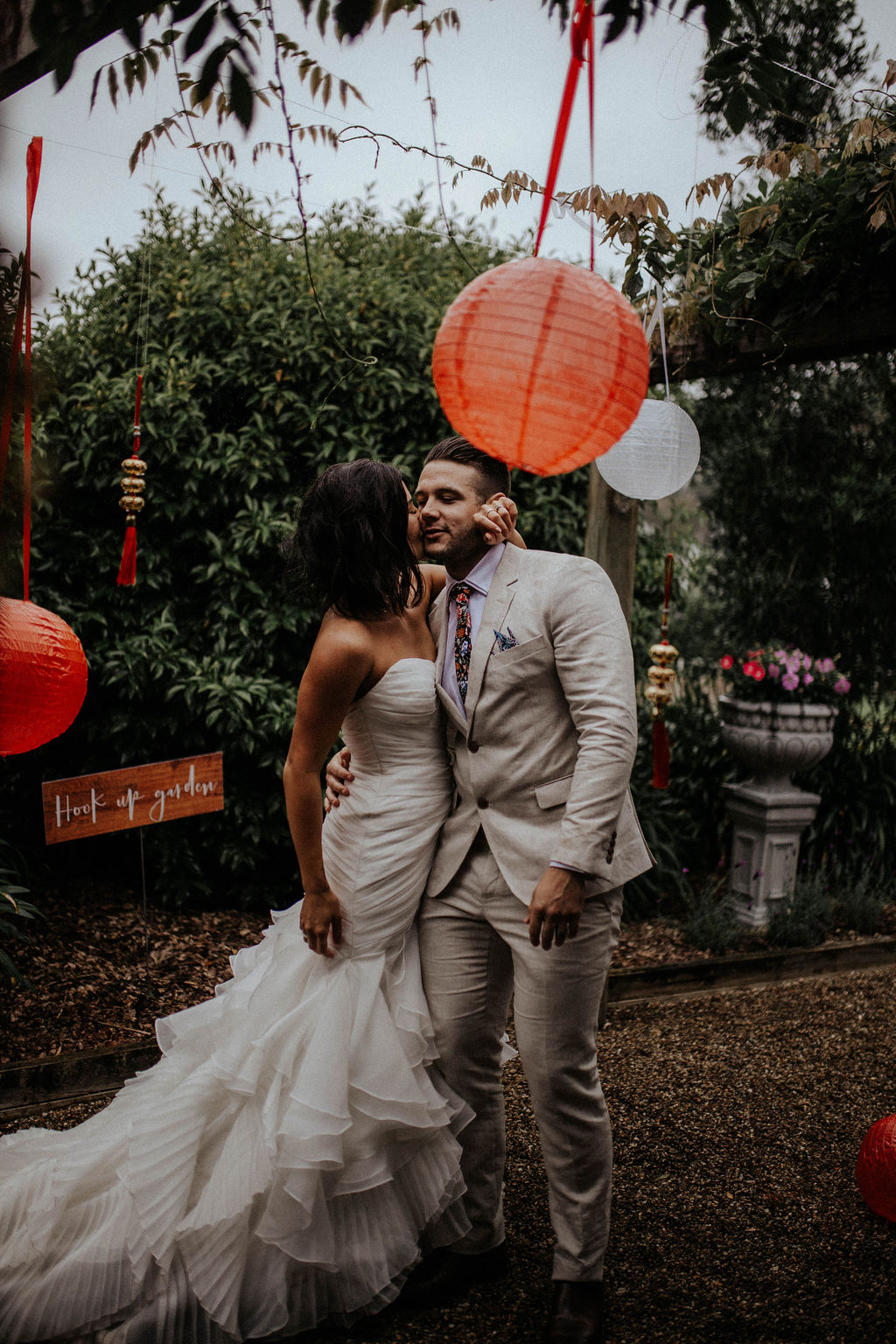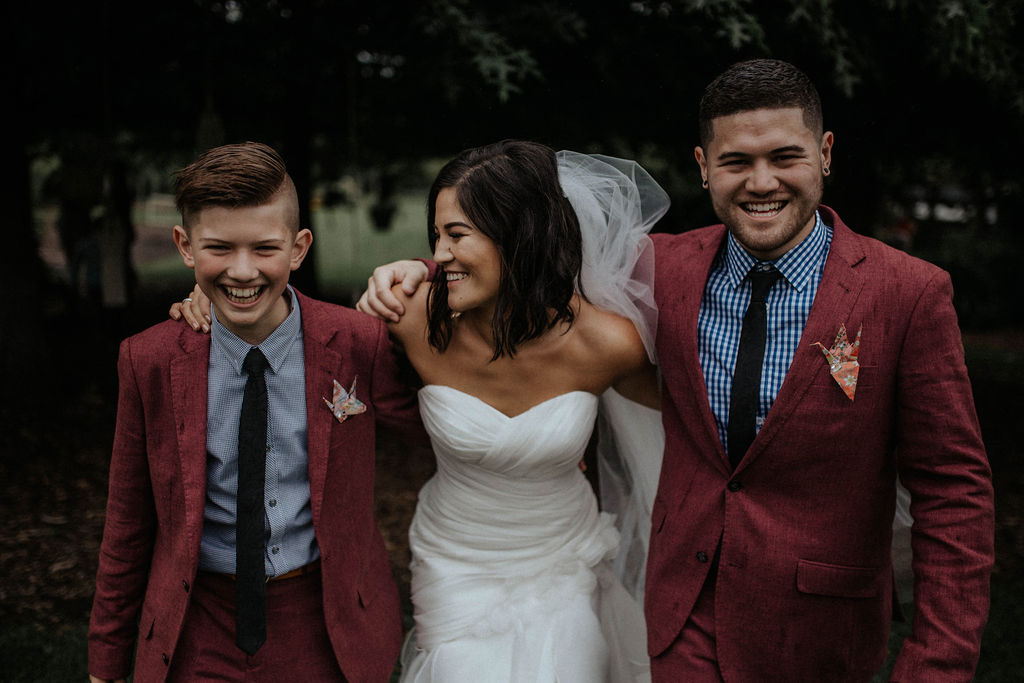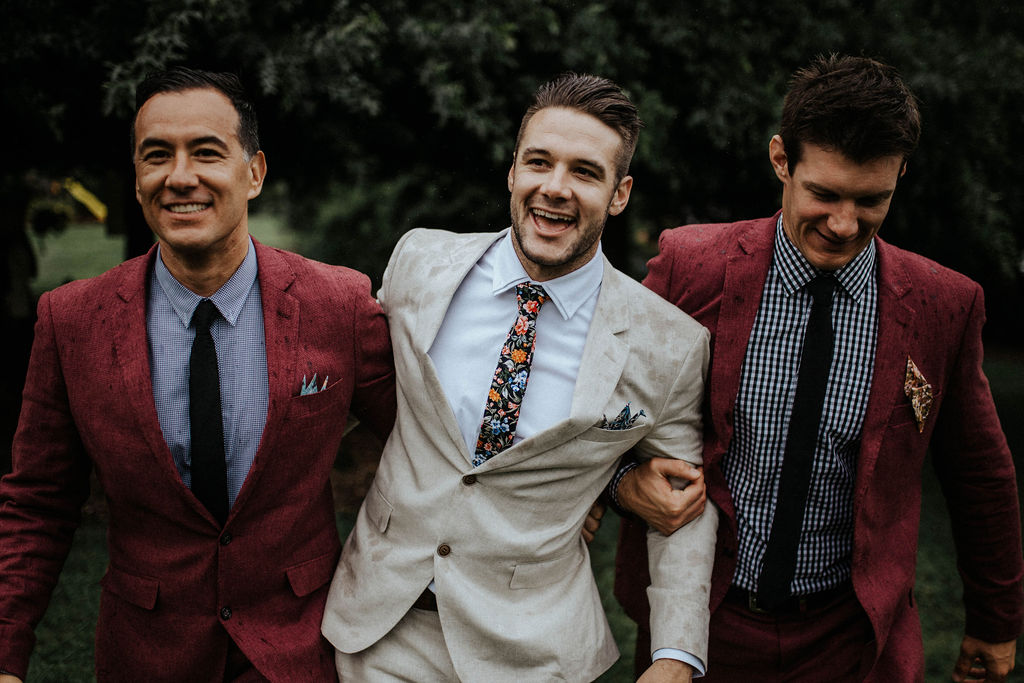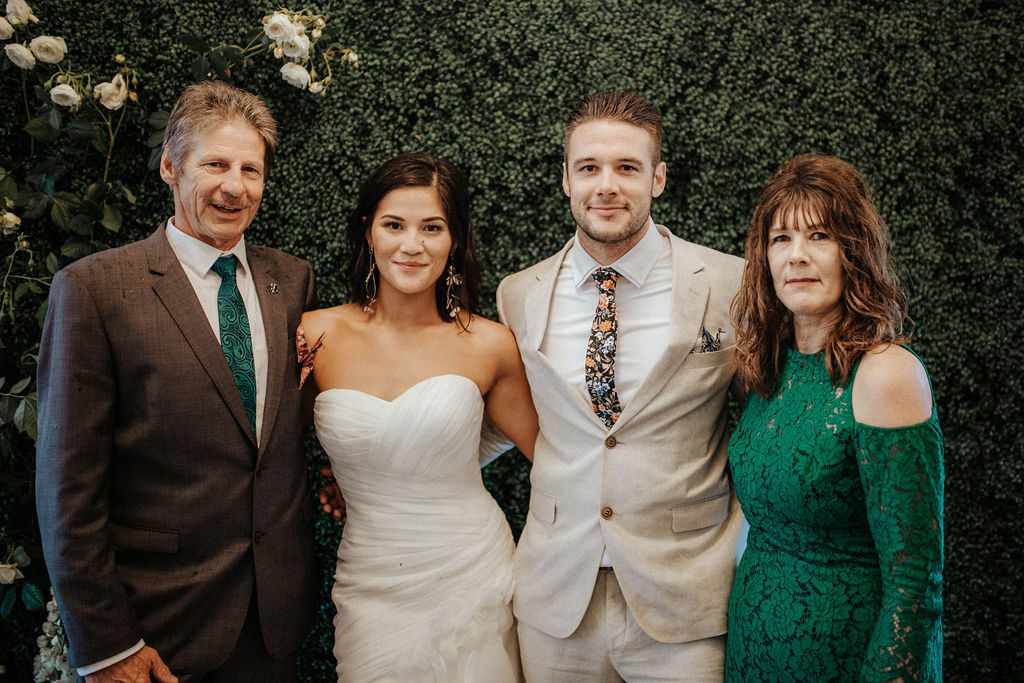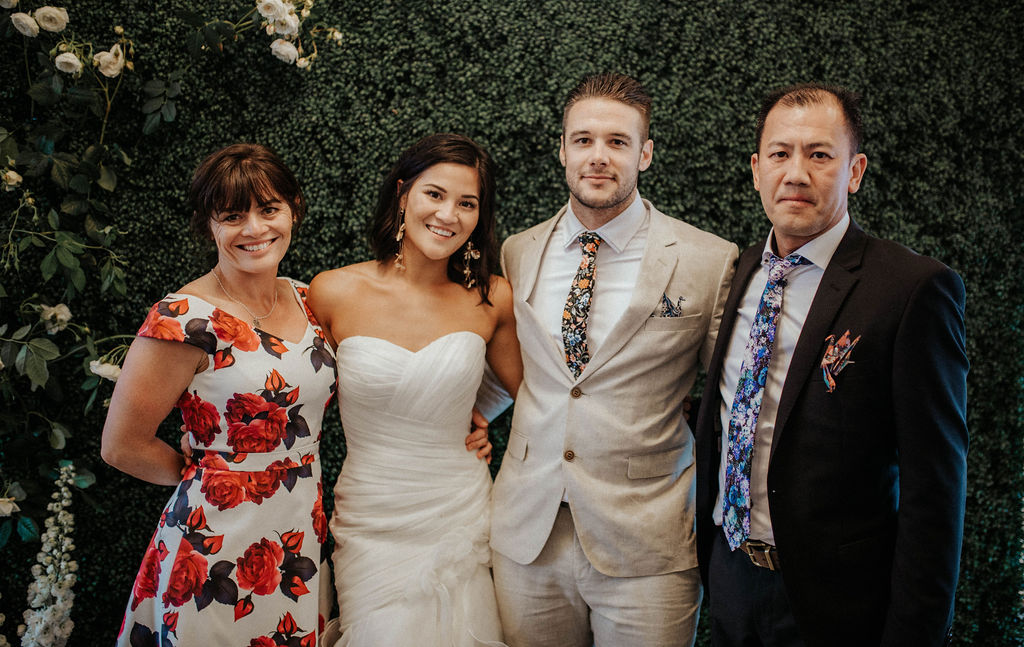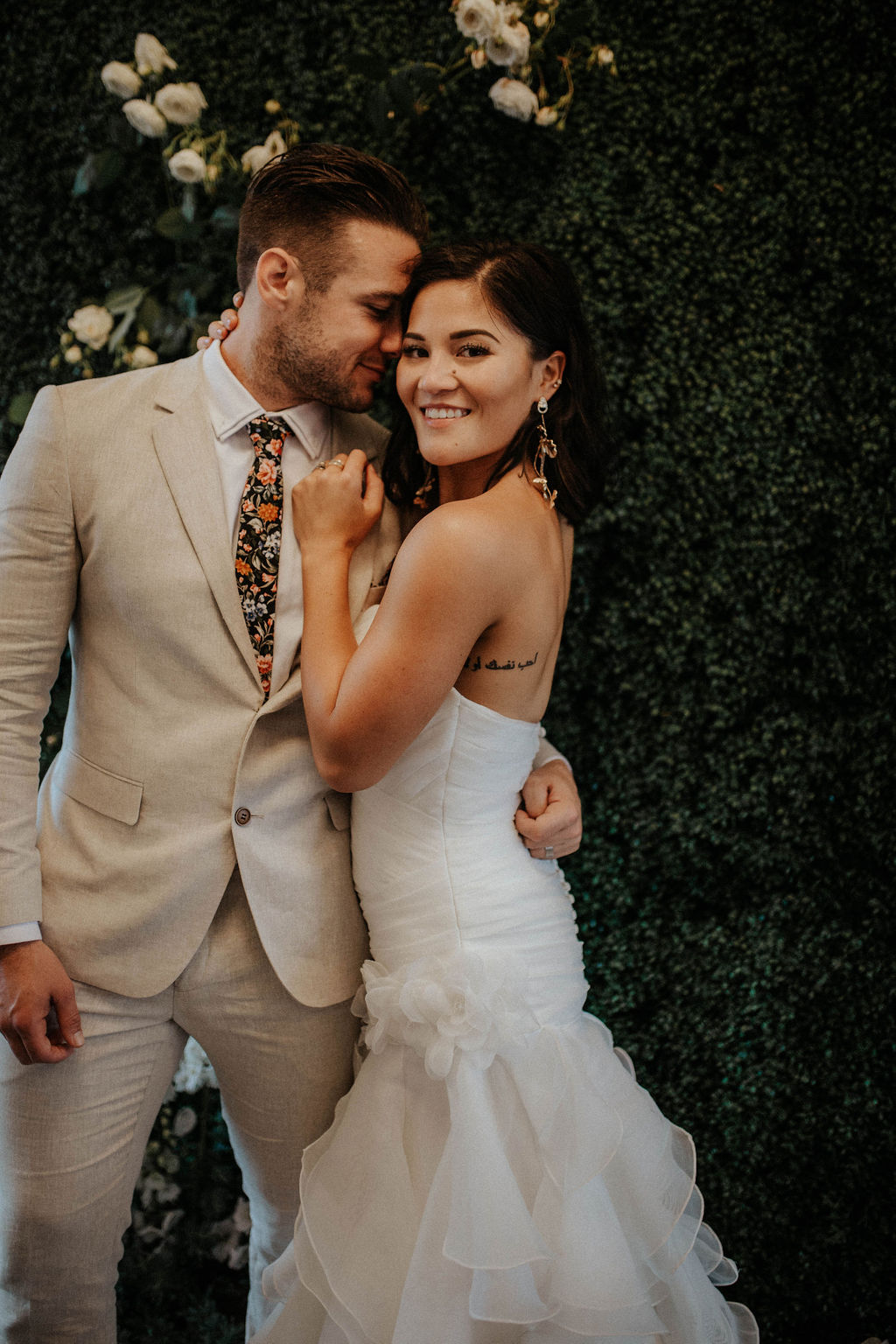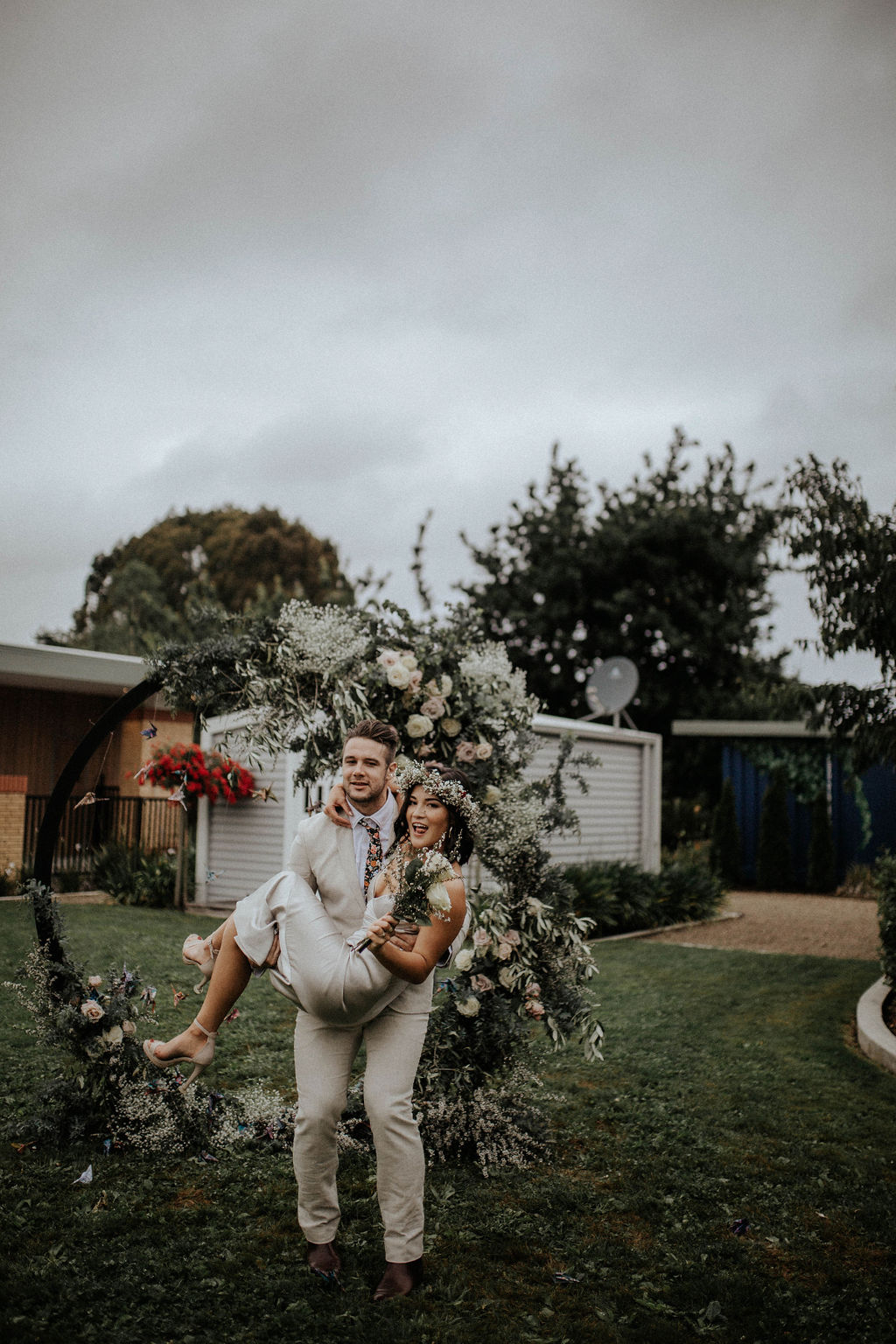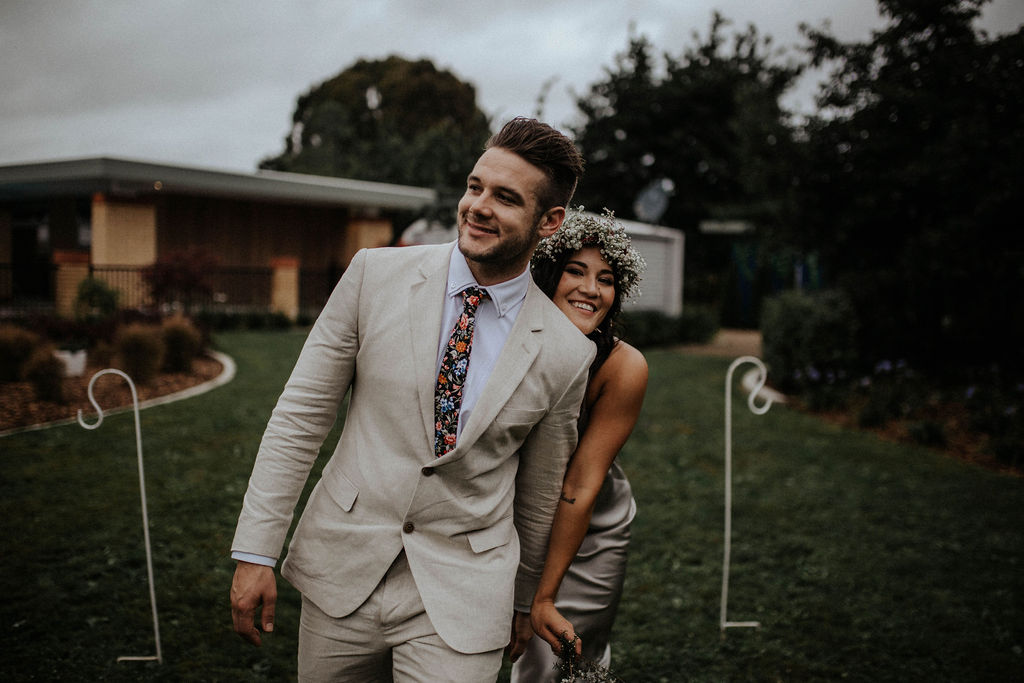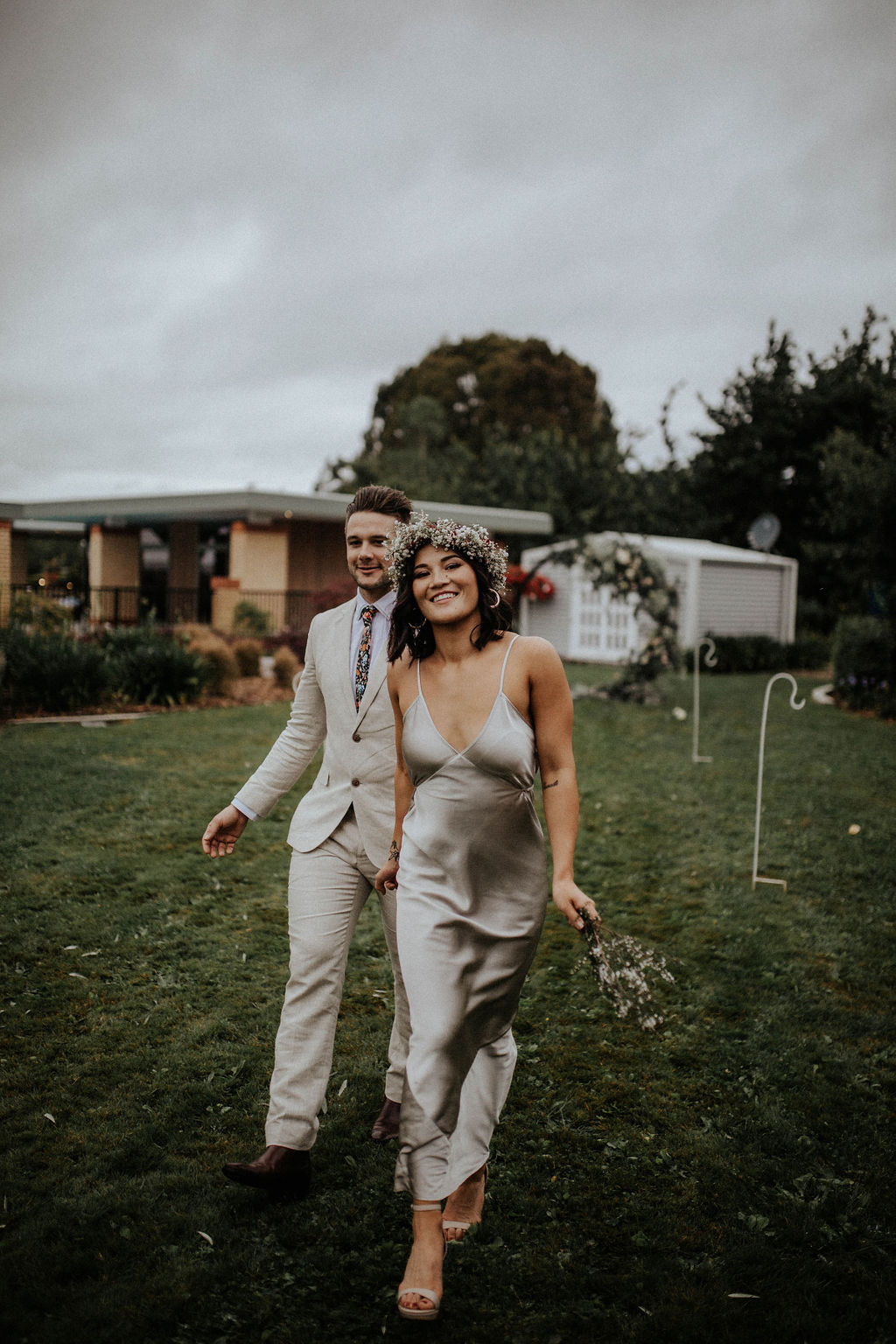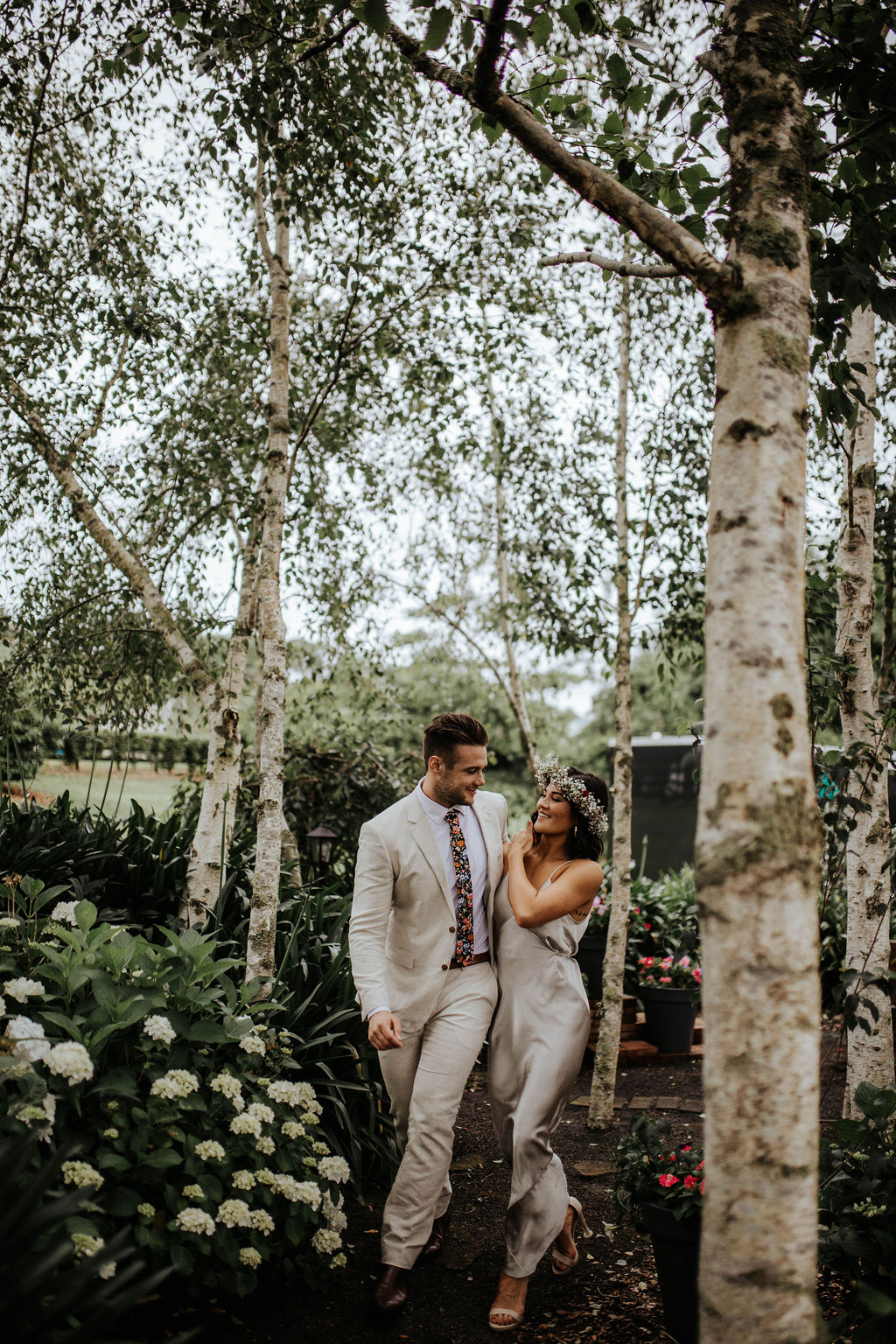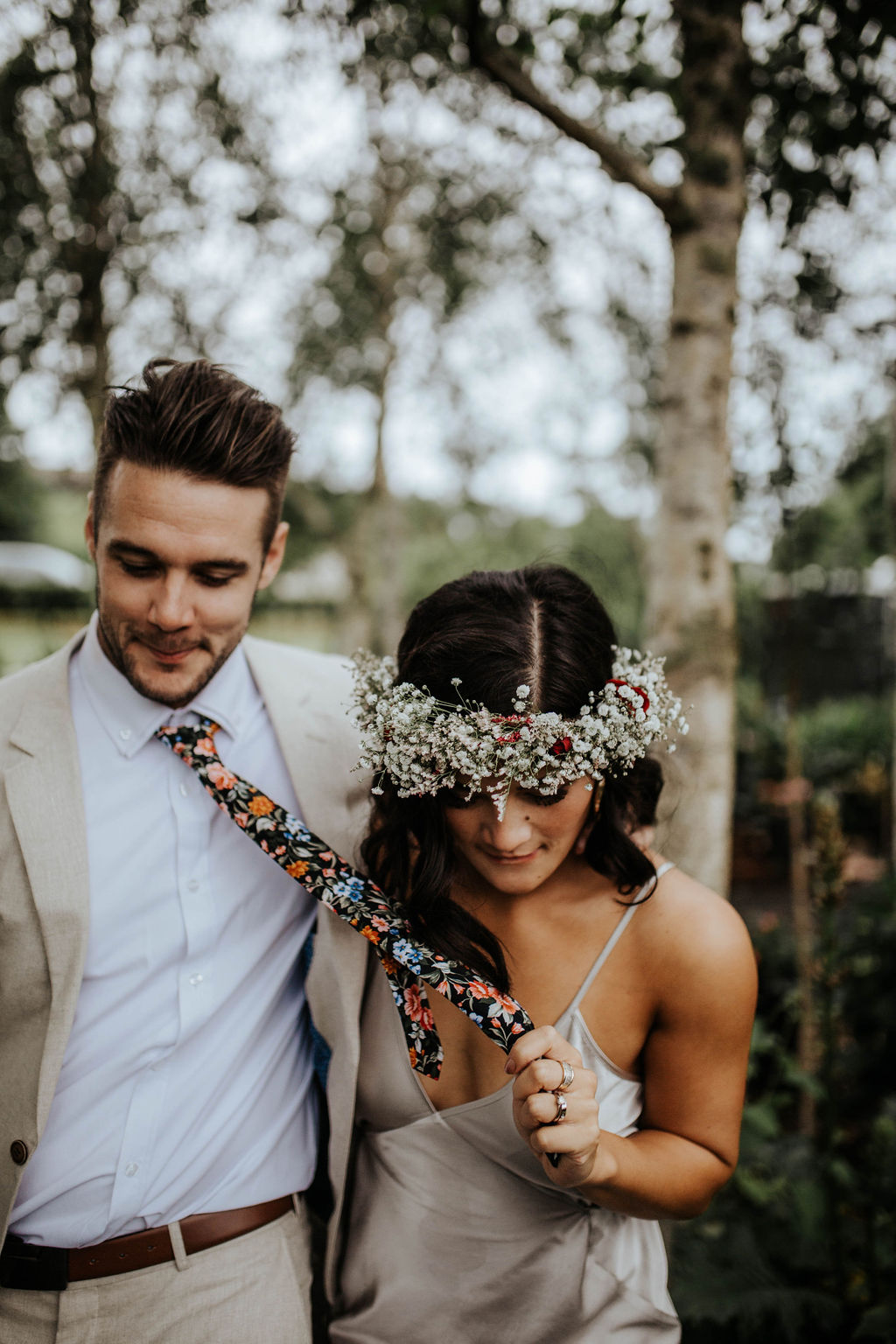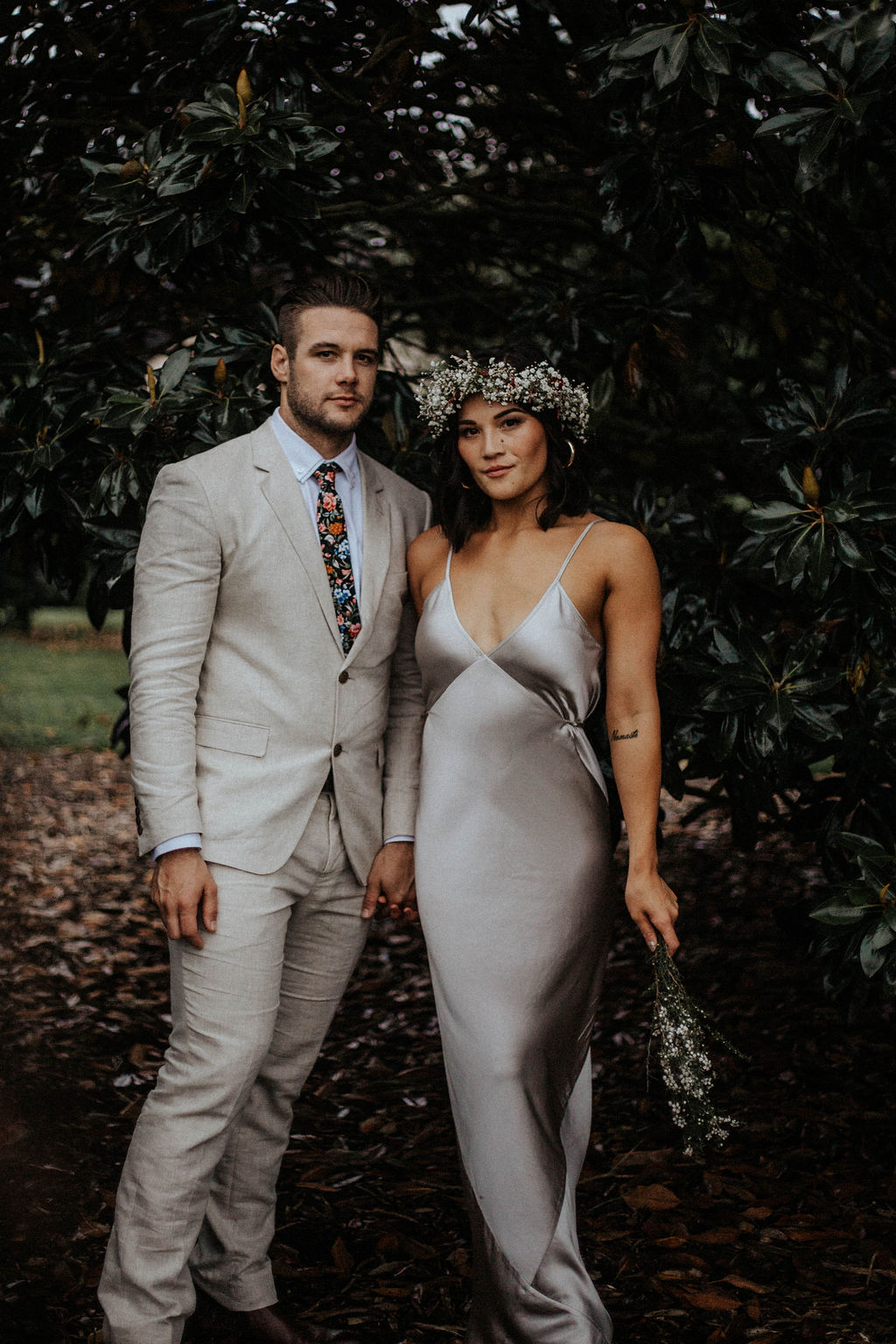 What were the most memorable/unique memories from your day?
When I asked Joey what his favourtie memory of the day was he said it was watching me walk up the isle, walking up the isle was also one of my favorites but wow I was so incredibly nervous. I loved seeing both my dads faces when they saw me and also looking at everyone who I loved standing there ready to watch me marry my best friend.
Our son putting on his little suit & having his last feed with me before I put on my dress was really memorable for me. Putting on my dress with my mum was so special, just the two of us, especially because it was her dress. I LOVED WEARING MY MUMS DRESS!!!
After all the rain I looked outside to everyone drying down the wet seats & I remember having a huge feeling of love & appreciation for all the people out there doing that so I could have my wedding outside – even though it was so wet. Seeing the rain stop was the best feeling ever!! I was so relieved. Before I left to walk up the isle I had a moment with my mum & it was really special she hugged me really tight & told me she was proud of me. The vows, the ceremony, the music, the people, NO RAIN – all of it I LOVED & it is so hard to pick just a few moments because they were all my favourtie. Mostly I loved walking out as Lashara Fluhler. There is really no way to describe how amazing that moment felt – my cheeks were sore from non stop smiling.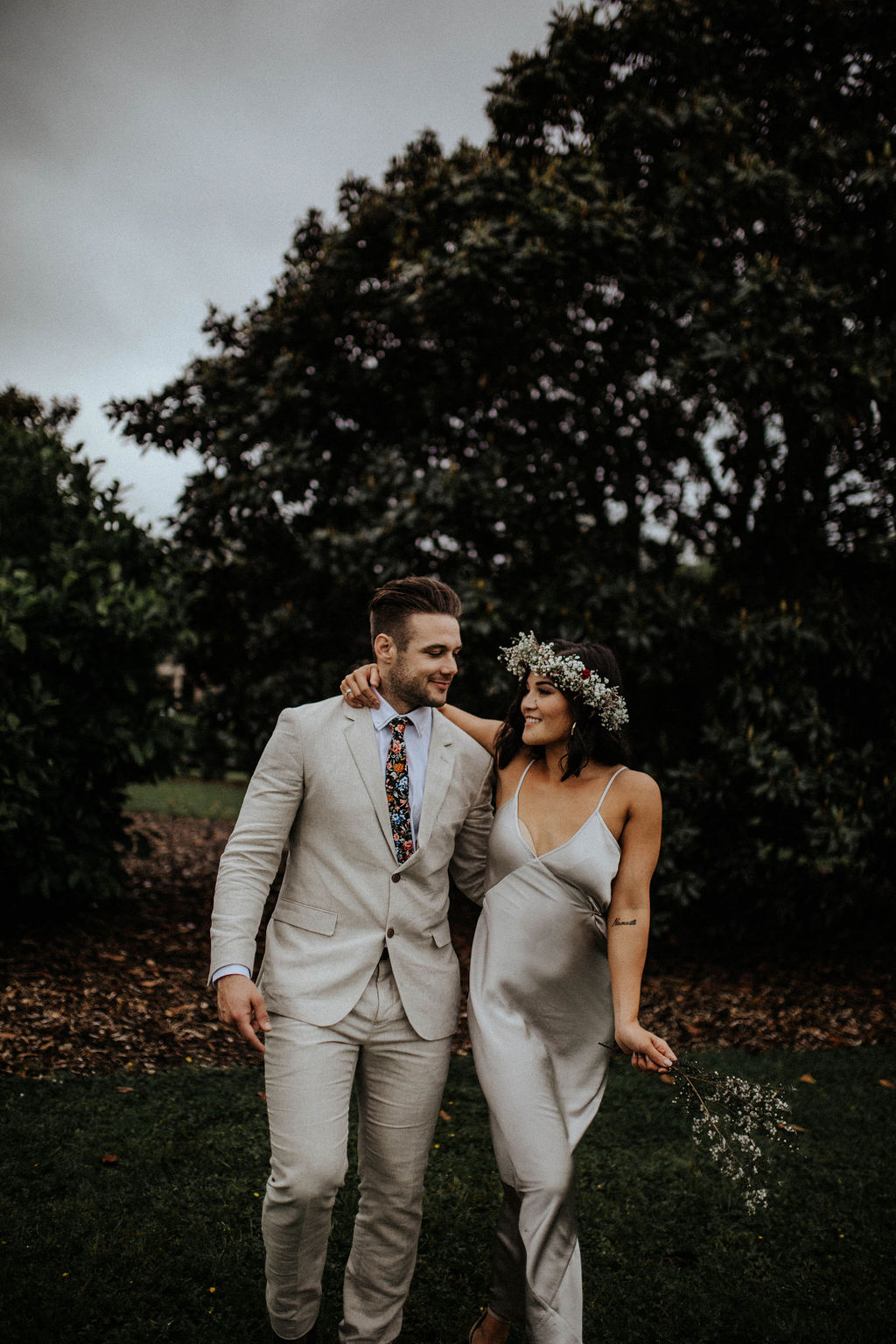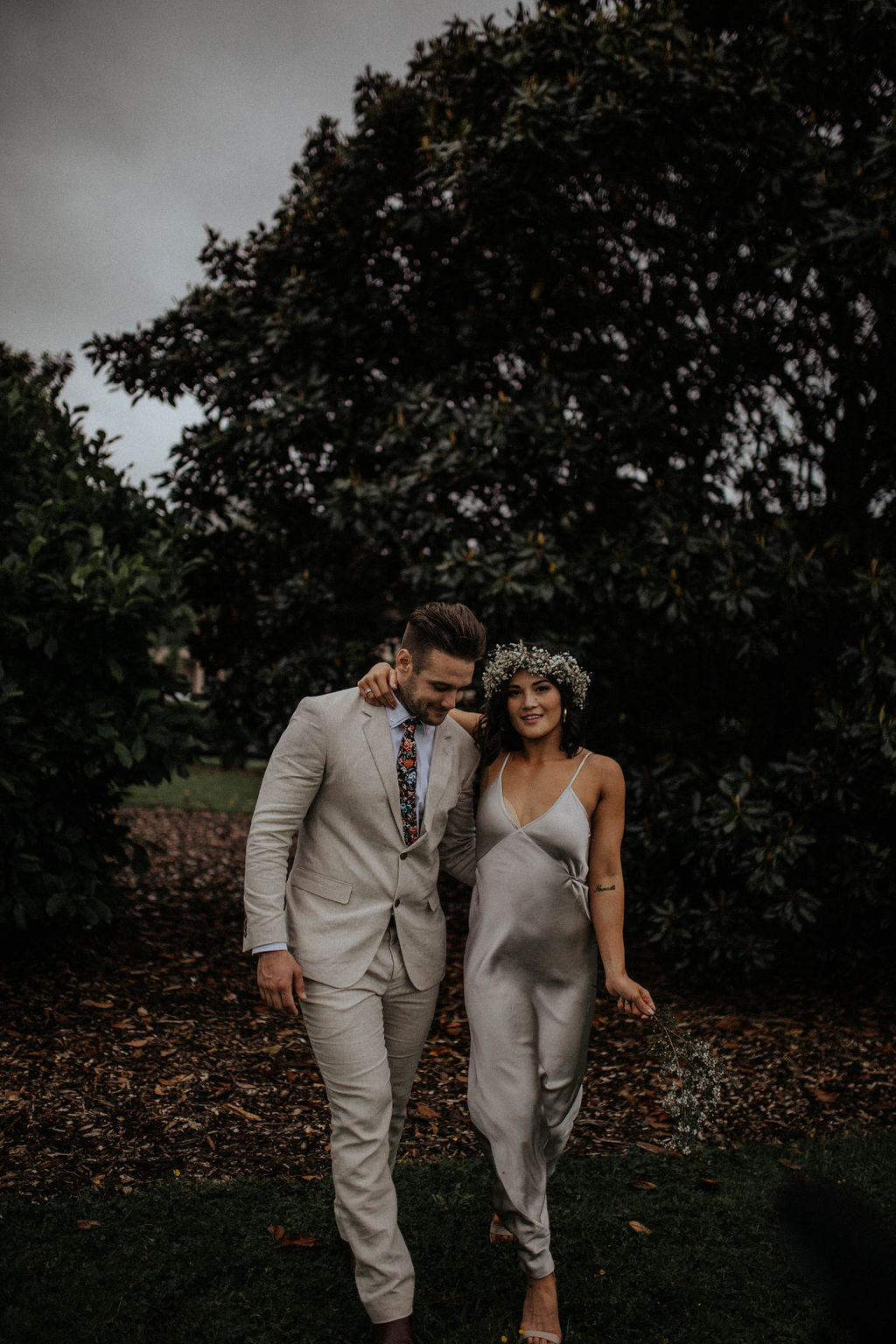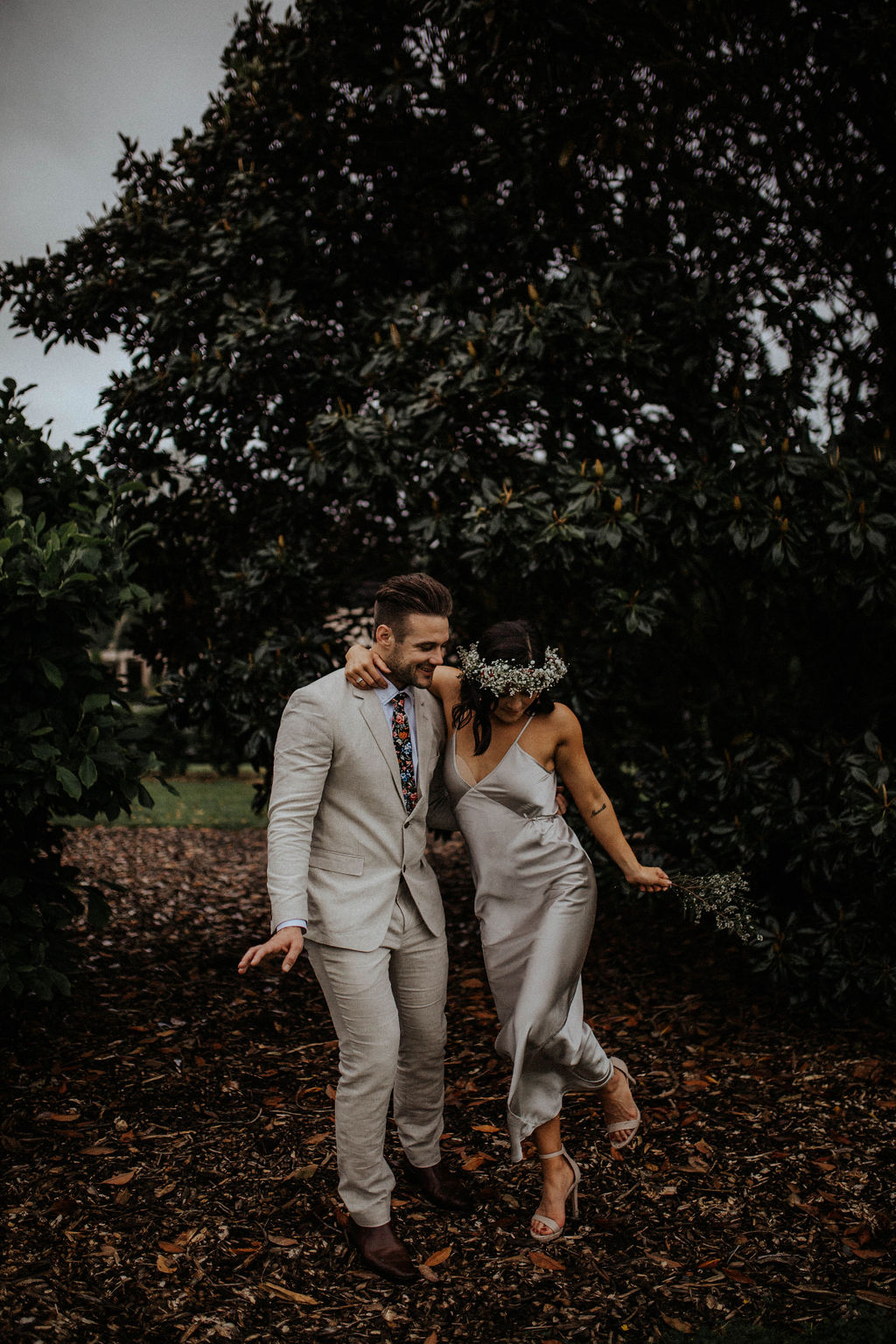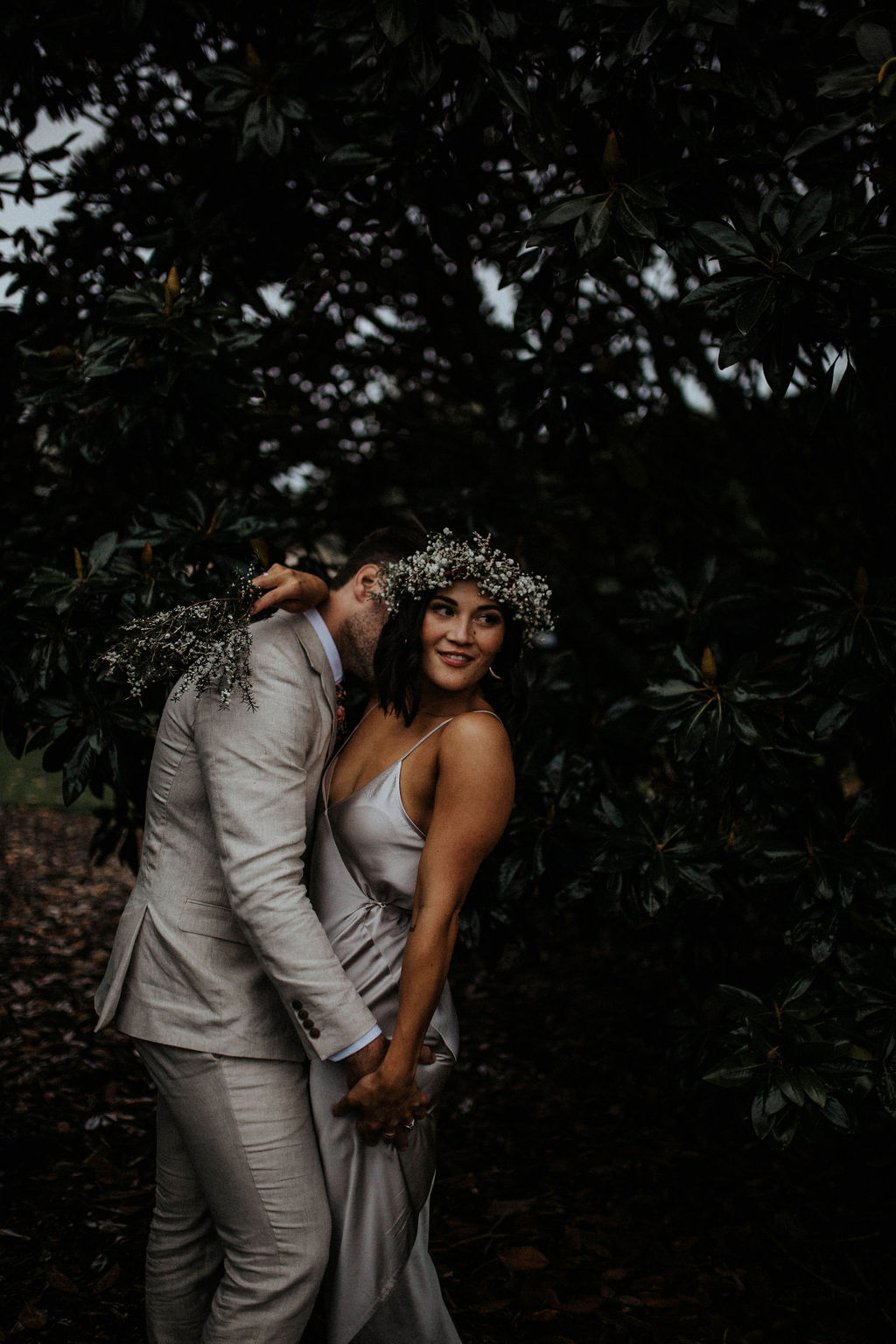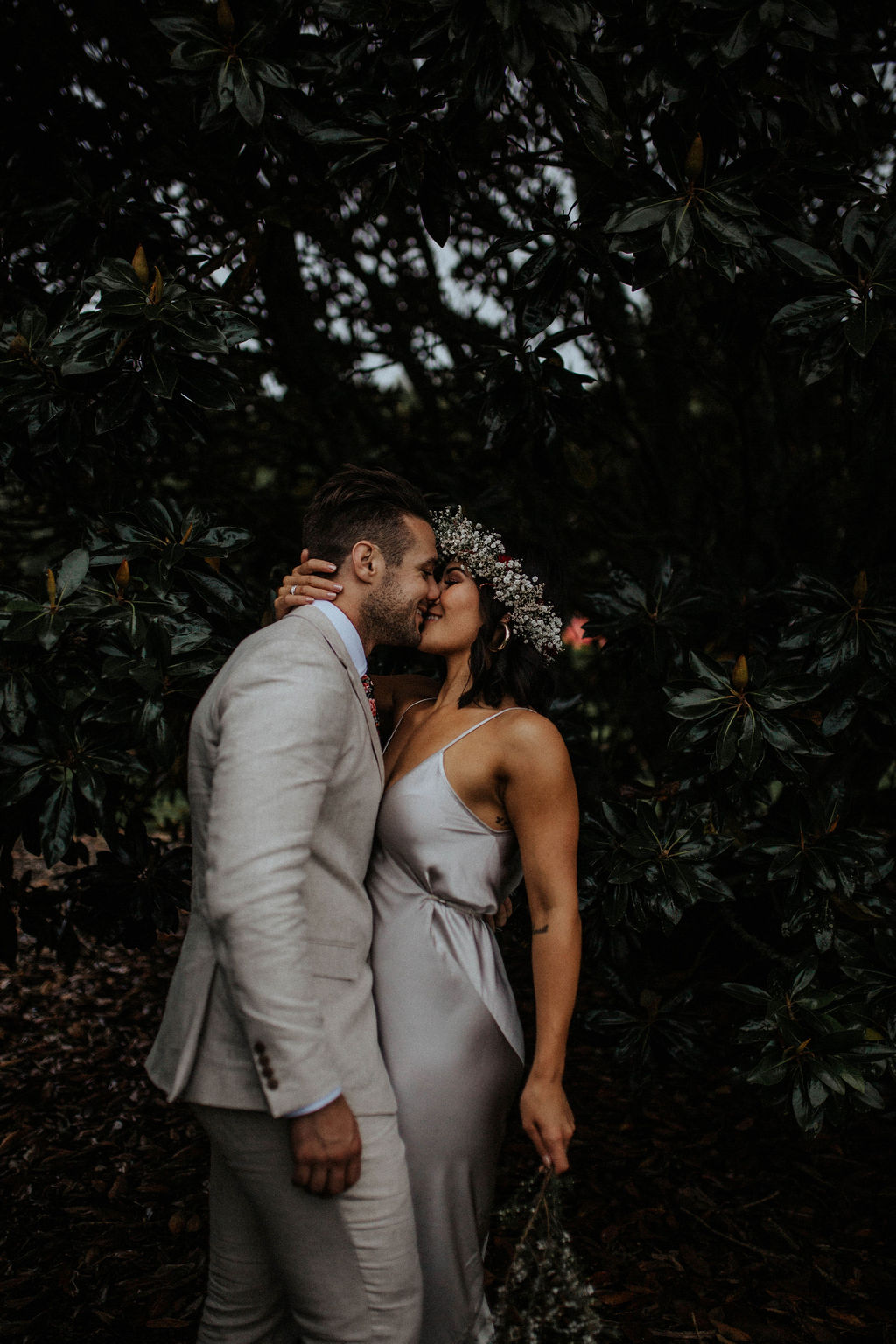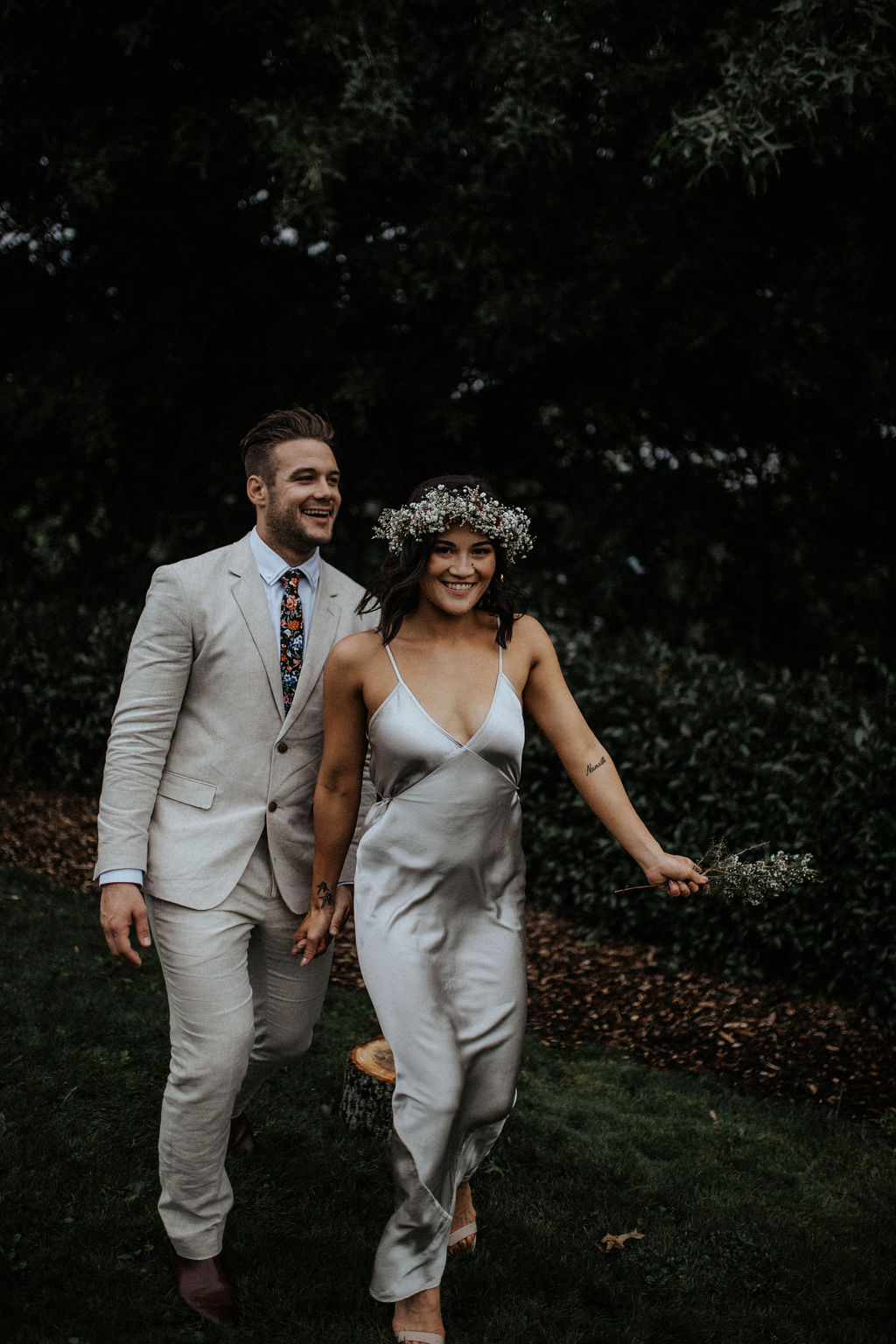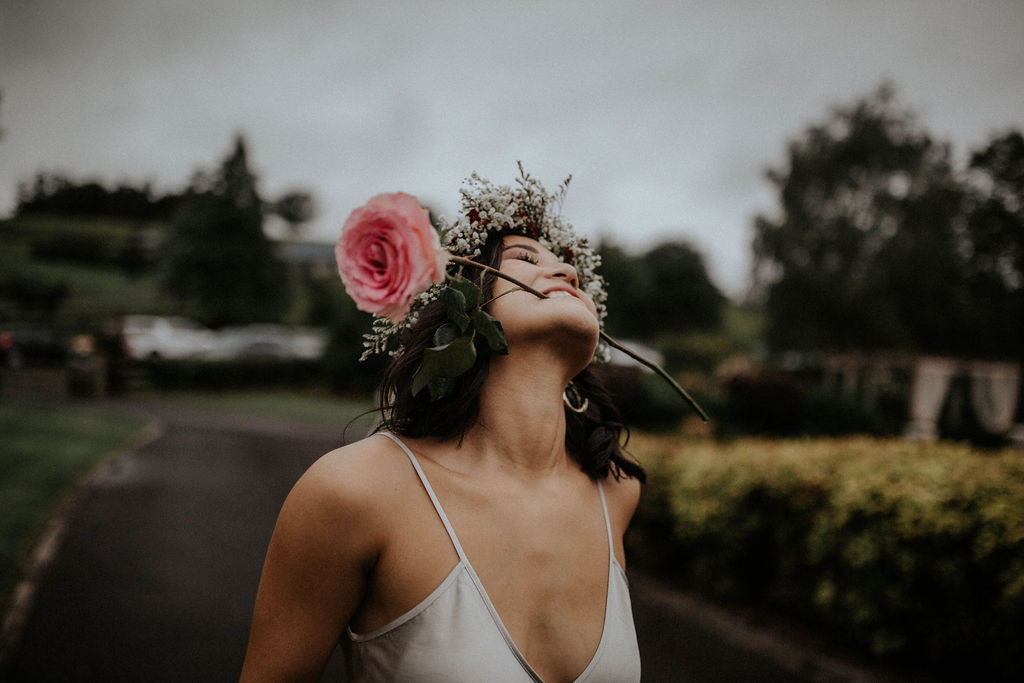 Any advice to couples planning to spend the rest of their lives together?
Our advice to couples who are planning to spend the rest of their lives together… I asked Joe & he said – "I don't know we just started… what do we know – we have a long way to go still" I think the best thing about what he said is – we do both have a long way to go – but the thing is knowing that… knowing that you are in it for the long run & as long as you are together & work as a team you'll get there. Take it day by day & always have fun with each other, talk openly, have a strong friendship, accept each others goals & dreams, never go to bed angry at one another & ALWAYS, always tell your person how much you love them even when they annoy you – that's what husbands are for or as joey puts it that's what "wifes" are for. Agree to disagree – works for me.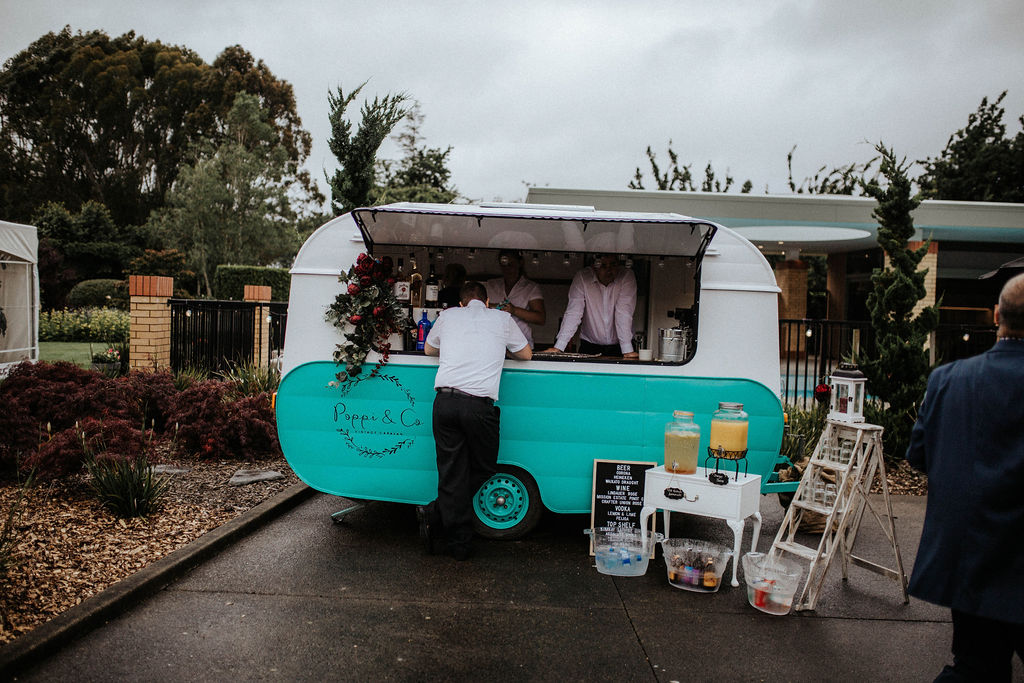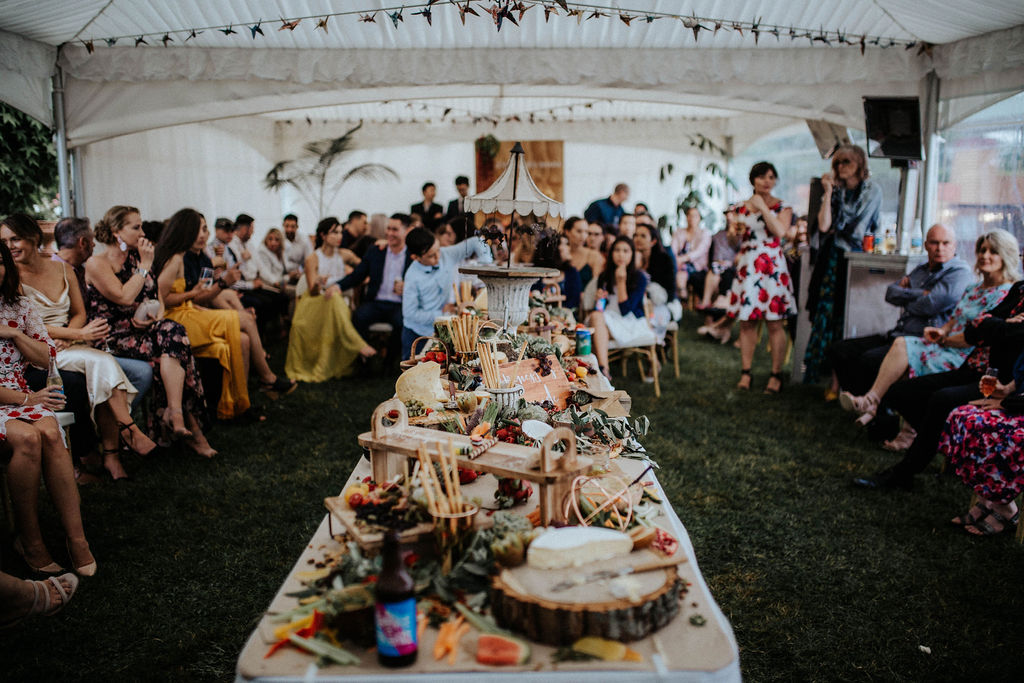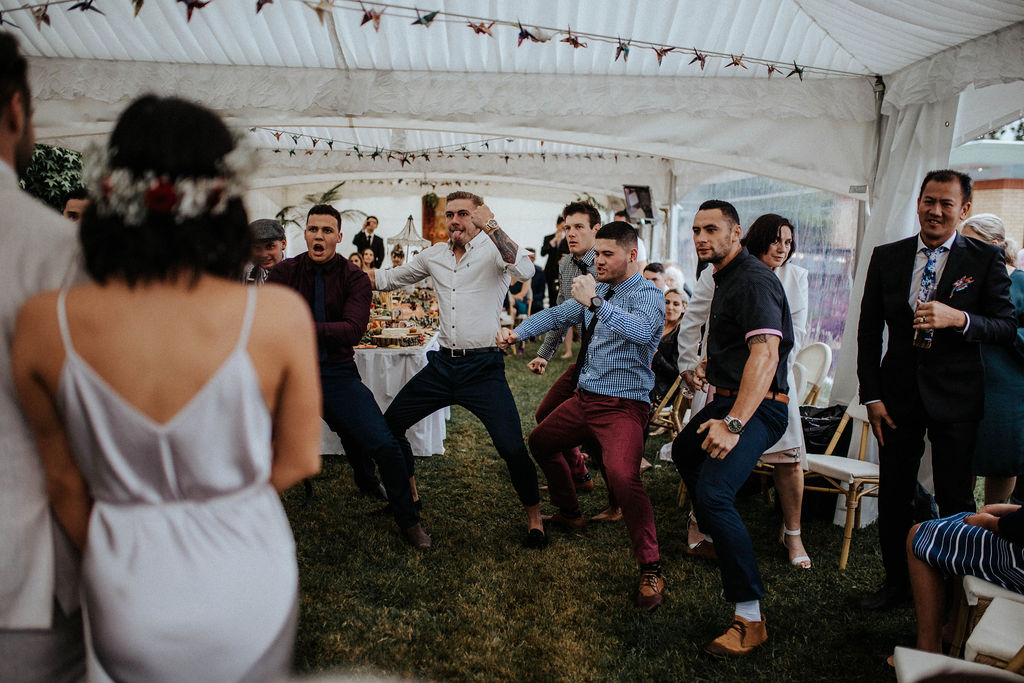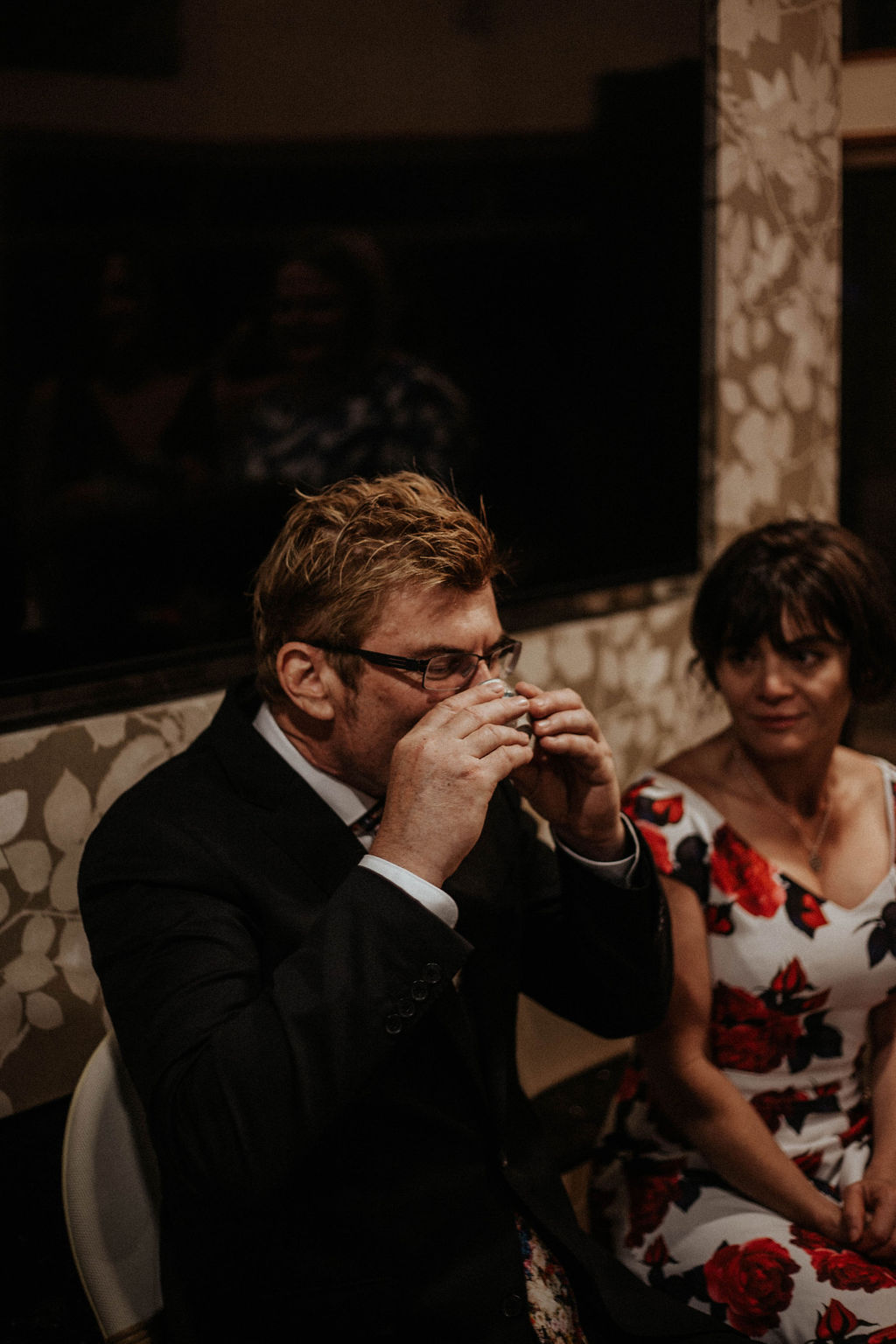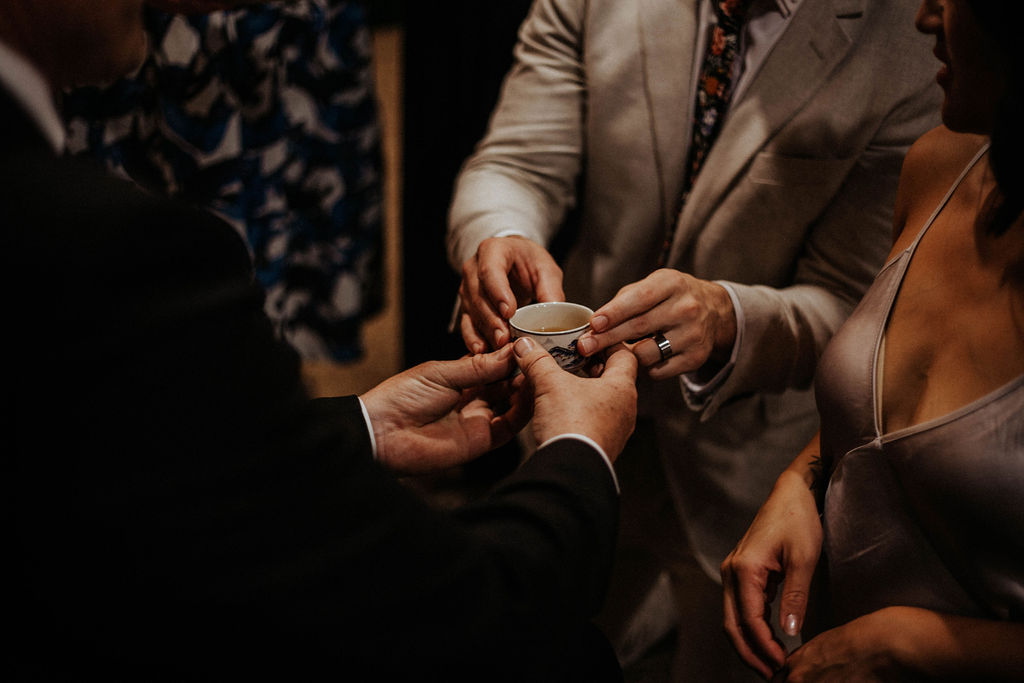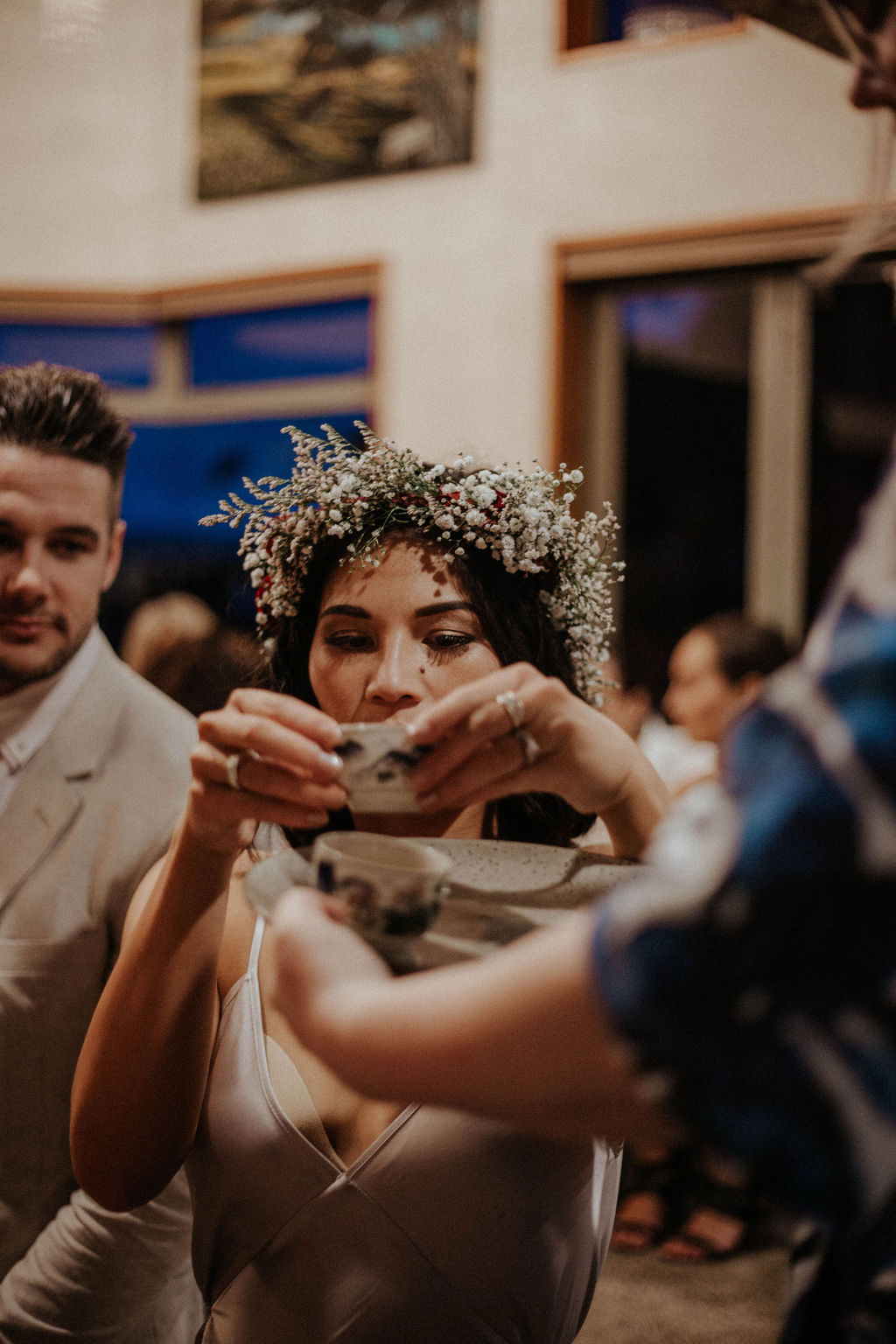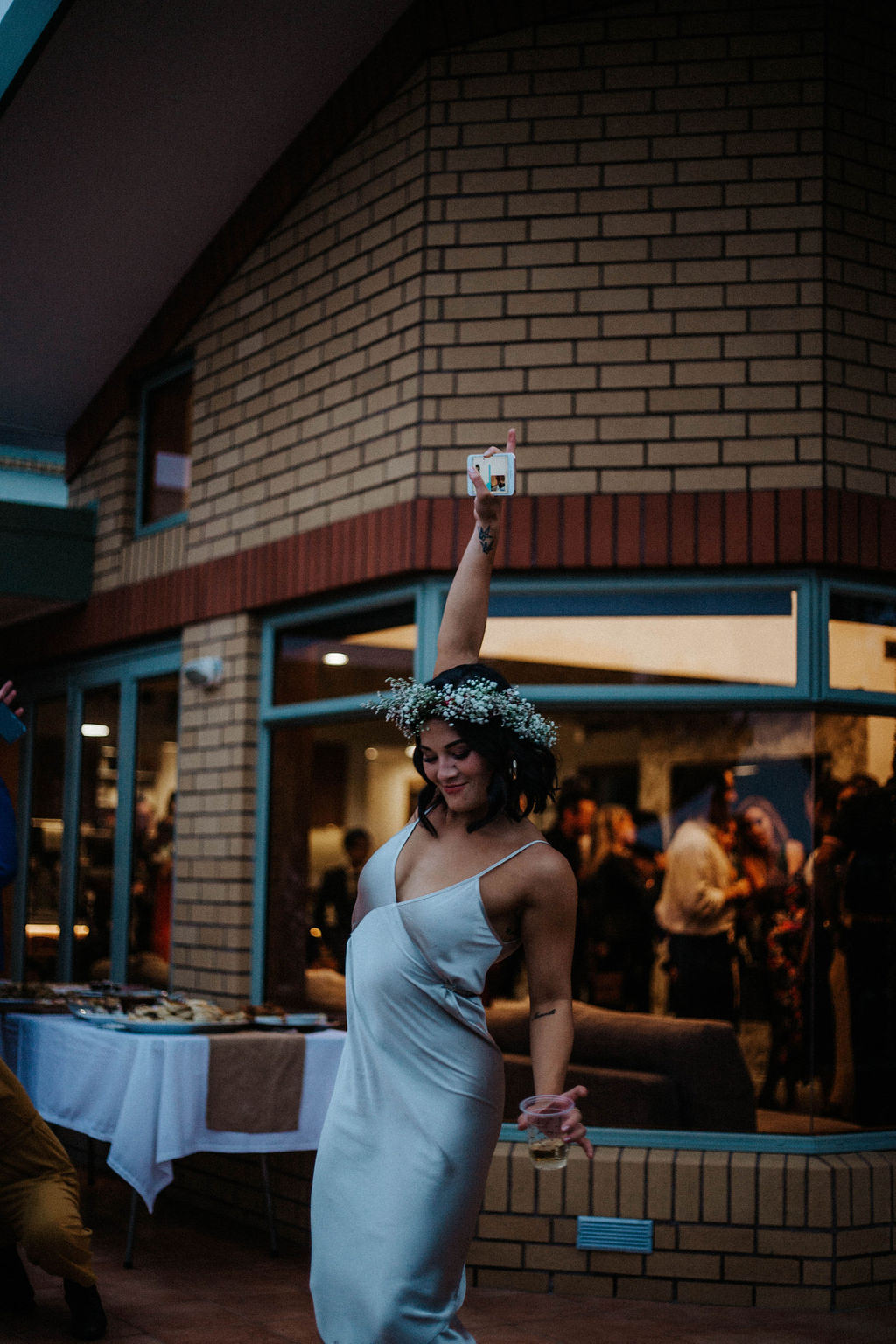 Photographer: Ash Muir– Second Photographer for the Groomsmen: Naomi Jorge Creative– Bride's Outfit: Lashara wore her Mums wedding dress designed by Jane Yeh and  Miss Crabb as the reception dress- Groom's Outfit: Italian linen suit from Dorest Suits– Shirt from Taro Cash, floral tie from Hallenstein Brothers, Shoes from Dorset Suits– Rings: Bride- Naveya and Sloane and Neil Thomas– Shoes: Kookai wedges, Novo Shoes and Massa Footware– Jewellery: bride earrings from Kookai, groom's watch from Police Watch, Make-Up: Taryn Anderson- Hair: Laura Williams and KITZO Hair and Skin– Fragrance: bride's perfume is Victor and Rolf Flower Bomb and groom wears Calvin Klein Free– Ceremony and Reception location: Lashara's family home (Haultain Downs)- Videographer: Victoria Sheridan– Celebrant: Denise Herbert- Flora: The Flower Crate– Planner: Kara Harte- Hire: Carlton Party Hire– Marquee Hire: Mackquee – Food/Beverages/ Catering: Home Catering- Photobooth: Photobooth Fun– Joes Car- First Class Classic Cars– Portaloos: Majestic Luxury Portaloos– Poppi and Co Caravan- Just Hitched Events.
Love the content?
Sign up for more here