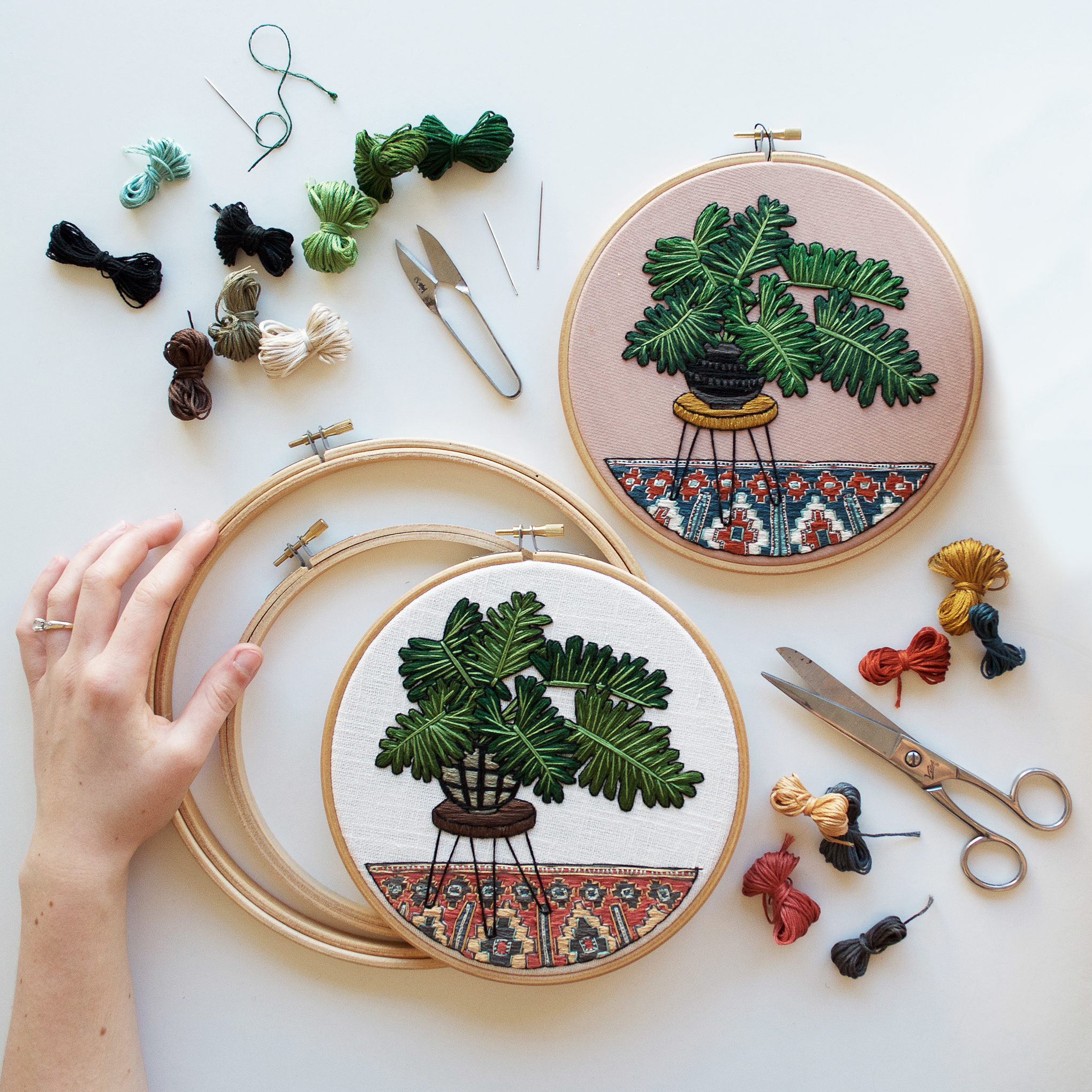 The embroidered works of Sarah K Benning sure are head turners! As part of a community of New Age stitchers, she has propelled the art form into the limelight with her strong, illustrative commentary on people and their everyday spaces.
Share with us a little about your background and the work you do? I am an American fibre artist with a semi-nomadic, contemporary embroidery studio practice, currently working from my new home in the White Mountains of New Hampshire (USA).
I grew up in Baltimore and knew from a very young age that I wanted to pursue art as a career (as clichéd as that sounds). My mom had a lot of friends who were artists and creative professionals, and although she is a biostatistician, and not particularly artistic, the close proximity to creatives during my childhood had a profound impact on me, and luckily, my mom supported my artistic inclinations.
I attended the Baltimore School for the Arts, where I learned the foundations of art-making, including observational drawing, the basics of photography and Photoshop, art history and visual critical thinking, then graduated from the Art Institute of Chicago with a BFA, specialising in Fiber and Material Studies and Arts Administration. Next, I moved cross country to upstate New York and took a job as a nanny.
I picked up stitching as a hobby to keep my hands busy during nap time, and soon after, in 2013, I opened a store on Etsy.com. Four years later, I have developed a distinct embroidery style for myself and built a sustainable studio practice and business.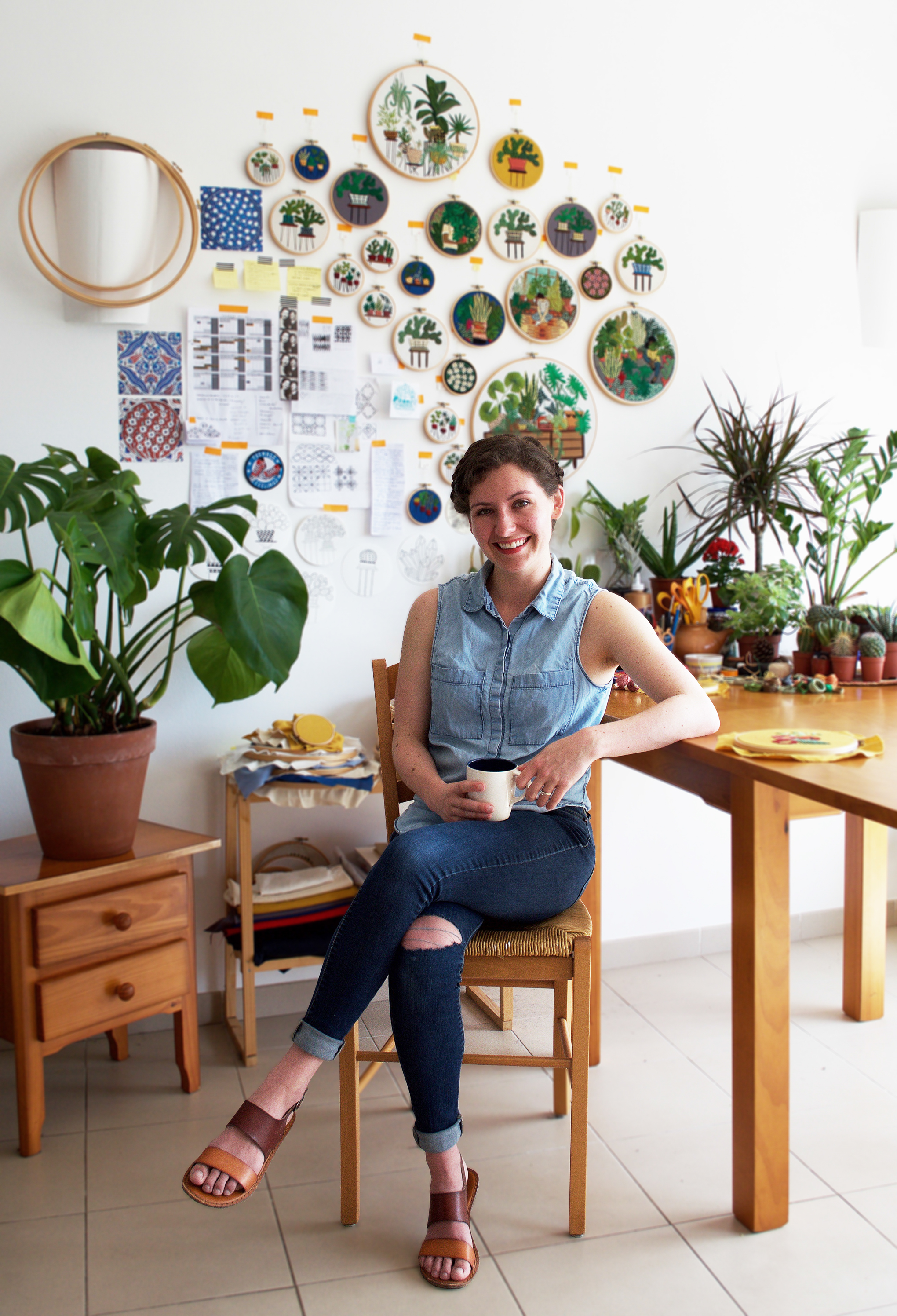 How would you describe your aesthetic? What attracts your eye? I draw and stitch things that I love, things that I live with, and things that I covet: plants, mid-century furniture, and antique rugs are constant subjects. I have always been interested in the significance of personal and home objects — the ability of inanimate things to represent complex emotions and meaning, and how we choose to curate and display objects within our personal spaces.
Tell us about your creative process? Each of my embroideries begins as a drawing directly onto my fabric. Usually this drawing phase happens over a number of days and I make constant edits, even as I am stitching. Once the drawing is down, I can begin the process of painstakingly filling the image in with stitches. I don't hold myself to following any kind of traditional embroidery rules (there are a lot of them). I prefer a more intuitive, freestyle approach. Many of my works end up with the surface completely covered in thread and stitches, so any sloppiness or changes to the underlying drawing are covered up. I think of my work as stitched illustrations, rather than examples of needlework.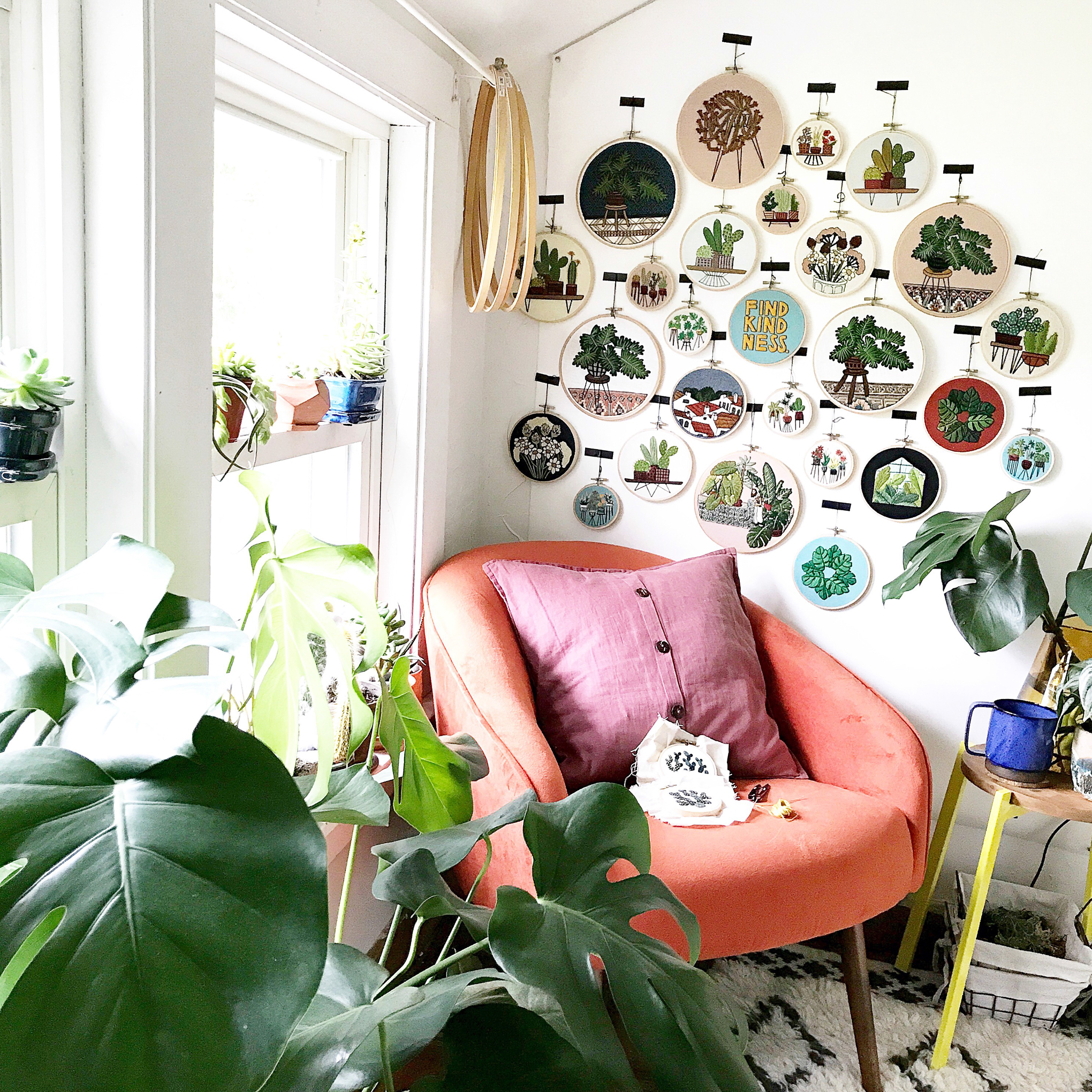 Where do you get your inspiration from and who do you admire? I find a lot of inspiration in my own potted houseplant collection and growing collection of rugs and furniture. Having recently moved to a new house in a new region, I'm finding a lot of inspiration in the hills and fields of wildflowers surrounding my place.
I also find a lot of inspiration online. I love following interior designers and browsing Pinterest for specific plant types or interior details. When browsing this way, I try to be very careful to filter these images — other people's images — through my own creative voice and visual vocabulary.
I love reading Design Sponge and following Grace Bonney on Instagram (@designsponge). I think she has found an amazing way of presenting the things that are most important to her, beyond her blog and pretty interiors. I really admire her bravery online, speaking up for what she believes in, even if it may be perceived as a risky business move. Politically, things are so insane in the US right now and I very much admire anyone and everyone speaking up on behalf of human and civil rights and protecting the disenfranchised.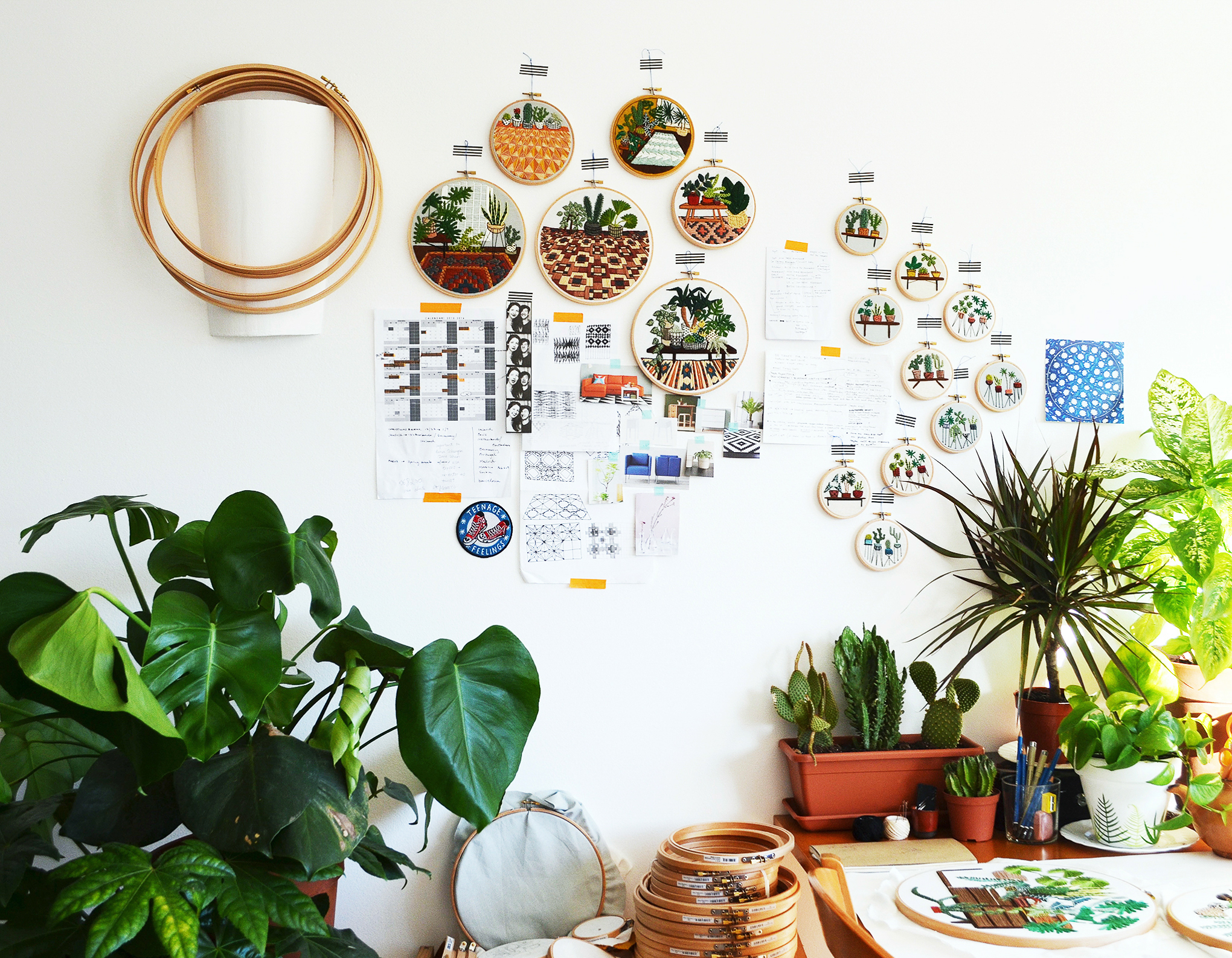 What are some career highlights that stick out for you? I distinctly remember my first sale on Etsy. It came about a month or two after I opened up shop and it was such an exhilarating feeling knowing that some stranger out in the world appreciated what I was making so much that they spent their money on it.
The decision to quit my 'day job' and fully commit to my budding business was another pivotal point. I remember feeling so nervous and uncertain about what the future would hold, but also so full of hope and determination. It's a tonne of work running a one-person creative business, but I love it and am thankful for the opportunity everyday.
I launched my monthly Pattern Program in March last year, and that was a real game changer. It has been such a pleasure sharing my knowledge and enthusiasm for embroidery with so many others through my D.I.Y. patterns and workshops.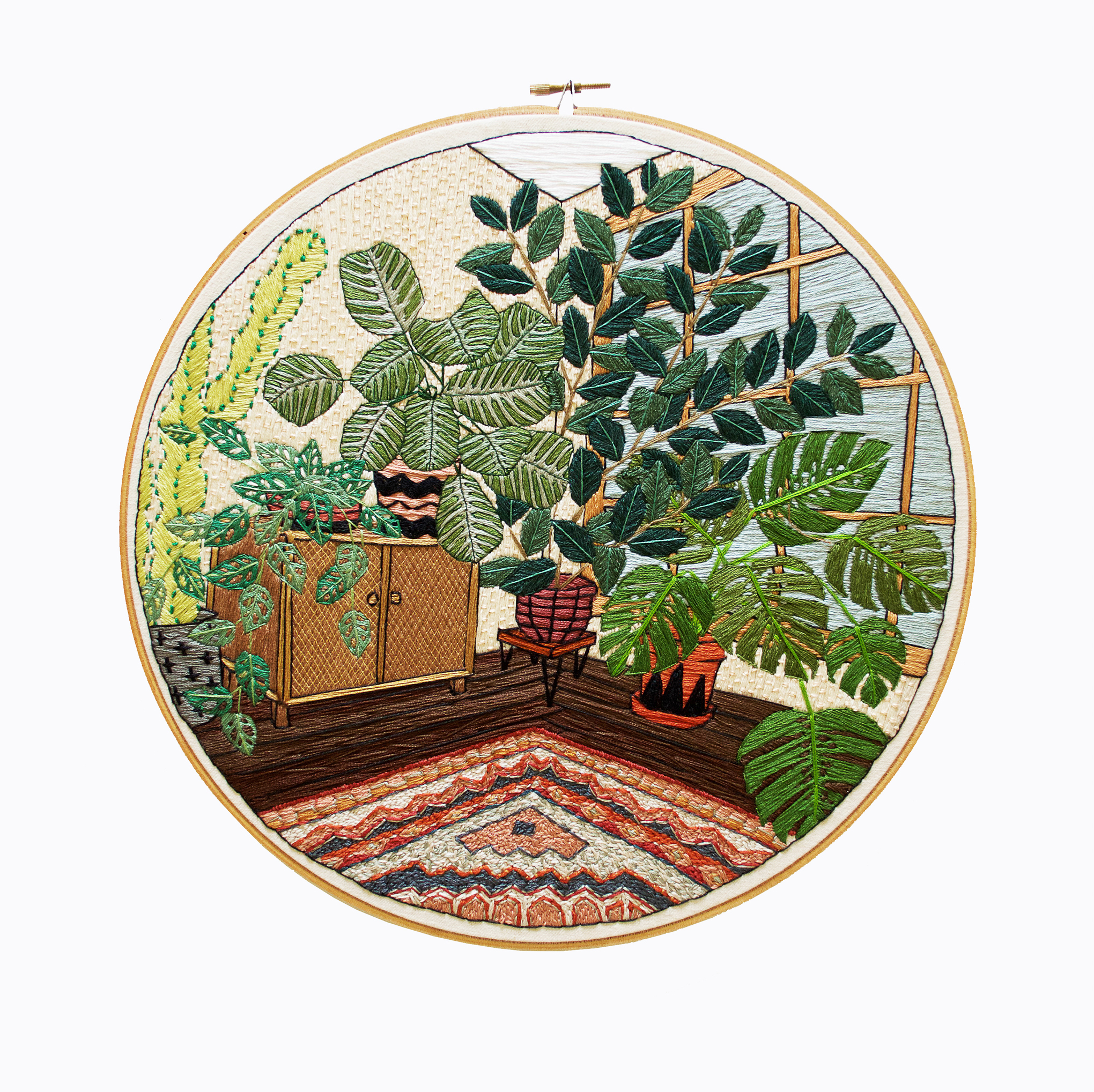 Can you share any golden wisdom for aspiring artists and designers? Sometimes things get really tough as a creative entrepreneur and artist — emotionally, financially and physically, from exhaustion and stress. It's so important to build yourself a support network, whether it's in real life or the virtual world, where you can turn for advice, let off a little steam, and celebrate your successes. My friends and family have been such an incredible pillar of support over the last few years, both in real life and online. I really couldn't do it without them. sarahkbenning.com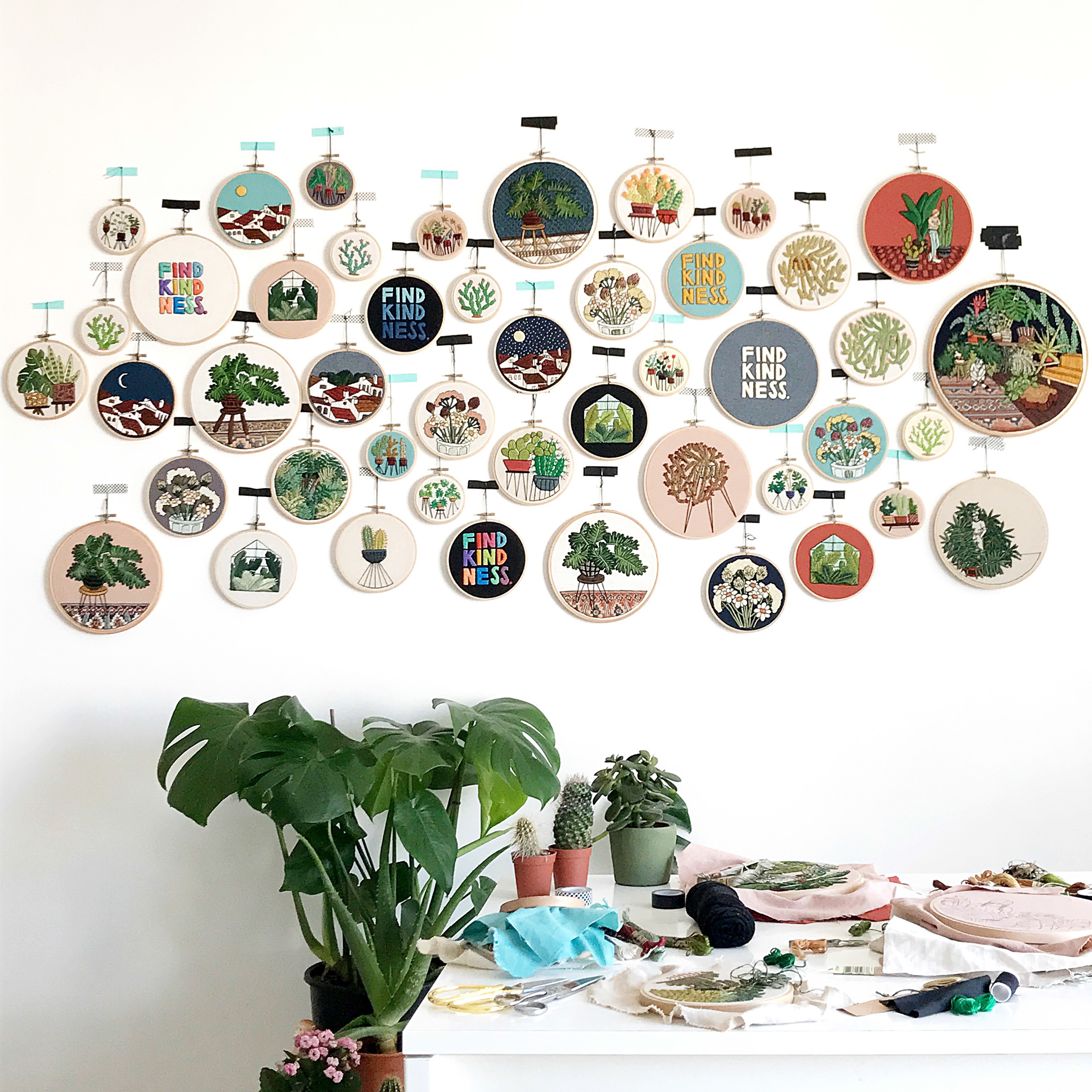 Interview—Julia Atkinson at Studio Home