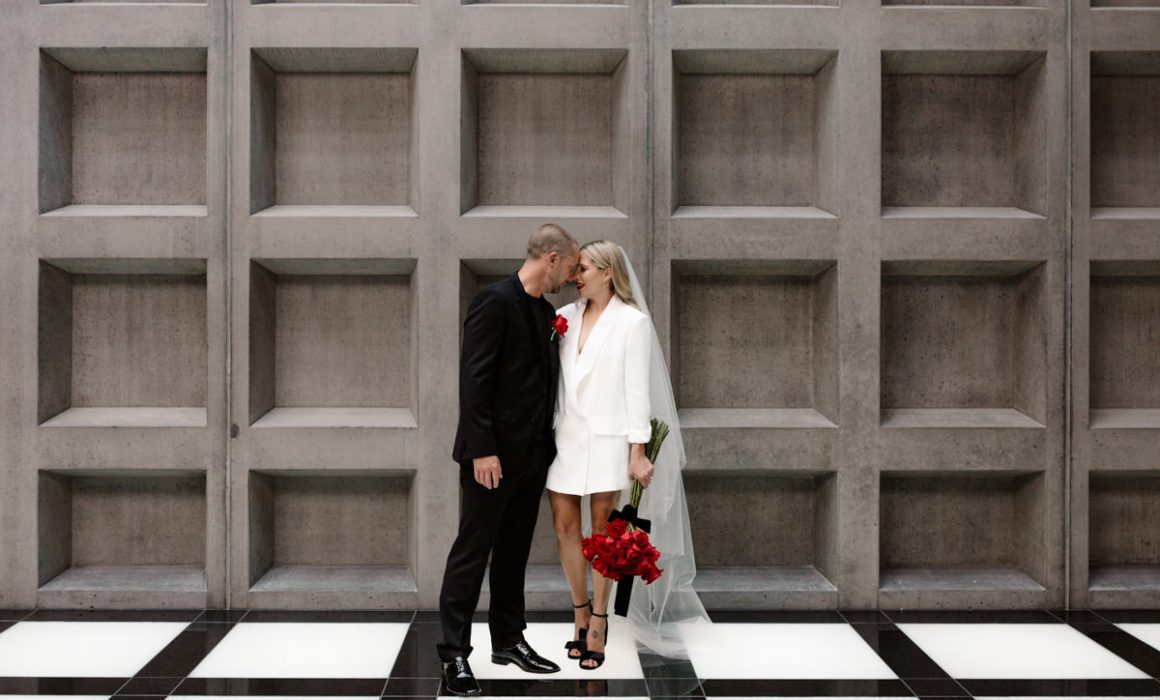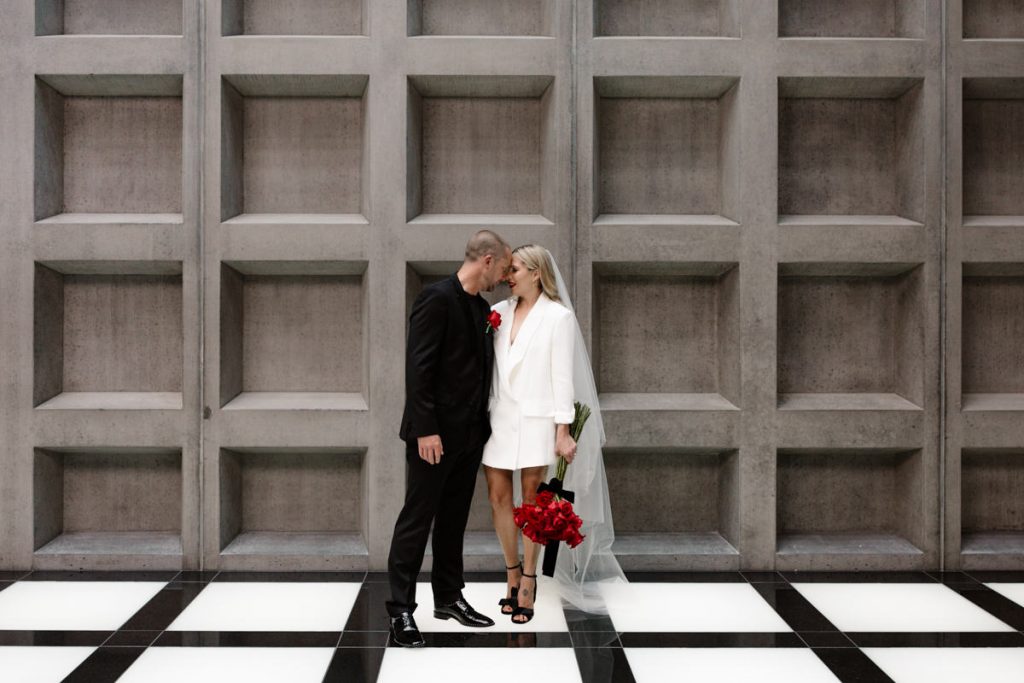 Tell us a little about yourselves, what you do, what you love, what is unique about you and your relationship…
As I said in my vows – Ben is a little ray of high energy sunshine. He is playful and makes me laugh.
He also thinks it's hilarious to eye gouge me and annoy me, which I find funny but mostly just annoying. Pretty soon after Ben and I met he told me he would marry me. I was adamant I was moving to Berlin and wasn't interested in anything long term, yet here we are. I guess you could say he was right (and I'm ok with that.). Although we are really different (Ben is the extro to my intro) we both appreciate immensely what we have found in each other. Ben has definitely brought so much to my life and vice versa. I think we both calm and ground each other in different ways. Ben is definitely the function and I am the fashion. Ben works as an Estimating Manager in Construction and I am a stylist and run my own business The Anti-Bride. He is all about numbers and spreadsheets but is able to switch off during his time off and is super social. I am driven, organised and creative, with a mind that never stops – so together we kind of balance each other out and work!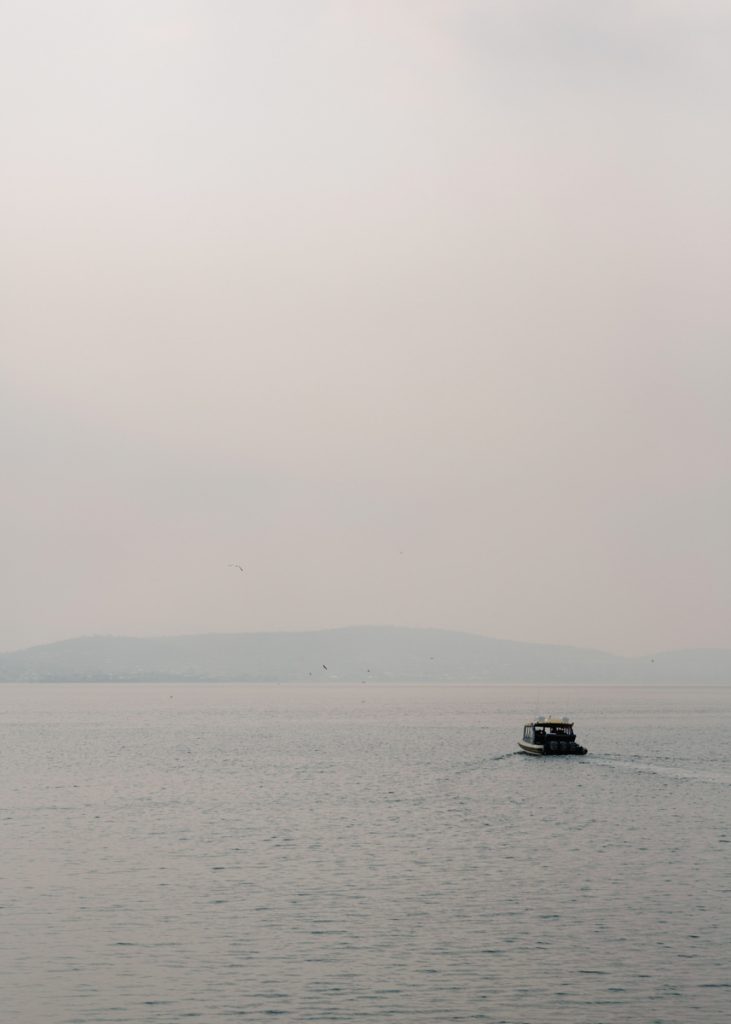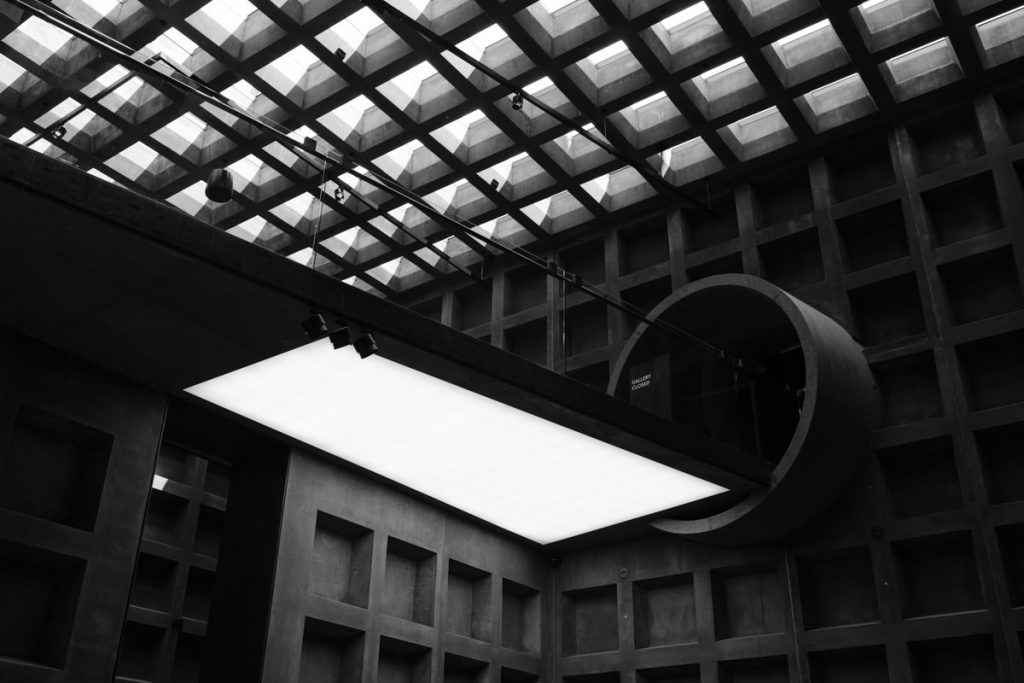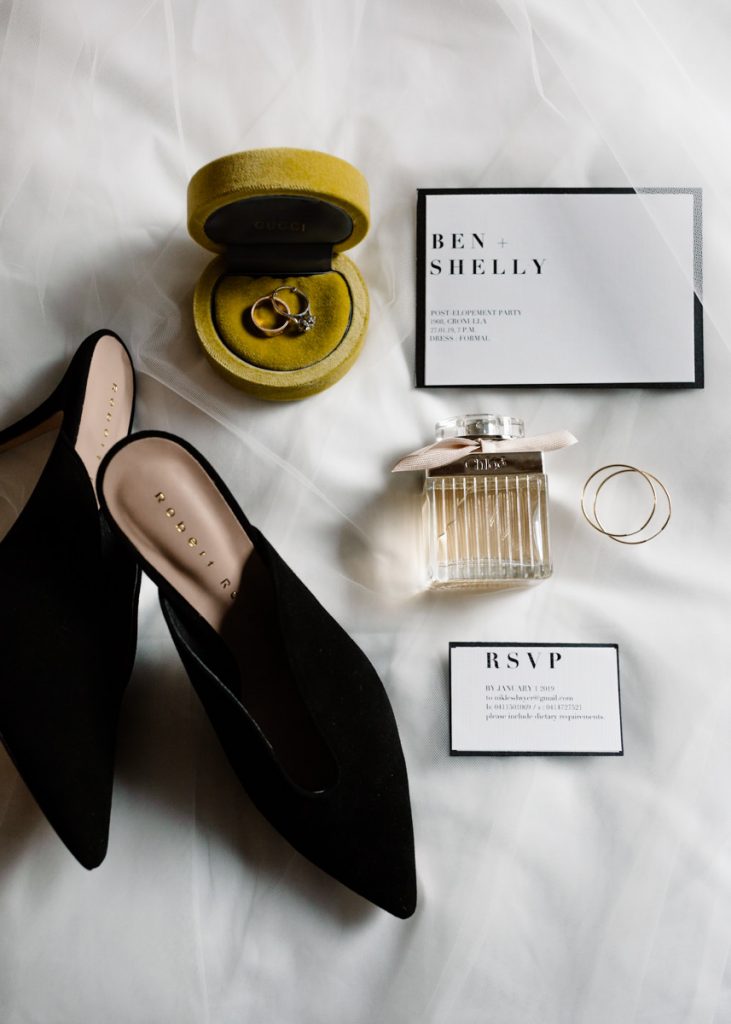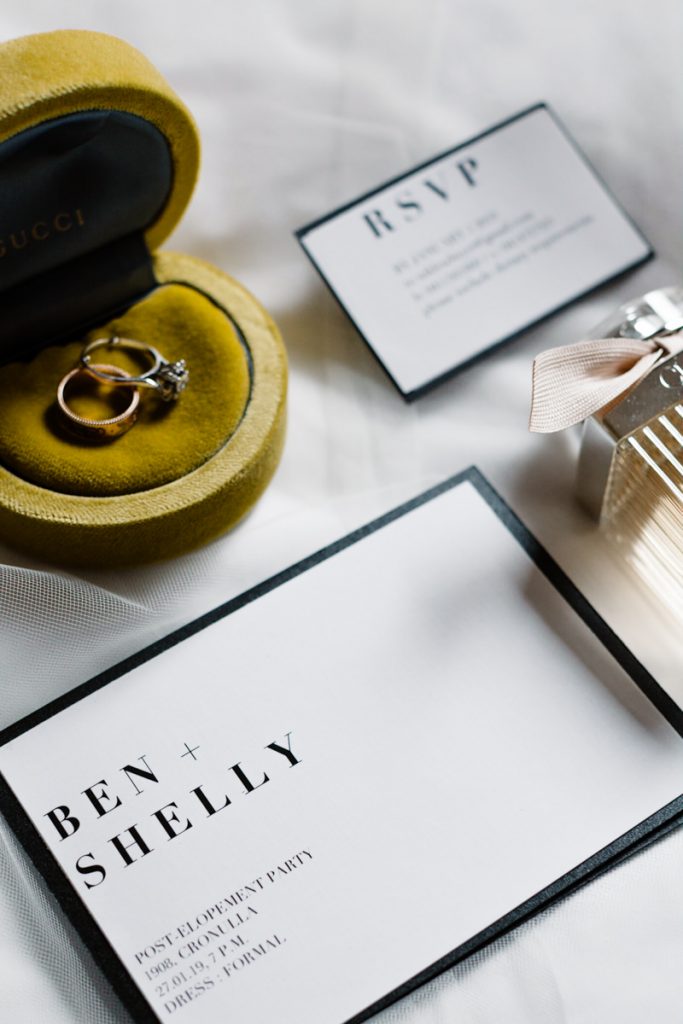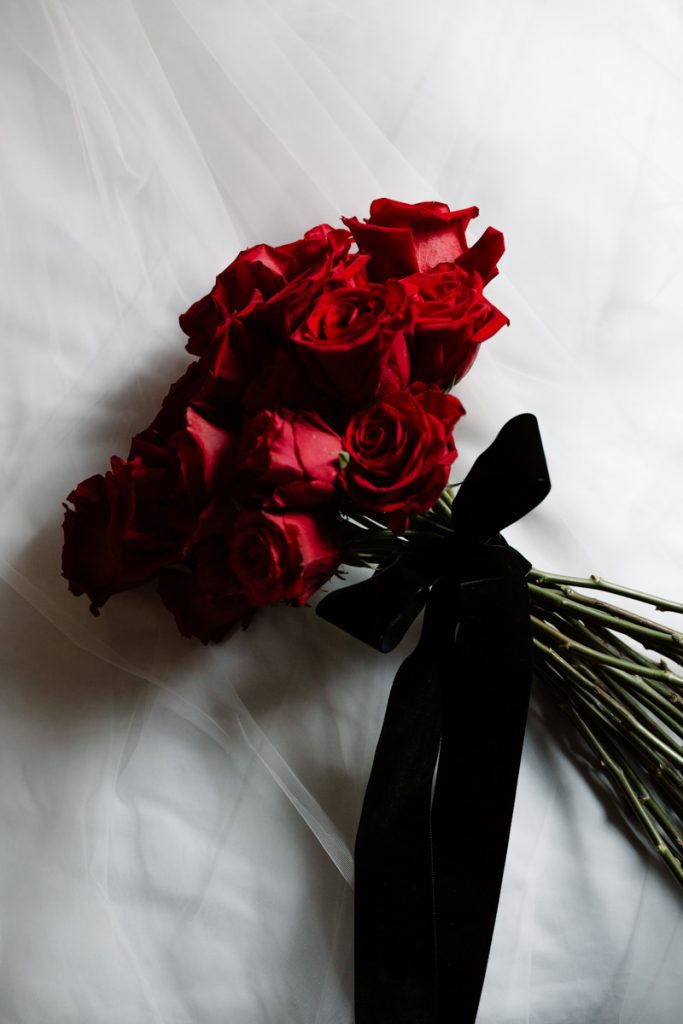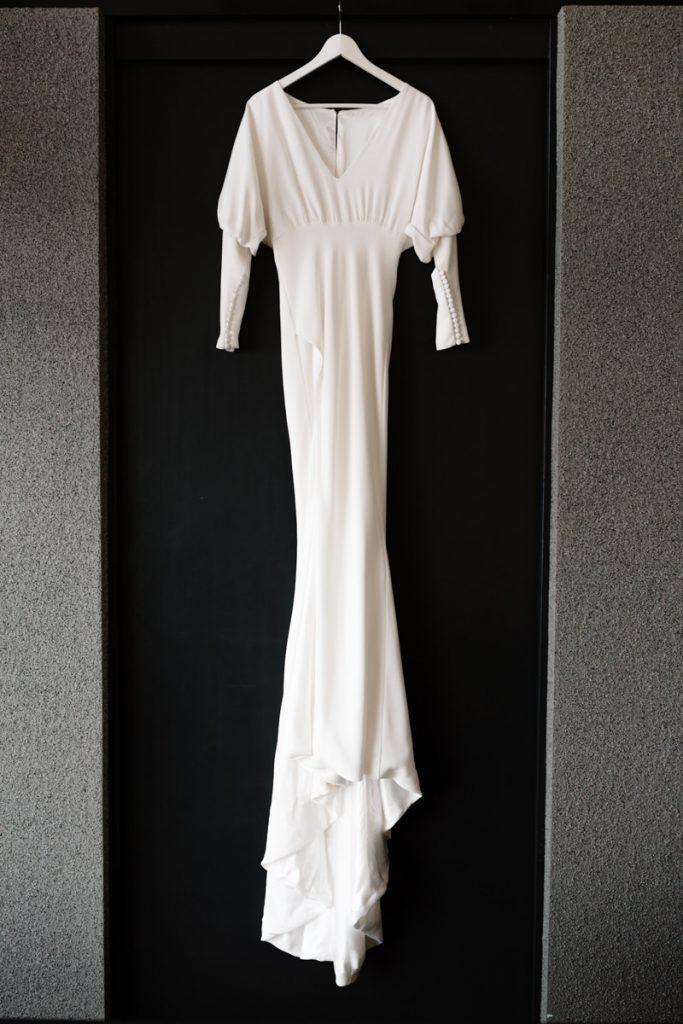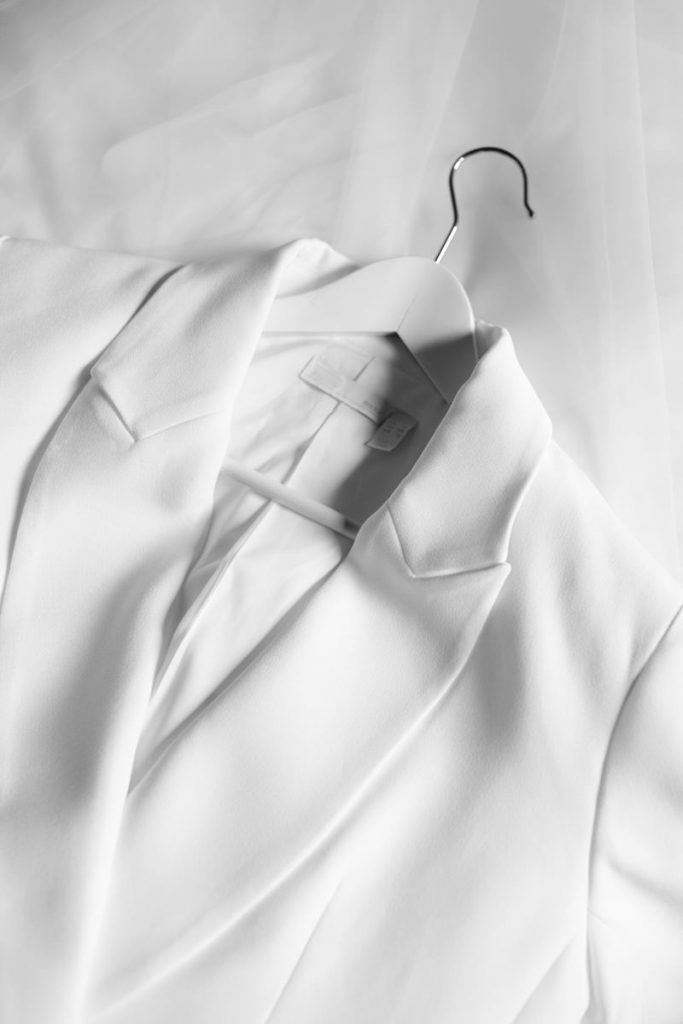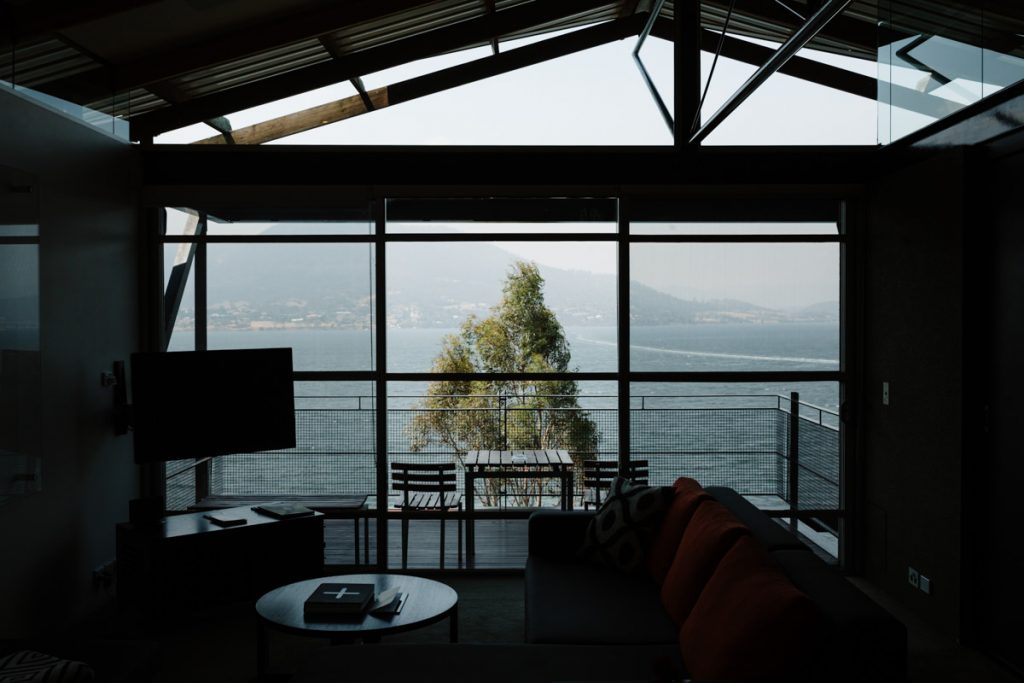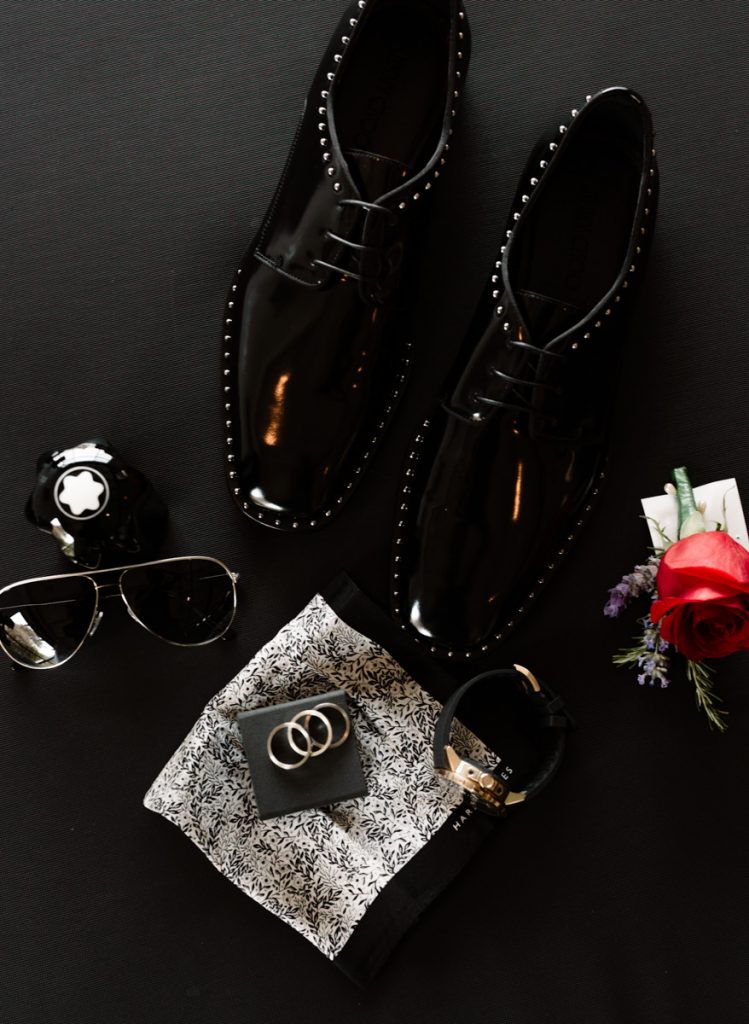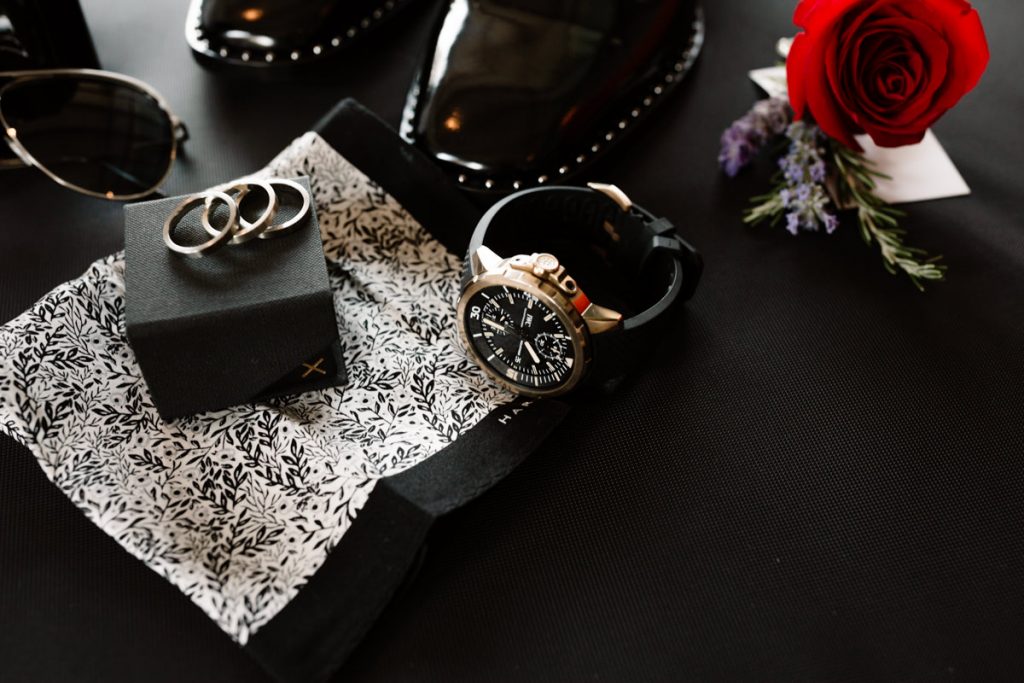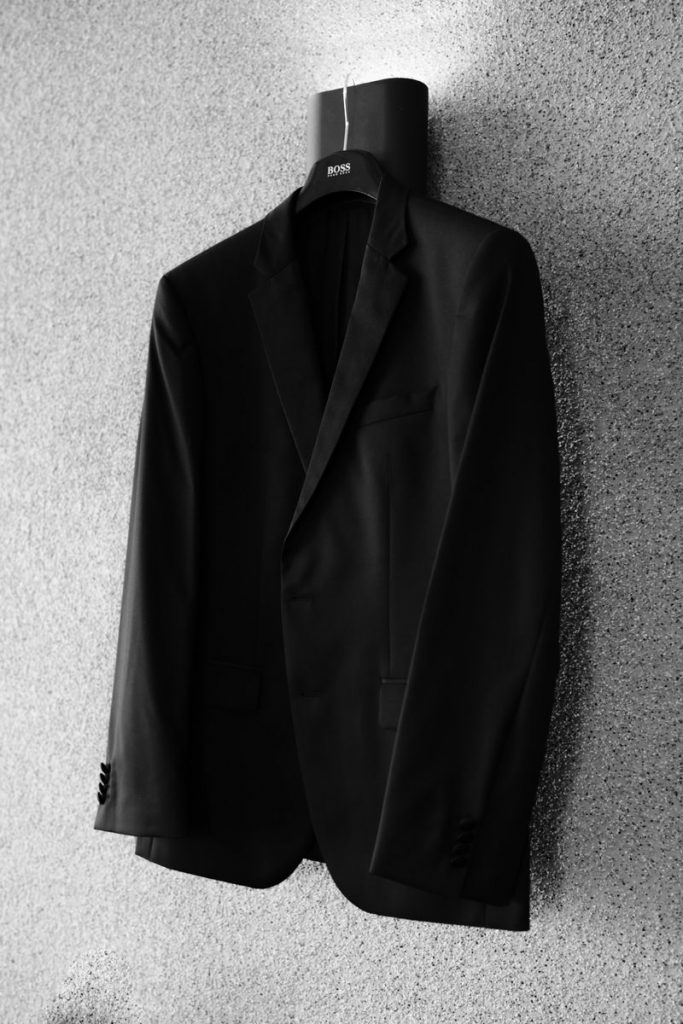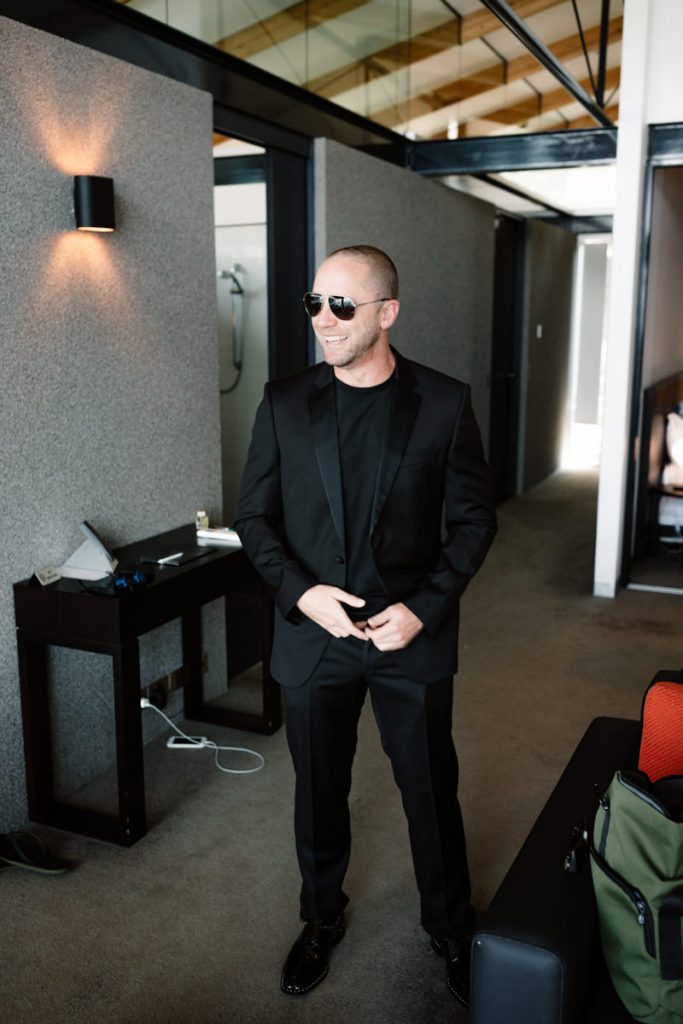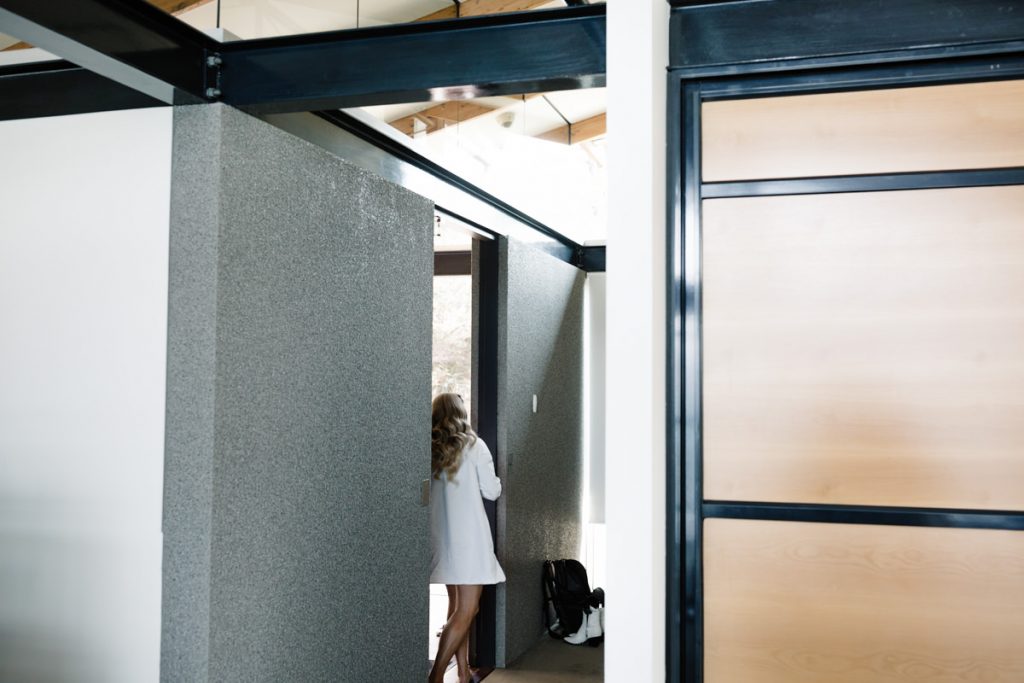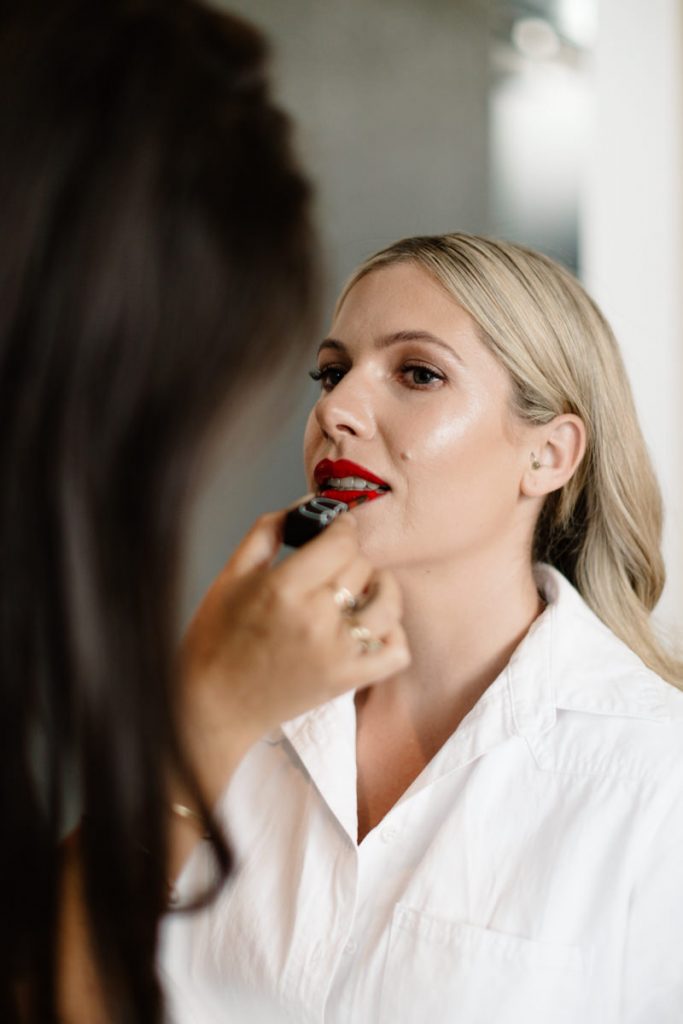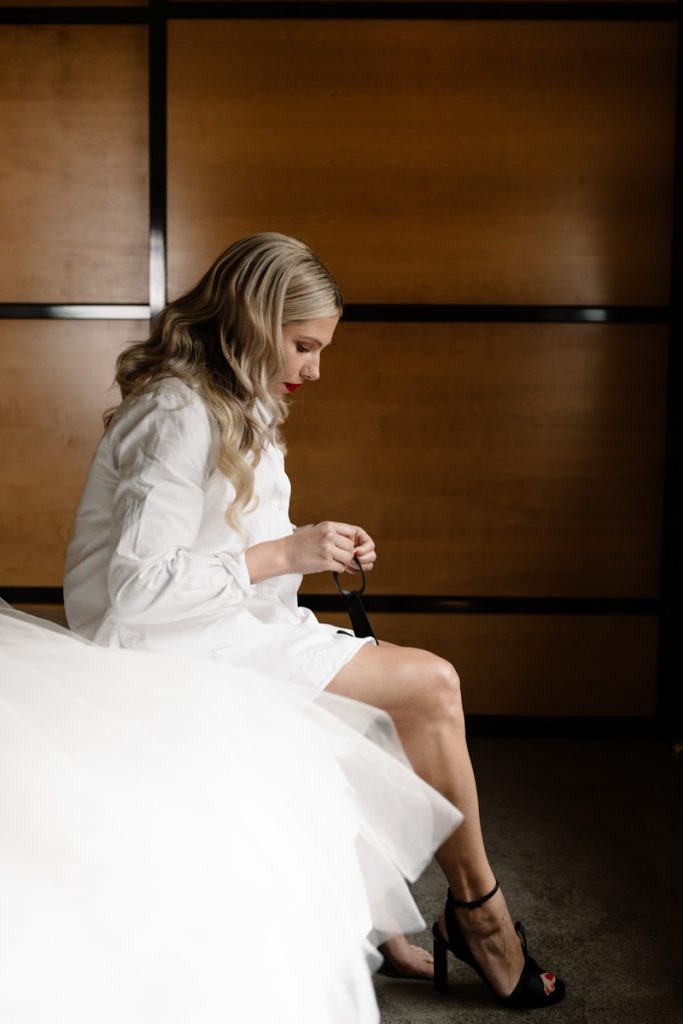 Tell us about your special day, was there a specific theme or style? Tell us a little about the setting, the styling and some of your favourite details…
There was no theme but I think all our decisions were inspired by architecture and art. MONA is such an incredibly beautiful space that I didn't feel it needed much decorating or embellishing. I knew I wanted to stick with black and white, with accents of red (because I always wear bright red lipstick). In terms of details I think Ben absolutely nailed it with his shoes (I was so proud when towards the end of the wedding planning he wanted a statement shoe – side note my husband is a surfer and would wear board shorts to anything, so this was a proud moment for me!) I think my long stemmed bouquet worked so beautifully too, and I absolutely loved the black velvet ribbon from Lani ( The Romantic)s, which I ended up wearing in my hair for our Sydney party. For our dinner in Sydney I wanted something minimal but bright and ended up choosing bright oranges and pinks, which Josie did beautifully. We also loved having Mr.Goaty there on the night and loved the special addition of the Tasmanian ice cream flavour!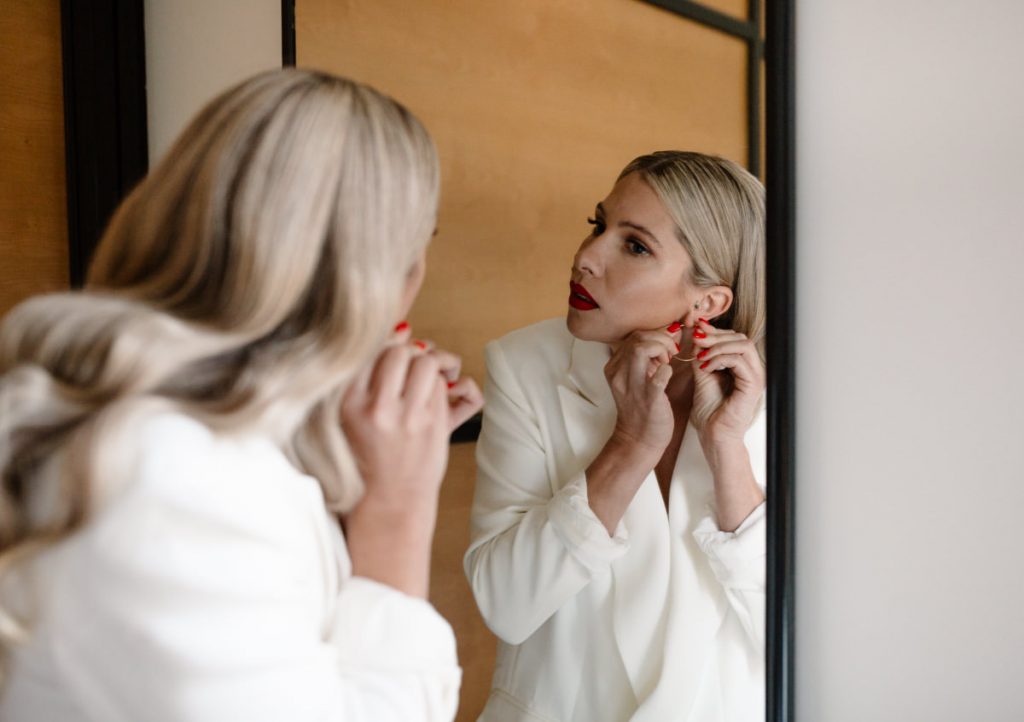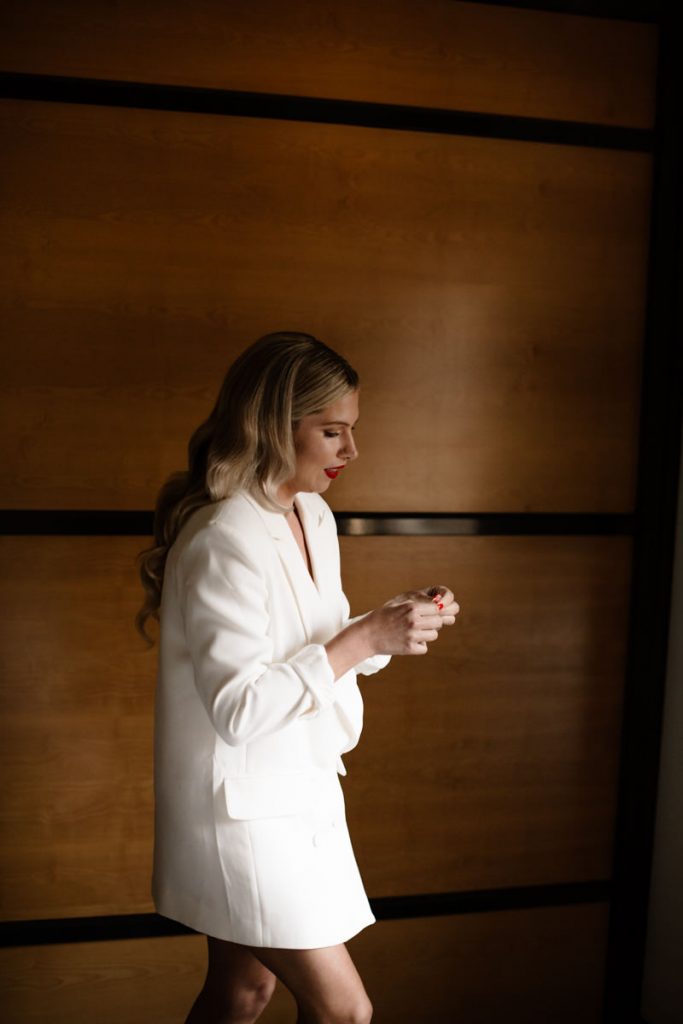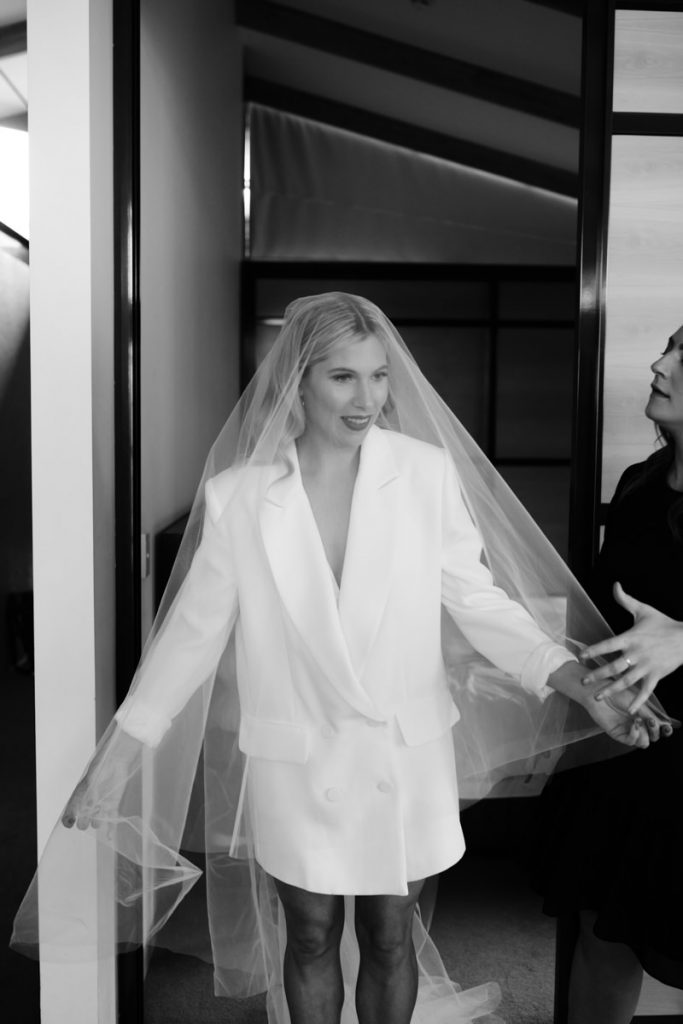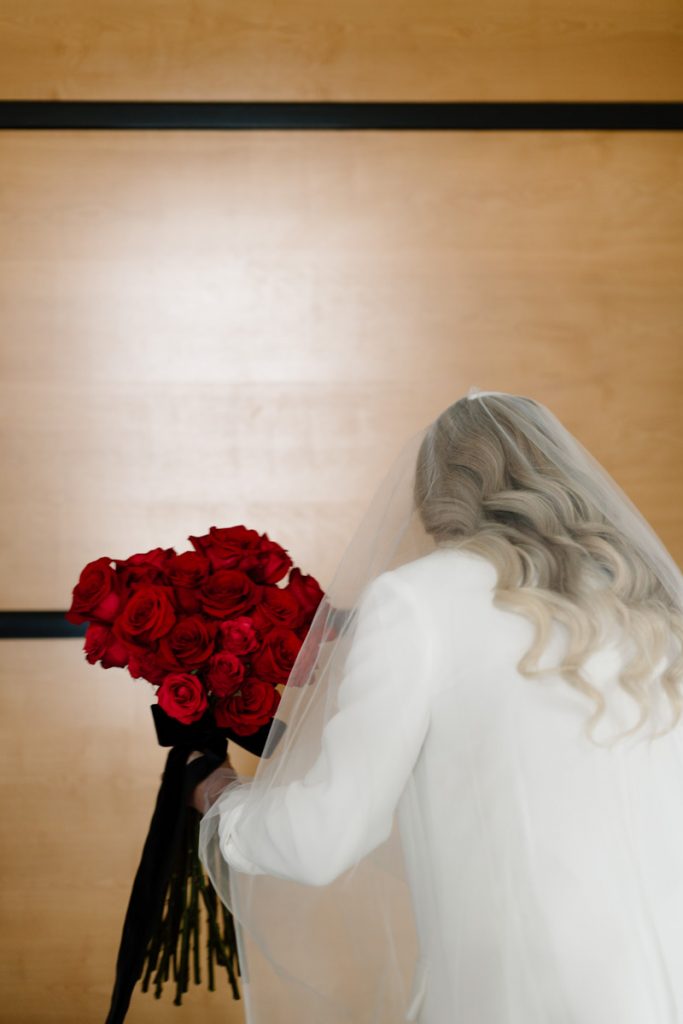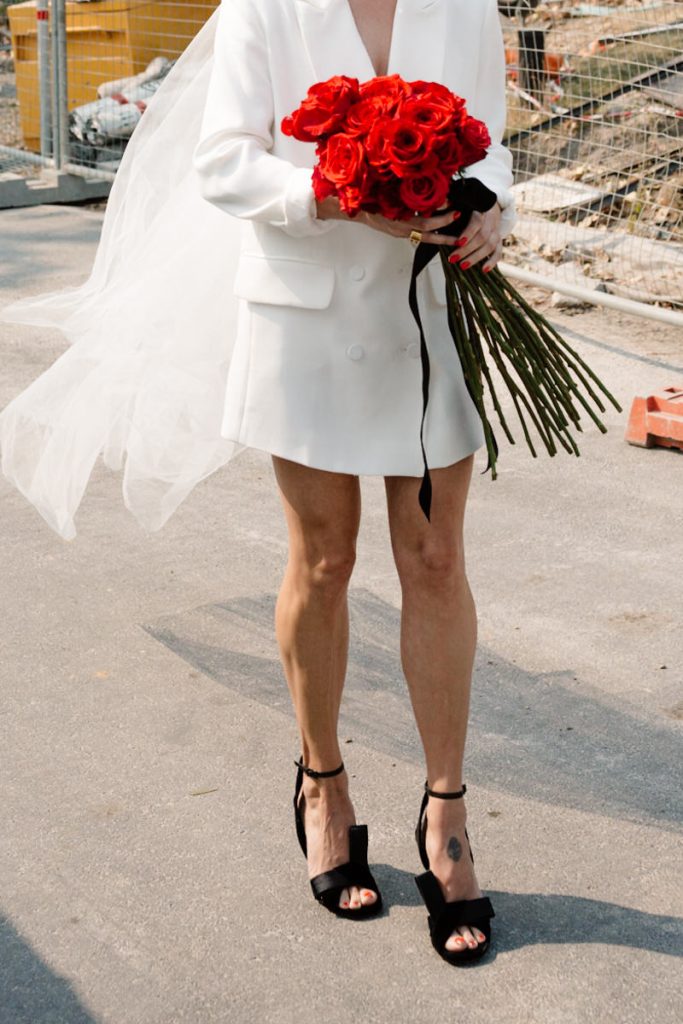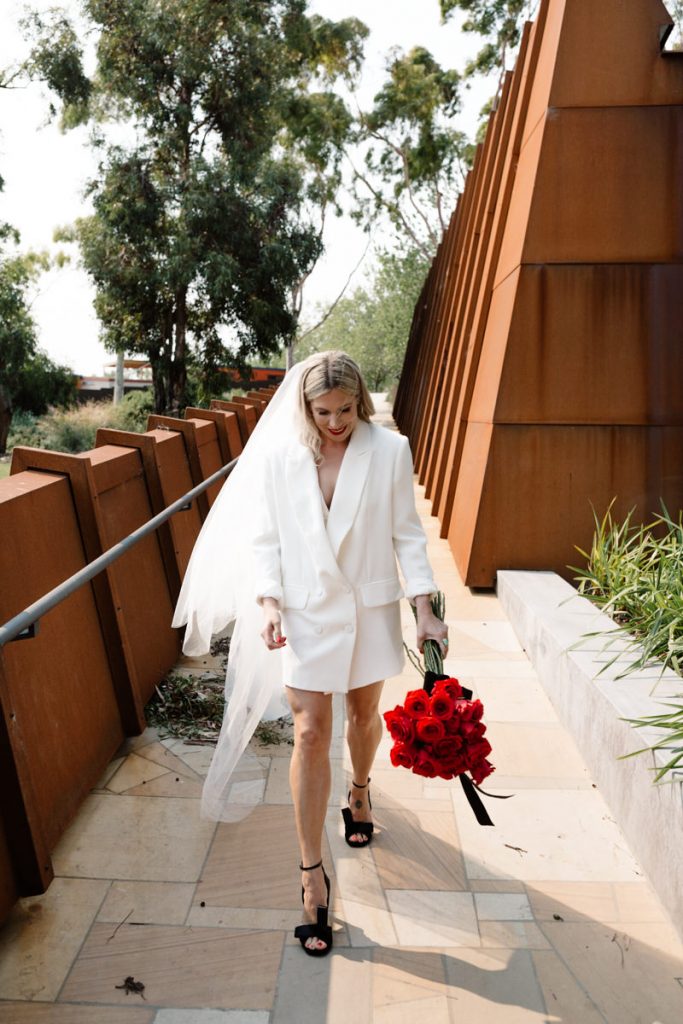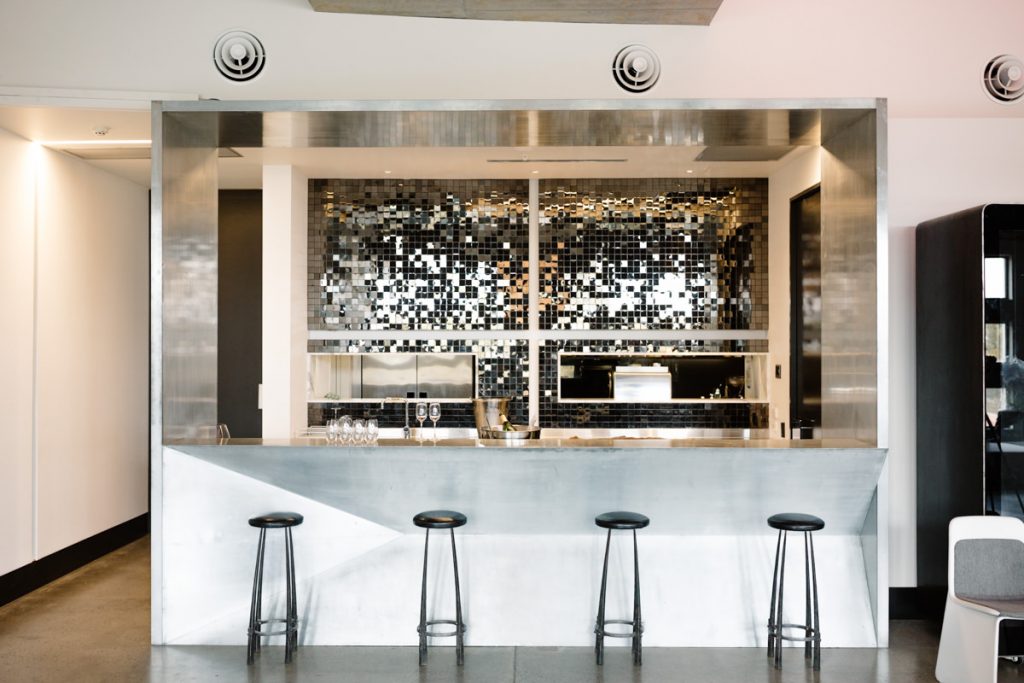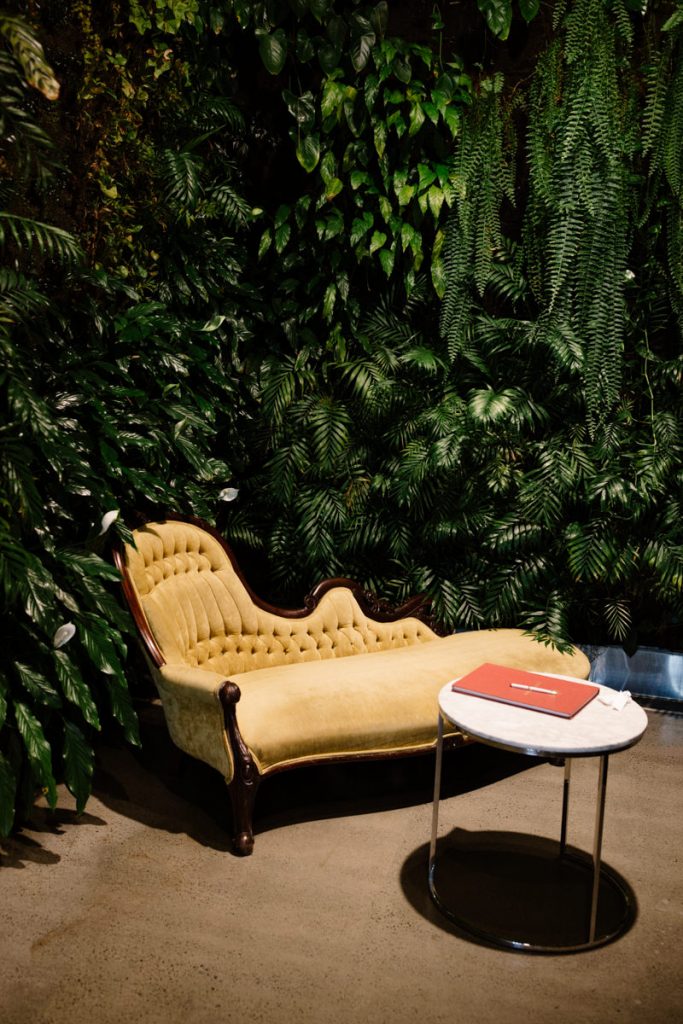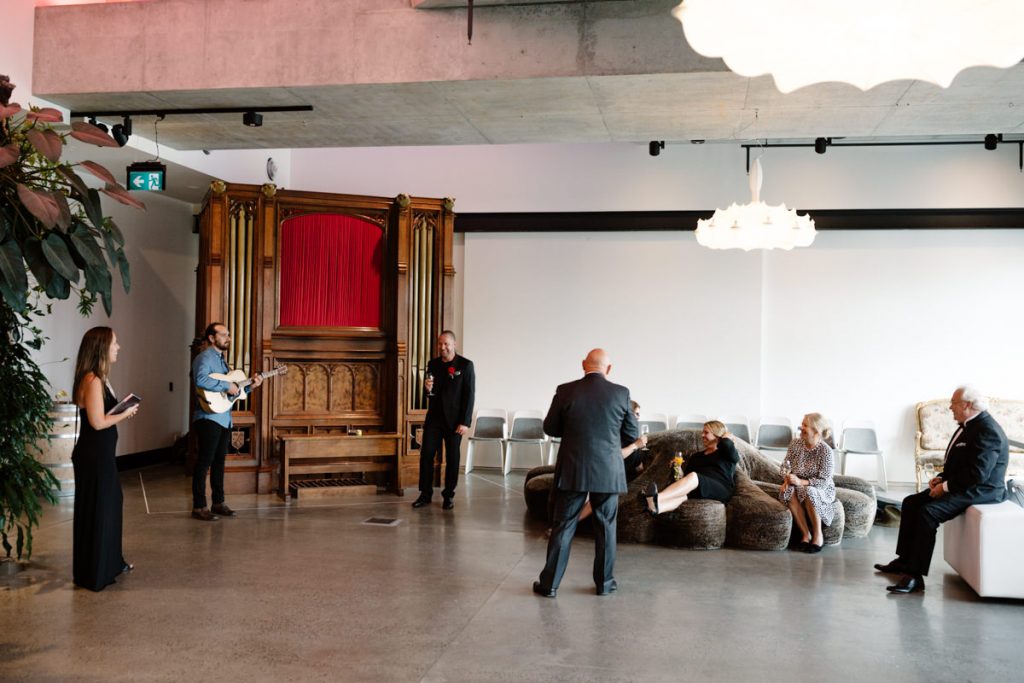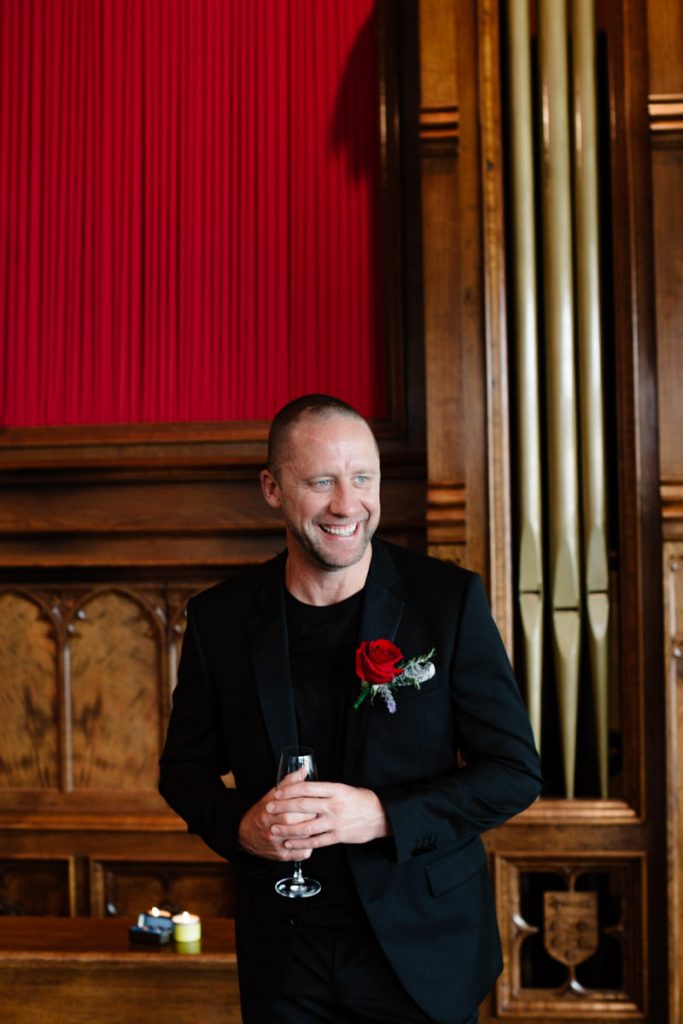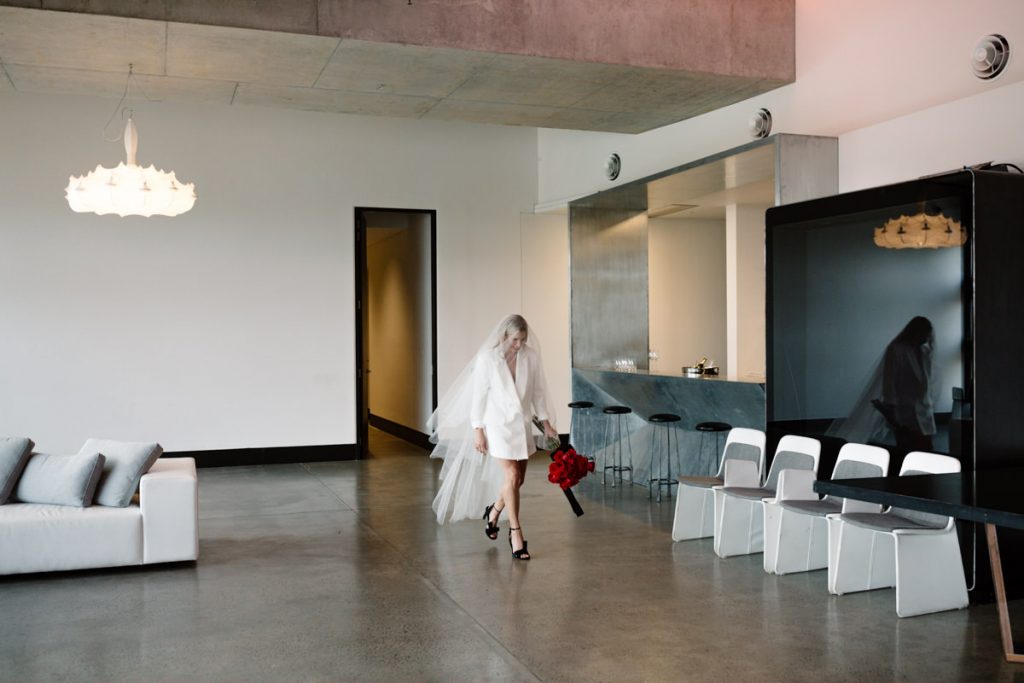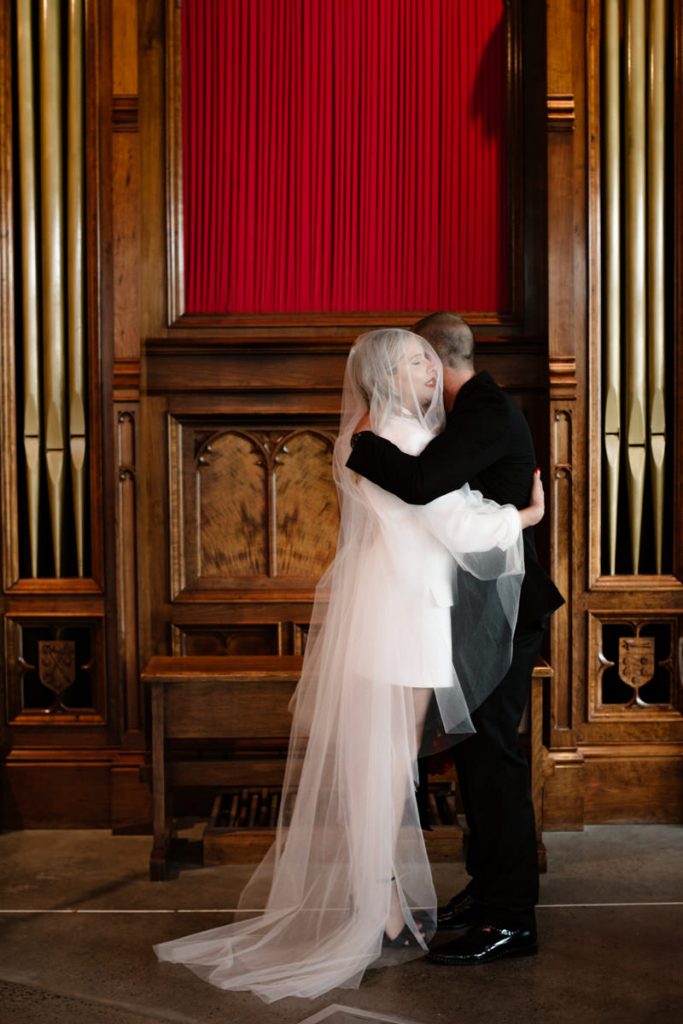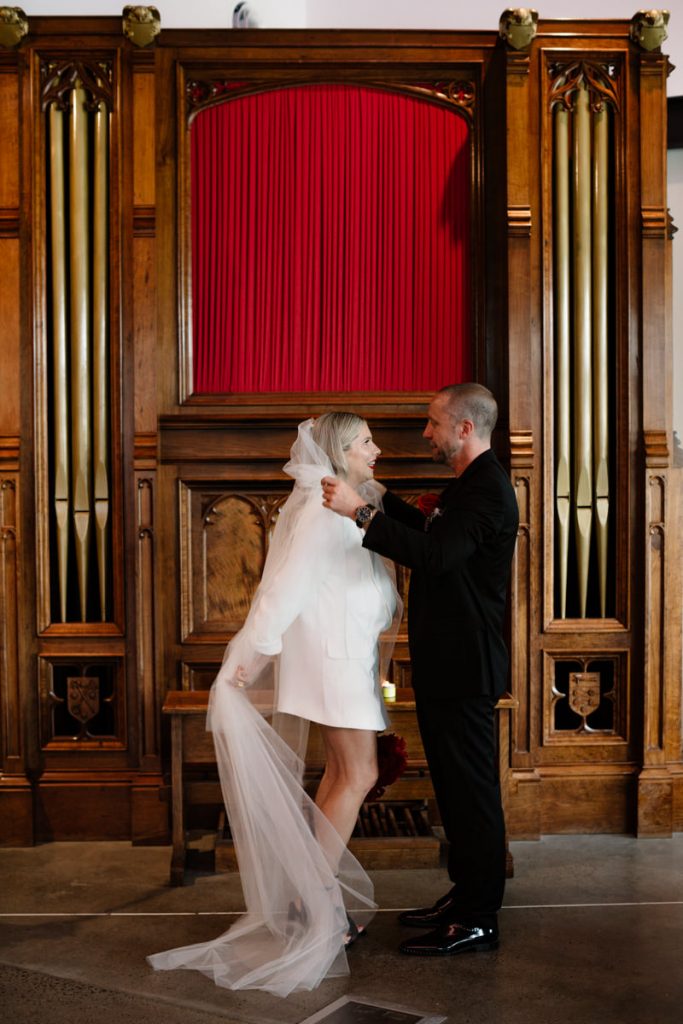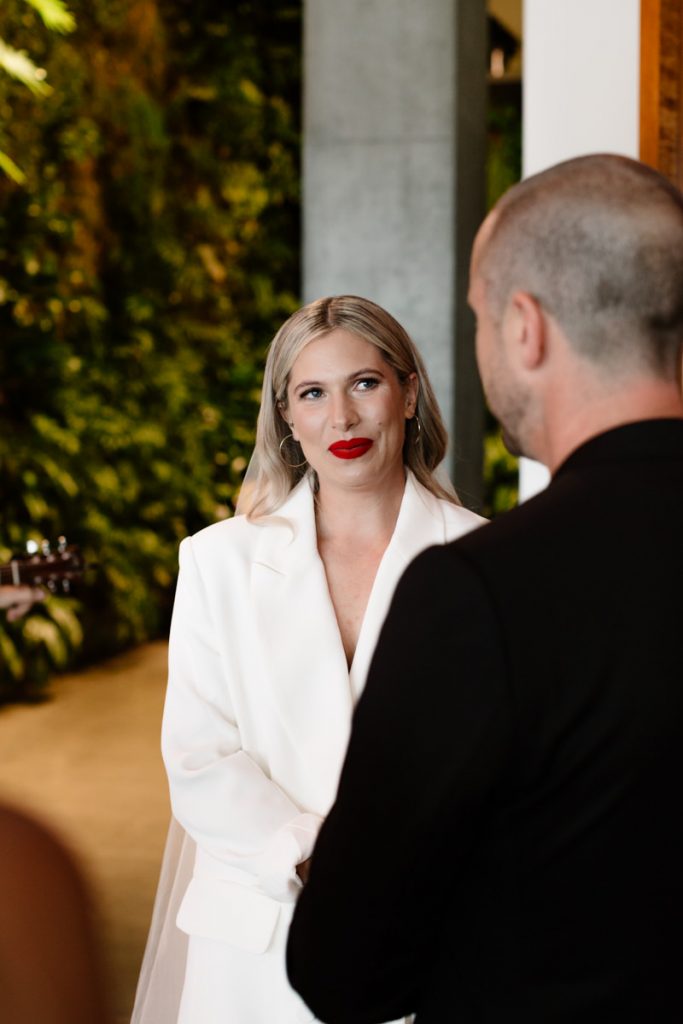 Tell us about your main outfits:
I changed my main outfit 48 hours before we flew to Hobart. I had another blazer dress that I purchased from an Australian designer a few months earlier but wasn't 100 percent sold on it. I ended up searching high and low for ages to try and find exactly the blazer dress I had in mind and honestly struggled. I looked at so many of my favourite designers and websites and ended up ordering around 3 blazers that ended up being too short (including a light blue and black/white version.), simply because I couldn't find a blazer dress I liked. With hours to spare I ended up looking on ASOS. I found a longline blazer that thankfully was long enough to wear on its own. With 24 hours to go I received it and had to rush it to my beautiful lifesaver of seamstress who altered it for me that day. Funnily enough my aisle outfit was by far the most inexpensive one out of the three but I ended up absolutely loving it just the same. (Of course my gown from Helen English was pretty amazing too!)
For Ben it was all pretty simple and straight forward. We went to DJ's together and got his suit and t-shirt from Hugo Boss in about 20 minutes. He already owned his beautiful watch and ended up buying his sunglasses before the wedding. He ordered his shoes online a few weeks before the wedding. I absolutely loved his outfit (I may have had a little something to do with the black suit).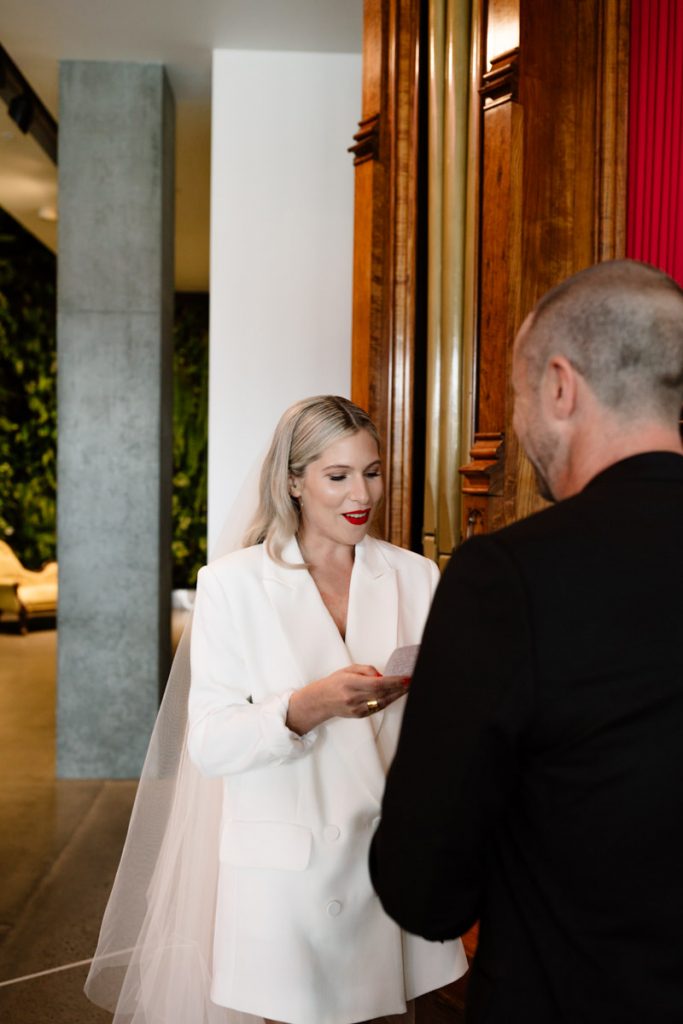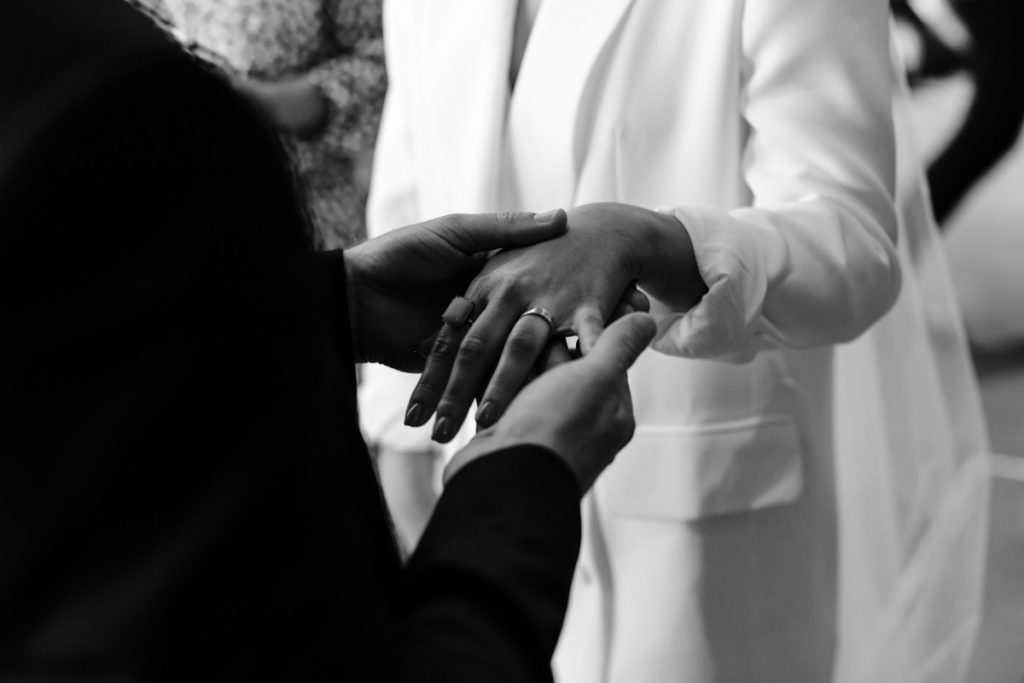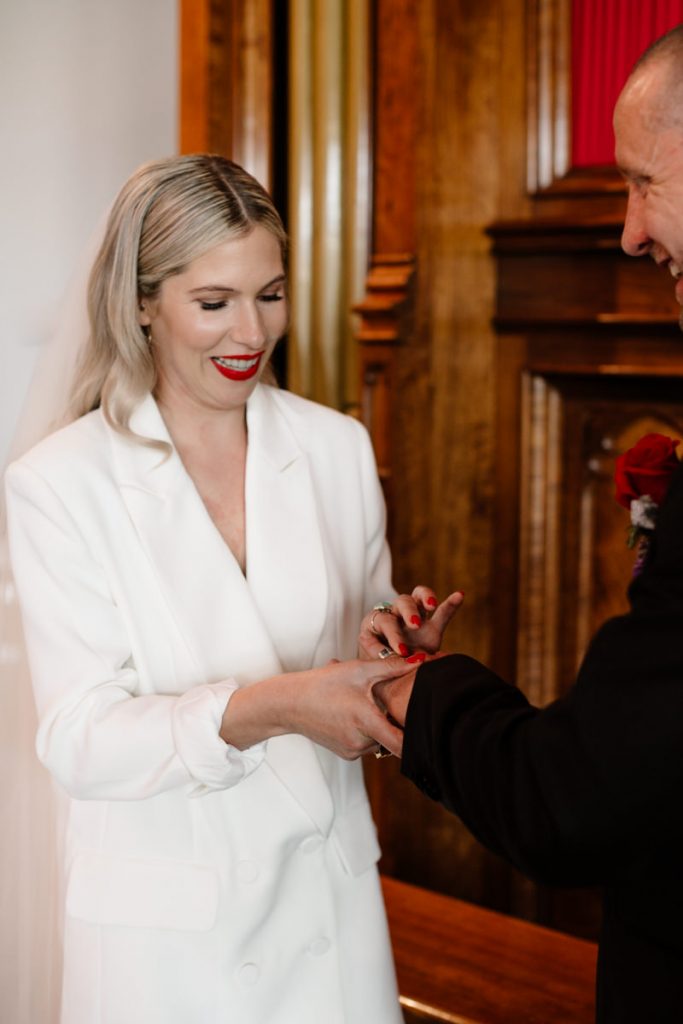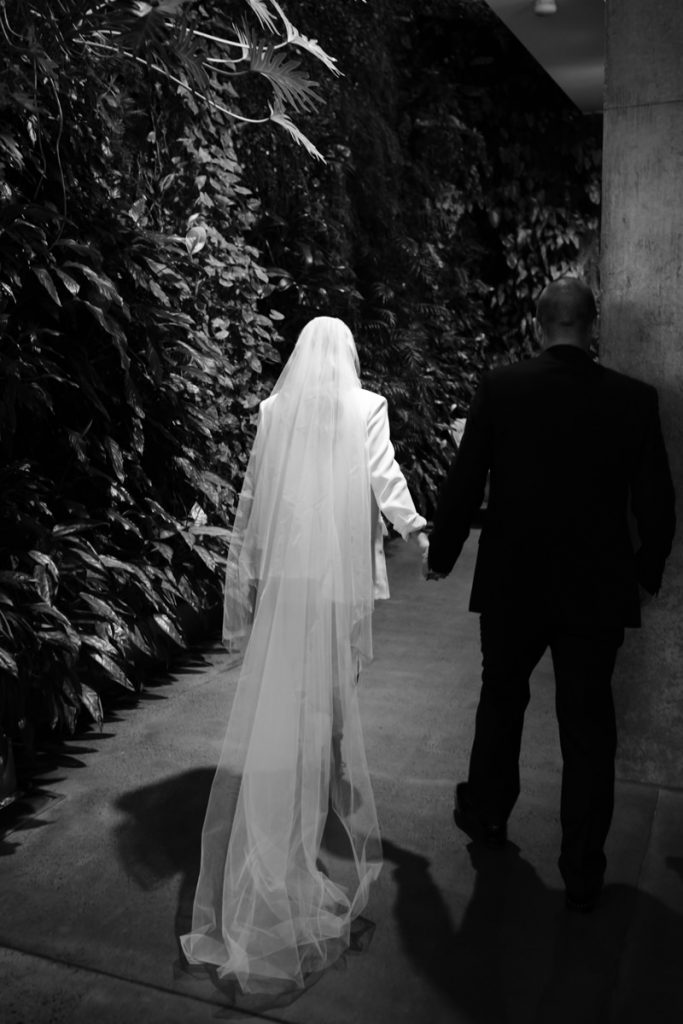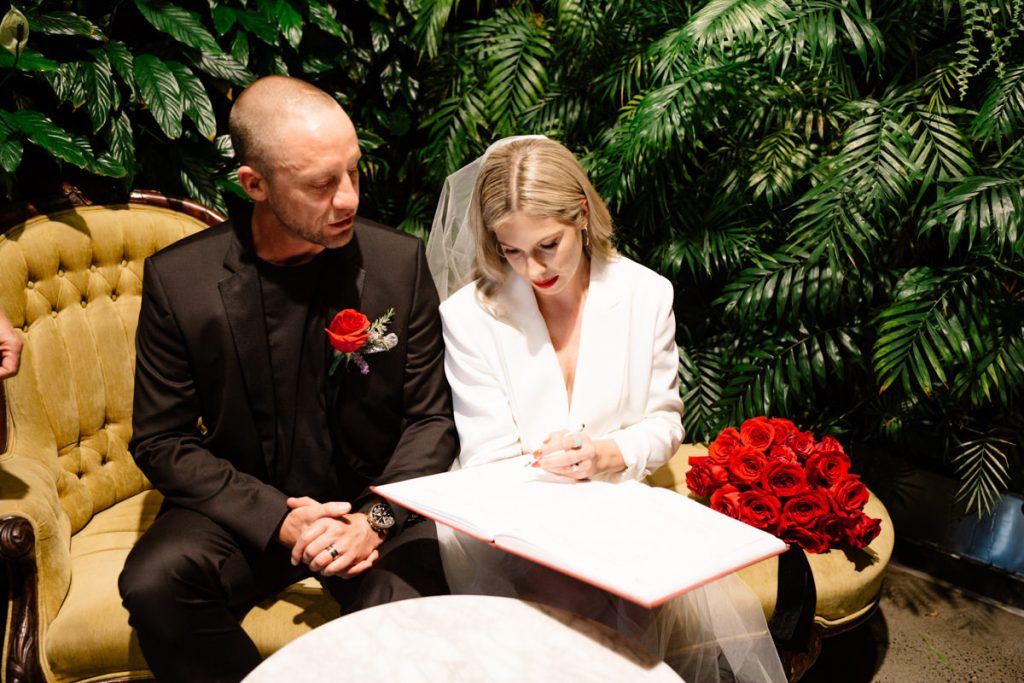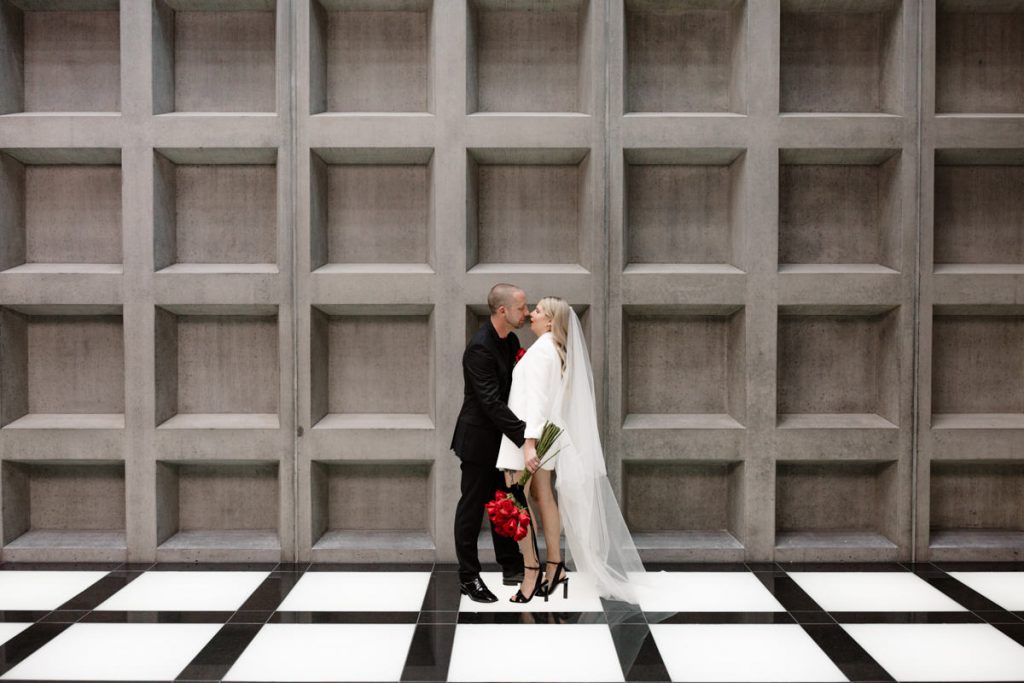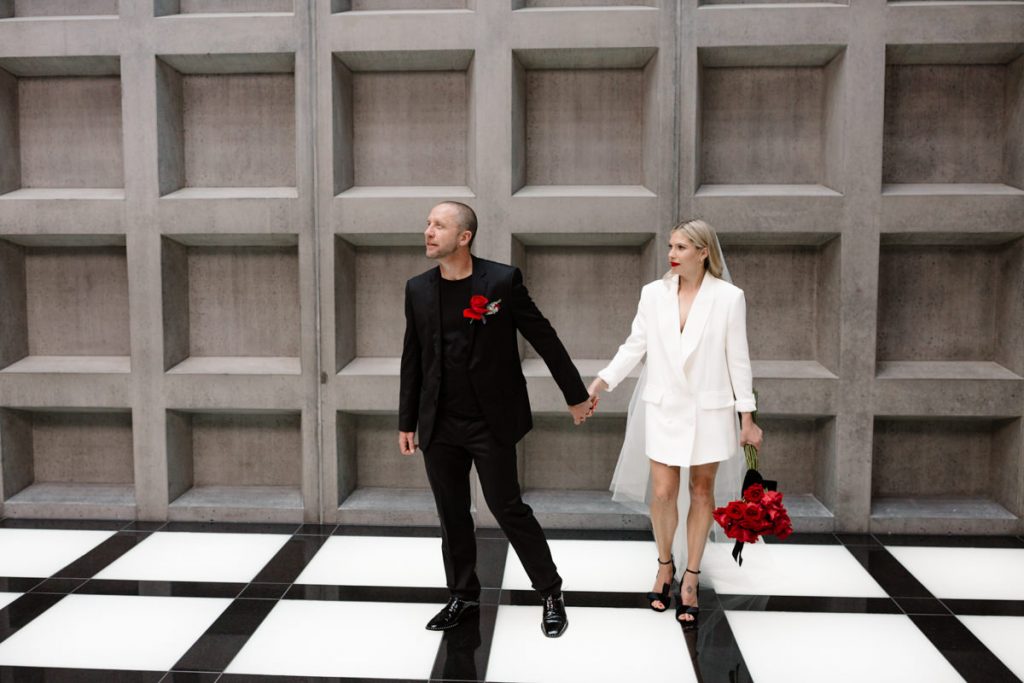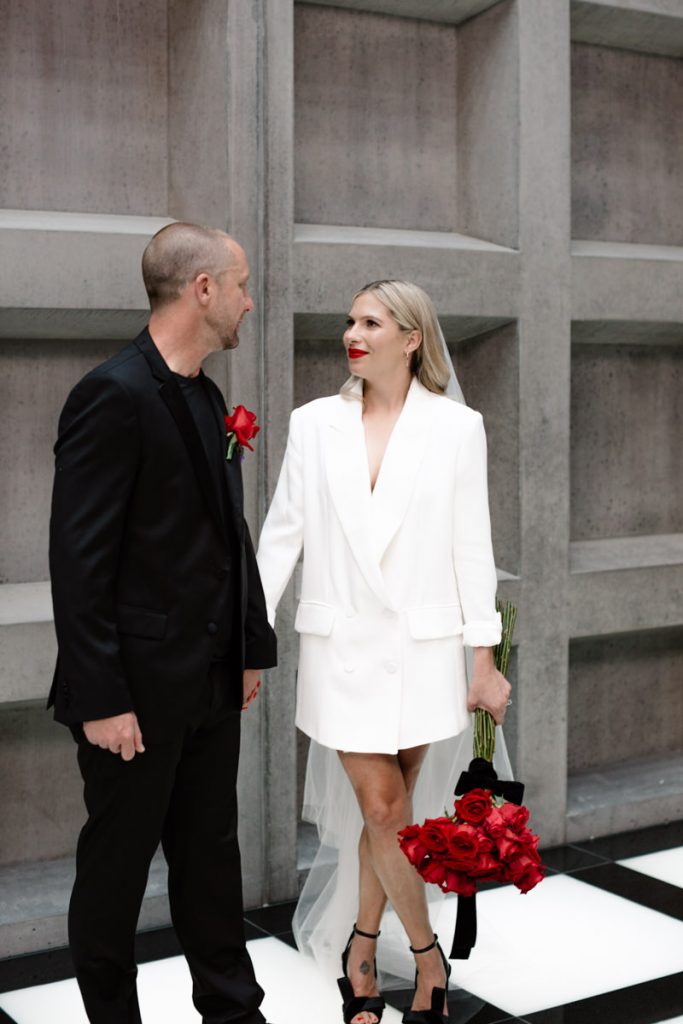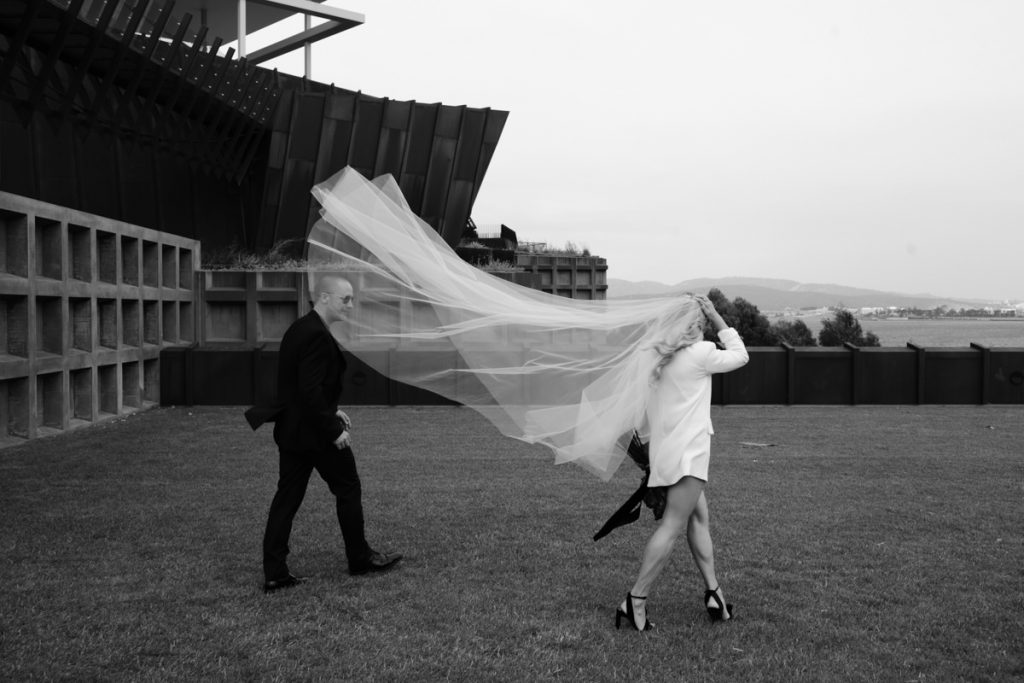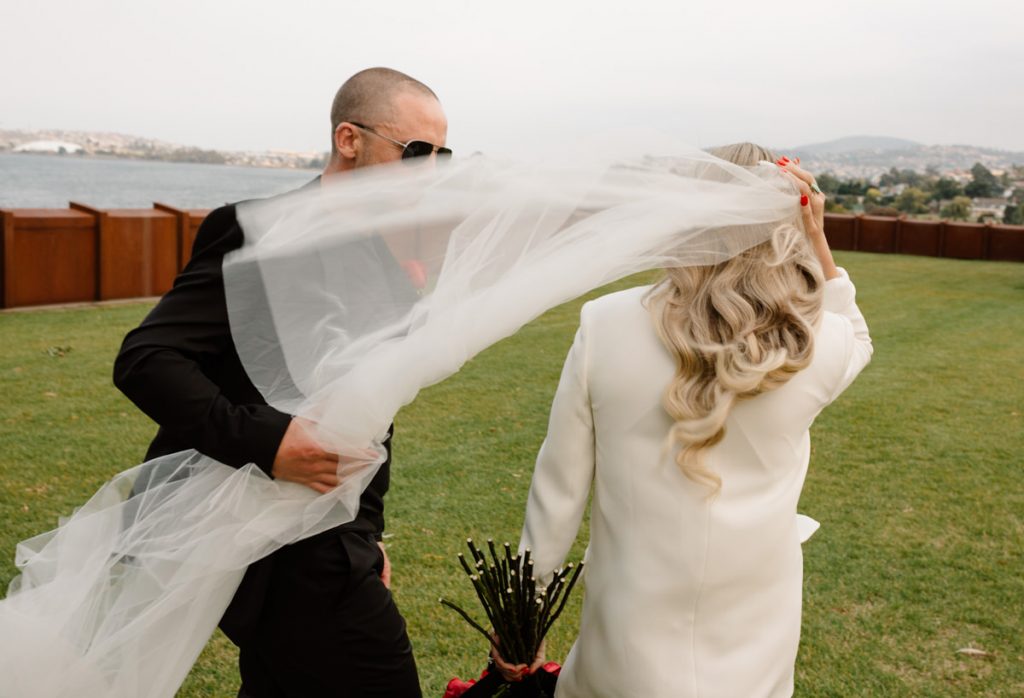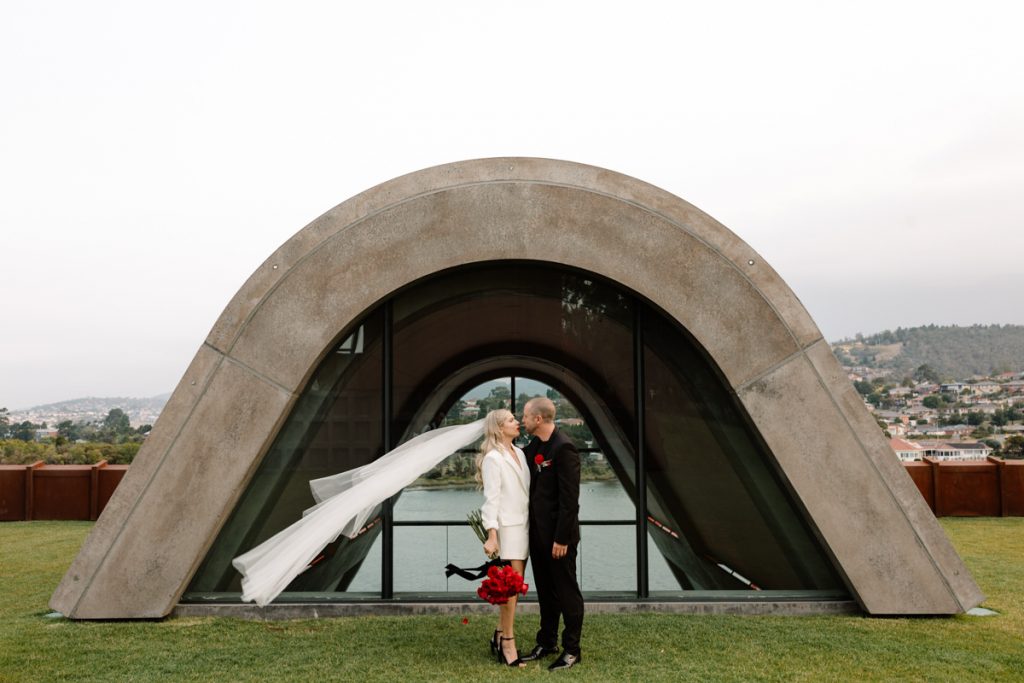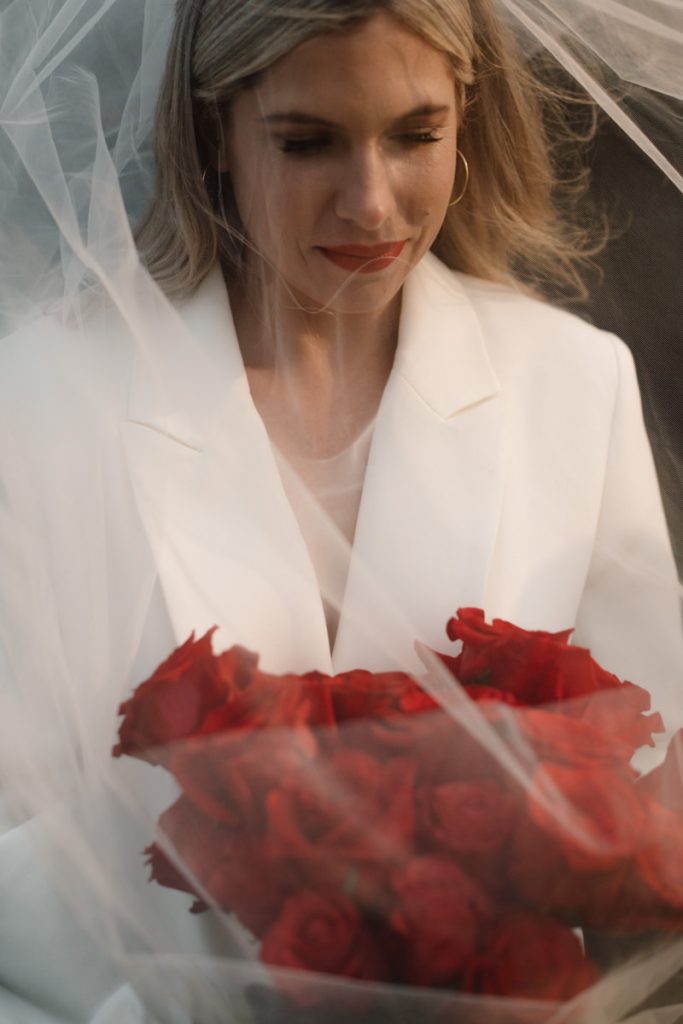 What were some of the most memorable/unique moments from the day?
Our ceremony was such a magical time for us. We only had 5 close family members present and everyone had a role to play in our ceremony. This was something Merren (our celebrant) suggested and it made our ceremony all the more special. We also included my engagement ring in the ceremony, as it belonged to Ben's mother whom I sadly never got to meet. It was really special for us to include the ring in some way. I was ridiculously nervous about
walking down the aisle and after trying and failing to convince Ben to walk with me, I ended up practically running down the aisle in record time. I definitely didn't do any sort of bridal walk and threw in a shakka for good measure ( surfer husband.). On the plus it gave us plenty of time to sneak in a kiss before Tom finished playing our first song 🙂 It actually made everyone laugh and sort of set the tone for our ceremony. We certainly weren't about formalities and were so lucky to have our family present who embraced the whole experience.
Aside from that just being able to get married at MONA was incredible. I had visited MONA years ago, before I was even with Ben and I just fell in love with it. It took Ben some convincing but after searching high and low and not being able to find anything that remotely compared he agreed (without even having been there). Ben luckily fell in love with it during a later visit and we are both beyond grateful to have been married there.
Everyone involved on the day went above and beyond and Shelly R. from MONA was just a dream in the lead up and on the day – and Foss was amazing too. My hairdresser Katie also went above and beyond (her and Matt were essentially my unofficial bridal party) and Sophia absolutely nailed the makeup. We did have to change our ceremony space 15minutes before the start of the ceremony, due to high winds, which was a bit of a shame. But to be honest, we had the best time and Matt ended up getting some killer veil shots because of it!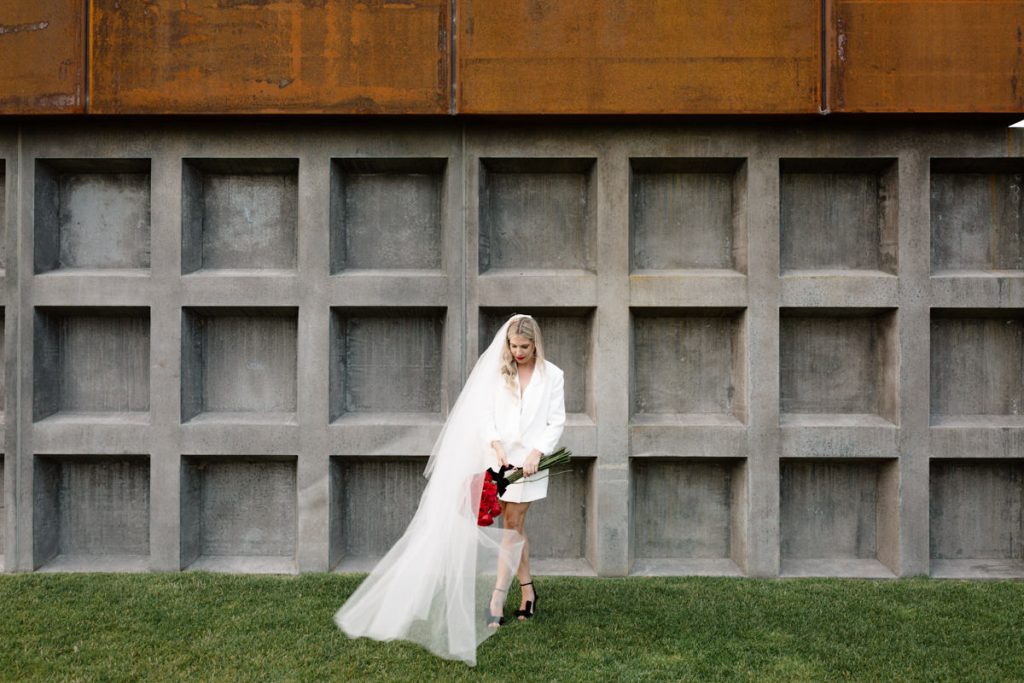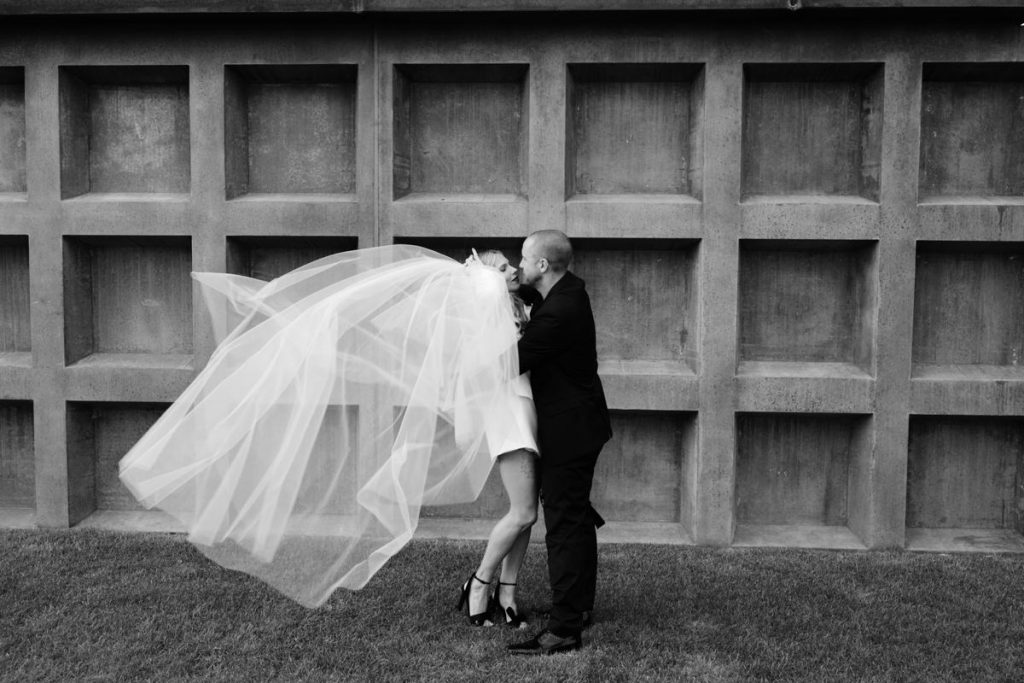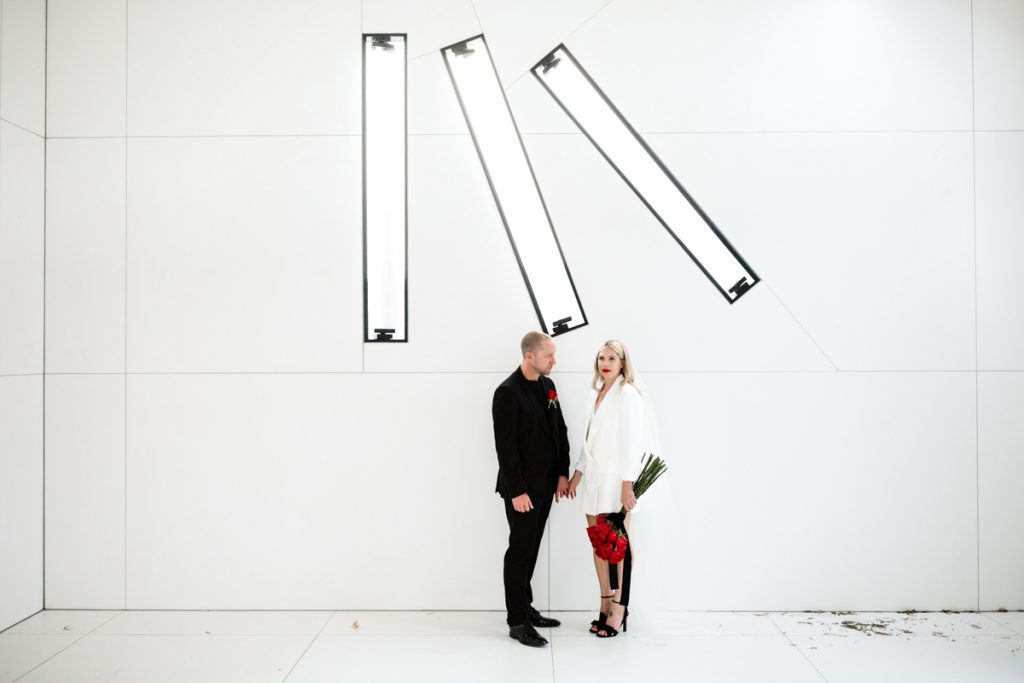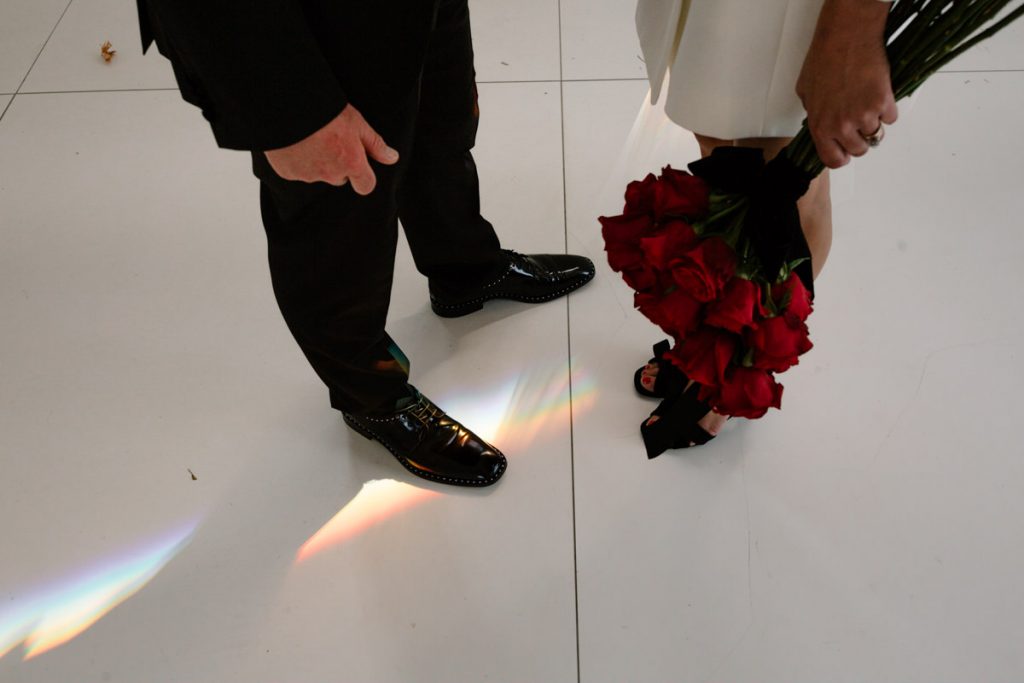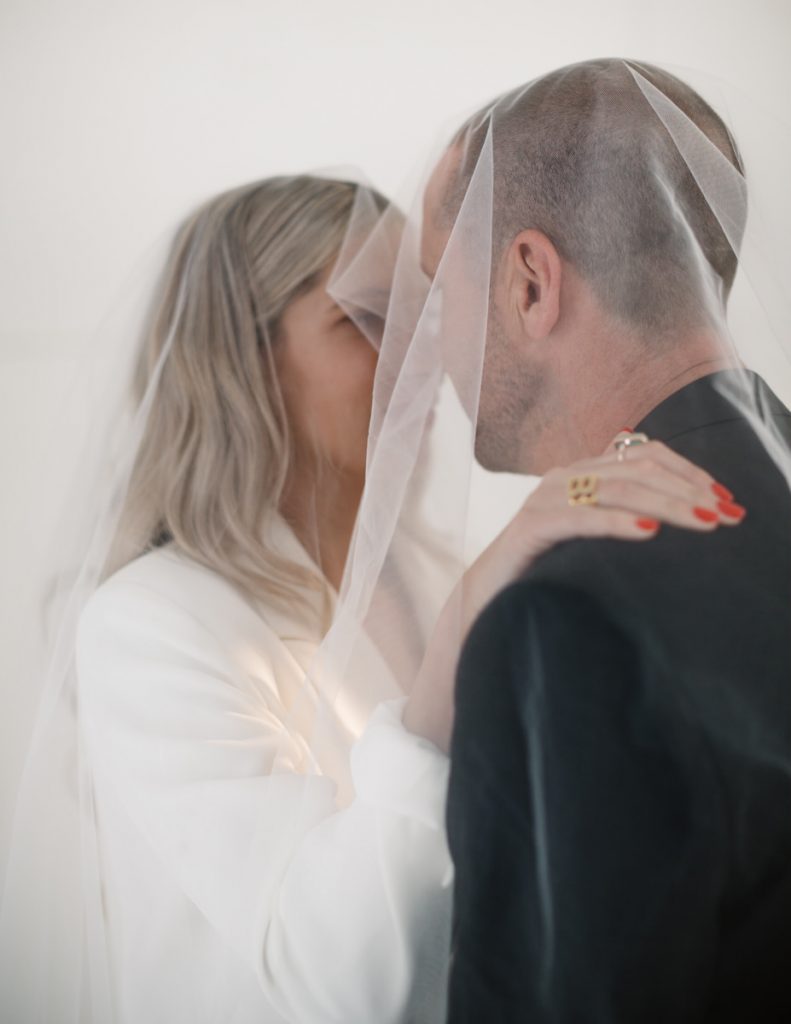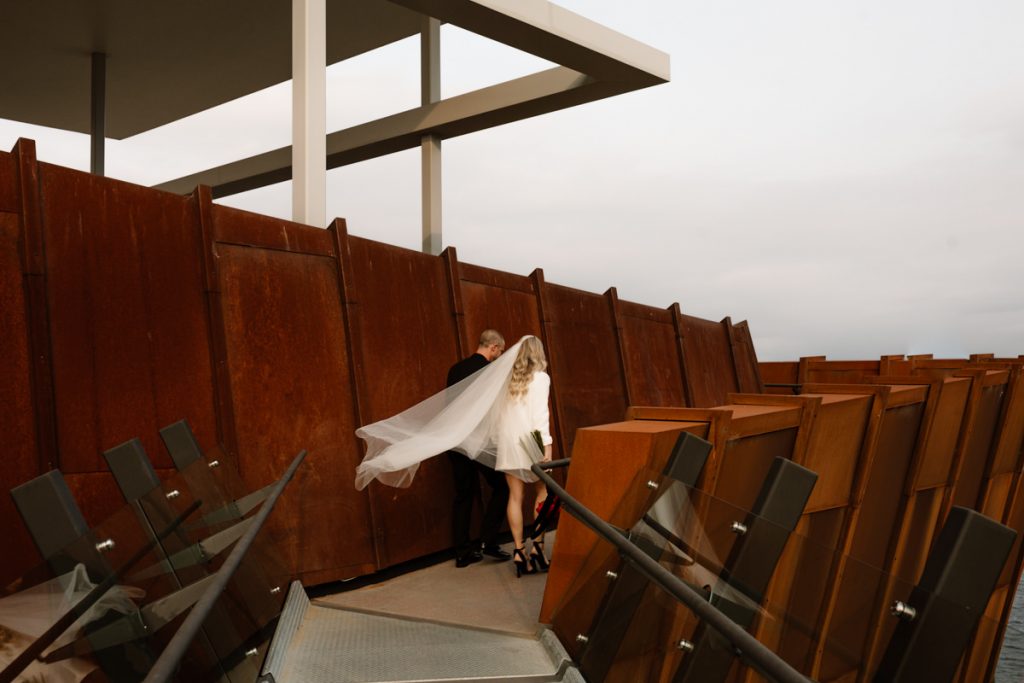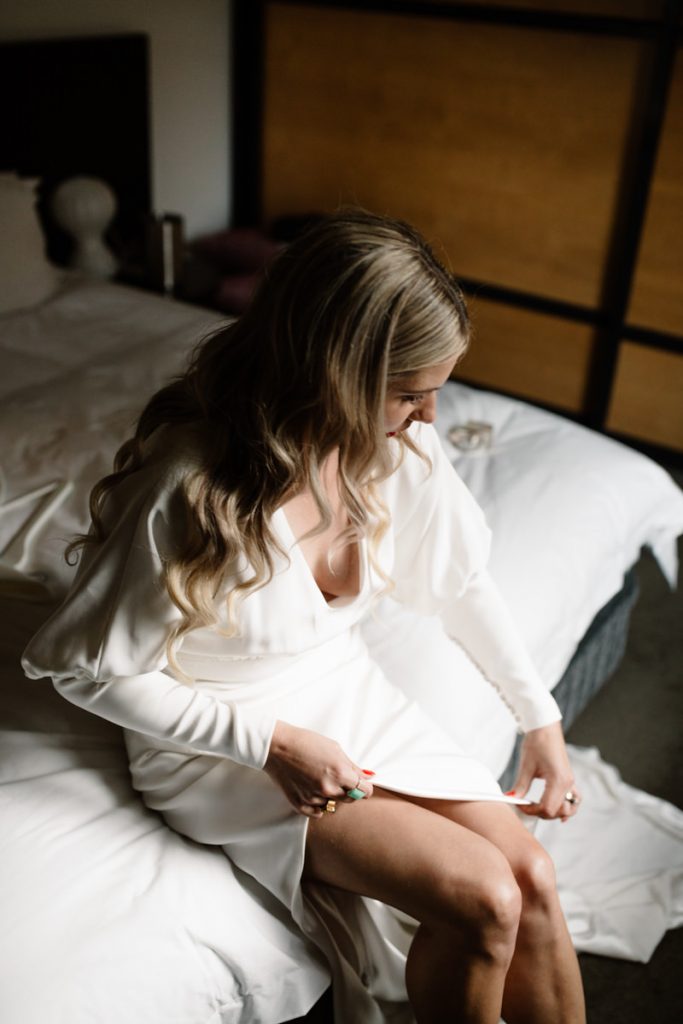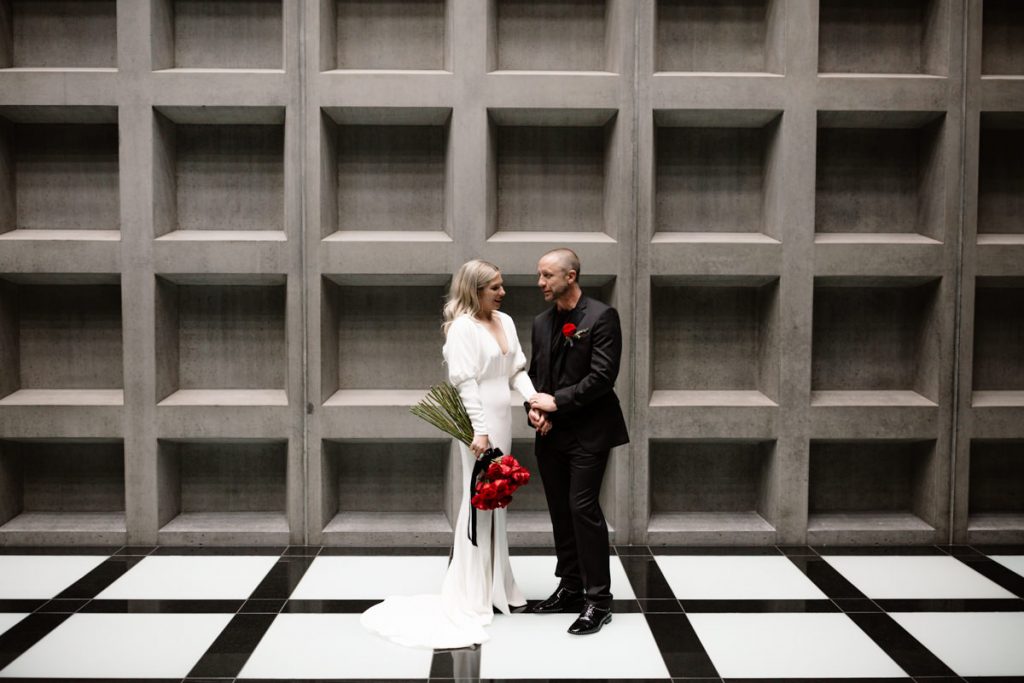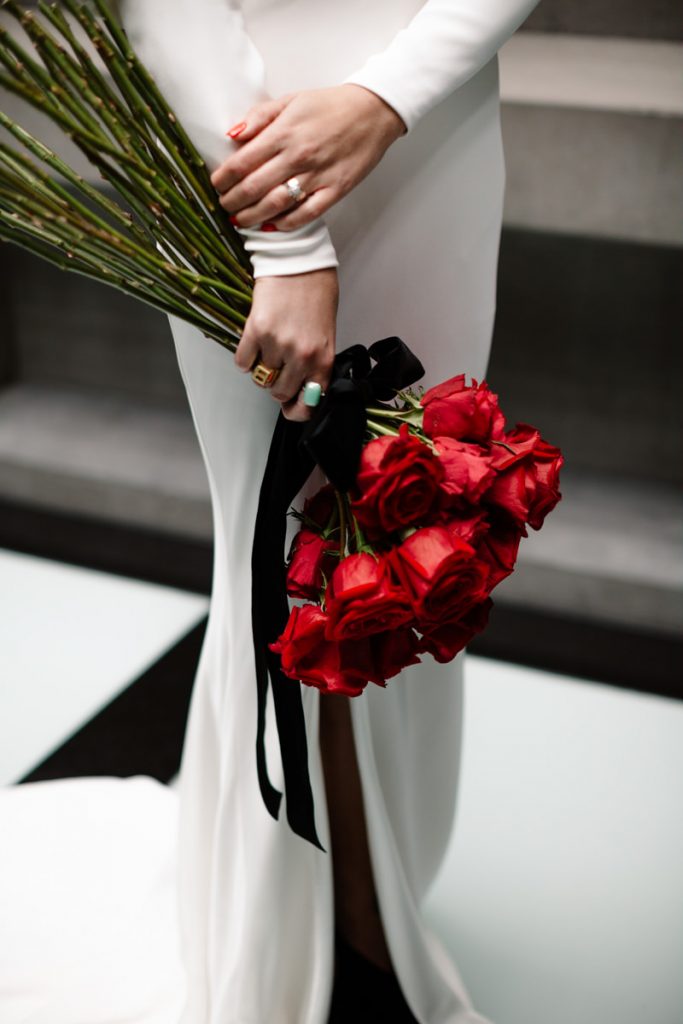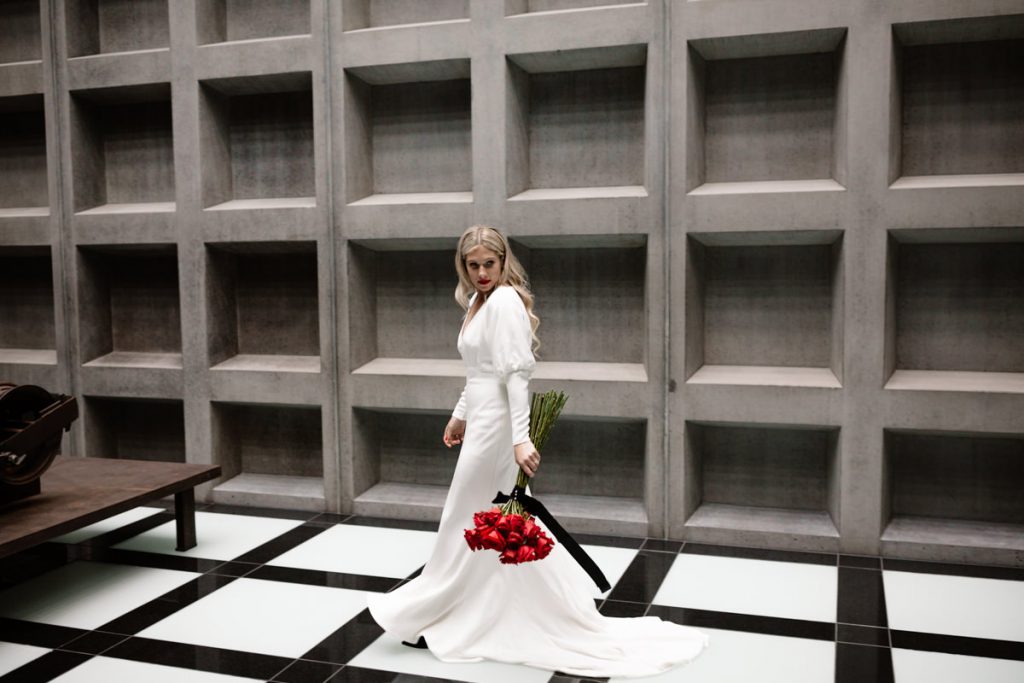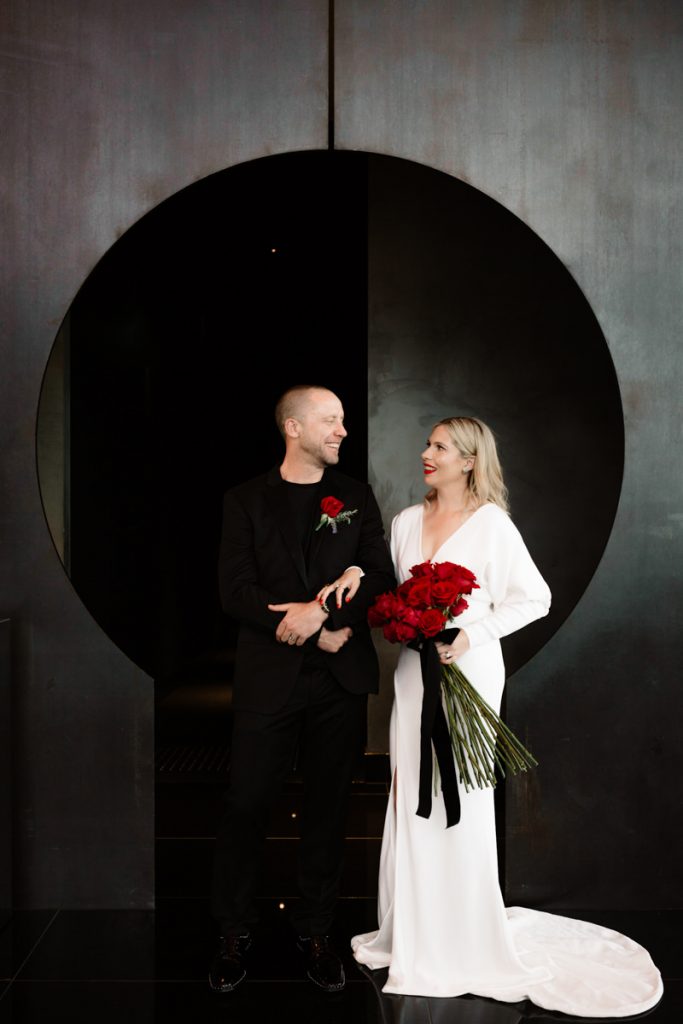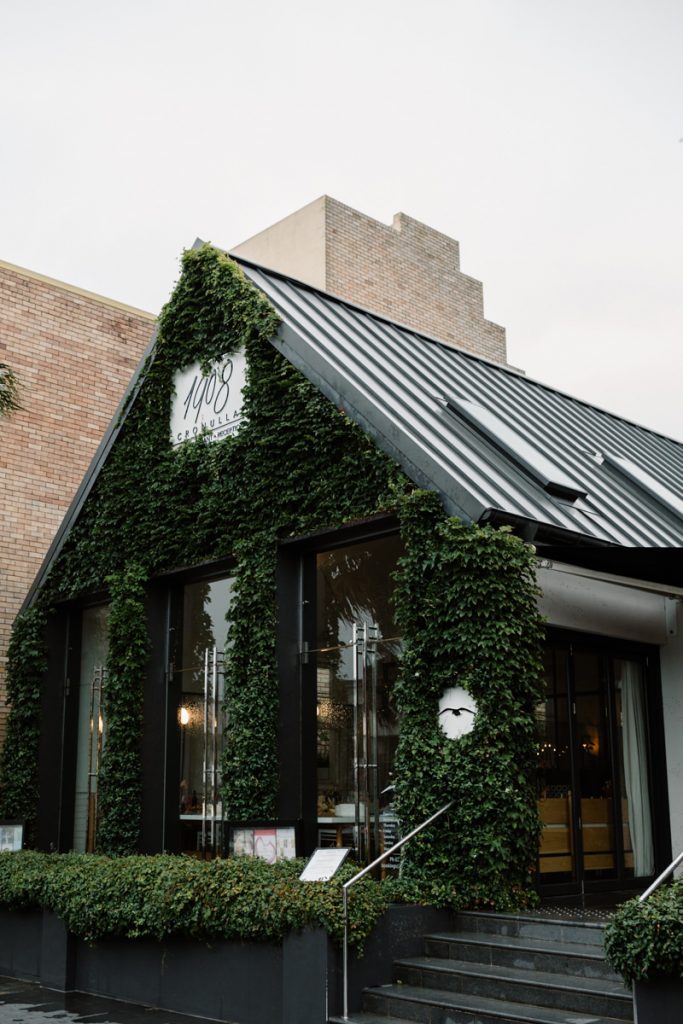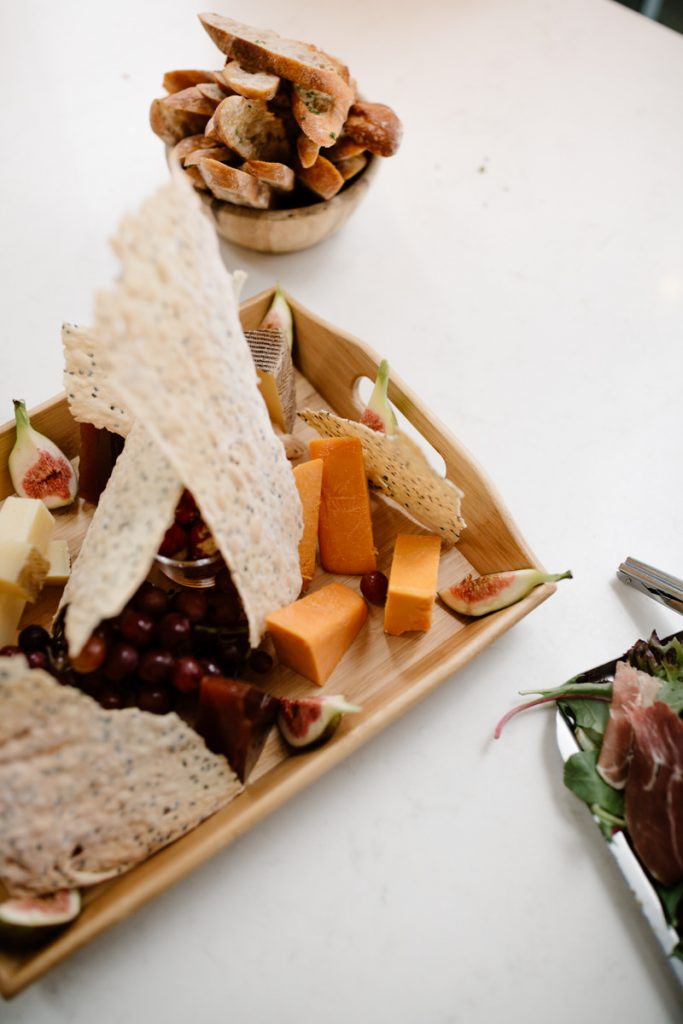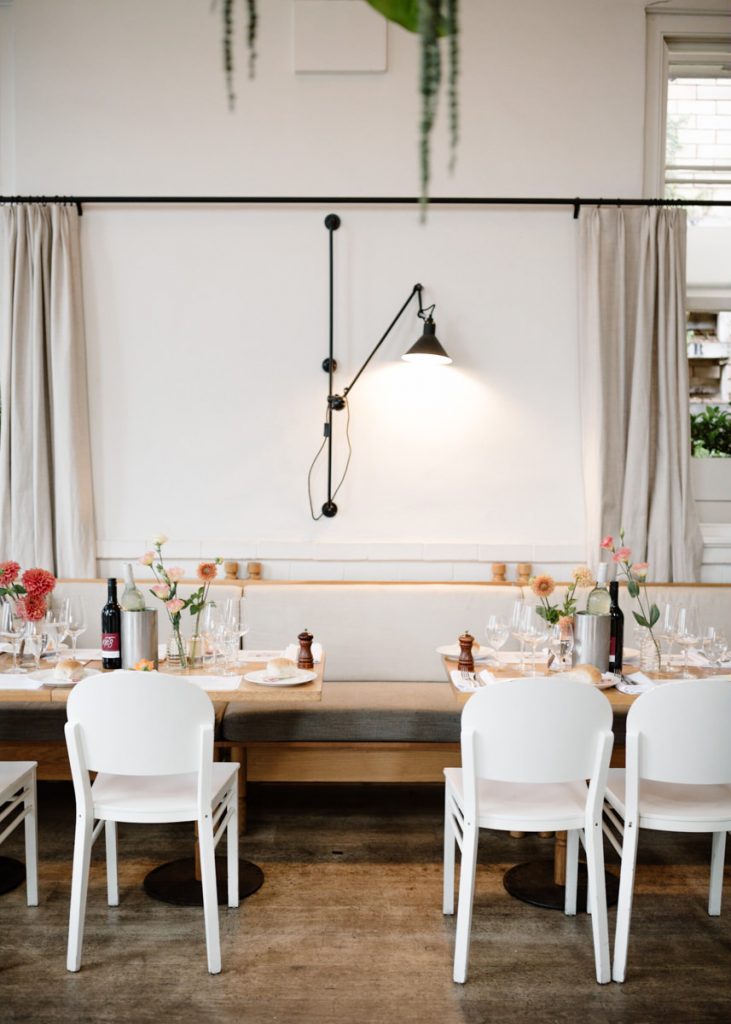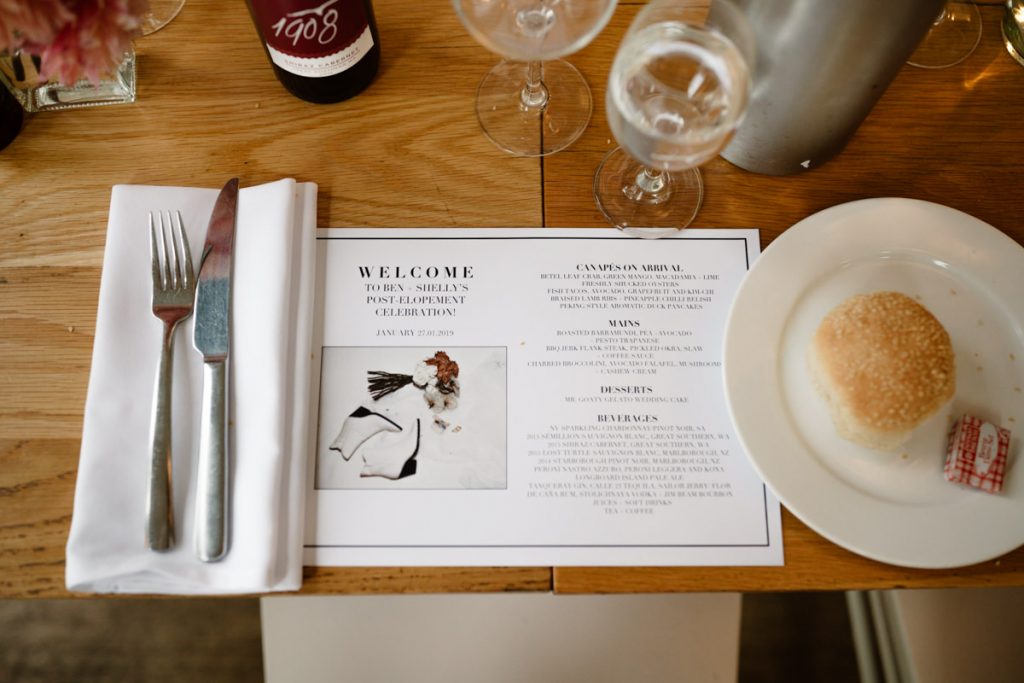 Any advice for other couples planning to spend the rest of their lives together?
Don't get caught up in pleasing everyone or following trends when it comes to your wedding. Just do what feels right for you and don't even worry about anything else. Also – don't underestimate how special the actual ceremony will be. I was never someone who imagined getting married or dreamt about it, but the ceremony itself was one of the most magical times of my life (and Ben would agree too!)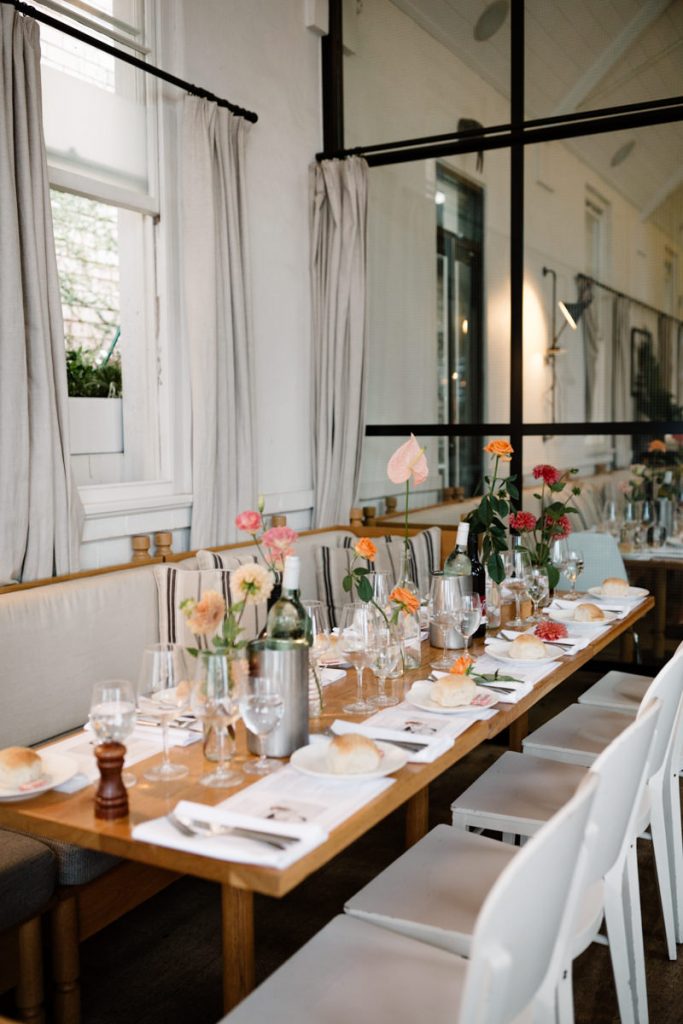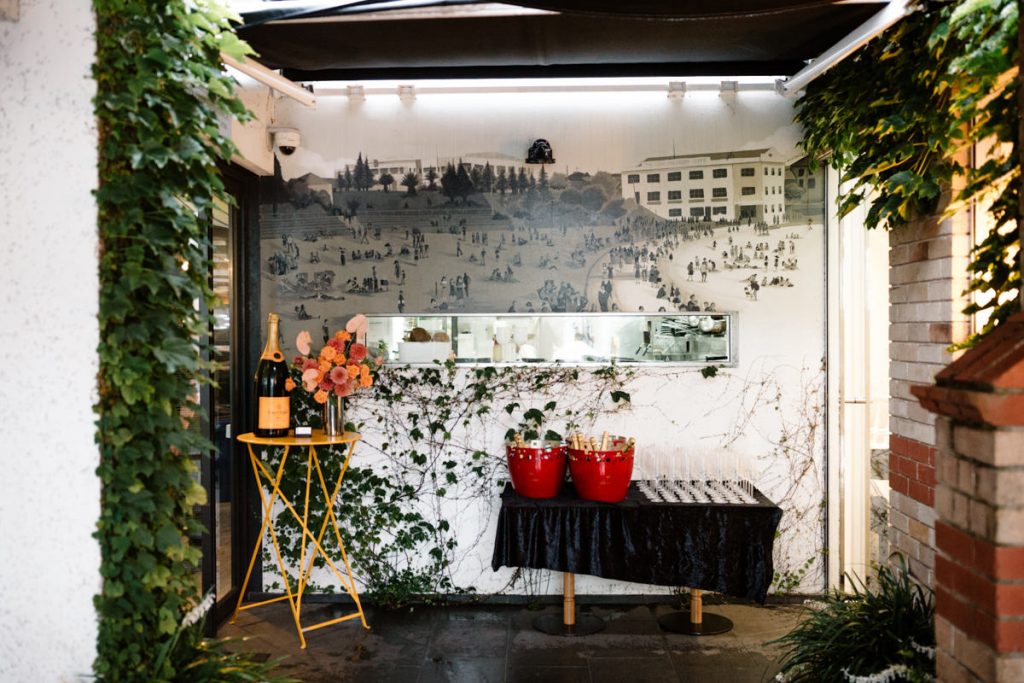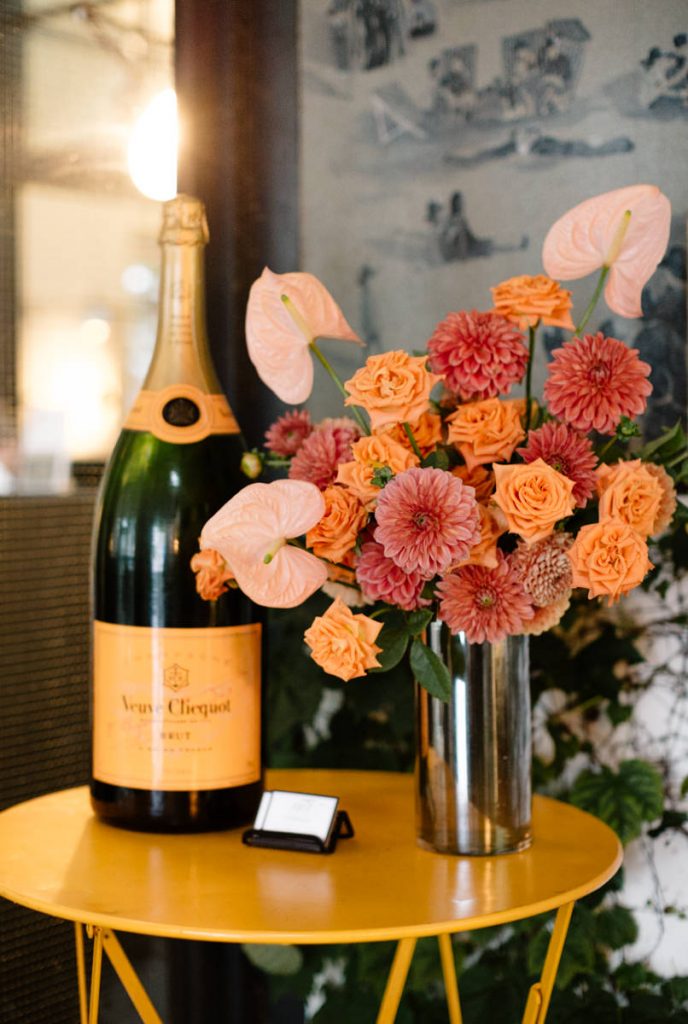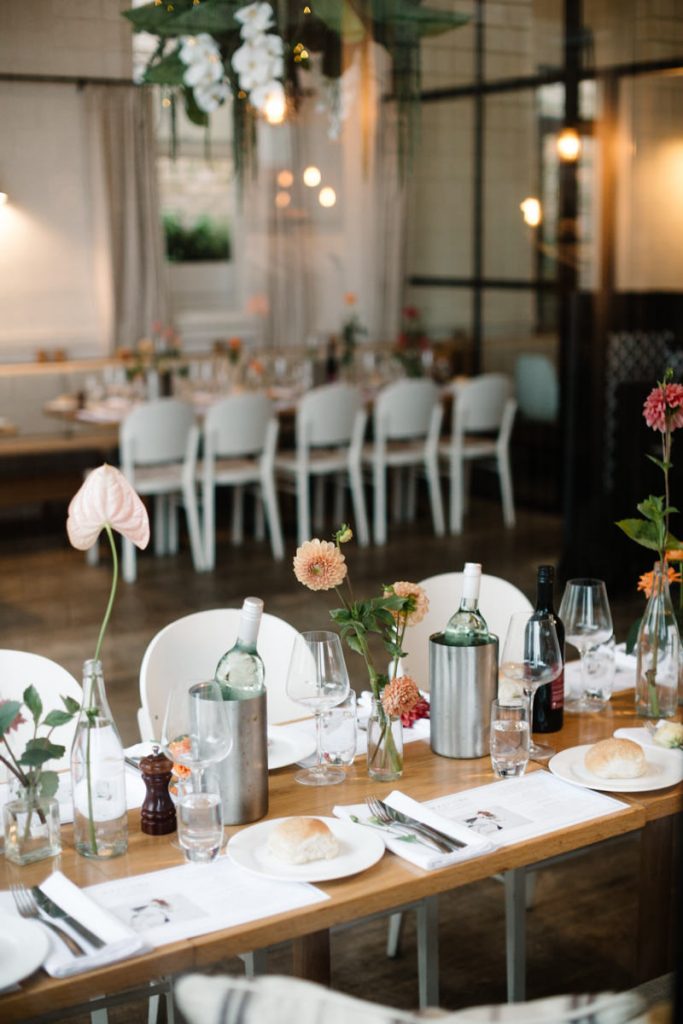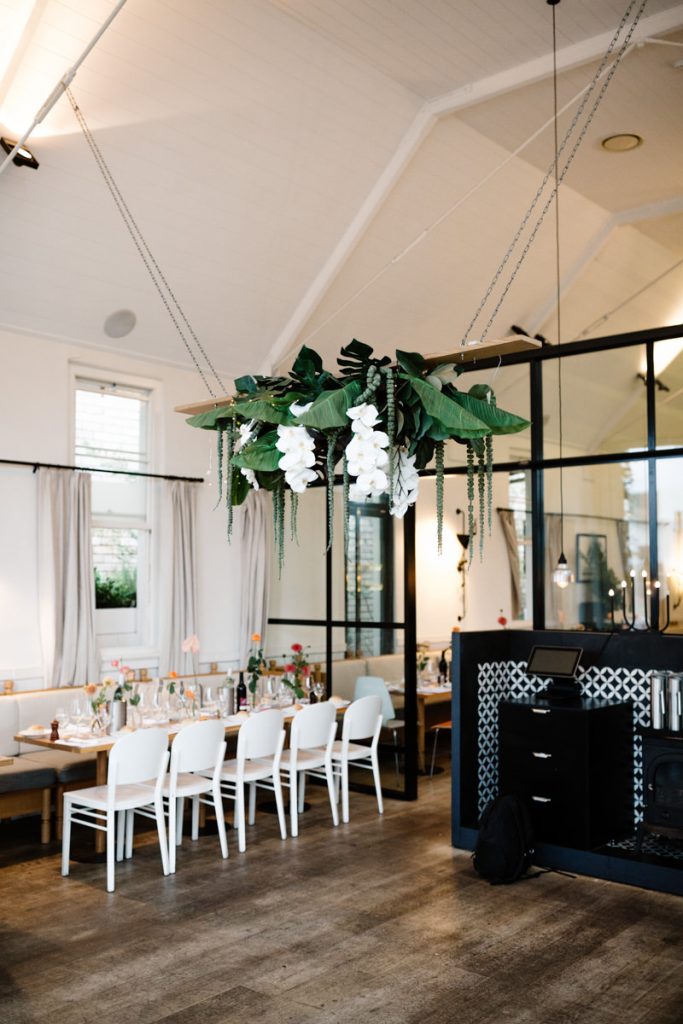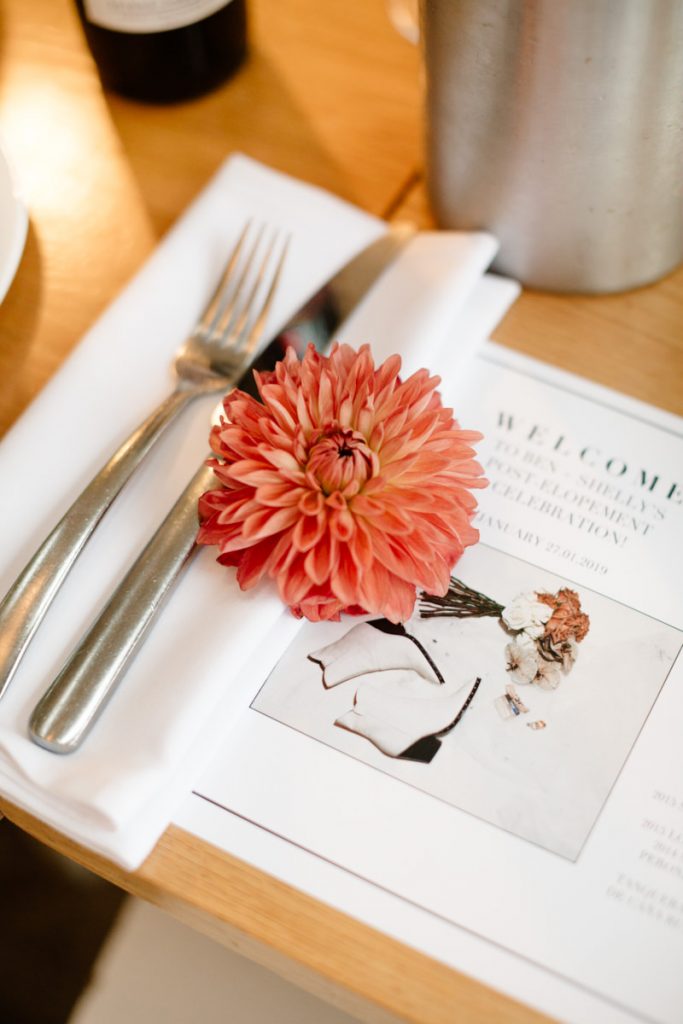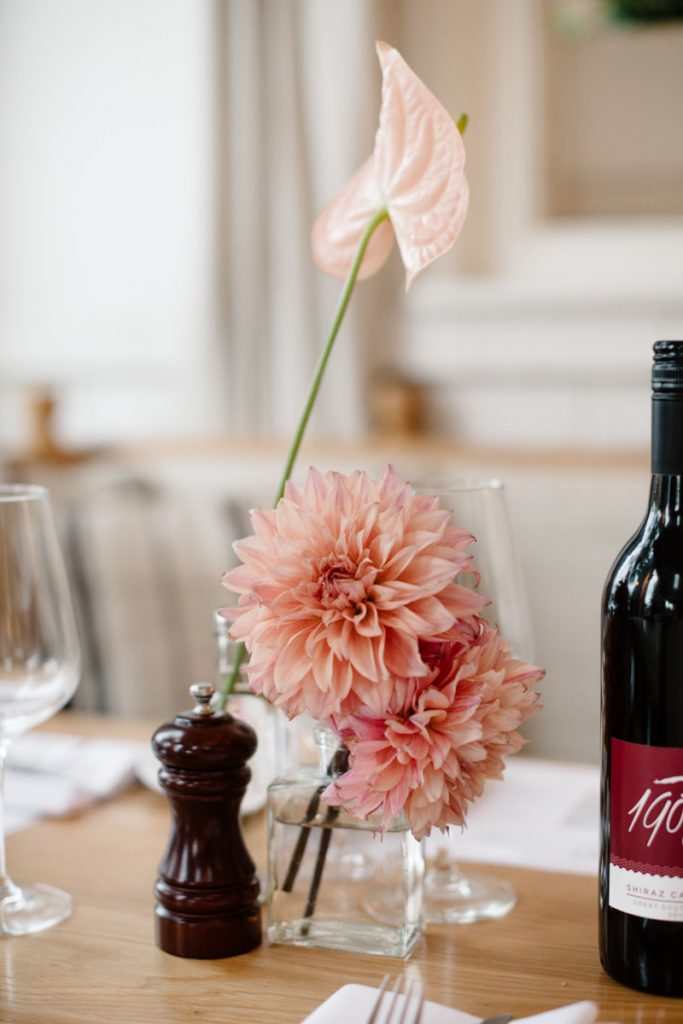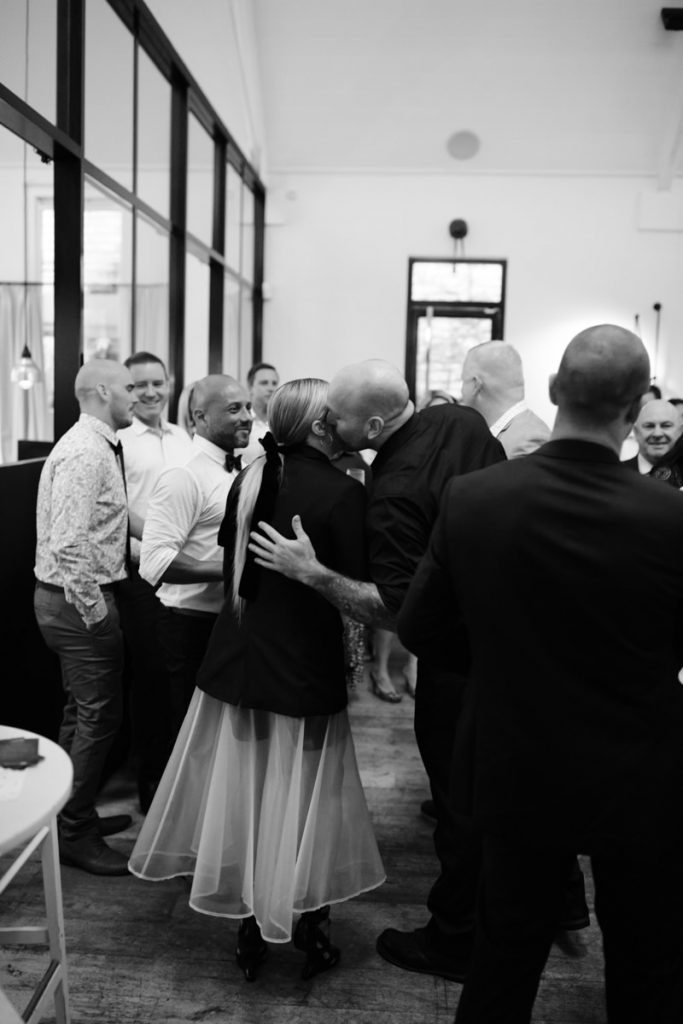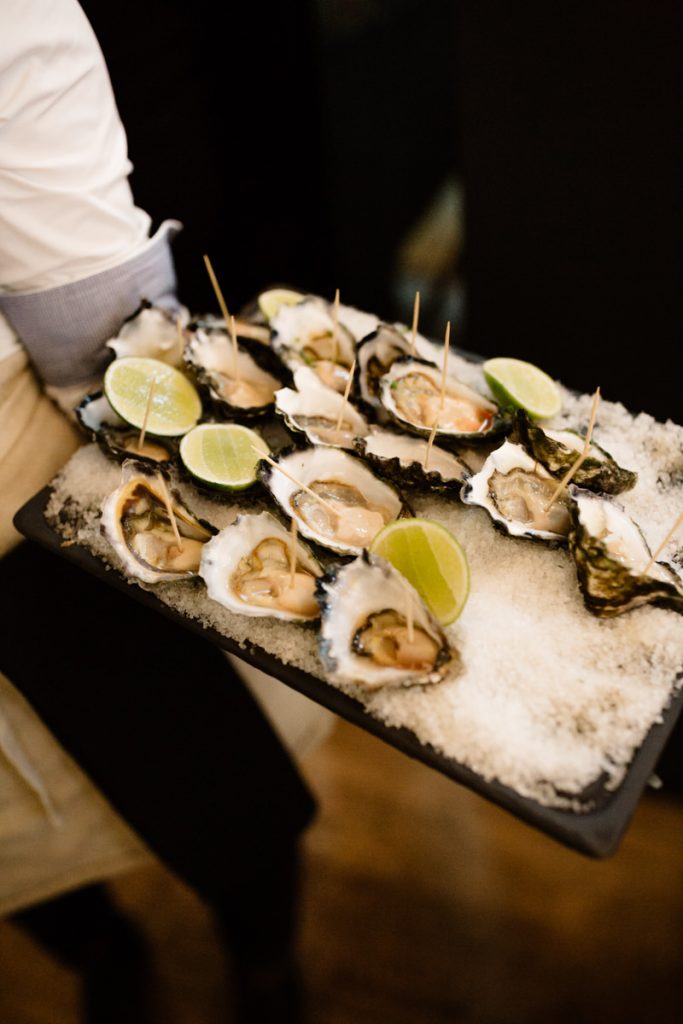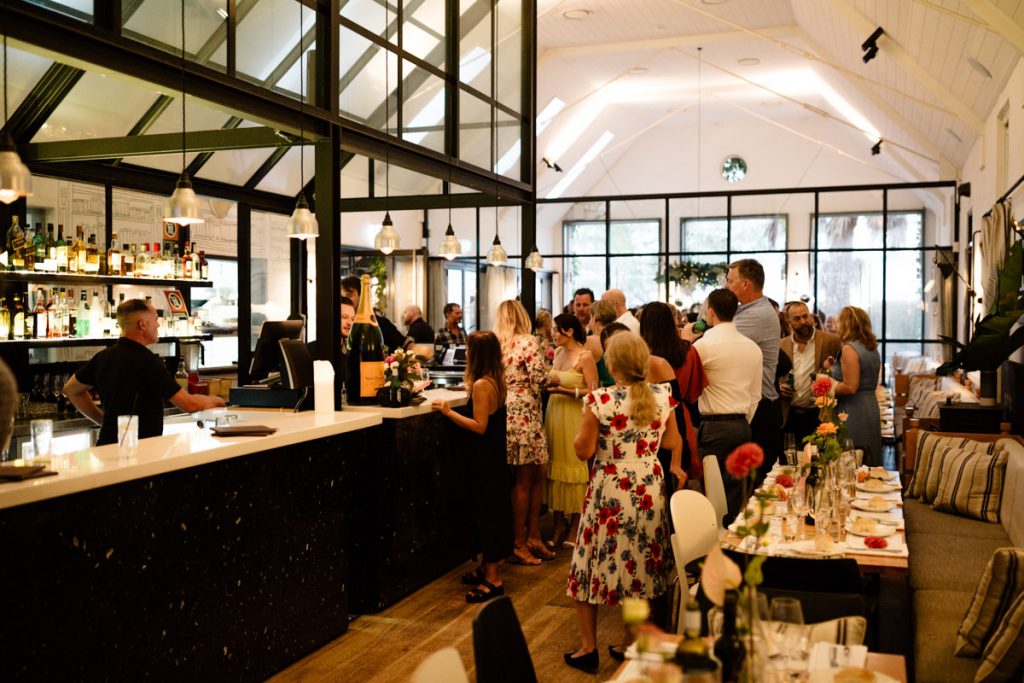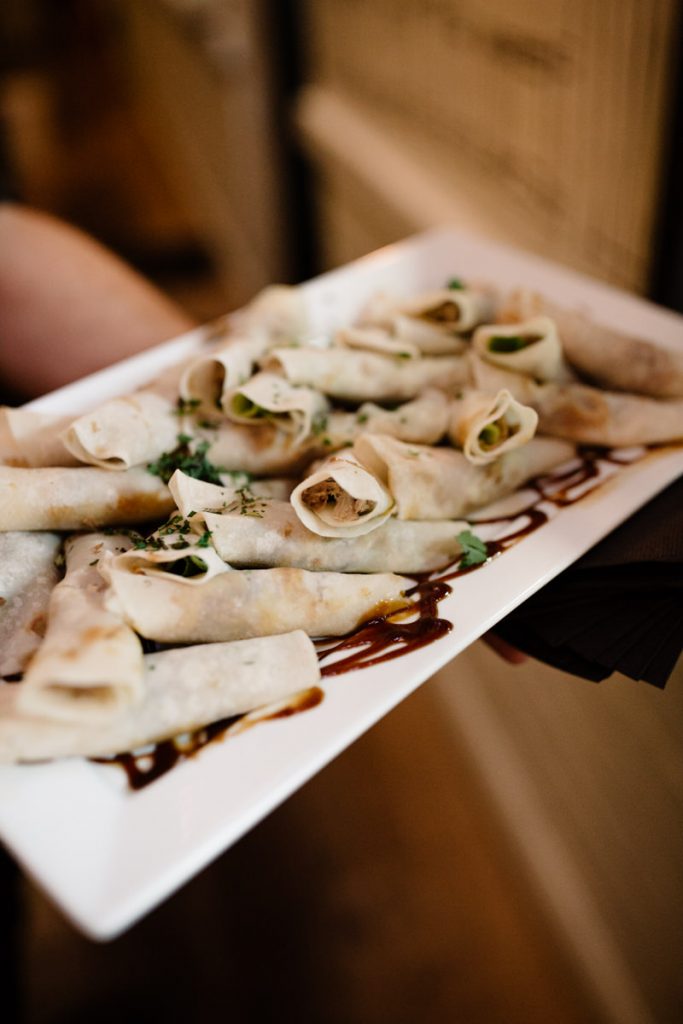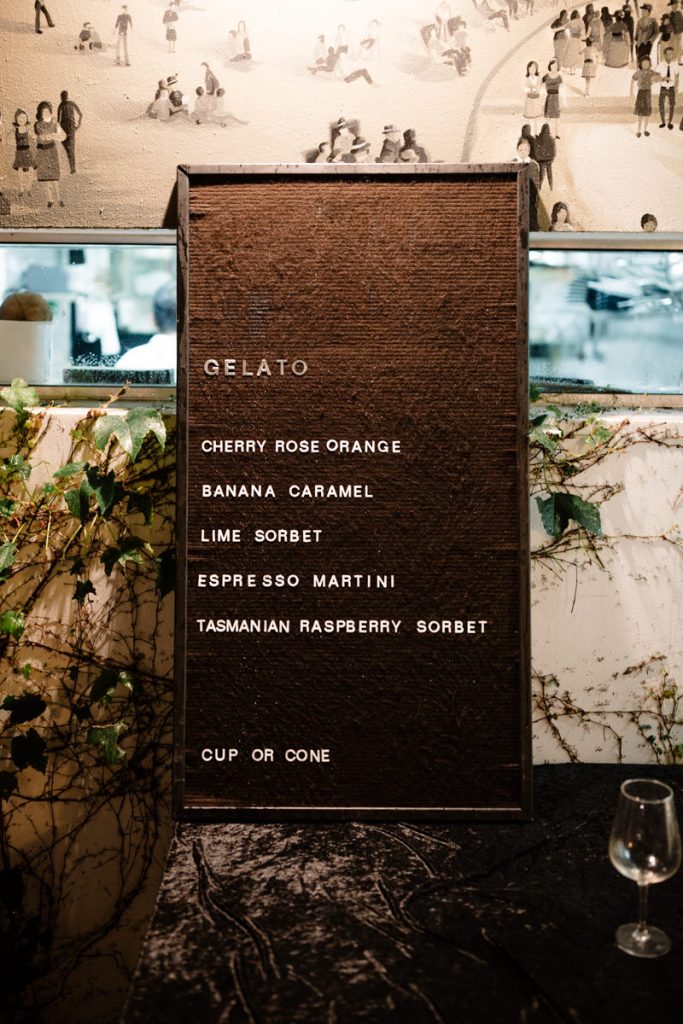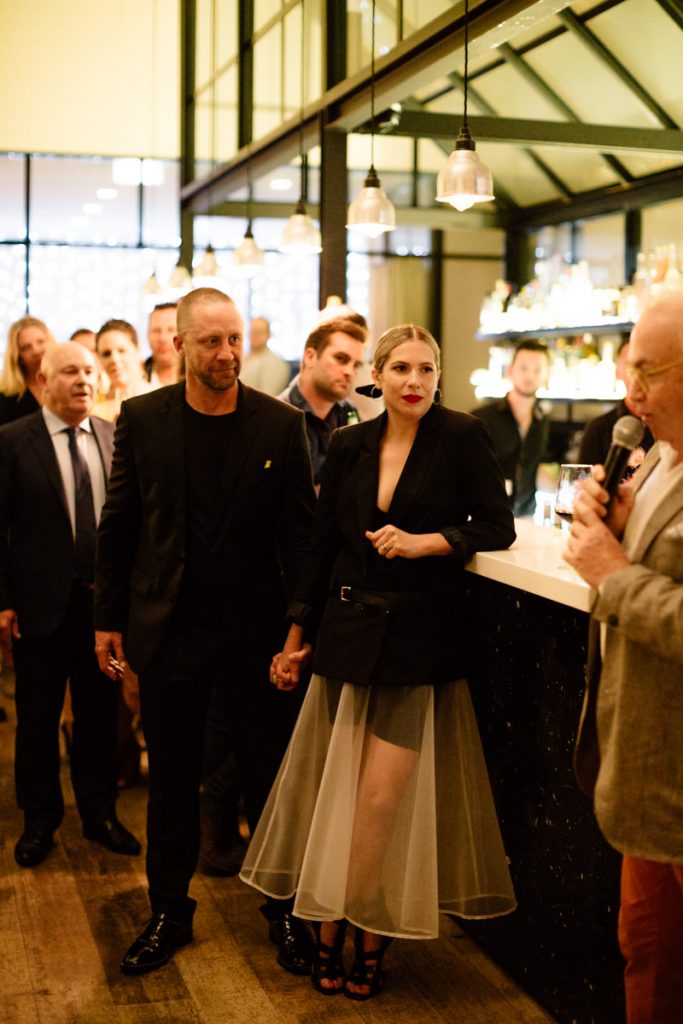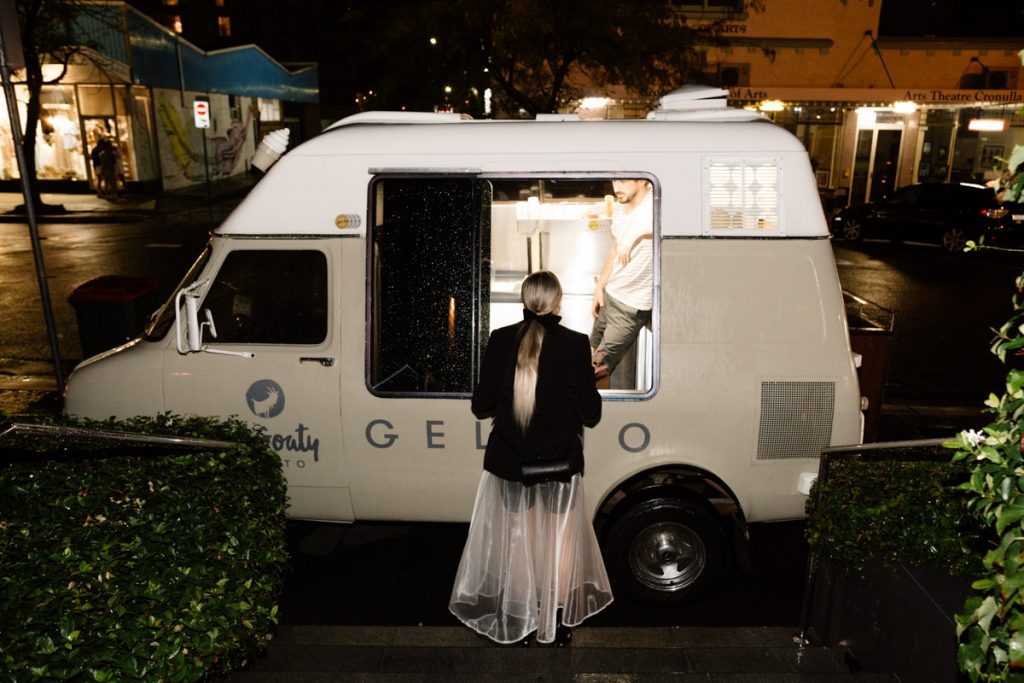 Photography: Matt Godkin | Videography: Patrick Colozzi Weddings | Ceremony location: MONA (Hobart) | Reception location: 1908 Restaurant (Cronulla, Sydney) | Celebrant: Merren Wilkinson | Bride's first outfit: ASOS Blazer (worn as dress) – Shoes: Mercedes Castillo -Rings: Chloe, Vivienne Westwood and Mimco – Earrings: Elvis et Moi– Veil Dove Grey Bridal | Bride's second outfit: Custom Helen English Gown– Shoes: Robert Robert/ Zomp– Earrings: Mimco– Rings: Chloe, Vivienne Westwood | Bride's third outfit: Ermanno Scervino Skirt/ from Farfetch Black blazer out of her wardrobe- Shoes: Rick Owens– Earrings: Elvis et Moi– Rings: Chloe, Vivienne Westwood | Groom's outfit: Hugo Boss Suit and T-shirt | Shoes: Jimmy Choo Shoes | Sunglasses: Tom Ford | Watch: IWC | Rings: Ben- Pieces of Eight by David Parker, Shelly- Gucci | Makeup: Sophia Pafitis (Hobart) and Haylee Daivs (Sydney) | Hair: Katie McIntosh (Hobart) and Haylee Daivs (Sydney) | Fragrance: Chloe | Entertainment: Tom Fowkes | Styling: The Anti-Bride | Flora: The Romantics (Hobart) Biophilia Blooms (Sydney) | Catering and Beverages: Faro Restaurant MONA/ 1908 Restaurant Cronulla | Cake: Mr Goaty Gelato | Nails: Purple Puff | Artwork: Spectrum Chamber, 2017, by American artist Charles Ross, courtesy of MONA